Join us on a journey of the most beautiful places in Peru to visit,   a odyssey of  famous Peru attractions to the best cities to visit.   It so happens that these are the most instagrammable places in Peru!  That's right, if you a trip to the land of the Incas will definitely result in some wonderful photos of Peru.
These days, a lot of us pick our travel destinations – at least in part – on how "Instagram worthy" they are. If you're an Instagram traveller, then Peru should definitely be on your list! Peru is one of the most instagrammable places in South America, with so much to see and do. From visiting Machu Picchu, to hiking up Rainbow Mountain, to getting a bird's eye view of the Sacred Valley, here is our list of the most beautiful places in Peru.
Cusco
Cusco city is a fascinating place with layers upon layers of history. It was once the capital of the Incan Empire, and many buildings in Cusco's downtown core still display Incan stone foundations. These buildings are an architectural marvel, with huge stone blocks carved to fit perfectly together. Don't miss a stroll down hatun rumiyoc, a small alley where you can find the famous "12-angled stone" – a true feat of Incan ingenuity.
There are few people that will disagree that Cusco is one of the best places to visit in Peru,  also offering some spectacular photo spots.  Walking along any of Cusco's cobblestone streets you can encounter whitewashed walls to intricately carved doors, there are so many Instagram picture ideas in this city.
Plazas de Armas of Cusco
Definitely one of the most famous attractions in Peru, the Plaza de Armas is Cusco's main square. Here you can see how Colonial architecture is layered on top of Incan foundations, and begin to understand why Cusco was such an important city to the Incas.  The stand-out feature of the Plaza de Armas is the Cusco Cathedral. With its huge doors facing out onto the square, it is a sight to behold!
>Check out our Cusco City Tours! Wander the streets of this cosmopolitan city on one of our Half day or Full day walking tours of Cusco.
Maras
If you're a keen-eyed photographer  then  the Maras salt flats promise to be the highlight of your trip to Peru and definitely on the 'most beautiful places in Peru' list. Known locally as the salineras de Maras, the salt flats are a visually stunning display of human ingenuity mixed with natural wonders. Naturally occurring salt water collects in rectangular pools that cascade down the mountain side into the Sacred Valley above Urubamba. Depending on the time of day, the pools can reflect different colours – think creamy shades of yellow and sand – and the entire visual effect is unlike anything you've likely ever seen.
Maras is such photogenic eye candy, it is considered by many to be the most instagrammable place in Peru.
> Be sure to include a visit to the Maras salineras on your trip to Peru! Maras & Moray Tour
Sky Lodge Sacred Valley Peru
Have you ever wondered what it was like to sleep in an eagle's nest? Sky Lodge Adventures Suites offers just that experience. After a couple hours' hike up the mountain, settle into your glass pod, carefully perched on the side of the mountain overlooking the Sacred Valley. You will not find a better spot to get those Instagram shots of Peru. These comfortable pods include a cozy bed, bathroom with composting toilet, dining area and a 360-view of the Sacred Valley unfolding below you. A one-night stay runs a pretty penny, but includes everything you could possibly want, even a bottle of wine! Quick caveat: If you have a fear of heights, this is not the experience for you.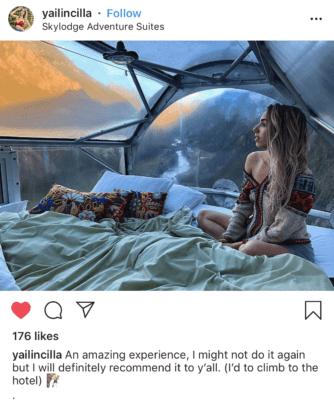 Rainbow Mountain Peru
Rainbow Mountain has quickly become one of the most famous places to visit in Peru. You cannot do a search of Peru on Instagram without coming up with Rainbow Mountain. Also known by its Quechua name, Vinicunca, Rainbow Mountain has soared in popularity in the past few years as one of the best places to take photos of Peru!  It will come as no surprise that it actually became famous because of Instagram –  take a look at Rainbow Mountain Peru Facts for that, and other curious facts!
What makes it so Insta worthy? True to its name, Rainbow Mountain boasts colorful peaks unlike any you've probably seen before.
Unfortunately, due to its popularity, Rainbow Mountain suffers from over-tourism. If you don't like crowds, you might want to skip this one; Rainbow Mountain can see upwards of 2000 visitors per day! That's second only to Machu Picchu – and in an undeveloped rural area.  All the same, if you are ticking off bucket lists then you will definitely find the Rainbow Mountain  on the list of 'Peru Must see places."
Palccoyo Rainbow Mountain and Red Valley
If you are seeking to combine some of the most beautiful places in Peru with the most unique and unusual, then if you want to get off  the beaten track we can highly recommend Palccoyo & the Red Valley. Although not as tall as Rainbow Mountain itself, Palccoyo features the same array of rainbow-coloured peaks (plus, the hike is a lot easier, too!).  It should definitely be on the Peru Places to visit 'without the crowds" list.
> Want to see Rainbow Mountains in the flesh? Check out our Palccoyo Rainbow Mountain Day Hike.
Humantay Lake
Another very popular spot among the Instagram crowd is Lake Humantay. Located near the equally famous Salkantay Trek, Humantay Lake can be visited as part of the trek, or as a day trip from Cusco.
The crystal-blue waters of Humantay Lake have captured many a heart, making it one of the most instagrammable places in Peru.
> Want to visit Lake Humantay? You can take a Day Trip to Humantay Lake, or join our 5-day Salkantay Trek to experience this natural wonder!
Machu Picchu
No list of most beautiful places to visit in Peru  (aka best instagram spots!)would be complete without Machu Picchu, the crown jewel of Peru's many attractions and a designated World Heritage site. The famous "lost city of the Incas," rediscovered in 1911 by famed explorer Hiram Bingham, is a place like no other. Full of fascinating Inca architecture, gorgeous verdant vistas and an unmistakable mystical vibe, Machu Picchu is quite possibly the most photographed place in Peru. The new rules for visiting Machu Picchu and hordes of tourists arriving every day may have changed what it's like to experience this magical place. But if you can look past that, it's a stunning spot steeped in history and one you should definitely include in your Peru itinerary.
If you are looking to take some unique photos of this famous places to visit in Peru, take a look at Tips For The Best Machu Picchu Pictures
There are many ways to go to Machu Picchu! You can travel by train on a one-day or two-day tour. Or, if you're feeling adventurous, join one of our many Machu Picchu treks!
Arequipa
After Cusco,  Arequipa is our second favourite city in Peru – and with good reason!  It is one of the most stunning Peru places to visit and you won't regret visiting the White City.  Of particular note is the divine Plaza de Armas of Arequipa – most agree it is the most beautiful Plaza in all  of Peru. For photographers or instagrammers, your feed won't be complete without a few shots from a restaurant overlooking the balcony.
For those who just want gorgeous photos of beautiful places, then don't miss out on the Monasterio de Santa Catalina – with its distinct Terracotta, white and blue sections, it truly abounds with the most perfect photo spots – in all of Peru!  Don't just take our word for it – you'll have to go and see for yourself!
The Verdict – Beautiful Peru Places to visit
Truly, there are so many beautiful places to visit in Peru – and as we have shared, some are famous, and others less so.  In addition to the places to visit in Peru we have listed here, mostly around Cusco and Machu Picchu, you should add Lake Titicaca,  Lima and the south of Lima, like Nazca and Huacachina sand dunes to the list.    Without a doubt  Peru has so many Instagram worthy places to visit – we have got to say: "don't forget to pack your camera!"
Top Peru Instagram Spots > Pint it > Share it