Peru, and the Andean region in general, is famous for its incredible variety of potatoes.  A lesser known fact is that the Andes are home to a great diversity in tubers in general, many of which receive little attention outside of Peru, or even a specific region.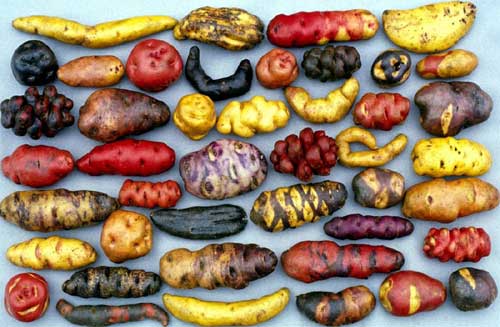 In addition to potatoes, tubers such as oca, lisas (or ulluco) and mashua (or añu or isañu) are very popular in local dishes and prominently featured in local markets.  Much like potatoes, oca, lisas and mashua are pre-Inca crops, and an important part of the Andean diet.  Here is a little more about each:
Oca– Here in Cusco, oca is left to sit in the sun for approximately a week to sweeten before eating.  Once ready, it is used in soups and a variety of other dishes.
Lisas– Lisas are very popular in soups and dishes such as aji de lisas.  It´s leaves are also edible and very nutritious.
Mashua– Like oca, mashua has a stronger, peppery taste when raw.  It is also commonly left in the sun for some time to sweeten its flavor.
So get exploring the markets and sampling the differing, delectable, delights of the Peruvian tuber family! "Buen Provecho!"