Everyone wants to see llamas in Peru. A trek with The Llama Pack Project is an excellent chance to do just that, while also supporting an eco-friendly enterprise.
>> Read more about responsible tourism
We heartily recommend this trek as a great option for a family outing while you are staying in the Sacred Valley. Farmers, animal lovers, or those with an interest in animal husbandry will love it too!
Trekking with Llamas in Peru
My family and I opted for the half-day hike. This was basically a short, steep hike up a hill, accompanied by a herd of Peruvian llamas. Miss M loved the hike: she casually took the hand of one of the herders and off she went! The climb was quite hard for Nana, who, at 71, is fit, but found the hill rather steep.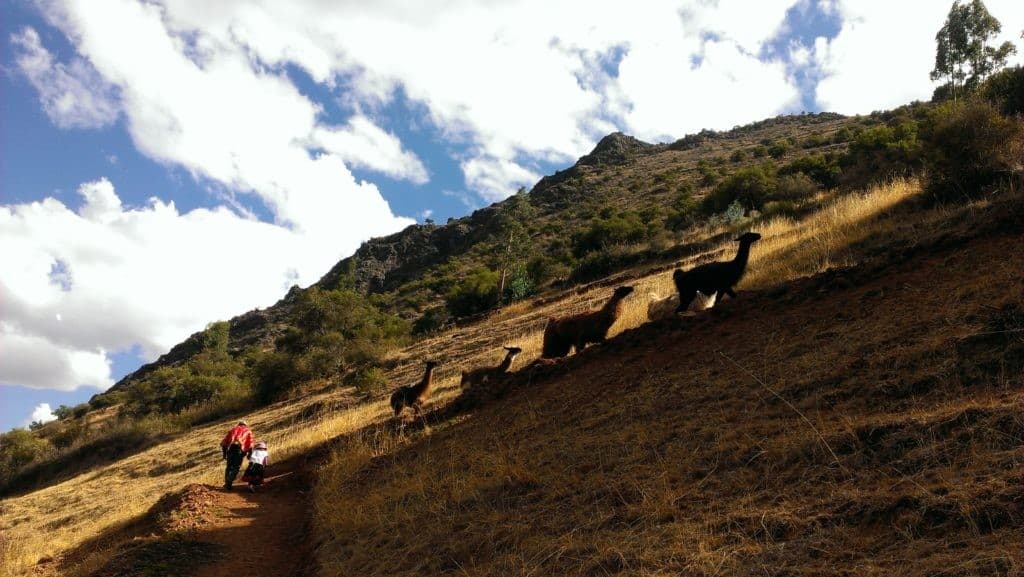 This was a fantastic chance to get up close and personal with llamas in Peru. These are just not any llamas. They are purebred llamas: large, robust, and handsome! Miss M became friends with two cute females, Chincha and Aceituna, though we were cautioned not to let her get too close (they are friendly, but still wild animals!)
We loved hearing about the work that the Llama Pack Project does. Like our non-profit project, Threads of Peru, this NGO is dedicated to revitalizing ancient traditions in Peru: in this case, using llamas as pack animals.
A History of Llamas in Peru
The llama, a member of the camelid family, was first bred by ancient Peruvians for carrying loads in the Andes. Much larger than its camelid relative, the alpaca, llamas in Peru have certain attributes that make them gentler on the environment than mules and horses. For one thing, they are easier on foliage. Mules and horses cut grasses and plants close to the ground when grazing, while camelids gently nibble the green leaves. Most importantly, camelids have soft padded feet that don't cause soil erosion like horses' hooves.
After the Spanish conquest, the llama fell into disuse as a pack animal. While alpacas have always been valued for their fine fleece, the fewer people appreciated the llama's cargo-carrying ability. The Spanish believed that lamas in Peru were less useful than their own mules or horses, which can carry up to 20% of their weight. Since horses weight a lot more than llamas, they can carry heavier loads. A 1200 lb. (545 kg.) horse can carry up to 240 lbs.(109 kg.); in contrast, a 400 lb. (182 kg.) llama can carry 80 lbs., (36 kg.) at the most.
Another factor was the fact that local people allowed llamas and alpacas to breed together, further reducing the value of both species. The resulting hybrid is smaller than a purebred llama, meaning it can carry less weight. Its fleece is also much coarser than that of a purebred alpaca, making it undesirable as a fibre animal as well.
The Llama Pack Project: Restoring the Llama's Value as a Pack Animal
Enter the Llama Pack Project. One of their aims is to improve the genetics of the llama, restoring its value as a pack animal. A more useful animal means it will be used more, thus creating another source of income for high Andean communities. They started out in the early 2000s with a breeding sire named "Guapo" (handsome in Spanish), a purebred llama who is capable of carrying a large load. As a stud sire, he is rotated among 9 communities in the Sacred Valley and Lares region, improving the llama genes in those areas.
In addition, the folks at Llama Pack Project have been educating the local people on the value of using llamas for transporting goods and carrying equipment on tourist trips.
This is where trek operators like Apus Peru come in! We can play a significant role in generating a groundswell of support for the idea of re-introducing llamas as pack animals on treks. You can request additional llamas as pack animals on any of our Lares or Ausangate treks.
RELATED: The Lares Valley Trek
If you would like Apus Peru to organize a llama trip for you and your family, email us at [email protected]!
Written by Apus Peru co-founder Ariana Svenson. First published 16 Jul,y 2016, and updated on 14 October, 2019.