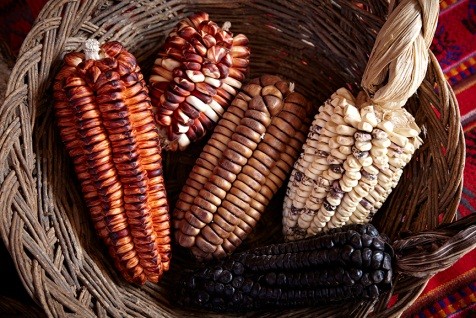 An Introduction to: Peruvian Corn
Corn is an important part of the Peruvian diet. It is an ancient staple, and a mainstay of most traditional farmers in the Sacred Valley. Like the humble potato, Peru is home to many different varieties of corn, and each one has a different use. From drinks to breads, snacks and desserts, the versatile Peruvian corn plays a starring role in a variety of popular dishes.
For example, it is very common to see toasted or fried corn kernels as a side or snack. Called cancha or canchitas, these delicious toasted corn kernels are often served as snacks in bars to whet the appetite! Canchitas also accompany the famous fish dish known as ceviche. 
When served freshly cooked on the cob, corn is called choclo and is often eaten with fresh cheese. This is not your average corn-on-the-cob, though; choclo kernels are enormous by comparison, so big that you can pick them off to eat, one by one! If you haven't tried choclo con queso yet, it is a must. There is no better snack in all of the Andes!  Mote is a similar snack, made from dried and re-hydrated kernels of white or yellow corn.
READ MORE about the local delicacies at the Peruvian marketplace.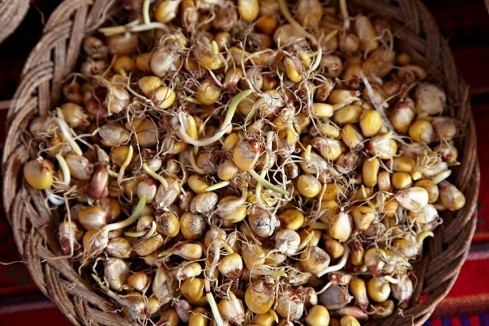 A Rainbow of Peruvian Corn
There is a stunning array of corn varieties in Peru. Here is just a few of our favourites.
Maiz Blanco: Maiz blanco (white corn) is grown throughout Peru, and can be seen growing in the areas surrounding the city of Cusco. Maiz blanco is used to make chicha de jorra, a fermented corn beer consumed by pre-Columbian cultures such as the Inca, and which is still very popular today.
LEARN HOW to make chicha on our Chichubamba Hands-on Tour!
Maiz Morado: While typically grown on the coast, maiz morado (literally, "purple corn" in Peru) is used in all areas of Peru to make the sweet, juice-like beverage chicha morada. It is also used to make the very popular dessert, mazamorra, a treat with a consistency somewhere between jello and pudding, often seen accompanying rice pudding.
Maiz Chullpi: Maiz chullpi has a softer shell and interior, making it the perfect type of Peruvian corn with which to make that tasty toasted snack, cancha.
Where Can You See Peruvian Corn?
The best place to go to find some of these corn delicacies is at the markets. San Pedro market is the biggest and most famous market in Cusco, though other smaller markets like San Blas and Wanchaq markets are also great options. You can also join us on a Cusco City Tour where we can stop at San Pedro to learn about corn and other Peruvian culinary delights.
There is almost always a chance to try choclo con queso when you're in the Sacred Valley. Make sure to tell your guide you want to try some, and they'll give you a hand!
Or, see Peruvian corn and other ingredients in action! Try rooftop cooking classes during a Cusco Cultural Tour.
Want more ideas? Get in touch with one of our Travel Experts! They'll be happy to help you plan your perfect foodie experience in Cusco.
Originally published 1 Aug 2013, and updated 24 July 2019.