There are so many famous places in Peru to discover that you could spend a year here and still not have scratched the surface. Peru is a land of possibility, where the promise of adventure runs through the veins of every rainforest leaf, and down the slopes of each snow-capped mountain. Harness this mythical energy as you feel the ancient Inca stones beneath your fingertips, and embrace colourful traditions that have been the lifeblood of rural communities for centuries.
It's true that most of us don't have a long time to explore the wonders of this Andean nation so we've put together this epic guide on popular places in Peru to help you narrow down your options.
So, what is there to see in Peru? Famous landmarks that steal the show range from tropical forests and remote deserts to ancient cities and lofty peaks. Lace up your boots for Andean hikes where condors soar overhead, and lakes shimmer in unimaginable shades of turquoise. Then venture deep into the Amazon jungle and explore the realm of the jaguar. Meanwhile, history buffs can journey through time at archaeological sites, and energetic adventurers will love taking on colossal dunes and giant waves.
If you're willing to look beyond the revered walls of Machu Picchu and Cusco, there's a whole treasure trove of gems waiting to be discovered.
How did we choose these famous places in Peru?
When it comes to scouting out the top-rated tourist attractions in Peru, we like to think our passion for this incredible country gives us the edge. We've travelled extensively to every corner of this South American beauty and found it hard to pick just a few famous places to visit in Peru.
To help whittle down the list, we did a deep dive into our collective knowledge of Peru, considering how important these places are to both national culture, and civilisation development on a global scale.  There are cradles of civilisation found both in Paracas National Reserve, and at the ruins of Chan Chan near Trujillo, but while they are fascinating they are not that famous, therefore not making our list!
When it comes to Peru, famous landmarks are in plentiful supply. We looked at the places that really stand out geographically and culturally, as well as those that sing to us emotionally. From the Andes to the Amazon, our handpicked sights, we hope, comprise a well-balanced collection that shows off the incredible diversity of Peru. Famous places that we've included in this round-up are the ones we think will blow your mind!
Top Peru famous landmarks and places near Cusco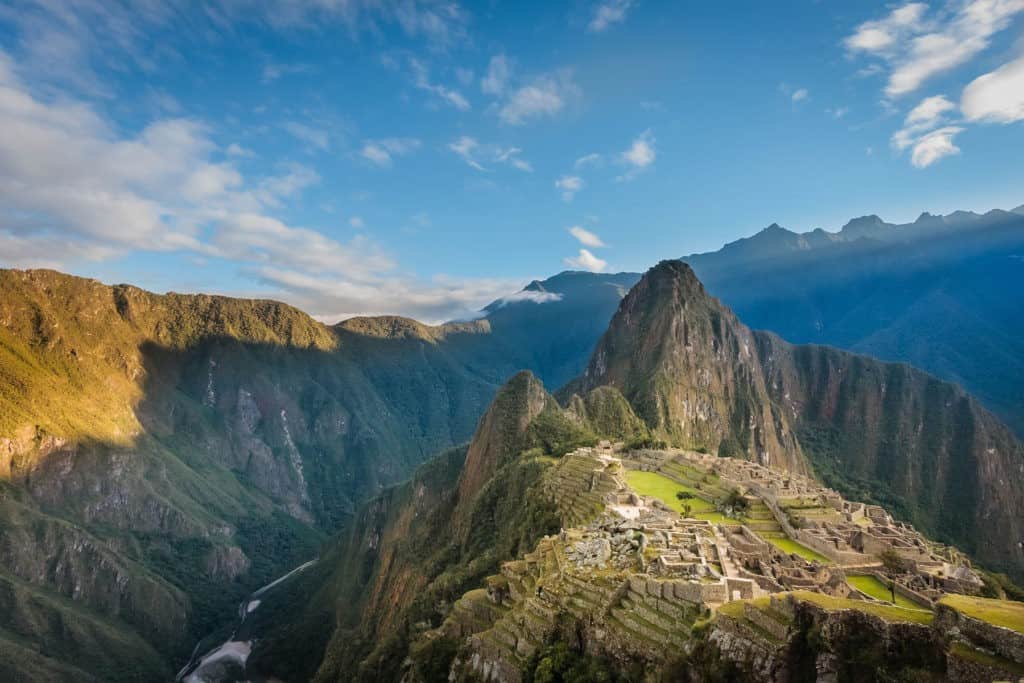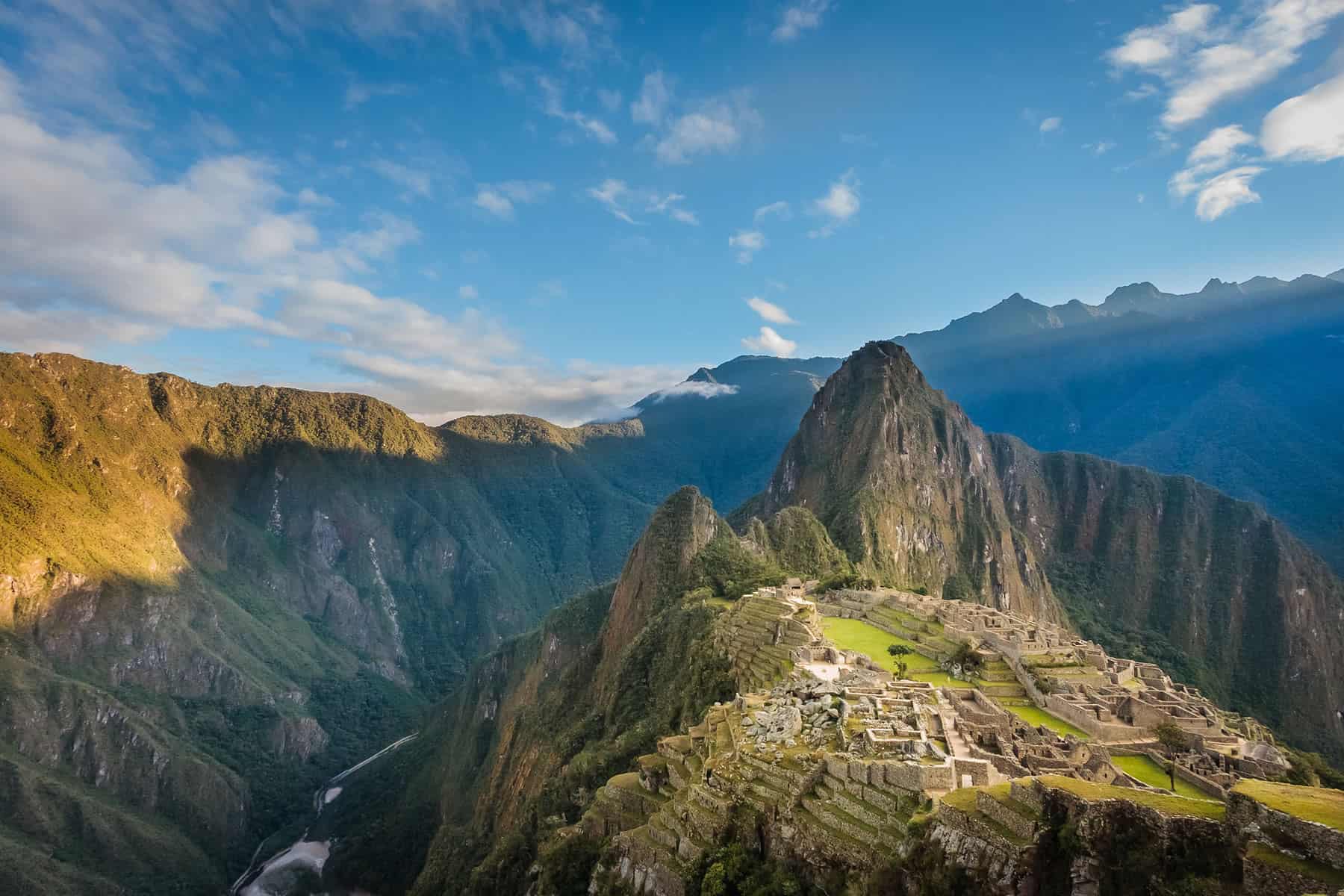 Machu Picchu
Of all the superlative monuments in Peru, Machu Picchu reigns supreme.  In fact, without a doubt it's one of the most famous landmarks in South America
Built in the 15th century, this abandoned Inca citadel perches dramatically on a steep hillside guarded by mist-enshrouded peaks. When the clouds lift, see if you can spot the Urubamba River snaking through the ravine below.
As you wander along the terraces beside ancient stone walls, it's easy to appreciate why Machu Picchu the most epic attraction in Peru. Rediscovered in 1911 by explorer Hiram Bingham, the ruins are some of the most atmospheric in the world, with a bonus scramble up the precipitous Huayna Picchu enticing intrepid souls.
Machu Picchu is the prize that awaits hikers at the end of the Inca Trail. For a more leisurely visit, you can just hop on the Machu Picchu Cusco train for a spectacular rail journey.
Ready to book your trip to Machu Picchu? Click here to read everything you need to know about visiting Machu Picchu or scroll through our tours of Machu Picchu at the links below:

Cusco
One of the major tourist spots in Peru, Cusco much more than just a jumping-off point for Machu Picchu. Nestled in the heart of the Andes, this charming UNESCO World Heritage Site was the capital of the Inca Empire until the Spanish conquistadors turned up in the 1530s. You can still see Inca foundations beneath the colonial buildings, and it's this architectural fusion that has earned Cusco its seat amongst the most famous places in Peru.
Stroll through the Plaza de Armas and be dazzled by the gold inside the Baroque cathedral, then swing by the Coricancha to see where the Incas worshipped their sun god. Bohemian San Blas is one of our favourite districts with its steep streets and traditional restaurants. Come here to acclimatise before a trek but stay for the culture.
Ready to book your trip to Cusco? We've got Cusco tours to suit everyone. Click the links below for more details:

Sacsayhuaman Fortress
Just 2km (1.5 mi) north of Cusco, the archaeological site of is a must-see attraction in Peru. It's easy to reach and can be combined with visits to other nearby Inca sites on a day tour from the city. The views over Cusco are simply stunning so don't forget your camera!
The main event at Sacsayhuaman is the long wall which remains intact all these centuries later. The stones used to build it are enormous – they're 4m (13 ft) high in places with some weighing over 100 tons. Can you figure out how they manoeuvred the blocks into place?
Visit Sacsayhuaman – plus three more Inca ruins on the outskirts of Cusco! Click the link to read more details about this tour:

Classic Inca Trail to Machu Picchu
Imagine emerging at the Sun Gate (Inti Punku), weary after four days of trekking, to be greeted by a bird's-eye view of Machu Picchu. A reward earned for sure!
One of the main tourist attractions in Peru,the Inca Trail meanders for 40km (25 mi) through the dramatic Sacred Valley, passing lesser-known archaeological ruins along the way. You'll be following the original Inca pilgrimage route to the citadel and camping out under the stars at night. Adventure doesn't get any better than this!
Ready to hike the Inca Trail? Click the links below to get the details on all of our most popular Inca Trail treks:
Also check out these great insider tips about hiking the Inca Trail:
Peru natural landmarks near Cusco

Sacred Valley
The Sacred Valley is the heartland of the old Inca Empire, with ruins punctuating the mountainsides and the Urubamba River keeping the land fertile. Just an hour north of Cusco, it's one of the best places to see archaeological sites in all of Peru. Famous places in the Sacred Valley include the Pisac terraces, the fortress of Ollantaytambo, and the salt mines at Salinas which have been in use since the days of the Incas.
Want to see something truly unique? Then scramble down the concentric agricultural terraces at Moray and feel the different microclimates on each level. The Incas used the site as a crop lab, resulting in potato perfection!
Ready to go? Click the links to check out our most popular Sacred Valley tours:

Vinicunca (Rainbow Mountain)
This striking mountain is fast becoming one of the most visited Peru tourist spots, thanks to its . Hidden by snow until a few years ago, the slopes of Vinicunca are famed for their photogenic mineral layers of ochres, golds, and reds.
Looming at 5,200m (17,060 ft), Rainbow Mountain is three hours from Cusco, and we advise you to acclimatise for a few days in town before attempting this high-altitude day trip. The walk itself is just as stunning as the destination, with remote settlements and alpaca herds dotted about the valley. Wrap up warm because the weather can change in the blink of an eye when you are visiting this top tourist attraction.
Visit Rainbow Mountain – without the crowds! Our Rainbow Mountain tours offer an unparalleled glimpse of this natural wonder. Click the links for more details:
The Andes
You can't visit Peru and not go exploring in the Andes. Running parallel to the coast, this vast mountain chain carves the country in half and boasts some of the most rewarding treks in the world.
One of the major landmarks in Peru is , a towering peak in the Vilcanota range that lies 100km (62 mi) southeast of Cusco. This sacred mountain is the setting for some stunning multi-day hikes, taking in glaciers, alpine lakes, and mountain villages. The 5-day trek starting at Tinki is the most popular, with hot springs along the way to ease those tired feet.
For total nature immersion with both mountain and rainforest scenery, choose the , which is a great alternative to the Inca Trail. Salkantay is one of the famous treks in Peru that you shouldn't miss if you love a bit of adventure.
Meanwhile, the pyramid-shaped Veronica is the highest peak in the Cordillera Urubamba and is best viewed from the . This snow-capped giant makes for some enviable holiday photographs!
Want more options for trekking the Peruvian Andes? Find links to all of our epic Peru treks here.
Best of the rest: other Peru famous places you shouldn't miss
Lima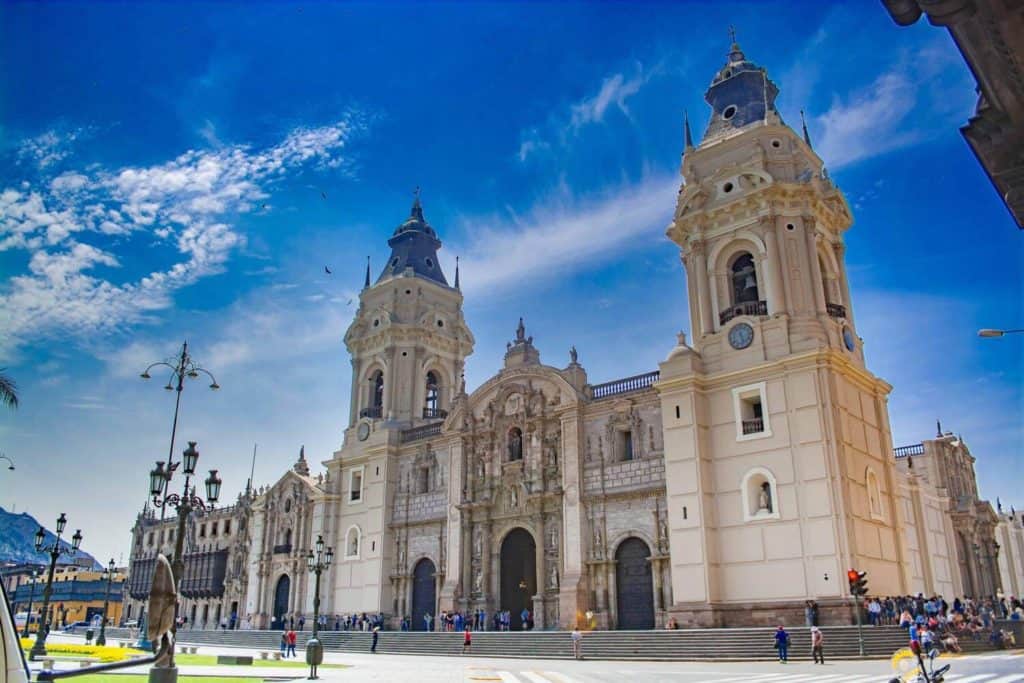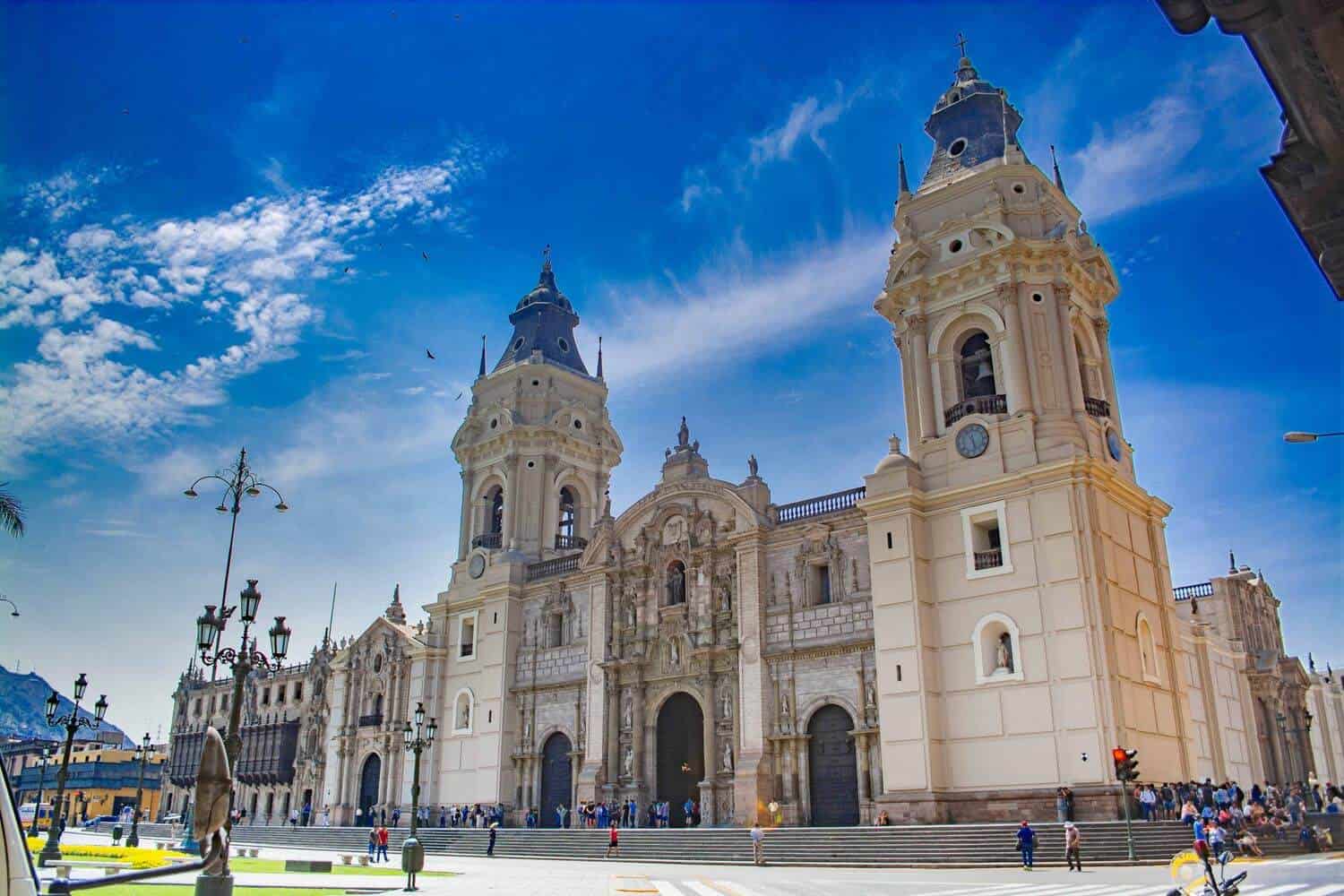 You'd need a couple of months to see all the famous places in . Peru's capital is often overshadowed by the glamour of landmarks like Machu Picchu, but if you give the city a chance, you'll discover some of the best Peru tourist attractions right here in Lima.
The historic heart is a UNESCO World Heritage Site, with the 16th century Plaza de Armas taking centre stage. There are palaces and cathedrals to explore, as well as all the churches and museums you can handle. The dining scene is world-class, and boutique hotels will have you slumbering in timeless splendour. Don't miss the arty Barranco district or coastal Miraflores with its energetic vibe – both famous places in Lima in their own right.
Want to visit Lima? We have a 3 Day Lima Tour itinerary that is the perfect add-on to any Peru trekking adventure. And be sure to read up on all these things to do in Lima for the perfect holiday.
Arequipa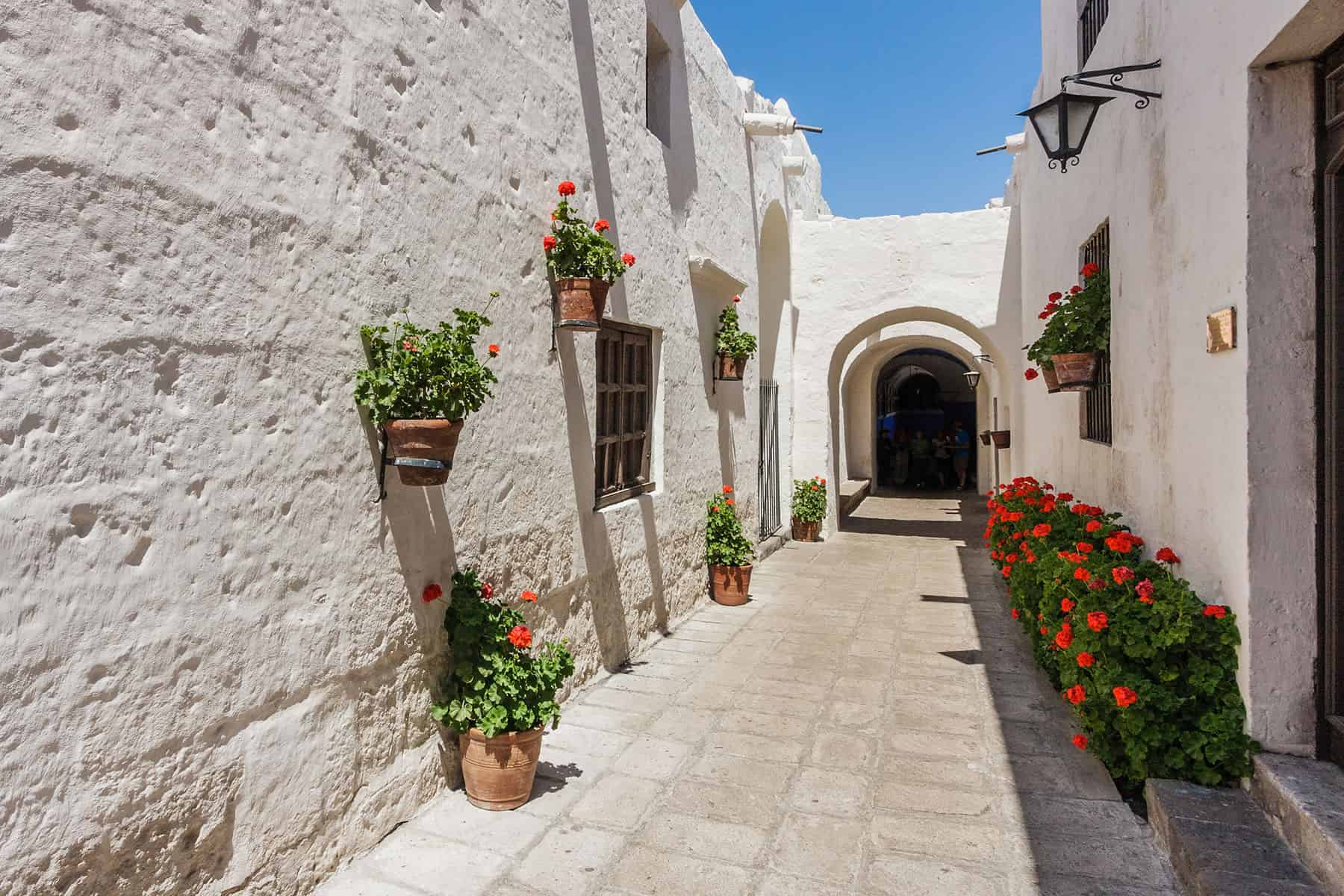 If you're looking for famous attractions in Peru, the stunning city of Arequipa ticks all the boxes. The striking architecture is what draws the eye, with the white volcanic stone glinting in the sunlight. Wander through the cobbled streets, checking out museums and soaking up the old-world atmosphere.
Don't miss the beautiful and serene Santa Catalina Monastery, one of our favourite buildings in Peru, which we've included at Beautiful Peru Places to visit
Keeping a watchful eye over Arequipa are three volcanoes, with cone-shaped El Misti standing out from the crowd. It's one of Peru's most active volcanoes but hasn't erupted since 1985 so makes a great day out for intrepid hikers. The city is also the launchpad for treks in the Colca Canyon.
We love the ! For the best trip to Arequipa, check out our list of things to do.
Nazca Lines
The Nazca Lines are the most mysterious Peru landmarks, and no-one really knows who created them or what these vast geoglyphs mean. There are over 70 patterns to spot, some of which sprawl for 10km (6 mi).
Enshrouded in myths and legends, the unusual shapes are best viewed from above. So, take a scenic flight over this pre-Incan site and come up with your own theories about the giant lizards, condors, and even killer whales that adorn the desert floor.
Could the Nazca Lines be some sort of astronomical calendar for growing crops? Or maybe they're landing sites for alien spaceships. You decide!
Keep Reading: The Best Way to Visit Nazca, Peru
Incredible natural Peru landmarks
Lake Titicaca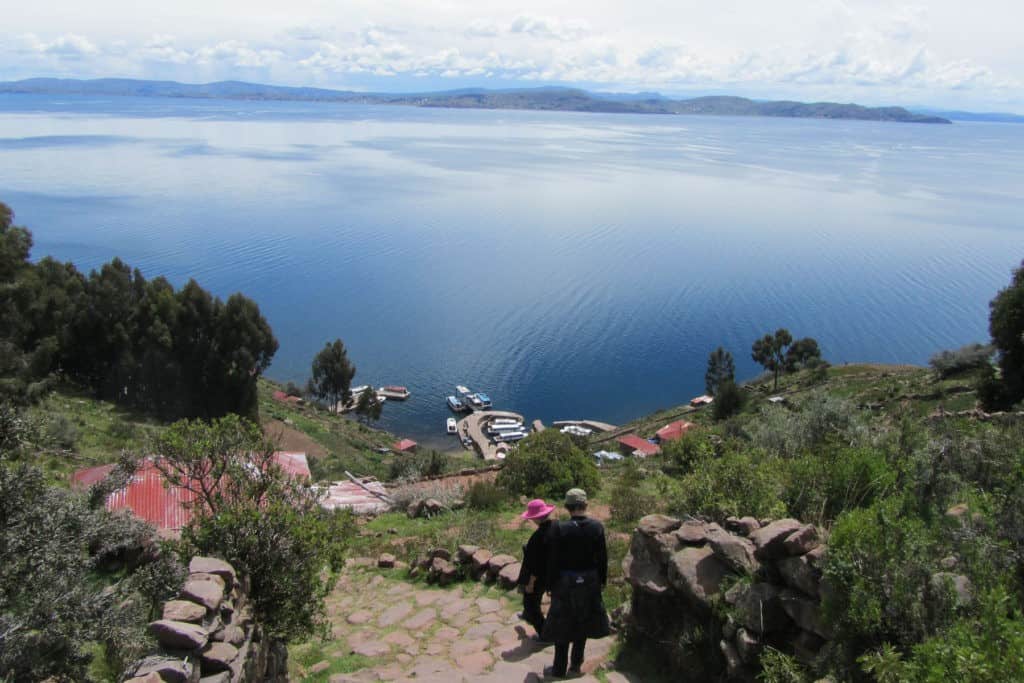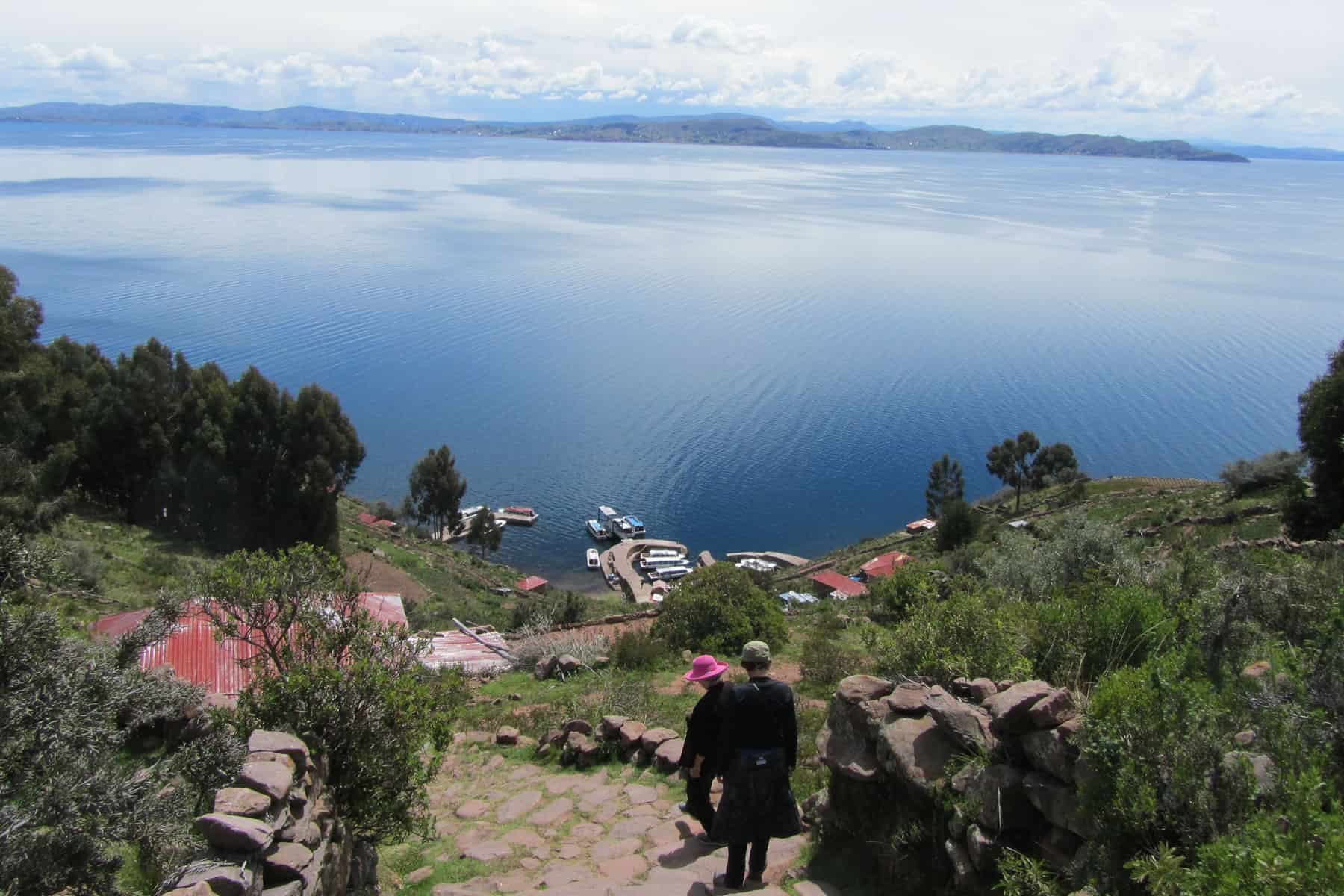 The highest navigable lake in the world deserves pride of place on your itinerary. Sitting on the Peru-Bolivia border and surrounded by undulating hills and rural villages, makes a great add-on to any Cusco-based trip.
You can visit the Uros floating islands and meet the Indian communities who have lived here since Inca times. The traditional lifestyle has changed little over the centuries, and staying the night gives a privileged insight into local customs.
The island of Taquile is worth exploring too, with hiking trails, boat rides, and even soap making all on the cards.
Thinking of including Lake Titicaca in your Peru travel plans? Then you better read our list of Things to do in Lake Titicaca first! We also offer 3- and 4-day tours to Puno & Lake Titicaca – click to get all the details!
Colca Canyon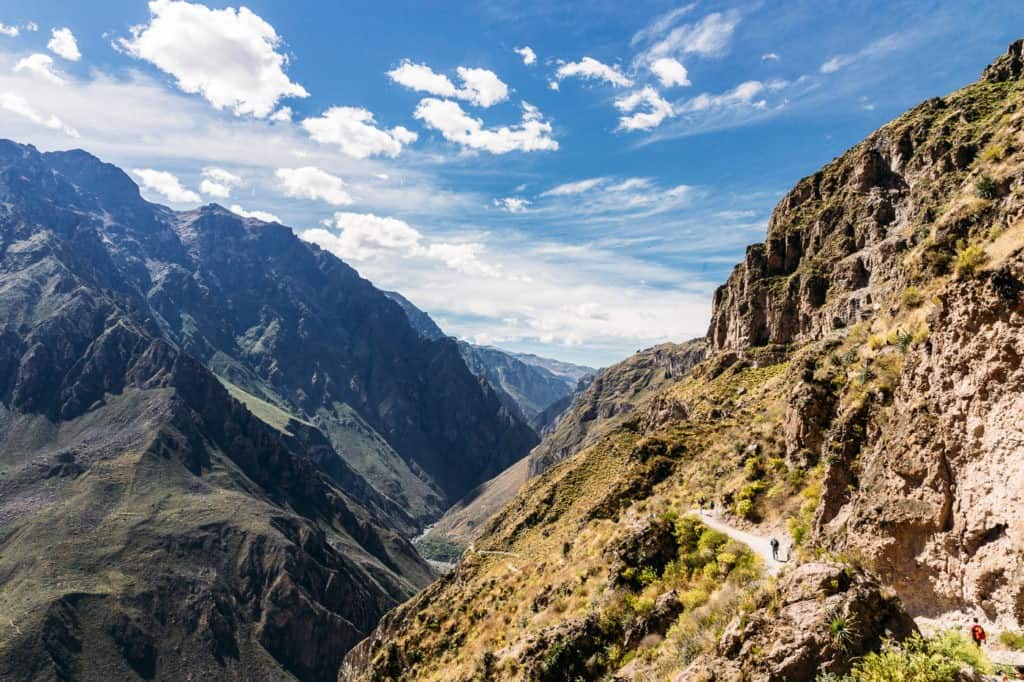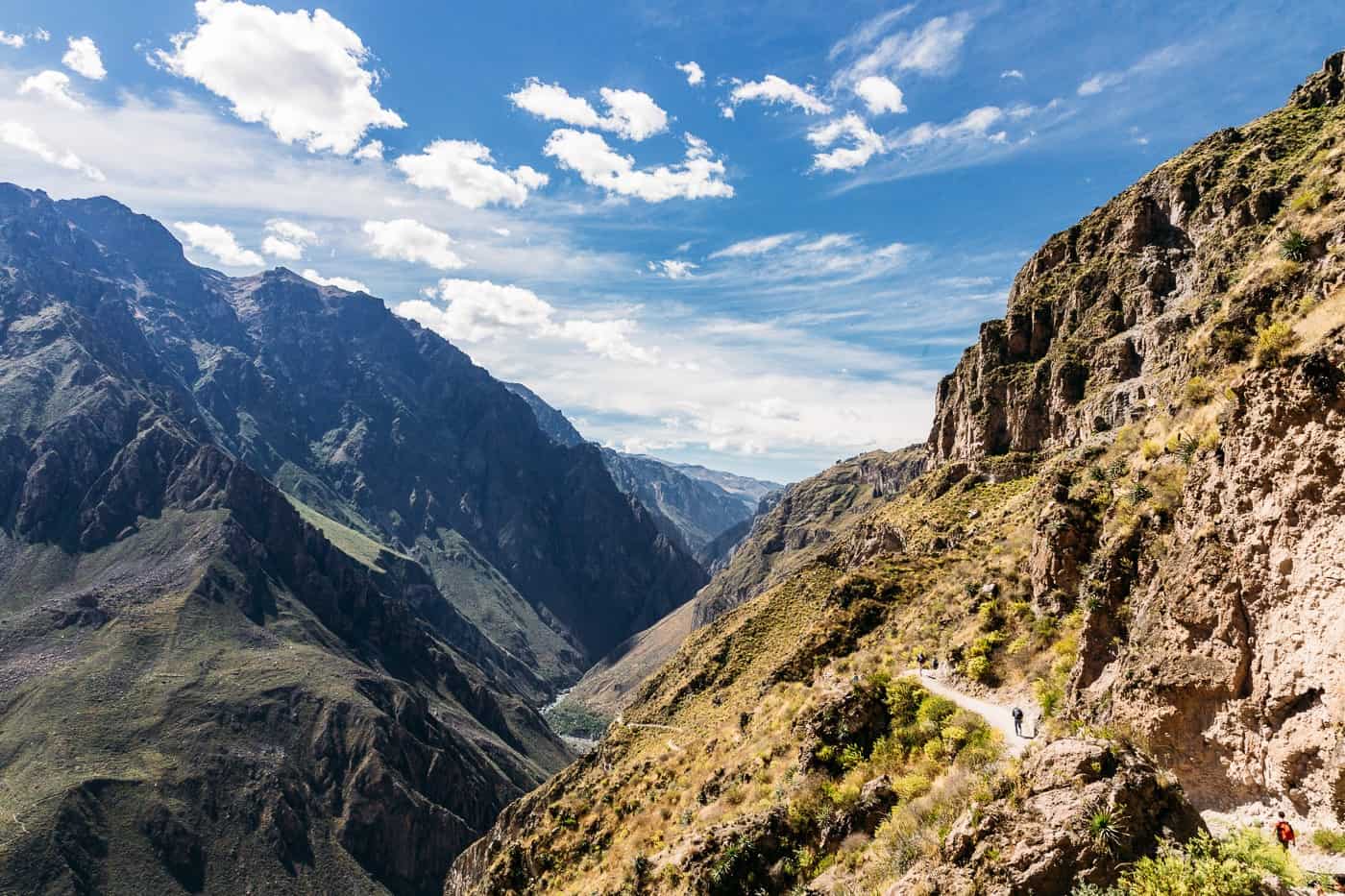 The second deepest canyon in the world is one of the most awe-inspiring Peru natural landmarks. Colca Canyon plunges a whopping 3,400m (11,100 ft) in places – that's twice as deep as the Grand Canyon!
You can visit on a day trip from Arequipa, but we recommend our multi-day hike if you want to properly explore. You'll be rambling past Quechua farming settlements, checking out hidden Inca ruins, and bathing in hot springs as you navigate through this rocky wilderness. Keep your eyes peeled for condors up above.
On a flying visit to Peru? Don't worry, you can stop at rim viewpoints for photos, and see the iconic birds from the Mirador Cruz del Condor.
Click here to see details of our 3- and 4-day treks through the Colca Canyon.
Amazon Rainforest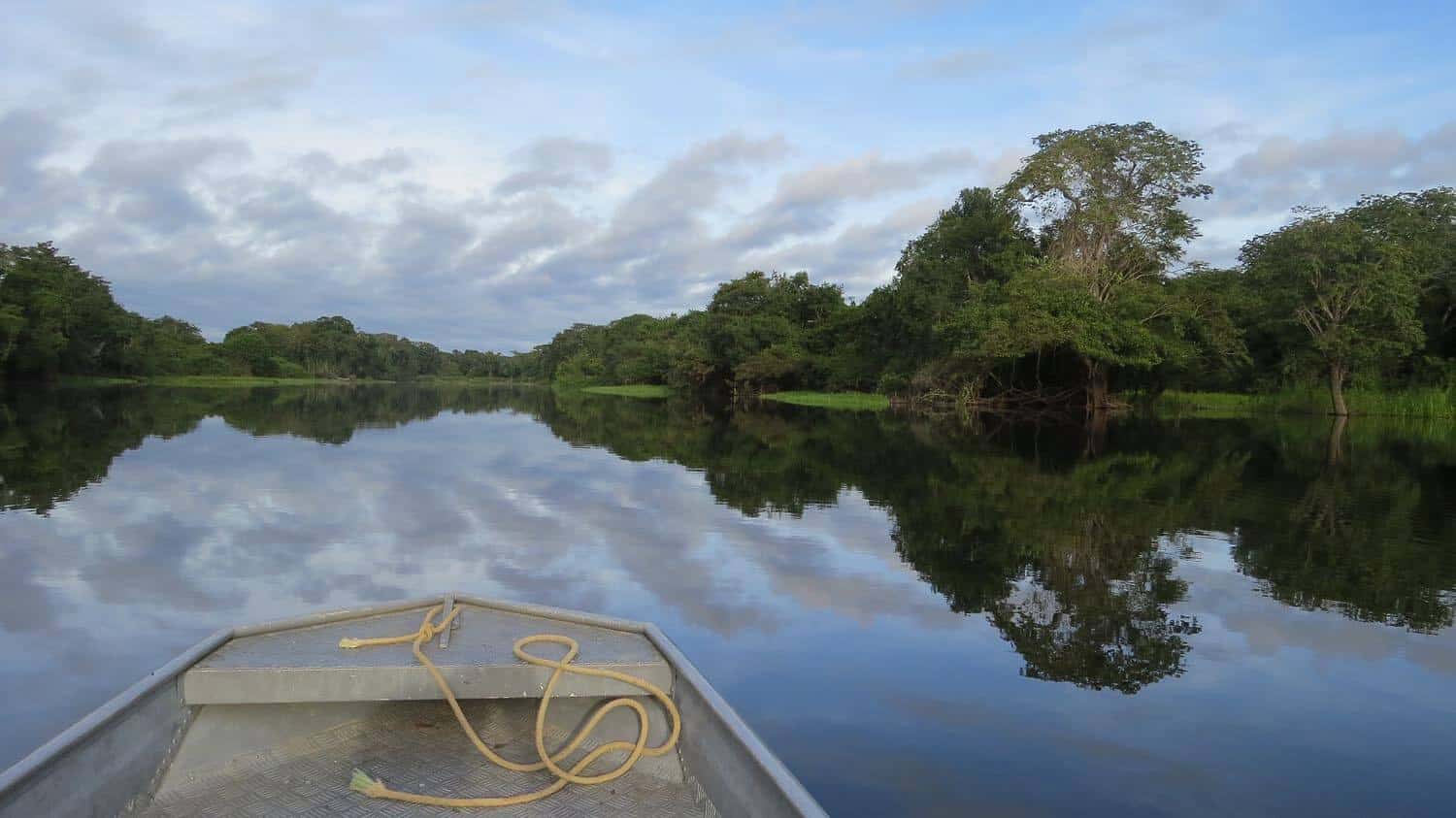 The Amazon is one of the hottest Peru tourist spots. Quite literally! If you love wildlife, you'll be right at home in these tropical jungles.
Just a half-hour flight from Cusco, Puerto Maldonado is the gateway to the Amazon. From here, you'll travel up a tributary of the Amazon River to a lodge in the Tambopata National Reserve to explore the domain of monkeys, capybaras, and sloths. Watch out for pesky piranha and crafty caiman as you canoe down the river.
Over in Manu National Park, you will discover biodiversity is at its finest, with macaw clay licks and cloud forest birds all vying for your attention. Fancy a luxurious rainforest cruise? Then fly up to the jungle city of Iquitos and sail into the wild forest.
Does the Amazon sound like just the ticket for your Peru vacation? Let us help you plan the perfect jungle tour in Peru.
Huacachina Sand Dunes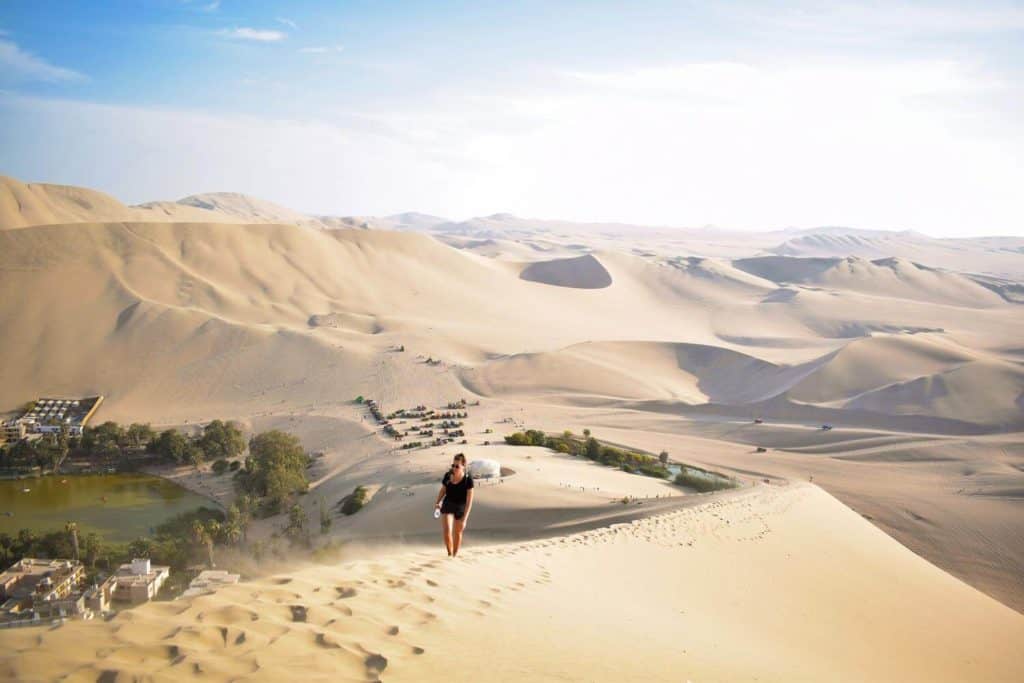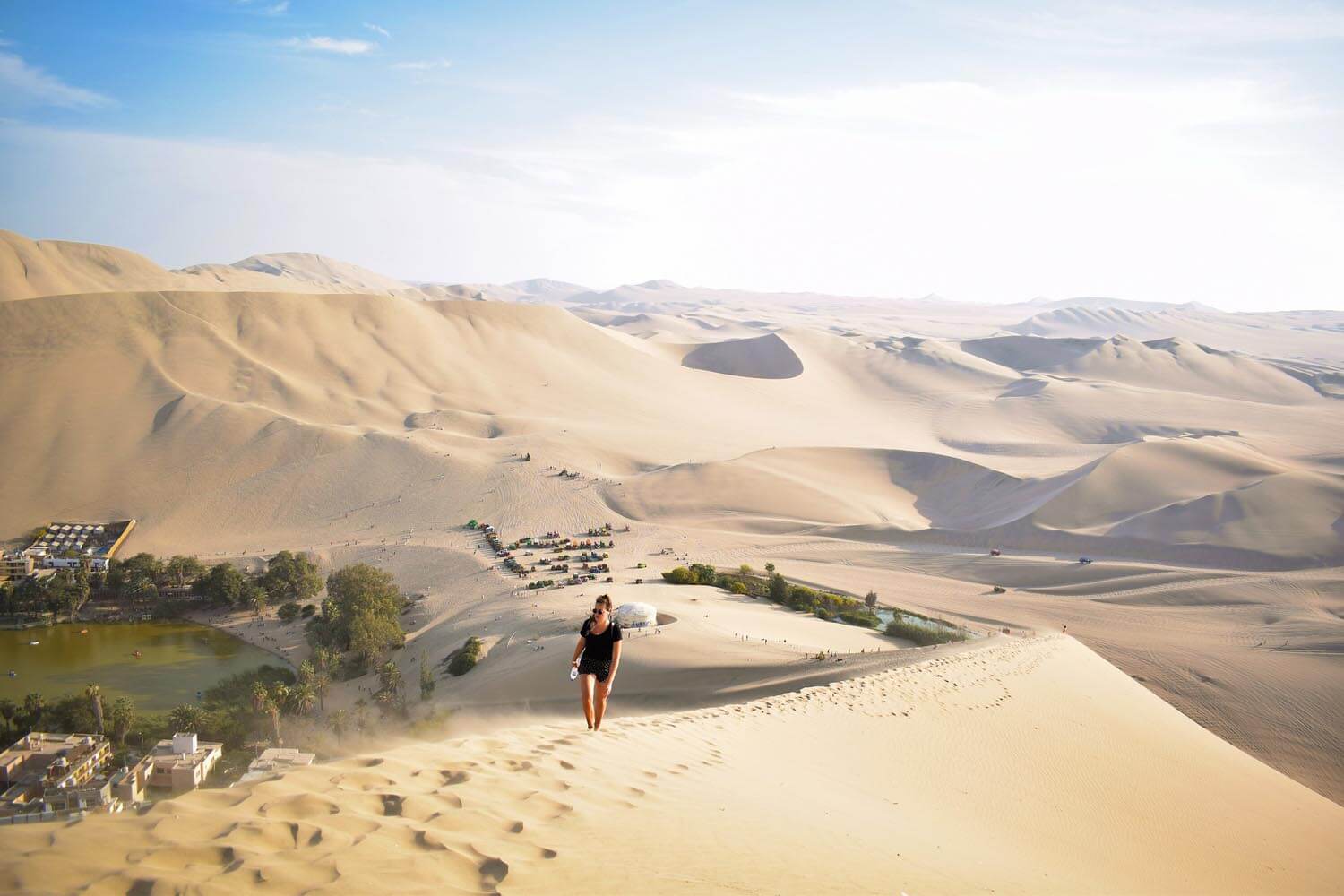 Want to do something a bit different? The tiny oasis of Huacachina is quite a surprise, with towering dunes (some of which top 1000m / 3280 ft) and a natural lake that's rumoured to have mystical healing properties.
Sandboarding down these golden slopes tops the list of famous things in Peru for adrenaline junkies. Alternatively, get your heart pumping as you bounce around in dune buggies, then relax at one of the luxury hotels.
This secret desert oasis lies a short distance from the city of Ica, in the heart of Peru's wine region. Here you can amble through vineyards and learn that it's not just Chile who knows how to produce a good red!
Cordillera Blanca and Huascaran National Park
If you're after epic mountainous attractions, Peru knows how to deliver. The Cordillera Blanca features some of the most dramatic Andean scenery in the country, with the pièce de résistance being the Huascaran National Park just outside Huaraz.
At 6,768m (22,204 ft), Huascaran is the highest peak, surrounded by its equally impressive siblings and some scattered archaeological ruins. This is a trekker's paradise, with numerous trails of varying difficulty beckoning you into the wilderness. The waters of Laguna 69 and Laguna Paron are impossible hues of turquoise, while the peaks remain snow-covered throughout the year. Expect to see glaciers and encounter native wildlife as you hike in the shadows of these imposing mountains.
The longest wave in the world
Peru isn't all about rambles, ruins, and rainforests. It's also home to the "longest wave in the world", which is a bucket list achievement for all the surfers out there. Known as "Chicama", this epic wave breaks along the windswept shores of a beautiful sandy beach before finally running out of steam. See if you can ride the wall of water right to the end, which could be as far as 3km (1.8 mi) away depending on the conditions.
You'll find Chicama in Puerto Malabrigo on Peru's northern coast, not far from Trujillo. For alternative surfing spots, head down to Punta Hermosa just south of Lima for waves that are plenty big enough to keep you on your toes.
How can I visit these famous Peru tourist attractions?
Have you been inspired to visit Peru but aren't sure where to start? Apus Peru is a responsible travel company in Cusco that is experienced in organising adventurous tailor-made holidays. Whether you're just at the dreaming stage or have firm plans in place to visit Peru, let our expert advisors do the hard work and conjure up a trip to remember.
Contact us to get started planning your trip of a lifetime to Peru!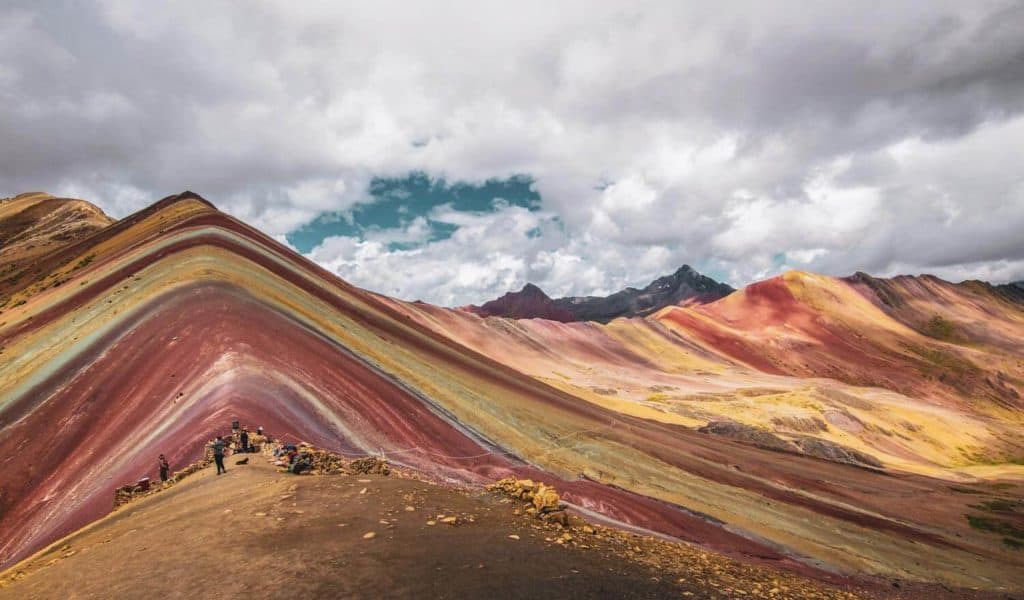 That's a wrap on the most famous places in Peru!
So, there you have it, the definitive list of all the famous places in Peru we think you'll love. Hopefully, you now have a better idea of what not to miss. From iconic ruins and ancient cities to steaming rainforests and monumental mountains, lots of epic adventures await you in Peru. Famous landmarks make up just a fraction of what this remarkable country has to offer, but there's nowhere better to start than with the greats! Whatever you end up doing, it's going to be the trip to end all trips. As we like to say, Peru isn't just a place, it's a feeling. One that you'll enjoy embracing with an open heart.
Ultimate Landmarks and Famous Places in Peru > Pin it > Share it!