At Apus Peru, we take pride in maintaining our equipment to the highest possible standard, and upgrade it on a rotational basis every year. As hikers ourselves, we know what kinds of equipment we like to have with us on the trail, and so that's what we make available to you, too!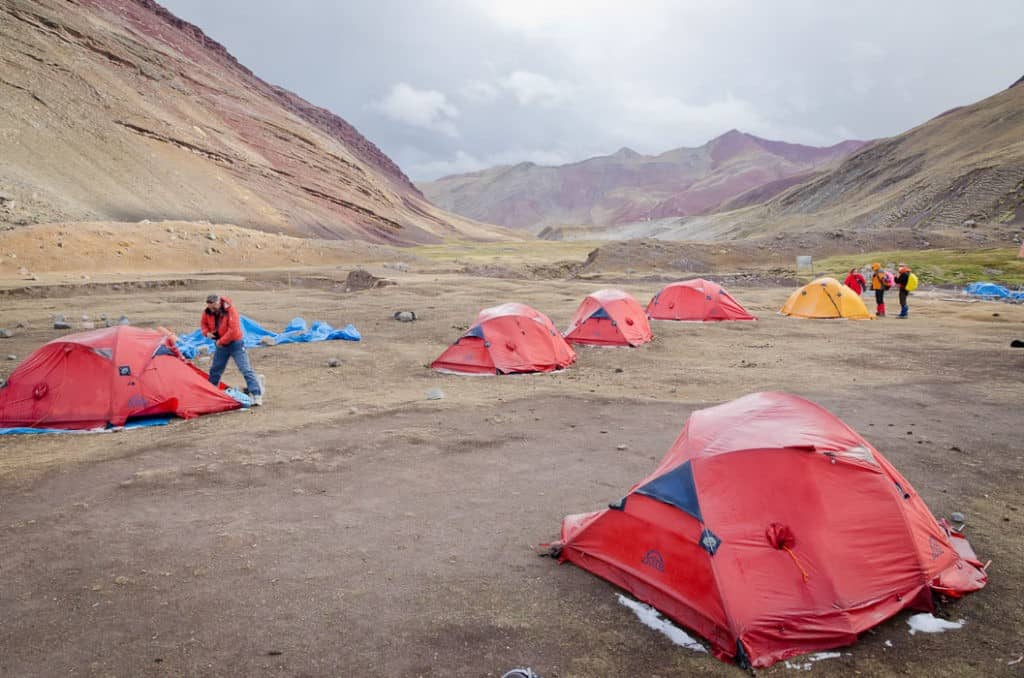 The equipment needed varies by route, but we take the following on most of our treks:
Tents
Enjoy a good night sleep in our 4-season igloo waterproof, spacious and professional EUREKA tent. All our tents are 4 person tents. ONLY 2 people will sleep in each, leaving lots of room to spread out comfortably and store your duffel bag.
Solo travellers or groups of 3 are generally accommodated in 2-person or 5-person tents, respectively.
Foam Mattress 
Providing a little bit of insulation between you and the ground. Inflatable Thermarest mattresses are available for rent for greater comfort.
Dining Tent
 A special shelter allowing your group to dine in comfort. Chef and cooking equipment are included in most of our treks. Read more about food on the trail here.
Toilet Tent
A necessity on all but the Inca Trail routes, our toilet tents are comfortable, easy to use and ecologically sound.

Duffel Bags
At your briefing, we will provide you with a strong, secure and water-resistant (not waterproof) Apus Peru duffel bag in which to store your the things you need to take with you on the trail, including your sleeping bag. These will be carried by mules during the trek, along with the food and other equipment.
Note: you will not have access to your duffel bag on the trail as the muleteers travel at a difference pace than the main group. You will be given your duffel bag at the end of each day, once we reach the campsite. 
The duffel bag measures approximately 60 cm x 30 cm. Although water resistant, we recommend that you store your belongings inside a plastic bag within the duffel bag.
At the end of the trek, please be sure to return your duffel bag to the reception desk at your hotel, where we will come and collect them.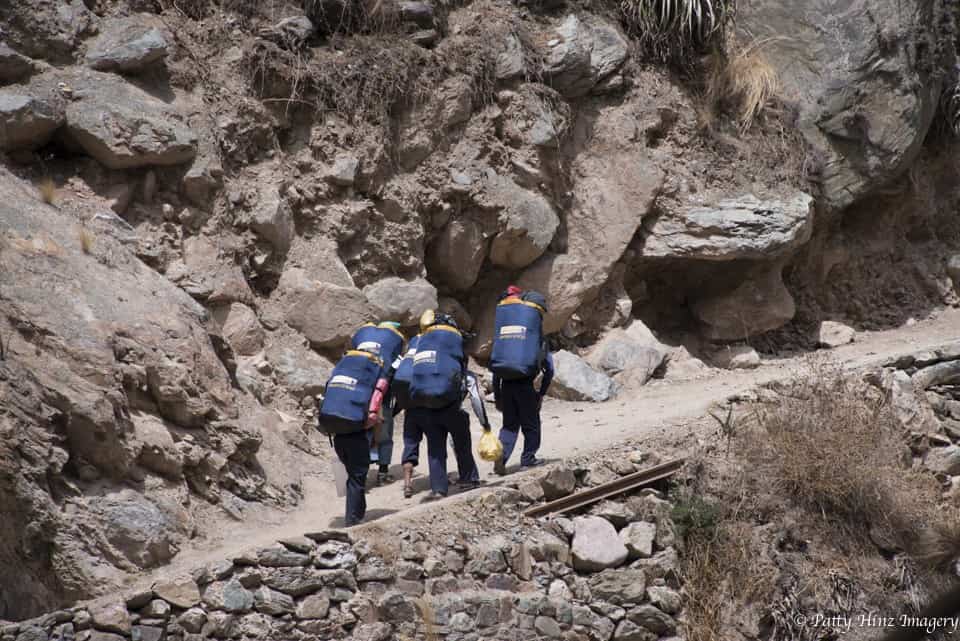 Maximum Weight
On all Inca Trail treks (regardless of length) and multi-day alternative hikes of 4 days or less you are permitted to carry up to 8kg (17 lbs) of personal belongings on the trail, which includes your sleeping bag. Apus Peru sleeping bags weigh 2kg (4.5lbs) which means you can carry 6kg (12.5lbs) of your own things. If you bring your own sleeping bag, and it weighs more, this means that you will have less room for your belongings. 
 On non-Inca Trail hikes 5 days or longer, the weight limit is  10kg (22lbs), including your sleeping bag. Apus peru sleeping bags weigh 2kg (4.5lbs) which means that on these long hikes you can carry 8kg (17.5lbs) of your own things.  Be sure to keep this in mind if you bring your own sleeping bag!
What To Do If Your Duffel Bag Is Overweight
The weight limit is firm. Your guide will weigh your duffel bag before entering the car on Day 1 of your trek. If your bag is overweight, you have two options:
quickly remove some items to lighten your load, as long as you will not delay the group.
pay an over-weight fee of $1 per kg per day.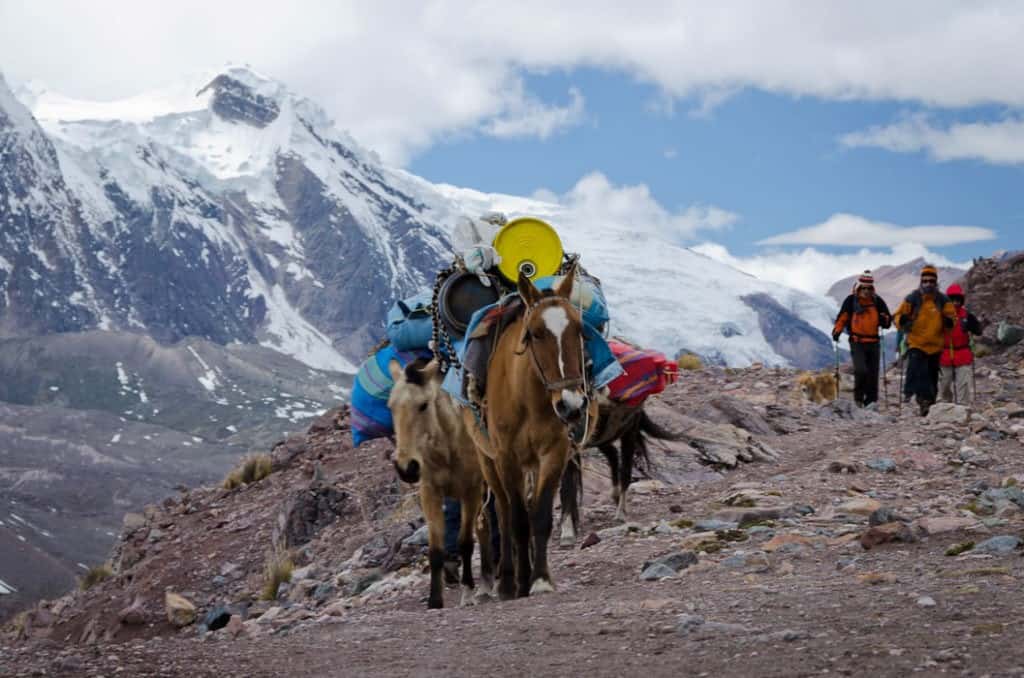 Extra Luggage Mule or Inca Trail Porter
On a standard trek, you are permitted to carry up to 7kg of personal belongings (including your sleeping bag) in your assigned duffel bag. Most people find that the weight allowance is sufficient, but if you think you need to take more, you could consider hiring an extra mule or a personal porter. Mules carry about 20kg of equipment, so an extra mule may be shared between 2-3 people.
If you want to hire an extra horse or mule, this must be reserved at least one week in advance of your departure date. Muleteers and horsemen live in remote areas and we need time to be able to contact them.
Hiring an extra porter on the Inca Trail. Mules are not permitted on the Inca Trail, so all luggage is carried by porters. If you would like to hire a personal porter to carry your additional luggage, must be reserved at the time of booking in order to purchase the necessary permits. Read more here about our Porter Welfare policies.
Extra Riding Mule
All treks except Inca Trail treks include an emergency riding horse, for anyone who may become ill on the trek or who are feeling weak due to altitude. However, if you are travelling with young children or older folks, those who are not terribly fit, or who may be inexperienced hikers, you may wish to hire an extra horse. This will ensure that there is always a horse available for riding when that person needs it, and still one available for true emergencies.
Keep Reading About Hiking the Andes with Apus Peru!