Sometimes our staff and trek crew leave such an impression on our clients that a bond of a lifetime has been forged!
The treks we offer are wide-ranging and tough, challenging and rewarding: as a result of the very real hurdles that have been faced together, strong bonds that transcend cultural barriers are often created among participants and crew. A journey of this nature can leave both staff and trekkers with long- lasting memories of having surpassed limitations, together, under tough conditions.
In December 2016, Apus Peru arranged a classic Inka Trail tour for some clients that hailed from the US. They were so impressed with the hardworking porters and cooks who made the logistics of the trip possible, that, upon their return home, they gifted the entire trek staff with brand new headlamps!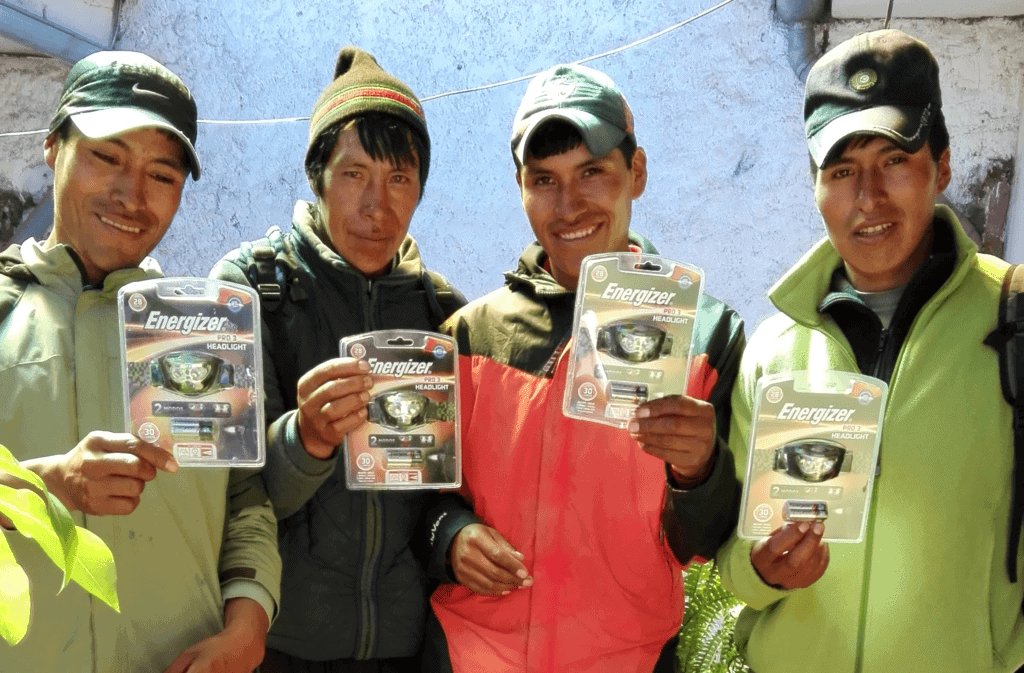 Although we encourage our clients to be careful regarding gift-giving, we felt that the torches were an appropriate gift that fell well within Apus Peru guidelines for gifts and donations, which can be found here:
https://www.apus-peru.com/responsible-travel/travellers_code_of_conduct.html  (see section on giving gifts)
On the behalf of our staff, Apus Peru would like to thank the generous couple who provided these extremely useful headlamps.
Regarding the treatment of porters in the travel industry: in the past, some disreputable companies have been called out for their poor treatment of porters, who often were required to carry very heavy loads and were given inadequate clothing and little food during the trek.
At Apus Peru, we care deeply about the welfare of  our porters, guides, and cooks. Many porters are farmers with large families to support. The income they earn from carrying loads during treks significantly improves their quality of life and that of their families. We hire our porters from the  same remote villages where we have our weaving projects.
In addition:
We pay annual personal accident insurance for our porters.
We ensure that porters have adequate clothing and shelter for work on the Inca Trail.
We abide by the Porter's Law and send the correct amount of porters for the weights/ amount of clients in the group.
For  further information about our philosophy regarding treatment of porters, please see this link:
https://www.apus-peru.com/responsible-travel/porter-welfare.html
Our respect for Andes cultures and communities is a great reason to consider booking your Peru trek with Apus Peru!
-If you enjoyed this blogpost, please consider sharing it on Facebook and Twitter.  🙂