Did you know you can hike the Inca Trail in 2 days? You can! The Short Inca Trail to Machu Picchu is a great way to get a taste of Peru's most famous hike even if you're short on time, are not up to a multi-day camping trip, or if the 4-day hike is sold out.
In this guide, you will find all the details and tips required to hike the Short Inca Trail. Though it still involves a lot of walking, if you are at an average fitness level there is no need to worry; you can do it!
Inspired to book your Inca trail in 2 days RIGHT NOW? Contact us for personal service and the best quality Inca trail treks in Cusco.
What is the Short Inca Trail to Machu Picchu?
What can you expect on the shortest hike to Machu Picchu? Well, to start with, on the Short Inca Trail, 1 day is spent hiking and the second day is spent visiting the Inca Citadel of Machu Picchu.
After travelling from Cusco to Ollantaytambo by car and then from there to km104 by train, the two day Inca Trail starts with a 6 to 8 hour hike up to the Inca site of Wiñay Wayna. After visiting that archaeological complex for a bit, you finish your journey by walking through the Sun Gate (also known as Inti Punku), the gateway into Machu Picchu.
From here, you hike down a side path, skirting the ruins themselves, in order to catch a bus down to Aguas Calientes. Stretch, relax and enjoy the night in a hotel and on the second day of your short Inca trail tour, get ready to explore the ruins of Machu Picchu.
Short Inca Trail Map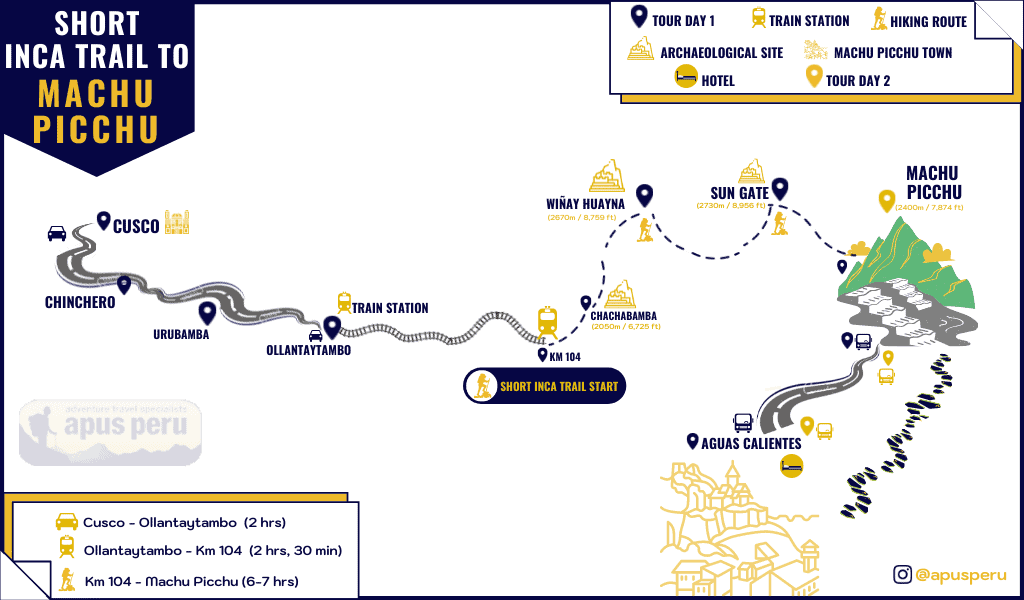 Day by Day on the Short Inca Trail: 2 Days on A World-Famous Trek
Short Inca Trail Day 1: From KM 104 to Wiñay Wayna & the Sun Gate
Morning
The 2 day 1 night Inca Trail trek begins with travel from Cusco to Ollantaytambo, where you will catch the train to the Short Inca Trail trailhead at KM104. Onboard the train, passengers can enjoy breathtaking views of the Urubamba River and changing Andean landscapes before the train reaches the stop at KM104 where everybody has to disembark and start walking.
When getting off the train at KM104 and crossing the suspension bridge above the Urubamba River, explorers will find themselves hiking in the middle of the dense cloud forest with its warmth, humidity and many different hues of green. With every breath taken comes the fresh smell of dew. That fragrance and the roar of the river accompany hikers for most of the day.
In addition to the green colour of the forest, it is easy to admire yellow, red, and pink orchids as well as white, brown, yellow, and black butterflies.
When hiking past Chachabamba, the tour visits an administrative post located near the starting point very close to the river. From there is possible to see, at a distance, the sites of Choquesuysuy, also by the river, and Intipata, perched upon a hill, as you hike the 7 hours towards Wiñay Wayna.
Trekkers can also enter via an alternative route at KM106. Instead of visiting the archaeological site of Chachabamba, visitors on this alternative hike will be able to see the Choquesuysuy archaeological site. The KM 104 route is always uphill, but at a relatively gentle incline. The KM 106 route is a zig zag climb and steeper, and it takes only about 3 hours to get to the Wiñay Wayna archaeological site. From Wiñay Wayna, the route follows the standard trail into Inti Punku, the Sun Gate.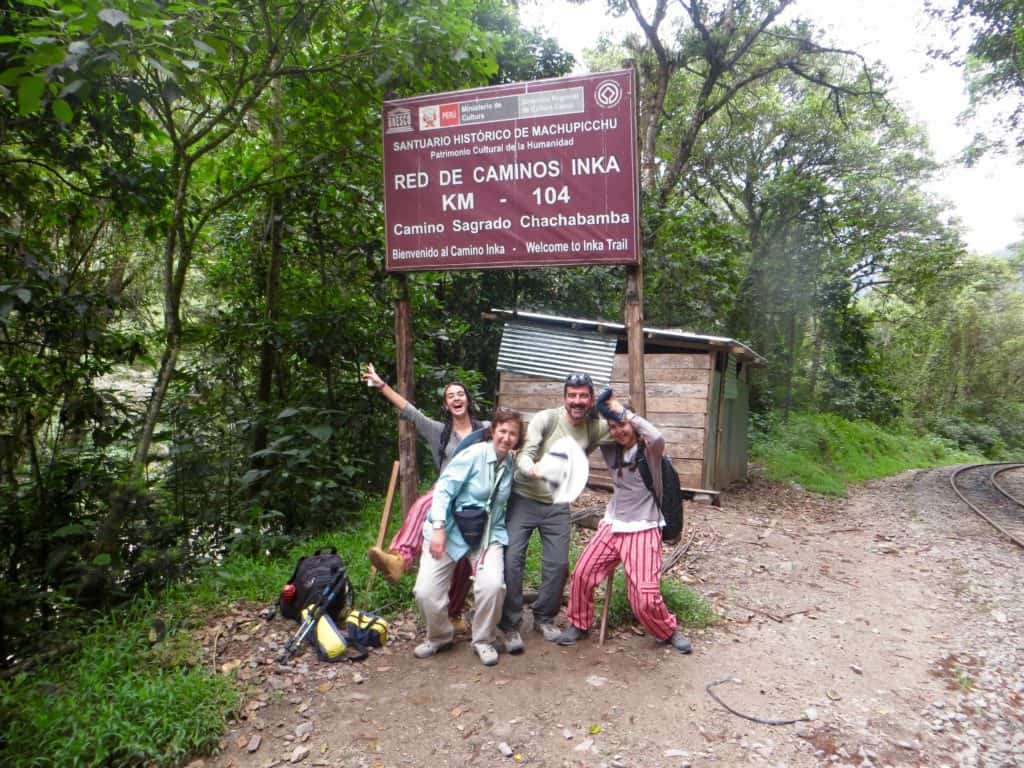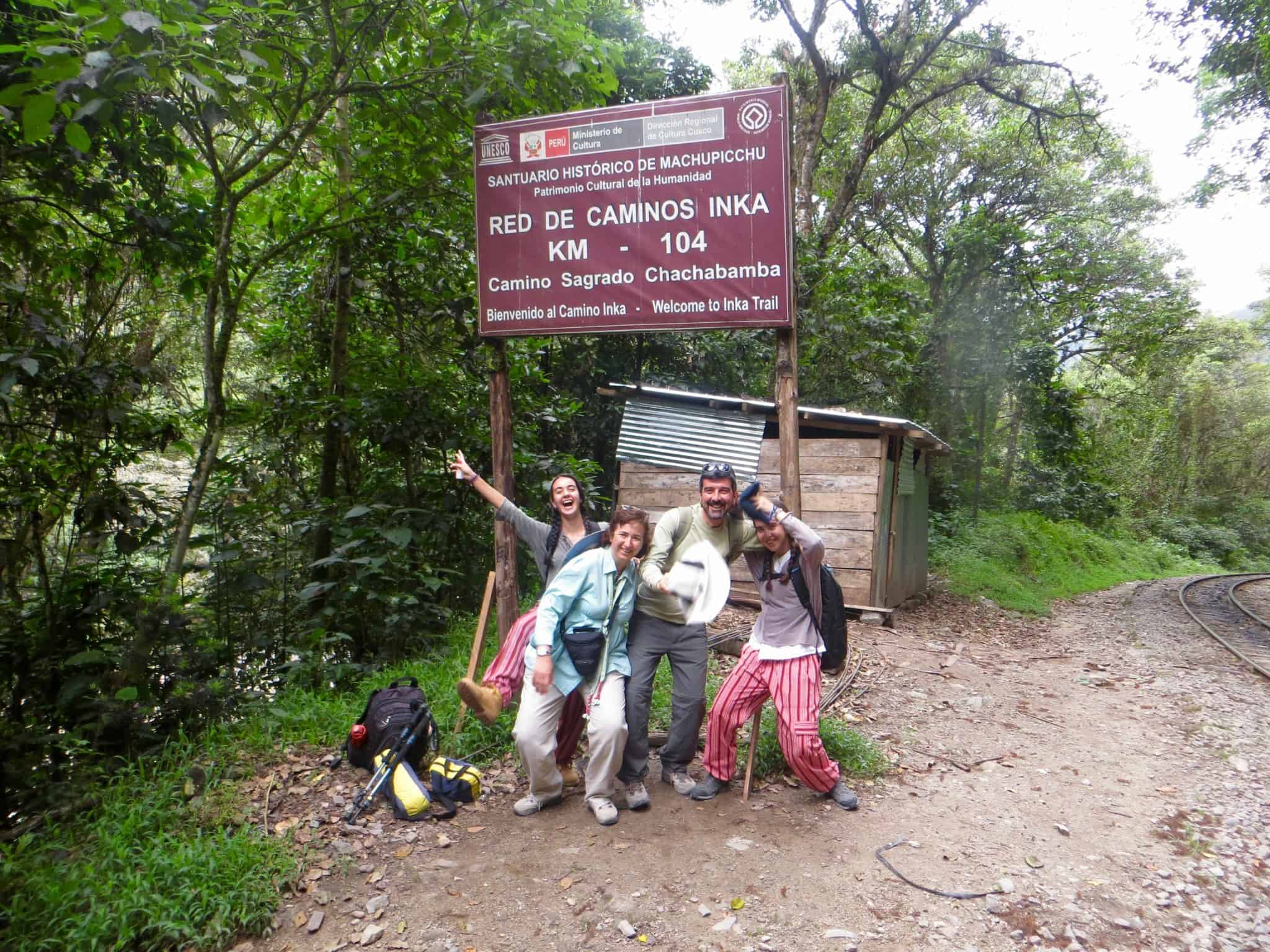 Afternoon
After passing through a few streams and a couple of waterfalls, hikers reach one of the most impressive Inca archaeological sites in the area known as Wiñay Wayna, (Forever Young), named for the orchid of the same name that can be found in this area. Wiñay Wayna features a ceremonial section with a double door and a room with 7 windows, as well as several finely carved water fountains. (Read more about Wiñay Wayna in our blog).
On this 2 day Inca trail tour, it is very common to spot different fauna species such as quetzals and hummingbirds playing cheerfully in the trees. Another famous endemic bird of the area that can be spotted is the Gallito de las Rocas, or Cock of the Rock, Peru's national bird.
After lunch and a tour of Wiñay Wayna, hikers will reach a section of stairs: the last stretch before reaching the Sun Gate or Inti Punku. It is only about an hour's hiking from Wiñay Wayna to Inti Punku, from where it is possible to attain a first spectacular view of Machu Picchu, the most important and magnificent archaeological site of the Americas.
Evening
After getting those classic photos, you continue to walk down, past the ancient city itself, in order to take a bus down to Aguas Calientes.
At this moment of the day is very common to observe tired but happy faces among travellers, not just because the two day Inca trail tour challenge has been completed but also because of the excitement of exploring Machu Picchu.
Once in Aguas Calientes, you will check into your accommodations for the night. Plan on getting to bed early in preparation for the next day's early start.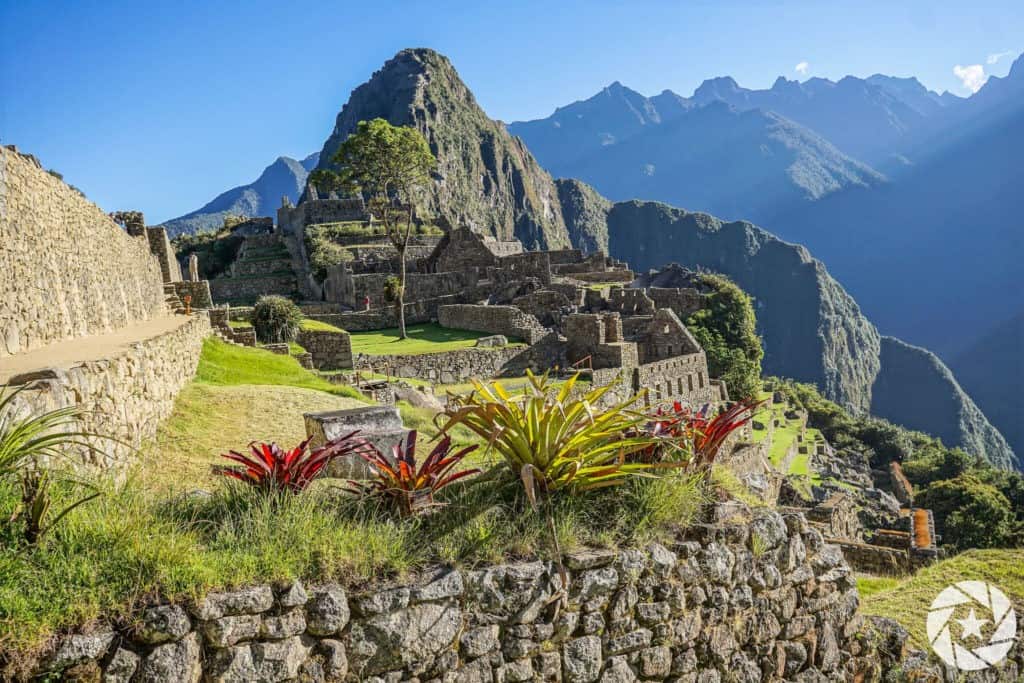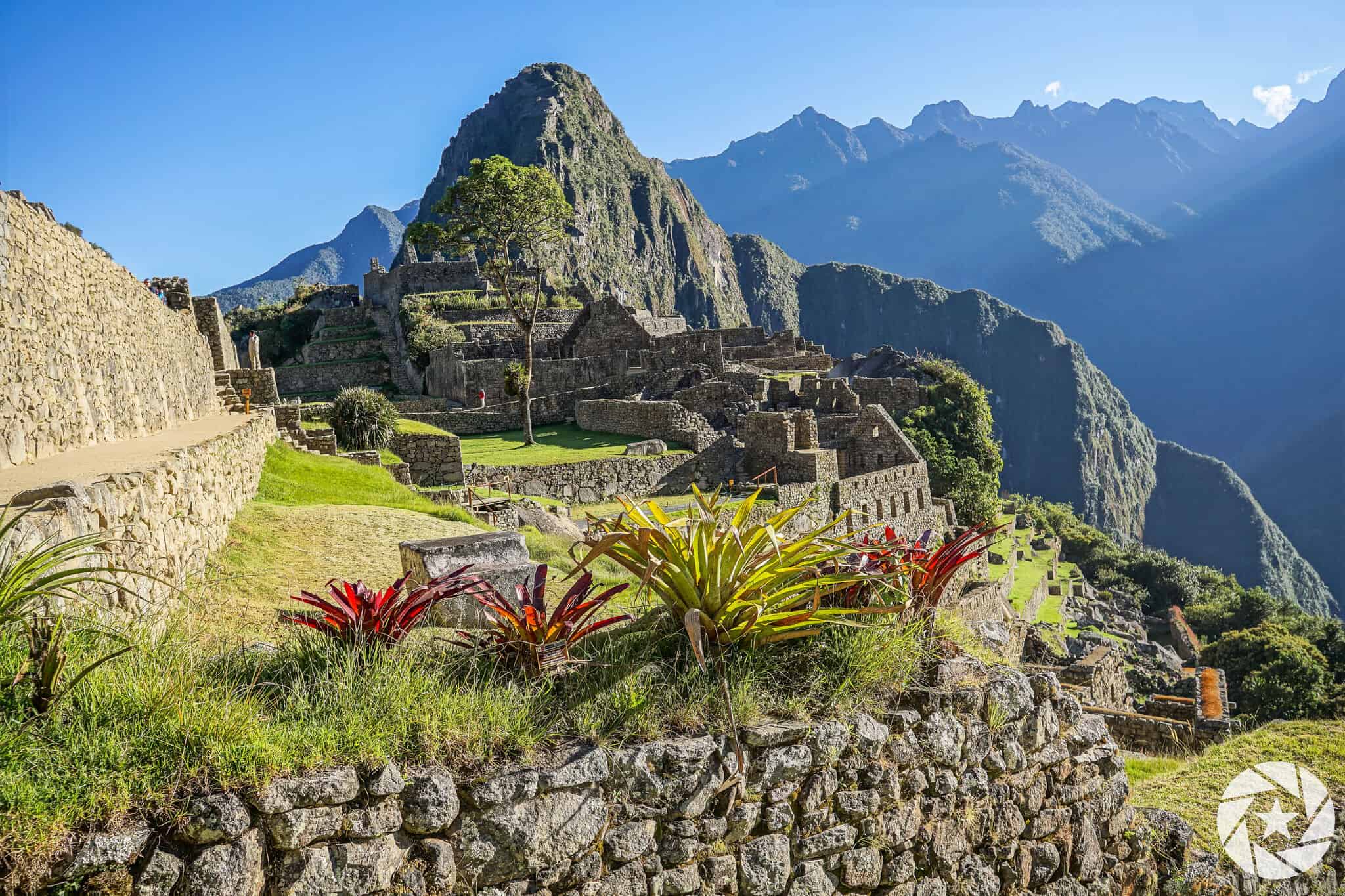 Short Inca Trail Day 2: Visiting Machu Picchu
Today you will be rewarded for all your effort the previous day! After taking an early bus up to the ruins, you will have as many as four hours to walk through Machu Picchu, taking in the historic sights and learning about their significance.
Add Huayna Picchu for Something Extra
The Huayna Picchu hike is the most popular of the hikes at Machu Picchu citadel. Huayna Picchu is the sharp iconic mountain peak that rises above Machu Picchu and is seen in so many of those classic photos. From there, hikers can get an extraordinary view of Machu Picchu.
If you want to climb this majestic mountain or one of the other alternative routes, contact our diligent staff to add it to your 2 day Inca trail trek. Huayna Picchu and Machu Picchu Mountain require special permits that can also run out, so it's best to book them in advance.
Short Inca Trail Difficulty
The short Inca trail 2 days difficulty is moderate and is recommended for travellers in a good physical state. If you are fairly fit, take regular exercise and do not have weight problems or problems with your knees or ankles so, this Inca trail short trek is perfect for you.
| | |
| --- | --- |
| Trail conditions | During the first hours you will walk a continuous climb, then the trail becomes easier with a few sections with a minimum degree of difficulty. |
| Total distance | 13 km / 8.08 miles |
| Hiking time (Approx) | 6-7 hours |
| Acclimatization | 2 days is recommended prior to starting the hike |
| Max altitude | 2650 m / 8694 ft |
| Min altitude | 2400 m / 7874 ft |
Some of our hikers have admitted they were a little bit concerned about the hike at first, but then they realized that it was not as difficult as they had feared. For most of the visitors, the experience surpassed all of their expectations.
Is the Two Day Inca Trail Worth It?
Is the 2 day Inca Trail worth it? Yes!
For explorers can't, for whatever reason, do the 4-day Inca Trail, this short Inca trail to Machu Picchu 2 days is a suitable option. Not only do hikers have the opportunity to enjoy marvellous landscapes, you also get to see some great Inca constructions!
Retrace the footsteps of the ancients as you hike along original Inca paths, explore arguably the most fascinating archaeological complex on the whole Inca Trail, and experience that unique moment of walking through the Sun Gate for your first view of Machu Picchu. Honestly, what more could you ask for?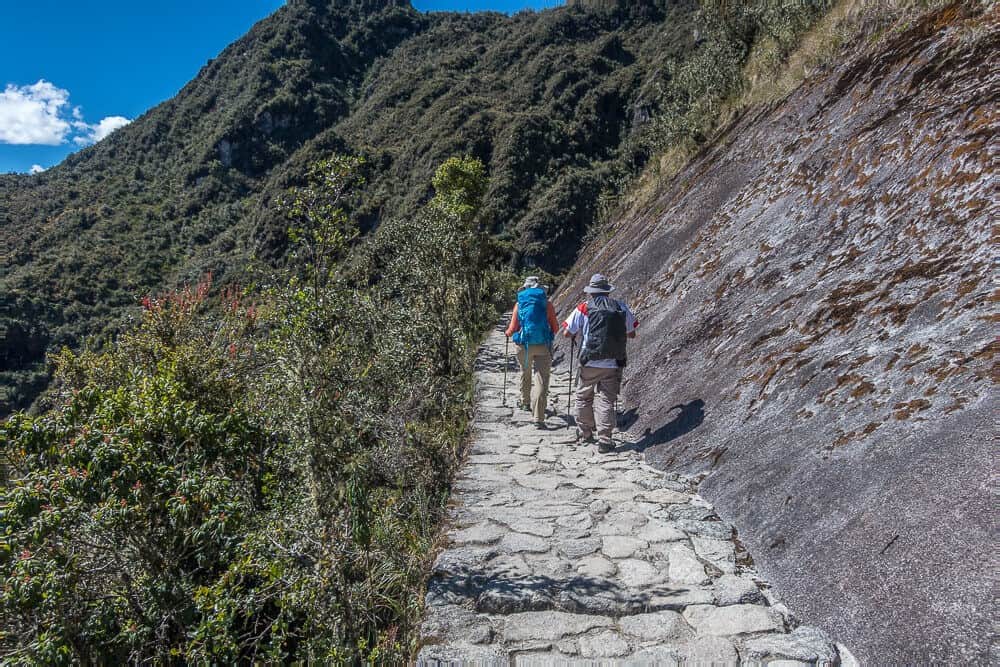 How to Prepare for Hiking the 2 Day Inca Trail
Get Fit
For all fellow travellers who are looking to have an enjoyable and pleasurable experience, we recommend doing some cardio exercises before travelling to Peru. If possible, it is also a good idea to walk or bike instead of taking public transport so you can get used to walking long distances.
If you want to read more about how to prepare for hiking, check out our trip preparation blog.
Getting Your Permits
There are 200 permits available per day, which means that only 200 travellers are allowed to access the trail every day. Although permits for the Short Inca trail don't tend to sell out as quickly as they do for the 4-day trek, it's still a good idea to book your tickets in advance if you are planning to do the hike during peak season (May-October).
Most travellers wonder why it is important to get a permit even for the two day Inca trail hike. Well, this is mainly to keep the trail in good condition.
Take the Time to Acclimatize
Why do we talk about altitude acclimatization? All treks in Cusco and Machu Picchu area are at high altitude. Here in the Andes, altitude sickness is a very common issue among foreign travellers because there is less oxygen in the air than at sea level cities.
That's why at Apus Peru we recommend to all our fellow explorers to spend a couple of days acclimatizing in the Sacred Valley before hiking to Machu Picchu. If you want to know what to do at Sacred Valley while you acclimatize, read our post here.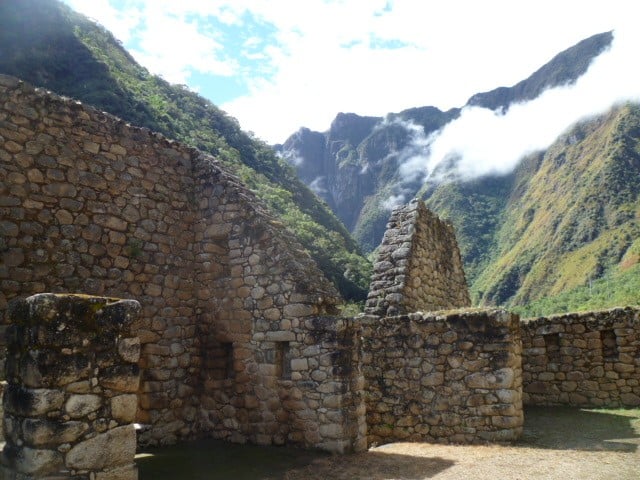 What to Pack
Make sure you include in your packing list the following items:
Sunscreen (SPF 35 is highly recommended) and sunglasses
Waterproof jacket
Hiking boots
Breathable clothes
Insect repellent
Toilet paper (As there aren't trash bins on the trail, keep all toilet paper used and dispose of it at the end of the hike)
Read more in our blog on What to Pack for the Inca Trail.
More Hiking Tips
Use these extra tips to make the best of your Machu Picchu short hike experience:
Bring your own reusable water bottle and avoid the use of single-use plastic bottles
Try to keep your bag as light as possible
Bring sweets and/or snacks to help you power through the trek
Use walking poles or sticks to make your walk easier. If you don't have walking poles, you can rent them from us.
For more useful tips read here.
Short Inca Trail Price
Prices for this trek vary depending the size of your group and what style of hotel you stay at in Aguas Calientes. Find all the details about this 2 day Inca Trail here, including prices.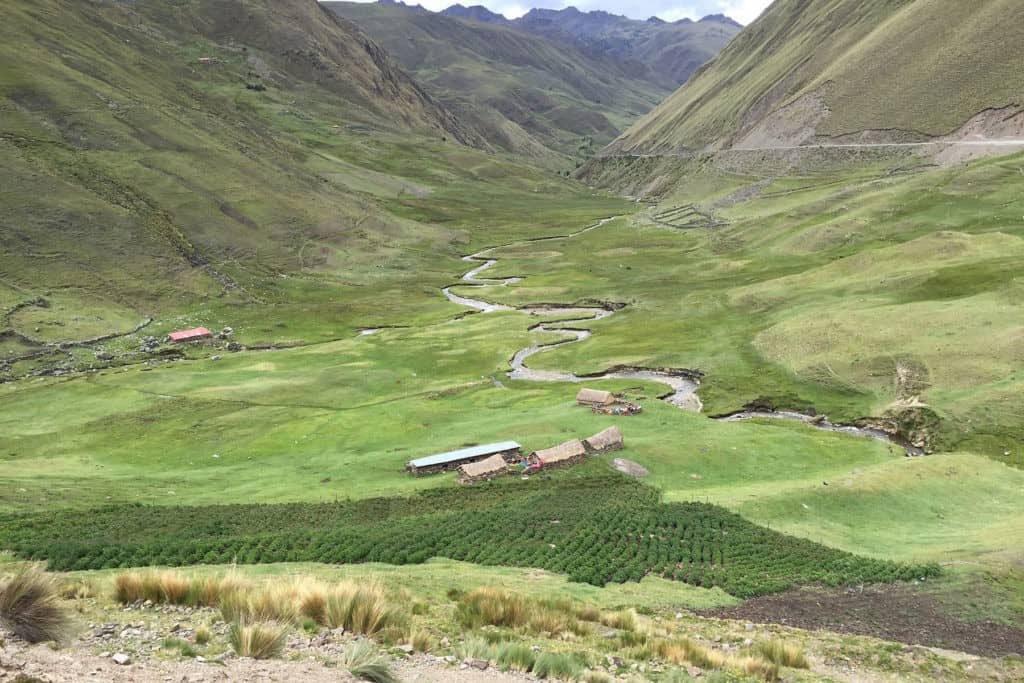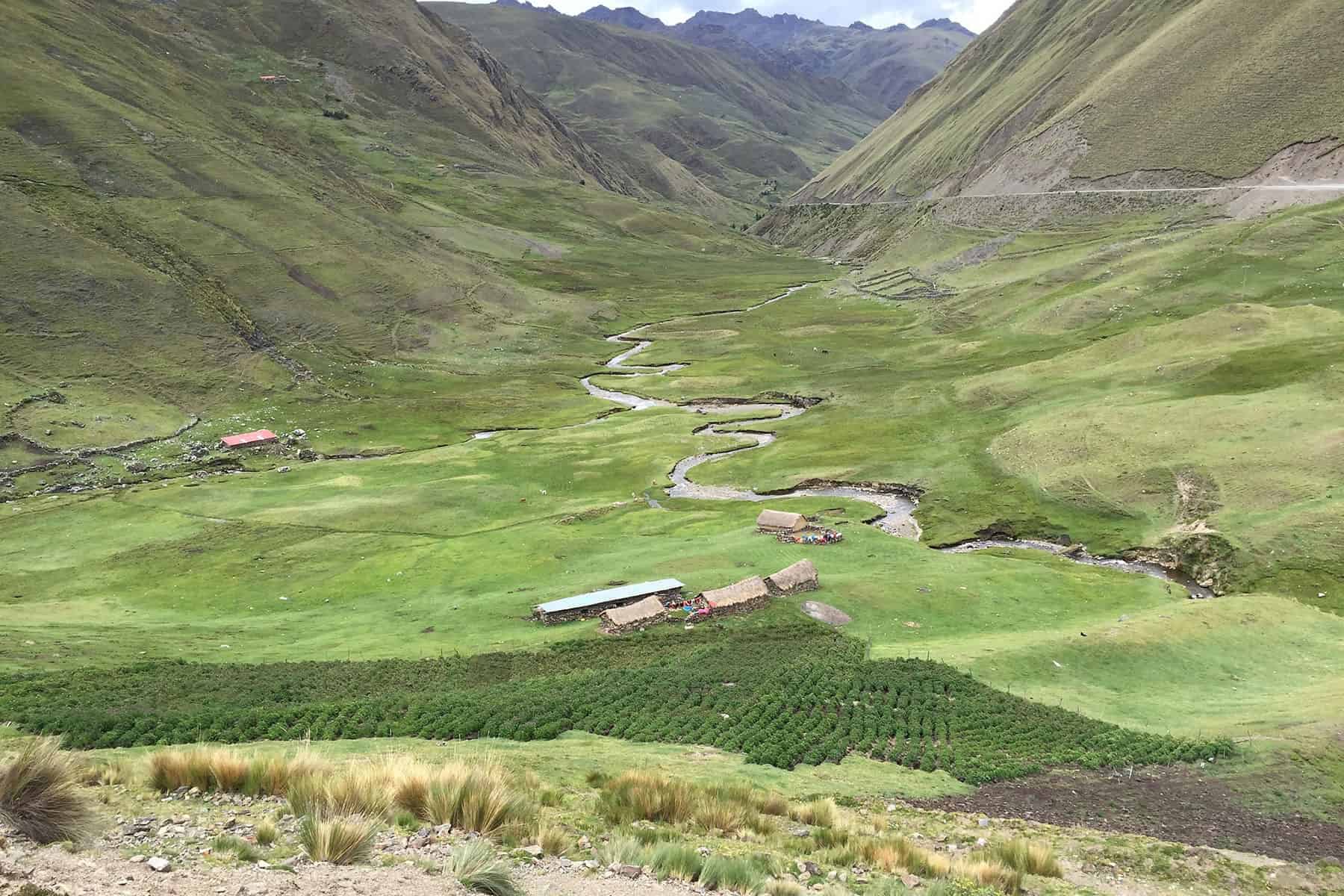 Another Alternative: The Lares Trek & Short Inca Trail
This is a perfect trip for all of you who are looking for an immersion in the Andean culture and also have a great experience hiking the Short Inca Trail trek. It's also a great option for those who want to do a longer trek when 4-day Inca Trail permits have sold out.
Do not miss this great adventure that combines wilderness trekking, local culture, Inca history and the excitement of completing a popular Machu Picchu hike!
Check out our page, Lares 2D Inca Trail, for more information about this tour.
Things to Know About Hiking the 2 Day Inca Trail in 2022
At Apus Peru we follow the Health Guidelines for Covid-19 for tourist destinations issued by the Peruvian government. Here is some information regarding health protocols and safety for Short Inca Trail tours 2022:
All visitors must wear a facemask during the Inca trail 2 day hike.
At each tourist transport boarding there will be a body temperature check.
All our staff have emergency numbers ready to report any medical situation.
During the trek and also at Machu Picchu Citadel, visitors must keep social distance.
After reaching the checkpoint, the groups of tourist will start the route every five minutes to avoid crowds along the trail.
Some parts of Machu Picchu archaeological site are temporarily closed to visitors (including the Inca bridge)
Just a friendly reminder: protocols and regulations may change at any moment. For the most accurate and up-to-date information, check our travel restrictions blog.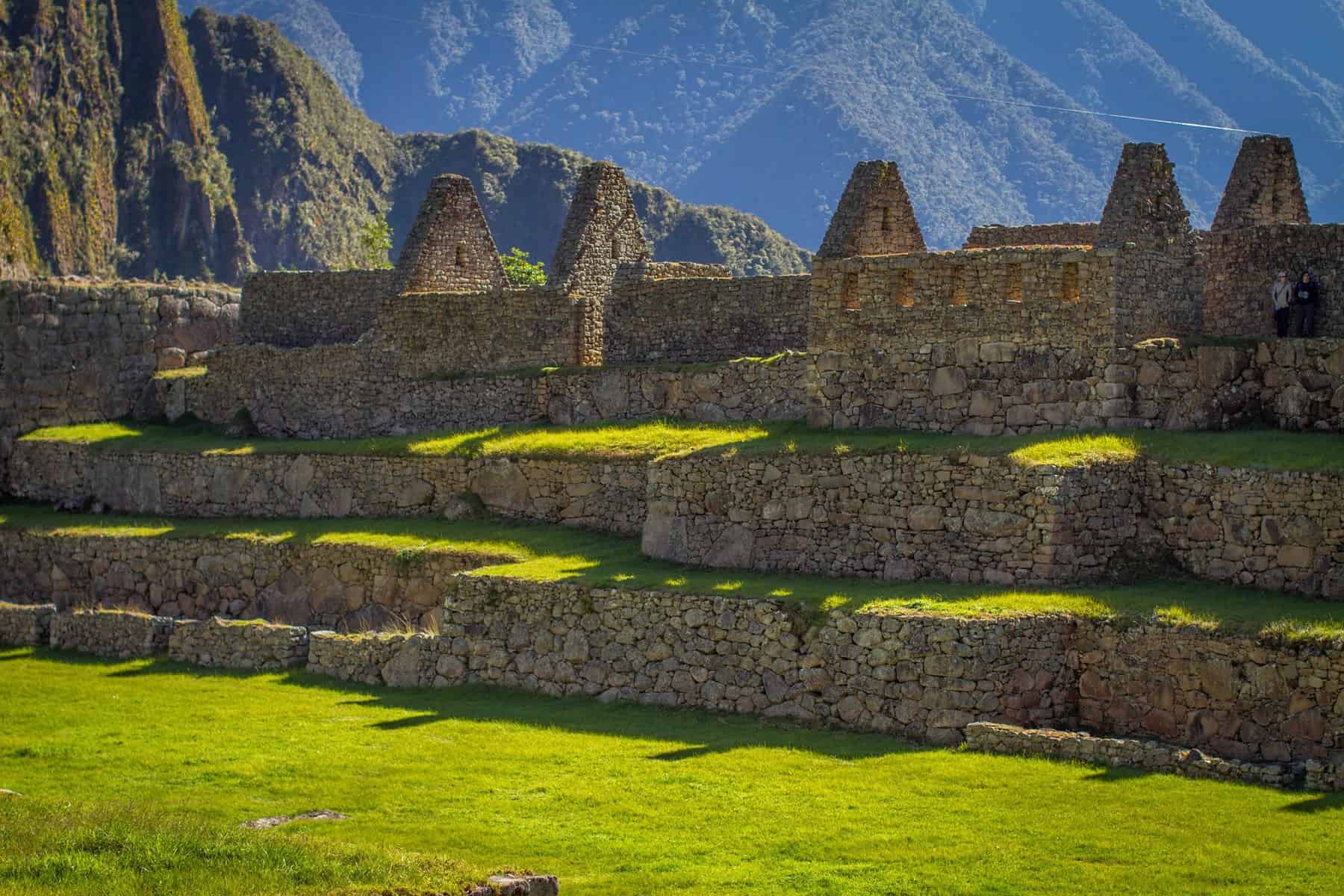 Ready to Book? We've Got the Best 2 Day Inca Trail Tour for You!
Don't think further and make the best of this Short Inca Trail tour. Once you board the train in Ollantaytambo, the beautiful scenery and vegetation will blow your mind. Then, get ready to hike the last leg of the Inca Trail through the high jungle and get a glimpse of the Machu Picchu citadel before heading down to Aguas Calientes where you will charge your energy for a second day of exploration at Machu Picchu ruins.
For full information and prices, or to book, check out our Short Inca Trail tour page.
The Short Inca Trail to Machu Picchu is truly a phenomenal hiking experience!
Like it? Pin It!