If you've only heard of one epic trek in the world, the chances are that it's the Inca Trail in Peru. This is the hike to end all hikes, with challenge and reward dished out in equal measure. You'll take in hidden Andean valleys, high mountain passes, tropical jungles, and mysterious ruins as you traverse the famous Inca Trail – Machu Picchu of course being the jewel in the crown.
Picture this: you're standing at the Sun Gate after your Inca Trail hike, all thoughts of aching feet dismissed in an instant. The cosy sleeping bag is a distant memory, yet despite the dawn chill, there's nowhere else you'd rather be. Why? Because sprawling across the mountainside below is the prize you've been anticipating all week. Machu Picchu, the mighty Inca citadel in the sky is even better than you imagined, and not just because you've well and truly earned that view over the last few days plodding along the Inca Trail. Peru certainly knows how to put you through your paces but always remembers to compensate you handsomely for your efforts!
An ethereal battle is in progress overhead as the sun tries to penetrate the swirling mists and bring light to the hidden city. At last, a few rays make it through, spilling out across the slopes and flooding the ancient stronghold with colour. It's during this moment that you finally understand why the Incas chose this spot to honour Inti. If you were a sun god, then this is exactly where you'd set up shop!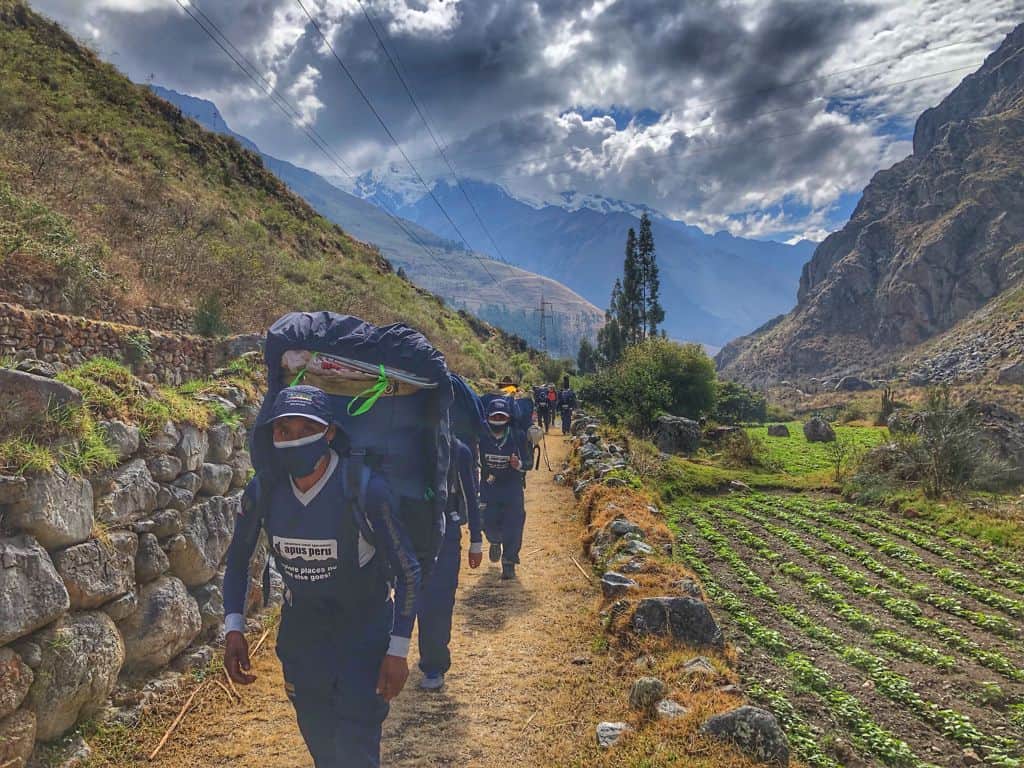 What is the Inca Trail?
Conquering the Inca Trail trek is high on the agenda for many visitors to the country, but it's not something you can just turn up and do. In this comprehensive post, we'll give you the low-down on all those burning questions, including the hike difficulty, what to pack, when to buy a permit, and what part altitude will play in your adventure. Our experts live and breathe the Inca Trail in Machu Picchu and beyond, so we like to think we know what we're talking about.
Taking on the Inca Trail to Machu Picchu is the most iconic experience in Peru, and we salute you for considering including it in your itinerary. This is one of the best hikes in Peru, taking you on adventures beyond your wildest dreams.
We're often asked, "where is the Inca Trail?", and we always reply with a cheeky grin, "which one?". The truth is, there are thousands of kilometres of Inca trail snaking out across the continent like an ancient spider casting its gossamer web over the realm. For first-time visitors and hiking enthusiasts, there is, of course, only one Inca Trail: the route that travels through the Sacred Valley and culminates magnificently at Machu Picchu!
With such an epic name, you might expect the classic Inca Trail length to be out of your grasp, especially if you're not an avid hiker. Yet don't worry, it's actually only 39 km (24 mi) long, which is totally doable for most people on a four-day tour.
Read More: Our epic Inca Trail trek itineraries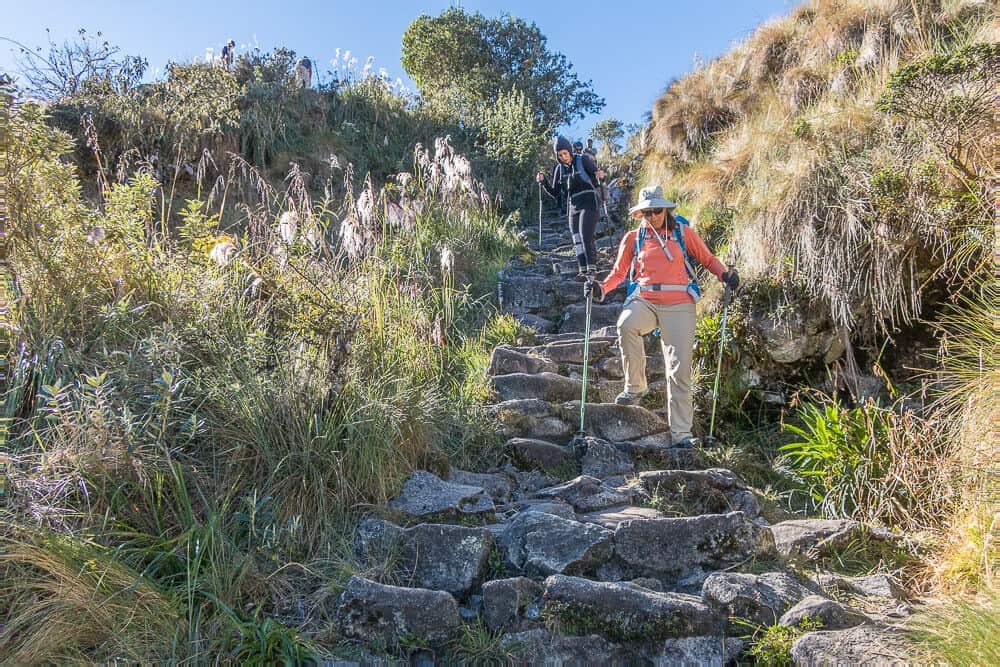 The History Bit
If you think that sounds tiring, how about following the trail of the Incas in its entirety, which was around 40,233 km (25,000 mi) long? Now that would be an epic walk! The empire once stretched into Ecuador, Chile, Bolivia, Argentina, and Colombia as well as Peru, with roads connecting settlements and trading centres across South America.
Much of the road along the famous Machu Picchu Inca Trail hike is original, showing that ancient engineering is just as good as the modern-day versions, if not better! Many historians believe that this trail was built as a pilgrimage route to honour the Inca Sun God, Inti, and today you can enjoy your own spiritual crusade to the most famous ancient site in the world.
Machu Picchu citadel was built in the 15th century as a royal Incan enclave but was abandoned less than 100 years later when the Spanish came to conquer. The settlement fell into ruins and lay hidden from the outside world until 1911 when American archaeologist and explorer Hiram Bingham rediscovered the site.
For a journey back in time, learn more about the history of the empire here.
Why is the Inca Trail so Popular?
Completing the classic Machu Picchu hike has become one of the most coveted adventures in the world, and many travellers have it at the top of their bucket list. So, why do Inca Trail hiking tours trump other fabulous treks? The stunning views and ruins have something to do with it, but it's also about completing the challenge and enjoying the kudos back home. The Inca Trail distance is sufficiently long to be able to brag about, yet short enough for it to be achievable by most people.
So, what's not to love?
Did you Know?
You can get stamps in your passport for each completed day of your Inca Trail hike.
Some people believe that explorer Hiram Bingham, who ventured along the Inca Trails to Machu Picchu all those years ago, inspired the character Indiana Jones.
The classic Inca Trail hike length is four days, but you can opt for shorter or longer versions if you prefer.
If you're into running and feel invincible you can take part in the Inca Trail marathon which is one of the toughest in the world.
At 4,215m (13,828 ft) the ominously named Dead Woman's Pass is the Inca Trail highest point, which is almost 1,800m (5,905 ft) taller than Machu Picchu!
Discover more fun facts about the Inca Trail here.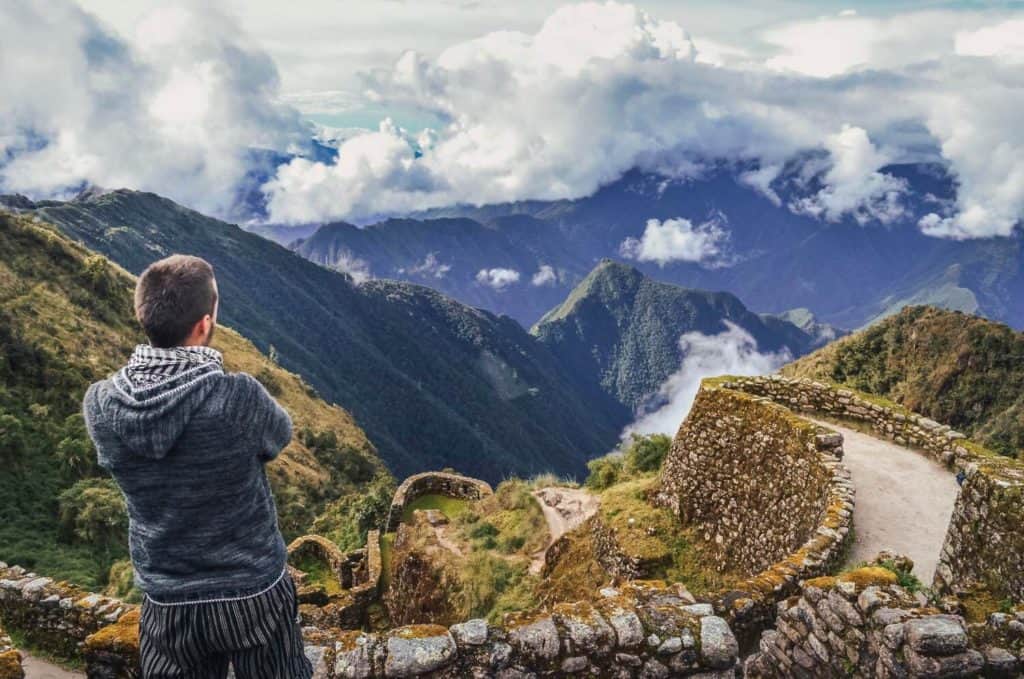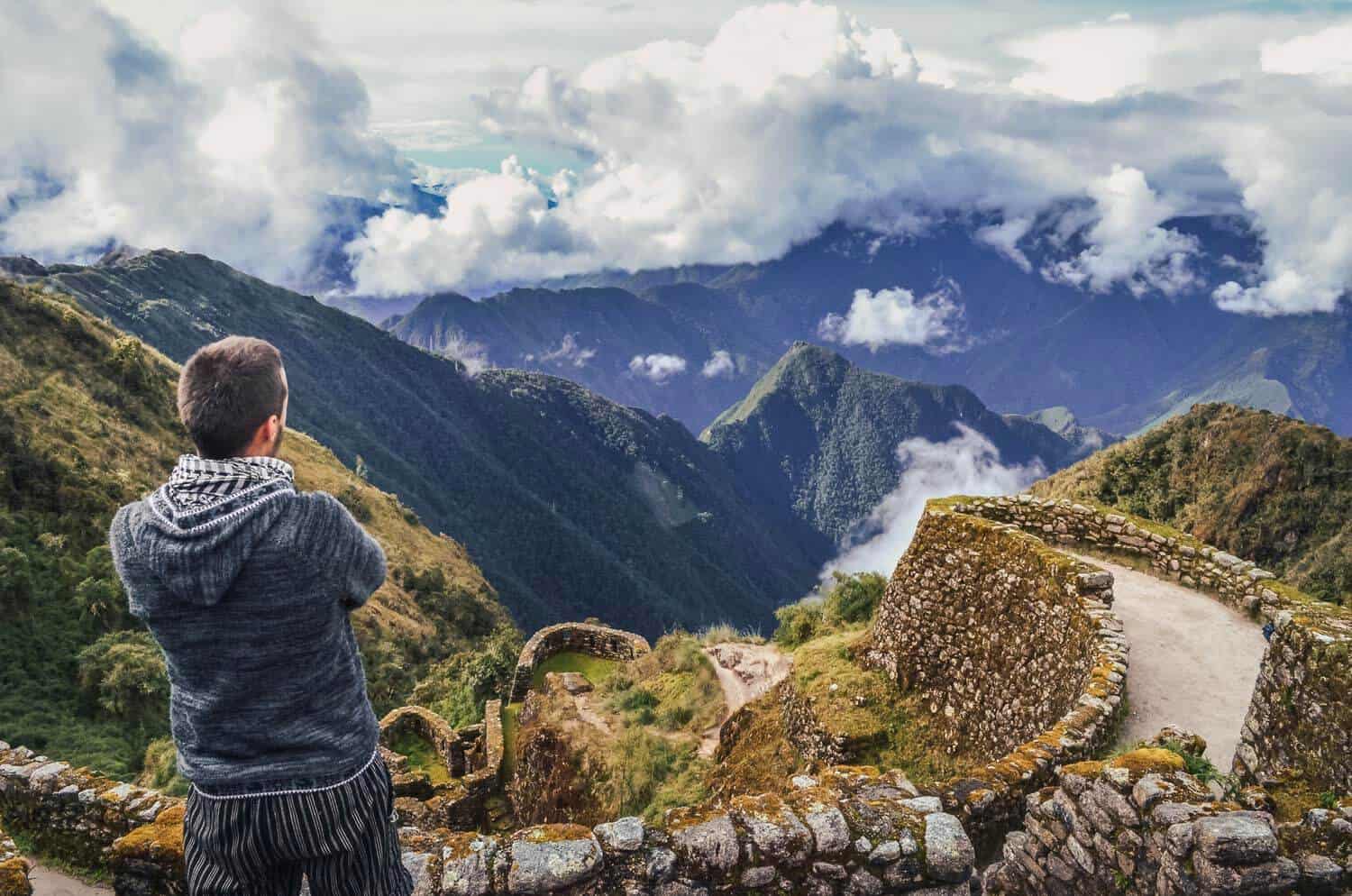 Inca Trail Itineraries
The first thing trekkers want to know about the Inca Trail is how long the route takes. Four days is the norm for classic Inca Trail tours, but other options are available. Those who like a real challenge can attempt the 3-day Inca Trail hike, but we highly recommend adding on the additional day so you can properly enjoy the experience along the way!
Have a look at the Inca Trail map further down the page for a visual overview of the route.
The Classic 4-day Inca Trail Itinerary
Most people who trek the Inca Trail opt for the original four-day trip. This gives you enough time to take in your surroundings without feeling like you're constantly racing against the clock.
If you're unsure how long to spend on the Inca Trail – 4 days is what we'd recommend. Here's what to expect in a nutshell:
Day One – These Inca Trail treks depart from Kilometre 82 of the railway line between Cusco and Machu Picchu, not far from Ollantaytambo. Today is a bit of a warmup day, with a steep section at the end as you hike to your overnight camp. Distance: 11km (6.8 mi).
Day Two – Your first full day on the trail is known as the most difficult, ascending through cloud forests up to a couple of high passes, before heading downhill to the campsite. The views are incredible, especially from Dead Woman's Pass. Distance: 7.5km (4.6 mi).
Day Three – This is the most scenic section of the trail, with a bit of undulating terrain and lots of different landscapes to enjoy. Highlights include the tropical forests, little-visited Inca ruins, and waterfalls. Distance: 15km (9.3 mi).
Day Four – After a very early start, you'll pass through the checkpoint where all Inca Trail hikes end, before enjoying the final two-hour walk to the Sun Gate (known locally as Inti Punku). Then it's time for Machu Picchu, where you'll have four hours to explore before returning to Cusco. Distance: 5.5km (3.4 mi).
Sound like fun? Book your 4-day Inca Trail hike here.
The Relaxed 5-day Inca Trail Itinerary
For walkers who want more time to hike the Inca Trail, the 5-day trek is a great option. You'll explore off the beaten tourist track and avoid the crowds, plus you'll have longer to visit the archaeological sites along the way. This is a more relaxed Inca Trail route, giving you lots of opportunities for breaks and photos.
If you're looking for Inca Trail hike tours that allow you to trek at a slower pace, discover remote ruins, and even spend your last night in a hotel, then this is the trip for you!
Get more details on our 5-day Inca Trail trek including the full itinerary.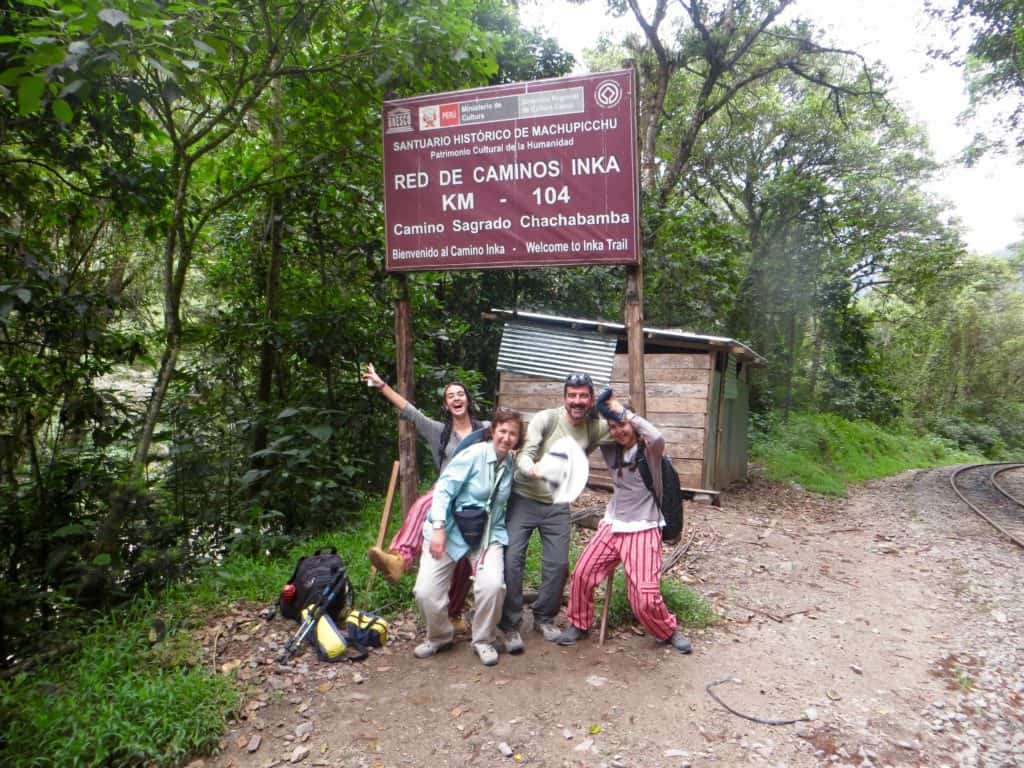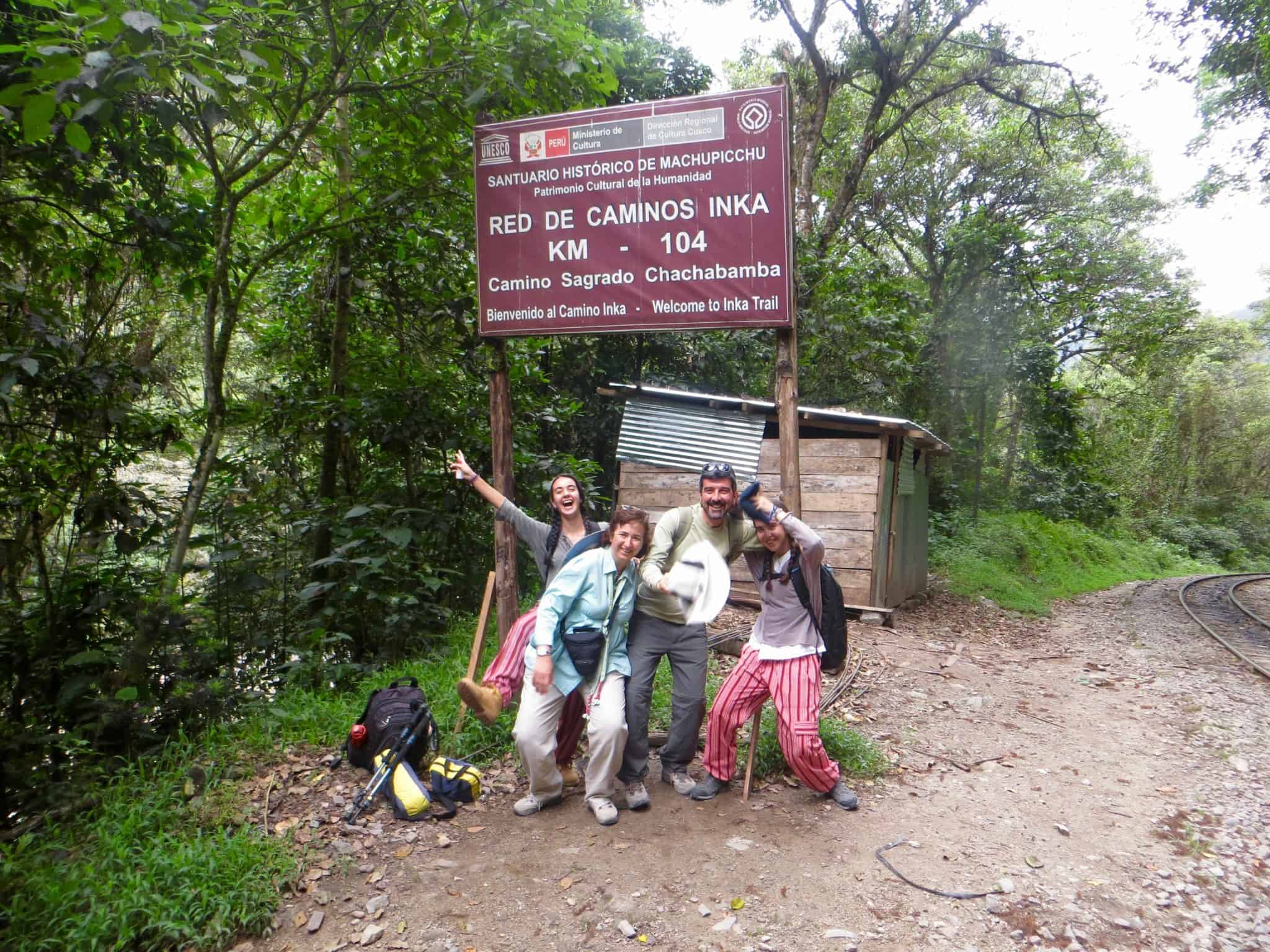 The Short but Sweet 2-day Inca Trail Itinerary
Don't have time for the full adventure? Then a 2-day Inca Trail hike is just the ticket. This is a rewarding yet undaunting way to hike to Machu Picchu in just a couple of days. You'll get a taste of the classic Inca Trail and visit ancient archaeological sites as well as pass through the famous Sun Gate. On this itinerary, one day will be spent trekking, while the other will be enjoyed at the citadel. Hiking Huayna Picchu, the iconic peak looming over the ruins, is often a great way to end your trip.
If you fancy doing a short Inca Trail to Machu Picchu, we have you covered!
Check out the best Inca Trail Tour over 2 days here.
The Inca Trail Map
Have a look at our handy Inca Trail hike map for a better idea of the lay of the land during your trek. Inca Trail archaeological sites, campgrounds, and passes are all clearly marked, as well as the altitude at various points along the route.
When is the Best Time to Hike the Inca Trail?
There are two main seasons in Peru – wet and dry. One has clear benefits when it comes to trekking the Inca Trail routes, but the other shouldn't be dismissed as there are positives to visiting at all times of the year.
The Dry Season: May-August
There's no question that these are the best months to hike the Inca Trail to Machu Picchu. Although nights are cold, the days tend to be mild, there's little rain, and the skies are sunny. On the flip side, this is high season, meaning busy trails, crowded campsites, and hordes of tourists swanning around Machu Picchu at the end of your trek, especially during July and August. Permits need to be booked well in advance for hiking in this period.
The Rainy Season: December-March
Many people think that the wet season is not the best time to hike the Inca Trail, and some feel it's dangerous for a Machu Picchu trek. It's true, trekking and camping in the rain isn't much fun, and the paths can become slippery after a downpour, especially in December and January. Yet if you go fully prepared for whatever the weather the gods throw at you (sometimes sun instead of rain!), then you could find a lot of value in travelling at this time of year.
Permits are easier to get hold of at short notice, and tours tend to be cheaper too. Nights are warmer, the paths are quieter, and Machu Picchu is almost deserted – you'd never get the citadel to yourself during the dry season!
Intrigued? Discover what it's like to visit Machu Picchu in the rainy season over on the blog.
The Shoulder Seasons: April, October, and November
Savvy travellers prefer to enjoy the best of both worlds with an Inca Trail hike during the shoulder seasons. The weather can be unsettled (on Saturday you could be basking in the sunshine while on Monday there could be heavy showers), but there are usually lots of great walking days to be had. The trails are relatively quiet, yet you won't have the deluges of the wet season to contend with. Come after the rains in April and enjoy lush green landscapes for enviable photos!
The Inca Trail February Closure
Note that the Inca Trail is closed for maintenance in February, but Machu Picchu remains open throughout, which makes this a great time to visit the citadel on a day trip without the crowds!
Further Reading:
How to Book the Inca Trail
While it's possible to make last-minute bookings for many Peru tours, Inca Trail treks are the exception. Reservations need to be finalised months in advance, particularly during the high season. The key is planning ahead, so we've put together an article on all you need to know about booking the Inca Trail.
Inca Trail Permits
You need a permit to hike the Inca Trail. These are issued in your name and linked to your passport number and specific travel dates, which means they're non-transferable once purchased. If you need to renew your passport before your trip, make sure you do this before booking your permit!
Looking to buy Inca Trail Permits 2022? It's not too late, so get in touch with us and we'll see what we can do!
Can You Hike the Inca Trail Without a Guide?
In short, no. The route is strictly controlled so you need to travel with an authorised tour company. Do check operator credentials carefully before booking, as not all are permitted to take hikers on the Inca Trail! Book with a reputable organiser to ensure your holiday goes without a hitch. Luckily, Apus Peru has a full license which is renewed each year, so we're perfectly positioned to turn dreams of Inca Trail trips into reality.
When to Book Your Inca Trail Hike
When should you buy Inca Trail permits? It's the question on everyone's lips. The answer is usually "yesterday", so get your skates on and start planning, pronto! Numbers are limited to 500 people on the trail per day, which is roughly 200 hikers and 300 field team members. This is why permits seem like gold dust if you've left it a bit late to book.
Inca Trail permits sell out fast as trekking Machu Picchu is super popular. For trips during the dry season, you need to be on the ball up to eight months in advance if you've any chance of bagging that golden ticket! Permits go on sale in October for the following year, with May and June slots selling out in days. Passes are usually released in batches, month by month. There is more flexibility during the low season, but we still highly recommend finalising your Inca Trail booking as far ahead as possible.
Another reason to book in advance are the bonus peaks at the citadel itself. If hiking Machu Picchu Mountain or scrambling up Huayna Picchu is something you want to do, this needs to be included on your Inca Trail permit. Again, slots are limited so you don't want to miss out by leaving it too late.
If you haven't booked your permit in time, don't panic. You can still hike to Machu Picchu on alternative trails, that are half the hassle and just as much fun.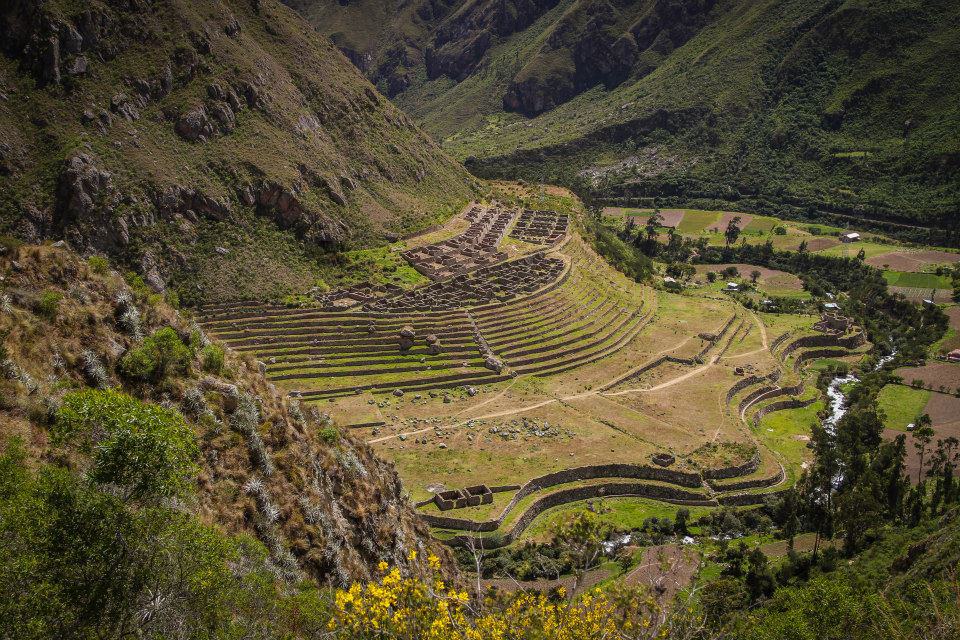 What Does the Inca Trail Cost?
The iconic Machu Picchu hike cost varies greatly between operators, but it's important to realise that in this arena, you get what you pay for. Always be wary of cheap tours and ask what the fee includes to ensure the field team are being fairly treated.
At Apus Peru, the 4-day Inca Trail costs from $1,035 per person. This includes things like the Inca Trail permit, tent, foam mattress, meals, round-trip transport from Cusco, trekking staff, and entry to Machu Picchu. Basically, everything you need for the hike! We provide above-average wages for the guides and porters, as well as their entry permits because we believe having a happy team is key to a successful trekker experience.
Travel Insurance is a Must
Hiking the Inca Trail to Machu Picchu is a serious undertaking, and while everything is put in place to ensure a safe and enjoyable experience, things can go wrong out in the wilderness. This is why you must have adequate insurance for your Inca Trail bookings. Check with your provider to ensure that high altitude trekking is covered, as this may be an optional extra on some policies.
Further Reading: Why travel insurance is essential for your Peru trip.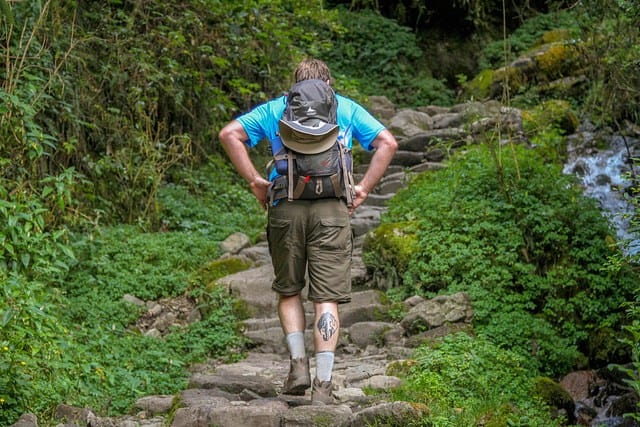 How Difficult is the Inca Trail?
The Inca Trail hike difficulty is mostly moderate, with a few steep bits thrown in to keep you on your toes. It's easier than you might realise, but you do need to be reasonably fit. There are a few factors to consider, however, that may affect your own personal Inca Trail hike. Distance is one, because while 39km doesn't sound much, when you're scaling lofty passes and traversing steep valleys, it feels a lot further. The other main concern is the Inca Trail height, which brings with it the possibility of altitude sickness. We'll talk about that further down the page!
Something else that can have an impact on the experience is the group dynamic, and the different ages and abilities of trekking individuals. But don't worry, the guides have superpowers when it comes to managing things on the trail and they're experts at keeping everyone happy.
Want further reassurance? Read our detailed post on the Inca Trail hike difficulty – coming soon!
What is the Inca Trail Like?
You know that saying, that it's about the journey as much as the destination? Well, in this case, it's true, even though climbing Machu Picchu is a pretty awesome prize at the end. The first magical sighting of the citadel is truly breathtaking, but it's the experiences and sights you enjoy along the way that really make their mark.
Microclimates and Terrain
The Inca Trail trekking adventure takes you on a journey through several different landscapes, some of which you perhaps weren't expecting here in the heart of Peru. You'll begin in the fertile Sacred Valley and end in lush cloud forests that resonate with birdsong, encountering everything from snow-dusted Andean peaks to alpine tundra in between.
Underfoot, much of the path is paved, with stone steps to negotiate along the way, some of which appear to have been built by giants! The steep sections can be punishing on the knees, but the views make it all worthwhile, especially when you get to the top of the high passes.
As you're trekking the Inca Trail, you'll come across a wide variety of flora and fauna, including birds, vizcachas (a chinchilla-like rodent), lots of cacti like the prickly pear, and carpets of orchids in season.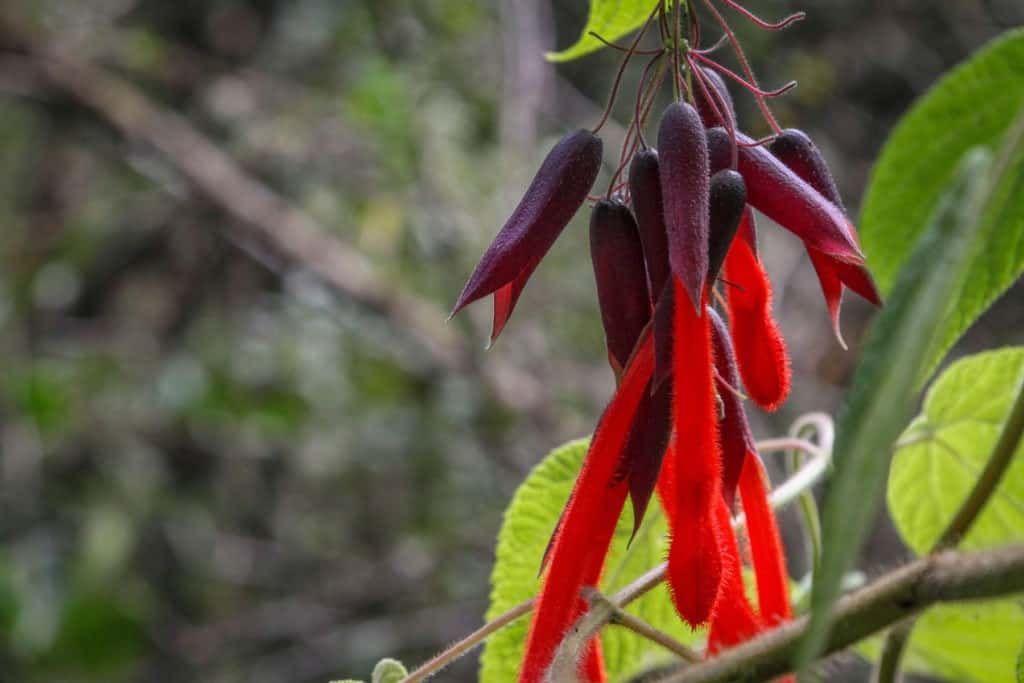 Inca Sites
One of the highlights of hiking the Inca Trail to Machu Picchu is that you'll get to see lots of archaeological sites that are only accessible on foot. Many of these ancient Incan ruins are well off the beaten tourist trail, so the chances are you'll have them all to yourselves.
Llactapata is the star of the show on the first day, while the beautiful Inca house at Runkurakay features on day three. Meanwhile, the noble Inca town of Sayakmarka is one of the most stunning stops on the entire trail.
Finally, the steeply terraced site at Wiñay Wayna is one for the photographers and is a little reminiscent of the ruins at Pisac. It's handily located right beside camp three.
Visiting Machu Picchu
Machu Picchu lies at the very end of the Inca Trail. Peru always saves the best until last! The anticipation builds on day four of your trek as you strike camp very early and walk the last few miles down to Inti Punku, the Sun Gate. After posing for photos, you can finally tour Machu Picchu with your guide.
If you're also sneaking in a jaunt up Machu Picchu Mountain (good on you!), this needs to be done before you explore the citadel. However, those who want to hike Huayna Picchu must visit the ruins first as you can't re-enter the site afterwards.
There are four different walking circuits at Machu Picchu, each taking in selected landmarks around the complex. Some sights – like the Intihuatana and Temple of the Condor – can only be accessed on certain routes. Therefore, if you want to do the place justice, we recommend adding an extra day for a second visit to Machu Picchu so you can see the bits you missed the first time.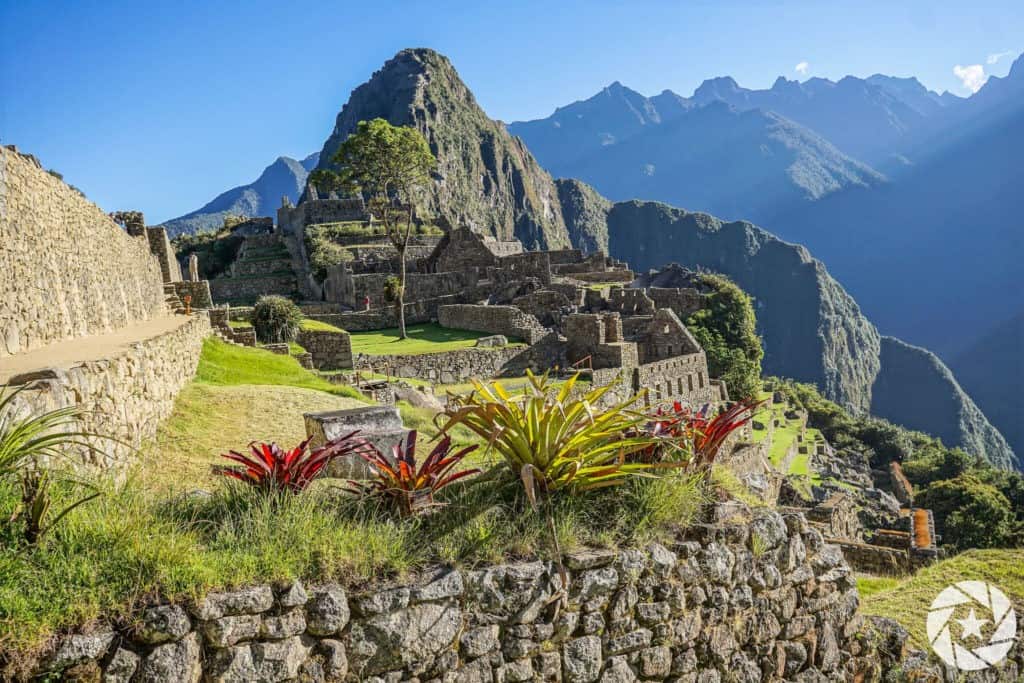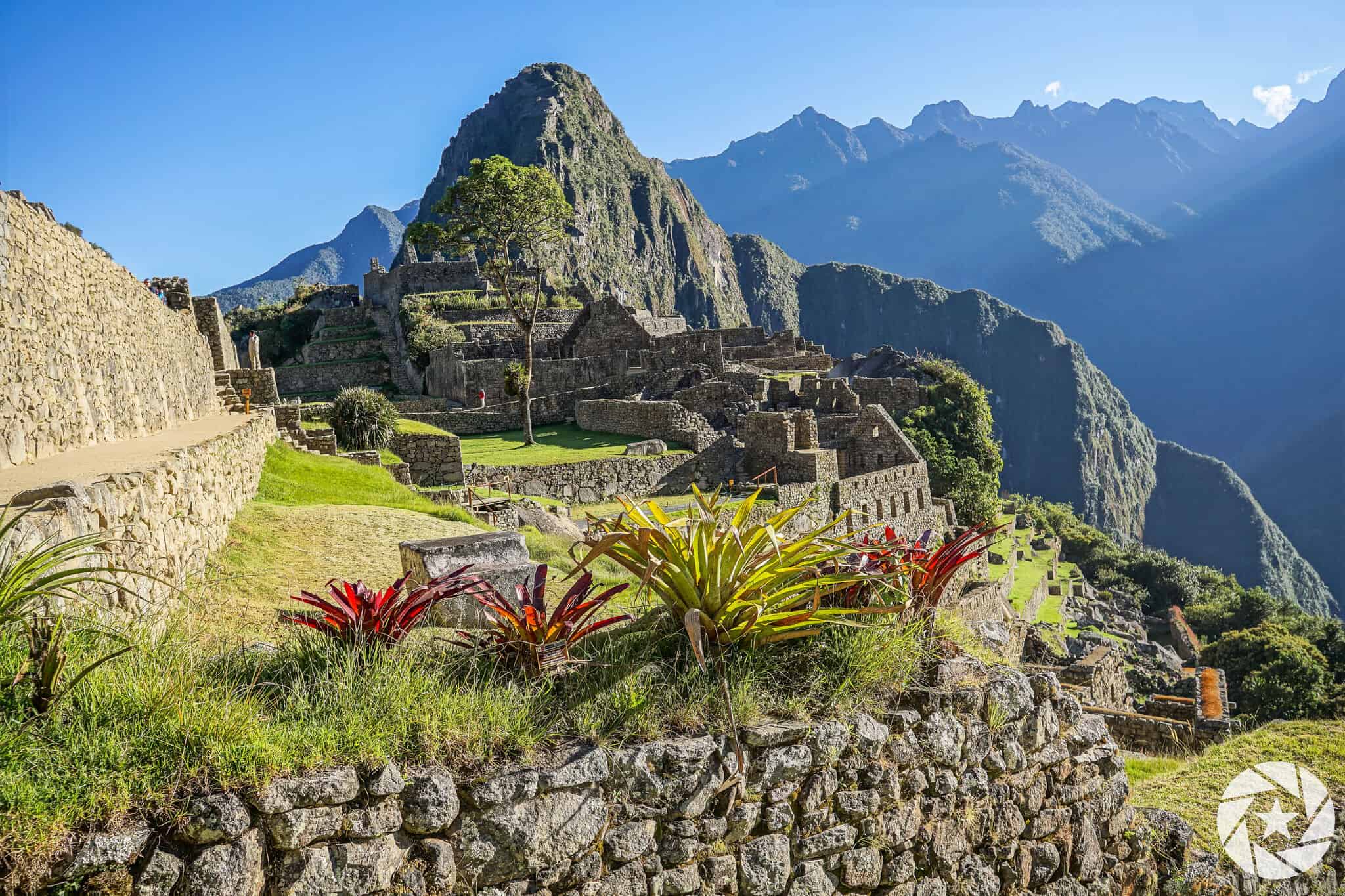 Some more food for thought:
Campsites and Facilities on the Trail
When you hike the Inca Trail to Machu Picchu, you'll be sleeping in tents at designated campsites. Going back to basics is part of the adventure after all! Our tents are four-season and comfortably sleep two people, with lots of room to spread out. You'll have a foam mattress or Thermarest for insulation and can rent a sleeping bag, so you don't need to bring one from home.
On a standard itinerary, the first campsite is at Huayllabamba and is surrounded by farmland, while campsite two at Pacaymayo is more rugged and has superb views. On day three you'll be staying at Wiñay Wayna, right next to the Inca ruins. Campsites are allocated on a first-come, first-served system, so if this site is full, an alternative and less crowded pitch at Phuyupatamarca will be used. Read more here about the difference between Phuyupatamarca and Wiñay Wayna.
There are toilet facilities at each camp, but they're not always the cleanest and do require that you master the art of squatting. This is why we take our own toilet tent so you can sit on your throne in relative comfort! Some camps have cold showers too if you're feeling brave!
It probably won't be the best sleep you've ever had, but it'll be one of the most memorable!
Further Reading: What camping equipment do we use on our Inca Trail treks?

What are the Meals Like?
You need to keep your energy levels topped up when hiking the Inca Trail to Machu Picchu, which is why getting the food right is so important. Luckily, you'll have your very own team chef in tow, who will rustle up some surprisingly tasty meals considering the remote location. There's nothing better than tucking into a delicious hot dish after a long day on the trail!
Find out more about food on the Inca Trail here.
How to Prepare for the Inca Trail
To get the most out of walking the Inca Trail, the key is in the preparation. Research the topography and culture of the region to enhance your experience and do plenty of physical exercise to get you in good shape for all those ups and downs.
Here are some of the top things you can do to get ready for your adventure:
Get Fit
While this isn't the toughest trek in Peru, it's not a walk in the park either. There are lots of steep ascents and stone steps that will put those boots, and those thighs, to the test. This is why it's important to have a decent level of fitness before attempting the epic Inca Trail walk. The fitter you are, the more enjoyable the experience will be.
In the run-up to your trip, try and do lots of aerobic exercises like running or Zumba, coupled with some day hikes in the hills. You'll thank yourself for all the effort later!
Get Inspired!
To get those excitement levels soaring before your trip, venture into the pages of a few good books to set the scene for your expedition.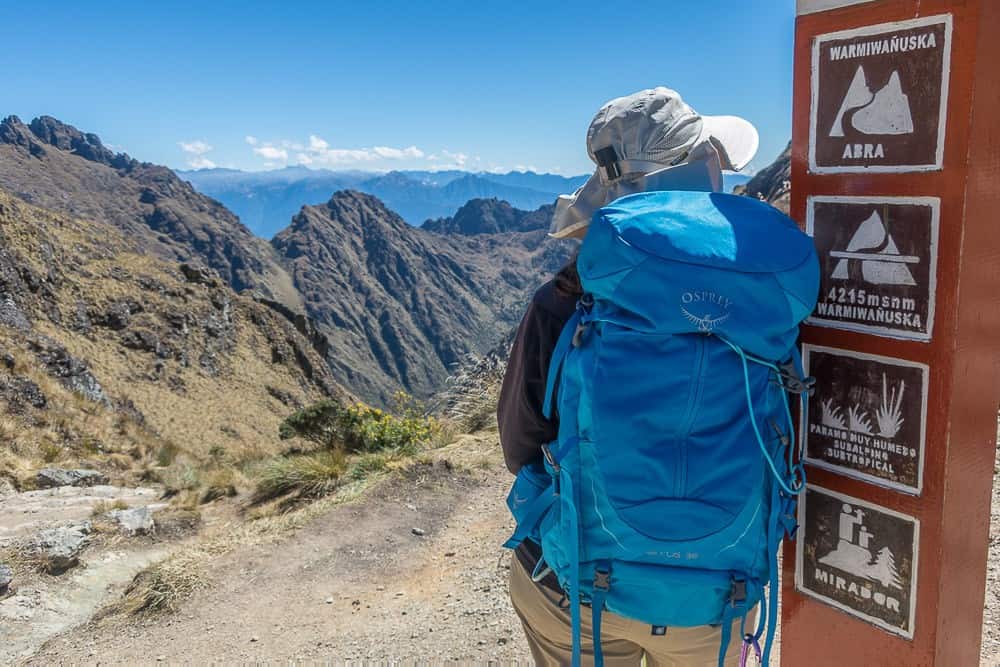 Acclimatise to the Altitude
Before you hike the Inca Trail to Machu Picchu it's imperative that you properly acclimatise to avoid altitude sickness. Anyone can be affected by this debilitating and potentially deadly illness, regardless of age or fitness level.
The Inca Trail altitude varies from day to day, but expect to reach maximum elevations of 4,215m (13,828 ft), which is considerably higher than Cusco! We recommend spending a few days acclimatising in the city before starting the trek.
Local remedies to combat altitude sickness include chewing coca leaves or drinking coca tea, and of course, taking on plenty of water to stay hydrated. If you prefer, you can also purchase preventative medicine from your doctor before your trip.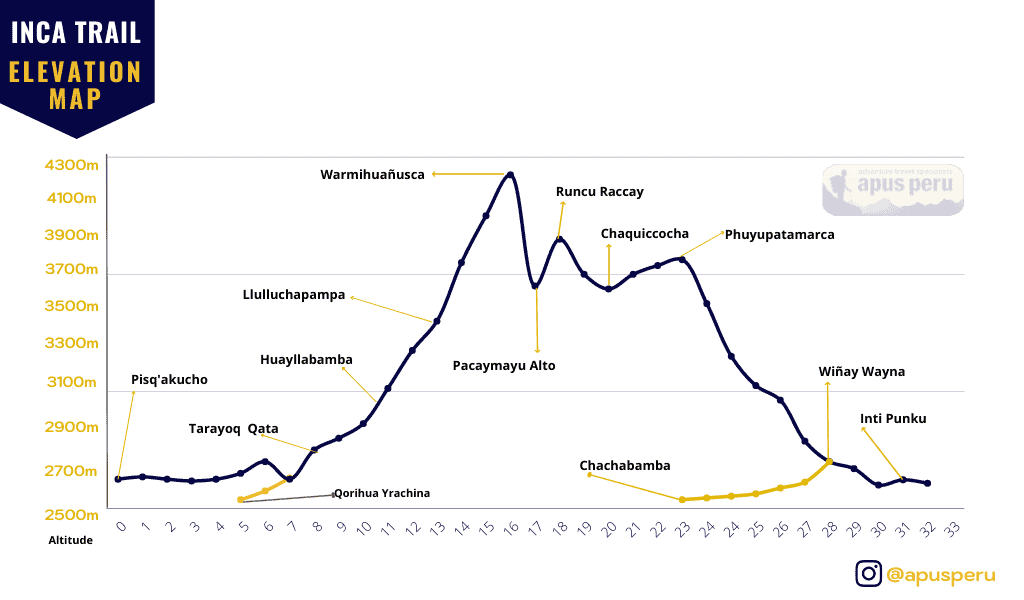 Read more about altitude acclimatisation to start off on the right foot.
Pack the Essentials
Having the right kit is crucial for anyone hiking to Machu Picchu. Tours include camping equipment and food, so it's just your personal gear that you need to think about. Pack light, because you only have 7kg to play with, and that includes your sleeping bag!
Here are some of the essentials:
Passport (you'll need this at the checkpoints)
Waterproof jacket and trousers
Fleece jacket, hiking trousers and shirts, thermal layers
Walking boots and socks
Change of clothes for camp
Sunglasses, sunscreen, hat
Head lamp or flashlight
Mosquito spray
Toiletry bag, including Band-Aids and moleskin for blister protection
Anti-bacterial hand gel
Spare camera batteries or a portable power pack
Read more about what to pack for the Inca Trail in our blog.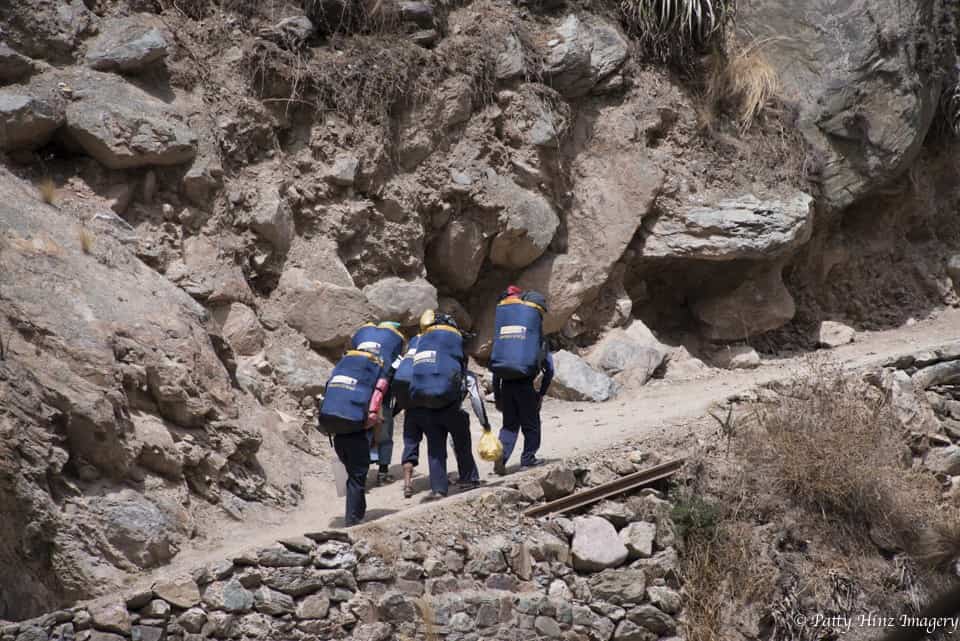 Do I Need to Carry My Own Stuff?
No! Everything is transported by porters on Machu Picchu hike tours, leaving you with a small daysack for your essentials like sunscreen, water, and snacks. Apus Peru clients are given a 7kg duffel bag at their briefing, for everything they'll need overnight, including a sleeping bag. This will be carried for you and won't be available until you reach camp.
If you do decide to carry a larger backpack during the day, then be aware that there are size restrictions for bags when entering Machu Picchu. 25 litres is the current limit.
How Much Money Should You Bring?
Whilst the trek is fully paid for, it's a good idea to carry some cash with you for small expenses along the way. Considerations include snacks, water, and souvenirs in Ollantaytambo and Aguas Calientes, as well as the toilets at Machu Picchu for which small denomination coins are advised.
Our trekking staff are paid well, but they do appreciate tips as a reward for their excellent service. For a group of 1-3 guests, we suggest giving the following amounts for each day you spend on the trail:
Guide: $20
Assistant Guide: $10
Cook: $10
Assistant Cook: $5.50
Head Porter: $5.50
Porter/Muleteer: $4.50
For larger groups, expect to pay a little more. If you're not comfortable with the tipping experience, you can pre-pay gratuities at the time of booking instead.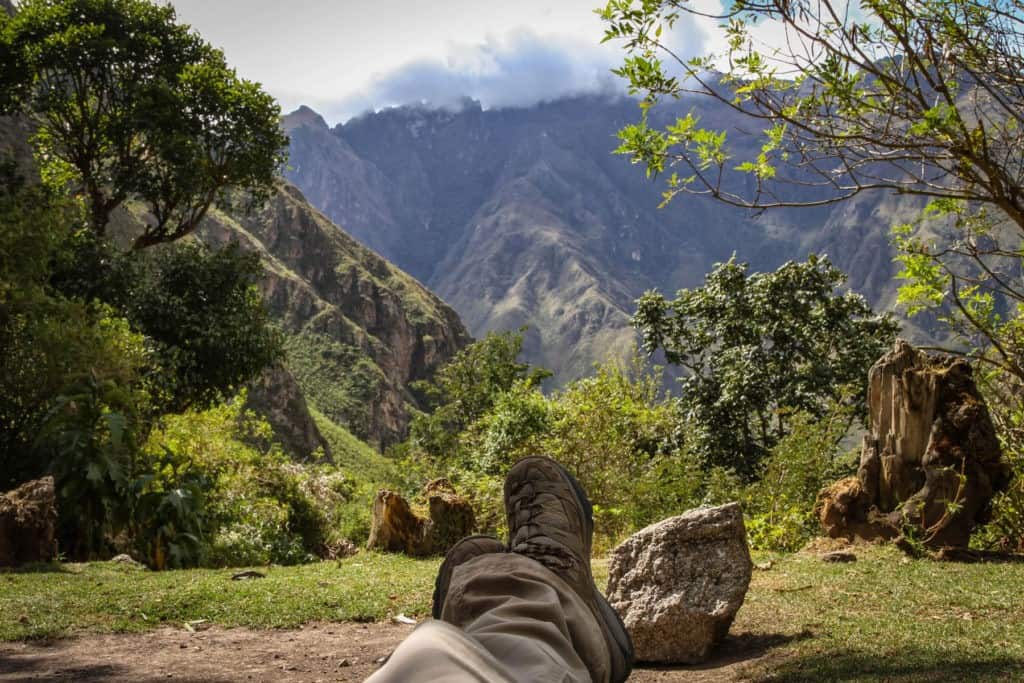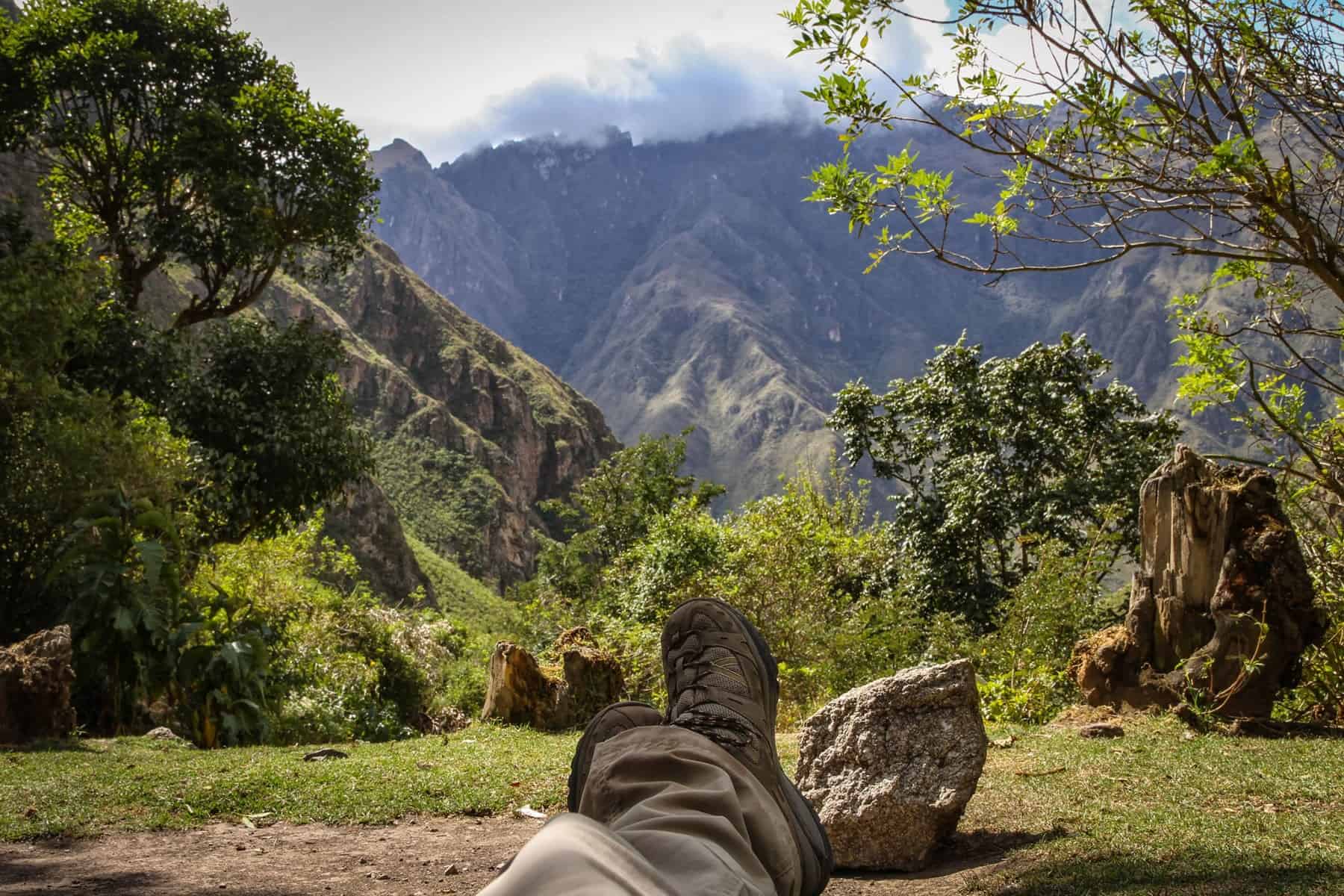 Trekking Tips on the Trail
We've written a comprehensive post on tips for trekking the Inca Trail, but here are a few pointers to help you on your way.
Don't be afraid to walk at your own pace, this isn't a race
Do acclimatise properly before hiking the Inca Trail
Hiking poles aren't just for older trekkers, they're real knee savers on the steep downhill sections
Wear in your boots before embarking on your Inca Trail experience
Take some sweets for when you need an energy boost
Further reading:
How to Train for the Inca Trail (coming soon!)
Porter Welfare on the Inca Trail and Other Ethical Practices
The welfare of our trek team on the Inca Trail to Machu Picchu hike is super important to us. We strive to ensure that Indigenous communities benefit from our tourism activities, which is why all of our porters and muleteers are hired from local villages.
We provide all the equipment needed by the staff team, as well as their meals and permits on the trail. They receive a fair wage as well as a consistent source of employment, which is rare in the Andean highlands.
Find out more about our responsible travel ethic here.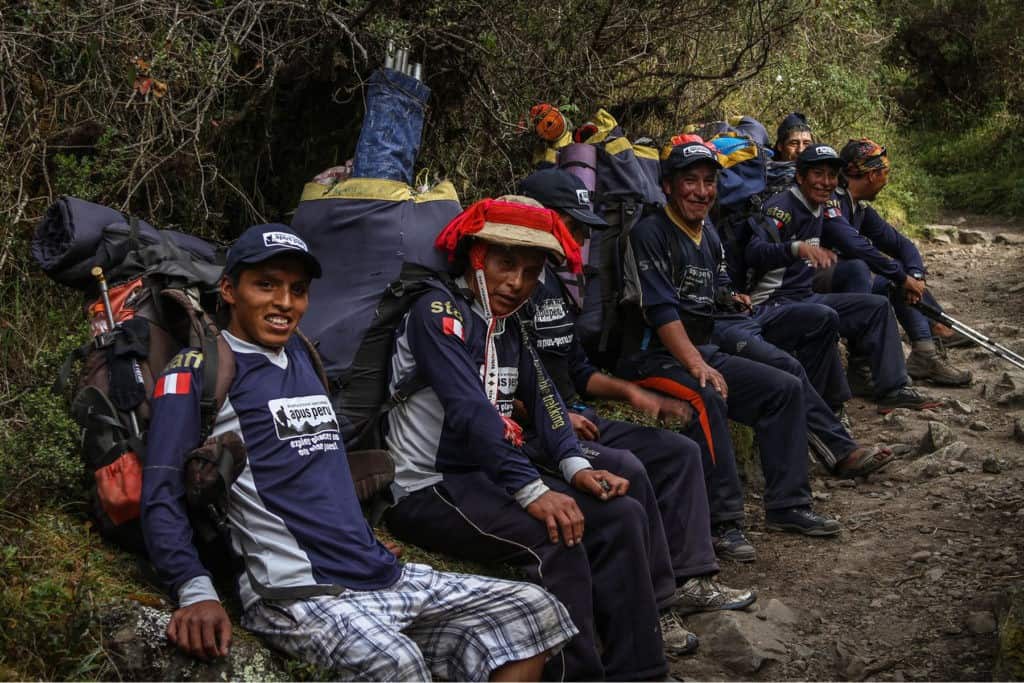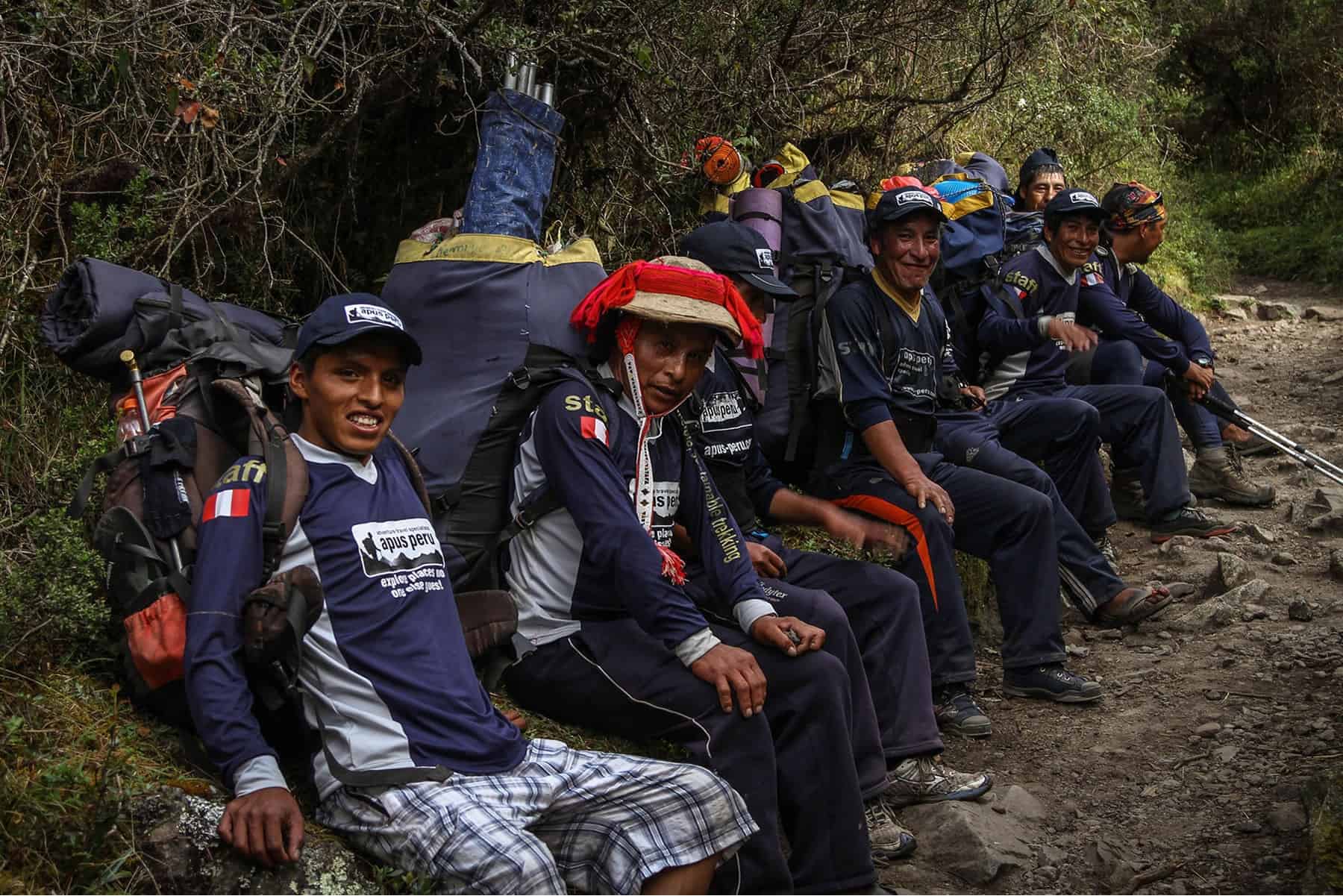 How to Get There
It's a bit easier to do the Inca Trail Machu Picchu hike now than it was in Hiram Bingham's day! Cusco is the jumping-off point, which is great news as you'll probably want to visit the city anyway. You can easily travel from Lima to Cusco by plane or bus – if you're a student, do check for discounts to cut down your transport costs!
Most Inca Trail holidays begin in Cusco, with a drive to the Ollantaytambo region to reach the start of the hike. Afterwards, you'll return by train from Aguas Calientes to Ollantaytambo, before enjoying a private car transfer back to Cusco.
Want more details? We outline the logistics of getting to Machu Picchu in this post.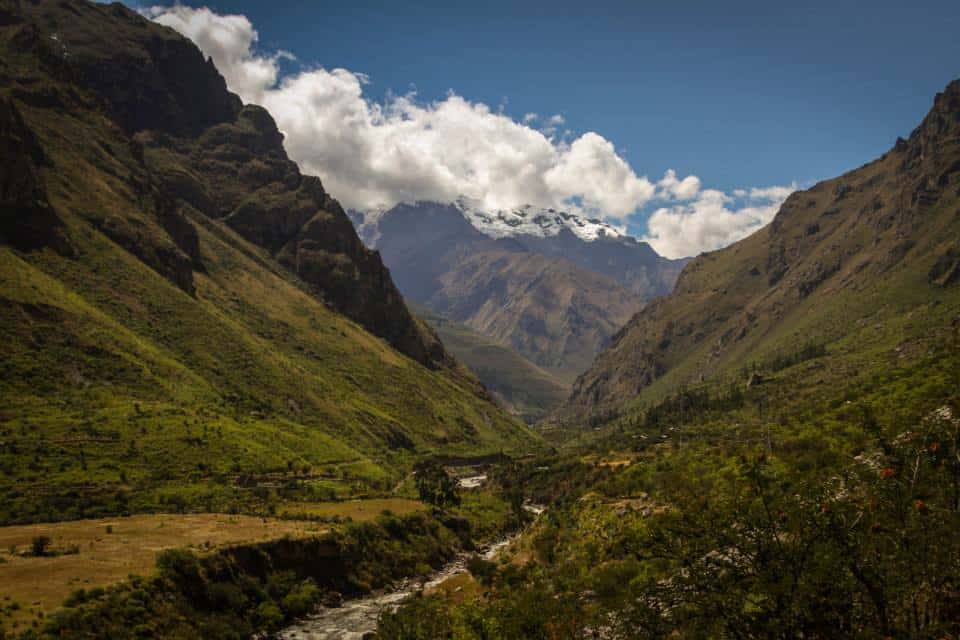 Alternatives to the Inca Trail
If you decide this classic Machu Picchu trek isn't for you, or find that permits are already sold, there are lots of alternative adventures to enjoy. There's everything from single-day hikes to epic 15-day journeys, including the Salkantay trek, the mighty Ausangate circuit, and the photogenic Rainbow Mountain experience. There's so much more to the Andes than just Machu Picchu hiking tours!
If you want to search for treks by the number of days, click here. And for more information or to see all of our Machu Picchu trekking options, check out these posts:

It's Time to Conquer the Most Epic Trail in the World: The Inca Trail Hike
So now you're all set to plan your own Inca Trail holiday! Hopefully, this post has answered all your questions, but if we've left anything out, please don't hesitate to ask! We'd love nothing more than to put together a Machu Picchu Inca Trail tour for you, it's our favourite subject after all.
People go on an Inca Trail hike in search of something special, yet what they discover along the way is so much more than spectacular views and new friends. Undertaking this epic trek is a chance to learn more about yourself, as you achieve things you might have secretly thought you'd never be capable of! You will arrive on the Machu Picchu hiking trail for a challenge with added scenery, but you'll leave with new-found confidence and a treasure trove of memories that will last a lifetime.
Like it ? Pin it!