So you want to trek in Peru and now it's decision time!  I hear you asking,  "Salkantay Trek vs Inca Trail. Which trek is the right trek for me?" Whatever trek you decide upon, one thing is certain, you are in for an amazing adventure! Without a doubt, Peru is one of the best trekking destinations in the world, not only for its spectacular scenery, beautiful ruins, and people you meet along the way – but also because of the amazing accomplishment people feel after completing a challenging trek at high altitude.
Below is a detailed list of the pros and cons of the two treks to help you make your decision about your choice of the Salkantay Trek vs Inca Trail.  One of the major things to know and understand is that when the Inca trail trek sells out due to limited permits, the Salkantay trek is the main alternative choice!  This means it is the second most touristed trek in the Cusco region (after the Inca Trail).
Distance To Machu Picchu- Salkantay trek vs Inca trail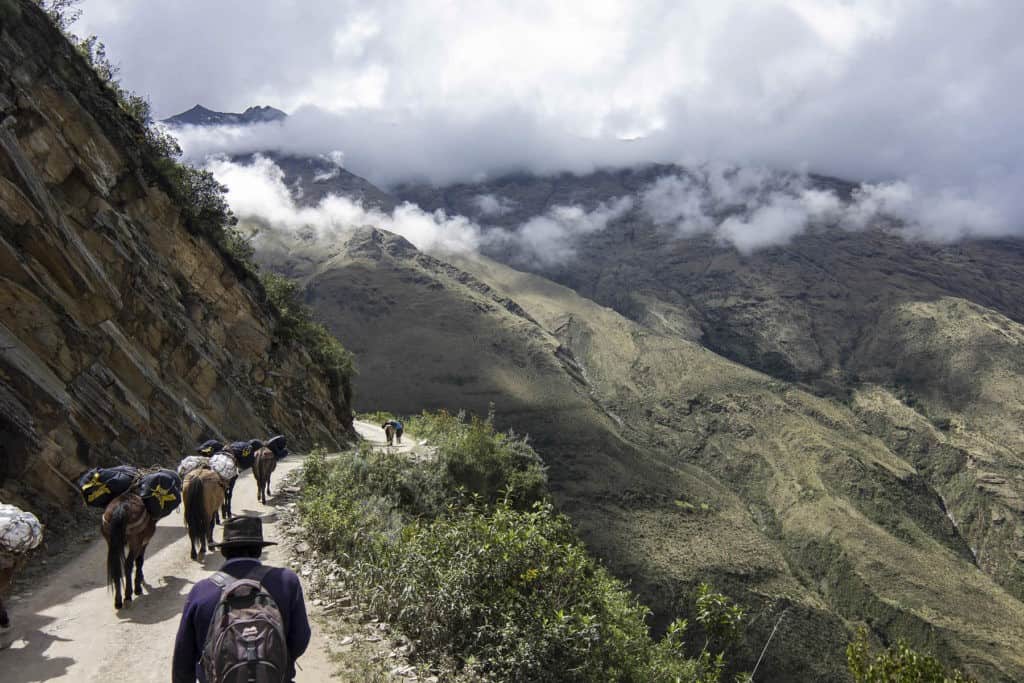 The Classic Inca Trail route is the shorter of the two treks and is 43 km or 26 miles. Trekkers normally take four days to complete the trek. The departure point is Km 82  ( Kilometer 82 of the railway line between Cusco and Aguas Calientes in the Piscaccucho area in the Sacred Valley.)
The Salkantay Trek is longer and covers a distance of about 60 kilometers or 37 miles and has a variety of starting points and itineraries. Some start the trek from Mollepata, but most will start from the trailhead at Sayllapata / Sayapata and do a five-day trek.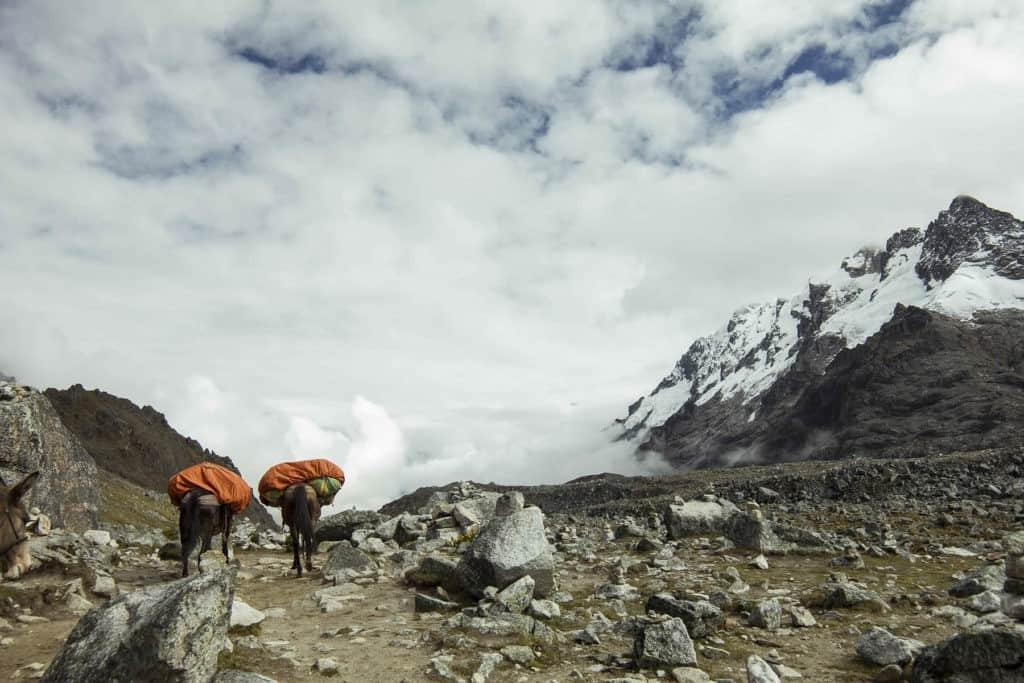 High Altitude – Inca vs Salkantay trail
Both treks are at high altitude and reach altitudes over 4,000 m (13,000 ft). It is very important to take this into account in your preparation. Some people tolerate hiking in high altitude conditions better than others.
With either trek make sure you do what you can to prevent altitude sickness e.g. arrive three to four days before you start the trek, drink plenty of water, avoid alcohol and caffeine, eat healthy food, and trek at a comfortable pace.
Note – many travel agencies say that 2 days is enough – at Apus Peru we encourage 3 days or more!
Inca Trail
The highest point on the Inca Trail is 4215 meters or 13,828 feet and you will trek two mountains- Dead Woman's Pass (4215m) and Runqurakay Pass (4000m). Although you will be at a lower altitude during the Inca Trail than the Salkantay trail you will spend a lot of time above 3000 m (9842ft).
Salkantay Trek
The highest point you will reach on the Salkantay Trek is 4650 meters or 15255 feet above sea level and you will trek one mountain. You will only hike for two days at high altitudes. On the other days, you will experience warmer weather at an average altitude of 2600m (8530ft)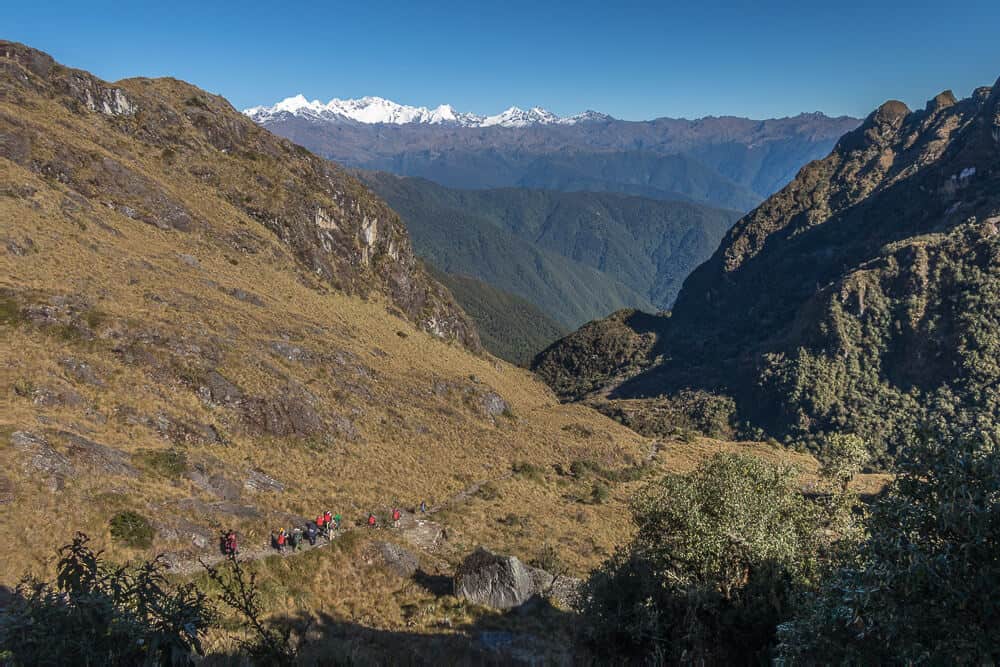 Difficulty- Salkantay route vs Inca Trail
Both treks are challenging for most people due to the high altitude and steep mountain trails! You definitely need to be physically fit to attempt either one.
Inca Trail
The Inca Trail is considered to be slightly easier than the Salkantay Trek and is recognized as a moderate hike, but when I think of what is difficult about the Inca trail one word comes to mind – STEPS. There are over 70,866 steps on the Inca trail, and some of them are big steps about 10 to 12 inches high. Ok! We have never actually counted them all ourselves, we found that statistic on the web – but we can assure you there are a lot of STEPS!
To cover the 43 km or 26-mile trek in four days you will need to walk six to nine hours each day.  The most grueling day is the second day when you go up and over Dead Woman's Pass… On the last day of the trek, you will do a two-hour pre-dawn hike to see the sunrise over  Machu Picchu through the Sun Gate. Because this part of the trek takes place in the dark using headlamps this can also be a bit challenging.
Salkantay Trek
Most blogs will tell you that Salkantay Trek is more difficult if you are doing a Salkantay vs Inca Trail comparison. The Salkantay Trek is considered to be a strenuous trek as it goes through rougher mountainous terrain.  It is true that the ascent on Day 2 up a series of switchbacks from 4200m to 4600m (15,091 ft). is tough.
As this is an unregulated trek and the second most popular in the region there are other difficulties to take into account like the dust from the long mule trains.
The Salkantay trek is also considerably higher and longer than the Inca trail. You will trek 46 miles over five days but if you enjoy a challenge this could be the trek for you! And if the Salkantay trek doesn't seem too overwhelming for you, Apus Peru does offer a 4 day express Salkantay option for those who are very fit and well acclimatized-a minimum 3 days acclimatization needed.
Check out our page Salkantay Trek 4D for further details.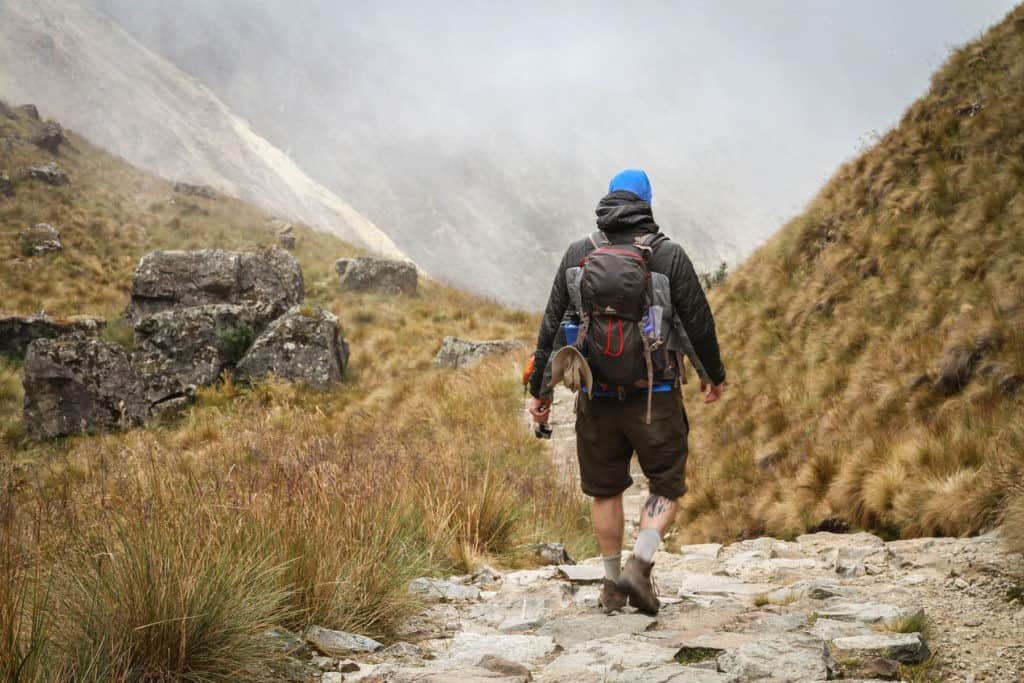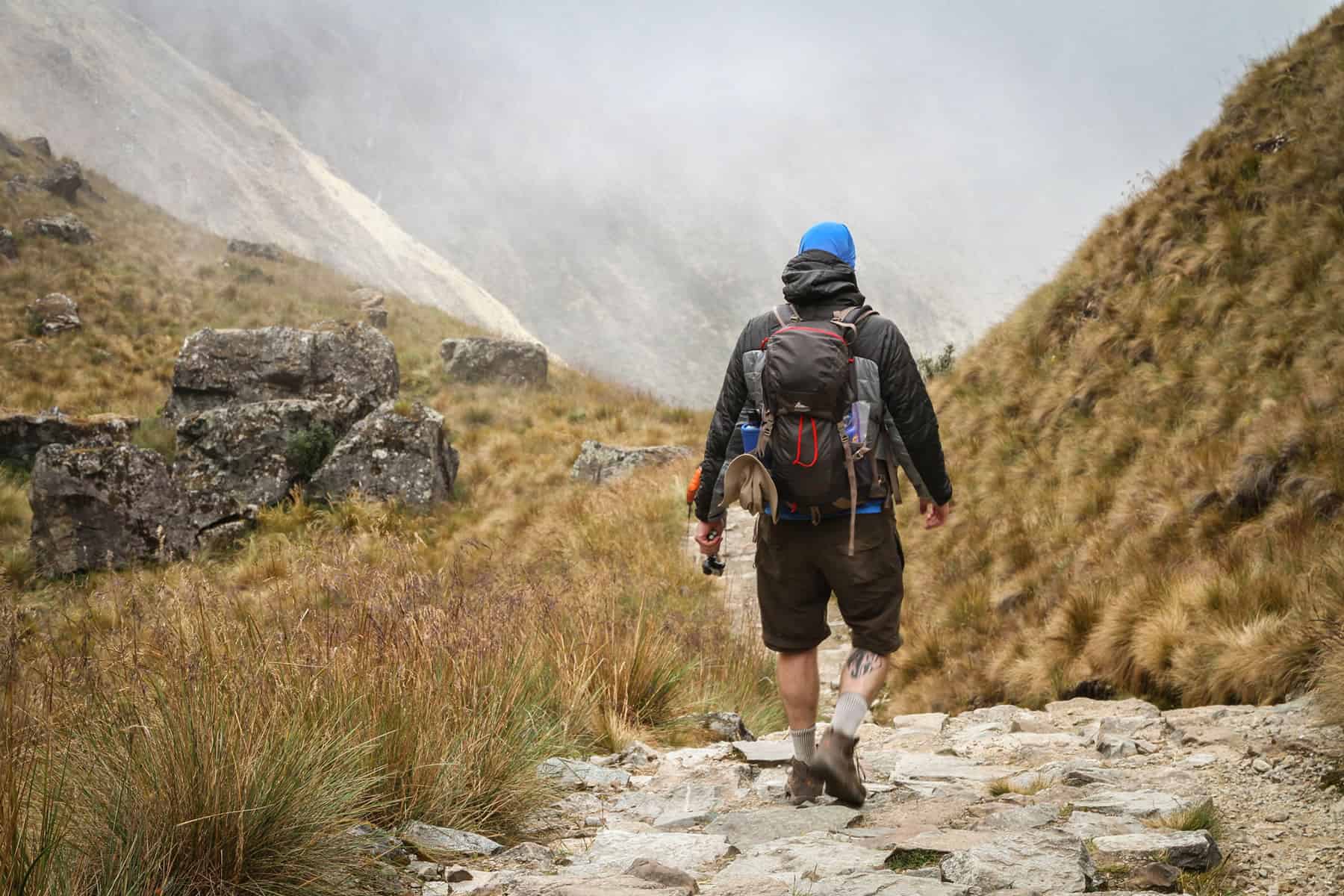 Availability– Salkantay trail vs Inca Trail
Availability could very well be the deciding factor on which trek you do. The Inca Trail is fully booked every day of the year and needs to be about booked many months in advance whereas the Salkantay trek can be booked at short notice. No official permit is required.  Keep in mind though, that as advocates of responsible tourism and creating stability in the tourism industry, Apus Peru strongly recommends booking at least a month ahead in order for your trek operator to plan a stable work program for their trekking staff.
Inca Trail Permits
The number of people on the Inca trail is strictly regulated to a maximum of 500 people per day – 200 of these are allocated to guests and the remainder are porters, chefs, and guides.  Peak periods like summer (May to August ) sell out quickly and you will need to book at least six months in advance.
Keep in mind that there is flexibility on the number of days you can book on the Inca trail. Groups are well organized with a maximum of eight people per tour guide and you camp at pre-allocated campgrounds.
Salkantay trek
There are no permits required for the Salkantay trek and there is an average of 50 hikers per day on the trek. This allows for more flexibility with your planning, especially if you are in a group.
Facilities – Salkantay vs Inca trail
Inca Trail
The Inca Trail facilities mostly involve government-designed campsites. You should expect these to be mostly fairly basic and unfortunately are often insufficient to accommodate large numbers of hikers with overcrowding and limited bathroom facilities.
You can, however,  upgrade to a more upmarket glamping option, which has privately set up bathrooms and offers gourmet meal – take a look at our luxury Inca trail trek option for those who like something a little special. On all types of treks  Porters are used for carrying equipment of up to 7kg/ 15 pounds per hiker and you only carry what you need for the day. There are only one or two squat toilet blocks along the trail.
Salkantay Trek
There is a wider variety of accommodations on offer here as campsites are not strictly regulated on the Salkantay Trek. These range from basic camping to luxurious lodges. Travel agencies can offer their own private campsites, which allows you a little more privacy and bathroom facilities for fewer people to share.
The most basic option will usually not provide showers or toilets. You wash in streams, and groups set up their own tent toilets. Pack mules are used instead of porters for carrying equipment.
Alternative option
Another option is basic wooden cabin lodges that have toilets, showers, and there are even upscale lodges that are more comfortable and have better facilities but do not expect luxury standards.
A highlight of the  Salkantay Trek is that you can book to sleep the first night in glass tents to watch the stars, and spend the last night before visiting Machu Picchu in Aguas Calientes in a hotel.  If you would prefer to spend a night in a hotel on the Inca trail, then we recommend the Inca trail in 5 days.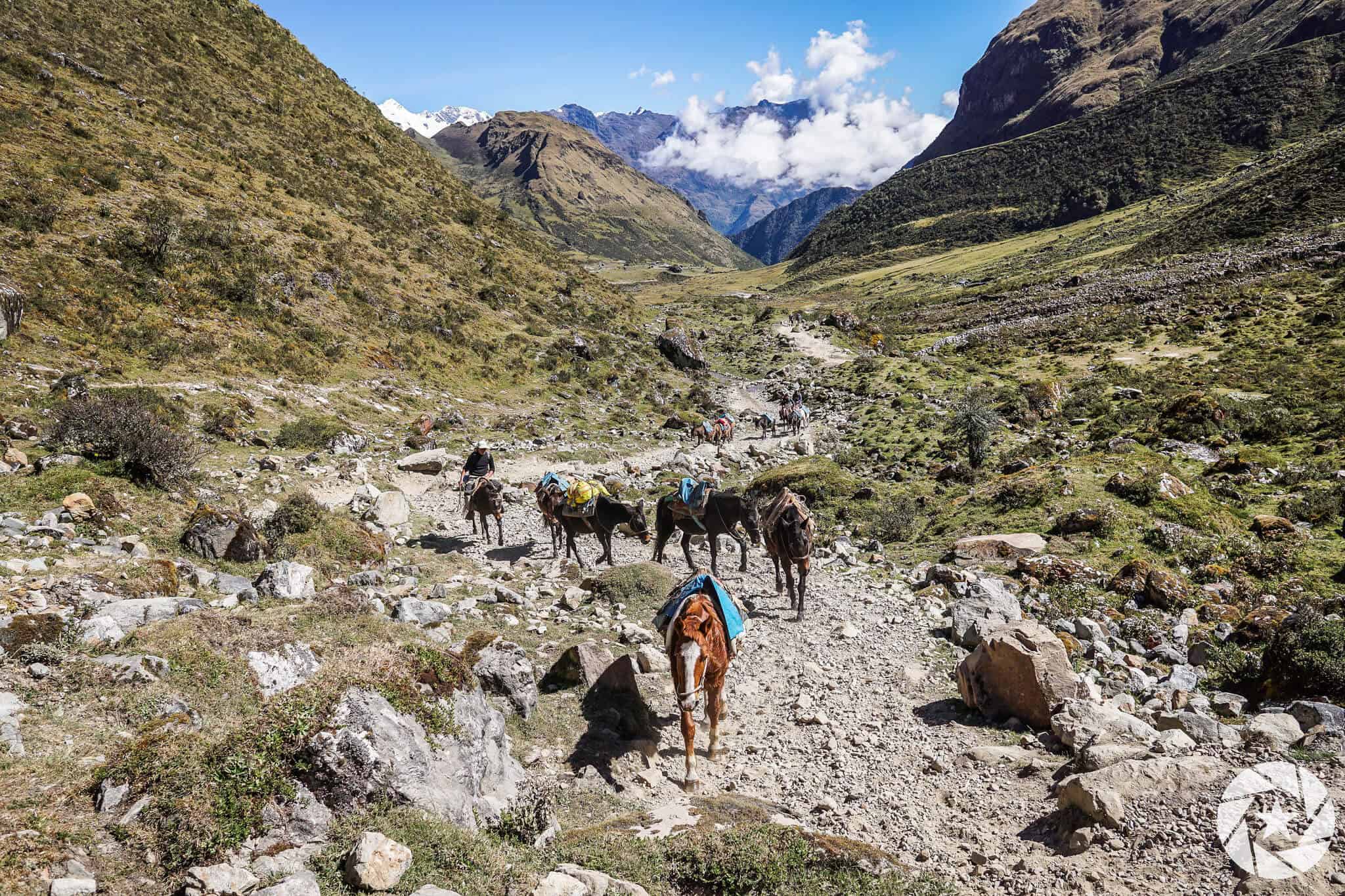 Stunning Scenery- Salkantay trek vs Inca trail
Beauty is of course in the eye of the beholder, and for one person what is a stunning trek is going to be less beautiful for another. The only way you are going to know if Inca trail or Salkantay trek is for you is by spending time doing your research! Oh, you are doing your research! Good on you!
Inca Trail
I can say without hesitation, there is no route in the world that is quite like the Inca trail, which does make it mighty special!  You will get to see magnificent mountain vistas, a mystical cloud forest, fascinating Incan ruins, and sunrise from the Sungate over Machu Picchu.
Salkantay Trek
The Salkantay Trek is famous worldwide for its stunning scenery. The real bonus of the scenery on the Salkantay trek is the changing nature of the landscape from high mountains to the eyebrow of the jungle; the rich plant and birdlife as you descend further towards Machu Picchu.
One of the key highlights is the view from the Llactapata ruins across the valley to Machu Picchu However, there are always pros and cons of every route, that is exclusively high alpine lakes and snow peaks.
Note, not all routes take in the Llactapata ruins as it involves 3 hours of hard climbing on the penultimate day and some people find that rather challenging!
Ausangate route- Best Alpine scenery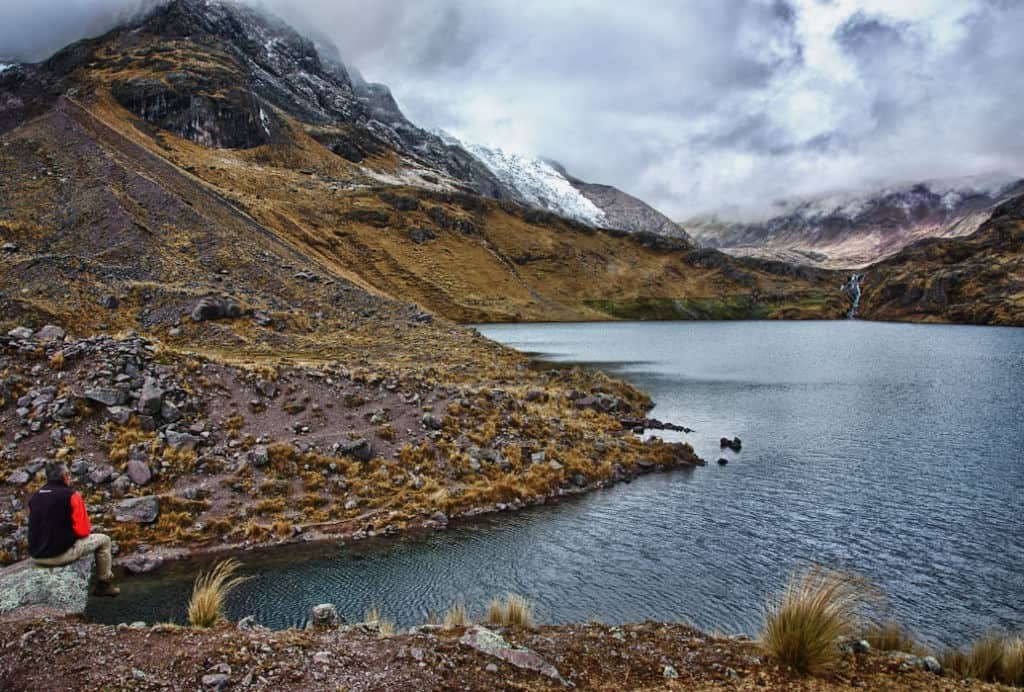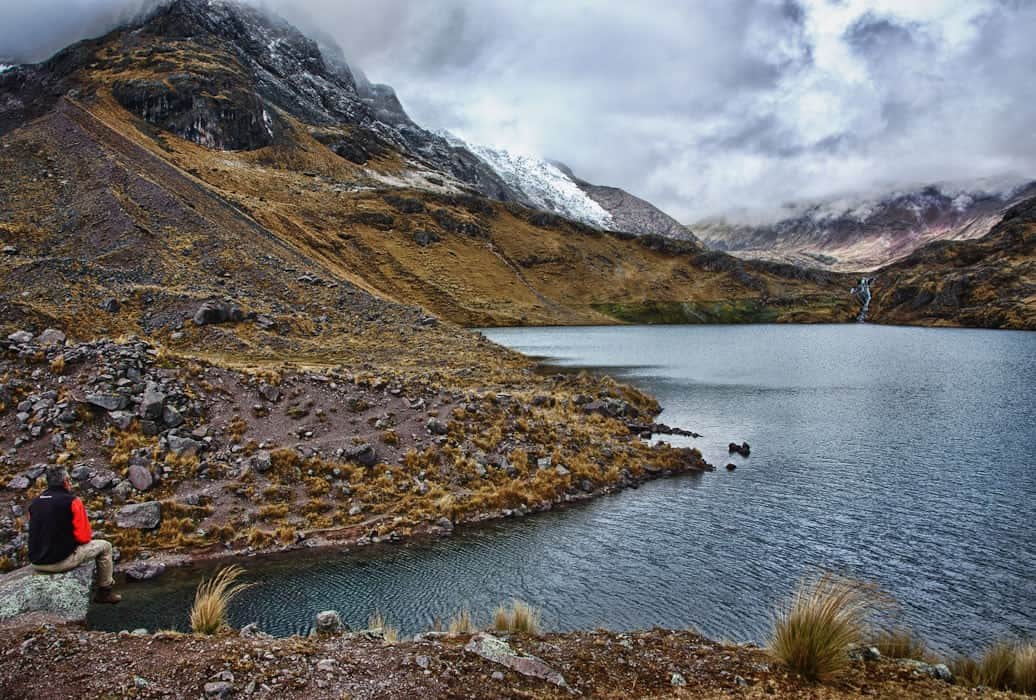 Ausangate route- Best Alpine scenery
While the views of the snow-capped Salkantay peak are pretty stunning, if I were going to pick the best alpine scenery in the Cusco region, it would not be the Salkantay route – it would be the Ausangate route.
Remoteness and adventurer ratings – Salkantay Trek vs Inca Trail
If you are looking for a remote adventure in the Andes, then neither Salkantay nor Inca Trail are going to meet your needs.  They are the first and second most popular routes in the Andes around Cusco and both are very busy year-round.
Inca Trail
As the Inca Trail is highly regulated and the registered Inca Trail operators are allocated campsites when the bookings are done (first in best dressed) there is a predictable flow of people along the trail every single day.
That's why Inca trail operators interested in providing some solitude and an escape from the crowds will recommend doing the Inca trail 5 days instead of 4 days, meaning that your campsites are out of sync with the majority of other trekkers.  This doesn't guarantee that there will be fewer people but should be an overall quieter experience.
Salkantay Trail
On the Salkantay Trail, there is no regulation and there is exploitation of both people and animals.  The defining feature of the Salkantay route is the development of mini lodges and huts along the way as the locals capitalize on the tourism dollar.  Also, large mule trains carrying big groups' gear traverse the route in both directions, so you can spend your time eating dust or waiting for them to pass.
When Ariana, our Co-founder, first trekked in the Salkantay region 20 years ago there was no infrastructure, no lodges and it was a remote mountain – now the experience is quite different.
The weather – Inca Trail vs. Salkantay Trek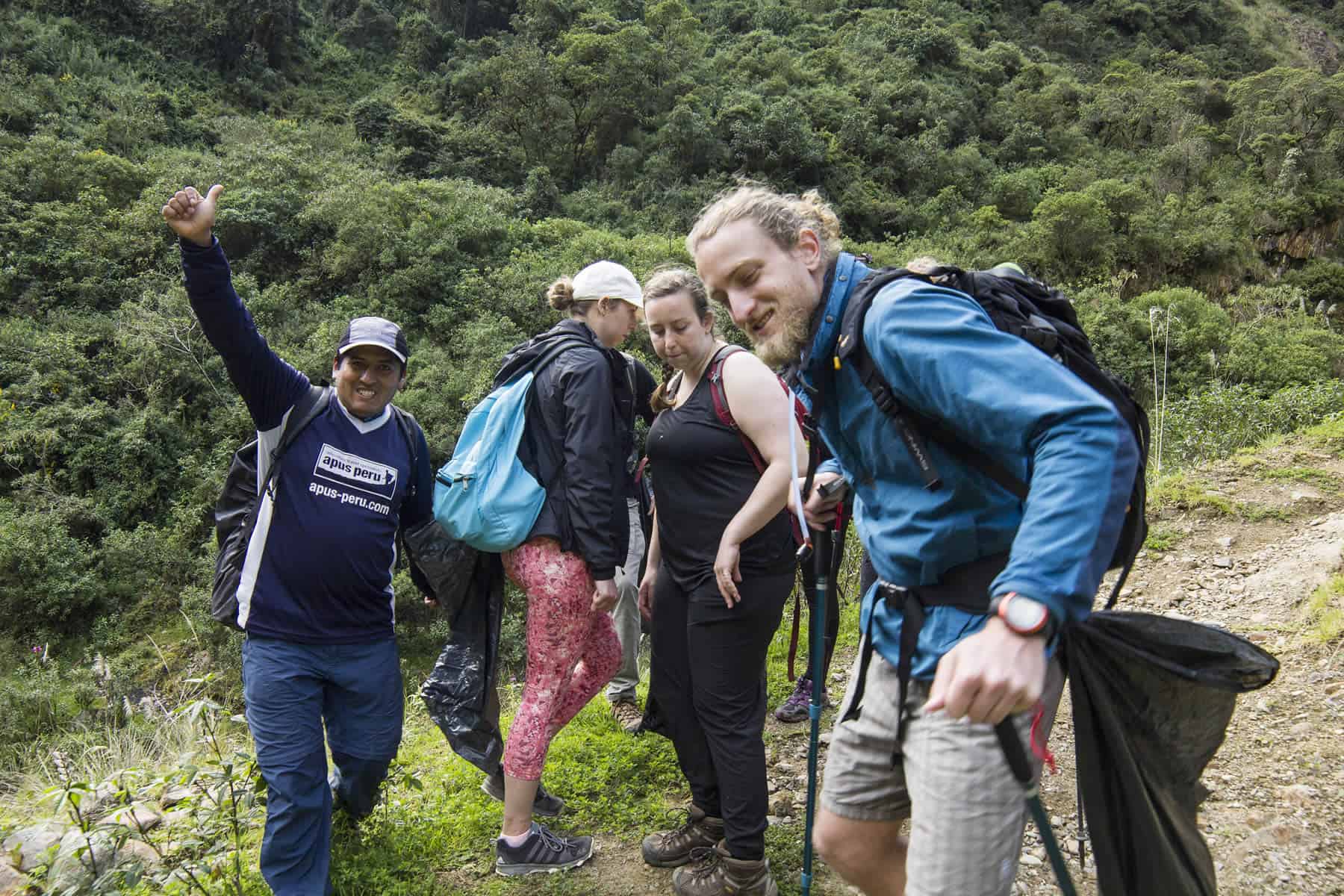 The Inca Trail and the Salkantay Trek are located in the same area, very close to each other and they have very similar weather. Both treks start in the dry cold air of the Andes and finish in Machu Picchu with its warm weather and high humidity.
May to September / October is the dry season. During the day, there are clear skies and very little rain. When it is sunny the temperatures can be sweltering, and at night drop dramatically to below 0°C.  Many consider this as the best season to hike.
Rainy season
September / October to April is the rainy season although it does not necessarily rain every day. Sometimes weeks can go by with no rain.  Daytime temperatures and nighttime temperatures might not vary so much. The Inca trail closes in February when the heaviest rains are expected and there are generally no tour operators on the Salkantay trek at this time either.
The shoulder months- May and June or September and October are a popular option because prices can be lower and there are fewer people on the treks.
Which route is best for seeing Inca ruins? Inca Trail or Salkantay Trek
Without a doubt, the classic Inca Trail is the best trekking route to see the Inca ruins.
There are at least five fascinating archaeological Inca sites scattered along the trail and best of all you won't have to contend with crowds to see them  There will only be the other people hiking the trail who will have the opportunity to view these spectacular Inca ruins.
The Salkantay Trek does however have one small ruin, Llactapata, but it is not as impressive as those on the Inca Trail.
Conclusion – Which trek is best for me?     Inca Trail vs Salkantay Trek
Both treks are extremely rewarding and whichever you choose you are going to have a  ball. The Classic Inca Trail to Machu Picchu is a worldwide bucket list item and rightfully famous – you trek along the Royal Road to Machu Picchu, visiting Incan ruins and enjoying some gorgeous scenery. The icing on the cake is that this is the only trekking route where you pass through the fabled Inti Punku (Sun Gate) and see Machu Picchu revealed below.
On the other hand, the Salkantay trek doesn't require a lot of advance planning and the whole trip is more flexible and less structured – there are a lot more options of where to stay and how to do it. The alpine scenery is divine, gorgeous and breathtaking. Overall you reach a higher altitude on the Salkantay route than on the Inca trail, but it compensates for the fact that it is all downhill from the high point!
Other Peru Trekking Options!
If you have found this post, you are likely considering the Inca trail vs Salkantay trek.                                                      Are you just starting out on your Peru trek adventure?  Then you might want to check out these other comparison posts that will give you further options: Salkantay vs Lares 
Others in the series include: How does Choquequirao compare to other Machu Picchu hikes difficulty?
Palccoyo vs Vinicunca Rainbow Mountain