Visiting Machu Picchu is an extraordinary opportunity for people to experience the marvelous history and mystic nature of the Inca civilization. However, weather changes and variations in seasons during the year, make many travelers wonder about visiting the Inca citadel during Peru rainy season. That is why we invite you to look at our top tips and discover why the wet season can be a good time to visit Machu Picchu and Peru.
When is Rainy Season in Peru?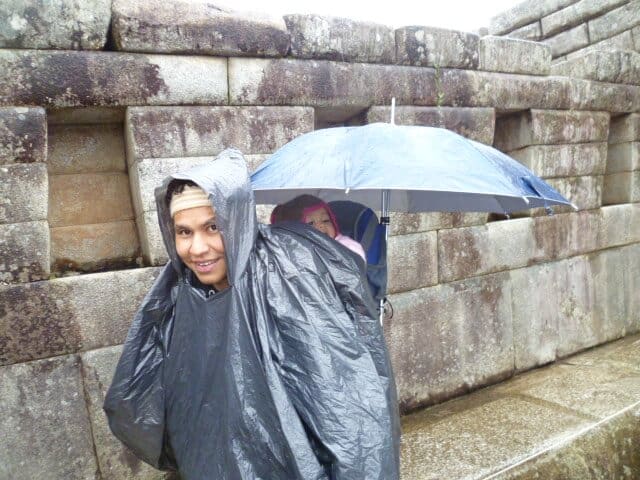 The wet season is typically from November to March, which sees warmer temperatures with intermittent showers.
However, weather in Peru is variable due to the diverse geography presented in different regions: the coast, the rainforest, and the mountains.
In the Andes region, there is little rain from May to October, but on the contrary, during December and March, the rainy season in Peru hits with January and February being the wettest months.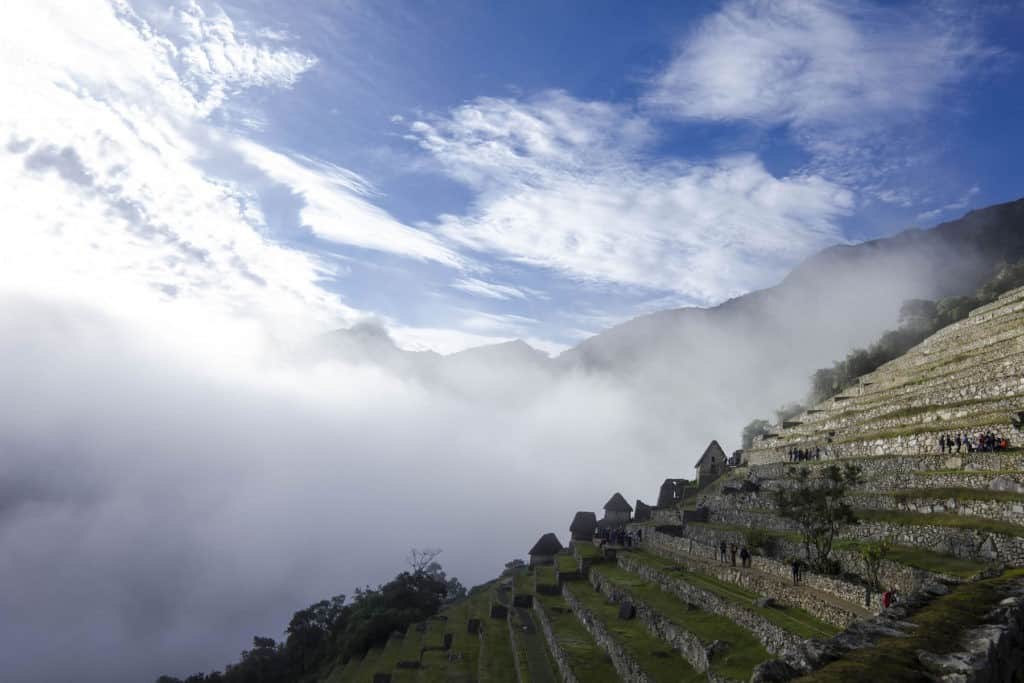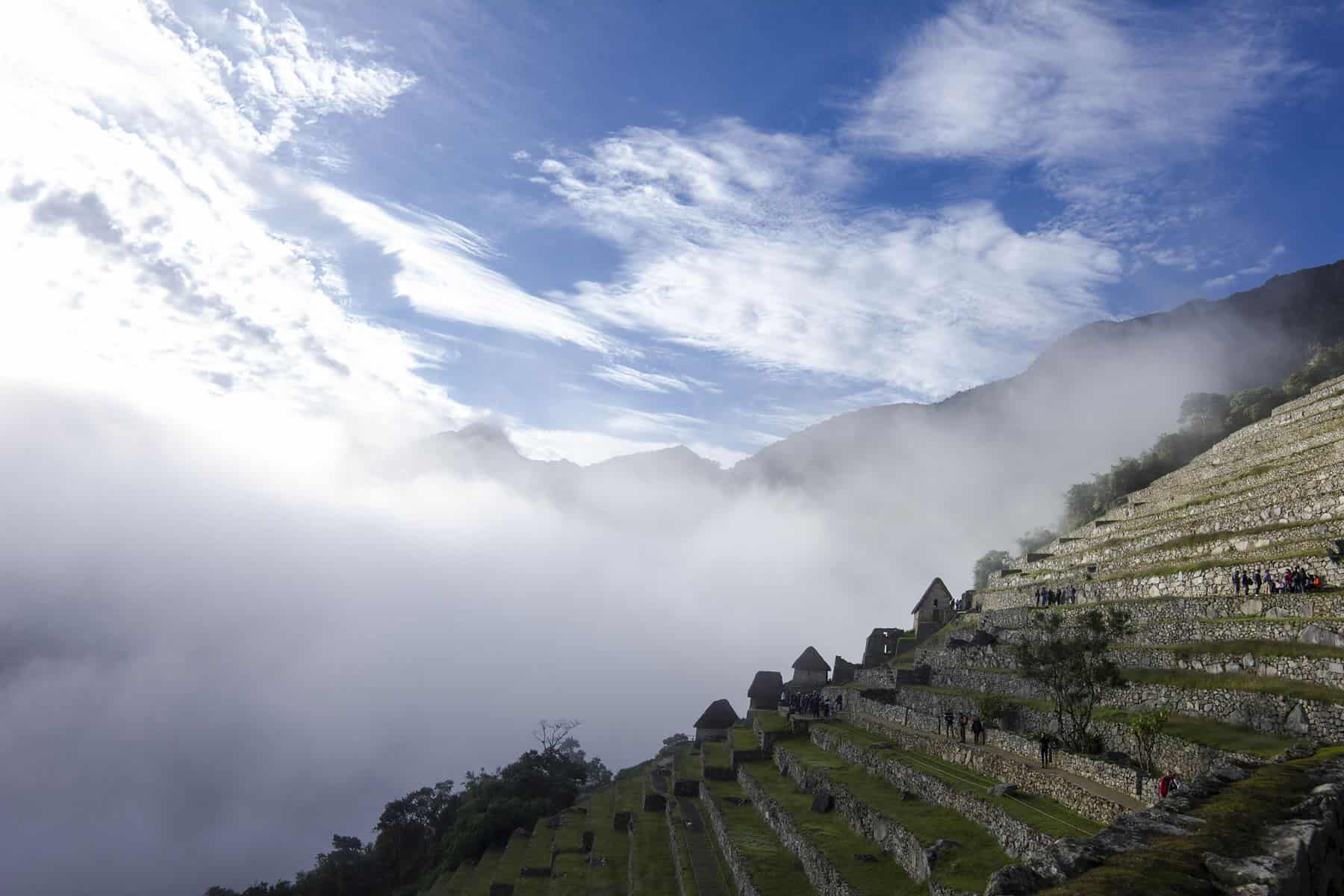 Machu Picchu Rainy Season: When is it and what is it like?
The rainy season in Peru's Andes normally occurs between the months of November and April. Keep in mind that it doesn't rain ALL the time, though you should be well prepared for rain.  (More about our top tips for this rainy season holiday below.)
During wet season, the temperatures are considerably warmer at night, but the overcast sky and rain showers can make it feel quite chilly.
At this time of year, rain is more frequent and can be quite heavy at times; however, rain showers are usually short in duration. More often that not, you can expect an intense shower in the early afternoon or evening almost every day, but the rest of the day may experience sunny breaks.
Myth-busting: Machu Picchu in the Rain
To start with, let's dispel some myths about Machu Picchu in the rain:
Maybe you have heard or read that Machu Picchu closes in February, but actually, it is just the Inca trail that is closed off to visitors due to maintenance. So don't worry! Machu Picchu is open all year round, as well as the train that takes you to the citadel.
Even though has been some information about possible travel interruptions during the rainy season in Machu Picchu, during the last decade, the train services have been altered only once due to floods during the wet season.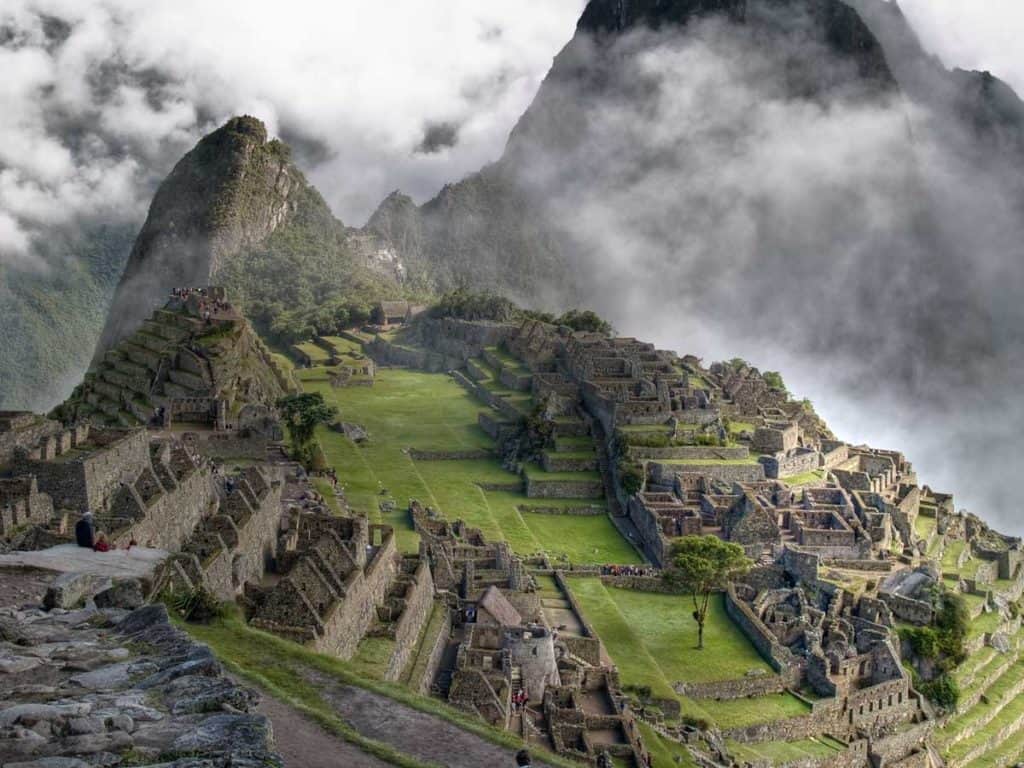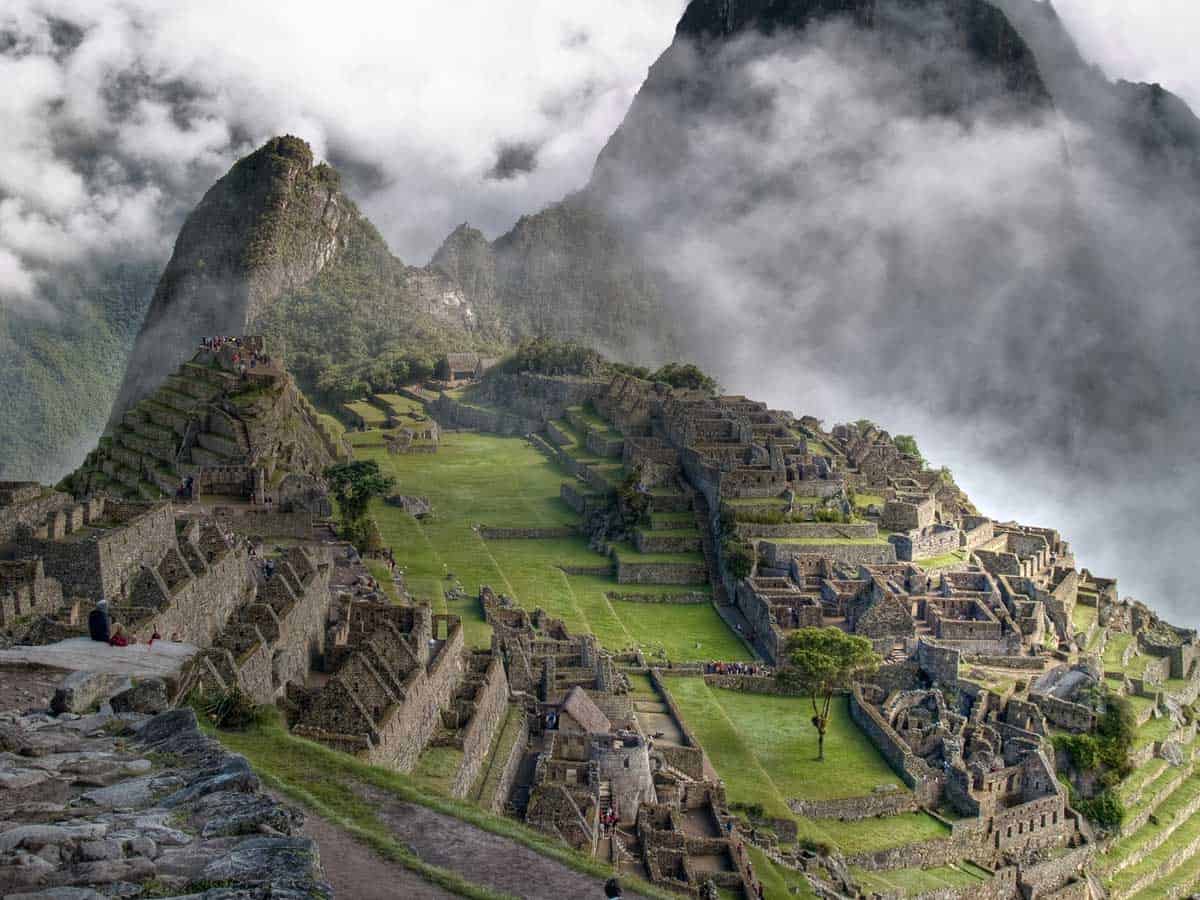 Why visit Cusco and Machu Picchu in the rainy season?
For a completely different experience of the Inca Capital and the surrounding areas, we recommend Cucsco in the rainy season. The rainy season Peru lasts from about November through March, and of those months, February may be the best time to come.
With the Inca Trail closed, the number of daily visitors to Machu Picchu is seriously reduced, meaning you get much more quality time communing with Inca history and taking in the gorgeous vistas. The mist that often enshrouds the site at this time of year just increases the site's ethereal appeal!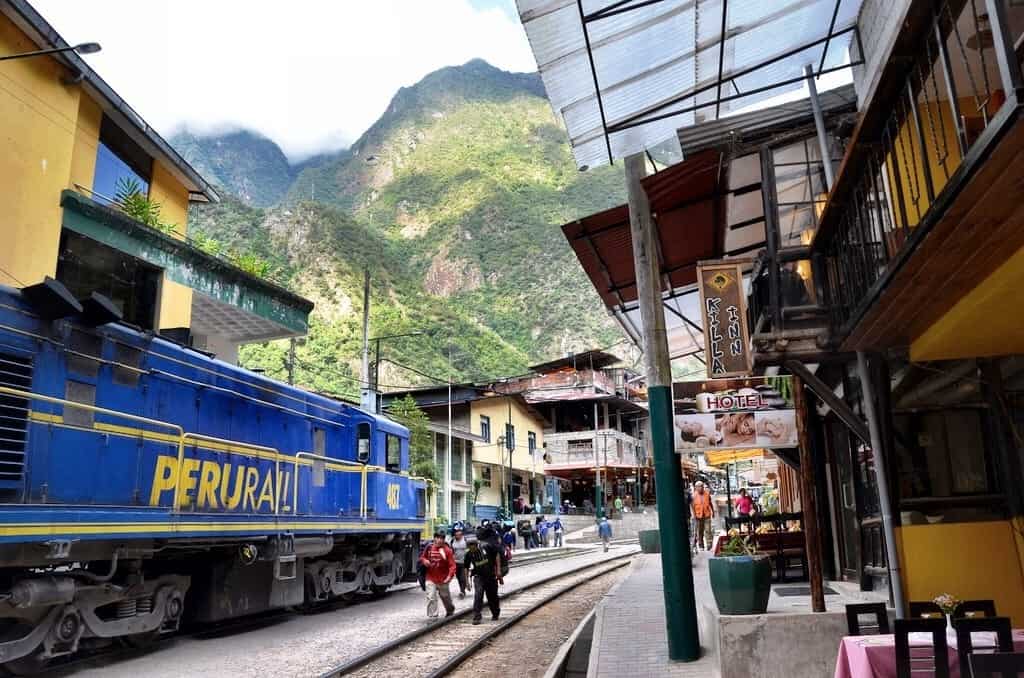 Here is why you should consider the Peru rainy season to visit Cusco and Machu Picchu!
#1 – It's Warmer
Cusco in February is the warmest time of year. Alpaca blankets wrapped around your waist may be a dry season fashion statement, but you won't find the need for them at this time of year!
Days are warmer and more pleasant for sightseeing, despite the humidity.
As it is located in the Southern Hemisphere, the temperatures in Peru turn to the warmer side because the rainy season is basically summer. That means that you don't have to worry about dramatic weather changes.
In Machu Picchu, the last month of the summer is February which is also a wet month with temperature fluctuating between an average high of 25° C (77°C) and an average low of 13°C (55.4°F).
Also, keep in mind that in February in Machu Picchu, it is raining for 18 days meanwhile in Cusco, the rain falls for 13 days of the month.
#2 –  Fewer  tourists
If you don't mind the rain but want to avoid crowds as much as possible, visiting Machu Picchu in the wet season is an excellent time.  In the busy sunny months of June through August  here can be crowds  on the other hand , during the rainy season in Peru Machu Picchu, you will find yourself in a quiet and almost deserted world heritage site.
#3 – Have Machu Picchu Almost Entirely to Yourself
Ever wanted the chance to visit Machu Picchu all by yourself, or alone with your loved one? Well, February  is the time to do it! With the Inca Trail closed and wimpy tourists favoring the coastal sunshine of Lima, you can enjoy an almost deserted Machu Picchu – the mist just makes it more atmospheric.
And while the Inca Trail may be closed for maintenance during February, that doesn't mean that you can't trek to Machu Picchu via the Lares route, or enjoy short Cusco day hikes!
Find out when is the best time to visit Machu Picchu
#4 – You do not need to book as far in advance
Unlike dry season, when visitors have to book and pay for tickets up to 6 months in advance (for the Inca Trail), it is possible during rainy season in Machu Picchu to make a last-minute (or close to the date – approx. 4 – 6 weeks prior) booking, so you will have the chance to live a once in a lifetime experience without worrying about prior arrangements.
#5 – Peru's Rainy Season Blankets Cusco in a Lush Green
February is one of the best times to appreciate the natural beauty of Cusco, as the valley turns a lush green. Plus, due to the bursts of sunshine and intermittent torrential rain, there is a very high chance you will glance impressive rainbows over the Imperial City of Cusco. Que bonita!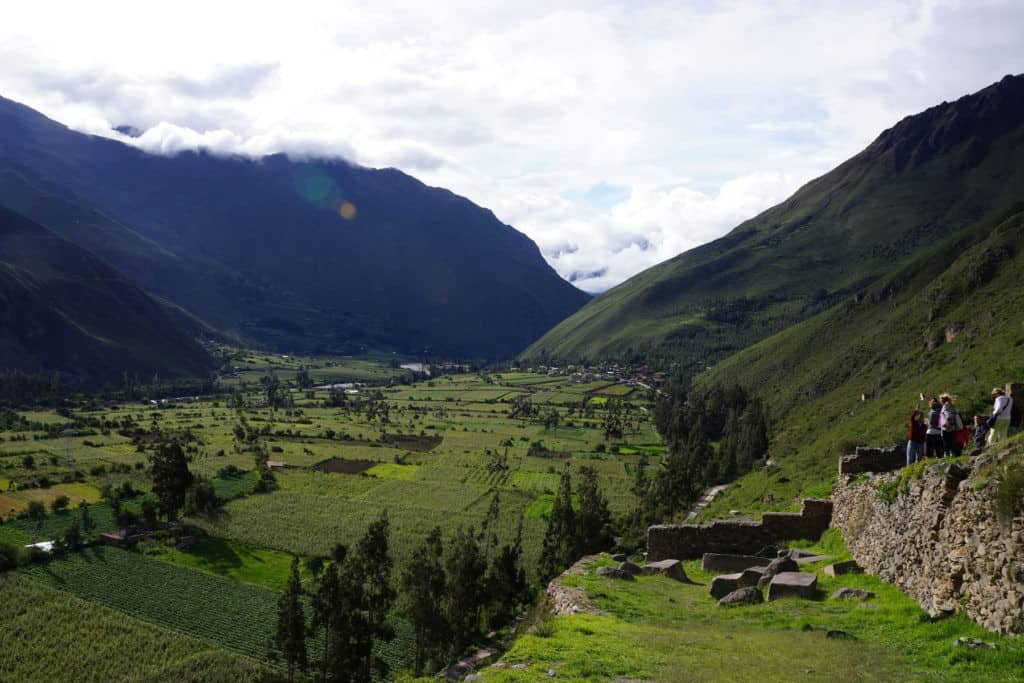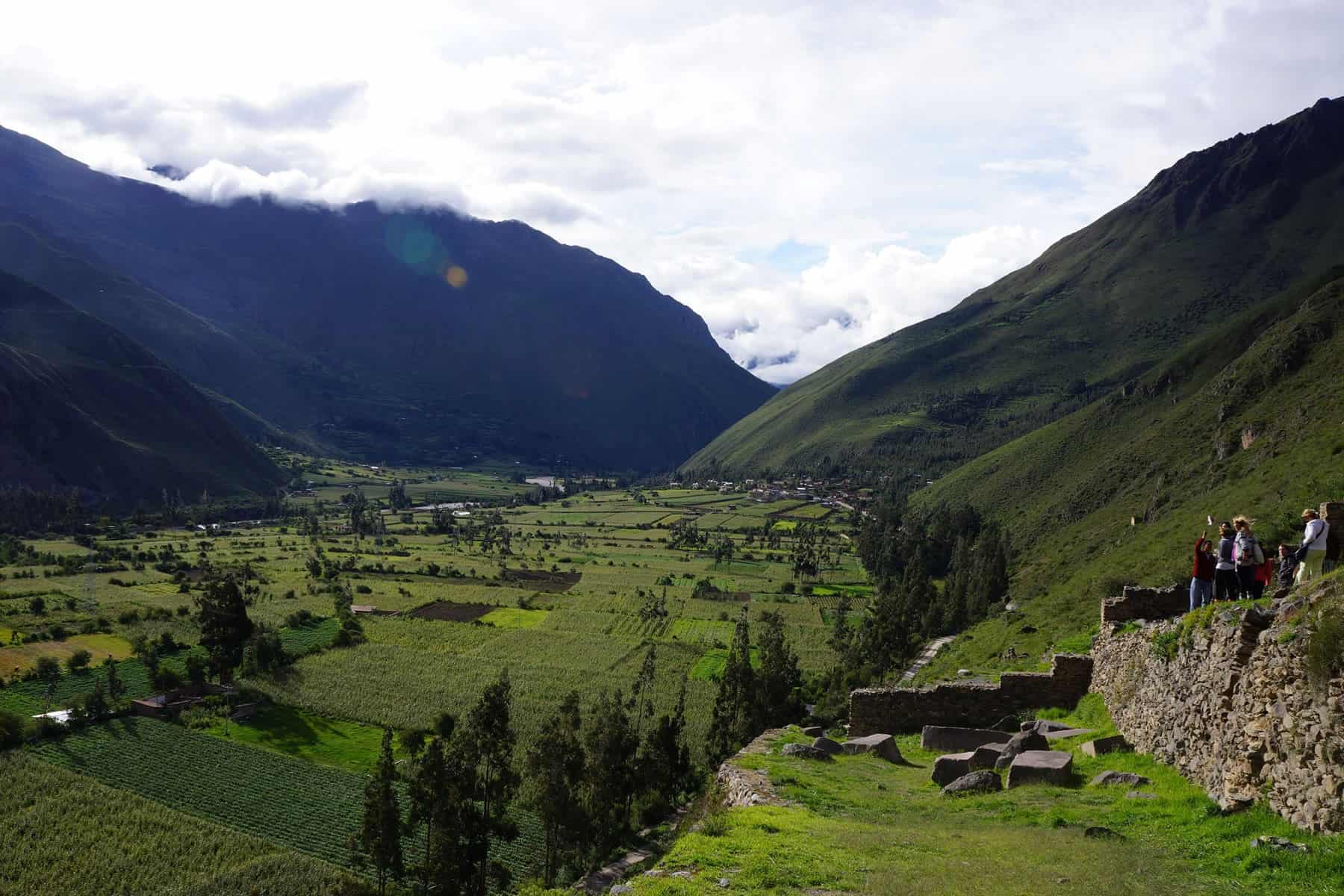 #6- Clean, fresh air!
Did you know that when rain hits the air, a the aroma called 'petrichor' happens naturally? So if you want to feed your senses with this rich luscious smell of rain on earth – "petrichor", save your spot for the rainy season in Cusco Peru.
#7 – Get Deals!
Low season means more bargaining power for the tourists who are here, and some discounts on accommodation and food.
Being in the middle of low season means that February is also when tourists have peak bargaining power! Some might consider it the best time to travel to Peru.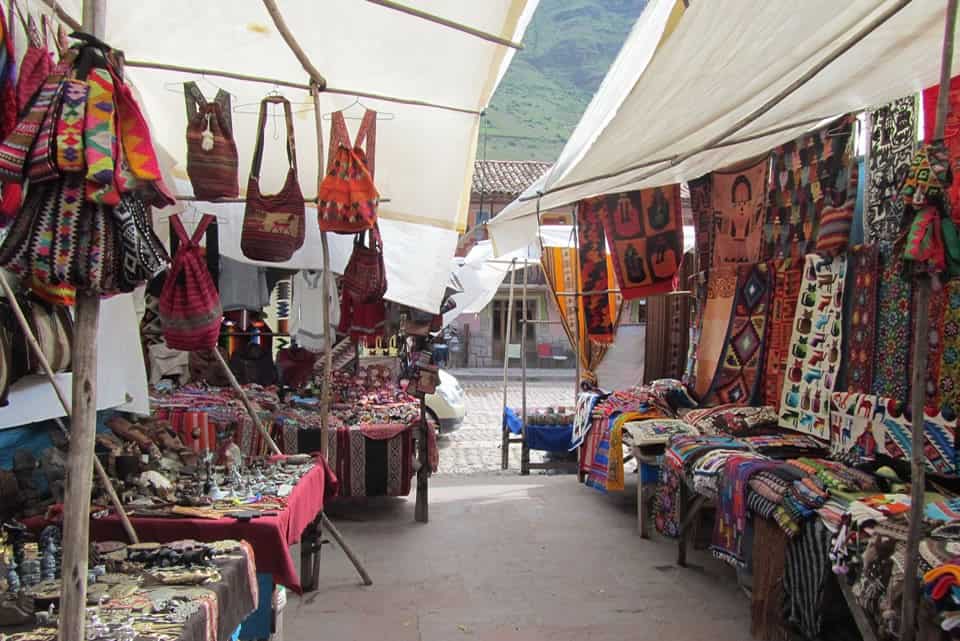 #8 – Carnival and cultural celebrations!
Peru has an incredibly rich culture, with festivals and carnivals all year round. During these cultural celebrations, visitors and locals take part like there is no tomorrow.
In February, it is common to see how perfect strangers attack each other in the streets with water bombs, foam, eggs, and more, as part of carnaval.  It is taken for granted that anyone who ventures out of their house is "playing". Here there are no rules!
Get a front-row seat to a Peru festival or cultural event with one of our Peru cultural excursions.
Virgen de la Candelaria – 2 – 18 February 
The Virgen de Candelaria  is one of the most important religious celebrations in Peru and takes place in the city of Puno.
If you want to experience a real cultural immersion during Peru wet season, this festivity is what you are looking for. More than 40 musical groups from all over Puno perform in attractive costumes with a beautiful combination of colors, beauty, and high spirit.

When is the best time to visit Cusco?
Lucky for you we have written a complete guide that covers the best time to visit Cusco, including why Cusco has its name, why June is a popular month to travel to Cusco, the Cusco festival calendar – and of course, last, but not least – what is the rainy season in Cusco like?
What about trekking in Peru's rainy season?
Trekking in Wet Season vs Dry Season
Outside Cusco city, temperatures and conditions can vary from those experienced in town. The Sacred Valley is typically warmer than Cusco, since it is located at a lower elevation, but it is often windier as well.
Most trekking routes pass through elevations much higher than Cusco, meaning that temperatures are frequently a few degrees colder. During wet season, when it is raining in Cusco or in the Sacred Valley, you can expect snow at the higher elevations! (Brrr… so much for Summer!)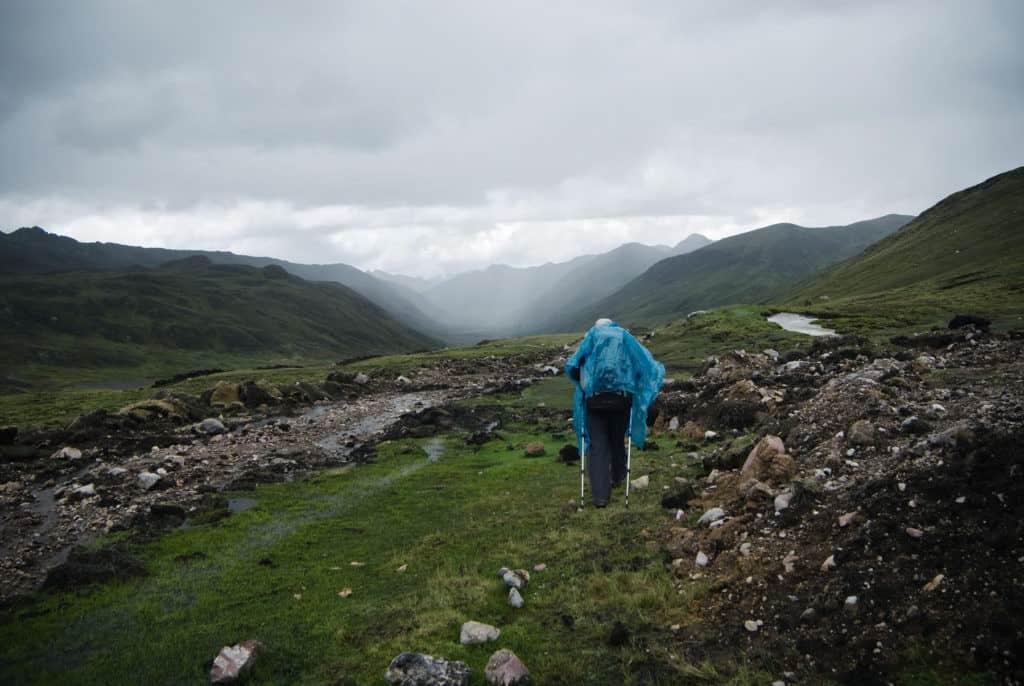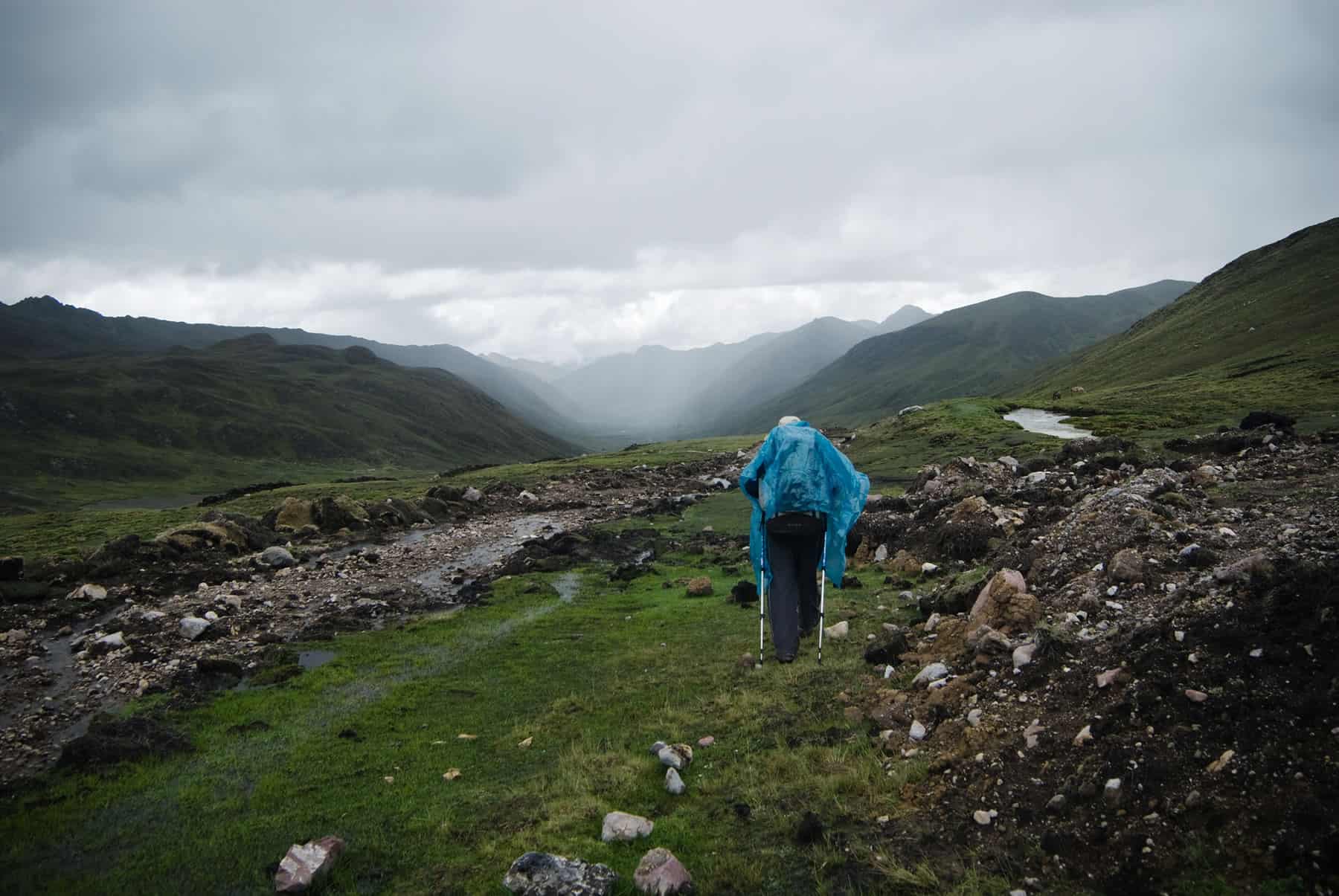 Trekking in the Andes
If you want to trek in the Andes, there are pros and cons to hiking during both rainy and dry seasons. Dry season offers more route options and more comfortable, less risky hiking conditions. However, as it is peak season, tourist traffic is heavy both in town and in the mountains.
When considering when is the best time to travel to the Andes, wet season Peru hiking can actually be quite enjoyable – especially if you come prepared with really good rain gear!
The rains turn the mountains into a brilliant green, giving you a whole different perspective on the Andes. Since it is low season, it can be a great time to more fully experience the remoteness of the routes, and enjoy some high Andean solitude.
The Inca trail is closed in February
If you're thinking of hiking the Inca Trail during wet season, it is important to note that it closes in February for maintenance.
Follow the link for more information about the best times to hike, including hiking during rainy season Peru.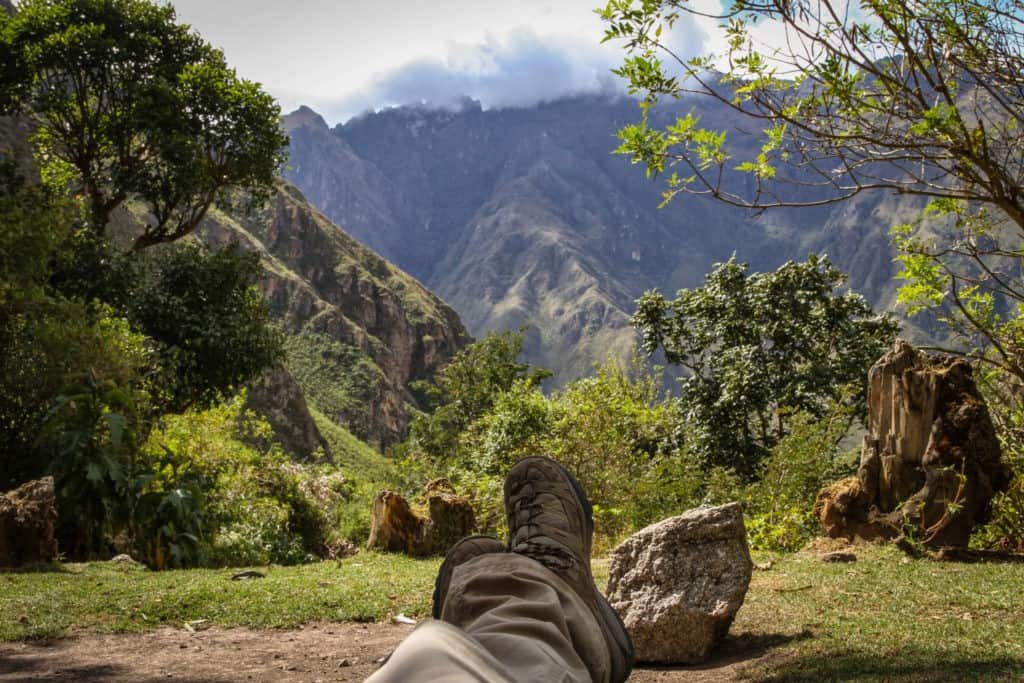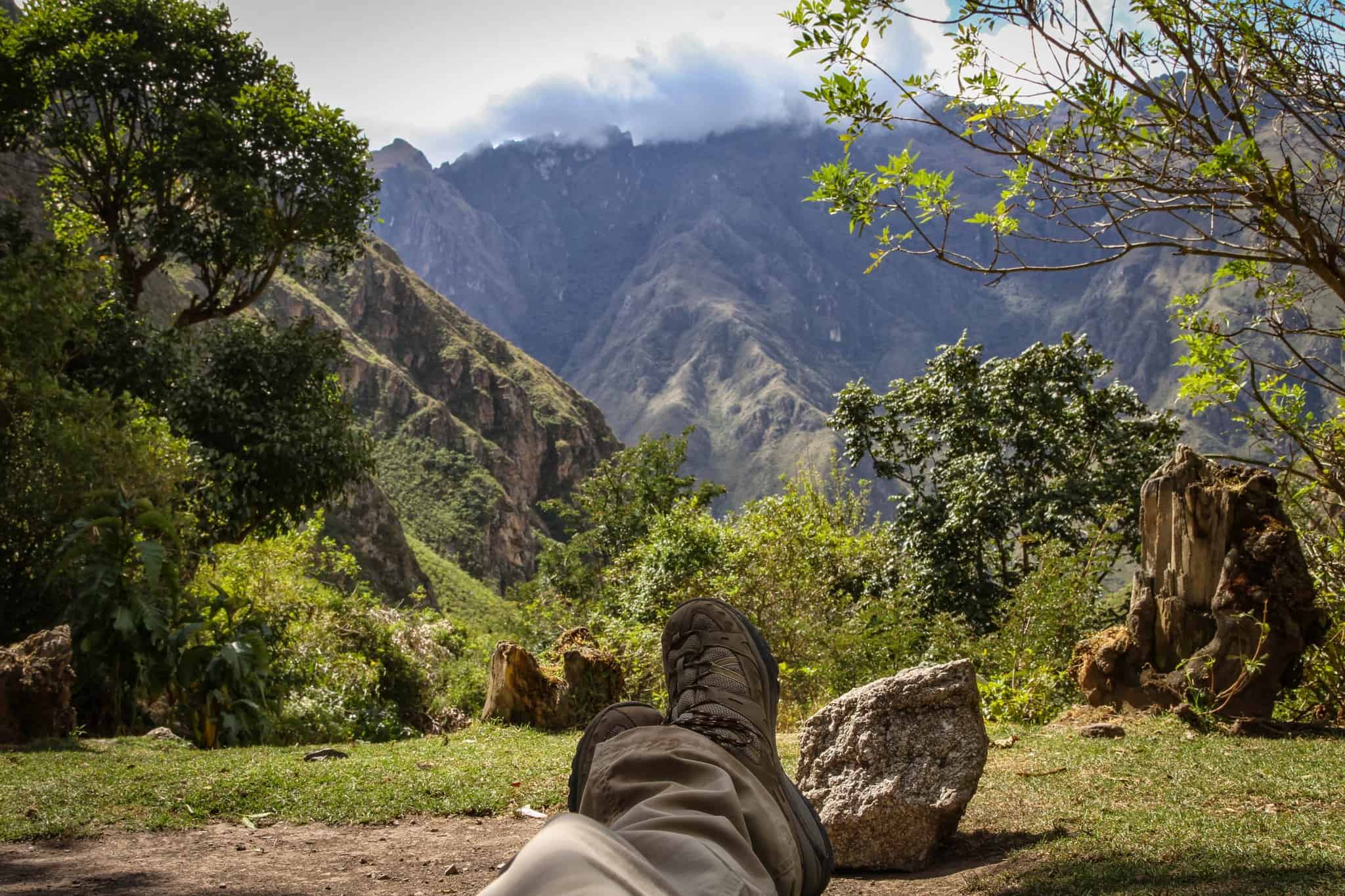 The Best Treks to Hike in Wet Season
That said, some routes are impossible to hike during the wet season. This is due to the unpredictability of the weather and the trail conditions. On these routes, you are likely to experience mud, rockfalls, fog, snow, rising rivers and general slipperiness on the trail.
Apus Peru does not operate any of its Choquequirao treks in the rainy season,  or those in the Ausangate region. Due to the Salkantay pass being dangerous after heavy rain they usually consider it off-limits during January and February.
Remember, that even after the rains stop the ground is still very wet and can be prone to landslides,  right into March.
The best wet season treks are the Lares Trek and the Inca Trail. For more options, see our complete calendar of when treks are available on our Machu Picchu trek options page.
How to get the most out of your Peru rainy season holiday
Clothing always depends on weather, so when preparing your luggage, bear in mind that the climate in Cusco can vary unexpectedly.
In the morning you may need an umbrella and raincoat for heavy rain and, then in the afternoon, you will find yourself wearing sunglasses and sunscreen.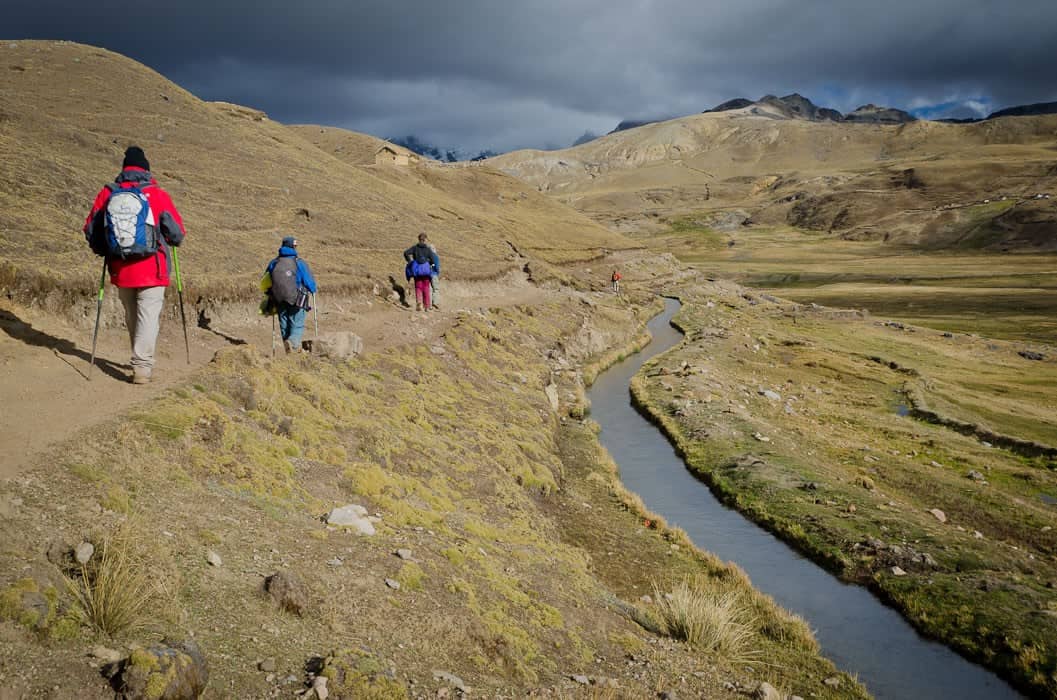 Pack properly
It comes handy at any time. Make sure you always have one with you due to unexpected rain Machu Picchu.
In the Andean region, most paths are stone-made and during the rainy season Machu Picchu the pathways will be wet and slippery.
So, it is a good idea to take with you waterproof shoes or slip-resistant boots especially if you are thinking of exploring the sites on foot.
Moisture-wicking clothing is made from fabrics that takes moisture away from the skin. Moisture is drawn to the exterior of the fabric, which makes it easier to evaporate.
We recommend lightweight, quick dry clothing during the Peru rainy season Machu Picchu is the kind of clothing most popular because of the humidity and well, the chance of being caught in a rain shower!
Protective gear for your camera
If you are going to travel to Machu Picchu in the rainy season you might want to invest in a good rain cover, or a camera bag with a rain protection feature.  If you don't want to lash out then a plastic bag will work as a DIY camera cover or just having an umbrella will keep it dry!
For more packing tips, see our complete hiking packing list recommendations.
Plan extra time
We recommend you to arrange extra days just in case heavy rains alter your schedule, but on the contrary, if there is not much rain during your tour, take advantage of it and enjoy the best of Peru during rainy season.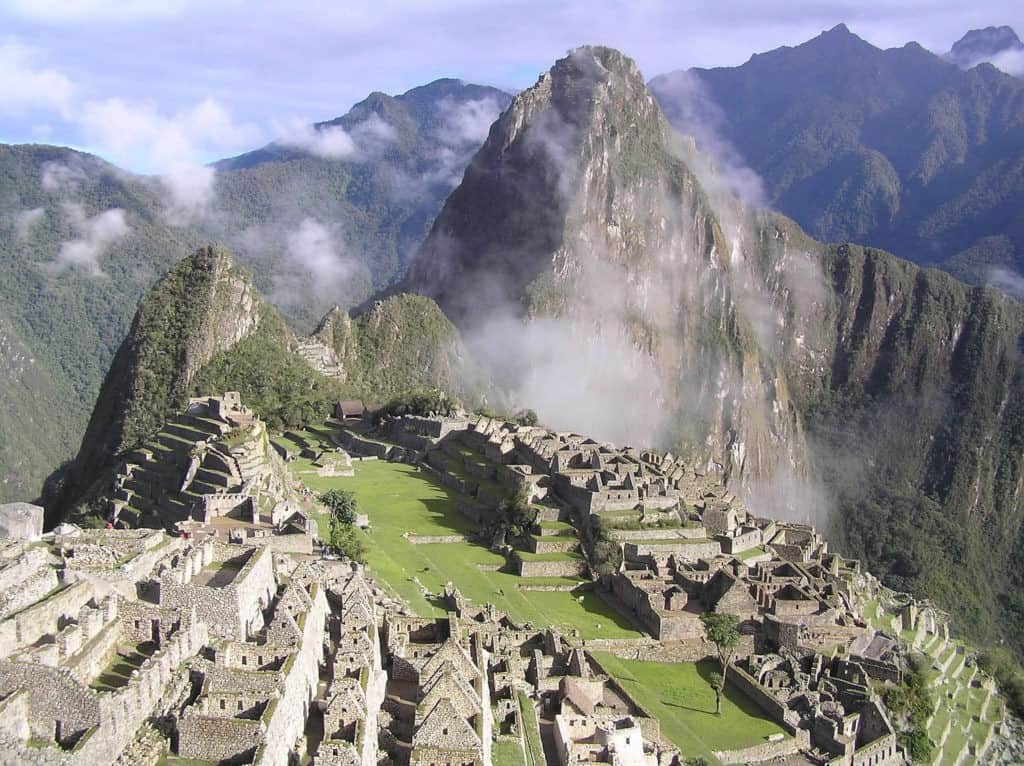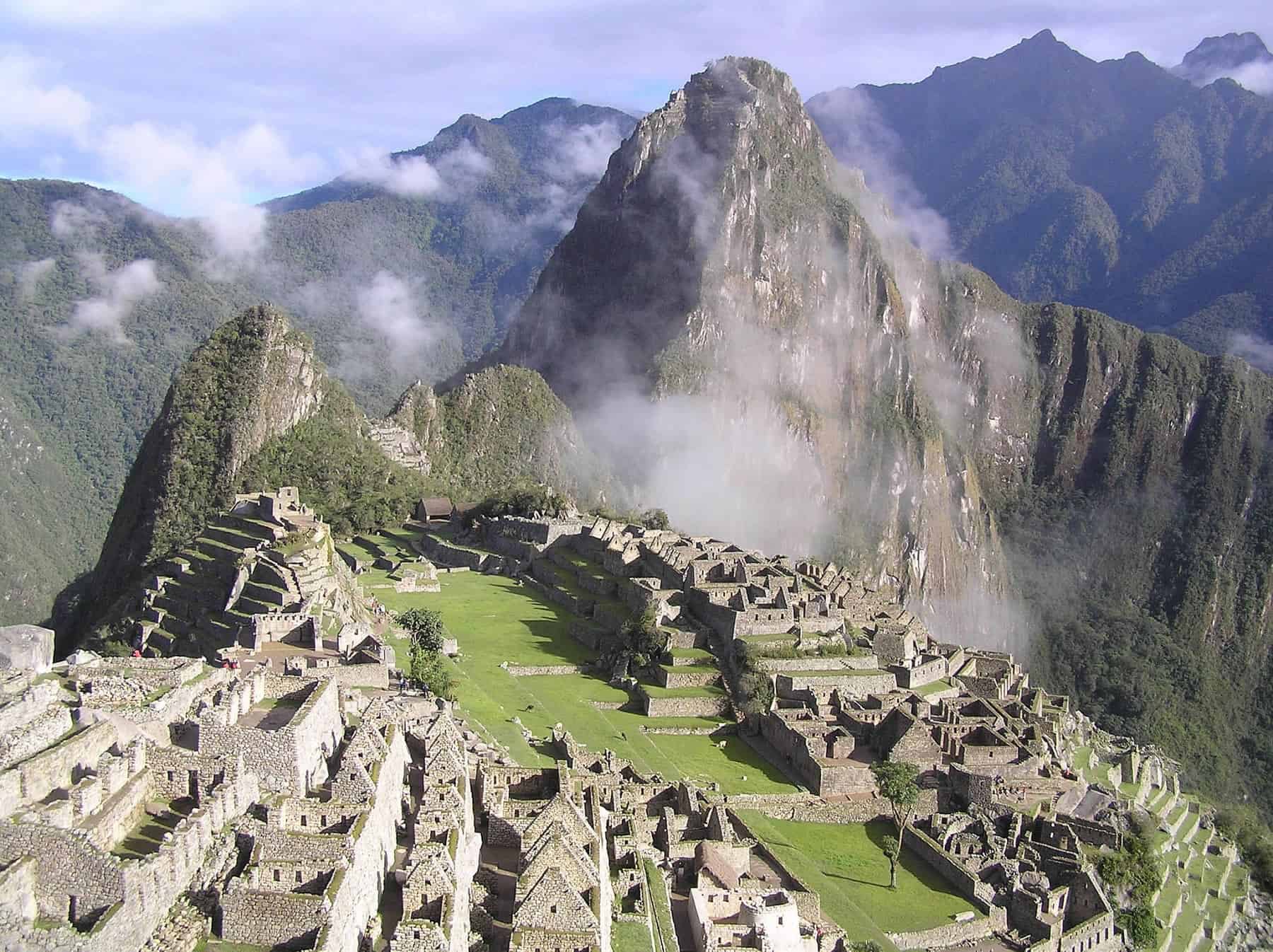 Why Visit Peru & Machu Picchu in the Rainy Season?
Evidently, visiting Machu Picchu during the Peru rainy season can result in a great experience! Less crowded sites, warmest time of the year and carnivals everywhere. Indeed, the rain is another magical element when you think about the best time to visit Peru.
Related Posts:
Reasons to Visit Machu Picchu in the Rainy Season > Pin it > Share it!