Everyone knows that you can hike TO the amazing Machu Picchu. But did you know that there are also hikes AT Machu Picchu that you can do?
Here are 7 Machu Picchu hikes you can do while you are touring the famous Incan citadel. Listed below is all the information you need to know to explore these hikes in and around the mountains of Machu Picchu.
Important! Book Early
If you didn't already know, Machu Picchu is hugely popular. In fact, it's the #1 most-visited tourist attraction in Cusco, and in normal times received upwards of 2500-3000 visitors per day. Because of that, visiting Machu Picchu is highly regulated and requires a special entry ticket which you must book in advance. It is not possible to purchase the ticket at the entrance to Machu Picchu itself.
Even regular entrance tickets for Machu Picchu can sell out in advance, so for anyone travelling on a schedule, it's important to buy tickets in advance. This becomes even more important if you want to do one of the Machu Picchu hikes, especially Huayna Picchu, Machu Picchu Mountain or Huchuy Picchu.
That's because there is a limited number of permits issued every day – and they can sell out! This is especially true during peak tourist season (May to September) when permits have been known to sell out up to four months in advance.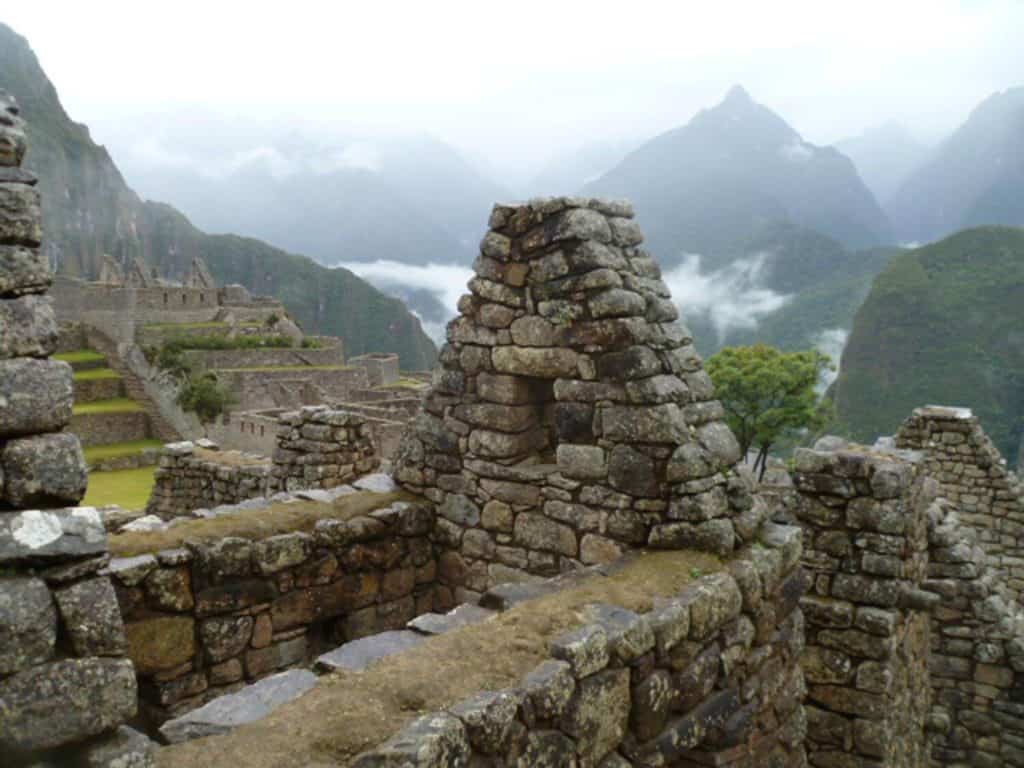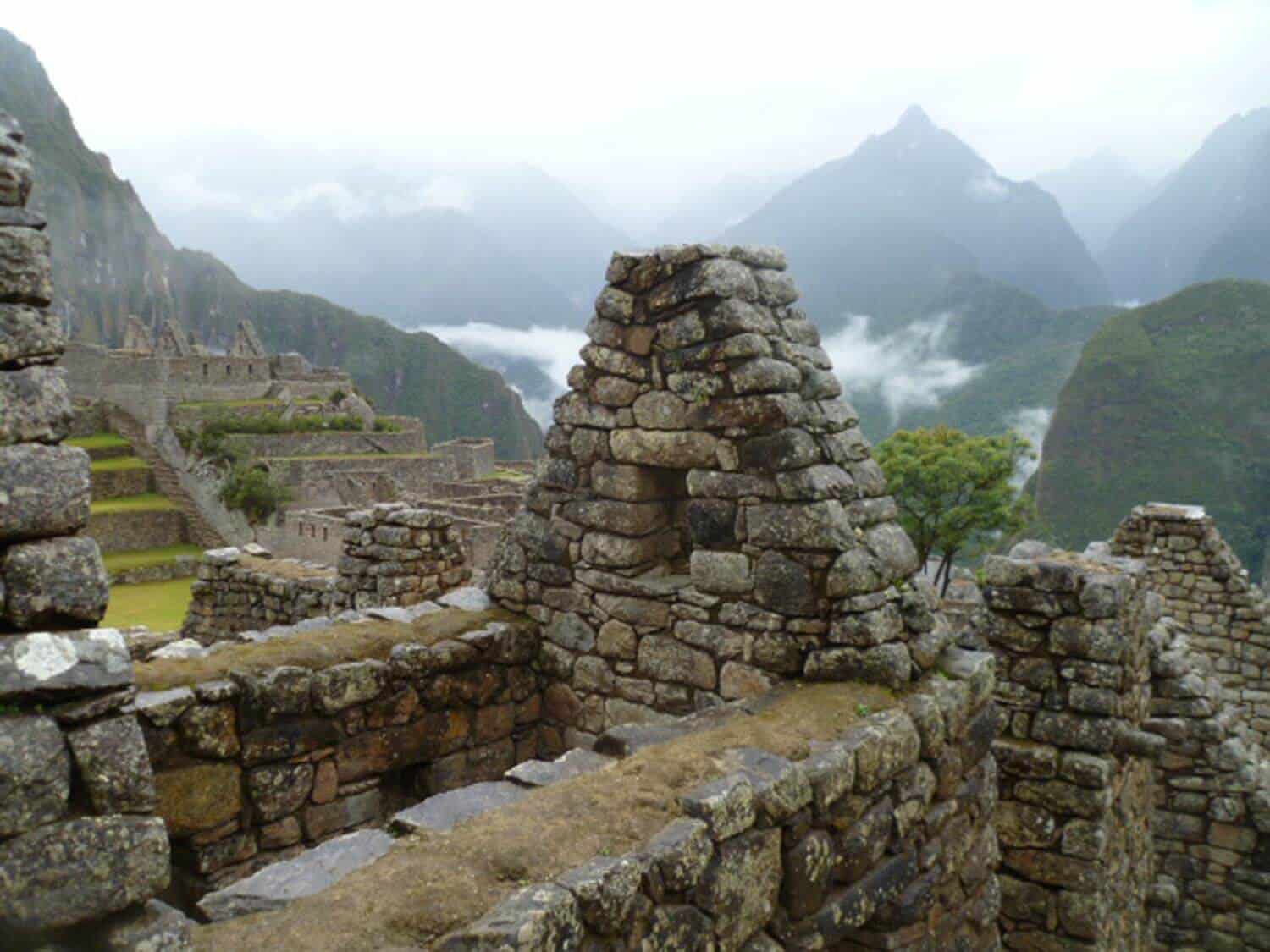 An Extra Note if You Are Hiking the Inca Trail
It's also important to book early if you are planning to hike the Inca Trail to Machu Picchu and add one of these hikes to your tour of Machu Picchu at the end. Permits for the Inca Trail are themselves limited and sell out fast, but there is another thing to worry about: your campsite on the last day of the trail.
There are two campsite options for Day 3 on the Inca Trail: Wiñay Wayna and Phuyupatamarca. Wiñay Wayna is the most popular and is allocated first by the government; after about half of the permits are sold, campsites at Wiñay Wayna are full. This means that if you buy one of the last 250 or so permits, you are more likely to be assigned to the Phuyupatamarca campsite.
Why does this matter?
Wiñay Wayna is just 2 hours from the entrance to Machu Picchu through the Sun Gate; Phuyupatamarca is 5 hours away. The longer hike on the morning of your visit to Machu Picchu means that you will reach the site later – and you may not have enough time to have a proper tour of the site AND do one of the Machu Picchu hikes.
So, if you're hiking the Inca Trail and you know you want to add one of the hikes at Machu Picchu, you really need to book as early as possible!
Now, without further ado, let's take a look at each of these exciting hikes in Machu Picchu.
Huayna Picchu
Special Ticket Required? Yes – you must buy the "Machu Picchu (Circuit 4) + Huayna Picchu" Ticket
Limited Spaces? Yes – only 200 permits per day
Restricted Access Times? Yes – enter between 8-9, 9-10 or 10-11 am.
Difficulty Level: Challenging – especially if you have a fear of heights
The Huayna Picchu hike is the most popular of the hikes at Machu Picchu citadel. Huayna Picchu mountain (aka Wayna Picchu) is actually the mountain next to Machu Picchu. At an altitude of 2713m (8900 ft), is the sharp iconic mountain peak that rises above Machu Picchu and is seen in so many of those classic photos. The view of Machu Picchu from Huayna Picchu is extraordinary and from the "Throne of the Inca," a seat-shaped rock at the summit, you can take some excellent photos!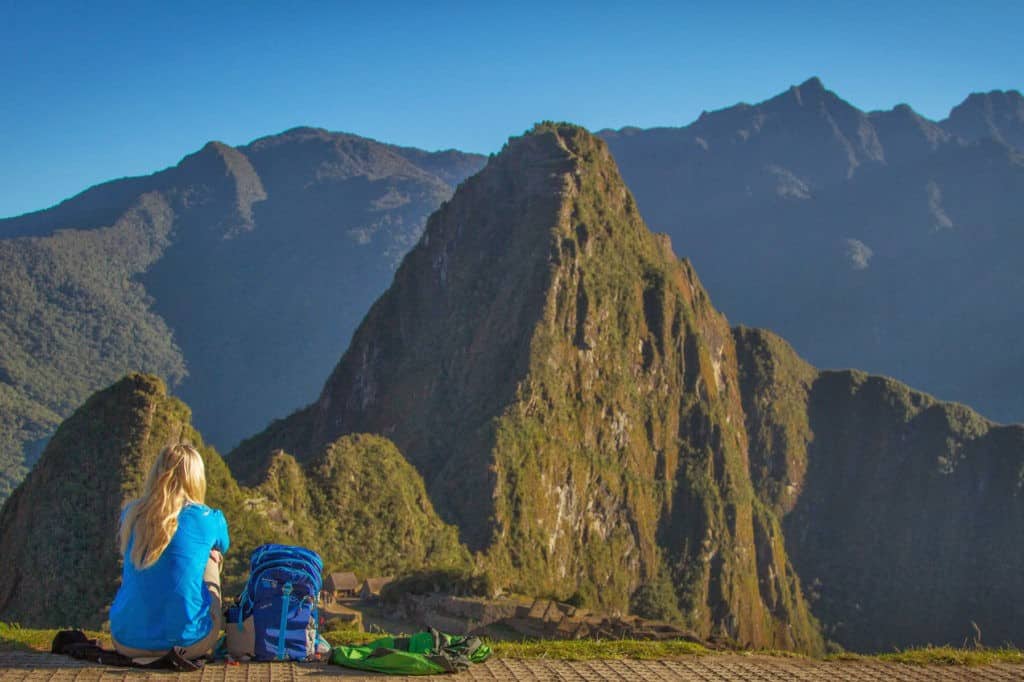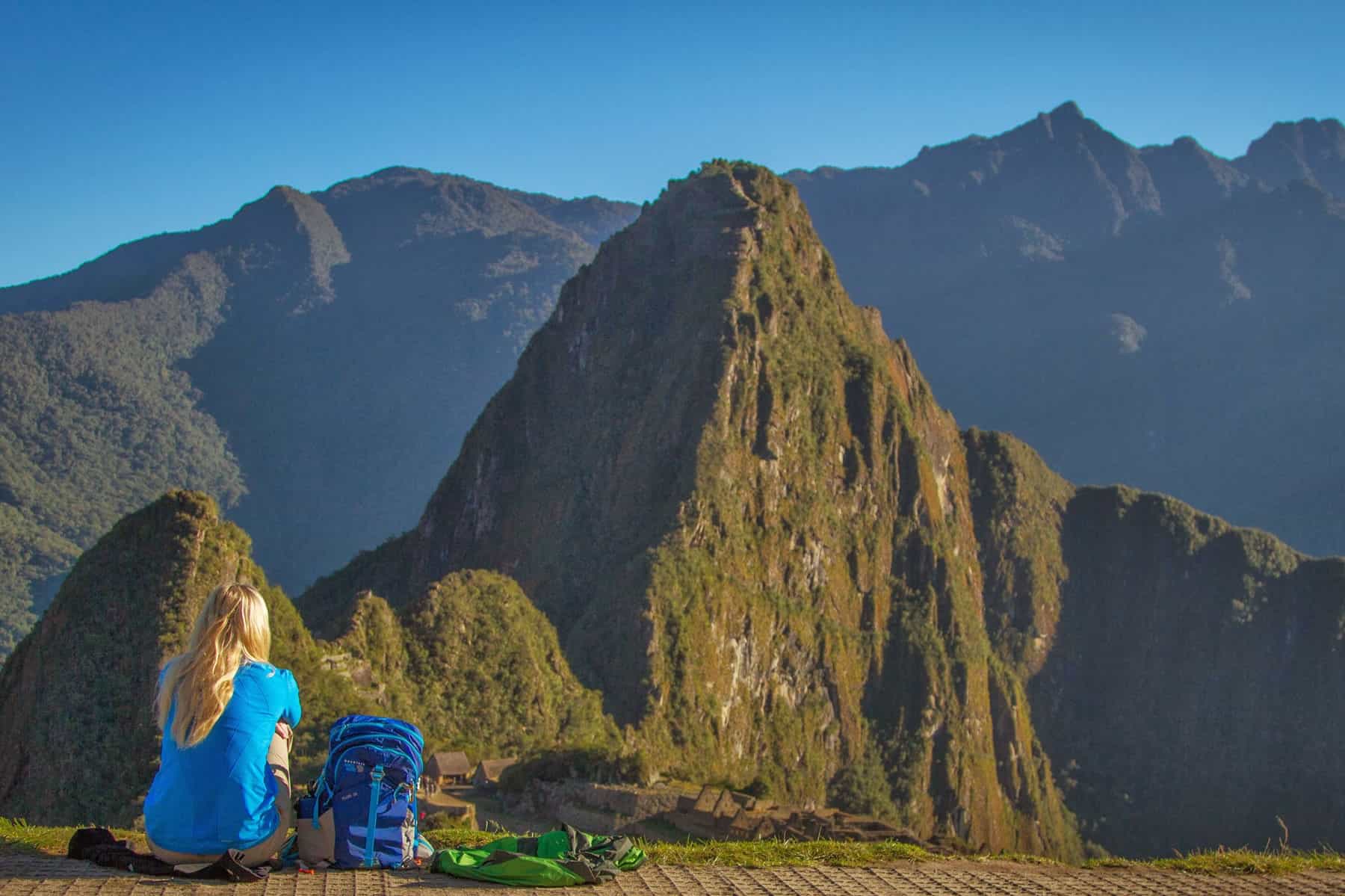 What to Expect on the Huayna Picchu Hike
The hike to Huayna Picchu takes between 45 minutes and 1 hour; you should plan on it taking 1.5-2 hours round trip. Along the way, you will pass through lots of vegetation, climbing winding, narrow paths and stairs with uneven steps. In some sections, you will find railings and cables for support, but still, it will require enough physical strength and determination to complete.
A word of caution for anyone climbing Huayna Picchu: There are steep drop-offs on either side of the track. If you are afraid of heights or are susceptible to vertigo, do not do this hike!
The last 50 yards near the top is probably the most difficult section because the stone steps are so large that it feels like climbing a ladder. The Huayna Picchu "Death Stairs" or "Stairs of Death" date back to the 1400s. The climb is steep but there are handrails and ropes to assist you.
If you're looking for even more of an adrenaline rush, take the longer back route from the summit down to the Temple of the Moon via the Gran Caverna. There will be little separating you from the rushing river below!
How to Book This Hike
Remember you must book your tickets to Machu Picchu and Huayna Picchu well in advance if you want to do this very popular hike. There are 200 spaces per day, and entry to the hike is distributed over three intake periods:
The entrance to the Machu Picchu citadel and its buildings is included in the price of the Huayna Picchu ticket, and you can spend a maximum of 6 hours in total inside the site (7, if you add the Temple of the Moon detour) – plenty of time to complete your tour and do the hike.
You are expected to tour the site along Circuit 4 on your way from the entry gates to the hike entry point, and then back again on your way to the exit. Remember: every circuit at Machu Picchu is one-way and once you exit the site, you cannot re-enter on the same ticket.
Another option is to head straight to Huayna Picchu and do the hike first, followed by a tour of the site. We recommend opting for the third entry time (between 10 & 11am), which allows you to complete your tour of the ruins first in the early morning, and then do the Huayna Picchu hike.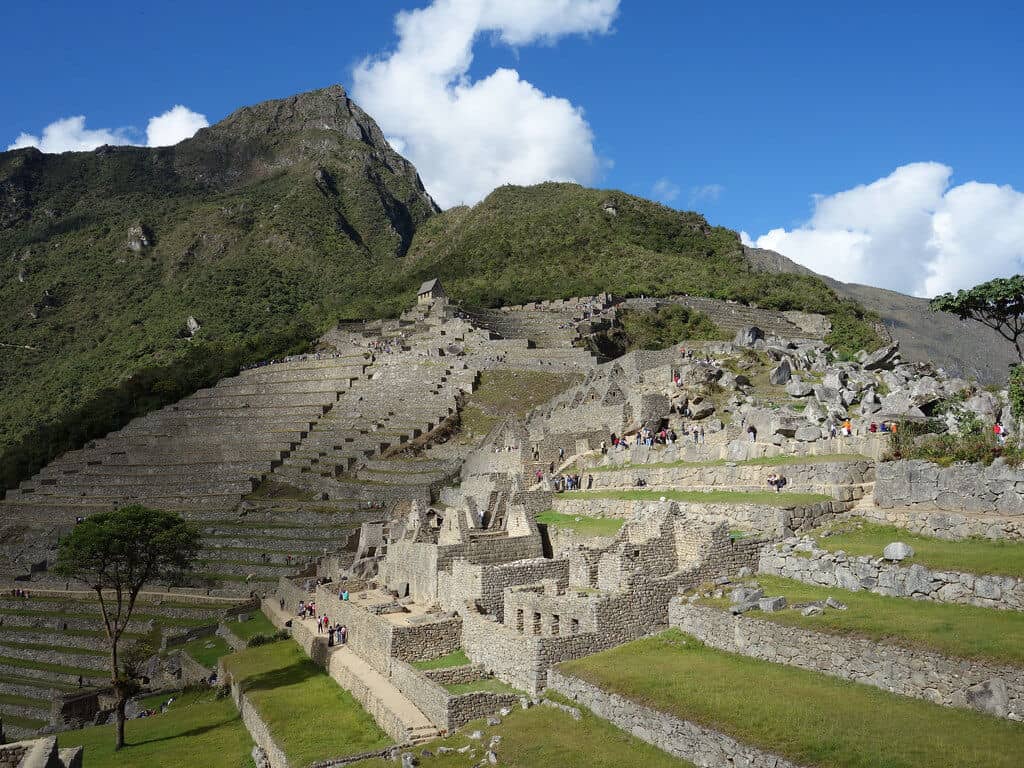 Machu Picchu Mountain
Special Ticket Required? Yes – you must buy the "Machu Picchu (Circuit 3) + Machu Picchu Mountain" Ticket
Limited Spaces? Yes – only 400 permits per day
Restricted Access Times? Yes – from 7-8 or 9-10 am.
Difficulty Level: Moderate
If climbing Huayna Picchu is not for you, then Machu Picchu Mountain is a good alternative choice. Climbing mount Machu Picchu (Montaña Machu Picchu) is longer and higher than Huayna Picchu, but it typically has fewer crowds and the view is worth it.
Mount Machu Picchu, at 3048m (10,000 ft), is at a higher altitude than Huayna Picchu. The Machu Picchu mountain hike takes about one and a half to two hours to reach the summit and about one to one and a half hours to hike back down; plan on at least 3 hours round-trip for this hike.
What to Expect Hiking Machu Picchu Mountain
Machu Picchu hike difficulty is categorised as medium-moderate. As you walk the gravel path built by Incas many years ago, you will be immersed in a habitat of exotic birds, orchids, lichen, moss, and trees.
The hike up Machu Picchu then gradually inclines up a set of Inca stone steps and gets more challenging, culminating in a steep, 45-minute uphill walk. There are some rest points along the way with interesting viewpoints. There is a stone gateway just before the summit and a narrow mountain ridge where your hike will be rewarded with an amazing 360-degree view of all of Machu Picchu, the Citadel, and all of the surrounding mountains. Simply stunning!
How to Book This Hike
You will need to purchase a combination general entry (Circuit 3) plus Machu Picchu Mountain ticket for this hike. It will give you one same-day re-entry and up to 8 cumulative hours within Machu Picchu. Numbers are also limited on this hike to 400 every day.
Visitors have two different shifts to choose from to hike this mountain, both of which allow 200 hikers at a time:
First intake period: 7 to 8 am – this is the best time to climb Machu Picchu Mountain if you stayed the night before in Aguas Calientes or if you hiked the Inca Trail.
Second intake period: 9 to 10 am – this option is the best time to hike Machu Picchu Mountain for those doing a 1-day tour to Machu Picchu, arriving by train the same morning.
Once you arrive at Machu Picchu, you must do the hike first. From the entrance, you need to go straight to the Machu Picchu Mountain trailhead and start the hike. When you finish, you can re-enter the citadel with the same ticket, and tour the site following Circuit 3 (lower, short).
REMEMBER: you can exit and re-enter once only. We recommend exiting after your hike to buy water and/or use the bathroom and then re-enter with your guide for the citadel tour afterward.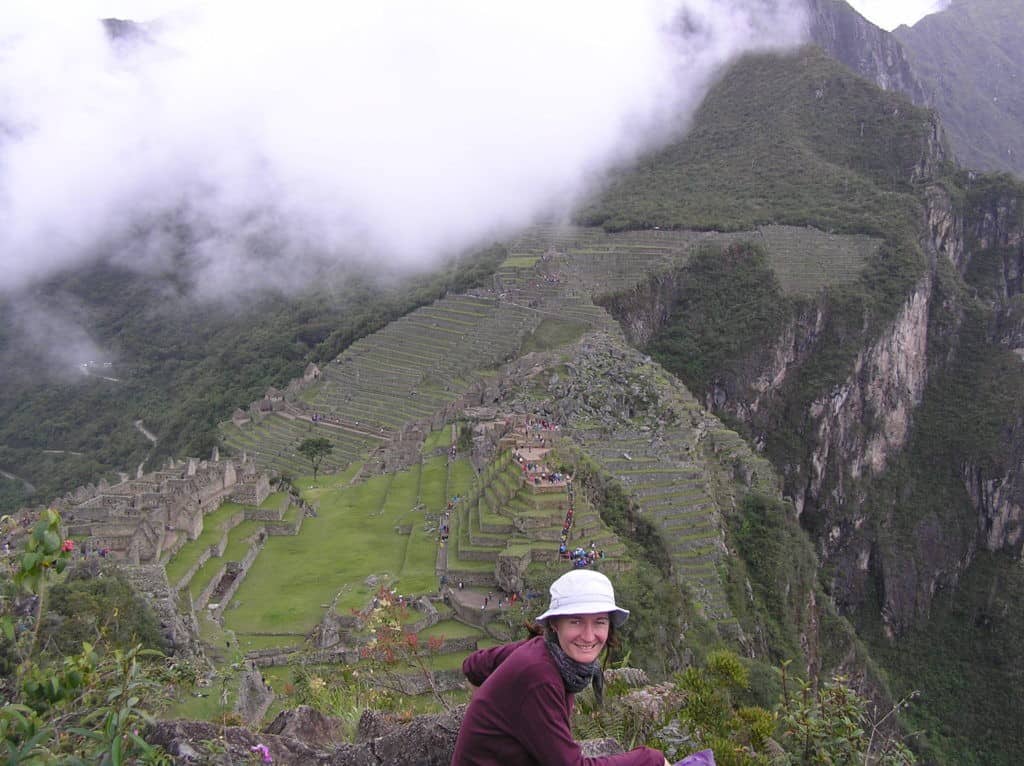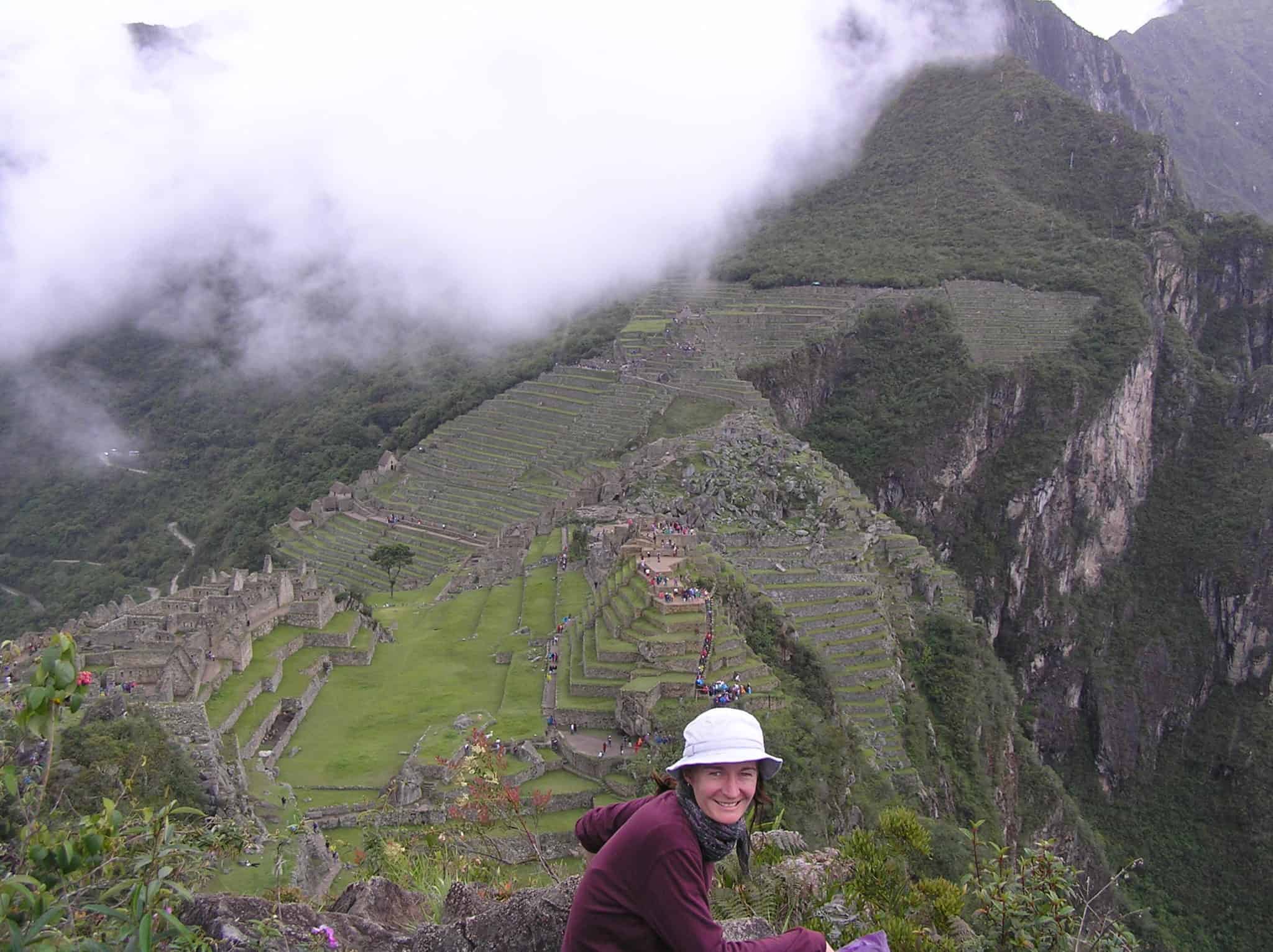 Huchuy Picchu
Special Ticket Required? Yes – you must buy the "Machu Picchu (Circuit 4) + Huchuy Picchu Mountain" Ticket
Limited Spaces? Yes – only 200 permits per day
Restricted Access Times? No – entry is hourly, just like a regular Machu Picchu ticket
Difficulty Level: Easy-moderate
Unlike Huayna Picchu (which means "small peak" in Quechua) and Machu Picchu Mountain (machu picchu means "old peak"), Huchuy Picchu ("small peak") is much less well-known. Recently, local authorities have opened the hiking trail to the summit of this lower mountain that guards the ruins of the citadel and is located next to the popular Huayna Picchu.
What to Expect Hiking Huchuy Picchu
The Huchuy Picchu mountain hike is easy-moderate. It takes approximately 1 hour (depending on your physical condition). Its altitude reaches 2497 meters above sea level (8192 ft), just 50 meters higher than the ruins of Machu Picchu. From the peak of Huchuy Picchu, you will see Machu Picchu from a totally different angle from the usual ones, and be able to get some unique photos of the site.
How to Book This Hike
To do the Huchuy Picchu hike you must buy a "Machu Picchu with Huchuy Picchu" ticket. The tour is one direction and leads you to the top of the Huchuy Picchu mountain, then through an exit door where you start your tour of the Inca citadel, along Circuit 4.
This new route allows 200 visitors to enter per day, distributed over 9 hourly intake periods. Each intake period starts on the hour, with the first intake period from 6 to 7 am and the last one from 2 to 3 pm.
An important reminder is that this tour is only in one direction, which means you cannot re-enter the site. It also does not provide additional time at the ruins. As with a standard Machu Picchu ticket, you have a maximum of 4 hours to spend at the site.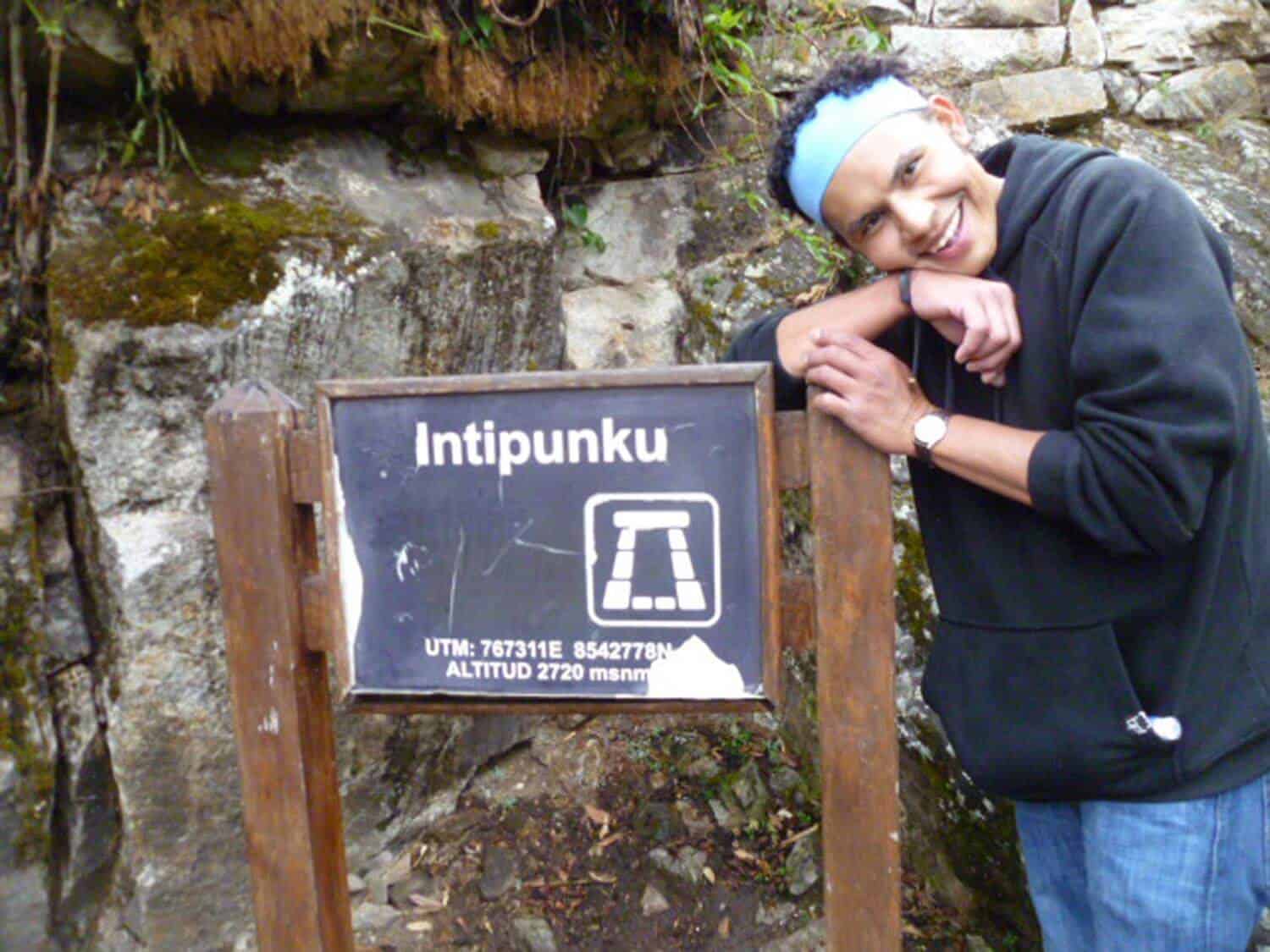 Inti Punku: The Sun Gate Machu Picchu
Special Ticket Required? No
Limited Spaces? No
Restricted Access Times? No
Difficulty Level: Moderate
For the hikers who choose to do the 4-day Inca Trail hike, the Machu Picchu Sun Gate (2,720 m / 8,924 ft) is the final section of their hike and their first viewpoint of Machu Picchu, but you don't have to hike the famous trail in order to see it.
Also known as Inti Punku, it was the entrance gate to Machu Picchu used by the Incas. The Sun – Inti in Quechua – was the Incas' main god, so this gate is made up of enclosures with windows and doors that frame the sunrise at certain times of the year. This creates an amazing view and attracts hundreds of sightseers to the Inti Punku hike who ascend the stone steps in the early hours of the morning so they get to see the sunshine over Machu Picchu.
What to Expect on the Inti Punku Hike
From Machu Picchu, the hike to the Sun Gate takes about three to four hours round trip. For those who might find the Machu Picchu Mountain or Huayna Picchu treks too steep or difficult this might be a good alternative option. The stone path to the Sun Gate slopes gently for a mile or two with only a few steep sections and steps, and the return is on the same track.
How to Book This Hike
Inti Punku does not require a special ticket. The general entrance ticket to Machu Picchu gives you the option to hike to Intipunku.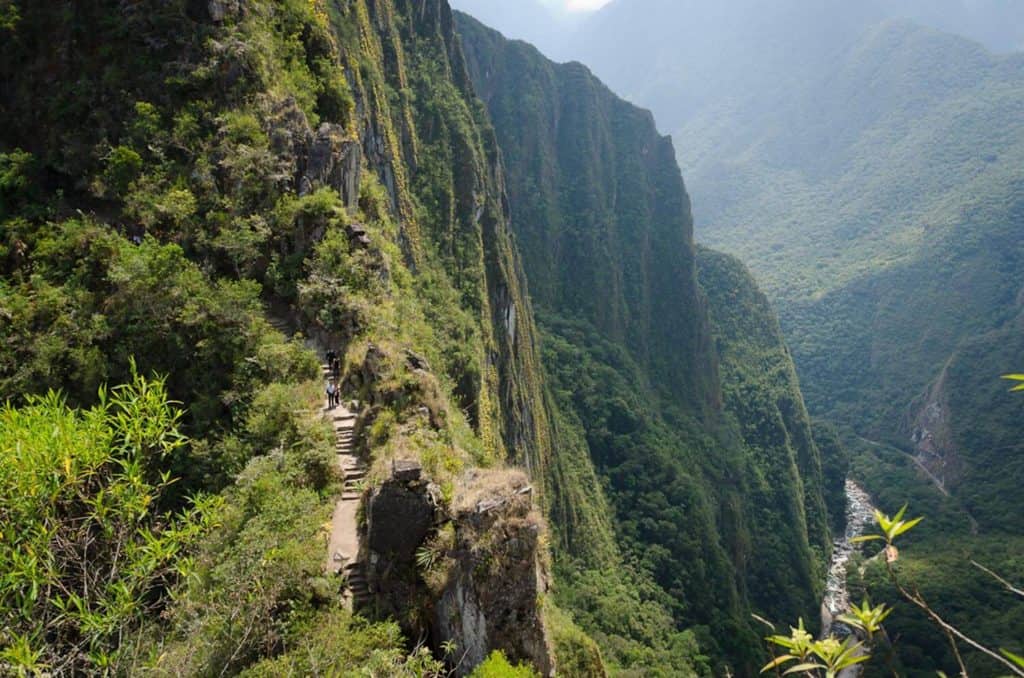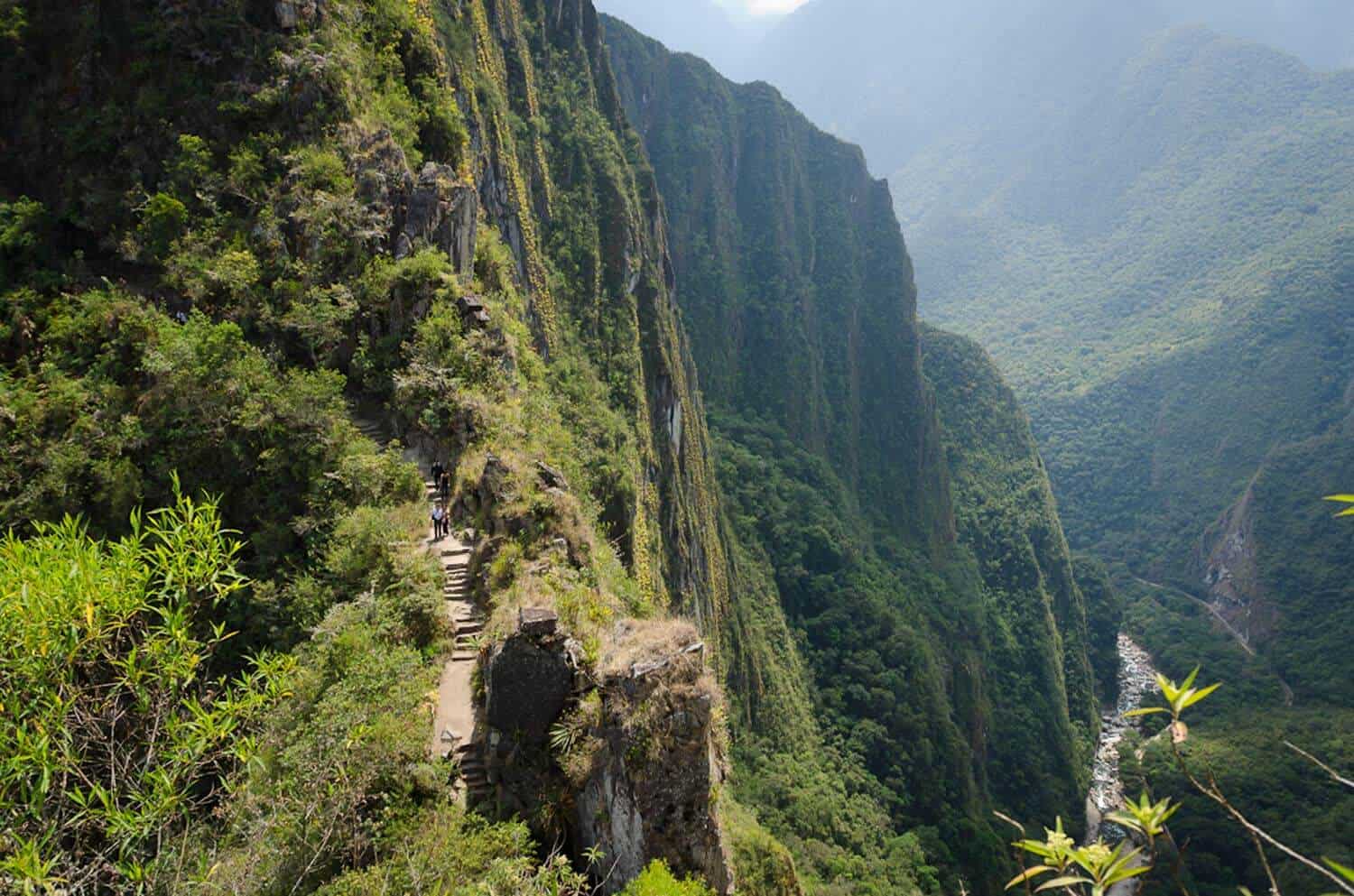 The Inca Bridge
Special Ticket Required? No
Limited Spaces? No
Restricted Access Times? No
Difficulty Level: Easy
Just a thirty-minute relatively flat and easy hike from Machu Picchu is the Inca Bridge. The Inca Bridge was said to be the Incas' escape route. The bridge itself is simply a plank bridge that could quickly be removed so that unwanted arrivals would not be able to progress any further.
What to Expect on the Inca Bridge Trail
The Inca Bridge trail (sometimes spelled "Inka Bridge") tracks along a quite narrow Inca-built path without railings and clinging to a sheer rock wall hundreds of feet high with some sheer drops. You might find the Inca Bridge hike challenging if you are afraid of heights but the views are special with the river canyons and the surrounding mountains. It is not possible to cross the bridge. A wooden gate blocks access to the bridge as it's too dangerous to cross but it's an awesome sight.
How to Book This Hike
A special ticket is not required. Access is free on a standard Machu Picchu ticket but you will be asked to sign in and out.
More Hikes at Machu Picchu
Putucusi Mountain
Special Ticket Required? No
Limited Spaces? No
Restricted Access Times? No
Difficulty Level: Challenging
Putucusi means "happy mountain" in Quechua. Putucusi Mountain (2,560 m / 8,500 ft) is one of the mountains that surrounds Machu Picchu and is also known as the hidden gem of Machu Picchu because so few people visit it…with very good reason!
It is rated as one of the most challenging and toughest hikes in Machu Picchu. It is definitely not suitable for people with a fear of heights. To do this hike requires strength and skill and is only suitable for hikers in good physical condition.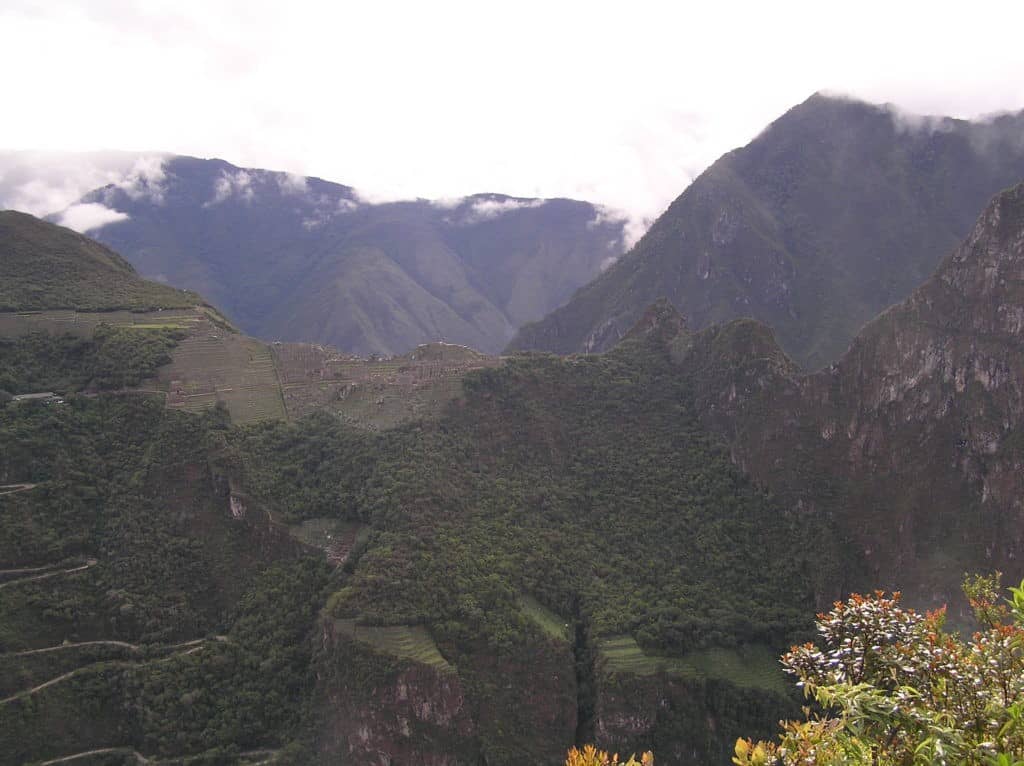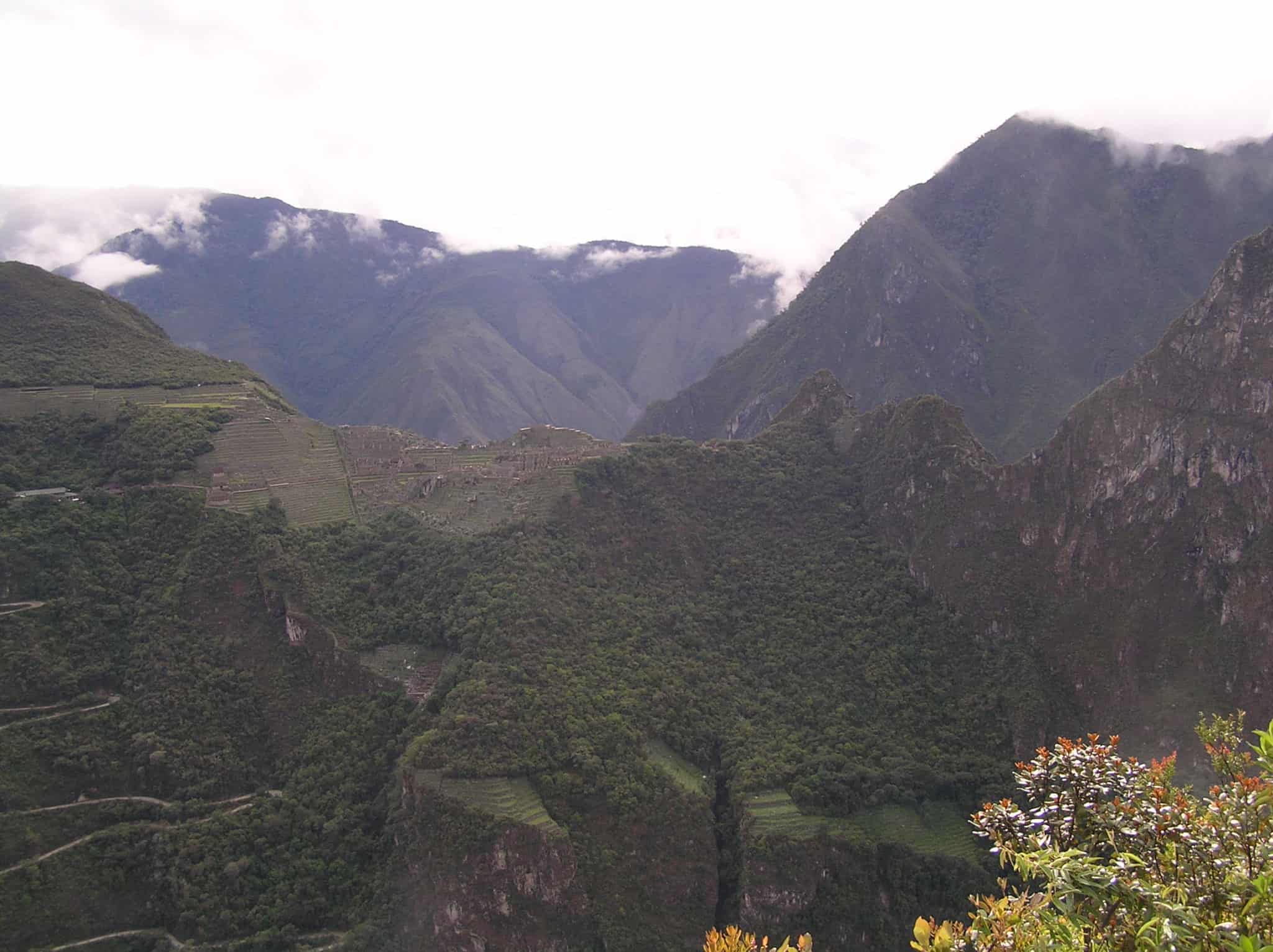 What to Expect Hiking Putucusi Mountain
This Machu Picchu climb actually starts in the town of Aguas Calientes. The first major challenge is to climb a huge vertical rock. There was once a ladder here but now that has gone so rope climbing is required for this section.
Once you have conquered this obstacle you are faced with six sets of vertical ladders and a small ridge to reach the summit. Here, you will be rewarded with breathtaking views of the high jungle of the Amazon, the town of Aguas Calientes and the outskirts of Machu Picchu, a maze of mountains and the Urubamba River.
How to Book This Hike
Putucusi Mountain track is free to enter. You do not require a special ticket. It is a free trail and starts from Aguas Calientes, not from within the grounds of Machu Picchu citadel.
 Hike from Aguas Calientes to Machu Picchu
Special Ticket Required? No
Limited Spaces? No
Restricted Access Times? No
Difficulty Level: Moderate
Most hikers travel by bus to Machu Picchu from Aguas Calientes, but an alternative way is to hike up to Machu Picchu instead! This Machu Picchu hike is a moderate one and a half to two-hour climb. Keep in mind that you need "good" knees as the hike involves hundreds of stairs!
How to Book This Hike
It is free to hike from Aguas Calientes to Machu Picchu but you will require a regular admission ticket to get into Machu Picchu. There is a checkpoint at the Ruins Bridge and again at the archaeological site.
The trail is well sign-posted. It intersects 3 times with the road that buses use and you need to take extra care at these intersections. Pedestrians do not have the right of way!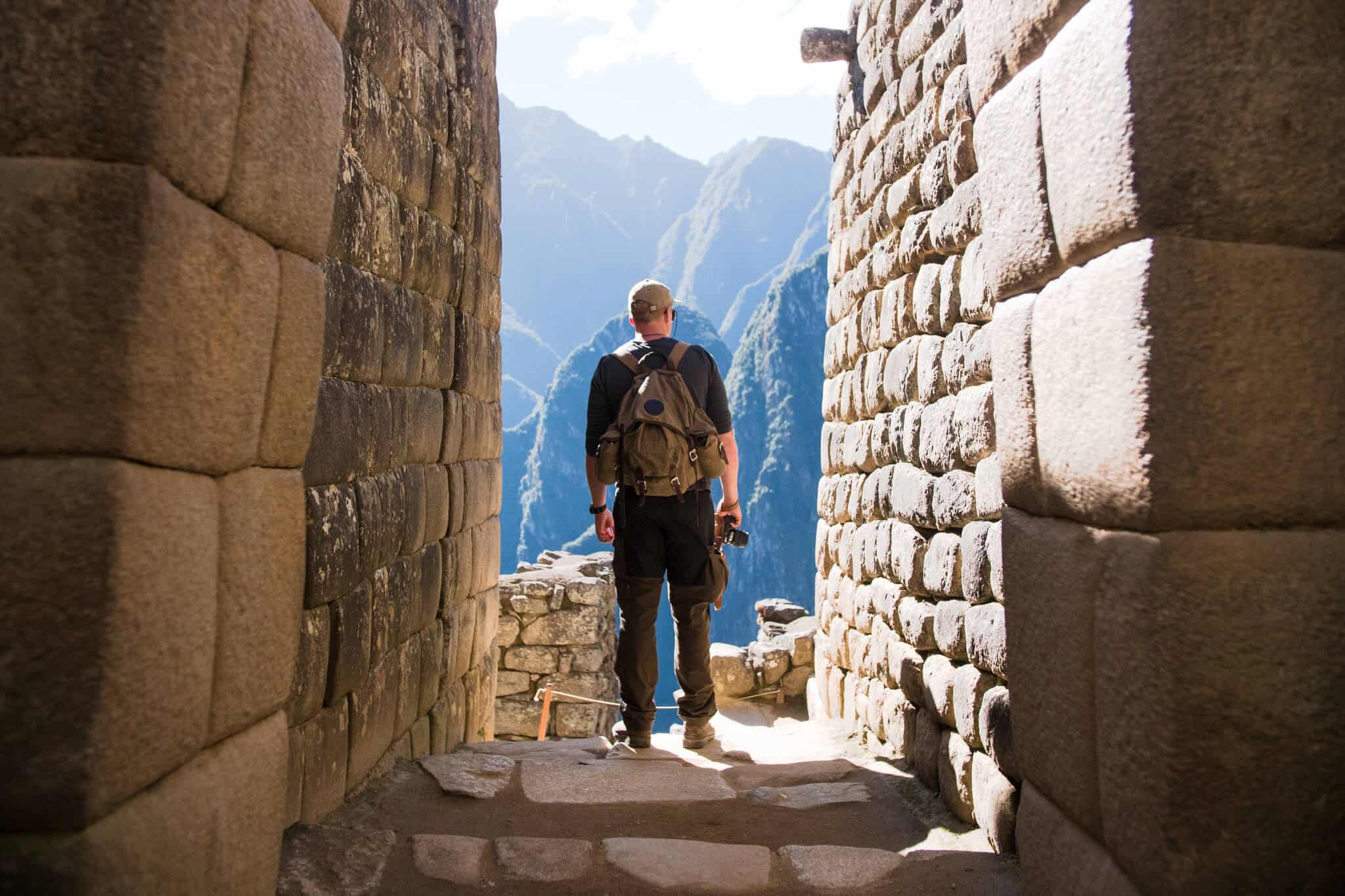 Tips for Hiking at Machu Picchu
Take the Time to Acclimatize
Avoid altitude sickness at Machu Picchu by taking the time to acclimatize properly. How you will react to being at a high altitude is almost impossible to predict. Whether you are old or young, fit or not, these things don't seem to be a factor in determining how you will feel when you first arrive and who will succumb to altitude sickness. For more information, see our post on altitude sickness and acclimatization
The Best Time to Go
When is the best time to hike Machu Picchu? The real answer to this question is: It depends! There are so many factors to take into consideration including the climate at Machu Picchu, the crowds, and what things at Machu Picchu you really want to see and do. So much depends on your personal preference. We cover all the facts and figures you will need to make your decision based on your own personal circumstances in this post.
What to Bring & Not to Bring
In addition to the standard essentials we recommend for all treks, there are a few things especially to keep in mind for Machu Picchu:
Passport: it must be the original. Your passport will be stamped at Machu Picchu.
Daypack: light, small and must be no larger than 40 x 35 x 20 cm
Soft-tipped hiking poles: note that metal-tipped hiking poles are not allowed.
Photography gear: a camera is, of course, essential, but tripods, selfie sticks and drones are prohibited.
Refillable water bottles: single-use plastic bottles are banned at Machu Picchu.
Add an Extra Day to Your Itinerary
With any of the hikes in Machu Picchu, you might want to consider adding an extra day to your itinerary. Adding an extra day means staying a night in Aguas Calientes so that you can return to the citadel the following day to continue exploring.
Spending two days at Machu Picchu gives you more time to tour the archaeological complex AND do one of the hikes. It also gives you a chance to explore more of what Aguas Calientes itself has to offer! (Don't think there's much to see? Think again! We go over everything there is to do at Machu Picchu in this post.)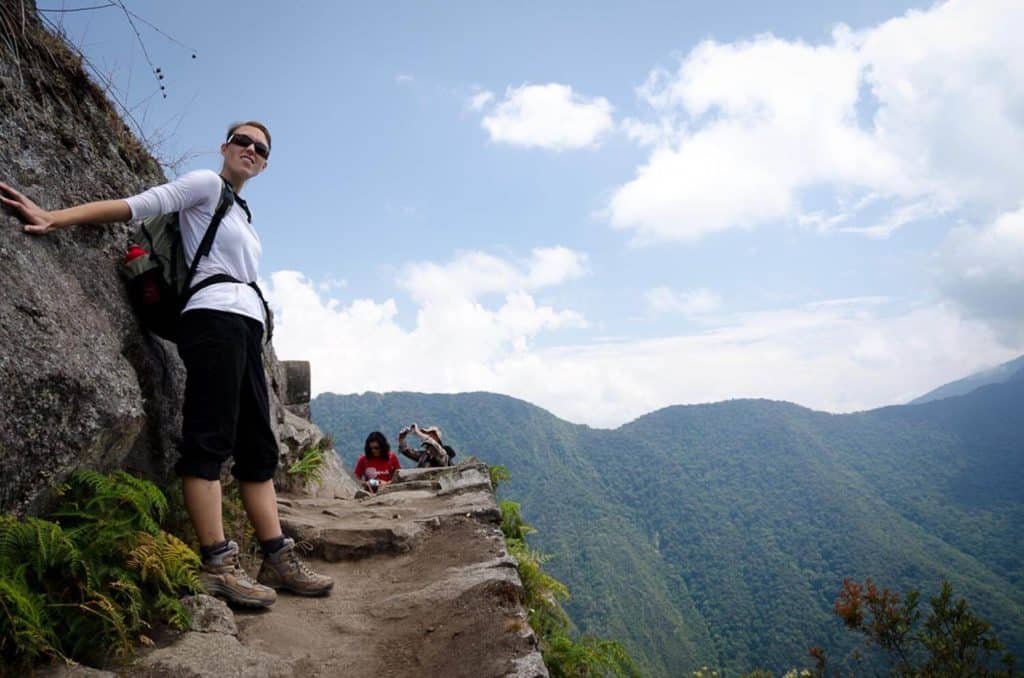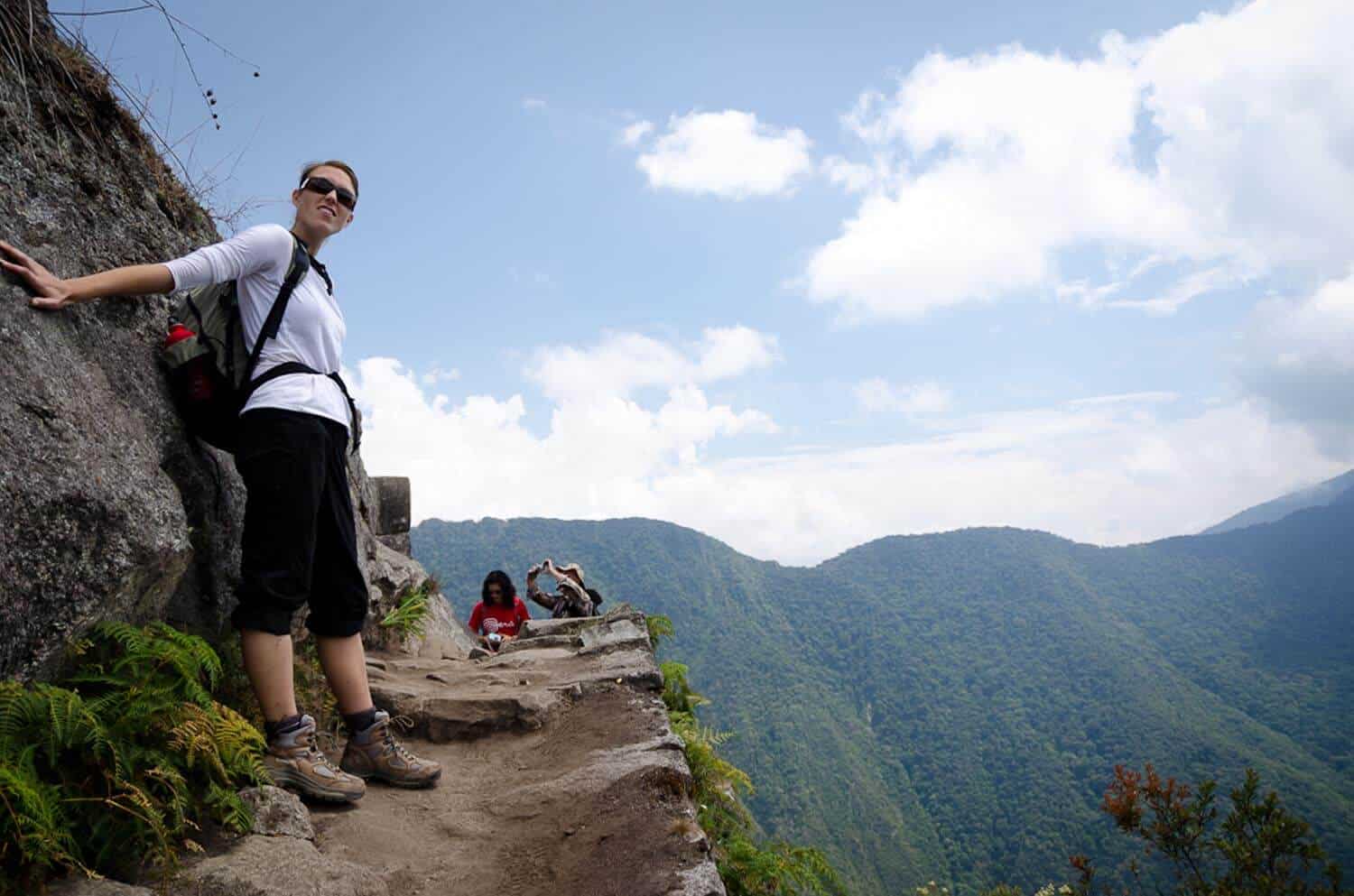 Visiting Machu Picchu During the COVID-19 Pandemic
Please note that these are uncertain times and there have been occasional closures of some routes. For up-to-date information, check the official government website or our post on pandemic-related Peru travel restrictions (updated regularly) to make sure your hike of choice is open and available.
Hikes to Machu Picchu
Don't forget, you can also trek to Machu Picchu! In addition to the famous Inca Trail, there are a whole bunch of alternative treks to Machu Picchu. Each is totally unique and your choice will depend on your hiking skill level, the time you have available, your budget and your areas of interest. Here are a few of our favourites:
Lares
The 4 Day Lares to Machu Picchu hike and Lares & 2 day Inca Trail hike are the perfect way to hike to Machu Picchu when 4 day Inca Trail permits are sold out. Compare the Lares Trek with the Inca Trail here.
Salkantay
The Salkantay trek is another of the popular hikes to Machu Picchu. We have several options including a 4-day, 5-day and 6-day trek. See how Salkantay compares to the Inca Trail here.
Huchuy Qosqo
For a shorter, easier trek option, the 3-day Huchuy Qosqo trek makes a great choice.
For more Machu Picchu trek options, check out our blog on alternative Inca Trail treks.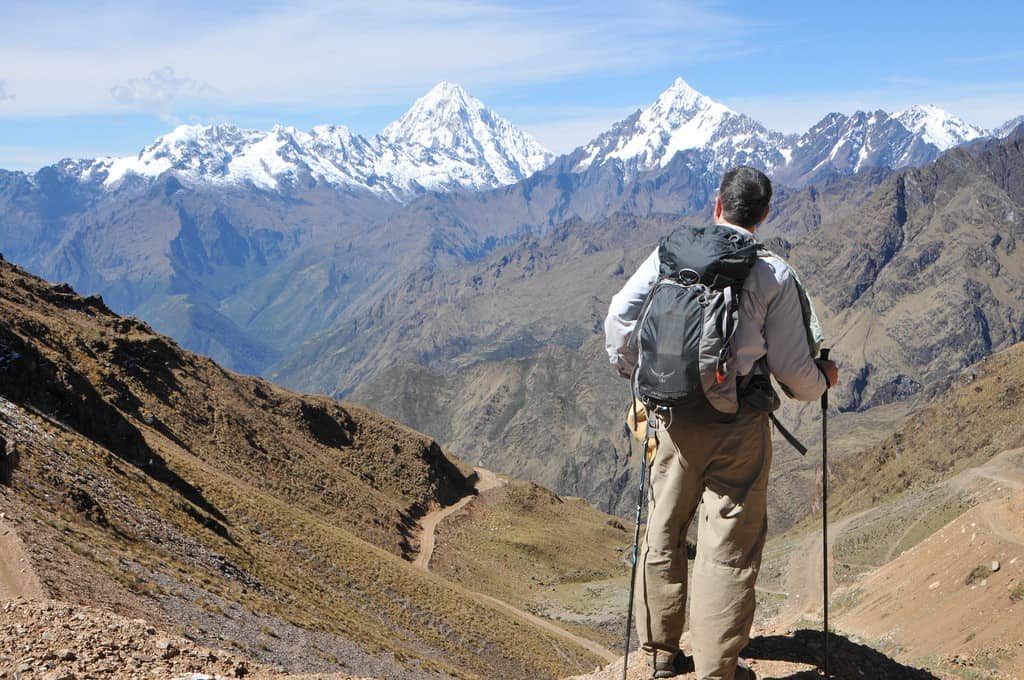 Ready to Go? Amazing Hikes at Machu Picchu
Whether you decide to hike to Machu Picchu or take the train, don't forget you can also plan to hike at Machu Picchu once you get there! The hikes at Machu Picchu are quite varied – whether easy or challenging, steep, or more moderate, there is something for everyone.
Like it? Pin it!
Related: