This is an insider's tips for the best Machu Picchu pictures, compiled after many visits.  There are many different angles of this fabulous city and this is an excellent photography guide to getting that perfect, different, or enigmatic glimpse of these famous ruins!  Read on for all our tips and tricks on photographing Machu Picchu and how to take the best photos of Machu Picchu on your trip.  Plus, get the latest on the ever-changing regulations on Machu Picchu entry.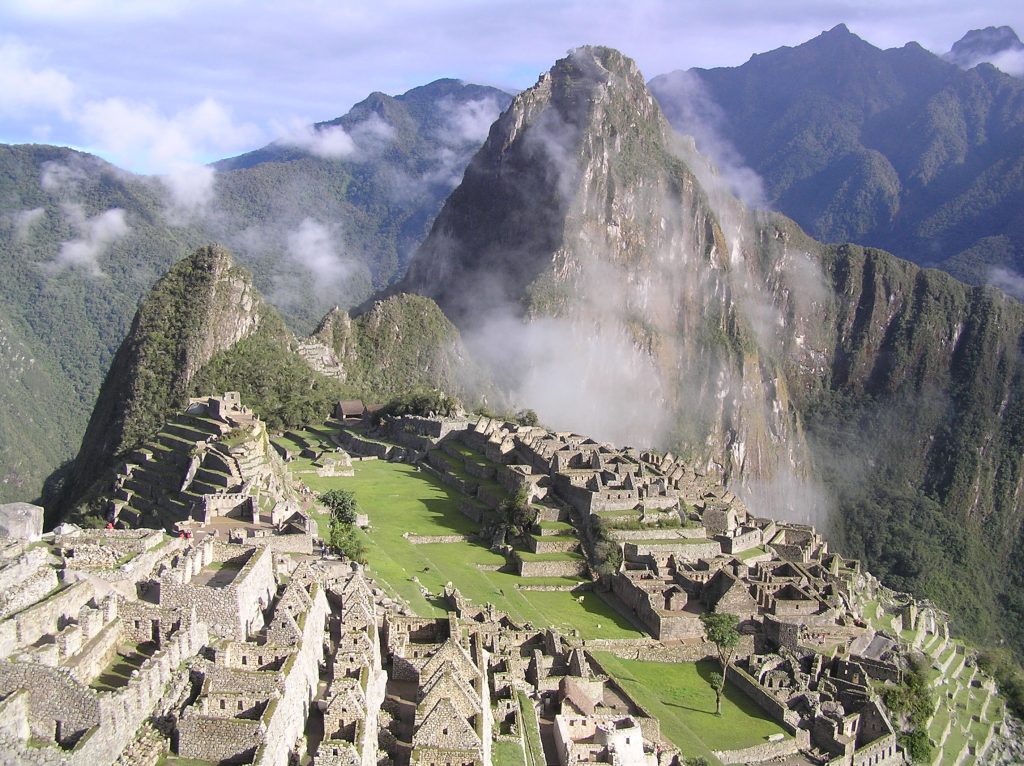 It's fair to say that Machu Picchu is among the most photographed places on earth, but so many photos are similar.  Everyone gets the "classic" Machu Picchu pics.  This guide doesn't assume to be a 'how to photograph' Machu Picchu guide but an overall view of the logistics and angles for a spectacular and unique shot!  We do not profess to be anything more than amateur photographers but do provide tips that will help you get the best photos of Machu Picchu.
This post may contain affiliate links, from which we would earn a small commission, at no extra cost to you. More info in my disclaimer.
Logistics For The Best Machu Picchu Pictures
Machu Picchu Regulations 
You need to get a grip on Machu Picchu's ever-changing regulations if you are to get the best Machu Picchu pictures you can.  This has become a very lengthy section of this post (and a continually changing one).  Click here if you want to jump direct, but best to get our other unique suggestions first about how to plan a great Machu Picchu visit.
Machu Picchu Weather
So, you are wondering, "What is the best time of year to visit Machu Picchu?"  It is possible to get great pictures of Machu Picchu despite the weather!
Machu Picchu is located in the high jungle.  "The eyebrow of the jungle" in Spanish and is generally wet and moist all year round.  Even in Cusco's dry/high season (June – August), you will get rainy days.  On these days there is a lot of cloud, mist and it is extremely atmospheric – perfect for moody and artistic photos!
However, if you want to be sure of a rain-free day, consider planning two days at the site.  Some of the most beautiful and best Machu Picchu photos we have taken was during a December visit, when it's slightly less busy.  Weigh up the pros & cons of adding an extra day to your itinerary in order to get the 'perfect' Machu Picchu pictures.
Sunrise Over Machu Picchu
Plenty of glossy brochures talk about 'being at Machu Picchu at sunrise'.  In our experience, sunrise at Machu Picchu is overrated as the site seems shrouded in mist in the very early morning and the sunrise comes up over one of the neighboring mountains.  That said, on a clear, slightly misty morning it is gorgeous!  Knowing the best time of day is key for photographing Machu Picchu.
Time Of Day
Not with-standing to the point above about sunrise over Machu Picchu, go early and you will be rewarded by fewer people and some stunning light clouds floating over the site.  Machu Picchu's gates open at 6 am and by 9 am there are a lot of crowds.  To be among the first in the gates at 6 am be prepared to be in the bus line at around 4 am.
Generally, our favorite time for people free pictures of Machu Picchu has been about 3 pm.  By then most people have gone home and the site is blessed with a gentle light.  Keep in mind, this would require an Afternoon Permit.  For more information, see our information on Machu Picchu regulations below.
Be Prepared To Wait
When giving our Machu Picchu photography tips, we have to say, "Patience is a virtue!" If you wait long enough, the  eople come and go and eventually, you can get a photo without the crowds if that is what you are looking for.  Keeping in mind that if you have allowed two days to shoot your photos it should be easier to be patient.  Getting truly great pictures of Machu Picchu can be a treasured souvenir from Peru.
Get Up Close
There is much beauty in the details!  When photographing Machu Picchu look for the stones, close-ups for different angles.  Everyone wants the wide-angle shots of the ruins, and no doubt those are beautiful.  However, don't underestimate getting some great up-close Machu Picchu pictures too.  Alternatively you might consider joining a Machu Picchu photography tour to get some unique ideas from an expert guide.
Where should I Stay For The Best Machu Picchu Photos?
If you had the budget you can also choose to stay at Belmond Sanctuary Lodge which is the only hotel located at Machu Picchu.  Though expensive, it gives you the most optimal access to visiting and taking the best photos of Machu Picchu.  Check here for the most recent prices to stay at Belmond Sanctuary Lodge.
Alternatively there are many options -of all budgets in Macchu Picchu village (better known as Aguas Calientes.)  We provide a list of our favourites if you click on the Hotel tab at our information packed Aguas Calientes information.
Different Angles For The Best Machu Picchu Pictures
Based on our many visits to Machu Picchu with kids and without kids these are some different angles you can think about when photographing Machu Picchu!  Whether you have photography on your mind or are simply there for an adventure, try these different angles for capturing the best photos of Machu Picchu.
The Classic Shot
It is said that travelers in Incan times had to undergo cleansing rituals at the Caretakers Cottage before being allowed into the Sacred City.  Things aren't so stringent these days, however.  This is the classic Machu Picchu photograph taken by thousands.  Get here early in the day as it only gets busier as the day goes on.  Not only will that make your potential wait for this classic Machu Picchu picture shorter, but you will have fewer people at the ruins in your photos as well.
Inti Punku (The Sun Gate)
Doing the last stretch of the Inca Trail in the dark to be at the Sun Gate for sunrise is memorable if nothing else!  As the ancient city is in the cloud forest it is sometimes difficult to see the sunrise through the clouds.  You still remember it though!  Alternatively, do the Short Inca Trail and arrive here in the afternoon.  It's not necessarily the view from the Sungate itself that gives the best pictures.  It's the points along the trail to Machu Picchu (which you can see faintly above my hat in this picture).
Note: To do the 4 day Inca trail and arrive at dawn you need to book approximately 6 months in advance.
Huayna Picchu (Young Peak)
Huayna Picchu peak dominates pictures of Machu Picchu – what fewer people realise is that it also offers some great opportunities for the best photos of Machu Picchu.   If you climb it, it is likely to be the highlight of your visit to the Lost City.  It's a tough couple of hours upon narrow stairs.  However, you will never ever forget the impressive view of the ruins.  Not recommended for people with the fear of heights or poor fitness.  Totally worth the climb to get the best Machu Picchu photos though!
Huchuy Picchu (Small Peak)
Full of gung-ho (they will need it) to get up Huayna Picchu people tend to race past the unassuming trail to Huchuy Picchu.  However, it is well worth a look for its close up an overview of the ruins, and a pretty cool angle for your Machu Picchu pics.  We love Huchuy Picchu as it has a lot less climbing than for the bigger peak behind it!
Montana Machu Picchu
Montana Machu Picchu is the mountain peak above the ruins itself. It often has the rainbow colored flag of Tayhuantinsuyo flying.   The climb of Machu Picchu Mountain takes about 3 hours return and is steeper and more difficult than Huayna Picchu.  Now that Huayna Picchu books out months in advance, many people choose to do the Machu Picchu Mountain.  Requires entry permits and offers awesome photos of Machu Picchu.
Hiking Up And Down To Machu Picchu
For those that like a relatively easy climb, or descent, it takes about an hour to the bridge below Machu Picchu.  Not only do you feel somehow superior to those in the tourist buses, but you also get an appreciation of what an awesome feat it was to build a city high on a ridge!  Look at the fantastic rainbow picture we got one day when hiking down from Machu Picchu!  Always be on the lookout for the best Machu Picchu pictures, as some of the ones we have captured aren't even of Machu Picchu itself but the incredible scenery around it.
Hiking Along The Railway Tracks From The Hydroelectric
Since Peru Rail has increased prices for the train trip from the Hydroelectric to Aguas Calientes,  more people are hiking for 2 hours along the train track.  The lower ruins of Machu Picchu tower above you, perched with breathtaking audacity over a gorge, and tourists seem like ants.
Llactapata (High Town)
Llactapacta ruins were rediscovered in 2002 (after being lost from Europeans for nearly 100 years!) and their position on a ridgeline across a valley from Machu Picchu helps us to understand the complexity of the network of Inca cities.  It's great to camp here and see the ruins of Machu Picchu from your tent.  Most people would do this as an extension or part of several of the  Salkantay Treks.  Apus Peru offers it as part of its' 5 day Salkantay trek and our main advice is – make sure you have enough fuel in your tank to do this on day 4 – you won't regret the awesome perspective of Machu Picchu.
Mandor Pampa
Mandor Pampa is a stop on the hydroelectric train ride, or a short hike from Aguas Calientes – and you can visit the botanical garden and waterfall here as a nice day trip.  Far away from the crowds you get in touch with the cloud forest and get a good look at Huayna Picchu.
Putu Cusi
Not for the faint-hearted, Putu Cusi is the mountain opposite Machu Picchu.  Climbing is up rickety ladders and steep slopes making this Machu Picchu photo op solely for adrenaline junkies and those that really want to get a different perspective on the famous city.  Highly recommended!  No entry ticket required but you do need to allow about half a day extra staying in Aguas Calientes. 
Machu Picchu Regulations – Latest Information
When we first published this post, one entry ticket got you into Machu Picchu all day, and it was easy to wander about and get yourself the best Machu Picchu pictures.
However, in the name of sustainability from July 1st 2017, the administering bodies of Machu Picchu changed the entry system and there are two entries each day, one from 6 am to 12.30 pm AND another from 12.30 pm to 5 pm.
Furthermore, you must enter accompanied by a guide, and you must follow a circuit.   If that sounds like it might cramp your style, you can pick up a guide at the gate for a cheap price and then once inside "lose them.' But that is not official advice!  Besides most guides, I know pride themselves on their photographic ability and might have some interesting hints of what and where to take photos.
In addition in 2019 they announced that they're only letting people visit these sites during certain hours now:
Intihuatana – 7-10 am
Temple of the Condor – 10am-1pm
Temple of the Sun – 1-4 pm
Annoyingly, this means that anyone who takes an afternoon entry coupon (which I often recommend because of being less busy) won't get to visit those first two sites.
What Does This Mean For Someone Who Wants The Best Machu Picchu Photos
Presumably, if you are a photographer this will mean you need to buy two permits for the one day – a costly exercise.  Or, as we suggest, spread your visit over 2-3 days to get the best Machu Picchu photographs that you can!
Stay tuned or visit  Apus Peru Adventure Travel Specialists directly – email: [email protected] if you need more info.
The Verdict – Getting the best Machu Picchu Pictures
Experiencing The Lost City Of The Incas and everything Cusco has to offer is priceless.  As we said, these tips for capturing the best Machu Picchu pictures have been compiled after many visits to Machu Picchu.  Photos of Machu Picchu are not hard to capture, but they do require some effort and patience if you want to make them simply awesome!
Have you visited Machu Picchu?  Share your pictures of Machu Picchu and any photography tips below.
Tips For The Best Machu Picchu Pictures > Pin it > Share it!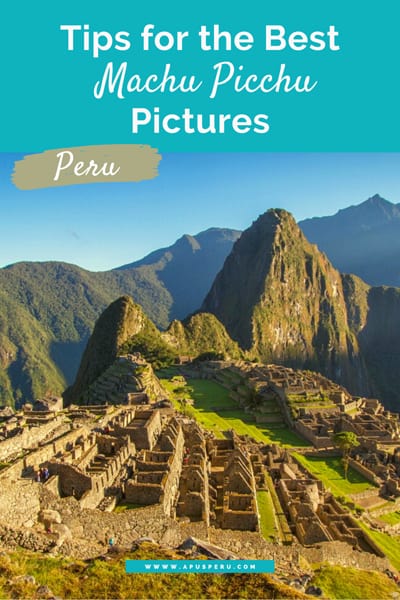 Save
Save
Save
Save
Save
Save
Save
Save