If you want to reach for the sky during your adventures around Peru, then our Ausangate treks are just the ticket. No other hiking trail in the country will get you as close to the mountain spirits as the Ausangate Cusco Circuit, making your Andean experience sacred as well as stunning.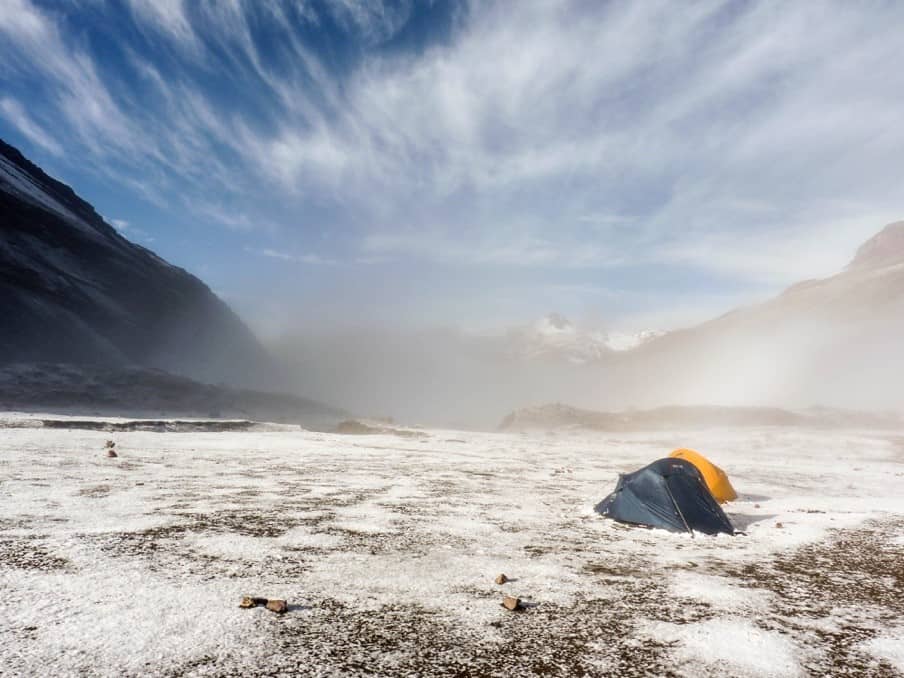 The scenic trekking routes around Ausangate offer some of the most spectacular and remote hiking in all of Peru. If you fancy lolloping alongside llamas, taking selfies beside turquoise lakes, and roaming in the shadow of Cusco's highest peak, then come to Ausangate. Rainbow Mountain's allure is intoxicating too, and it's in the same region, so if you fancy extending your Ausangate trek to include a visit to this colourful peak, that's totally doable too!
Here's a handy overview of the Ausangate trek, so you know what to expect if you decide to take up the challenge. Yes, this is a bit of an epic undertaking, but don't be put off. As you'll discover below, prior preparation and a sense of adventure are all the tools you will need to conquer this classic Peruvian trek. It's time to put your best foot forward!
RELATED:
Ausangate Treks – An Overview
Ausangate, sometimes spelt Auzangate, is one of the highest mountains in Peru and the most important apu (mountain spirit) in Andean mythology. Situated in the Ocongate area of Cusco, the majestic Ausangate mountain stands at an impressive 6,384m (20,945 ft).
Ocongate is a rural area where time has stood still for centuries. Life here has changed little since the Inca era, and you'll discover some of the few remaining farming communities of their kind in the world. As well as being famous for the epic Ausangate trek – 5 days is the most popular adventure – this region is also a wildlife lover's paradise. The rolling hills of Ocongate are dotted with llama and alpaca herds, carefully tended by women in traditional Andean dress. They are also home to many wild animals, such as vicuñas, vizcachas, and Andean geese to name a few.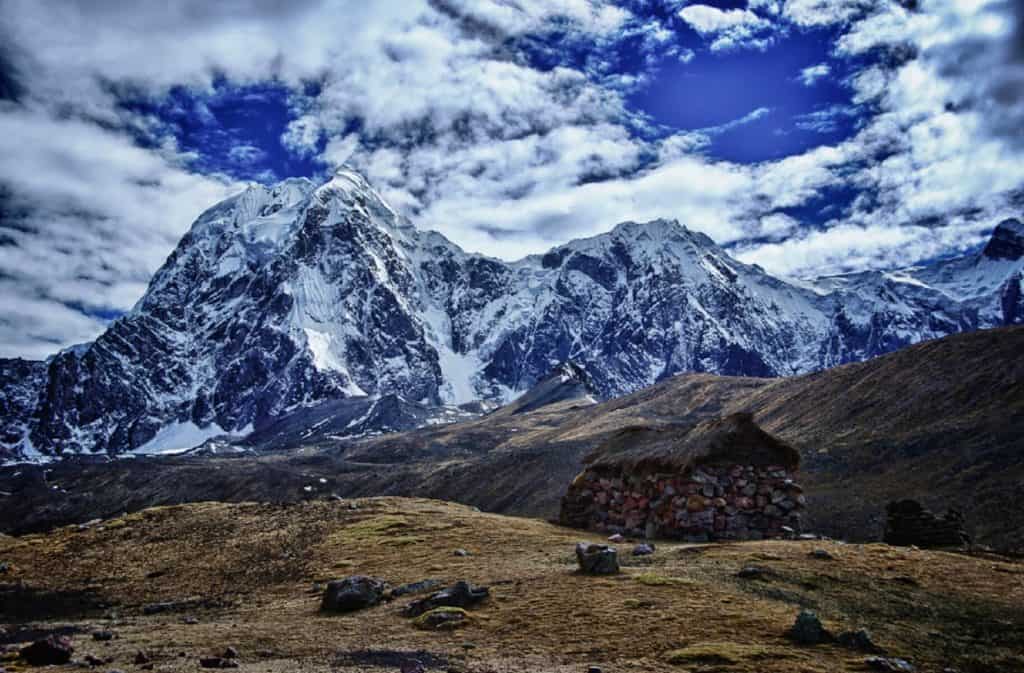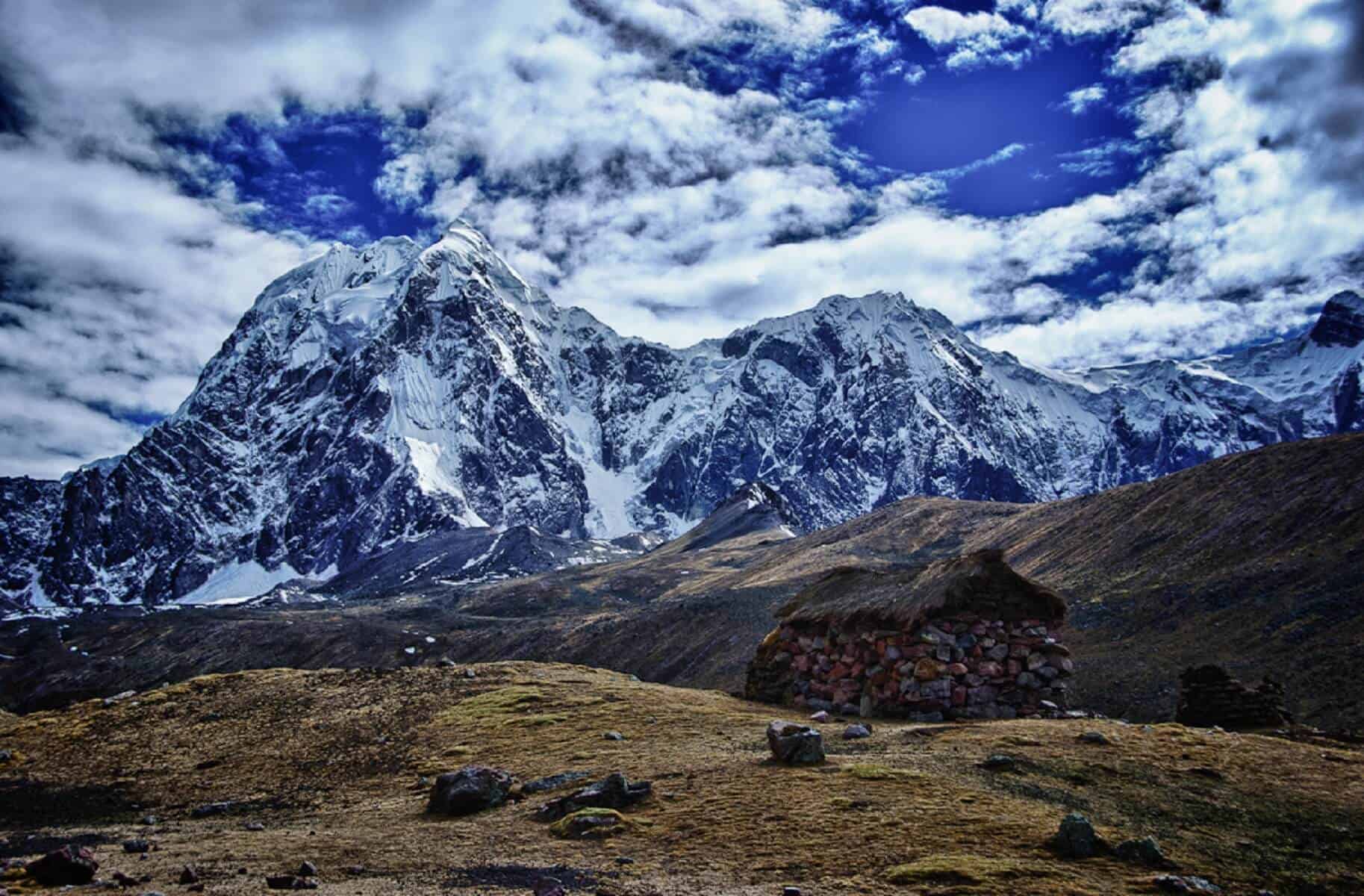 Where is Ausangate Mountain?
Ausangate is in the Vilcanota mountain range, about 100km (62 mi) southeast of Cusco. Famed for having multiple peaks above 6,000m (19,685 ft), the Cordillera Vilcanota is home to the tallest mountain in the Cusco region – Ausangate.
Ausangate treks begin and end in the village of Tinki, which is a four-hour drive from Cusco, so it makes sense to spend some time exploring this Incan city before setting off on your hike. You can easily catch a flight from Lima to Cusco, so despite the trek being so remote, it's actually surprisingly accessible.
The Spiritual Significance of Ausangate
Trekking Ausangate Peru isn't just about the views and the hiking. This is also one of the most spiritual places in the Andes, and just being here is a real privilege. Since Incan times, local Quechua communities have made offerings to Apu Ausangate – the most revered snow-capped peak in this region – to ensure the mountain spirits protect the people, livestock and crops here in the Andes.
Want to find out more? Then look at our post on the spiritual and cultural aspects of Ausangate.
When is the Best Time to Trek Ausangate Peru?
The best time for Ausangate treks is during the dry season, between May and September when the weather is sunny rather than soggy. Days tend to be clear which makes the views, and your photos, even more spectacular. July and August are the driest months, and the busiest, but the trail never really gets crowded as it's so remote.
At Apus Peru, we don't offer the Ausangate trek during the wet season, from December through to March. This is because heavy and unpredictable snow often falls up on the high mountain passes of the Ausangate circuit which makes trekking too dangerous.
How Hard is the Ausangate Trek?
With the traditional Ausangate trek, 5 days out on the trails is the norm, so being properly prepared is the key to success. This is a high-altitude hike with lots of passes that sit above 5,000m (16,404 ft) which is why the route is considered one of the most strenuous (and most rewarding!) in Peru. You'll be hiking for around 6-7 hours a day, sleeping in tents overnight, and contending with freezing conditions at times. Yet when determining just how difficult the Ausangate trek is, it really all comes down to personal preference.
Climbing up the Ausangate mountain
Some hikers love climbing up and some prefer walking down, while others aren't phased by the altitude. We're all different, which is why, when you read articles about Ausangate treks, you do need to consider your own capabilities and preferences as well. For example, our Apus Peru co-Founder Ariana isn't a fan of steep mountainsides (heights aren't her thing) yet she reveals that for her, Ausangate was a relatively easy hike. Why? Because the whole trek takes place above 4,000m (13,123 ft) so aside from climbing the passes, there aren't too many precipitous up-and-down sections to negotiate. So, if you're fit and well acclimatised you shouldn't have any problems.
Something else that adds to the difficulty is the weather, with everything from freezing temperatures to burning sun on the cards. However, if you go prepared with the right gear and a positive mindset, you'll have a great time on the Ausangate trail.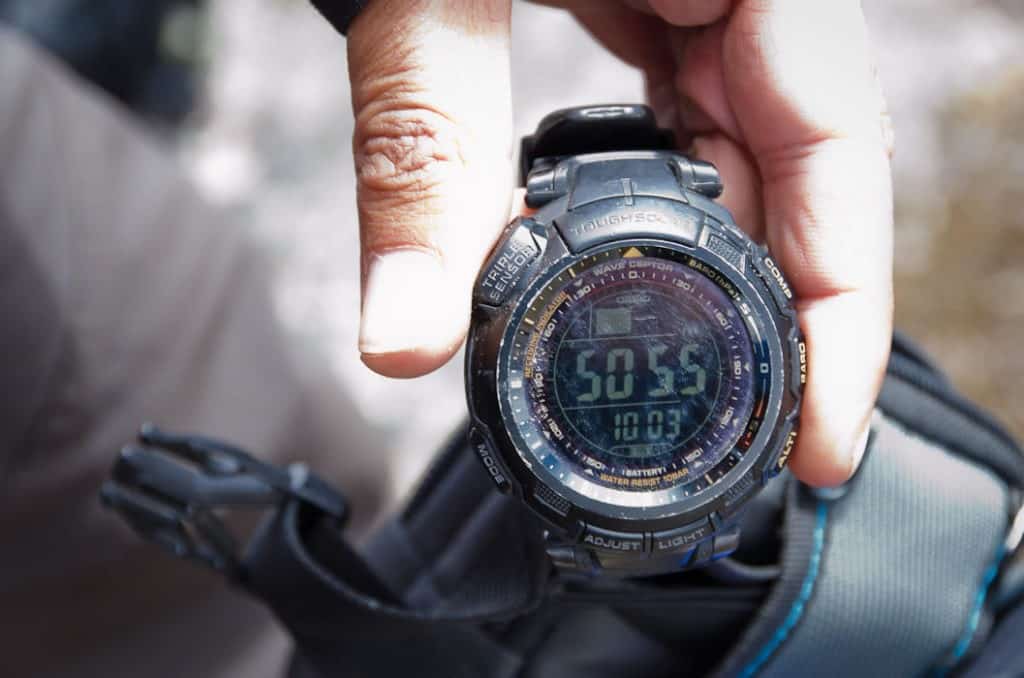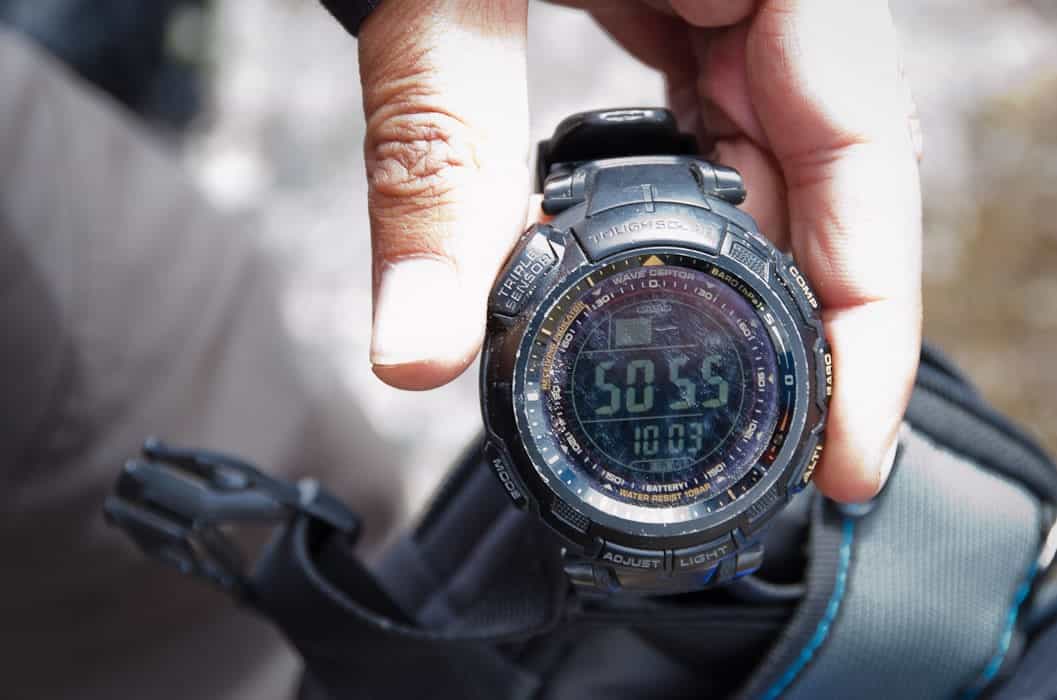 Altitude Sickness
On the Ausangate trek, altitude sickness is a real possibility so it's super important to take it seriously. Usually occurring above 2,000m (6,566 ft), symptoms of altitude sickness include headaches, nausea, vomiting, tiredness, and dizziness. If left unchecked, these can lead to much more serious health problems. Anyone experiencing these symptoms should descend straight away to a lower altitude. Coca leaves and coca tea may be offered to alleviate some of the discomfort, but the only way to properly recover is to head back down the mountain.
Most of the trails on Ausangate treks are above 4,000m (13,123 ft), so it's imperative that hikers spend at least three days in Cusco to allow the body to acclimatise. This isn't a great hardship, as you'll probably want to spend time exploring the ancient Inca capital anyway, checking out the churches and square on a walking tour. Cusco is so much more than just the gateway to the Andes. (Check out our tips for spending 3 days in Cusco while acclimatising)
How Fit Do I Need to Be to Hike Ausangate?
A Peru Ausangate trek is no walk in the park. It's a challenging high-altitude route with steep trails and undulating terrain to contend with. Thus, a good level of fitness is a must, both for safety and enjoyment. During an Ausangate trek, tour members will be accompanied by experienced guides, but there are no medical facilities here in the mountains so give yourself a head start by arriving in tip-top form.
If you're having doubts about your capabilities or aren't used to this sort of trekking, we recommend going hiking regularly and hitting the gym during the months before your trek. The fitter you are, the more enjoyable your experience will be. We offer more trekking tips here.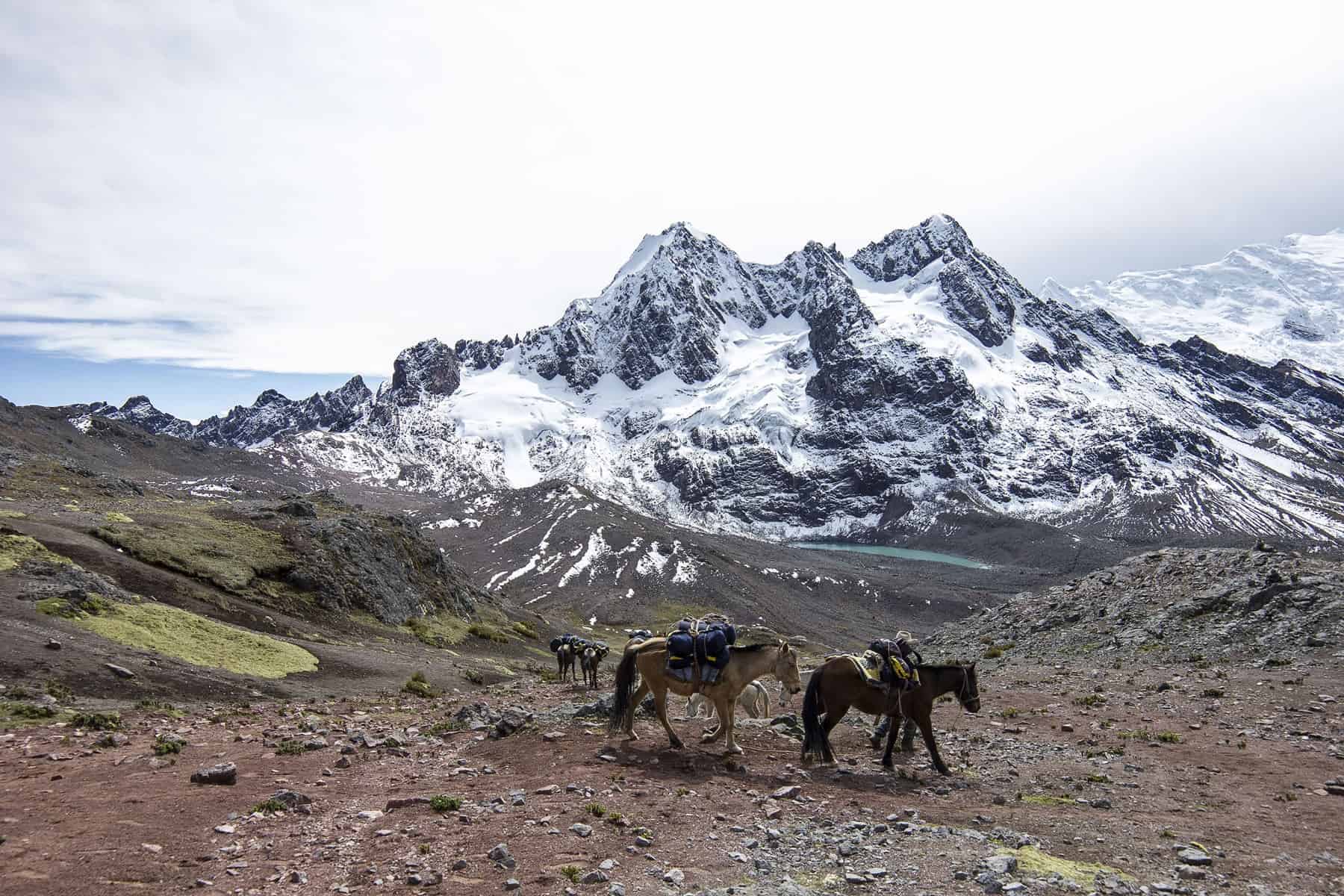 Safety on the Ausangate Trail
Staying hydrated during your Ausangate trek is essential, so always carry plenty of water with you, and make sure it's properly boiled and treated before drinking. When combined with altitude sickness, dehydration can have very serious consequences. Apus Peru guides are all trained in wilderness first aid, so will know exactly what to do if an emergency should arise. If you're prone to blisters, you might want to carry a small personal first aid kit in your day pack so you can keep on top of the little blighters.
Crime is rare in the Andean mountains, but it's a good idea not to flash your valuables about when journeying through remote villages. Wherever you go in the world it's important to have comprehensive travel insurance just in case something goes wrong during your trip. Check your policy carefully to ensure it covers high-altitude trekking activities!
What Gear Do I Need for Hiking Ausangate?
If you want to trek Ausangate, it's super important that you carry the correct gear with you. The weather in this region is extreme, with everything from freezing temperatures to sunburn on the cards. The key is the altitude. When the skies are clear, the sun really burns, and when it's windy, your skin will dry out in an instant. Nights are chilly with temperatures always falling below zero, often into minus double digits.
Weather conditions can change quickly too. One day you could be soaking up those rays, the next you'll be wrapped up and battling the elements. The Ausangate Peru trek is one of the most challenging hikes in South America and having good quality equipment can be the difference between enjoyment and survival!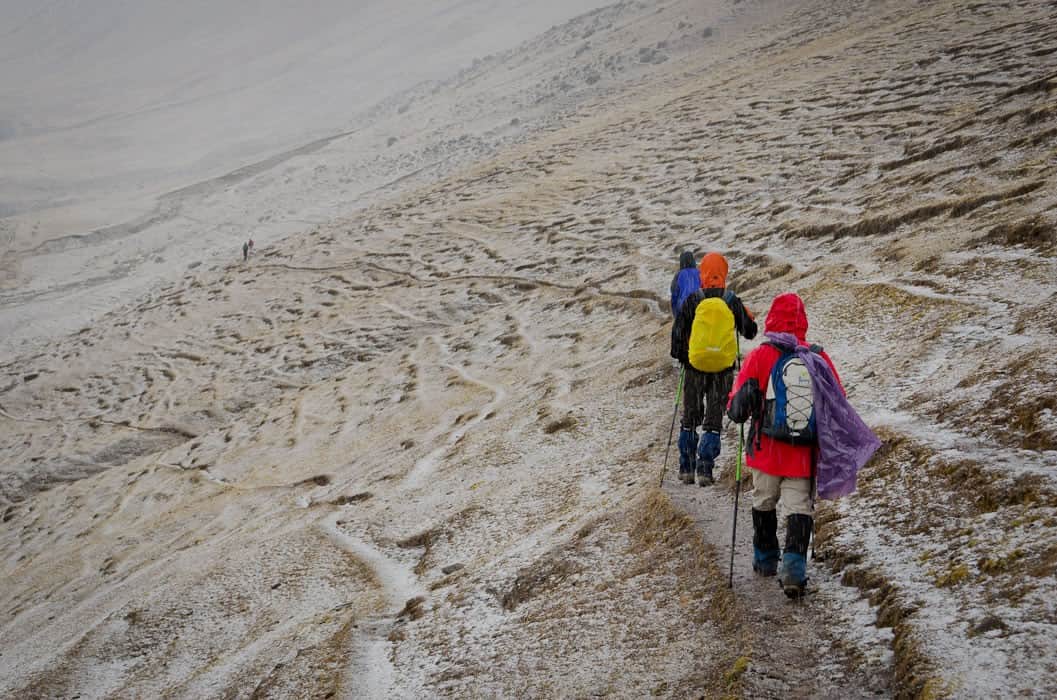 Hiking & Camping Gear
Camp gear and other hiking equipment is usually provided by the tour operator, but don't be afraid of asking for more details. It's especially important that the tents are top-notch, to keep you warm and safe at night. Some provide a sleeping bag too, so you don't have to bring one from home (you can rent sleeping bags from us if you don't have one!).
What to Pack
Try and pack light, so you don't end up having to lug a bulging rucksack around the Ausangate trail. Apus Peru hikers must pack most of their belongings into one of our duffel bags which are carried by mules so all you need to carry is your day pack. Duffel bags are limited to 7kg (15 lbs) per person, including your sleeping bag. You will be able to leave the rest of your belongings somewhere safe to be collected after your trek.
Long sleeved shirts and walking trousers are advisable, as well as a fleece jacket and of course waterproofs. Layers are more effective at keeping the heat in than big thick jumpers, so bear that in mind when packing. It's a good idea to take thermals for sleeping in, as well as hats and gloves for when it gets nippy. When it comes to footwear, sturdy hiking boots are a must, although you might also like to sneak in a pair of flip-flops for camp. Your feet will thank you later! To combat the sun, don't forget a cap, sunglasses, and sunscreen. Lip balm can be a blessing too.
Have a look at our packing list for a comprehensive run-down of everything you need for trekking in Peru.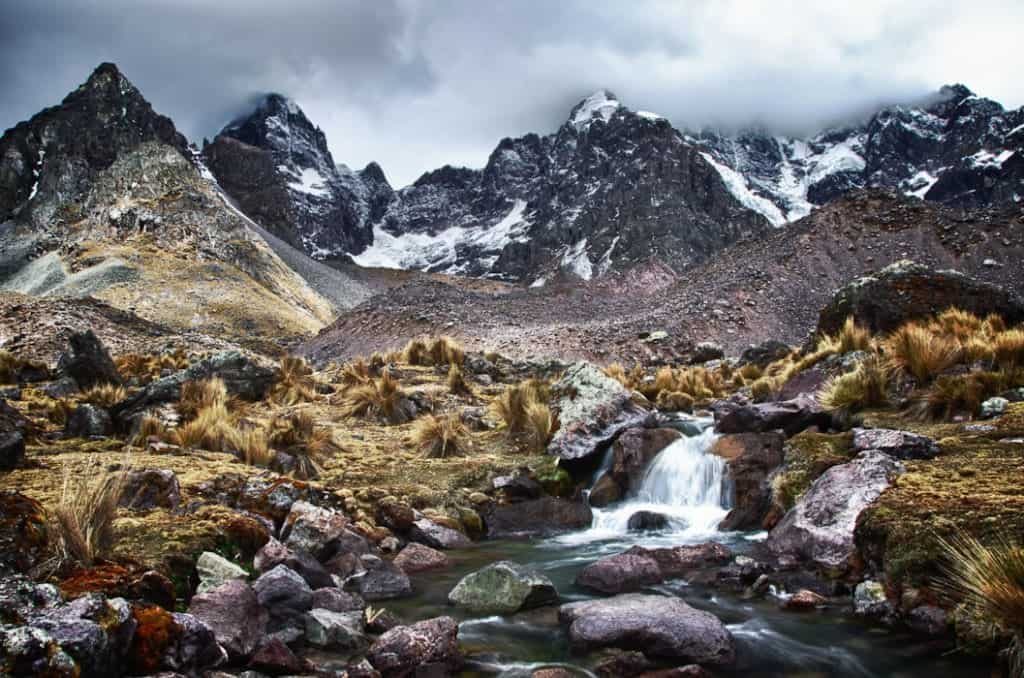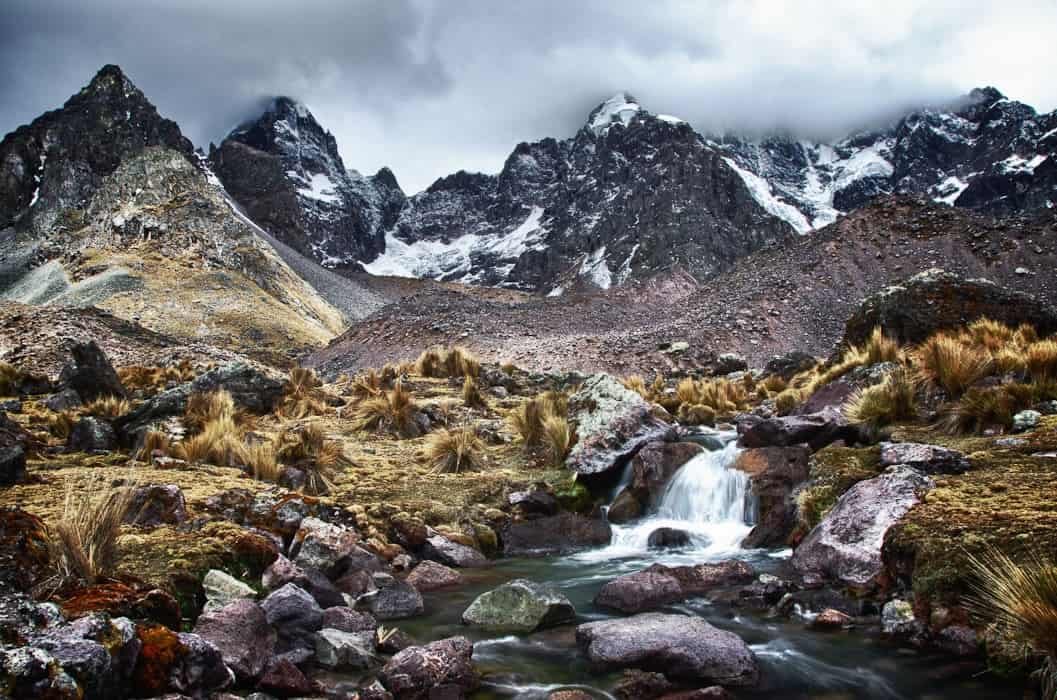 The Different Ausangate Trek Itineraries
You have several different options when it comes to Ausangate trekking itineraries. Typically, the Ausangate circuit is 5 days, which may sound long, but with all the spectacular mountain scenery and highland wildlife to discover, you won't even notice the miles! Every day on the trail reveals a new vista, each better than the last.
If you're pressed for time, feeling extremely fit and don't mind long hours of trekking, then you can do the Ausangate trek in 4 days. It will be tough so we recommend it for the super speedy experts.
There are other ways to experience the Ausangate trek. 3 days, for example, is not enough time for the full circuit, but you can still see some spectacular views and get some epic trekking under your belt. For travellers with only a few days to play with, we can recommend an alternative Ausangate trek. Rainbow Mountain is the most popular and you can do it in just a couple of days.
Check out all of our Ausangate treks: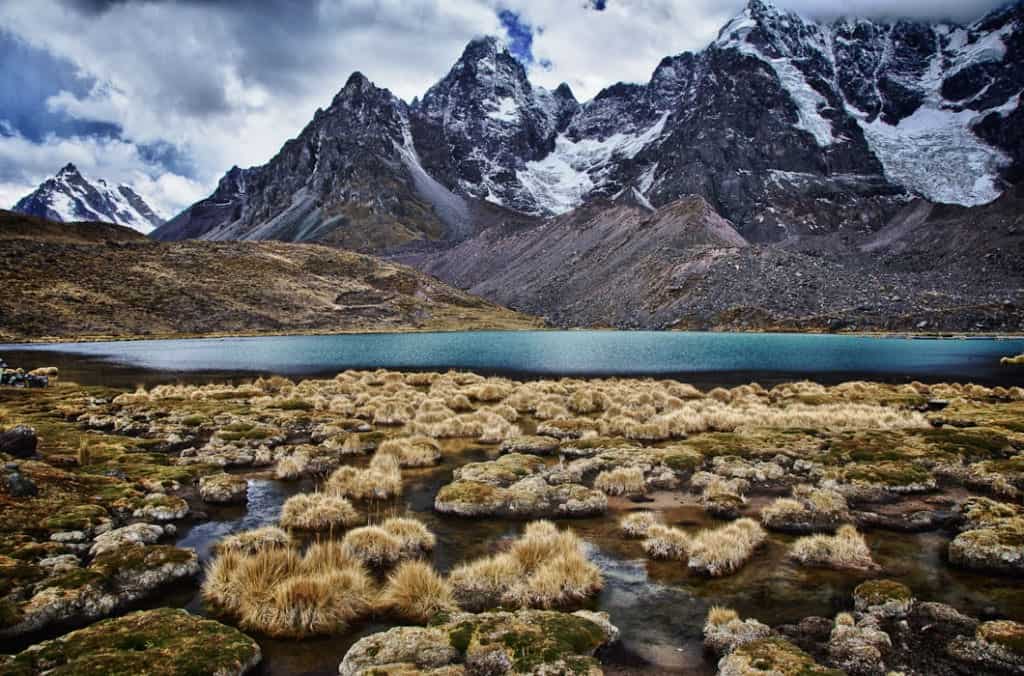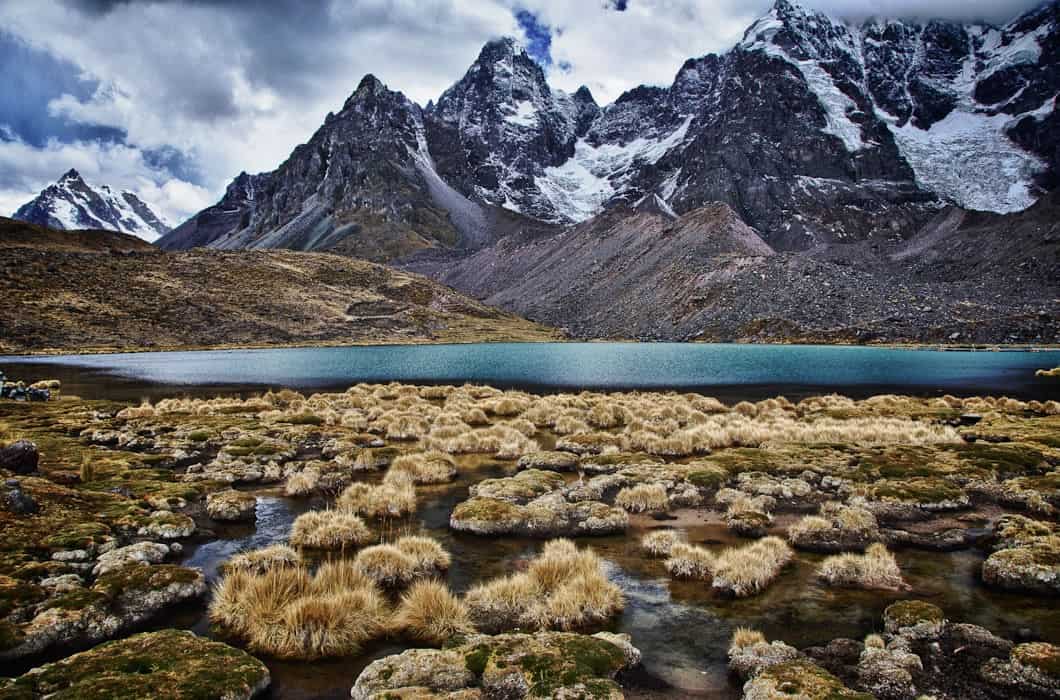 Day By Day on the Ausangate Trail
During this hike, you will travel from one dazzling glacial lake to another, each one a different colour. As you pass beneath the stunning snow-capped peaks, you can hear the slabs of ice as they crack, crumble, and finally plunge into the waters below. Meanwhile, alpacas munch on grassy highland slopes, and lofty passes beckon with the promise of further adventure. It's a rather unique and special world up here!
Every day on the trail is different, with each bringing its own challenges and rewards in equal measure. Here's what to expect:
Day One
Your Ausangate hike begins in Tinki, the biggest town near the mountain itself. You'll be hiking up to Upis, the location of your first campsite on the Ausangate trail. It's a real treat as there are some beautiful hot springs for soaking those weary limbs.
Day Two
Today is where the challenge begins as you tackle your first 5000m (16,400 ft) pass. You're really at high altitude now! Crossing the pass takes you to Ausangate Lake, where you'll camp for the night.
Day Three
Ausangate treks really come into their own on the third day. You'll be hiking to Jampa after conquering another 5000m pass. Most people spend the night here, but keen trekkers with energy to spare sometimes press on to Pacchanta, another remote Andean town in the area. We don't recommend this – taking a break is key to finishing in one piece!
Day Four
This morning you will continue to Pacchanta, heading over a final high-altitude pass. The effort is worth it though, with more hot springs and local beer to toast your achievements.
Day Five
Today you return to Tinki, where it all began. From here, you say goodbye to the majestic Ausangate Mountain as you travel back to Cusco by car. You might want to factor in a couple of days in the city to rest before continuing your explorations around Peru.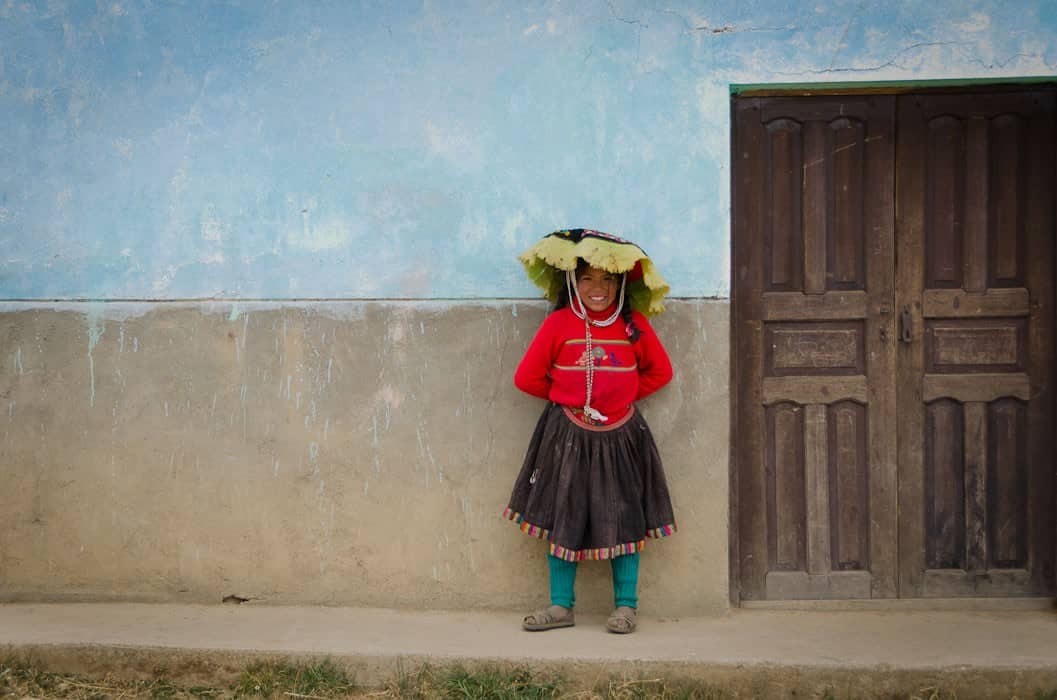 How Does Ausangate Compare to Other Cusco Treks?
It can be tough deciding which trek is right for you, so here we compare some of the major players in the Cusco area to help you choose.
Ausangate vs Salkantay
The Salkantay trek is the preferred alternative route to Machu Picchu after the Classic Inca Trail. It's a beautiful hike, but you could find yourselves jostling for space with hordes of other hikers in peak season, which isn't why you've come to the Andes! On the other hand, the Ausangate trek is a spectacular off-the-beaten-path Peru adventure. Despite its increasing popularity, Ausangate remains quiet, and the scenery is more beautiful, too, in our humble opinion!
Ausangate vs Choquequirao
There's no getting around the fact that the Ausangate Circuit is a difficult trek, mainly due to the altitude and cold conditions. The Choquequirao trek is lower in altitude but does involve lots of up and down each day which is harder for people who aren't keen on climbing. Out of the two, we reckon it's probably easier to enjoy the Ausangate trekking experience, so long as you have an expert guide and high-quality equipment to combat the extreme weather.
Ausangate vs Rainbow Mountain
Two of our most popular hiking destinations are Ausangate and Rainbow Mountain. Trek enthusiasts will be satisfied with either, or both, depending on how long they have here. The beauty of a Rainbow Mountain hike is that it can be incorporated into your longer Ausangate journey, or seen on a day tour from Cusco, the choice is yours. The Rainbow Mountain viewing point does get busy, but don't worry, we know all the tricks to avoid the crowds so you can enjoy the panorama in peace. More about that below!
Speak with one of our Trek Experts about booking your trek today.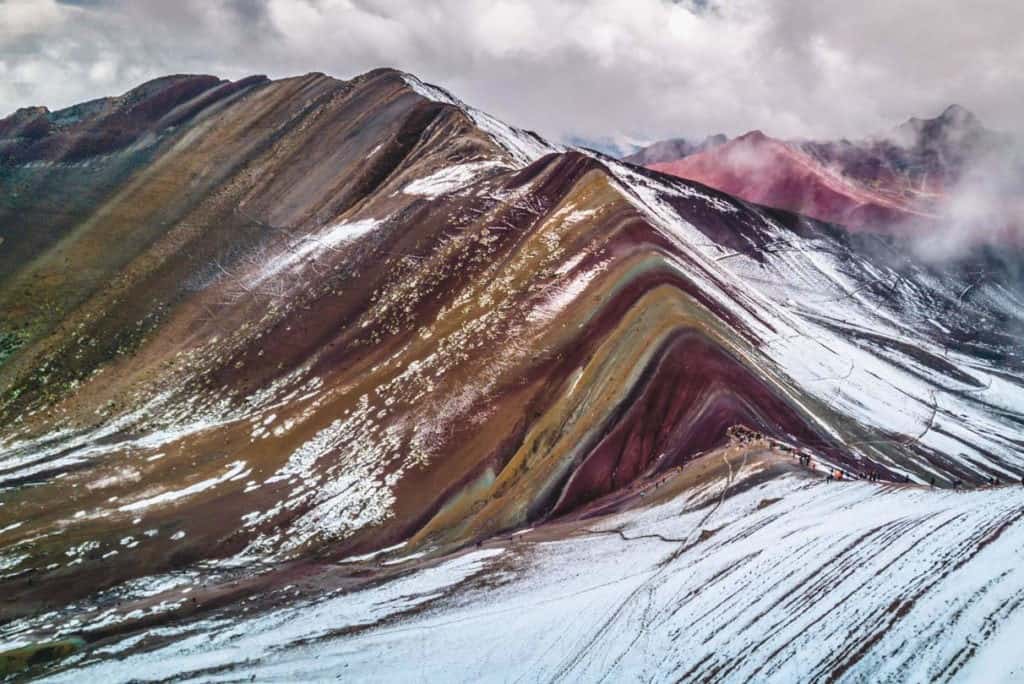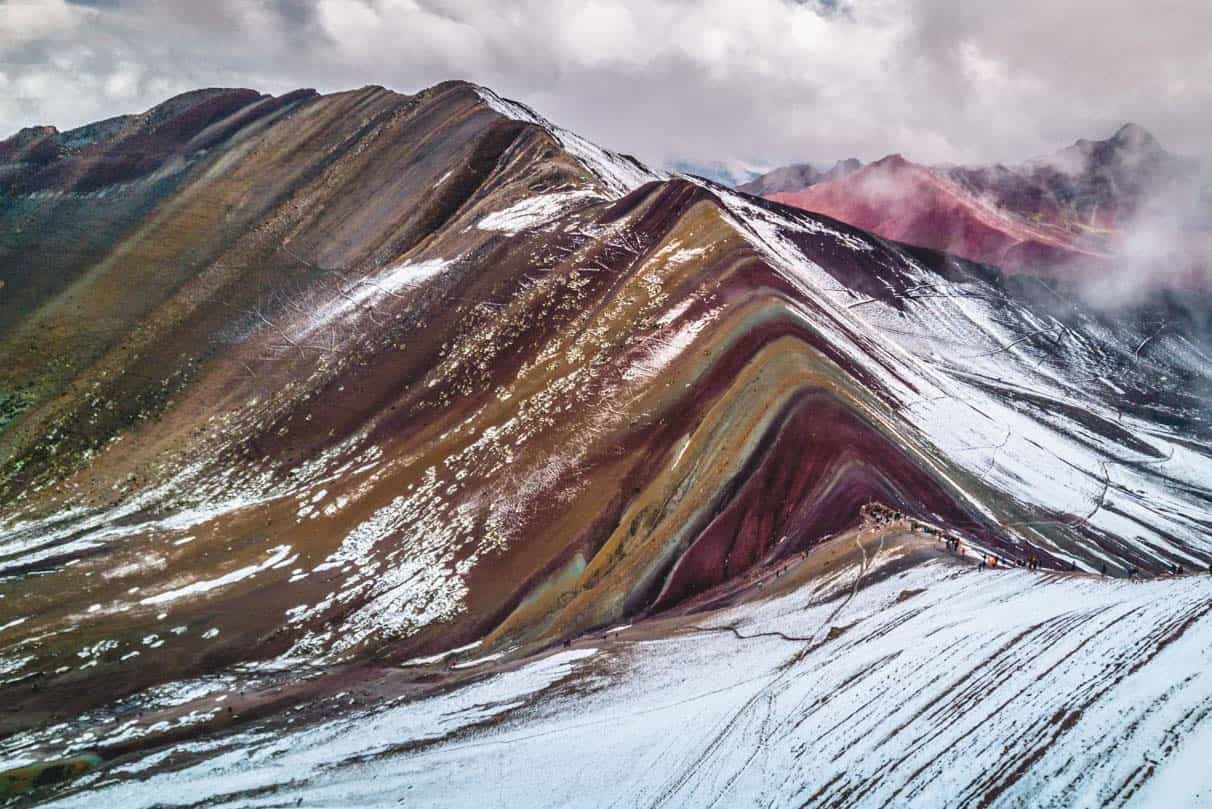 Rainbow Mountain Side Excursion
In recent years, tourists have been flocking to see the famous Rainbow Mountain. Known as Vinicunca in Quechua, this stunning peak features colourful mineral striations and is quite a sight to behold. Many people opt for a Rainbow Mountain day tour from Cusco, especially if they're short on time. These excursions are usually rushed, spending the day in the company of crowds of other tourists. Want a more exclusive experience? Then try our 1-day Rainbow Mountain trek which departs from Cusco later than the other agencies. This means that you'll be climbing up when everyone else is coming down and can enjoy the view from the top in relative peace. (Read one happy trekker's account of this on her Trip Advisor review).
"Rainbow Mountain was spectacular, but the entire drive and hike to and from the mountain were equally beautiful. The lunch provided was excellent, and we appreciated our guide making sure we had a cup of hot coca tea waiting for us at the summit. Our guide was friendly and helpful, with great English for those in our group who didn't speak Spanish. It meant a lot to us to tour with a company committed to responsible, respectful, sustainable tourism and giving back to local communities." – Paige M., USA (2019)
5-day Ausangate Rainbow Mountain trek
The ultimate way to include this colourful peak on your itinerary is to do a combined Ausangate Rainbow Mountain trek. If you are hiking the standard Ausangate Circuit, then a Rainbow Mountain side excursion at the beginning or end would add a lot of driving to your trip. Which is why we've designed the ultimate 5-day Ausangate Rainbow Mountains trek. It combines the standard Ausangate route with a slight deviation halfway through, to include Rainbow Mountain. As always, this adventure takes you off the beaten path, avoiding the worst of the tourist traffic. You'll be passing through remote valleys that are home to Andean communities and herds of llamas, as well as crossing high passes and seeing some of the most spectacular scenery in the country.
Machu Picchu Extension 
Ausangate treks take place south of Cusco in the direction of Lake Titicaca, which means that they're in the opposite direction to Machu Picchu and the Sacred Valley. Therefore, you can enjoy a visit to the Inca citadel during separate Cusco-based tours. We suggest not to miss Machu Picchu, however, so for those who want to include an excursion without having to spend several more days in the Cusco region, we do offer a Machu Picchu extension to explore this famous archaeological site at the end of your multi-day Ausangate trek. Peru has too many incredible sites to explore on a single trip, but we can certainly help you combine the cream of the crop!
Many Ausangate treks finish in Tinki, after which you can take the Valle Sur route and be in Ollantaytambo in four hours. If you're not in a rush, opt for a hot shower and a kip in either Ollantaytambo or Urubamba, before heading up to Machu Picchu the following day. Those pressed for time can continue up to Aguas Calientes on the late train, ready to hit the citadel early next morning.
For more information, check out our 1-day extension to Machu Picchu which can be added to the end of your Ausangate trek.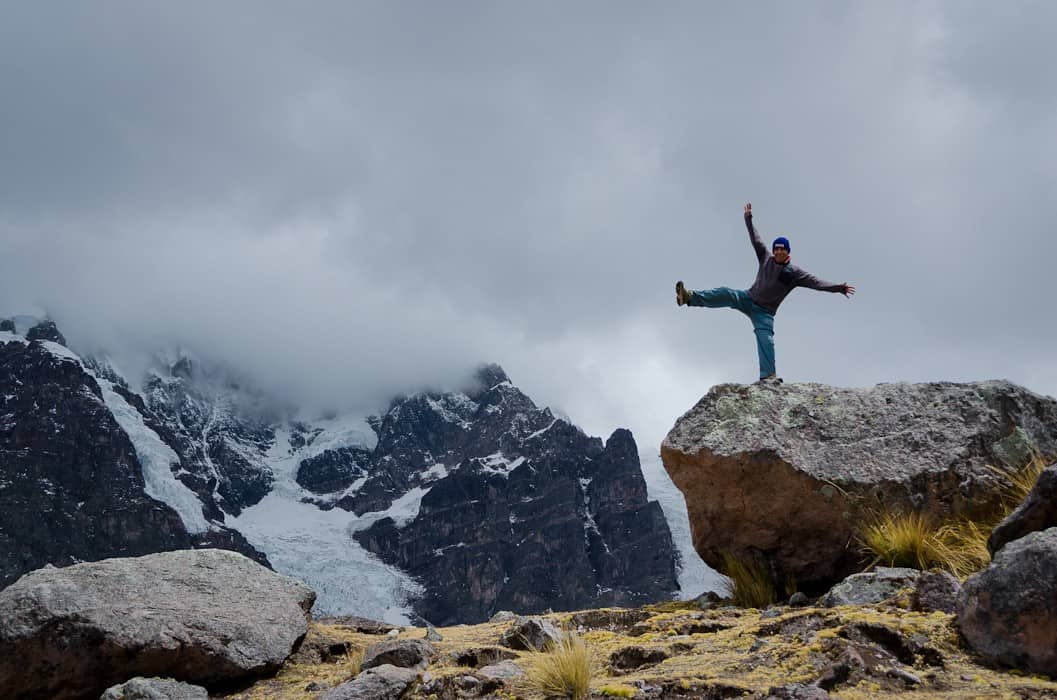 Ausangate Treks: Go Forth and Conquer!
Ausangate treks are the ultimate high on adventurous holidays to Peru. Whether you choose the traditional Ausangate trek – 5 days of glorious Andean scenery and community encounters, or a shorter jaunt for a quick fix of snow-capped peaks and emerald lakes, you'll agree that all the puffing is worthwhile.
If you're up for bagging several icons at once, then the Ausangate Rainbow Mountains tour won't disappoint either. Whatever you decide, make sure you carry some spare camera batteries in your pack – you're going to need them!
Like it? Pin it!
KEEP READING:
This post was originally published on 7 January 2017, and updated on 11 January 2022.