The trails around Ausangate Cusco offer some of the most spectacular remote hiking in Peru that there is. If you want to trek in Peru alongside fuzzy alpacas, cast your eyes on sparkling turquoise lakes and walk in the shadow of Cusco's highest mountain, then Ausangate is the trek for you.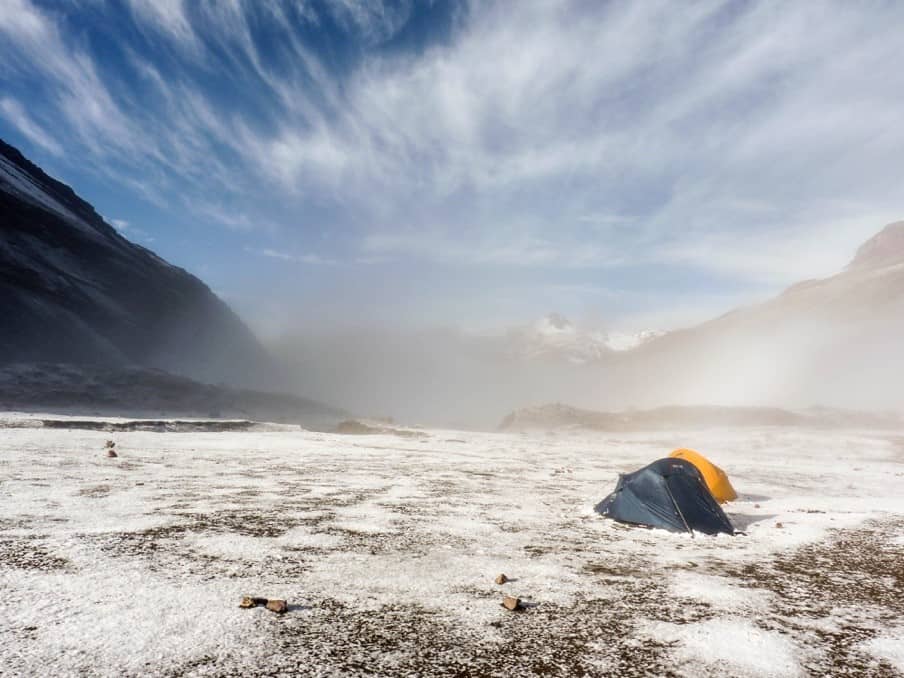 About Ausangate Cusco
Ausangate, sometimes spelled Auzangate, is one of the highest mountains in Peru and the most important apu in Andean mythology. Situated in the Ocongate area of Cusco, the majestic Ausangate mountain stands at an impressive 6384 meters (20,945 ft).
RELATED:
Ocongate is a rural area where time has practically stopped. Life here continues in much the same way as it has since the time of the Incas, and constitutes one of the few remaining farming communities of its kind in the world. The rolling hills of Ocongate are dotted with llama and alpaca herds, carefully tended by women in traditional Andean dress. They are also home to many wild animals, such as vicunas, vizcachas, Andean geese and more. Ausangate Cusco is a wildlife lover's paradise.
Hiking Around Ausangate Cusco
To be honest, the Ausangate hike is one of the most beautiful treks around Cusco. The Ausangate trek treats you to awesome vistas every day, full of spectacular mountain scenery and highland wildlife.
Typically, the Ausangate circuit is a 5 day trek, though it can be done in 4 days if you're pressed for time (though we don't recommend rushing!)
Check out all of our Ausangate treks:
During this hike, you will from one dazzling glacial lake to another, each one a different color. As you pass beneath the stunning snow-capped peaks around you, you can actually hear the slabs of ice as they crack, crumble, and finally crash to the waters below.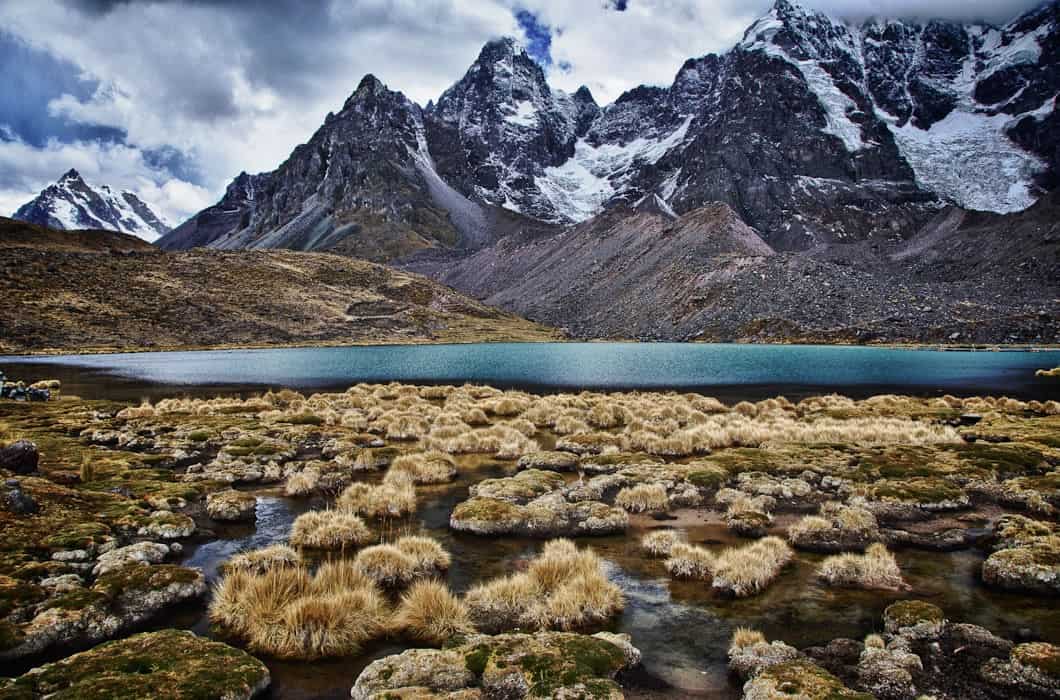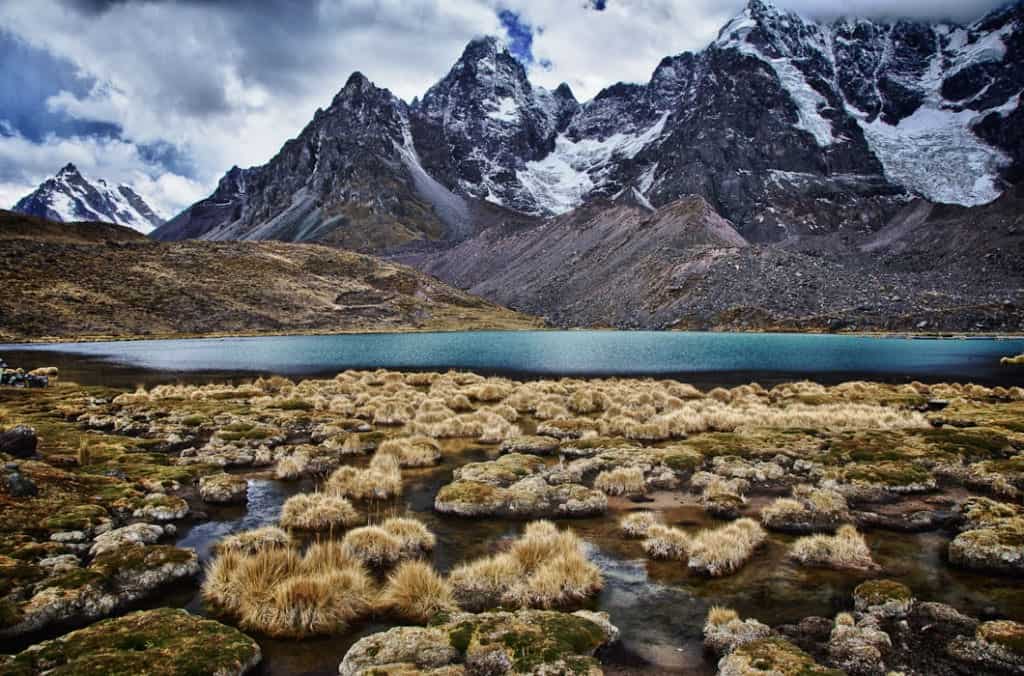 Day By Day on the Ausangate Trail
It all begins in Tinki, the biggest town near Ausangate mountain. On Day 1, you hike from Tinki to Upis, the first campsite on the Ausangate Cusco trail. It's a real treat as there are some beautiful hot springs there to enjoy! The challenge begins on Day 2, where you are faced with the first 5000 m pass. Crossing this high altitude pass takes you to Ausangate Lake, where you camp for the night.
Day 3 sees you hike to Jampa after climbing another 5000 m pass. Most trekkers will spend the night here, continuing on the next day, but (fool-) hardy trekkers will continue on to Pacchanta, another remote Andean town in the area. To get to Pacchanta, you will cross yet another 5000 m pass, the last of the three, but the reward is sweet when you arrive: more hot springs and the chance to enjoy dinner and a beer!
Finally, on Day 5 you return to Tinki, where it all began. From here, you say goodbye to the majestic Ausangate mountain as you travel back to Cusco by car.
WANT TO GO? Read more about our 5 Day Ausangate Trek!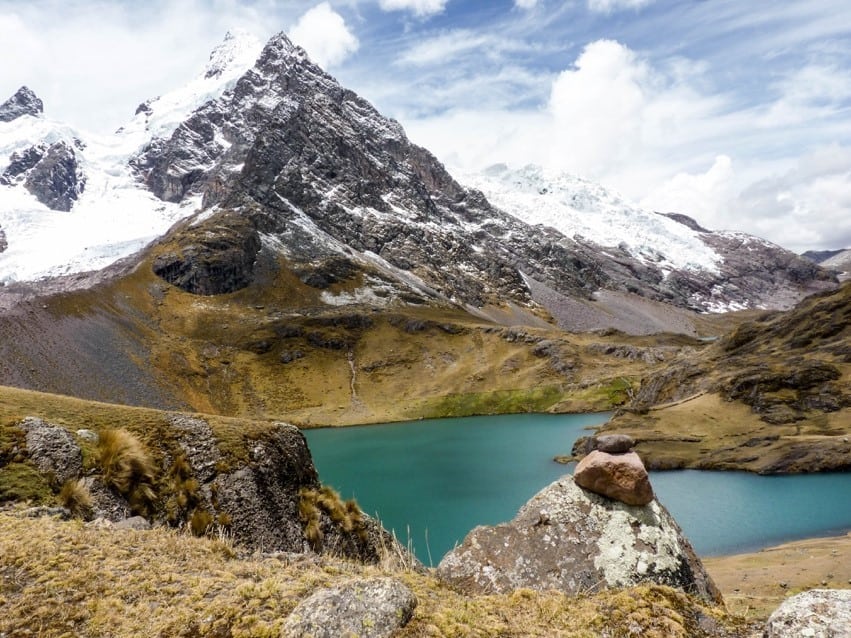 How Does Ausangate Compare to Other Alternative Treks?
The Ausangate Cusco trek is a spectacular off-the-beaten-path remote Peru trek. Compared to the Salkantay trek – the preferred alternative trek to Machu Picchu after the Inca Trail – you won't be faced with hordes of other trekkers around Ausangate. Despite its increasing popularity, Ausangate is quiet and remote. The scenery is more beautiful, too, in our humble opinion!
Of course, this is a difficult trek, mainly due to the altitude. Unlike Choquequirao, for instance, Ausangate is a very high altitude trek, which makes it challenging for some people. It will be easier to enjoy this trek with an expert guide and top quality equipment – that's where Apus Peru comes in!
Speak with one of our Trek Experts about booking your trek today.
The Cultural Importance of Ausangate Cusco
Another thing that sets Ausangate apart from other Cusco treks is its importance to Andean spirituality. As the most important apu in the area, Ausangate plays a central role in the annual Qoyllority Festival. Every year in the days leading up to Corpus Christi, Qoyllority (also spelled Qollur R'iti or Ccolloriti) attracts thousands of Quechua pilgrims – and an increasing number of tourists – who walk a four-hour, moonlit pilgrimage to the Qoyllority Sanctuary. Over the course of four days, religious devotees honour the Lord of Qoyllority through song, dance, and prayer, and ask for their hearts' desires through a market of miniatures.
DID YOU KNOW? You can hike the Qoyllority Pilgrimage with Apus Peru.
Ausangate Rainbow Mountain
These days, tourists are flocking to see another special feature around Ausangate Cusco – the Rainbow Mountains. Known as Vinicunca in Quechua, Rainbow Mountain is a stunning natural gem that features colorful mineral striations. It's quite a sight to behold!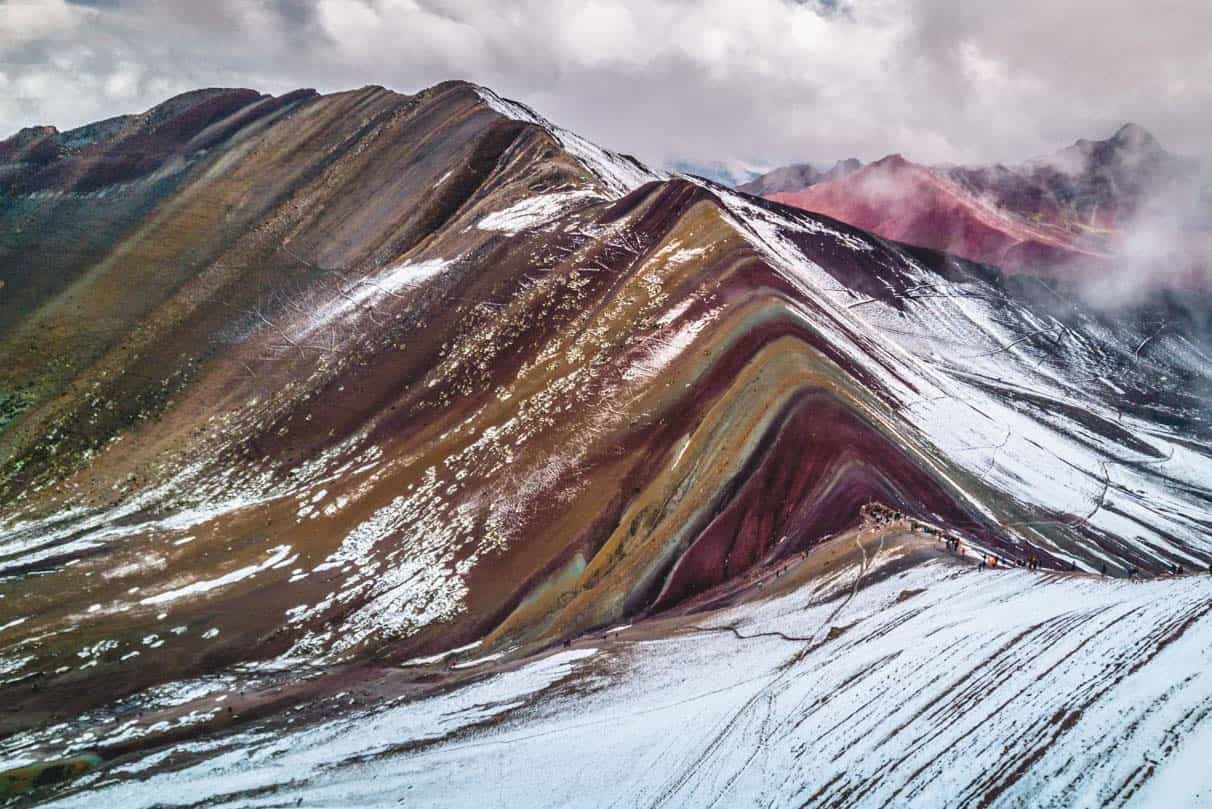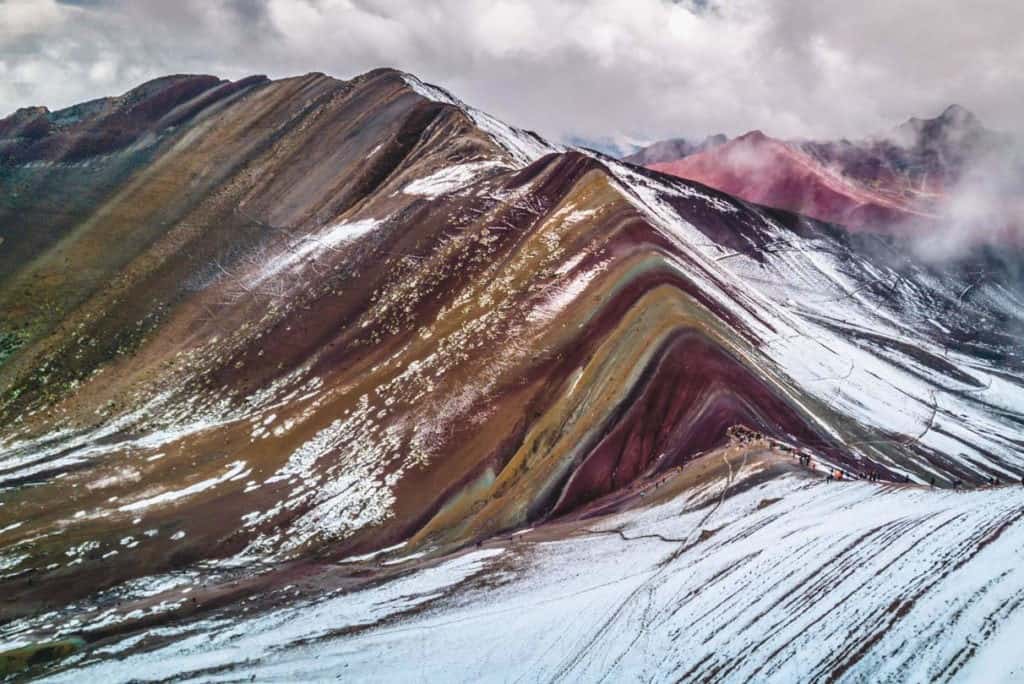 You can see Rainbow Mountain as part of a 1-day, 2-day or 5-day trek with Apus Peru. All of Apus Peru's Rainbow Mountain treks are designed to take you off the beaten path, avoiding the worst of the tourist traffic. For instance, the 1-day Rainbow Mountain trek that we offer leaves Cusco several hours later than every other agency, meaning that you are climbing up the mountain when everyone else is already coming down, allowing you to enjoy the view from the top in relative peace. (Read one happy trekker's account of this on her Trip Advisor review).
KEEP READING:
This post was originally published on 7 January, 2017, and updated on 11 July 2019.