Apu Ausangate is a snow-capped mountain with special significance to the Quechua-speaking population of Peru.
Ausangate mountain is the fourth highest peak in Peru. Standing at 6,372 meters, it is also the highest in the Vilcanota Mountain Range. To the average tourist, Ausangate is a beautiful mountain and a challenging climb. The Quechua population of the Southern Andes, however, revere it as one of their most significant apus. An apu is a mountain deity, a powerful mountain spirit, and the core of Andean religion. In fact, Apu Ausangate is considered the owner of the entire Cusco region of Peru.
The People of Apu Ausangate
The communities that dwell on and around Ausangate live a pastoral lifestyle. They herd llamas and alpacas, and trade with farming villages at lower altitudes for their other needs. These people's lives are closely interwoven with their animals and with each another. Locals continue to practice their ancient traditions, such as Andean weaving. Yarn spun from their own alpaca wool is hand-dyed with plants and minerals, and carefully woven on a backstrap loom. The textiles they weave feature ancient designs which symbolize everyday life, and the spiritual beliefs of the community.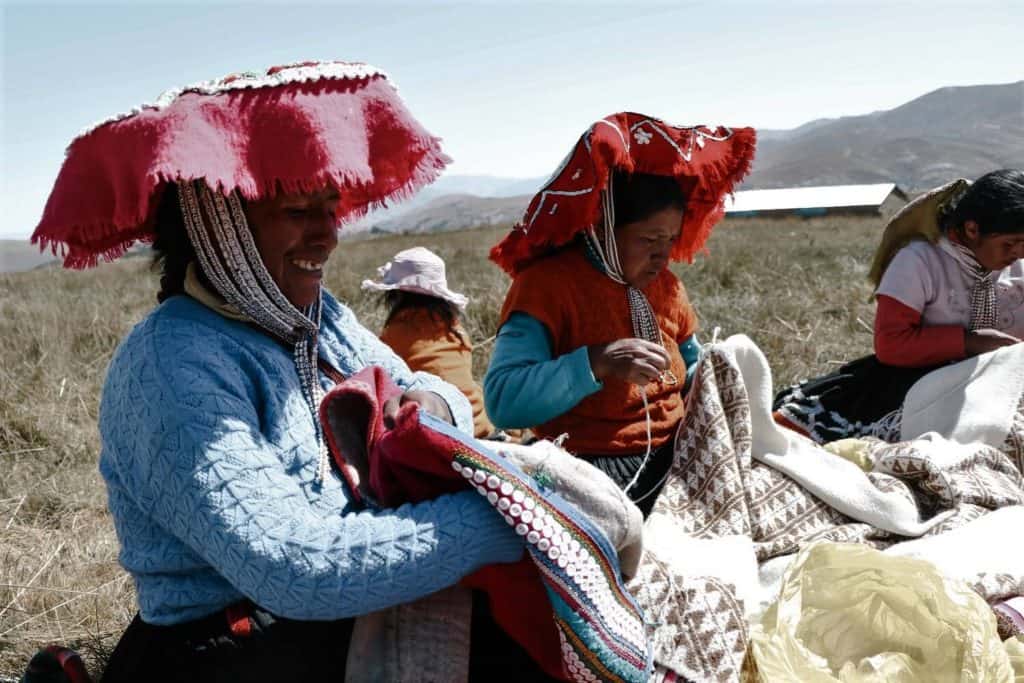 Apu Ausangate and Andean Traditions
One of the most basic concepts of life in the high Andes communities is that of ayni. Often translated as "reciprocity," ayni connotes an ever-shifting, dynamic balance in relationship. This give-and-take informs not only connections that exist among people, but also the bonds between humans and the natural world. It most especially applies to the bonds between people and Apu Ausangate.
Quechua communities that dwell on the mountain make offerings called k'intus to Apu Ausangate. The k'intu is offered as a sacrament to Apu Ausangate, to ensure his benevolent protection towards the people who dwell in his mighty presence. It is a symbol which reinforces their reciprocal bond.
Coca leaves are the main ingredient of the k'intu. Spiritual elders of the villages, or misayoqs, say that the coca leaf is the favorite food of the Apus. To make a k'intu, three perfect coca leaves are held in the misayoq's hand. The leaves are then infused with his breath. This places his intention for the well-being of the people into the offering.
READ MORE about Inca Symbols and the Quechua Language on our Peru History page.
The culmination of the veneration of Apu Ausangate happens every spring during the festival of Q'oyllur Rit'i. During this four day festival, thousands of people climb the mountain to make offerings and receive blessings from Apu Ausangate.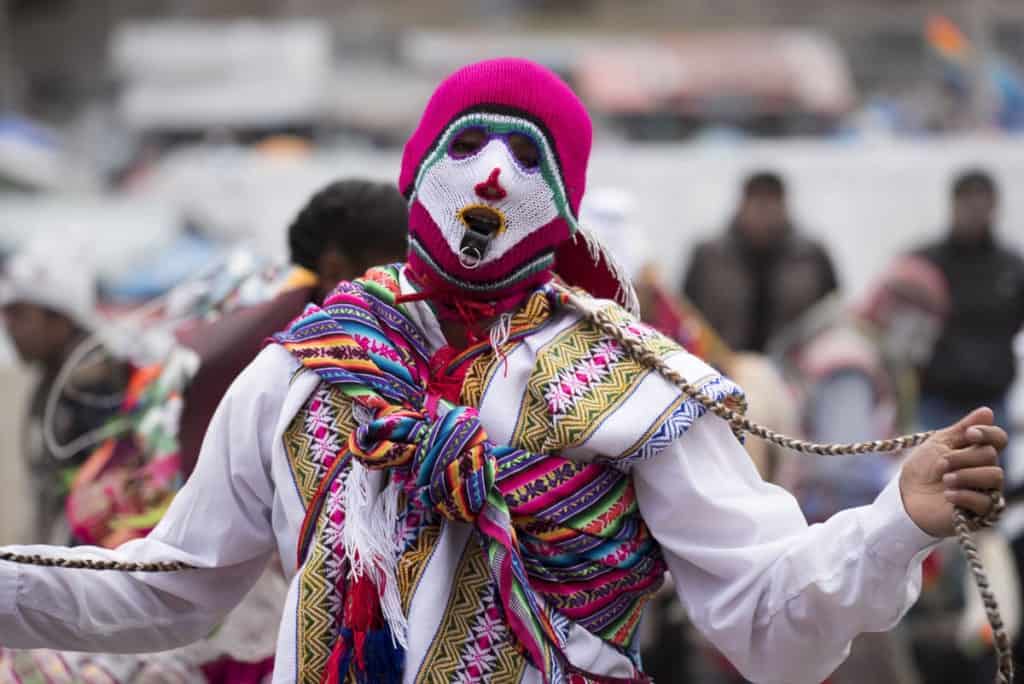 Experience Apu Ausangate For Yourself!
Apus Peru offers several treks to Ausangate and the beautiful countryside surrounding it.
Ausangate Trek: Hike the circuit around Ausangate on this five-day trek. The Ausangate trek is quite challenging, as it traverses three high mountain passes upwards of 5,000 meters. It offers astonishing scenery and the chance to view wildlife, birds, and panoramic vistas with snow-capped peaks and crystalline lakes. Soak away your aches in a natural hot springs and visit communities where villagers wear colorful traditional dress.
Ausangate Sibinacocha Trek: This is an alternative trek that begins by taking the same route as the classic 5-day Ausangate circuit. You pass through traditional Andean communities, visit hot springs, admire pristine turquoise lakes, and gain stunning panoramic views of the mountain. Then, the trek diverges onto the road less travelled and head toward Sibinacocha Lagoon, where you will be immersed in some authentic, isolated back-country. Here, you'll spot herds of grazing alpacas and llamas, and if luck shines upon you, you may even spot a rarely seen herd of golden vicuñas!
READ MORE: Off the Beaten Path in Peru: Sibinacocha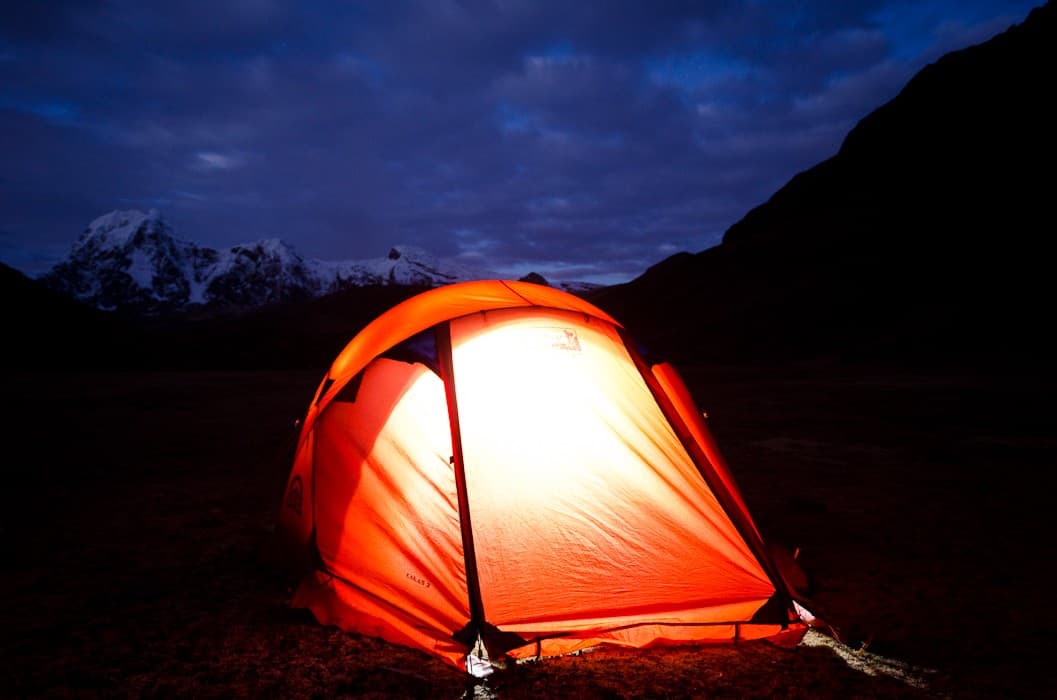 Ausangate Rainbow Mountain Trek: Another great trek around Ausangate is this 5-day circuit that adds the recently popularized Rainbow Mountain. Known in Quechua as Vinicunca or Winicunca (we know that "cunca" means "neck" in Quechua), Rainbow Mountain is one of nature's true wonders. Mineral deposits give the mountain its famous colorful striations, giving it other nicknames like stripy mountain or painted mountain in Peru. Rainbow Mountain has become extremely busy in recent years. Luckily, our itinerary is designed to keep you out of sync with the rest of the trekking agencies, meaning you get to enjoy the views in relative peace, without the hordes of tourists.
SHORT ON TIME? We also offer 1-day Rainbow Mountain Tours  and 2-day Rainbow Mountain Tours. Read more: Exploring the Rainbow Mountain Hike.
On any of these Ausangate treks you will have the chance to meet the communities, see lots of incredible Andean wildlife, and experience the wonder and majesty of Apu Ausangate first-hand.
This post was originally published on 12 October, 2015, and updated on 14 July 2019.