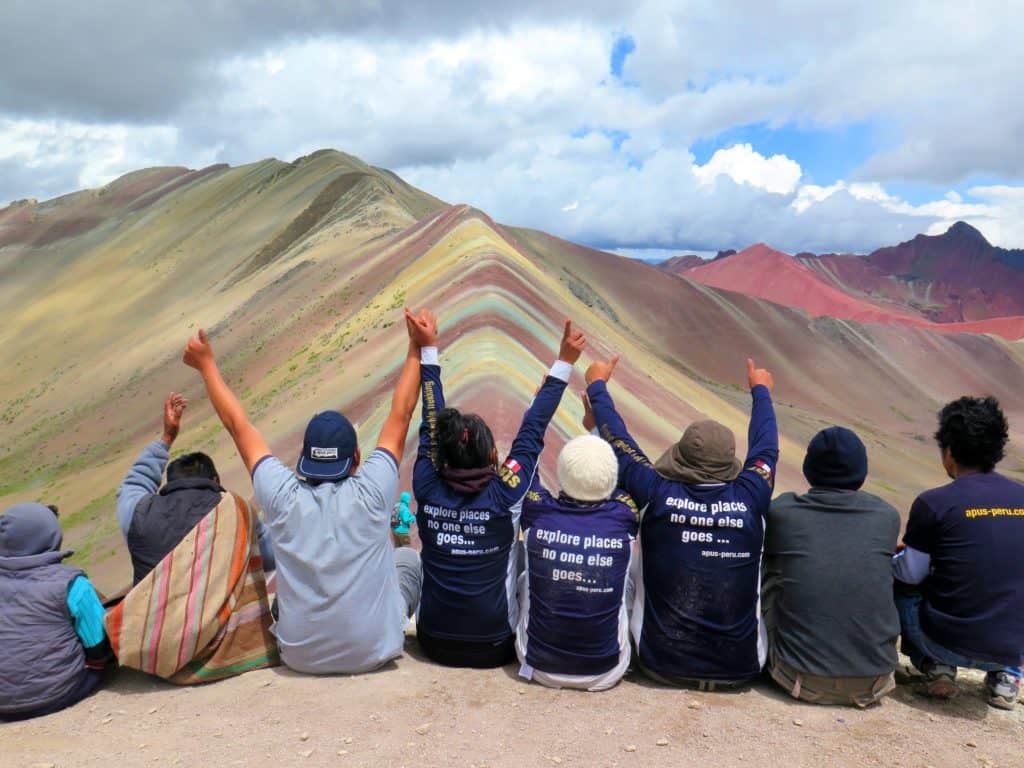 The Rainbow Mountain Hike: An Introduction
Rainbow Mountain, Stripy Mountain, Colored Mountain… this breath-taking mountain in Peru goes by many names. Rainbow Mountain is a natural geologic formation near Ausangate mountain that is fast attracting large numbers of visitors. It's now the second-most visited site in Cusco after Machu Picchu!
Well, we understand why.
Rainbow Mountain is known locally as Vinicunca (also spelled Winicunca). Cunca in Quechua means "neck." The meaning of vini is unknown but it might refer to the colorful mineral layers that give Rainbow Mountain its name. If that's the case, then "Neck of Colors" or "Colorful Neck" could be a reasonable translation of the name.
Apus Peru Goes Exploring
One crisp April morning, ten members of the Apus Peru team drove three hours from Cusco to Pitumarka. From there, we continued another hour on some fabulous winding roads. The road wove through local farming terraces, rock formations and picturesque canyons until we reached Hanchi Pacha, a small farming village located at an altitude of 4180 m (13,714 ft). This is where our Rainbow Mountain hike started. Gradually, we ascended out of the valley to reach K'airahuiri, gaining 400 m in altitude in just an hour and a half!
Andean Villages on the Rainbow Mountain Hike
K'airahuiri actually consists of two villages: K'airahuiri Bajo and K'airahuiri Alto, lower and upper K'airahuiri, respectively. We reached K'airahuiri Alto after about a half hour on the Rainbow Mountain hike, where the local community greeted our team. Meeting the locals gave us a great opportunity to discuss options for future groups that we plan to bring to the region. Working with local communities is critical to the way we work, and is what helps us to craft unique routes that keep you off-the-beaten-path and away from the crowds.
We then trekked for another 1.5 hours to the pass. Our climb quickly became steeper – and our breathing more laboured! – as we reached an elevation of 5000 m in this last section.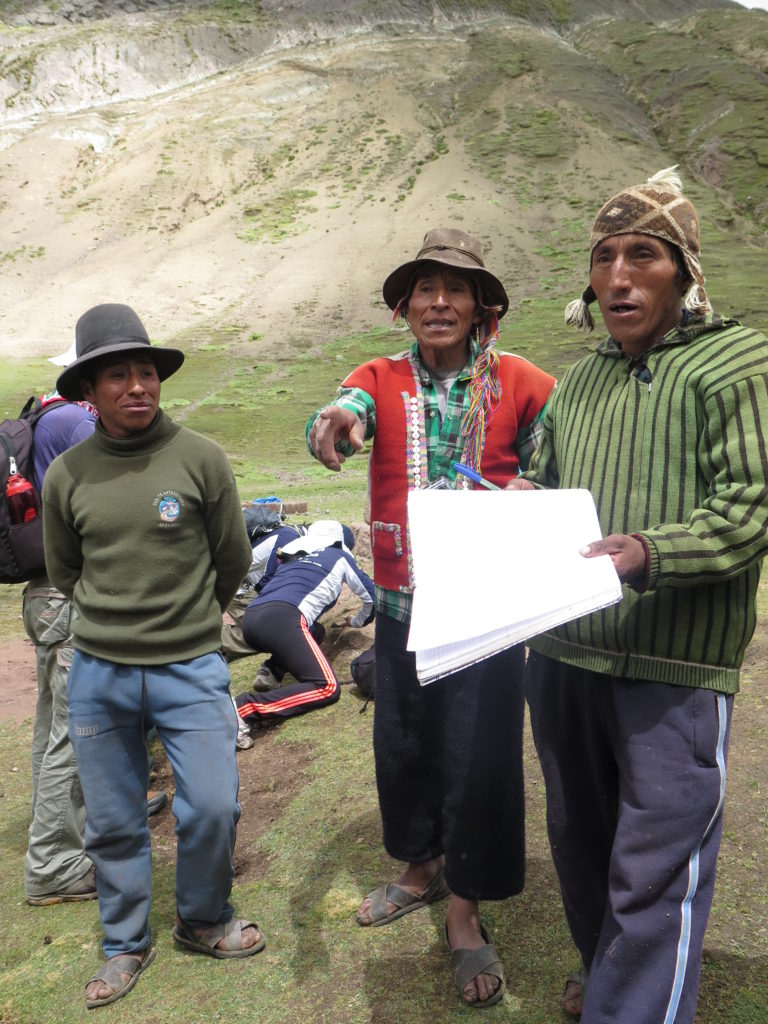 Finally! We Reach our Destination
After 3.5 hours of trekking over a distance of 9.5km, and reaching a height of 5000 m, we had finally made it. As we crossed over the Vinicunca Pass, we were finally rewarded with magnificent views of the mighty glacier, Apu Ausangate!
WANT TO GO? We offer several ways for you to experience the Rainbow Mountain hike:
Just a few more meters of climbing up the "neck" gave us a better glimpse of why we had come to this particular spot. At last we could see the amazing view of Vinicunca and its fantastically colorful layers of rock sediment…turquoises, oranges, browns, and reds! We never would have believed this brilliant natural beauty existed had we not seen it with our own eyes!
Reflecting on the Rainbow Mountain of Peru
I first saw a photo of Vinicunca in a gallery and art shop in Cusco called Tawa Concept back in 2015. Honestly, I thought an artist had drawn a rather imaginative painting, and I wondered where he had drawn his inspiration. When I was told this was actually a photograph…of a real place in Peru…I didn't even believe it.
But seeing is believing!
Now I know that Rainbow Mountain is indeed a real place, and not just a figment of someone's imagination.
Vinicunca, The Rainbow Mountain of Peru: truly a glorious feast for the eyes!
KEEP READING:The Spirit of Apu Ausangate
Written by Matt Waugh. First published on 7 April 2016, and updated on 21 July 2019.