Inca Trail vs Lares Trek…that is the question! Two of the best treks in Peru are the Inca Trail and the Lares Trek. Which trek is the best choice for you?
Maybe you're planning your trip to Peru, know you want to hike, and are debating which trek you should choose. Or maybe you've just found out that the Inca Trail is sold out, and you're wondering how the alternatives compare.
Whatever your reason for wanting to know more about the Inca Trail vs the Lares trek, you've come to the right place! We'll tell you everything you need to know to make sure you make the right decision for you.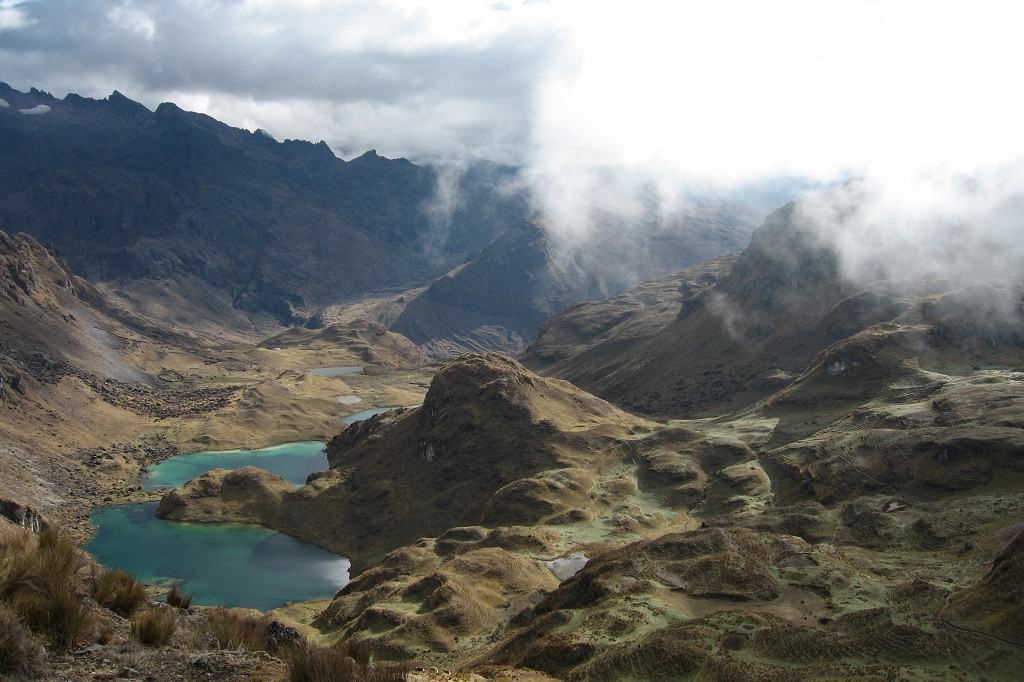 What is the Lares Trek and What Makes it a Good Alternative to the Inca Trail?
The Lares Trek is a great alternative to the Inca Trail. Lares still retains all the stunning landscapes and the beauty of the snow-capped Andes that the Inca Trail offers, but you can experience it without having to deal with large crowds of fellow hikers.
In fact, the Lares track has remained largely untouched by tourism and it gives an insight into the Andean community and traditional culture that you would not be able to experience on the Inca Trail.
Along the way on the Lares Trek, you will pass through villages and farms and get the opportunity to interact with Peru's Indigenous people and learn about their way of life. A unique experience!
STOP!     IMPORTANT!
PLEASE TAKE NOTE OF THE NEXT SECTION AS IT WILL GIVE YOU A BETTER OVERALL UNDERSTANDING OF THE LARES TREK
The Different Lares Routes
When we discuss the Lares trek vs the Inca Trail trek in this blog we will be referring to these treks as a whole, but acknowledging that they are actually all quite different routes!
There is no ONE single Lares trek route near Cusco. The Lares Valley is a stunning mountainous region inhabited by Quechua people who continue to live their way of life as they did many hundreds of years ago. They farm these mountainsides growing potatoes and other tubers, and raising sheep, alpacas, and llamas.
Until the past 20 years, there were no roads into the region which meant that the people had a number of routes that took them to the villages. Those trails, crisscrossing the Lares region, make up the foundation of the Lares trekking routes.
However, in the past 20 years, and especially in the last 10, a great number of roads have been plowed through this pristine landscape, meaning that cars or trucks can travel to these villages, albeit slowly and only in good weather conditions. As much as we Western trekkers lament this progress, it does make the lives of the people much better.
Trekking routes have evolved to avoid the roads, although at some points it's impossible to avoid them, as the lowest and best passes to cross logically now have roads across them.
First Day: Cusco – Ollantaytambo – Chaullacocha
Second Day: Chaullacocha – Maranniyoc
Third Day: Maranniyoc – Lares Hot Springs – Ollantaytambo – Aguas Calientes
Fourth Day: Aguas Calientes – Machu Picchu – Cusco
This is the trek that we will primarily use to compare the Inca Trail vs Lares trek in this post. On the four-day Lares trek to Machu Picchu we visit the high Andean community of Chaullacocha. This is like stepping back in time, where community life remains largely unchanged since Incan times.
We continue the trek to the Lares hot springs before driving back to our starting point at Ollantaytambo to catch the train to Aguas Calientes. After an overnight in a hotel, we spend day four visiting Machu Picchu before returning to Cusco.
Read the full Lares to Machu Picchu trek itinerary here.
On Day 1: Cusco – Huaran – Cancha Cancha
Day 2: Cancha Cancha – Quishuarani
Day 3: Quishuarani – Cuncani – Lares Hot Springs
On Day 4: Lares Hot Springs – Cusco
At Apus Peru, we call this the Classic Lares trek. It does not include Machu Picchu, but does include a chance to soak in the famous Lares hot springs on the last day of the trek. What a great way to relax sore muscles after four days of trekking!
Read the full Classic Lares trek itinerary here.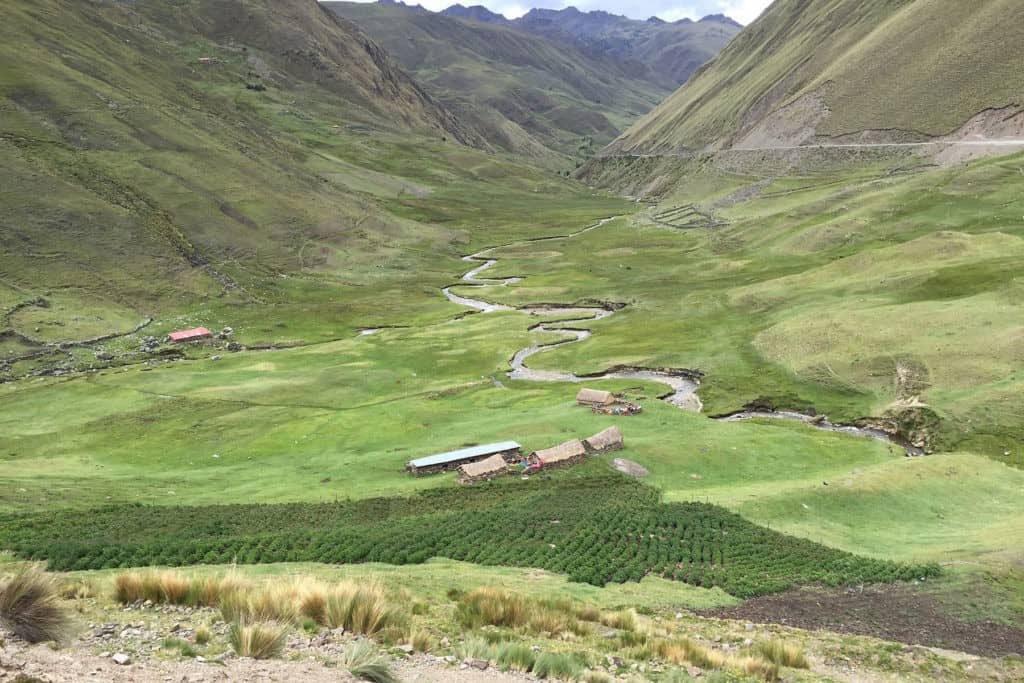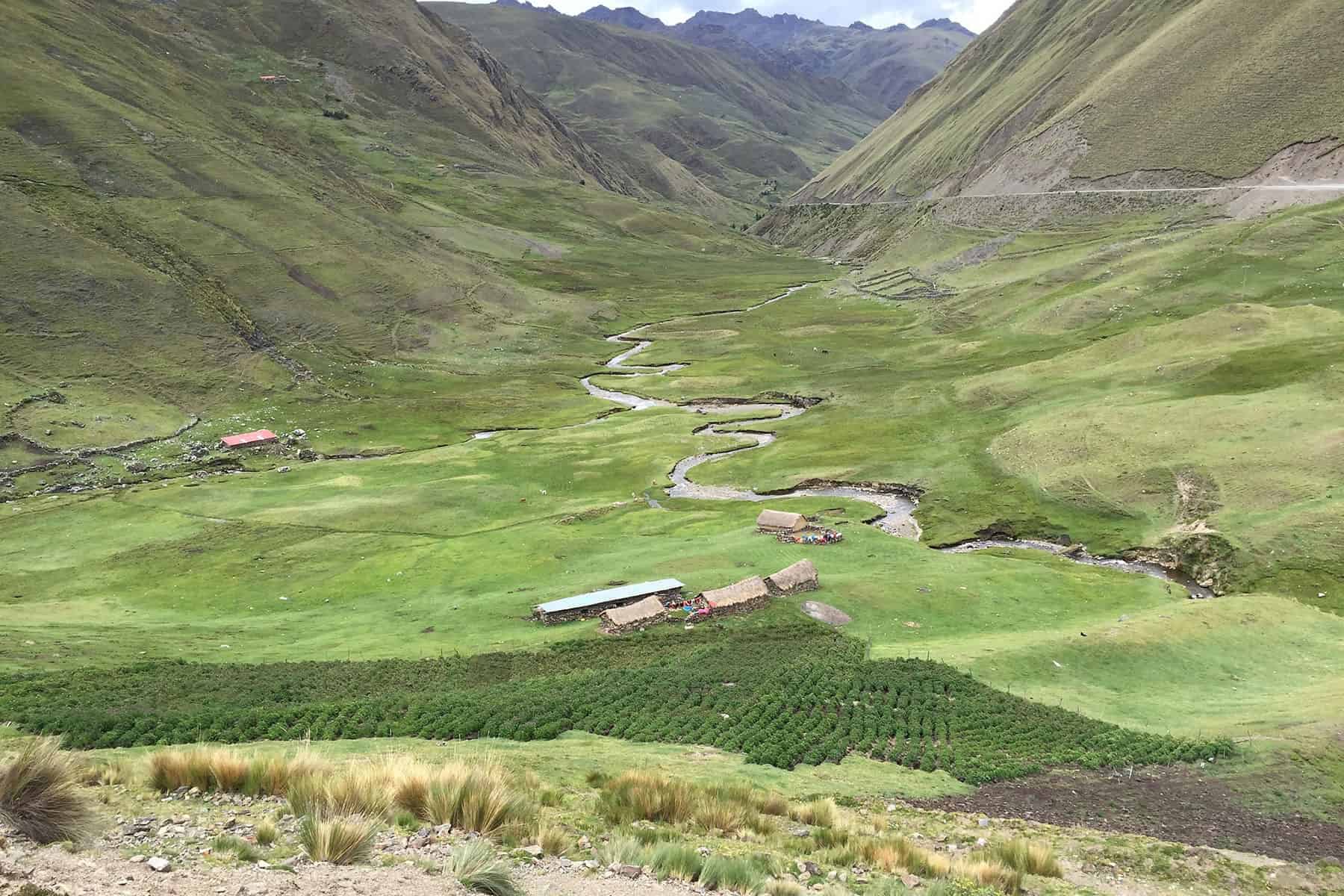 5 Day Lares Trek: A Special Lares Trek to Chaullacocha
1st Day: Cusco – Huaran – Cancha Cancha
2nd Day: Cancha Cancha – Quishuarani
3rd Day: Quishuarani – Cuncani – Lares Hot Springs
4th Day: Lares Hot Springs – Huacahuasi – Chaullacocha
5th Day: Chaullacocha – Meloqcocha Lagoon – Patacancha – Ollantaytambo – Cusco
Our unique 5-day Lares itinerary starts off like the classic 4-day trek before taking a turn on Day 3 to continue following the Lares trail over high mountain passes with stunning views, glacial lakes and sparkling waterfalls.
After a dip in the Lares hot springs, hikers venture back into the remote highlands for a unique excursion to Chaullacocha.
We have a special relationship with Chaullacocha – which means "fish lake" in Quechua – and you'll have a chance to really immerse yourself in Andean culture, with opportunities to learn about Andean weaving, visit the local school, or even spend a night with a local family.
See the full 5 Day Lares itinerary here.
1st Day: Cusco – Lares Hot Springs – Maranpaqui
2nd Day: Maranpaqui – Chaullacocha
3rd Day: Chaullacocha – Ollantaytambo – Aguas Calientes – Machu Picchu – Cusco
A short but challenging trek takes you from the Lares hot springs up and over to Chaullacocha. Apus Peru has worked in community development in Chaullacocha and Chupani since 2007.
Unless you add an extra day in Chaullacocha for more cultural activities, Day 3 is spent travelling to and then touring Machu Picchu, before returning to Cusco.
See the full 3 Day Lares Cultural Trek itinerary here.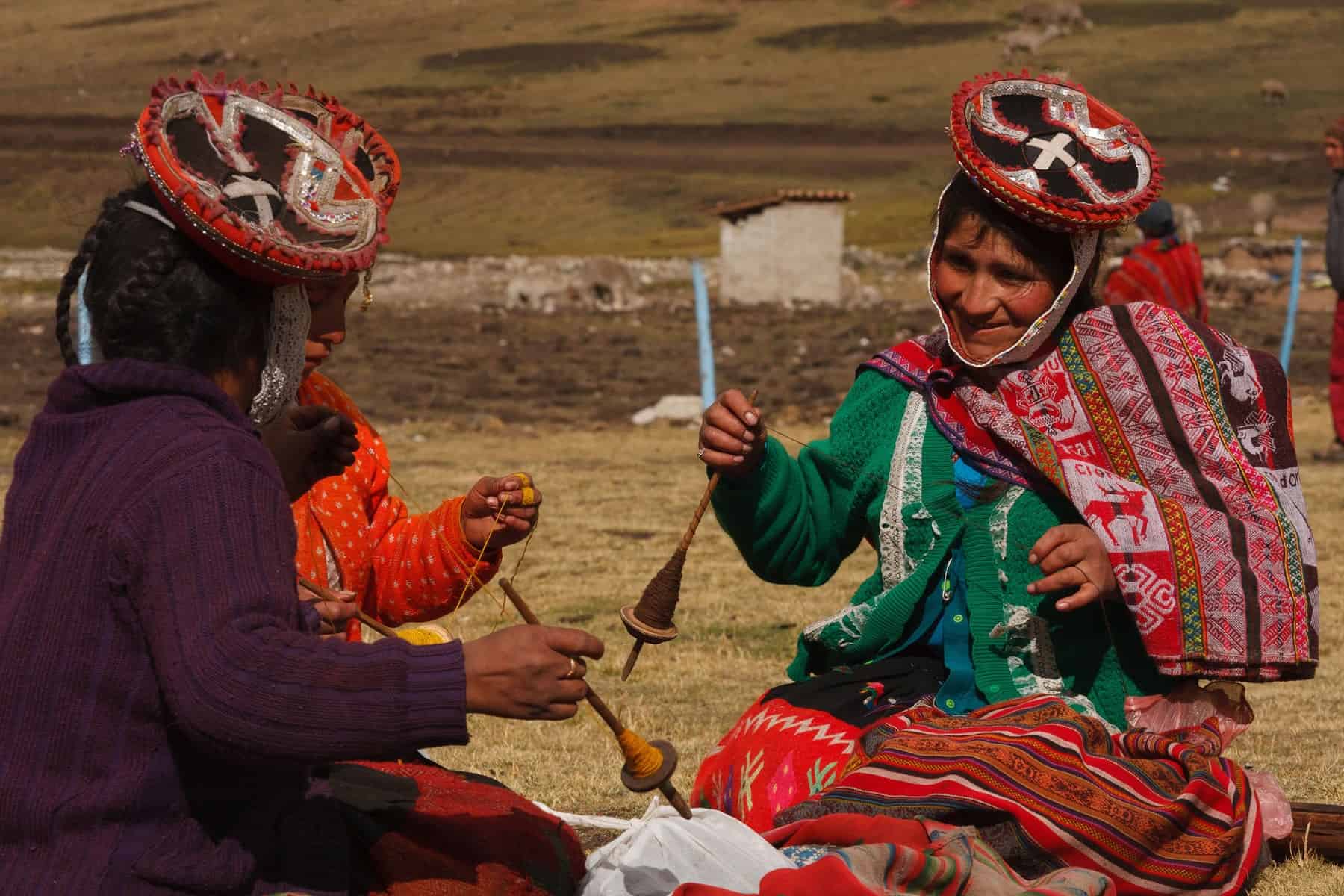 A Note About Lares & Cultural Immersion
One of the most important aspects of the Lares trail is the interaction with the local people. We believe that all trekkers to Peru want to do this in a respectful, non-intrusive way, one that does not turn the locals into a display for the tourists' benefit while they are going about and living their daily lives.
One of the best ways to avoid this type of exploitation is to go with a trek operator that has deep connections with the communities, which are based on the Quechua concept of ayni (reciprocity) rather than exploitation or paternalism.
So deep are our ties at Apus Peru, that community members in Chaullacocha sent video messages to our Co-Founder in Australia during the pandemic, and she back to them in return!
Our multiple Lares trek routes are different than the norm and will get you off the beaten track. We have worked in community development in the Lares Valley communities since 2007, including supporting the local school. As a result, we have a very close relationship with the people there, many of whom work as part of our trek staff, from porters to cooks to muleteers.
Apus Peru's sister non-profit organization, Threads of Peru, also works with the weavers of Chaullacocha. Travellers who hike many of our Lares Valley Treks often get a chance to visit the school and the weaving association – this is a totally different experience than the average Lares trek!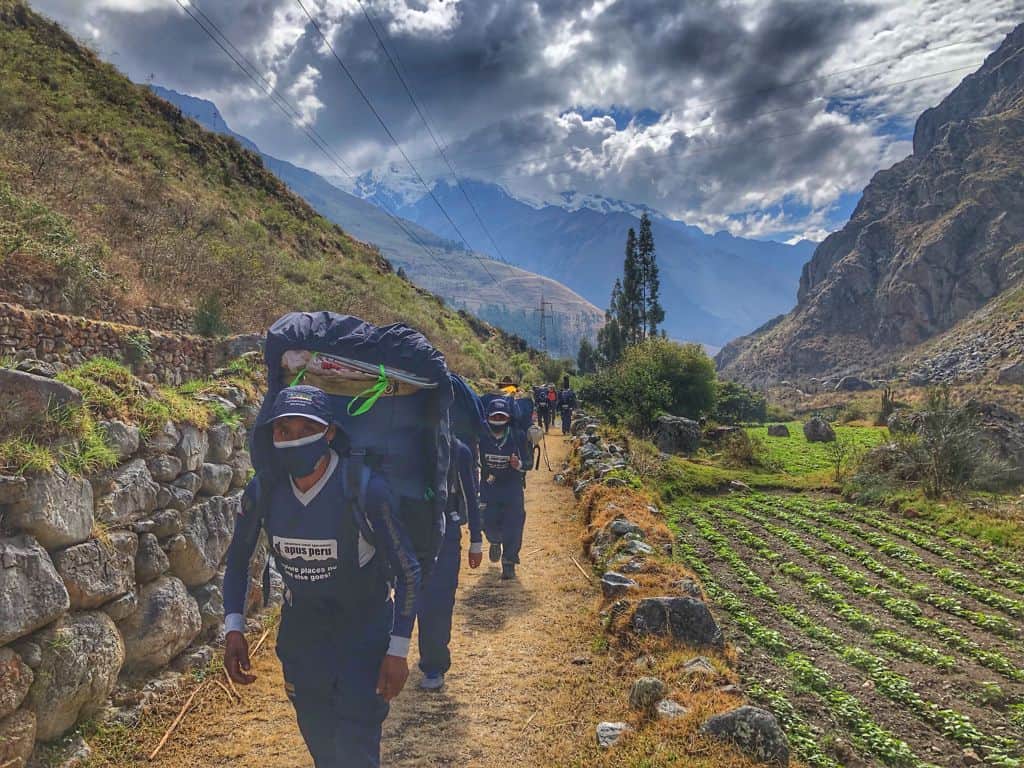 Lares Trek vs Inca Trail: What Are the Main Differences?
It is difficult to compare the Lares Trek to Machu Picchu with the Inca Trail. They are both classic treks that lead to the Inca citadel of Machu Picchu. They are two of the best treks in Peru. Which trek will best suit you?
The Inca Trail is, without doubt, the most famous trek in South America and as such, it is always busy and can get very congested. You need to book well in advance. It is a four-day trek and it passes primarily through Inca ruins, stunning scenery, and uninhabited areas.
The Lares Trek, however, is much less busy and much more of a cultural experience. It passes through villages and farms inhabited by modern-day Andean people and gives the opportunity to interact and learn more about the locals.
Both have their own set of trekking challenges. While the Lares Trek terrain is somewhat easier than the Inca Trail, it reaches higher altitudes. The two Andean treks also highlight different things: what the Lares trek lacks in Incan ruins, it makes up for in a contemporary Andean cultural experience. Both feature stunning scenery.
Keep reading for more of the differences between Lares and the Inca Trail!
Distance: Lares vs Inca Trail
INCA TRAIL: The classic Inca Trail route is the longer of the two treks and is 39 km or 24 miles. It starts in the Sacred Valley, in the area of Piscacucho, also known as Km 82, which is a small village on the railway line between Cusco and Aguas Calientes. Trekkers normally take four to five days to complete the trek.
LARES TREK:  The 4-day Lares route to Machu Picchu is shorter, at about 30km (18.6 mi) and takes three days to trek plus an extra day for the Machu Picchu extension. The classic 4-day trek and the 5-day Lares trail are both longer, coming in at 40km (24.9 mi) and 69km (42.9 mi), respectively, but don't automatically include Machu Picchu.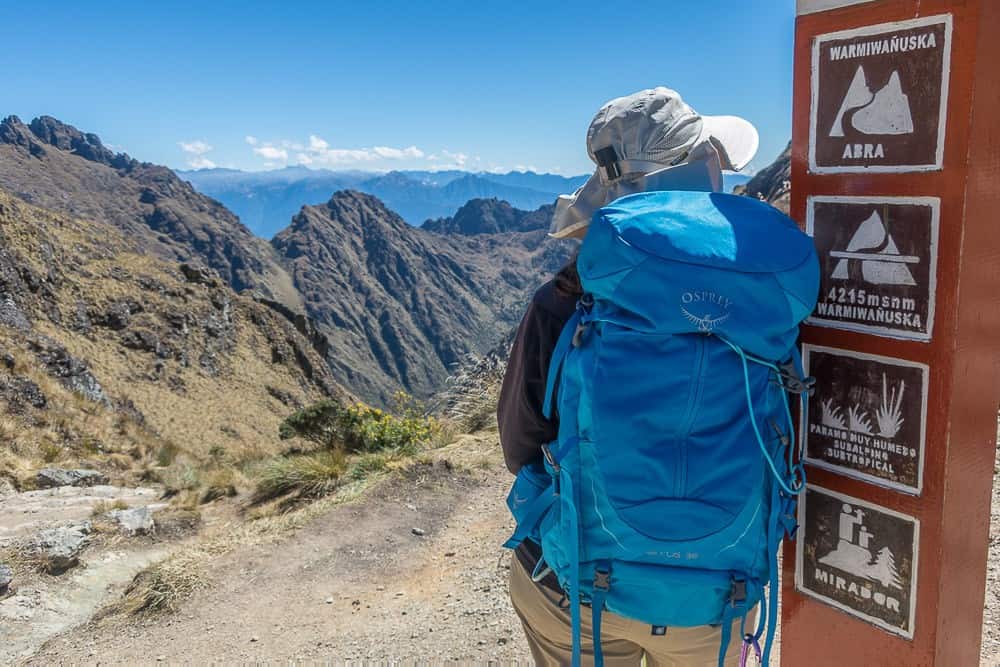 Altitude: Inca Trail vs Lares Trek
INCA TRAIL: The highest point on the Inca Trail is 4215 meters or 13,828 feet. This is known as Warmihuañusca, or Dead Woman's Pass. You will additionally hike a second high-altitude mountain pass, Runqurakay Pass (4,000m). The highest located campsite on the Inca Trail is at an elevation of 3,600m.
LARES TREK: The altitude is higher on the Lares Trek. On the second day, you will reach the highest point at 4,800m. The highest campsite is at 4,220m. Ensure that you take all of the precautions necessary to prepare for the altitude.
Difficulty: Inca Trail or Lares Trek
INCA TRAIL: The Inca Trail is labeled a moderate difficulty trek, and is considered slightly more challenging than the Lares Trail. One of the biggest difficulties on the Inca Trail is STEPS! Google says that there are over 70,866 steps on the Inca trail, and some of them are big steps, about 10 to 12 inches high.
You will need to walk six to nine hours each day. The most grueling day is the second day when you go up and over Dead Woman's Pass.
LARES TREK: The Lares Trek is also considered a moderately difficult trek. It is considered to be slightly less physically demanding than the Inca Trail, with more attenuated elevation gains and losses, even, rocky paths and no stone steps.
Read more about our difficulty rating system here.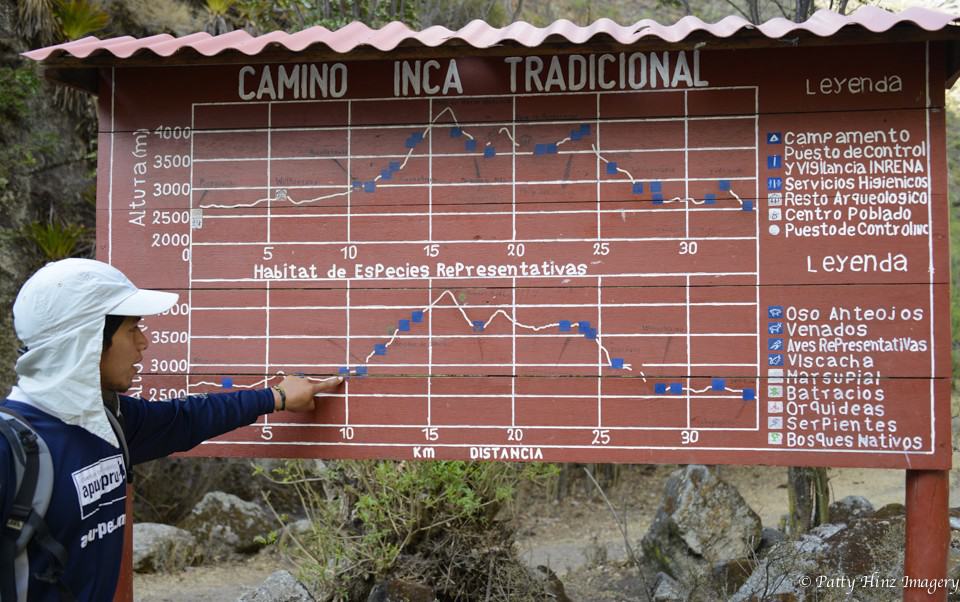 Availability: Lares vs Inca Trail
Availability could be an important deciding factor on which trek you choose, as not all treks are available year-round. Click here to check out our monthly chart on trek availability.
INCA TRAIL: The Inca Trail is fully booked nearly every day of the year, as just 500 people are permitted on this trail each day, including about 300 trail staff and only 200 hikers. It is easy for permits to sell out, especially in high season (May-August), and you should book at least six months in advance. You need to get a permit through an approved tour company.
The Inca Trail is also closed every February for regular maintenance. Due to treacherous conditions during the rainy season (Dec-Mar), we may not operate Inca Trail treks in January or the first part of March. Read more in our Wet Season Trekking policy.
LARES TREK: Though still subject to our Wet Season policy, the Lares Trek is one of the few trails that can usually be hiked all year round.
As you do not need any permits and it is less popular than the Inca Trail, you can book a trek to Lares as little as a week before your departure. However, at Apus Peru we encourage you to book at least a month in advance so that the trekking staff can plan their lives!
Scenery: Inca Trail vs Lares Trail
INCA TRAIL: I can say without hesitation, there is no route in the world that is quite like the Inca Trail, which does make it mighty special! You will get to see magnificent mountain vistas, a mystical cloud forest, fascinating Incan ruins, and the sunrise from the Sun Gate over Machu Picchu. Without a doubt, the Inca Trail has a great deal of stunning scenery!
LARES TREK: What the Lares lacks in variety of landscapes, it makes up for in stunning high alpine lakes and views across windswept, almost moon-like valleys dotted with stone houses.
But what you WILL get on the Lares Track in abundance that you will not get on any other trek in the Andes are fields dotted with people wearing their traditional dress, including handwoven ponchos, and very unique hats. It is NOT a show for tourists. They wear these clothes every day of the year. This view into a world long gone might not be described as spectacular scenery but it is a once-in-a-lifetime view, all the same.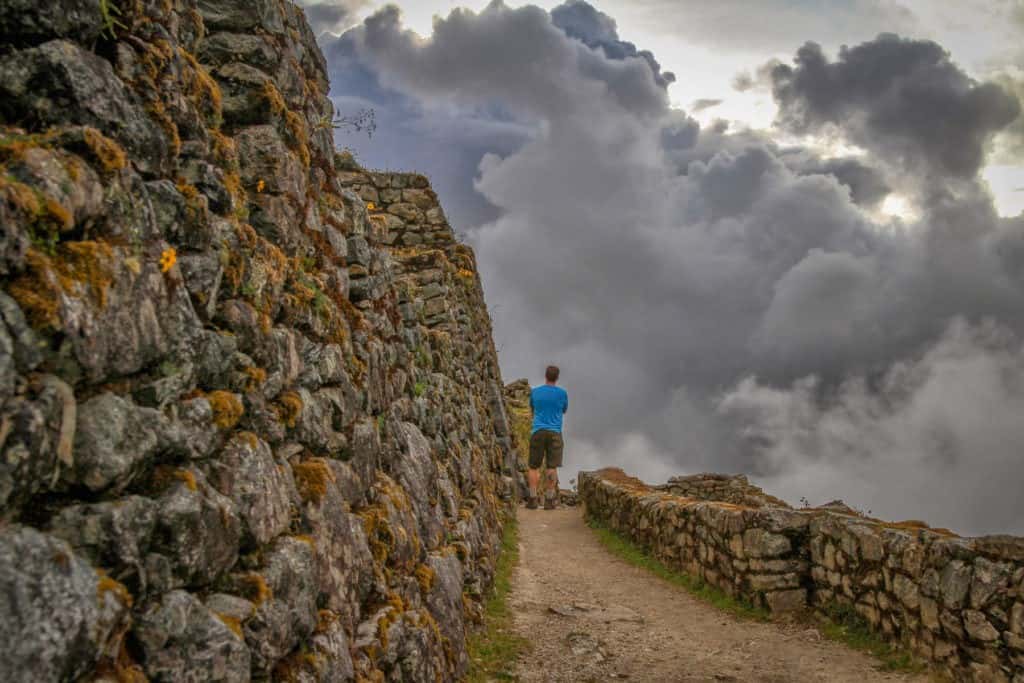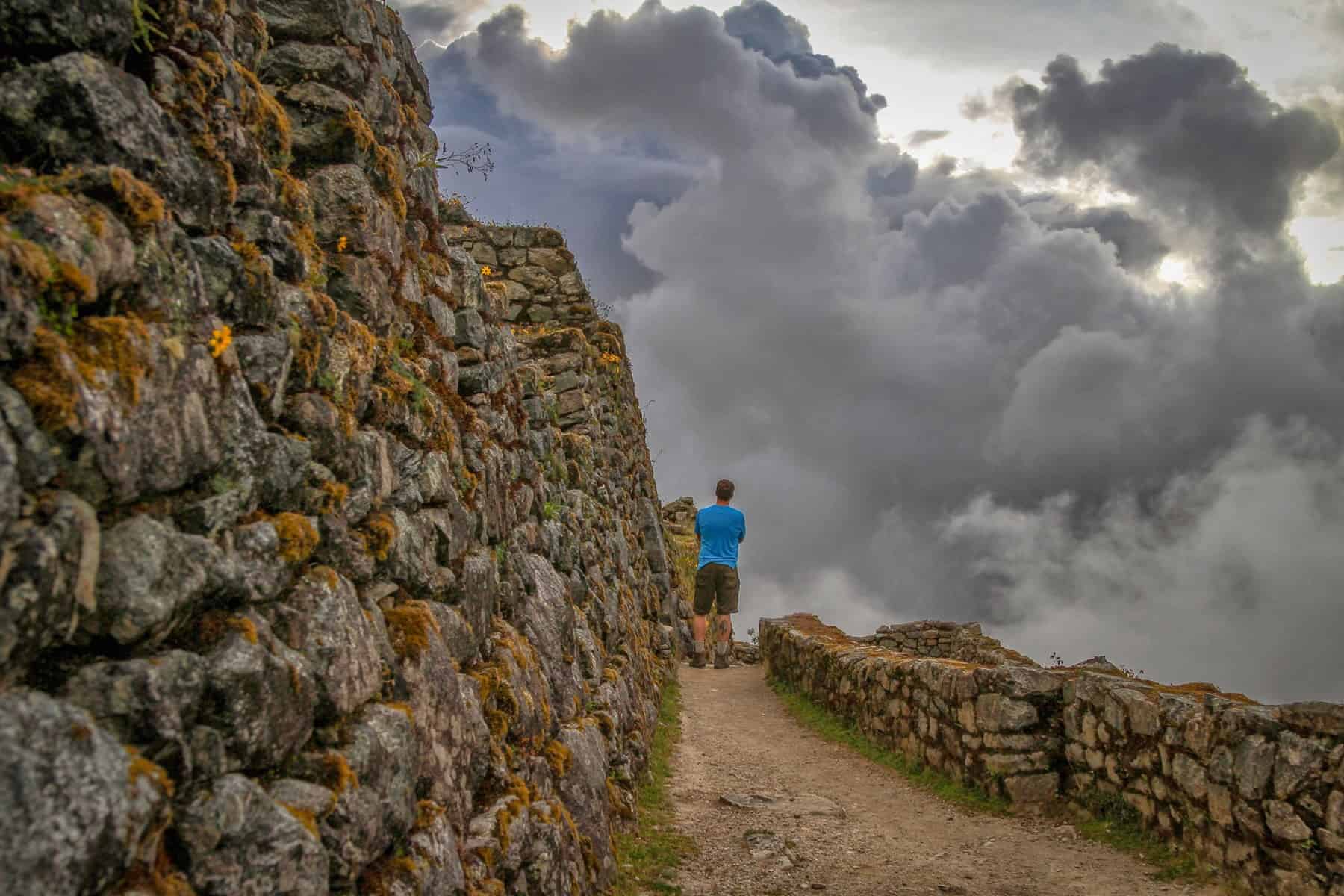 Remoteness & Adventure Ratings
INCA TRAIL: Retracing the footsteps of the Incas along a centuries-old stone path, part of the famous Qhapaq Ñan or Royal Way, and walking through the Sun Gate into Machu Picchu, a magnificent ancient site reintroduced to the world just over 100 years ago, is definitely adventurous. You're like Indiana Jones!
The problem with the Inca Trail is that there are hundreds of Indiana Joneses hiking it every day. The Inca Trail is always busy and you will see a lot of other hikers and porters as you travel. You will frequently see, hear and interact with other groups
LARES TREK: The Lares Trek, on the other hand, is more "off the beaten path" and with considerably fewer trekkers and congestion to deal with and you don't need any trekking permits.
When it comes to remote and unique experiences on a Machu Picchu adventure trek, there is no contest – Lares trek, Peru is a far more remote experience. You walk through remote villages and farms and get the opportunity to interact with the local people and learn all about their way of life. You will be trekking in the Sacred Valley through glacial valleys, lakes, waterfalls and see landscapes that have changed little over the years.
Facilities on the Lares Trek vs Inca Trail
INCA TRAIL: The Inca Trail facilities mostly involve government-managed campsites. These are mostly fairly basic and unfortunately are often insufficient to accommodate large numbers of hikers, with overcrowding and limited bathroom facilities. You can, however,  upgrade to a more upmarket glamping option, which has privately set up bathrooms and offers gourmet meals. Porters are used for carrying equipment of up to 15 pounds per hiker and you only carry what you need for the day. There are only one or two squat toilet blocks along the trail.
LARES TREK – Everyone who hikes the Lares Trail to Machu Picchu camps for the first 2 nights, then the third night is spent at a comfortable hotel in Aguas Calientes. Unlike on the Inca Trail, mules carry all gear and equipment, rather than porters. Read more here about our camping equipment and what to expect on the trail.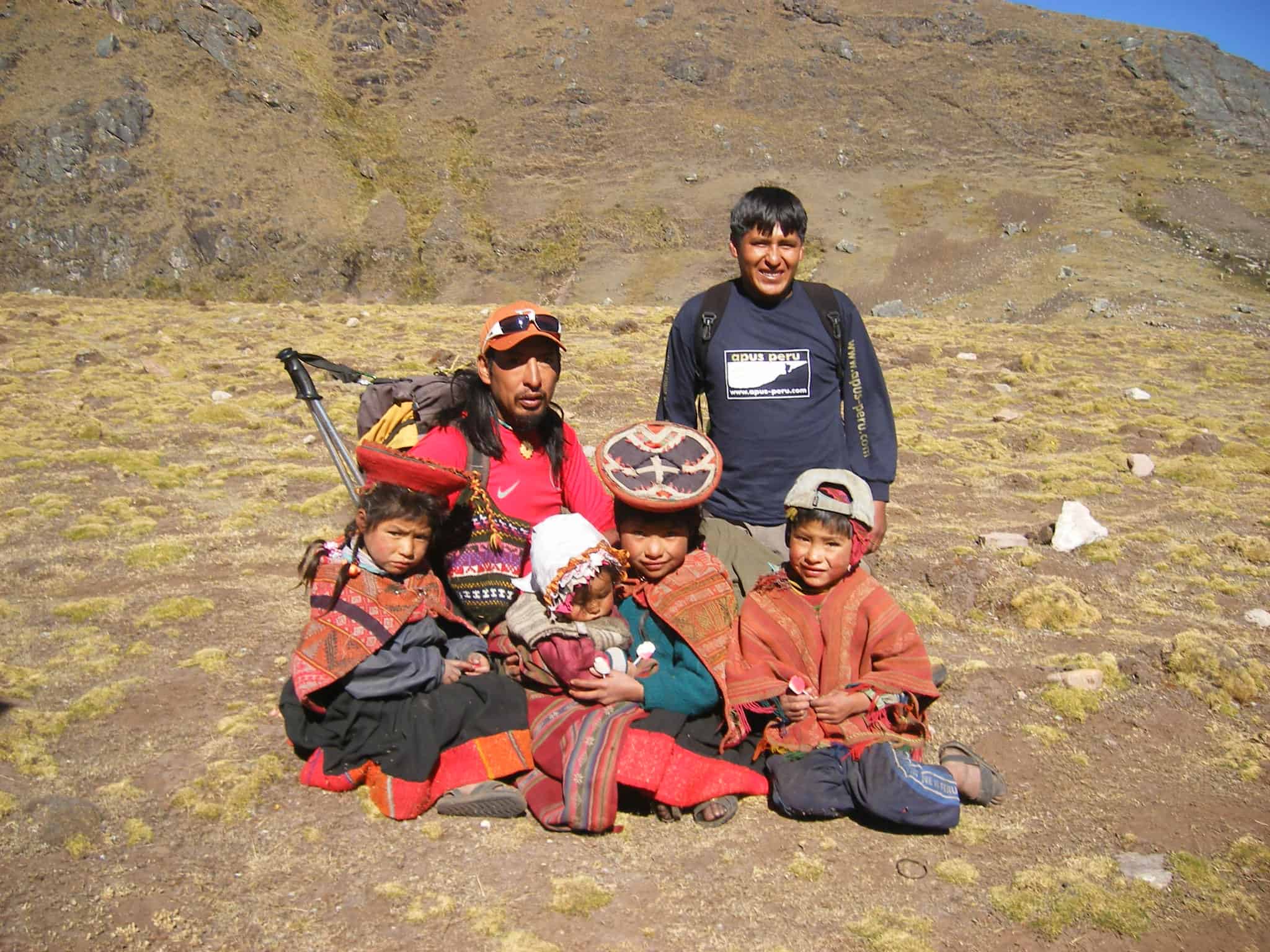 Family Homestays on the Lares Trek
Most of our Lares trek itineraries offer the unique chance to stay with a traditional Andean family in Chaullacocha.
Working in partnership with the local communities, Apus Peru heard the local people when they said that they wanted to diversify their income from tourism. Mostly, the income earned in the Lares Valley is via men working as porters on the Inca trail, or hiring out their mules and working as muleteers. Women earn a small income from traditional textiles working with organizations like Threads of Peru (get to know the Chaullacocha weaving association here).
If you book a private tour with Apus Peru you can, at the same time, book a Peru family homestay, and support a local family and be welcomed into their lives. This is the epitome of cultural immersion and they have not had so many visitors that they are bored with meeting them (yet)!
A Luxury Lares Experience: Mountain Lodges of Peru
Most well known as purveyors of luxury lodge accommodation on the Salkantay route, the Mountain Lodges of Peru also have two lodges in the Lares region. These beautiful lodges are a fantastic place for people who want to get into the Peruvian mountains but don't want to sacrifice comfort.
The lodges uniquely conceived through thoughtful architectural design include traditional Inca building techniques and a nod to their respective environments. They offer all the comforts of home along with top-notch amenities and exceptional service.
There are spots to relax and meditate at each lodge, welcoming patios, private guest room balconies, fire pits, and outdoor hot tubs-all with inspiring views of the region.
Lodge menus are comprised of traditional recipes prepared with innovative neo-Andean cuisine flair. Each ingredient is locally sourced with an emphasis on farm-to-table sustainability.
Local staff provides exceptional service and care from the moment you arrive: warm towels and refreshments in the afternoons, hot water bottles and herb-infused pillows at night.
It's a wonderfully luxurious experience. Contact us for more details, or to book this experience on your Lares trek!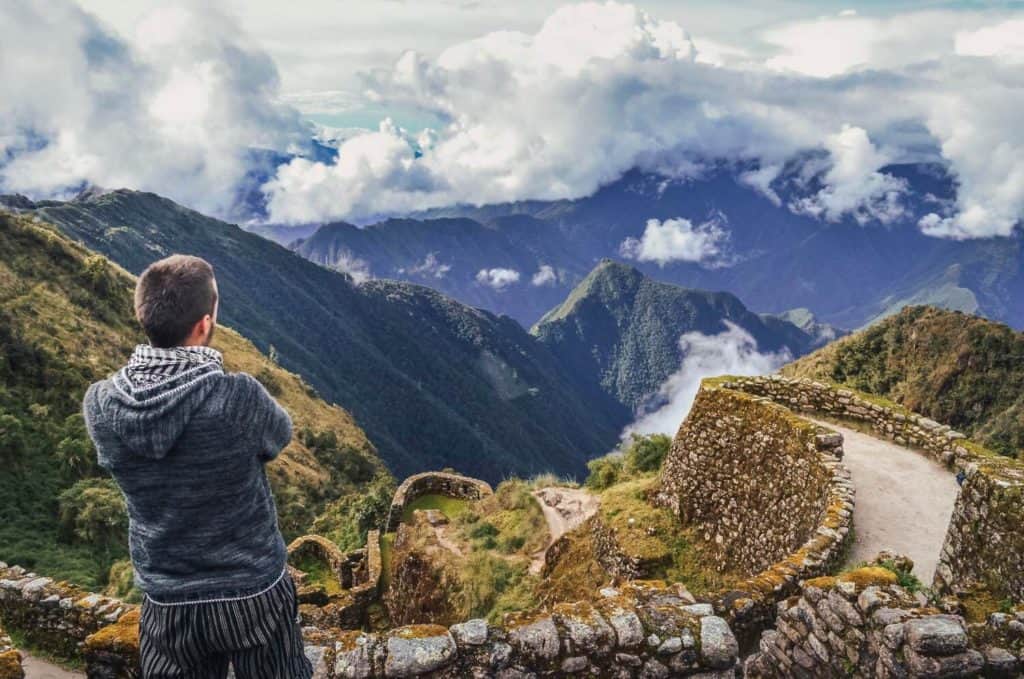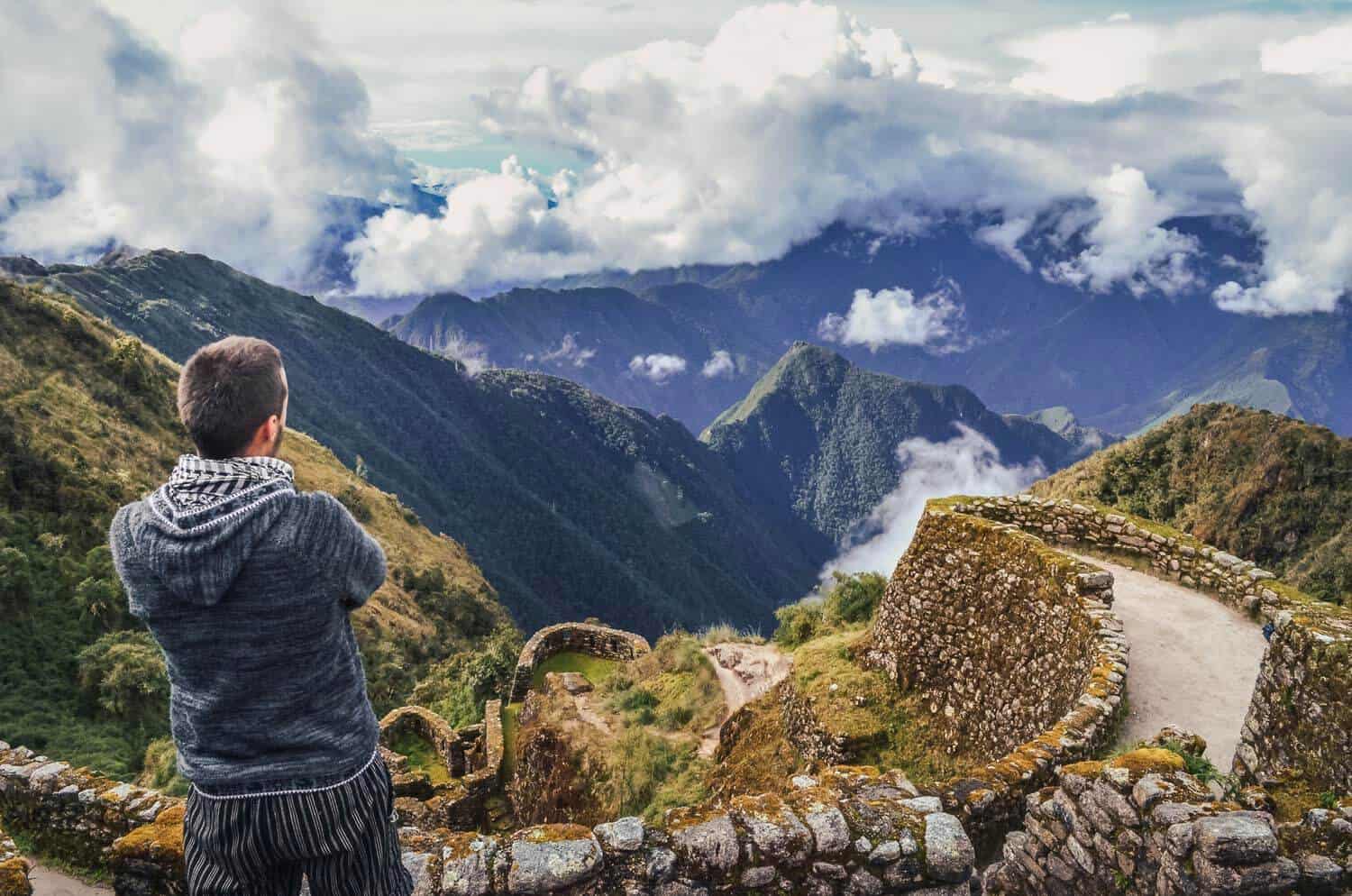 Which Route Is Best for Seeing Inca Ruins?
INCA TRAIL: Without a doubt, the classic Inca Trail is the best trekking route to see Inca ruins. There are at least five fascinating archaeological Inca sites scattered along the trail and best of all, you won't have to contend with tourist crowds to see them. There will only be the other people hiking the trail who will have the opportunity to view these spectacular Inca ruins.
LARES TREK: There are no ruins on the Lares trek, with a few small caveats. Some agencies stop at the ruins of Ancasmarca en route to Lares town and hot springs, while others (like us) will make a detour to Pumamarca, which is a ruin below Patacancha.
Walking Through the Sun Gate
On the  Lares Trail, you don't arrive at Machu Picchu via the Sun Gate. How important is this to you?
In reviewing the pros and cons of the Lares vs Inca Trail conundrum, there is a general consensus that the biggest downside of the Lares trek is not being able to walk into Machu Picchu through the Sun Gate. For a lot of people, the Sun Gate is an interesting Inca construction and exciting because it marks the end of the Inca trail, and the entrance into Machu Picchu.
In our opinion, whether or not you get to walk through the Sun Gate into Machu Picchu shouldn't be the deciding factor on whether you choose the Inca Trail or Lares Trek.
For starters, you can hike up to the Sun Gate during your tour of Machu Picchu at the end of your Lares trek. But for the best of both worlds, you can also do our Lares & 2-Day Inca Trail hike. This 4-day tour combines two days of hiking on the Lares trail with the 2-day Short Inca Trail. It won't be at sunrise but on this journey, you do get to walk through the Sun Gate on Day 3 as you complete the Inca Trail portion of this combined trek. After a night in a comfortable hotel in Aguas Calientes, you visit Machu Picchu on the last day before heading back to Cusco.
The Weather: Best Months to Trek Inca Trail vs Lares Trek
As the crow flies, the Inca Trail and the Lares treks are geographically extremely close to one another, and therefore they are subject to the same weather. The temperatures for both treks during the year range from 0°C (32°F) to 27°C (80°F) and the average daytime temperature is 18°C (65°F).
In general, the driest, and therefore best months to trek, are from May through September. Shoulder months like April, October, and November are also good trekking months but you need to pack your wet trekking gear, just in case.
The Inca Trail is closed in February for maintenance due to the risk of rockfalls with heavy rain. Apus Peru does not operate the Inca trail from early January onwards, especially in particularly wet years, when the heavy rains loosen rocks from above and have killed trekkers in the past.
On the other hand, the Lares trek is excellent for wet season trekking, as it doesn't have the same steep slopes or canyons found on most of the other treks in the region. Be prepared for some snow in the wet months – it usually isn't heavy but is cold and an inconvenience.
Find awesome inspiration here for visiting Machu Picchu in the rainy season.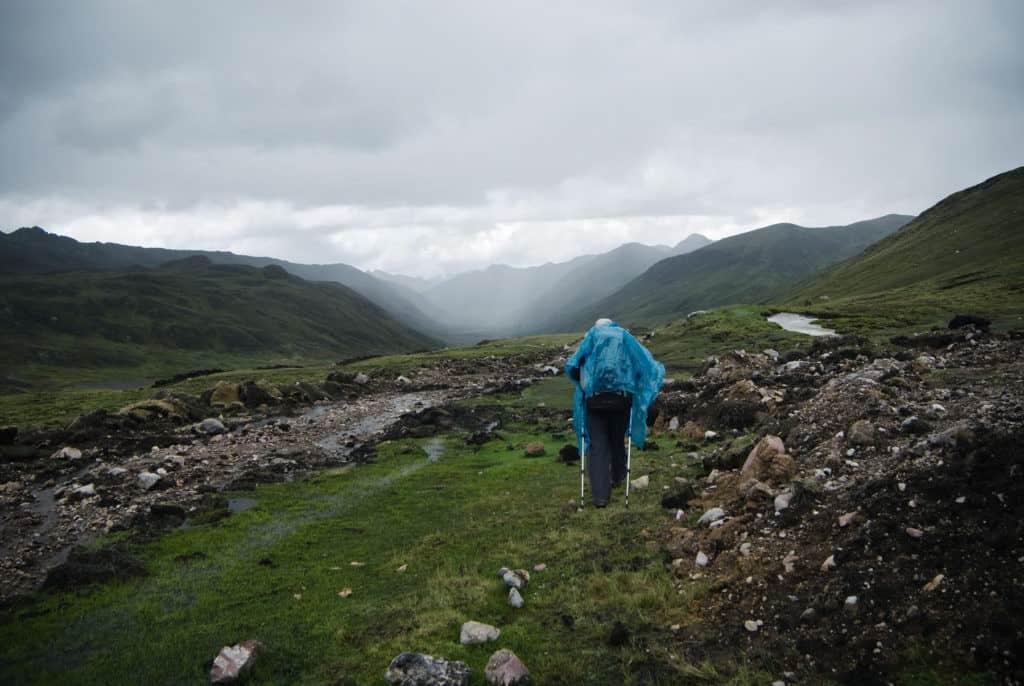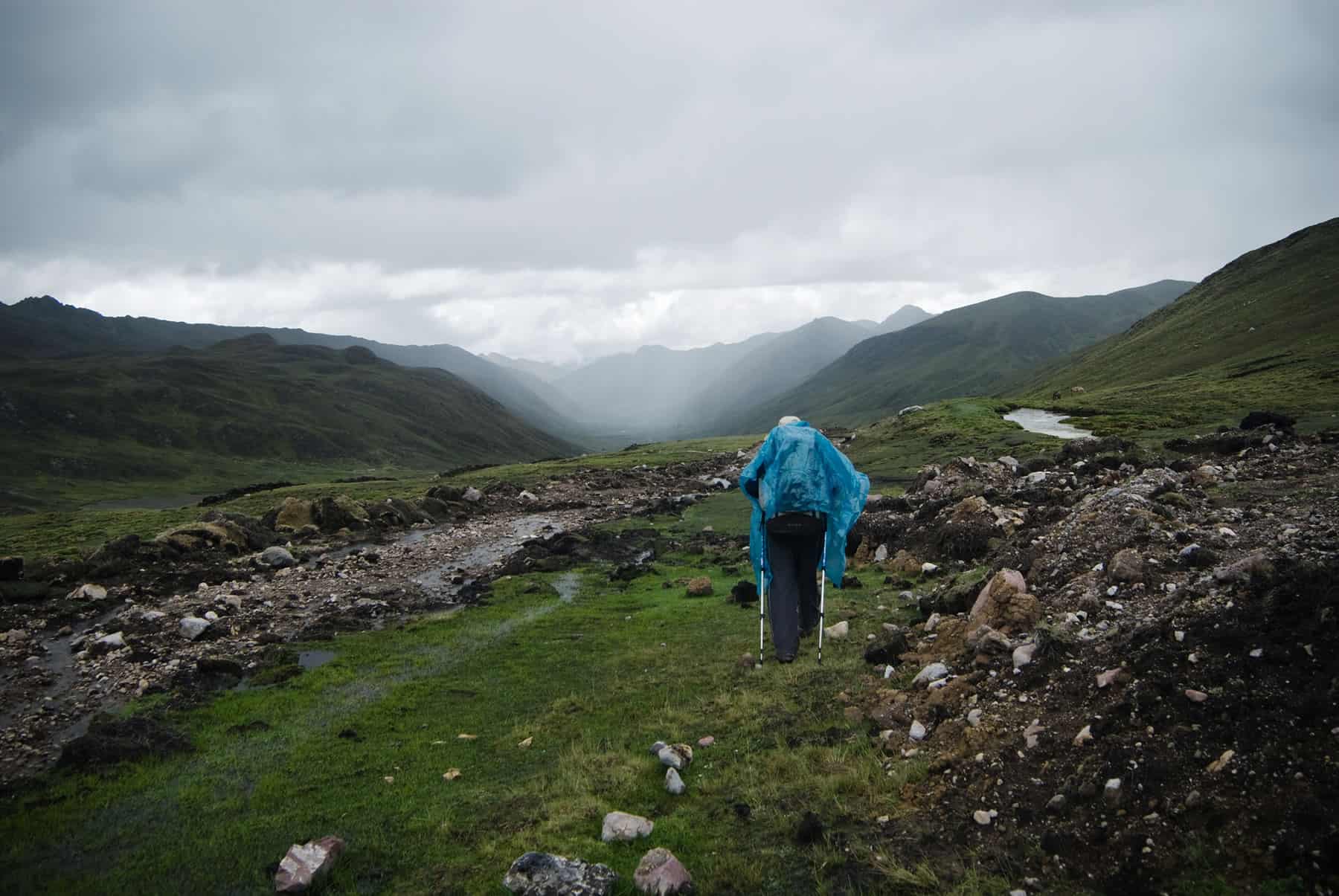 Comparing the Inca Trail to More Alternative Treks Around Cusco
While the Inca Trail is typically the first – or only – trek that comes to mind when thinking of Peru, there are actually a tonne of amazing trekking opportunities around Cusco. Any of these treks make a great alternative to the Inca Trail when it sells out. Here's a brief taste of a couple of the most popular alternatives (other than the Lares trek):
Choquequirao
Choquequirao is an entirely different experience than the Inca Trail, but it tops our list as one of the great alternative treks because the Choquequirao ruins themselves really rival Machu Picchu.
Called the Cradle of Gold, Choquequirao is Machu Picchu's "sister city" and is a spectacular Inca ruin. Currently only accessible on foot, it sees a fraction of the traffic that Machu Picchu does.
For more about how Choquequirao compares next to the Inca Trail, stay tuned for our forthcoming post.
Salkantay
Since the Inca Trail first started being regulated by the government, Salkantay quickly became the number two most popular trek to Machu Picchu. As a result, like the Inca Trail, the Salkantay trek can be quite crowded.
It similarly features stunning snow-capped peaks before descending to more tropical climes, challenging climbs and a series of Incan ruins, but it requires an overnight in Aguas Calientes before visiting Machu Picchu. Unlike the Inca Trail, you do not directly walk into Machu Picchu through the Sun Gate on the Salkantay trek.
Read more here about the Inca Trail vs Salkantay.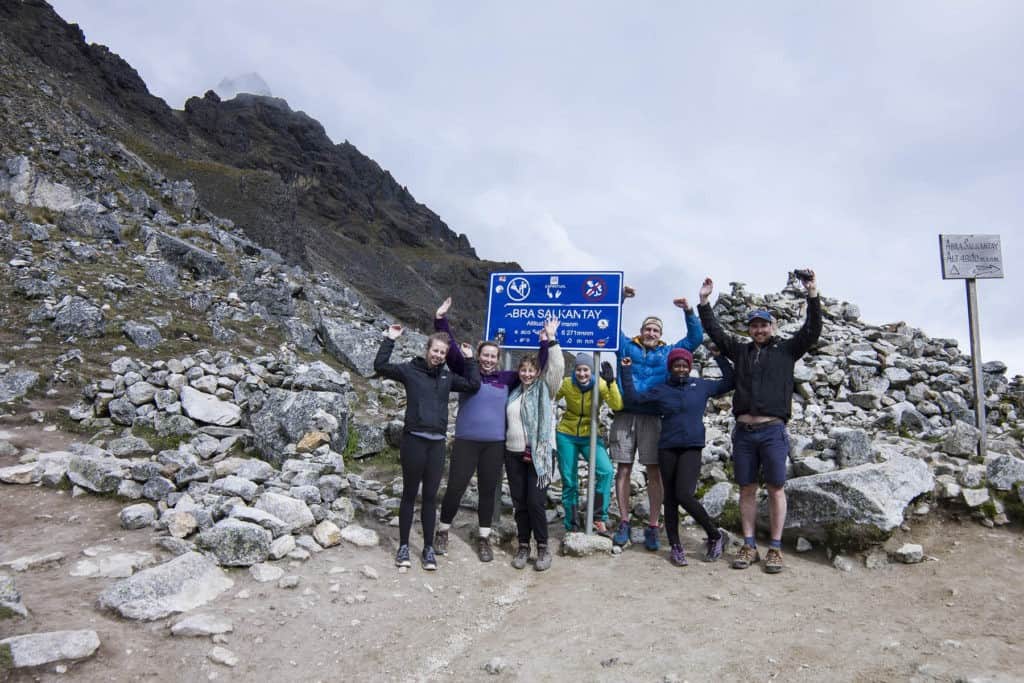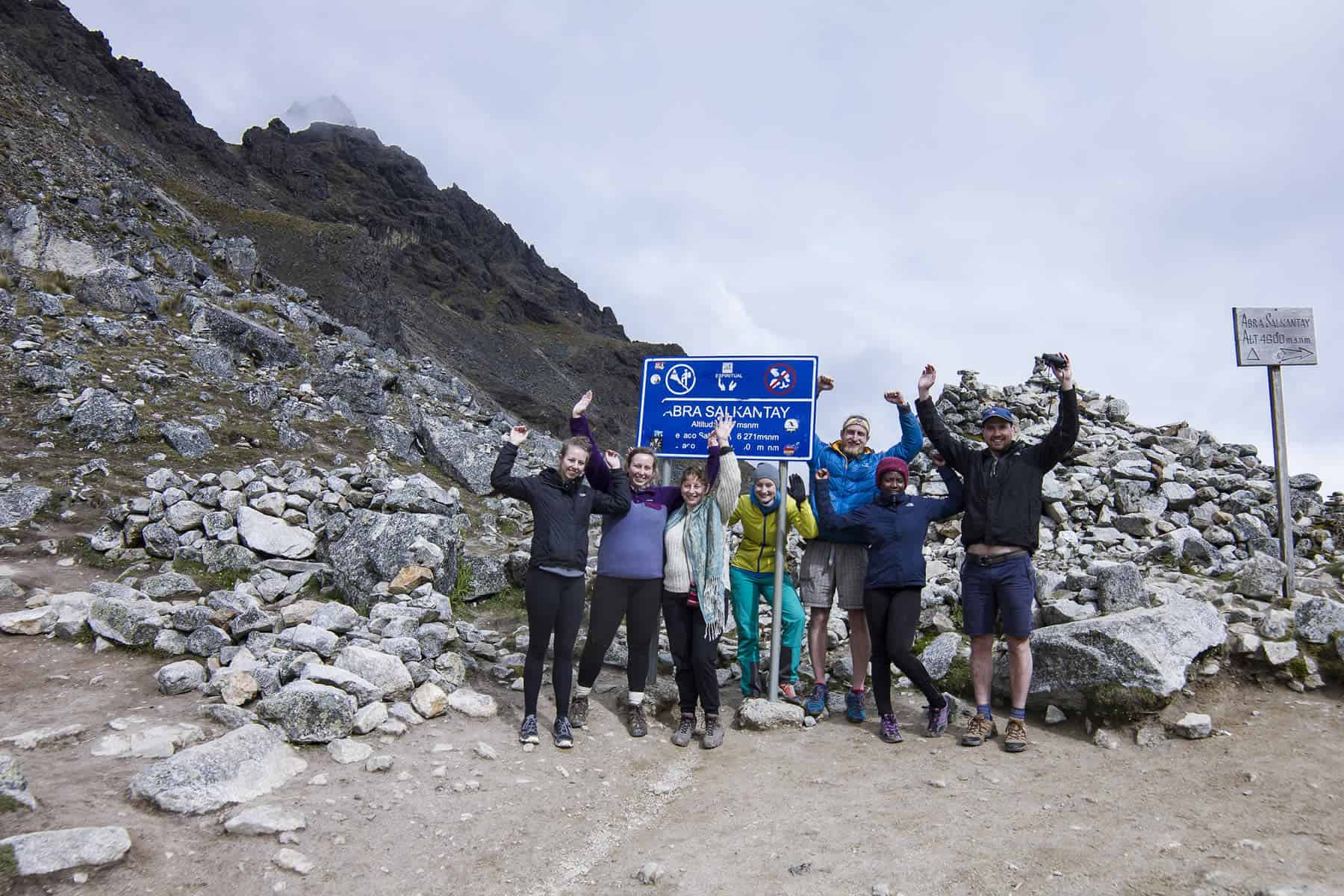 How does Salkantay compare to Lares vs the Inca Trail?
Here are some of the main differences:
Both routes offer 4- and 5-day hiking itineraries;
Salkantay gets busy, whereas the Lares Trek is a less congested, much more off-the-beaten-path experience;
Salkantay can be quite challenging, especially the 4-day trek (read more here about how difficult Salkantay is). By comparison, Lares is an "easier" trek (though by no means "easy"!);
Lares is a year-round trek, and can usually be hiked even during the rainy season, while Salkantay is typically too dangerous to hike during those months (Dec-Mar);
You can't beat Lares for an immersive cultural experience in the Andean highlands, though on Salkantay you do get the opportunity to learn about traditional coffee-making.
Check out our blog for more about the differences between Salkantay and Lares as an alternative to the Inca Trail.
The Verdict: Which Trek Is Best for Me? Inca Trail vs Lares Trek
Whichever trek you choose, you will get to visit Machu Picchu and you can be sure the entire trek will be an amazing and totally memorable experience! Here are some final points to consider when debating the Inca Trail vs Lares Trek:
CHOOSE THE INCA TRAIL IF YOU
Want to see as many Inca ruins and archaeological sites as possible.
Wish to add the Inca Trail – the most famous and original trek to Machu Picchu – to your bucket list.
Don't mind sharing your trek with a lot of other trekkers.
Have plenty of time to pre-book, as you will probably need to apply for your permit at least 6 months ahead of your trek.
Want the chance to see stunning Andean vistas and mysterious cloud forests and cross the infamous 4215m Dead Woman's Pass.
It's important that you walk into Machu Picchu via the Sun Gate.
CHOOSE THE LARES TREK IF YOU
Prefer a less congested trek and a more peaceful trekking experience than the Inca Trail.
Want to get off the beaten
Wish to make the trek to Machu Picchu at short notice and at any time of the year.
Want the opportunity for a more cultural experience. The chance to meet, learn more about, and interact with the local people in their remote villages.
Visit Machu Picchu from Aguas Calientes on the last day.
See stunning mountain scenery with waterfalls, lagoons, and mountain lakes.
Like it? Pin it!
Keep Reading