Salkantay vs Lares
What is the Best Alternative to the Inca Trail?
When Inca Trail permits sell out
Let's face it: most people who come to Peru with the dream of hiking to Machu Picchu want to do so by hiking the famous Inca Trail. With its massive and ever-growing popularity, however, it can be hard to actually get a spot hiking the Inca Trail! Government regulations limit the number of people who can hike the Inca Trail to just 500 per day – and that's not just hikers but guides and porters, too! Permits can sell out as much as six months in advance. When the Inca Trail is sold out, many people turn to Salkantay or Lares as an alternative. But how do you decide between Salkantay vs Lares?
> Read more about what to do when there are no Inca Trail permits

Salkantay vs Lares: What's the difference?
When Inca Trail permits sell out, most people turn to either the Salkantay Trek or the Lares Trek as the "next-best-thing." They are both good alternative treks to Machu Picchu. Many people wonder about the difference between these two alternative treks in Peru, and wonder which one is the "best" alternative trek to the Inca Trail. In our humble opinion, both treks are great and have different things to offer. Here we walk you through some of the pros and cons of each route and their highlights, to help you make an informed decision about what is the best Andean hike for you.
Salkantay vs Lares: At a Glance
SALKANTAY TREK

LARES TREK

Walk almost all the way to Machu Picchu: ends in Santa Teresa, very near to Aguas Calientes
Geographically close to the Inca Trail
Highest point reached: 4600m
Very popular: the Salkantay trail and especially the campsites can get crowded
Highlights: incredible snow-capped peaks, alpine vistas, followed by a descent into Andean jungle
No Incan ruins
Optional hot springs in Aguas Calientes
Often less expensive
Only available during dry season (April-October)

Ends in the Sacred Valley, and requires you to take a train to Machu Picchu
Situated in the highlands above the Sacred Valley
Highest point reached: 4400m
Off-the-beaten-path: many fewer tourists hike the Lares trek
Highlights: stunning glacial lakes, alpine vistas and the chance to immerse yourself in present-day Andean culture
No Incan ruins
Includes a stop at the Lares hot springs
Typically more expensive due to the train ride to Machu Picchu
Available all year round; makes a great wet season trek
Keep reading for more about the differences between the Salkantay trek and Lares Trek >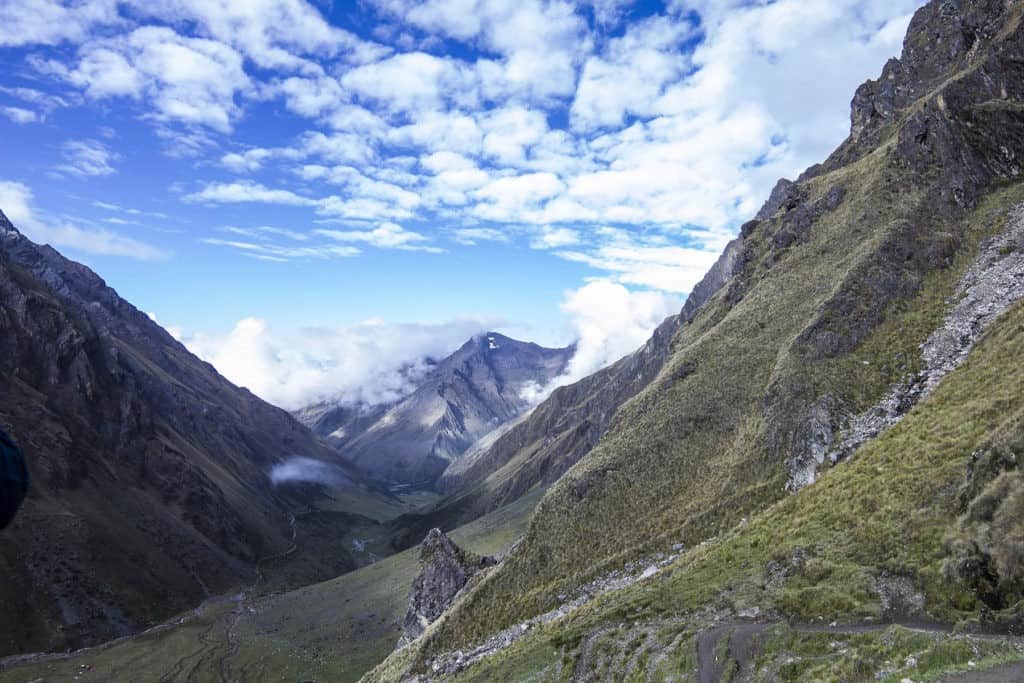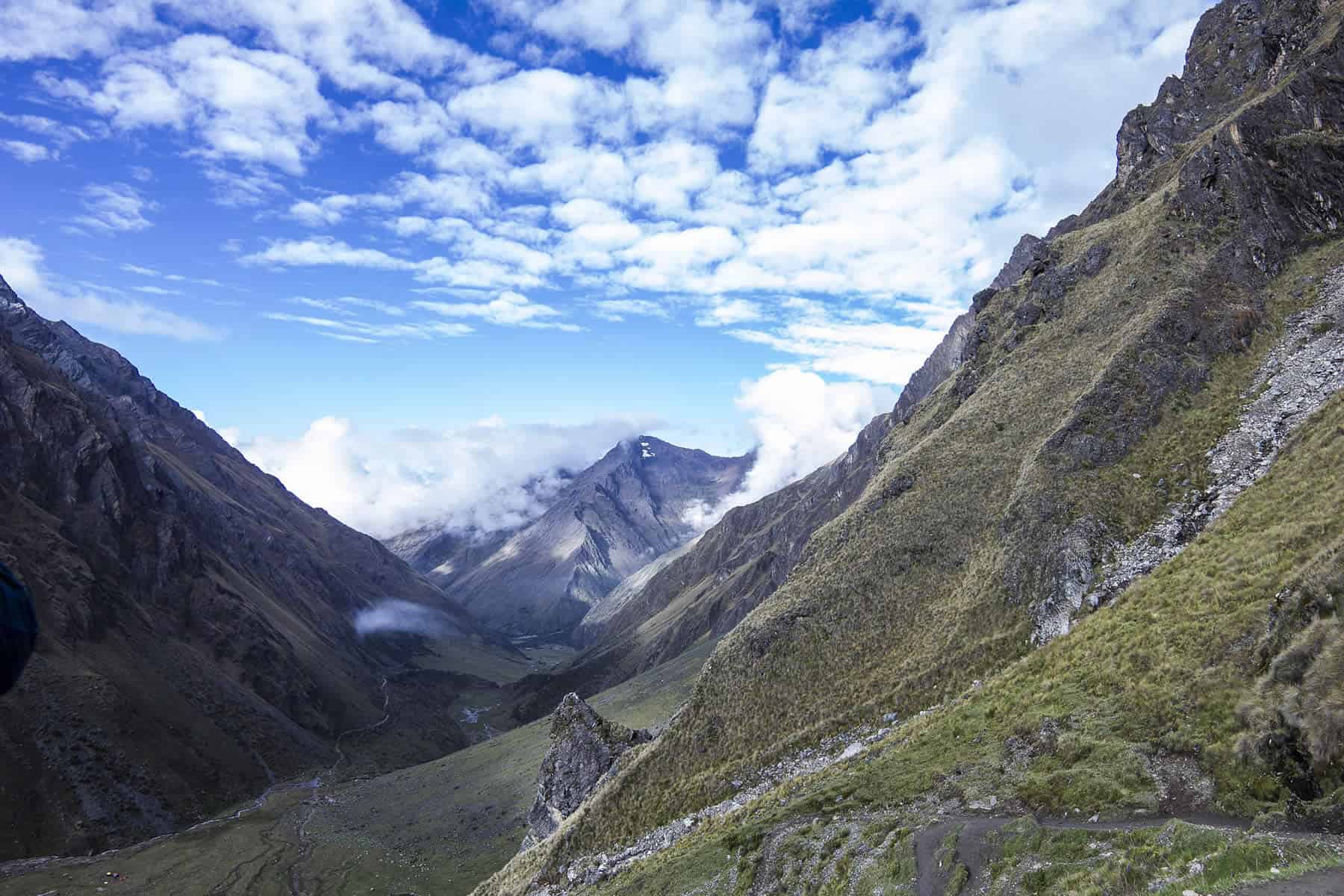 THE SALKANTAY TREK
Trekking Salkantay: the Original Inca Trail Alternative
The Salkantay Trek (also known as the Sallqantay trek or Salcantay trek) is probably the second-most famous trek in the Peruvian Andes. When the Inca Trail started to get more and more crowded and the government decided to impose regulations limiting the number of annual trekkers, local trek operators jumped on the Salkantay trek route as "the" alternative trek to the Inca Trail. This gave Salkantay a head start on the other alternative Machu Picchu treks in the region.
Check out our page on the Salkantay route for more information about this trek and to see more photos.
Salkantay Mountain
The Salkantay mountain is an important apu in the Andean region, and the second-highest peak in the Vilcabamba mountain range. Located about 60km (40mi) northwest of Cusco city, the name Salkantay comes from the Quechua word sallqa which means wild, savage or invincible. Interestingly, although not visible from Machu Picchu itself, during the rainy season (November-March), the Southern Cross constellation sits directly above Salkantay Mountain's peak, as viewed from Machu Picchu's main sundial. As a result, the ancient Incas associated Apu Salkantay with weather, rain and fertility.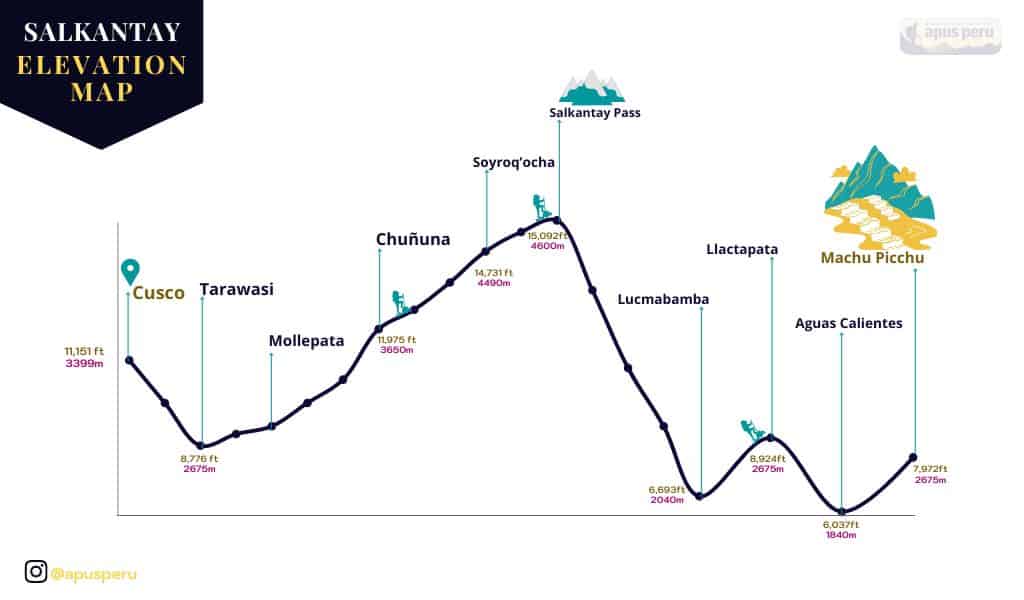 > Check out our Salkantay treks to Machu Picchu:
Hiking the Salkantay Trail
The Salkantay trail takes you over soaring mountain passes (located at an altitude of 4600m / 15,092 ft), passed snow-capped peaks, and down into the Andean jungle at just about 1000m above sea level. It's an incredible journey through changing scenery, with additional options near the end to hike up to see Incan ruins or even take a thrilling ride on a zipline. The Salkantay trek is only available during dry season (April-October) as the chance of mudslides makes it dangerous to hike during rainy season (November-March). Click here to find out how difficult the Salkantay trek is.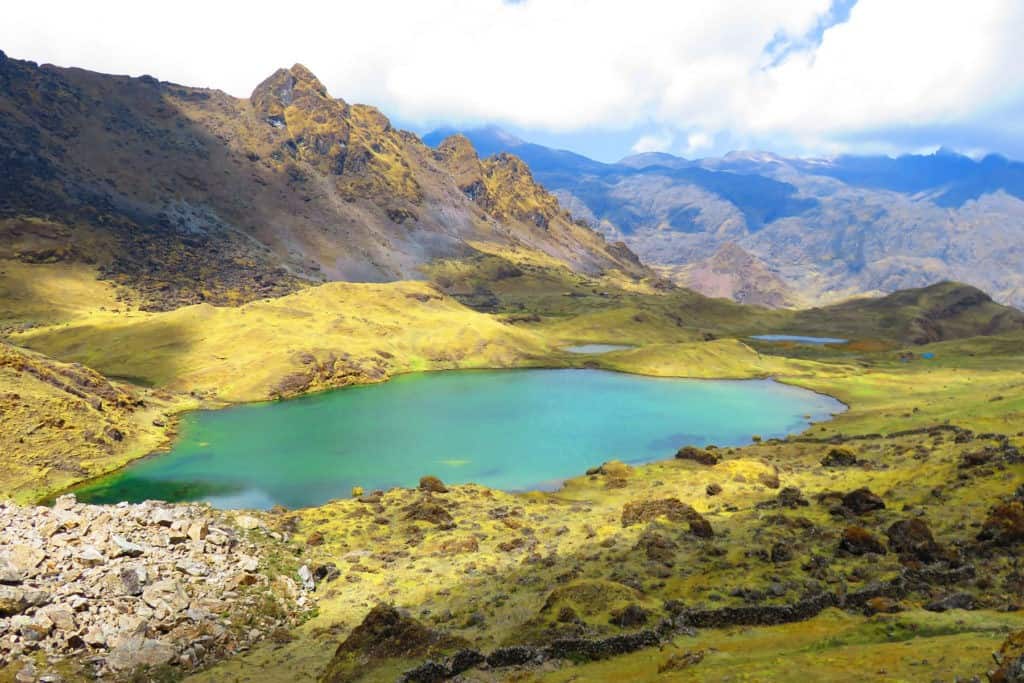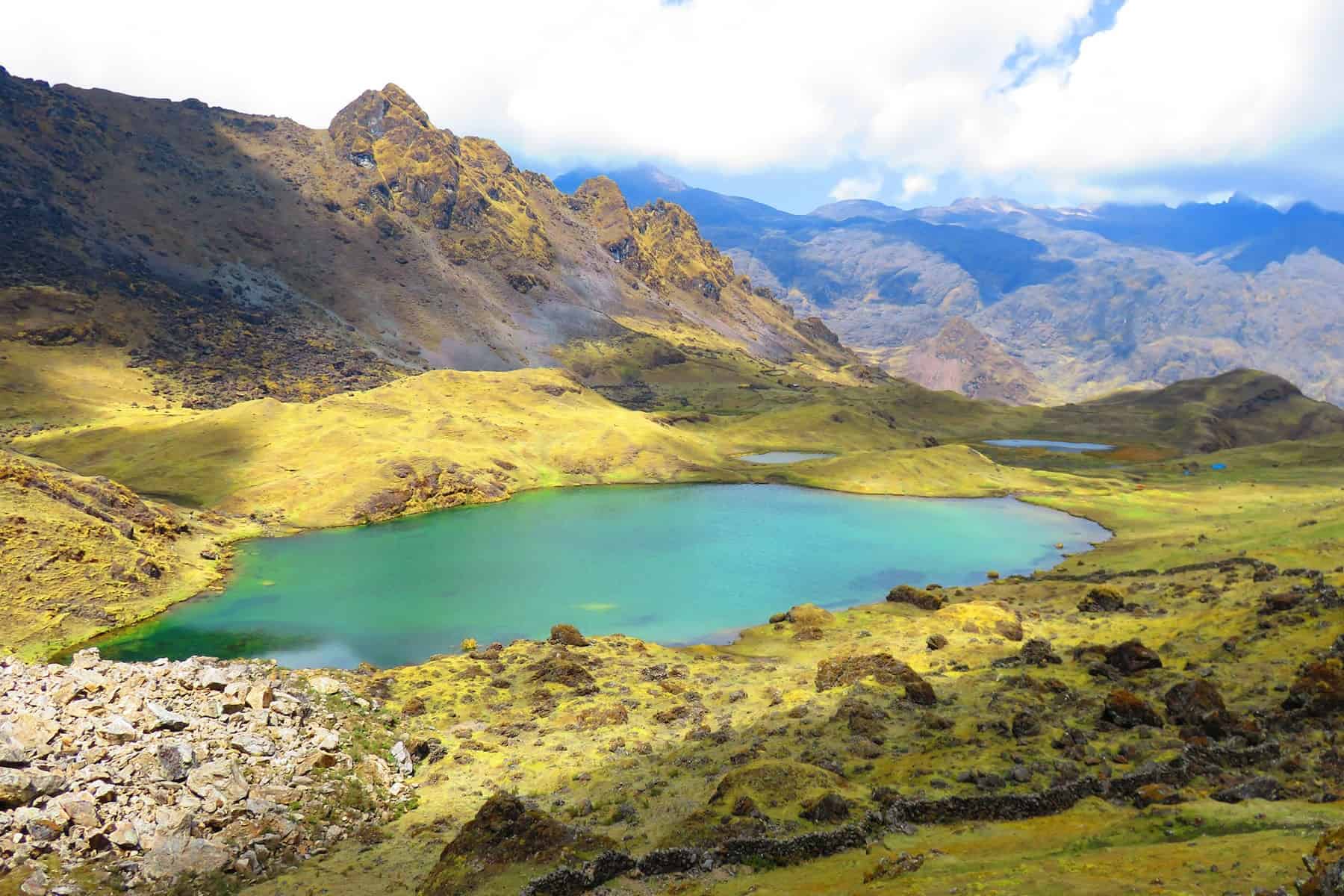 THE LARES VALLEY TREK
The Lares Valley: Another Great Alternative Machu Picchu Trek
Another popular alternative trek to Machu Picchu is the Lares Valley Trek. The Lares Valley is situated in the eastern part of the Urubamba mountain range and is accessed via the Sacred Valley. Despite its reputation as a good alternative to the Inca Trail, the Lares trek is much less frequented by trekkers and you are likely to see hardly another soul on this route.
Find more information and photos about the Lares route here.
Lares Hot Springs
The Lares hike travels through Andean tundra and over some high mountain passes (4400m / 14,436 ft) with views of stunning glacial lakes. Depending on which itinerary you choose, your hike will either begin or end with a stop at the Lares hot springs for a luxurious soak in natural thermal baths.
>We offer lots of treks to the Lares Valley! Check out each one below for a different alternative Peru trekking experience: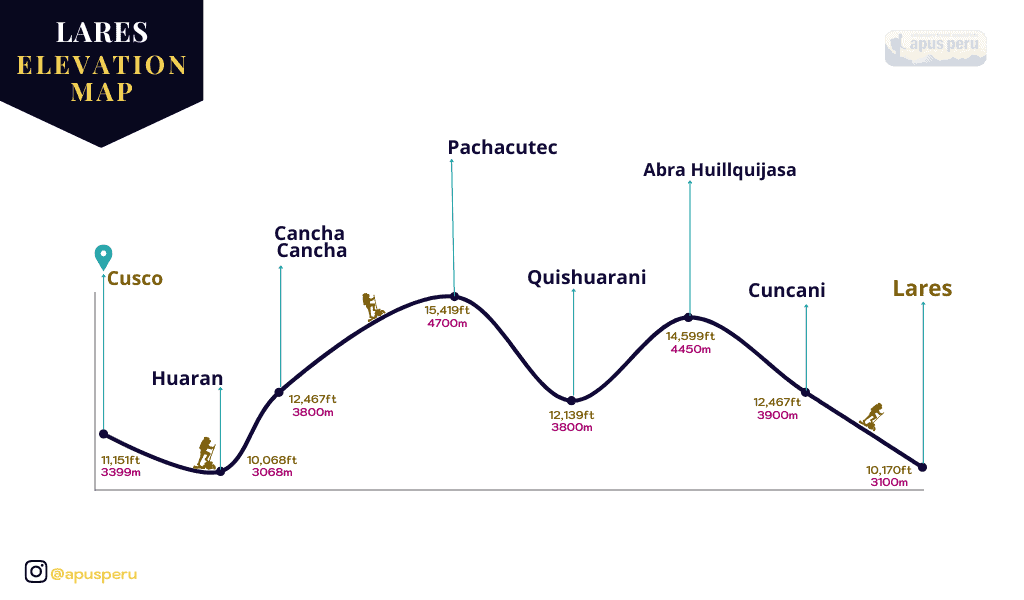 The Lares Trek: An Immersion into Andean Culture
One of the best things about the Lares trek is the chance to immerse yourself in contemporary Andean culture. The route passes near several Andean villages where Quechua-speaking indigenous people continue to practice a traditional, mainly agrarian lifestyle. Quechua culture is renowned for its vibrant textile tradition and you are likely to see women in their colourful dress spinning yarn on a traditional drop spindle or weaving on a backstrap loom.
How are Apus Peru's Lares Valley Treks unique?
Our multiple Lares trek routes are different than the norm, getting you off the beaten track. We have worked in community development in the Lares Valley communities since 2007, including supporting the local school. As a result, we have a very close relationship with the people there, many of whom work as part of our trek staff, from porters to cooks to muleteers. Apus Peru's sister non-profit organization, Threads of Peru, also works with the weavers of Chaullacocha. Travelers who hike many of our Lares Valley Treks often get a chance to visit the school and the weaving association – this is a totally different experience than the average Lares trek!
Please tell us at the time of booking if visiting the weaving association or school is important to you!
Lares Trek vs Salkantay Trek
So which one is better?
It all depends on what you are looking for in a Peru trek. Both the Lares trek and the Salkantay trek are incredible hikes around Cusco. Both offer heart-pumping physical challenge and breathtaking scenery. When you're choosing between Lares vs Salkantay, it comes down a few key factors:
Time of year – if you're planning to hike between November and March, Lares is your go-to alternative Peru trek
Solitude vs camaraderie – the Lares trek offers time for reflection and quiet in the mountains, with few other trekkers, whereas on Salkantay you're likely to meet lots of other trekkers.
Ancient vs Modern Peru experience – you won't pass any ancient Incan ruins on the Lares trek, but, unlike the Salkantay trail, you will get a glimpse into the traditional lifestyle of modern-day Andean people.
When you're choosing whether to hike Salkantay to Machu Picchu or the Lares route, you should evaluate what it is you're really looking for in a Peru hike. Either way, you will not be disappointed!
Do you want to book a Salkantay or Lares trek with Apus Peru? Get in touch with one of our Trek Experts to start planning your Peru adventure!