When the wrought iron gates part and you step into this distinctive hotel, be prepared to step back in time to Peruvian yesteryear.
The San Agustin Monasterio of Recoleta hotel offers the once in a lifetime opportunity to stay in 17th Century Franciscan Monastery and convent!    Such an opportunity is relatively rare in this price range and this is a wonderful chance to stay in an extremely atmospheric cloister, located alongside a beautifully renovated chapel.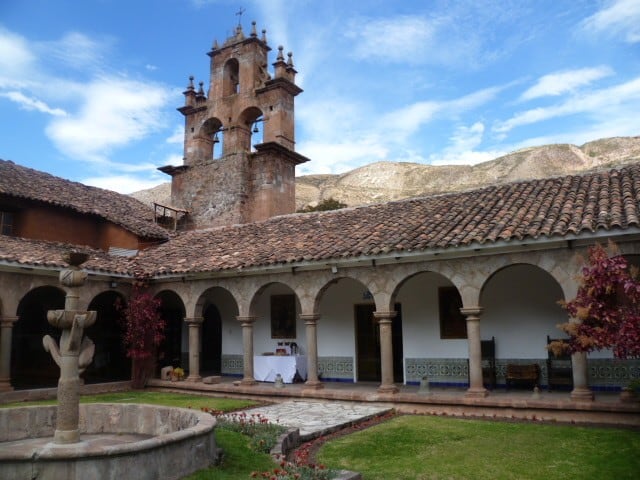 There are two parts to the hotel, in the original section there are small, and simply decorated rooms around the Cloister which includes tiles from the original building.  It is also decorated with artefacts from the church and other relics). The other part of the building is a newer wing done in keeping with the original building and includes very cute suites with two stories including a romantic loft for the bed.
Rustic, old world and charming the Monasterio de Recoleta is run by the 3-4 star San Agustin hotel chain and has a cute personal restaurant, lovely gardens and places to connect.  They are extremely proud of their 'Bio Huerto' (organic orchard) and have numerous fruit trees around the property and their own fruits in season in their restaurant. They also offer a magnetic healing garden.
For those considering an un-paralleled and unique Peruvian wedding or renewal of vows, the chapel has been restored with attention to detail and there is a beautiful atmosphere.   Weddings can be arranged at this hotel, please contact Apus Peru for more details.
The Hotel San Agustin, Monasterio of Recoleta, is technically in Chichubamba (and the community apparently still use the church on festival days) but on the outskirts of Urubamba, but it feels very remote and isolated.   There are opportunities to walk around the hotel, or, if you wish, into Urubamba itself, though this would be a longer walk.