We like doing things differently at Apus Peru, and since we became an authorised Inca Trail travel agency, we have also offered a 5 day Inca Trail. Hands down, this slower version of the Inca trail is everyone in the office's favourite – yes, the best Inca Trail!
We are always looking to do things differently and, as a result, provide better and more unique experiences for our clients. This has been our goal since the beginning. That means we frequently re-evaluate our routes and offerings. Our goal is to offer the best Machu Picchu hiking tours, and to be honest, transparent, and clear in our communication!
We don't just operate the Inca Trail trek, we ask ourselves: What can we do to make the Apus Peru Inca Trail better than the rest?
Our answer? The Inca Trail, in 5 days.
What is the 5 Day Inca Trail?
Quite simply, it is a more relaxed and less-touristed version of the classic 4-day trek to Machu Picchu along the famous Inca road.
Doing the hike over 5 days instead of 4 offers many advantages: Experience the trek in relative solitude. Enjoy a safer hike. Have a better time visiting Machu Picchu.
Why? We will explain below the differences between these different Inca trails.
Note: Just because we describe this route as more "relaxed" DOES NOT mean easy. The walking days are shorter, but not any easier. You must be fit and in good physical health to do this trek!
Inca Trail 5 Day Itinerary
Day 1: Cusco – Ollantaytambo – Km 82 – Llactapata
Day 2: Llactapata – Llulluchupampa
Day 3: Llulluchupampa – Phuyupatamarca
Day 4: Phuyupatamarca – Wiñaywayna – Aguas Calientes
Day 5: Aguas Calientes – Machu Picchu – Cusco
Why is the 5 Day Inca Trail Better Than the 4 Day?
You are out of sync with the bulk of the trekkers if you do the Inca trail in 5 days, which leads to a number of subtle but incredibly important benefits.
The 5 day Inca Trail allows for better acclimatisation
On the 4 day Inca trail you cross the high point of the trek – Dead Woman's Pass (4215m / 13,828 ft) – on Day 2. When you do the Inca Trail in 5 days you will cross it on Day 3, thus having an extra night of acclimatisation.
Better campsites
When you do the Inca Trail 5 day hike there are different campsites, and in our opinion, better camps.   This includes good flat tent sites, and not too much noise, which means that your sleep will be better –  important when taking on something like the Inca Trail! This is also why we supply you the best tents and equipment: A good night's rest is vital to feeling refreshed so that you can take on the trek in your best physical shape!
Fewer people on the trail
When you are trekking a 5 day Inca trail, there are fewer people on the trail (or perhaps no one) as you are out of sync with the bulk of the Inca trail tour operators. The more relaxed pace means you can take photos and rest when you like. We've done a lot of trekking around the world and there is nothing worse than feeling like you are on a forced march!
(There are companies and guides that will make you meet their schedule only to sit around in a busy campsite for hours at the end of the day. We prefer to take our time and smell the roses (or cantuta in Peru!!)
Why are there fewer people on the trail if you do the Inca trail in 5 days?
Did you know that there are 500 permits issued daily for the Inca trail? Of this approximately 200 are tourists, and 300 are support staff.
There are popular campsites along the way that are used for the 4 day trek which have capacity for many tents and have at least 100 people camping and double the number of staff. If you stay in the lesser-used campsites there might only be two groups camping – a far more wilderness experience.

More time to explore the once-in-a-lifetime Inca trail ruins
In general when you do the slower version of the Inca trail there is more time to explore the Inca ruins along the way, especially the most beautiful ruin on the entire trek, Wiñaywayna. Some 4 day treks don't even visit this ruin as they are so busy on the goal of getting to the end. And yet is incredibly beautiful and a special place to visit.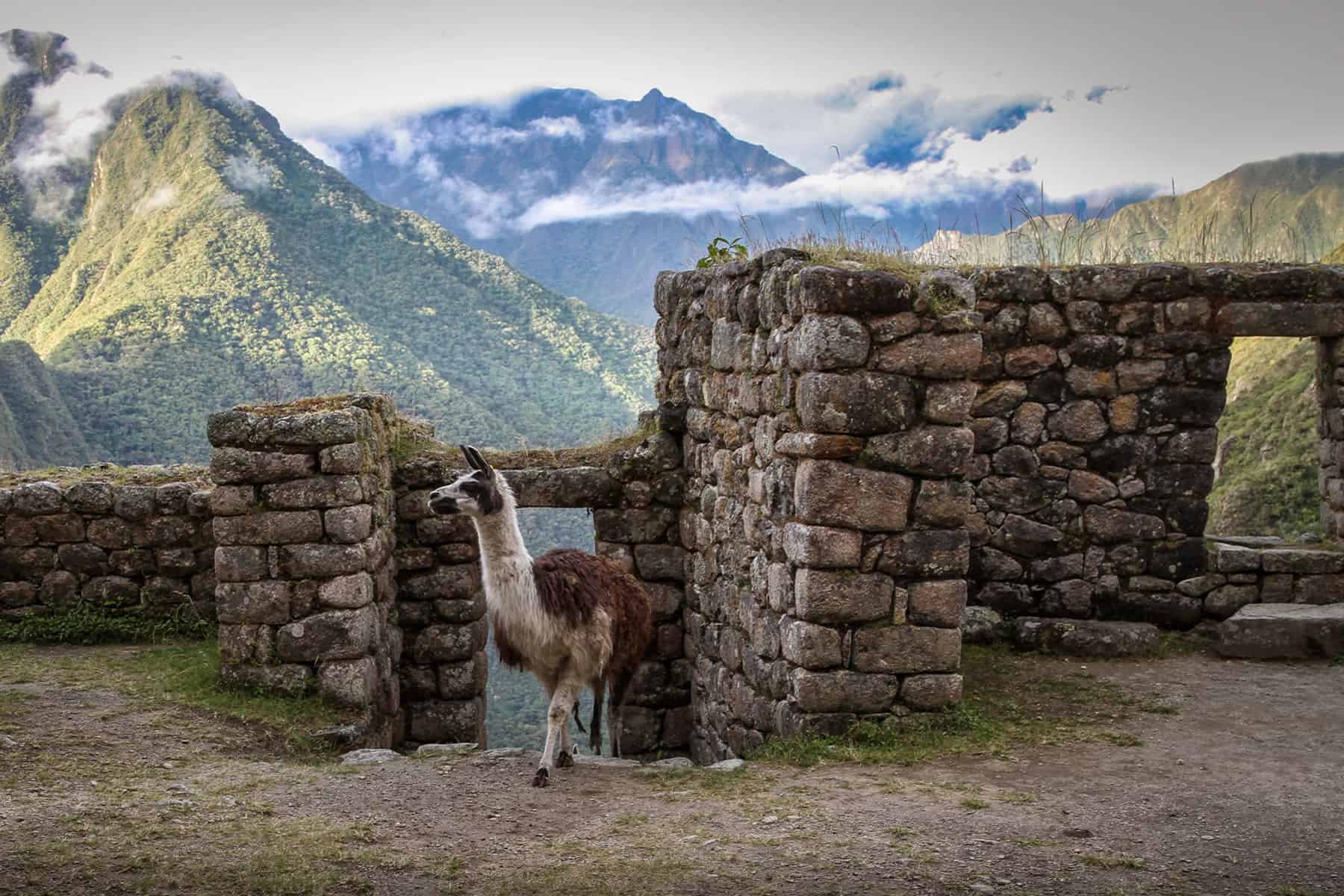 More time for bird watching and to look at the flowers
Those who race along the Inca Trail or take the train don't realise that the Machu Picchu Sanctuary is also a very unique microclimate and has over 25o species of orchids, 300 species of birds, and 300 species of butterflies. Take a look at our post on the Orchids of Machu Picchu for more information.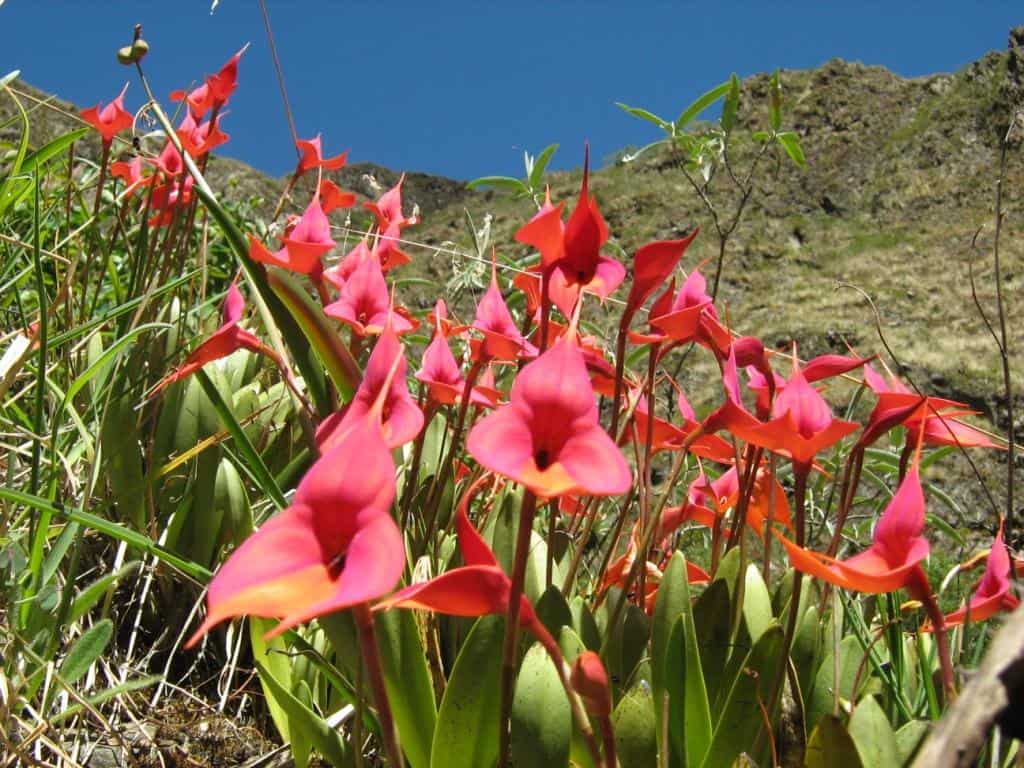 Camping at the town above the clouds
As we mentioned above, when you do the 5 day Inca trail you camp at different campsites. An example of this is staying at Phuyupatamarca (poo-yoo-pa-ta-mar-ka), located at 3630m (11,906 ft). This is a spectacularly sited camp on a ridge high above the mountain and whose name means "the town above the clouds". It is a gorgeous Incan ruin with views to die for.
People talk about the sunrise at Machu Picchu which is a case of false marketing as it's actually impossible to see the sun rise over the Inca Citadel – but not so at Phuyupatamarca.
Waking early at the Phuyupatamarca campsite on the morning of Day 4, you can be greeted by a spectacular sunrise featuring incredible shades of orange and gold as the sun gilds the snow over the 6000m snow peak of Salkantay. (Of course as with all things, this is weather dependent!)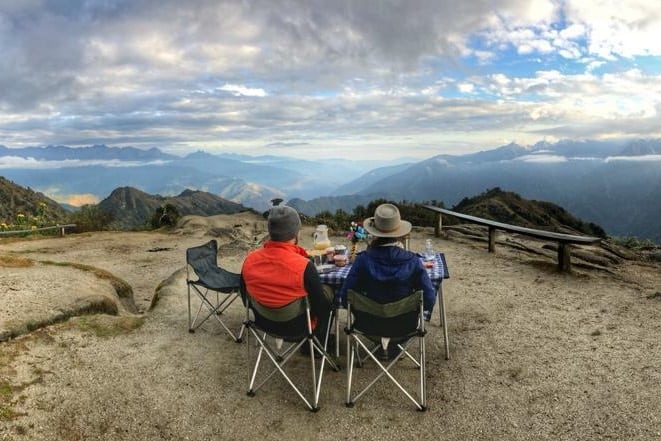 You can do a Luxury Inca Trail tour on the 5 day trek
So, you would love to hike the Inca Trail but the idea of 3 or 4 nights camping is worrying to you? Have you considered a Luxury Inca Trail tour? Yes that's right, it's the Inca Trail with the most comfortable tents and beds, hot showers and gourmet meals. In a nutshell, the Inca trail glamping options are private Inca trail tours that allow you to have the very best time.
Why is this option only available for 5 day treks? It's very simple, and very logistical: Because the tents are so big, you need special campsites and these are only available to the 5 day itinerary. More information about the Luxury Inca trail trek here.
Oh – and while at Apus Peru we don't include a masseuse in the package, you can certainly request one to accompany you! Now how's that for a luxury Inca trail?
Enjoy A Much Better Machu Picchu Visit on Day 5
On Day 4 you get your first view of Machu Picchu but then get to spend the night in a comfortable bed, before doing your full guided tour of Machu Picchu on Day 5. This leaves you well-rested and ready to fully enjoy your day at this incredible Inca site.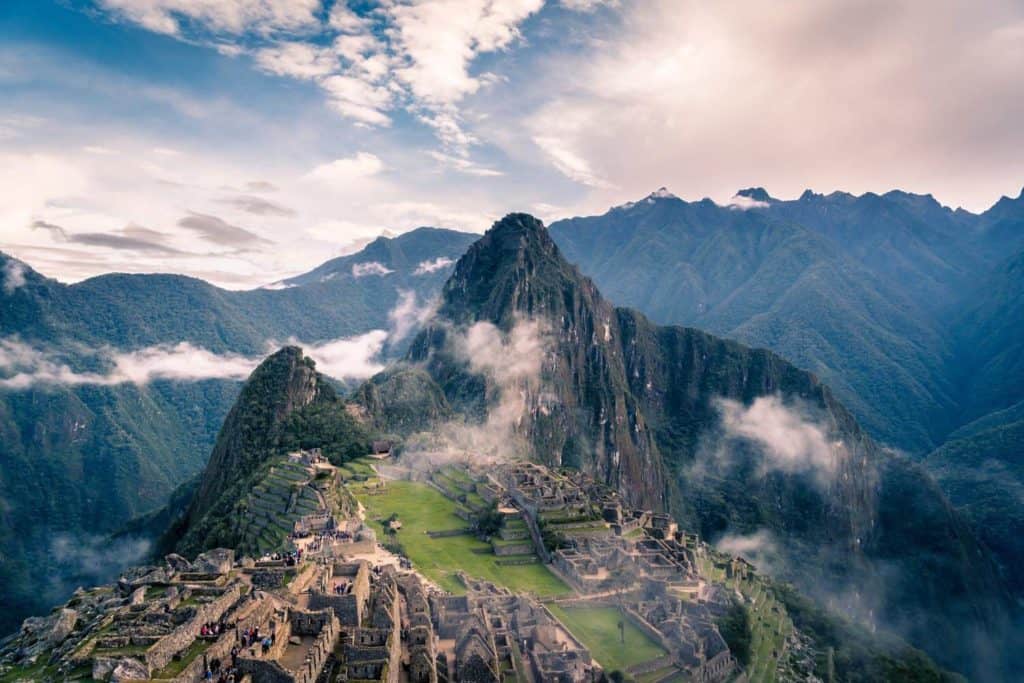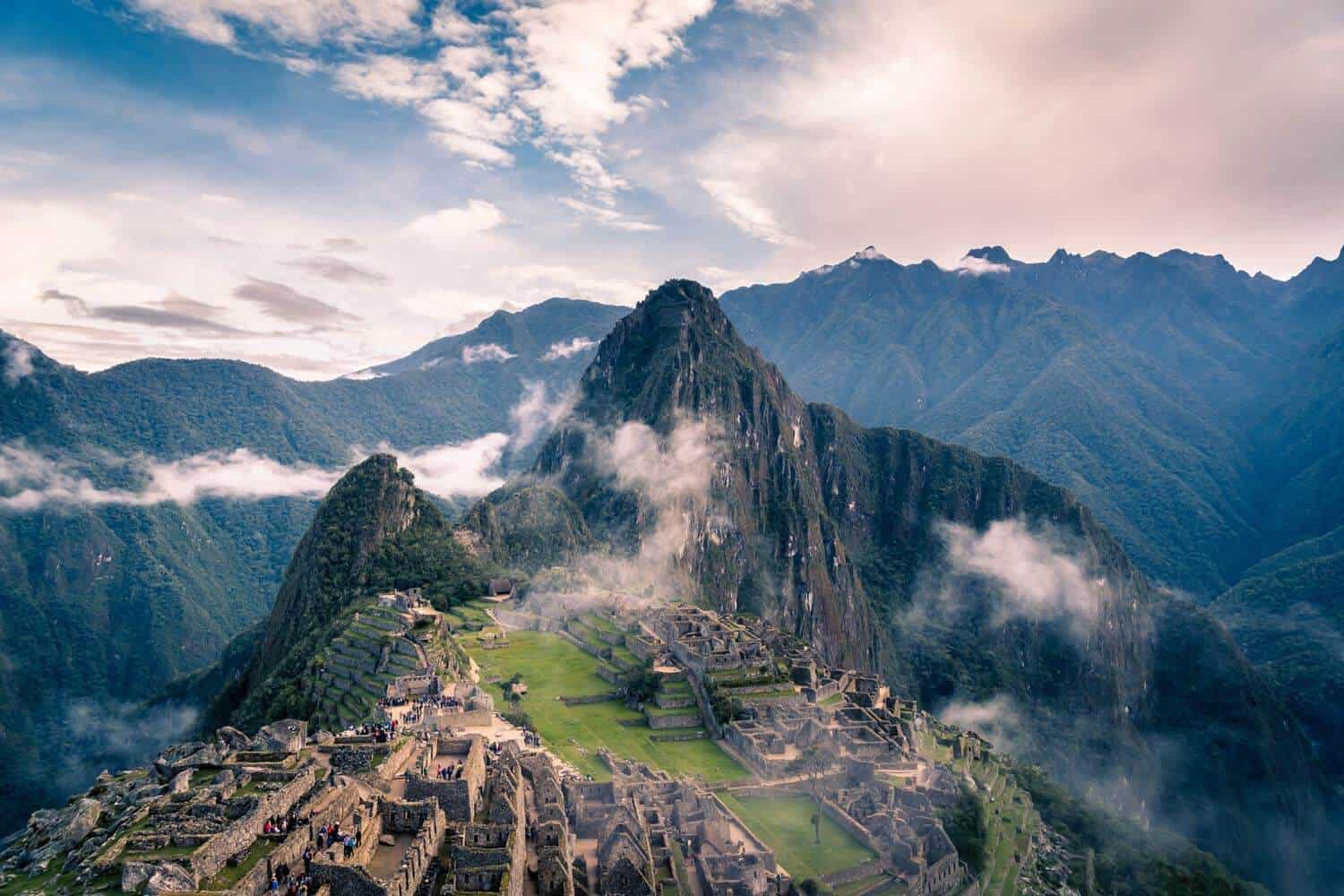 The fabled Machu Picchu sunrise
If you are not yet convinced, then there are more reasons why the 5 day Inca trail vs 4 day Inca Trail makes a lot of sense. Inca Trail treks get up early on the 4th morning and walk in the dark to see the sunrise from the Sun Gate (Inti Punku). You are often tired from early rising (4am) and stumble along in the dark using your headlamp to see. Then you congregate with about 200 other people who wait for the sun to rise. There is definitely a sense of anticlimax. Moreover, the early start makes people very tired for the rest of the day, which frankly is not ideal when a visit to Machu Picchu is a dream for many people.
Experiencing the Sun Gate
When you do the 5 day Inca trail, you pass through the Sun Gate on Day 4, quite late in the afternoon. Catching a glimpse of Machu Picchu for the first time is truly breathtaking, and I've personally sat alone with my group for over an hour just soaking in the scene. That moment is something you have waited all your life for, if you dreamed of visiting Machu Picchu as a little kid.
Then you descend to Machu Picchu but instead of entering, you take a side path down to the area where the buses will take you to Aguas Calientes. At Apus Peru we include very comfortable accommodation with soft beds and hot showers, as well as a delicious celebratory dinner. The idea is that you sleep very well and wake up refreshed in the morning to make the best out of your Machu Picchu once in a lifetime visit.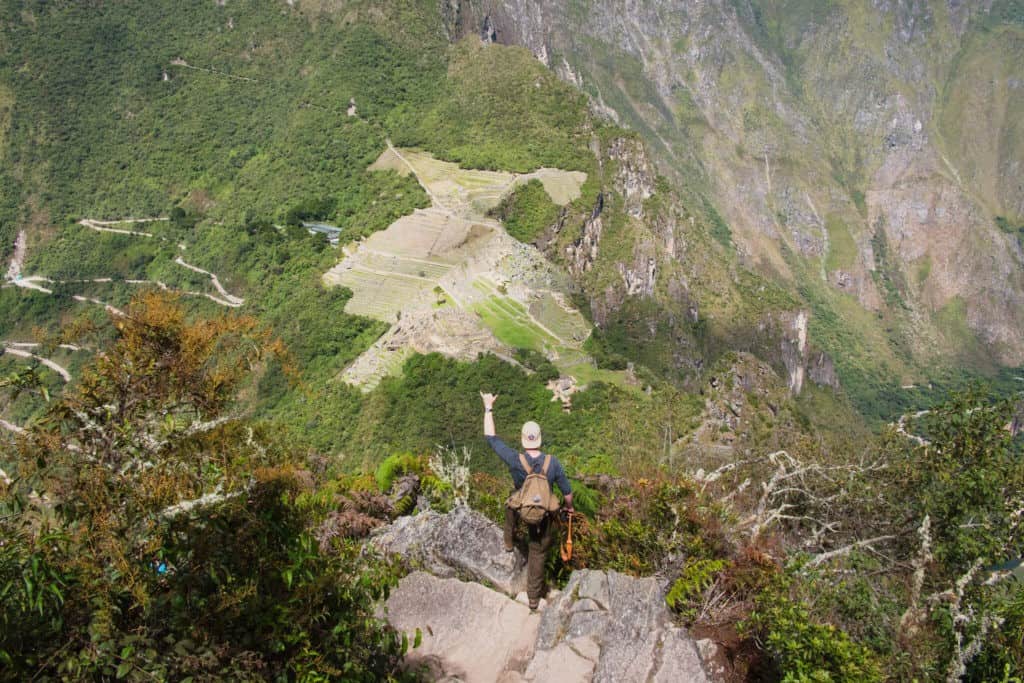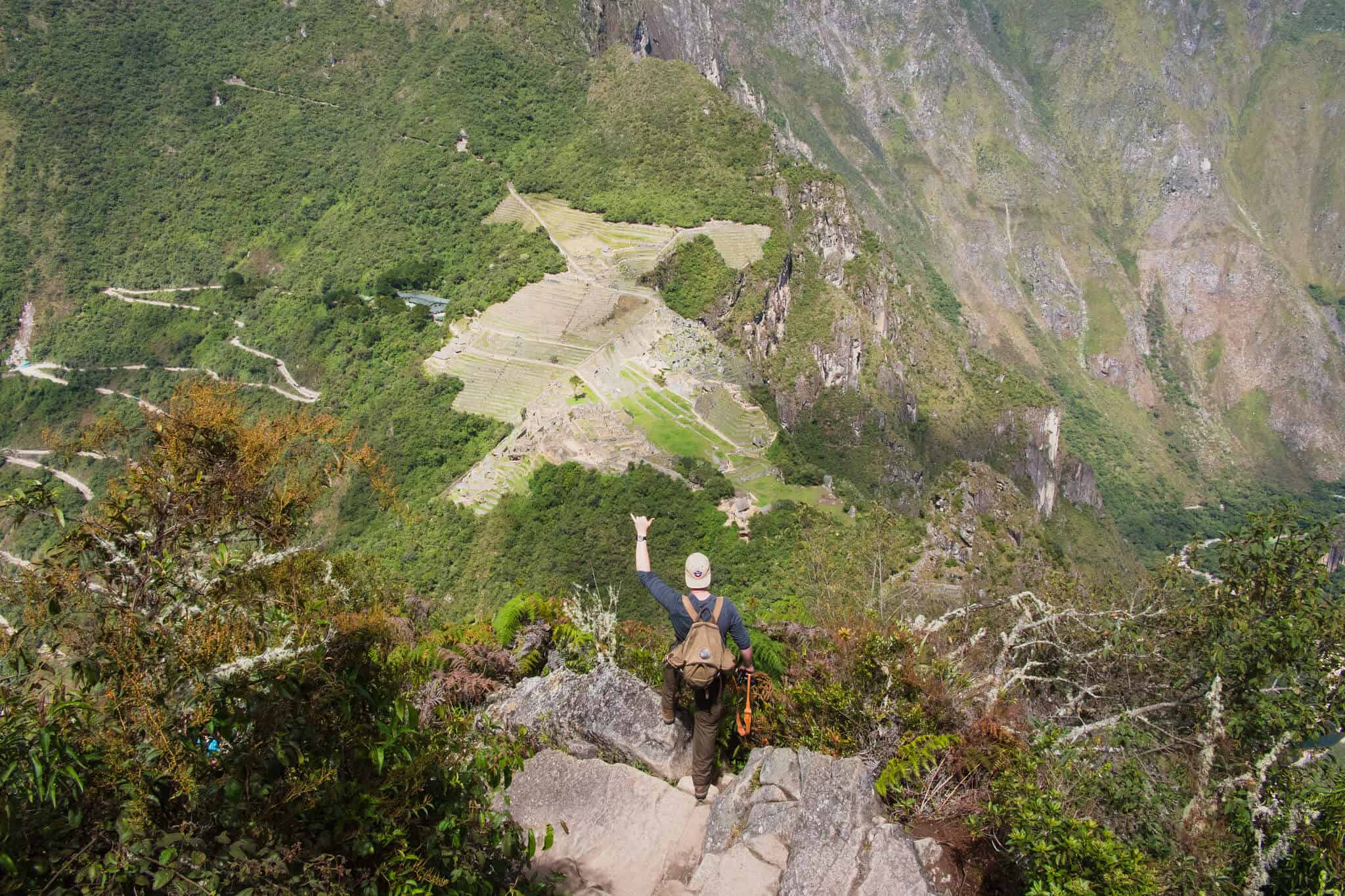 You can do Huayna Picchu or Machu Picchu Mountain more easily with the 5 day Inca trail
One of the most important reasons to go with an experienced and competent Inca trail operator is they clearly understand the logistics of the Inca trail – which is not always straightforward.
If you want to hike Huayna Picchu or Machu Picchu mountain it is extremely hard to do it on the classic 4 day trek. It is a lot to do with the timing plus the walking distance that has to be done from camp to the ruins, combined with the overall difficulty, entry times at Machu Picchu and train schedules to go back to Cusco.
So why is it easier to do Machu Picchu and Huayna Picchu in a 5 days trek: simply because it's more relaxed and you would have more time to enjoy both the trek and your visit to Machu Picchu. Not only is the entire trekking pace slower, but there is also a break in Aguas Calientes between the trek and their visit to Machu Picchu that includes the extra trek at Huayna or Machu Picchu Mountain.
The classic Inca Trail is hard enough for 4 days and adding to that the climb to Huayna or Machu Picchu Mountain will make the schedule very tight and extremely exhausting.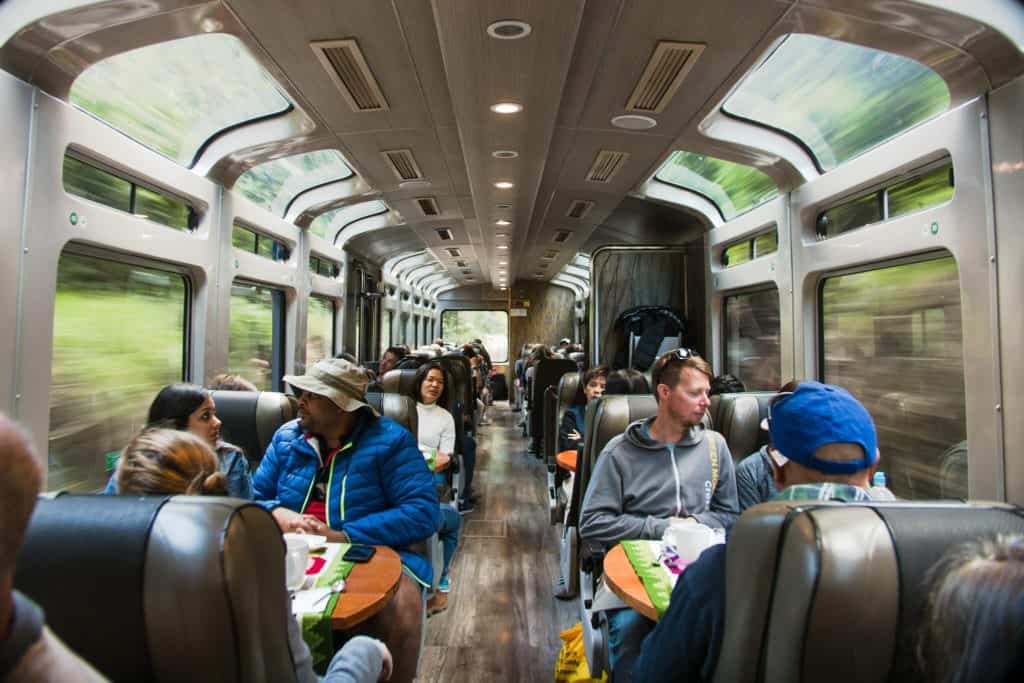 Time to enjoy the train ride
In our opinion the train ride to Machu Picchu is one of the most spectacular in the world, and should be savoured. Sadly, many hikers who have been up since before dawn don't have that opportunity as they get onto the train and fall asleep. If you spent Night 4 in a comfortable bed and had a hot shower in the morning, you visit Machu Picchu feeling refreshed (and also in clean clothes!). Truly, it provides a much better setting for people to soak in this wonder of the world.
At Apus Peru we use the comfortable Vistadome train to help you relax and enjoy the journey back to Cusco.
Who is this Machu Picchu 5 Day Hike Best For?
We are going to just say it – the 5 day Inca trail is better for everyone. Except perhaps for those whose interest is ticking off their Inca Trail bucket list.
The 5 day Inca Trail is for bird watchers, lovers of silence and solitude, it is best for photographers, dreamers and poets. You get the picture. It is for the traveller who likes to savour their travel experiences.
Doing the Inca trail in 5 days is best for older people and younger people. As the pace is slower, you have more time to rest on those steep inclines, and don't need to feel rushed by the young fit folk in your group.
We recommend the 5 day Inca trail for families. The minimum age we recommend for children doing the Inca trail is 10 years old and even then the 5 day Inca Trail gives them more time to play, or have down time. We also really recommend doing a private trek if travelling with children. That way, your family can connect and bond, and the kids can be themselves without worrying what the other trekkers in the camp think!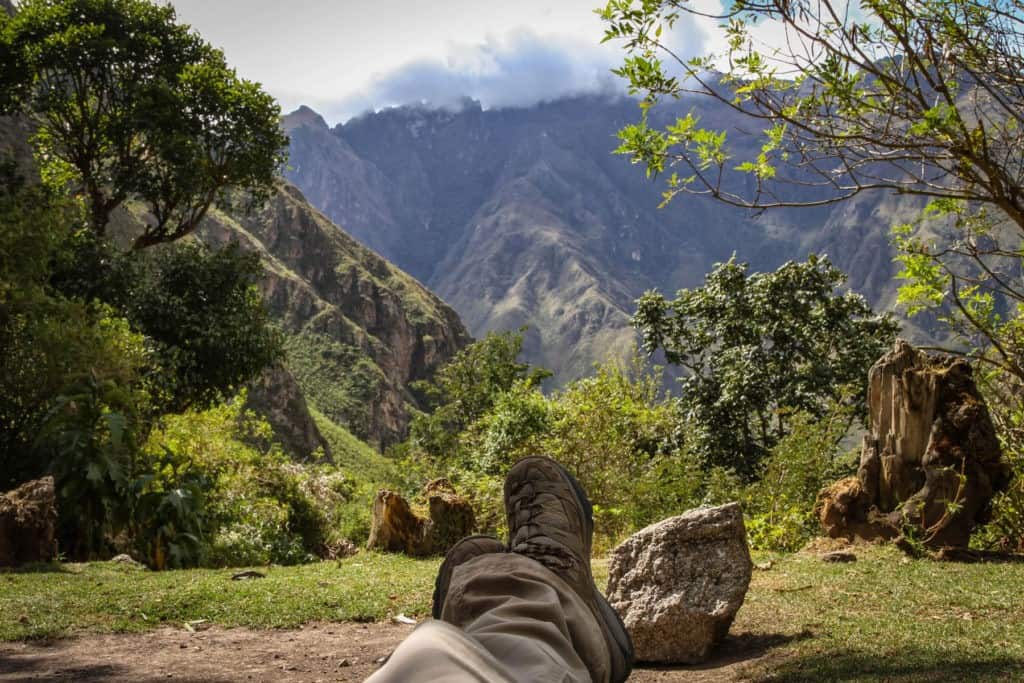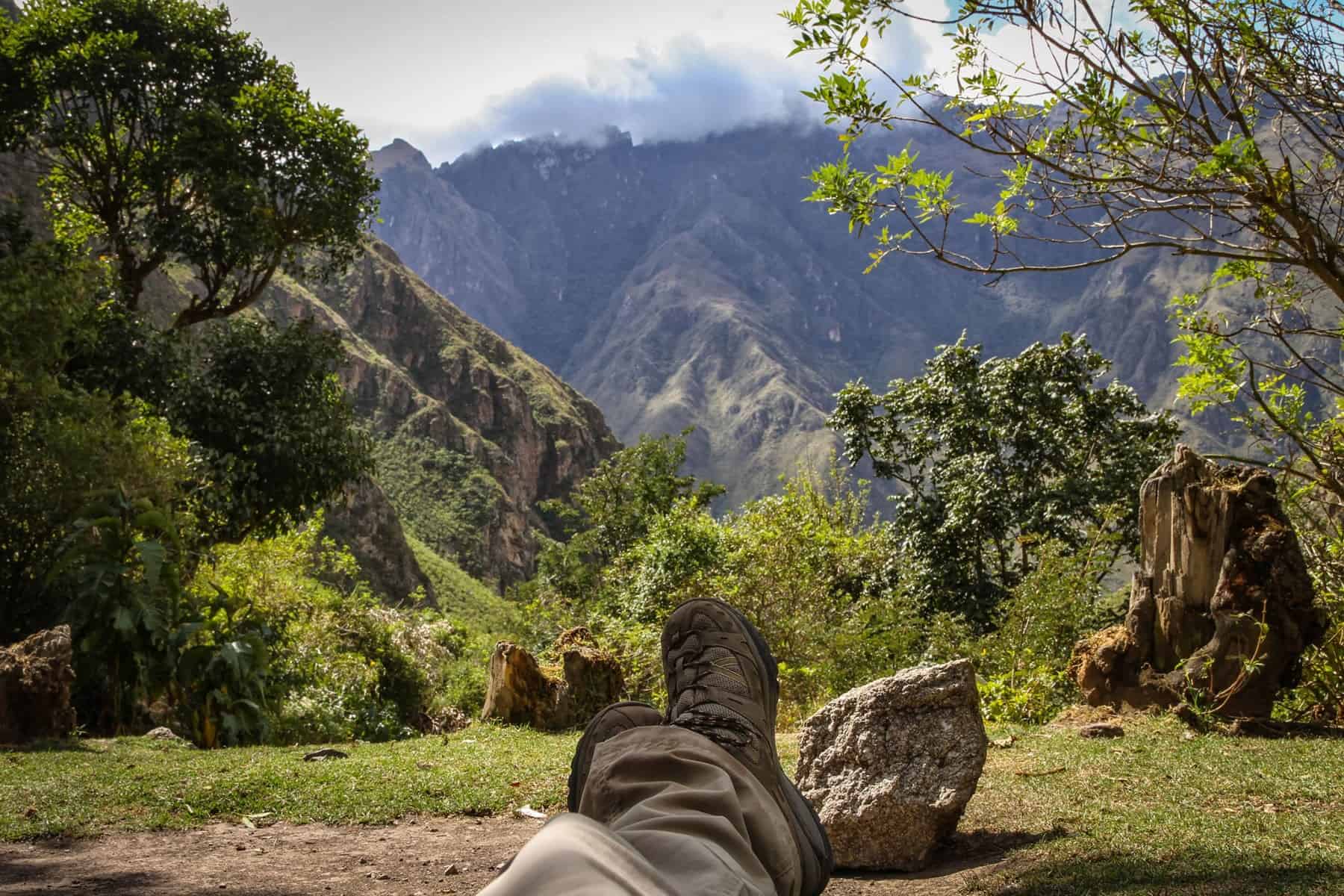 Safety Reasons for Doing the 5 Day vs the 4 Day Inca Trail Trek
The dry season in Cusco is over by September, but the rainy season doesn't really get underway until November. By January, the ground may be waterlogged and heavy and the chance of landslides on the Inca Trail to Machu Picchu increases. The popular campsite Wiñay Wayna is located in a place that is more susceptible to landslides, and in fact people have died there in the wet season. That is why if you are trekking in December or March the safest option is to do the 5 day Inca trail and camp at Phuyupatamarca.
Note: Apus Peru does not operate ANY Inca Trail treks between the 5th of January and the end of March for safety reasons associated with the wet season. For more info on when treks are available, check out this table.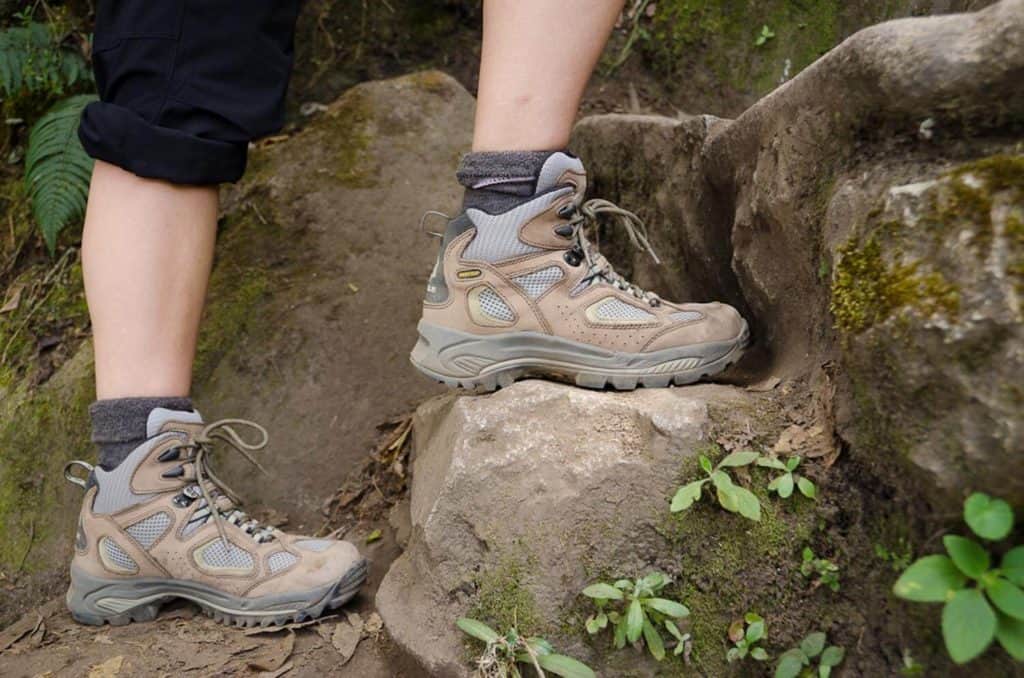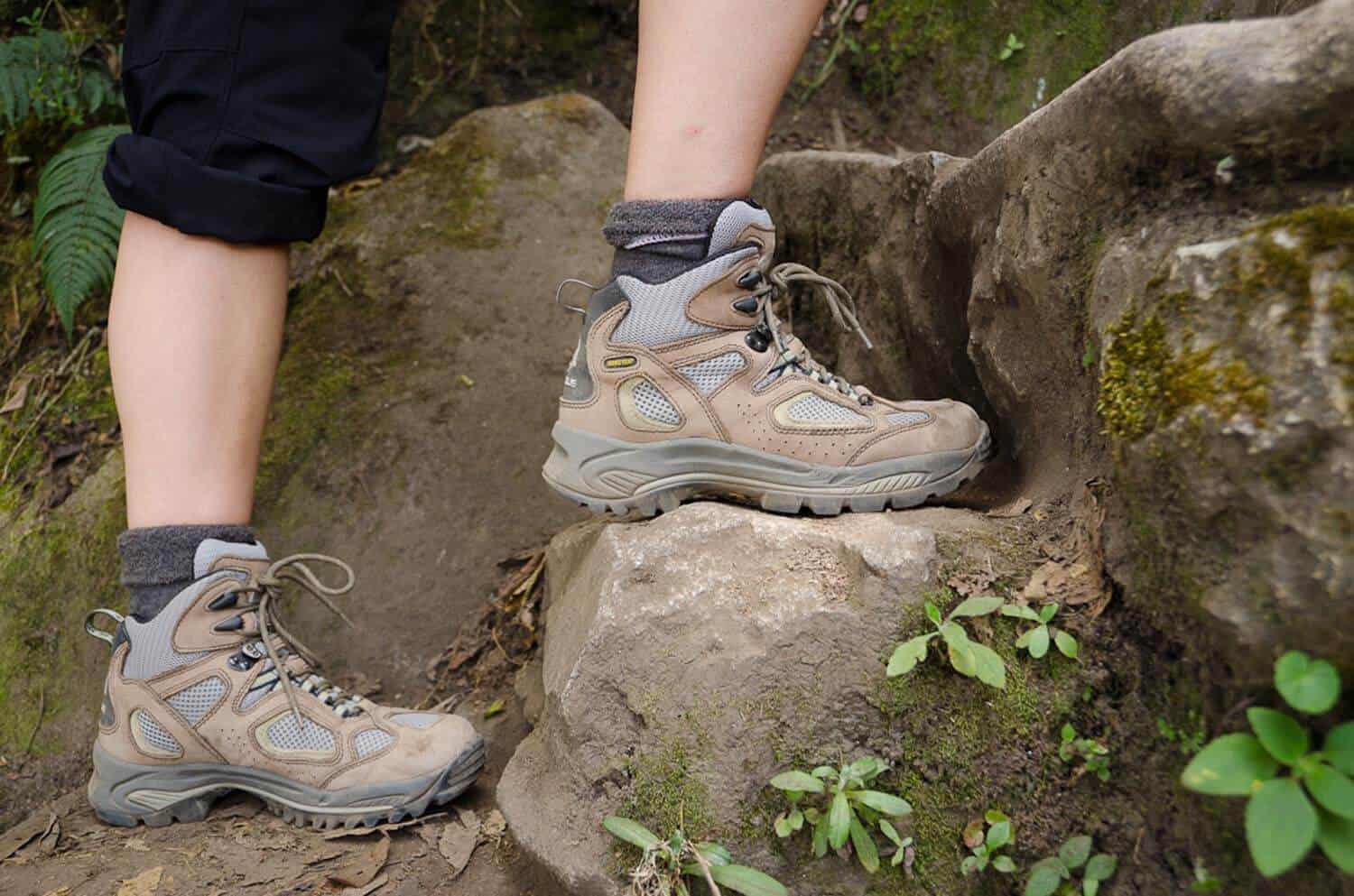 The Verdict: Machu Picchu 5 Days Inca Trail Hike
We know that for most people a trip to Peru – and their Machu Picchu trek – are once-in-a-lifetime experiences. You want it to be amazing, memorable – and also not too exhausting! You are on holiday after all. We hope that this detailed list of information about why the 5 day Inca Trail is the best Inca trail trek has convinced you to slow down and spend some extra time exploring this famous and spectacular route.
Like it? Pin it!
Ready to book your Inca Trail 5 days trek? Check out the tours below for complete details!