So you've booked your trek with a good tour company and next need to make an Inca trail packing list. What should this include, and how much can you take? Spoiler alert – it's probably far less than you think. Most of your Cusco packing list will actually remain in a storage room in the city during your trek. This guide will take you through how to narrow your Inca Trail equipment list down to the bare essentials, explaining how much can be carried and who by. We'll focus on what to pack for the Inca Trail hike.  This includes everything you really need and nothing that you don't.
Whether you're wondering about what's the ideal Machu Picchu backpack size, what to take on the Inca Trail that you may not have thought of or what to put on your Machu Picchu clothing list, this article will help you to pack perfectly. We go through what should be included on any male or female packing list for the Inca Trail.  Then you can decide what can be left behind in Cusco as well as what you really could just leave at home. For example, you can leave your tent home. It will be carried for you by one of the tour operator's local porters.
Read on so you can plan it all – from your Inca Trail clothes right down to the question, "do you need hiking boots for Machu Picchu or will other walking shoes suffice?".
This post may contain affiliate links, from which we would earn a small commission, at no extra cost to you. .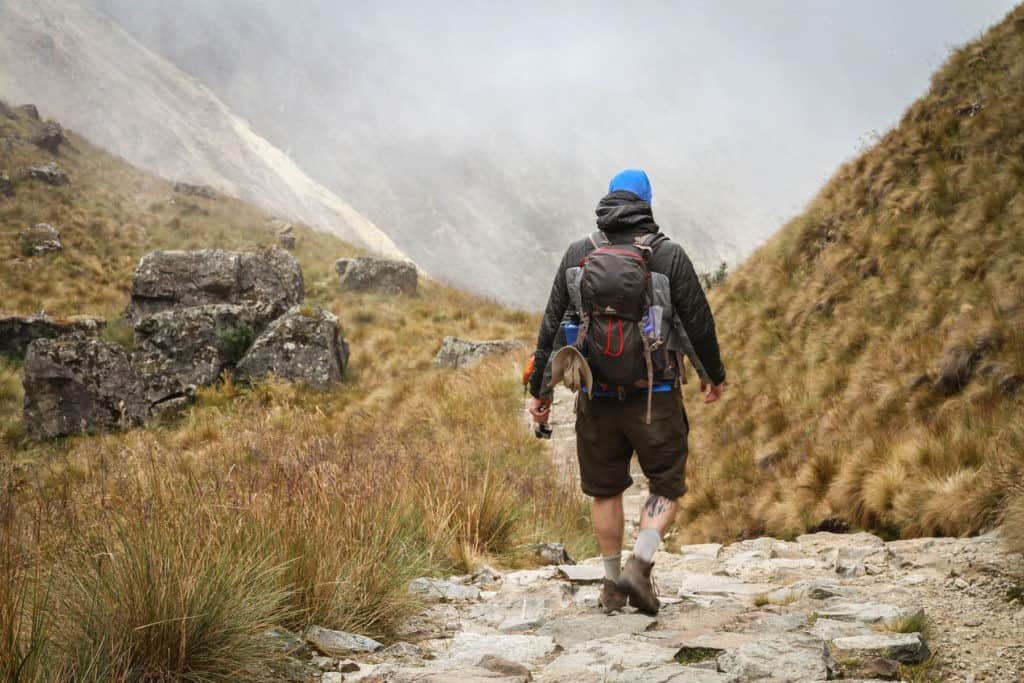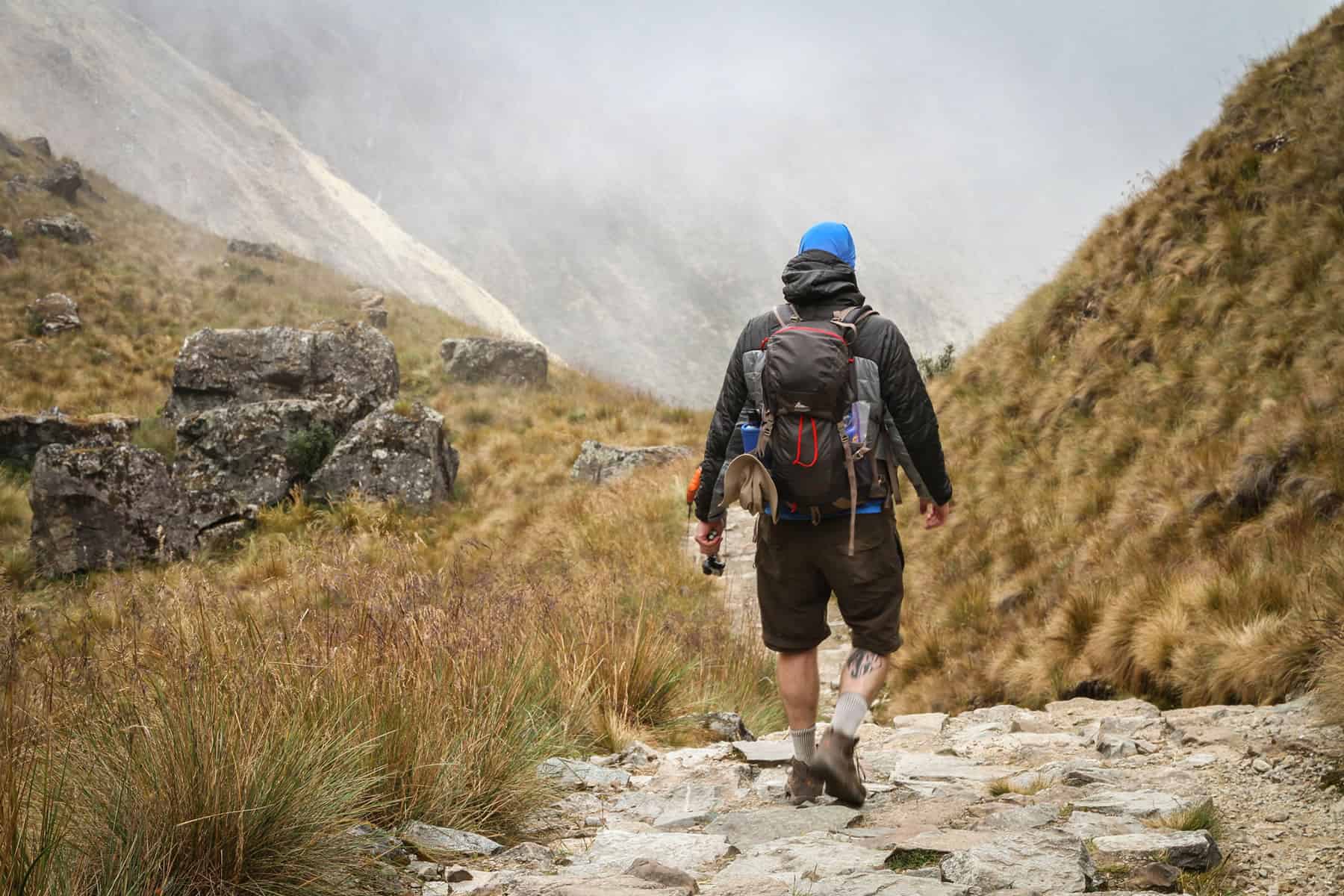 The Logistics of Hiking the Inca Trail
Deciding what belongs on a Machu Picchu and Inca Trail packing list is not easy. Is what to pack for Inca Trail in May the same as what to pack for the Inca Trail in September, for instance?
This guide aims to put all those concerns to rest. From what to wear when hiking Machu Picchu to how the weight limit will affect your packing list for the Inca Trail trek, here is the lowdown on all you need to know before you go.
How Much Can I Pack for the Inca Trail?
The first factor to bear in mind when planning your packing list for the Inca Trail is that the majority of your luggage will be stored in Cusco. Tour operators will often arrange the secure storage of your belongings on your behalf, perhaps at their office. Or maybe you can arrange this with your hotel.
You will then have two bags, so your packing list for the Inca trail should take this into account. When deciding what to pack for the Inca Trail, remember that everything must fit into these two bags.
One bag will be your own day pack, and the other will be provided for you by the tour operator. You will need to carry the day pack yourself, while the other bag will be transported on your behalf.
In most cases, you will take a classic Inca Trail four day trek to Machu Picchu – or perhaps you will be hiking an alternative route, if all the Inca Trail permits were sold out  Either way you will be staying overnight, so camping and cooking gear will be required . Alternatively, you may opt for the two day Short Inca Trail, which doesn't involve camping – but will still require you to pack light.
When deciding what to pack and what to wear on the Inca Trail, it helps to know that your tour operator will provide your group with a team of staff, including porters as well as guides. These people will carry your second bag for you, in addition to all the other equipment and food required.
So the porters will carry much of your kit while you're trekking in Peru. This is all part of the package you pay for when booking your Inca Trail hike in South America through a reputable tour company. They will take your tent plus all the food and camping equipment required – though you will probably be carrying your own sleeping bag.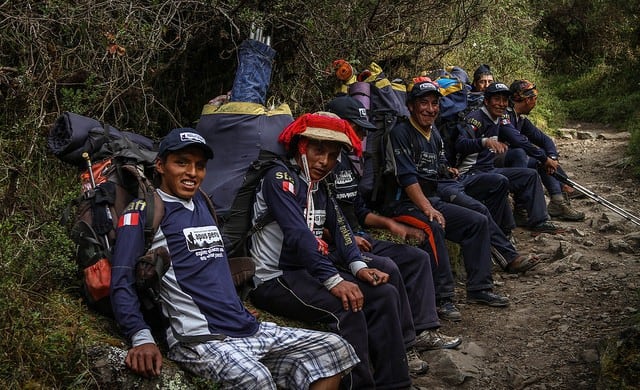 One of the first things to know when considering your Inca trail – what to pack dilemma is how much space will be at your disposal. In general, most tour operators allow around 7 kilos – or 15 pounds – per trekker. They also provide the bag that will be carried by the porters.
You will of course take your day pack when hiking, but you will have to carry this all the way. It's therefore very important to invest in a decent, supportive day pack that you can take on a long distance trekking trip. Don't forget you'll need space for a good water bottle or hydration reservoir too.
The ideal backpack size for the Inca Trail is one that's comfortable and that you can carry for long periods of time – but more on this later. As for the porters, they will carry your 7 kilo bag each day, depositing them in your tent when you arrive at the site for the night. They will then collect them again each morning before departure.
Before you even start to plan your packing list for the Machu Picchu trek, do check with the tour company what their exact allowance is. It would also help to know what kind of bag will be supplied. Typically this may be a duffel bag, but it can vary by tour operator.
Another thing to keep in mind is that the weight of your sleeping bag will most likely be included in the limit – whether you bring your own or hire one of the tour company's sleeping bags.
In short, your Machu Picchu Inca Trail packing list should cover only what you'll really need for the one to three nights you'll be away. The essentials in your day pack may include items like a first aid kit, water and a layer to put in case of rain. You may also want to take your own snacks for the Inca Trail.
All other items on your Inca Trail gear list need to fit within the 7 kilo limit – or the limit actually specified by your tour company. The contents of this extra bag are carried by the porters employed in Peru for this very purpose, but the weight limit will probably include your sleeping bag.
So before you begin on that packing list for your Inca Trail trek, do check with your tour operator. What is the weight limit, and what kind of bag will be provided? Also, confirm with them whether this limit includes sleeping bags – and whether or not they hire those out if you need one.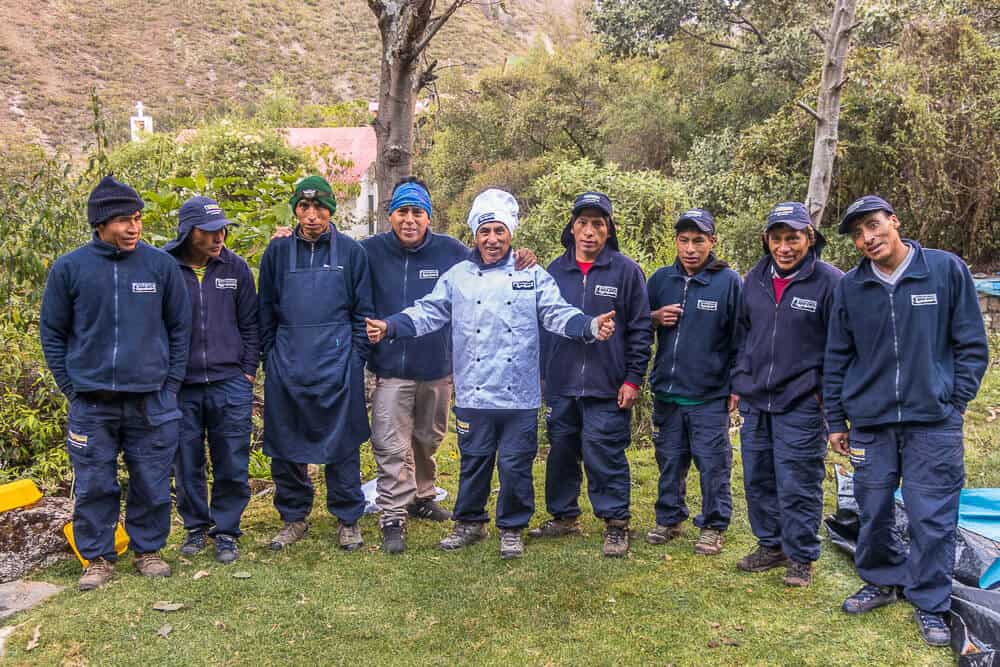 Where Should I Store My Luggage in Cusco?
When wondering what to take on the Inca Trail you also need to consider where the extra stuff you've packed for Peru or other countries you're visiting will be kept. Those preparing for the Inca Trail should bear in mind that you can store this extra clothing and other items either in a Cusco hotel or as arranged by the tour company.
All accommodation in Cusco should offer a storage service. People packing for the Inca Trail hike will generally have a choice between storing their belongings in their hotel or using a facility supplied by the tour operator.
So that's another thing to check with your chosen tour company. Do they arrange storage of your additional luggage, and if so where? Is this a secure location? Will it be insured by them, or covered by your own travel policy?
For peace of mind, it may be worth paying extra for secure storage. Sometimes all luggage will be thrown together in a room at the hotel, with little or no control over who takes what away.
If you have expensive, desirable items like electronics, this may not be what you want. There's no point spending the whole trek worrying about whether or not your stuff will be there when you get back to Cusco.
Find out more about Peru hotels and what they offer in this post. It should help you decide where to stay before and after your trek.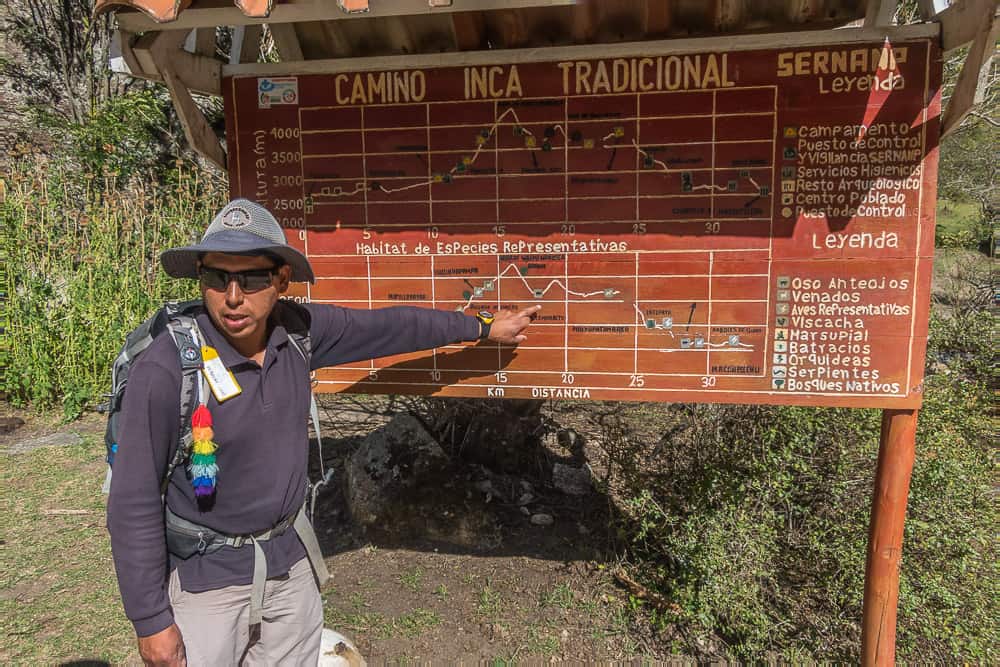 Inca Trail Seasons & The Weather
The seasons in Peru vary dramatically from those in Europe and North America: they're more like those people from Australia or Asia might be used to. Rather than four seasons, there is a dry season and a rainy season.
To complicate matters, though, the weather across Peru varies.  For example, even during the wet season the northern beaches mostly stay dry and sunny. To experience the Inca Trail and Machu Picchu when it's dry, it's best to visit between May and September.
You can find out more about the weather in Peru in this post on timing your trip to Peru. Also relevant is our article on taking to the Inca trail during the wet season. One bonus of traveling during the rainy season is how gloriously green the wet weather can make the landscape look!
What's the Best Time of Year to Hike the Inca Trail?
When is best for hiking the Inca Trail and Machu Picchu varies from one individual to another. June, July and August are the driest months, but it can be quieter when trekking during the shoulder season. Which a lot of people prefer.
April, May, September and October are thus a good time to go. You may also find that it's cheaper out of peak season, although you can expect more rain than during the driest months.
For more information on when to go to Machu Picchu, check out this post on the best times to trek in Peru.

How Much Can I Pack for the Inca Trail: How Much is 7kg, Seriously?
The key factor to consider when creating your Inca Trail gear list is how much you can take within that typical 7 kilo allowance. Remember that this limit includes your sleeping bag. Sleeping bags are not carried by the porters.  They already have to lug all the camping gear including tents and cooking equipment.
As a Peru tour operator, we know very well that tour operators often come across the problem of people over-packing. Bearing in mind that around 2 kilos of your allowance will be needed for your sleeping bag – whether you hire it or not – you only have around 5 kilos left.
This duffel bag – or whatever your tour company supply – will need to hold all the Inca Trail clothing you require, as well as any other items on your Inca Trail essentials list. Everything other than what's in your day pack must therefore fit within the limit – and into the bag supplied.
Unless you're wearing it! Don't forget that you may need to remove layers if you get hot, though – and then you'll have to carry those along too.
Our top tip is to lay out everything you think you'll need. Then set aside anything that isn't absolutely essential. Next, weigh what you've got. If you're over the limit, it's time to re-evaluate your Inca Trail kit list.
When working out what to bring on the Inca Trail, focus on what you really need. If you won't be able to take shower en route, then you may as well leave most of your toiletries in Cusco.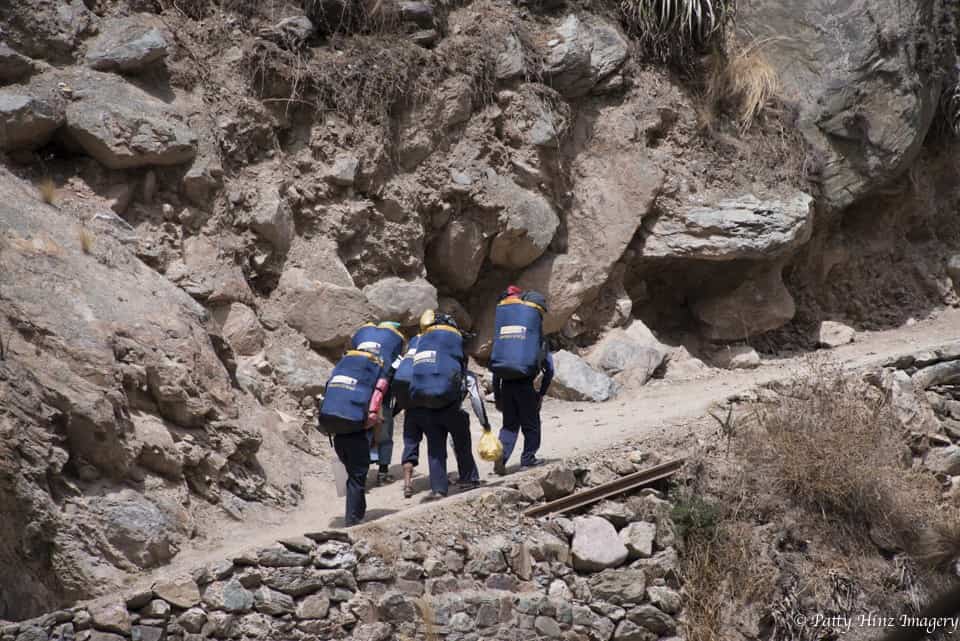 The Complete Inca Trail Packing List
From thinking about the Inca Trail and what to wear, to the ideal Inca Trail backpack size, this is the ultimate Machu Picchu packing list. Covered here is all you may need to include when planning your trek.
Passport
We know it's obvious, but people really do forget this number one item, even though it belongs at the top of any Inca Trail checklist.
You'll need it to reach Peru in any case, but it must also be shown at the start of the trail. This is to help monitor the number of people trekking at any one time, which is subject to strict limits.
There is an official checkpoint at the beginning of the trail. At this point you'll need to show your passport before you can progress any further. Does it help to know that you'll be offered the option of having a stamp added, which makes a great souvenir of your trek?
Inca Trail Clothes
Next you need to think about Inca Trail clothing. From clothes for Machu Picchu to the best shoes for the Inca Trail, here are all the items you may require.
Warm Clothes
You'll need a waterproof jacket, another layer such as a fleece, a scarf, gloves and a knitted winter hat like a beanie. Thermal clothing such as a base layer is also something to add to your list of clothes for the Inca Trail. You may need this at night. It can get bitterly cold in Peru at high altitudes.
Sun Hat
Sunscreen alone is not enough to protect you from the intense UV rays! You'll be hit by at high altitude, so you'll definitely need a sun hat. We recommend packing one with a strap.
Headband
We swear by using a broad headband to protect cold ears from the chilly, biting winds.
Beanie Hat
A thermal beanie can really help stop heat being lost from the top of your head – especially for those with thinning hair.
A Long Scarf
A long scarf is a versatile piece that you can wrap around your neck for warmth, or use to protect you from the wind.
Gloves
Insulating your hands and fingers well by wearing thermal gloves can also help keep your whole body warm.
Warm Socks
It's a good idea to take at least one extra pair of warm hiking socks on the trail as well as the pair you're wearing when you set off.   (Plus you can use them at night on your hands or feet!)
Layers, Layers, and More Layers
Taking plenty of hiking layers means you can go from summer to winter wear as quick as a flash.
A Rainproof, Windproof Shell – Rain Jacket or Rain Poncho
You can either take a lightweight packable jacket that's easy to store and carry, or take a  waterproof poncho along with you. Disposable ones can be purchased for about $1 in Cusco, but a reusable one is far more eco-friendly.
Sunglasses
What, you really need rain gear and sunglasses, at the same time? Believe us – it really is a requirement for the Inca trail! Remember those UV rays we referred to when mentioning sun hats?
Swimsuit
Yes, you did read that right! This is for soaking in the Aguas Calientes hot springs at the end of the trek!  By this time you'll really need both the rest and the cleansing effect of the water.
Adequate Footwear
Do you need hiking boots for the Inca Trail? Yes, you really do! Good-quality, well broken-in waterproof trekking boots to protect your feet on the trail are an absolute must for your Machu Picchu hike packing list. You can find out more on this below.
Don't forget you'll be wearing the boots, so you don't have to carry them. You will also need lightweight flip flops or sandals for walking around the campsite, your hotel room in Cusco and at those luxurious hot springs. They will also give your feet a chance to breathe during the evenings.
Sleeping Bag
Sleeping bags are available to rent from tour companies or in Cusco if you don't have your own. There's a dedicated section on this topic below too.
Inca Trail Shoes: The Best Hiking Boots for the Inca Trail
If you only take away one thing from this Inca trail packing list, make it this. The hiking shoes for Machu Picchu you take can literally make or break your entire trek.
Our number one tip is to make sure you break in your Inca Trail hiking boots long before you even make it to Peru. Don't do as our co-founder's brother did – he was forced to hike the Annapurna circuit in flip flops due to the blisters he got from his newly purchases Inca Trail boots!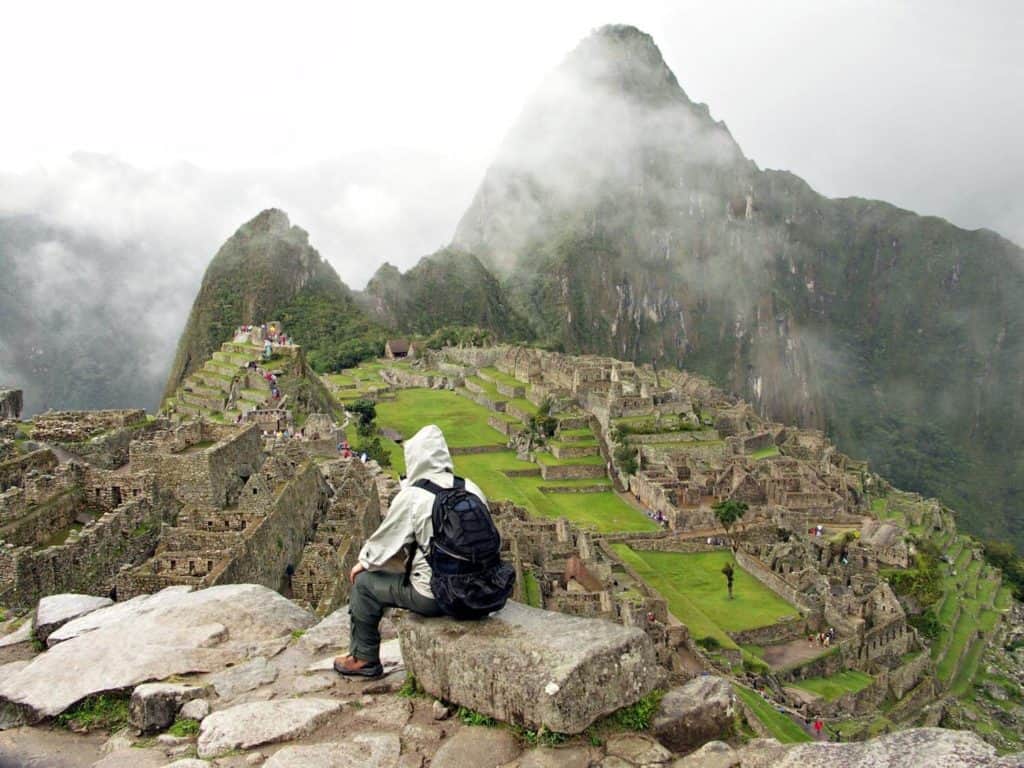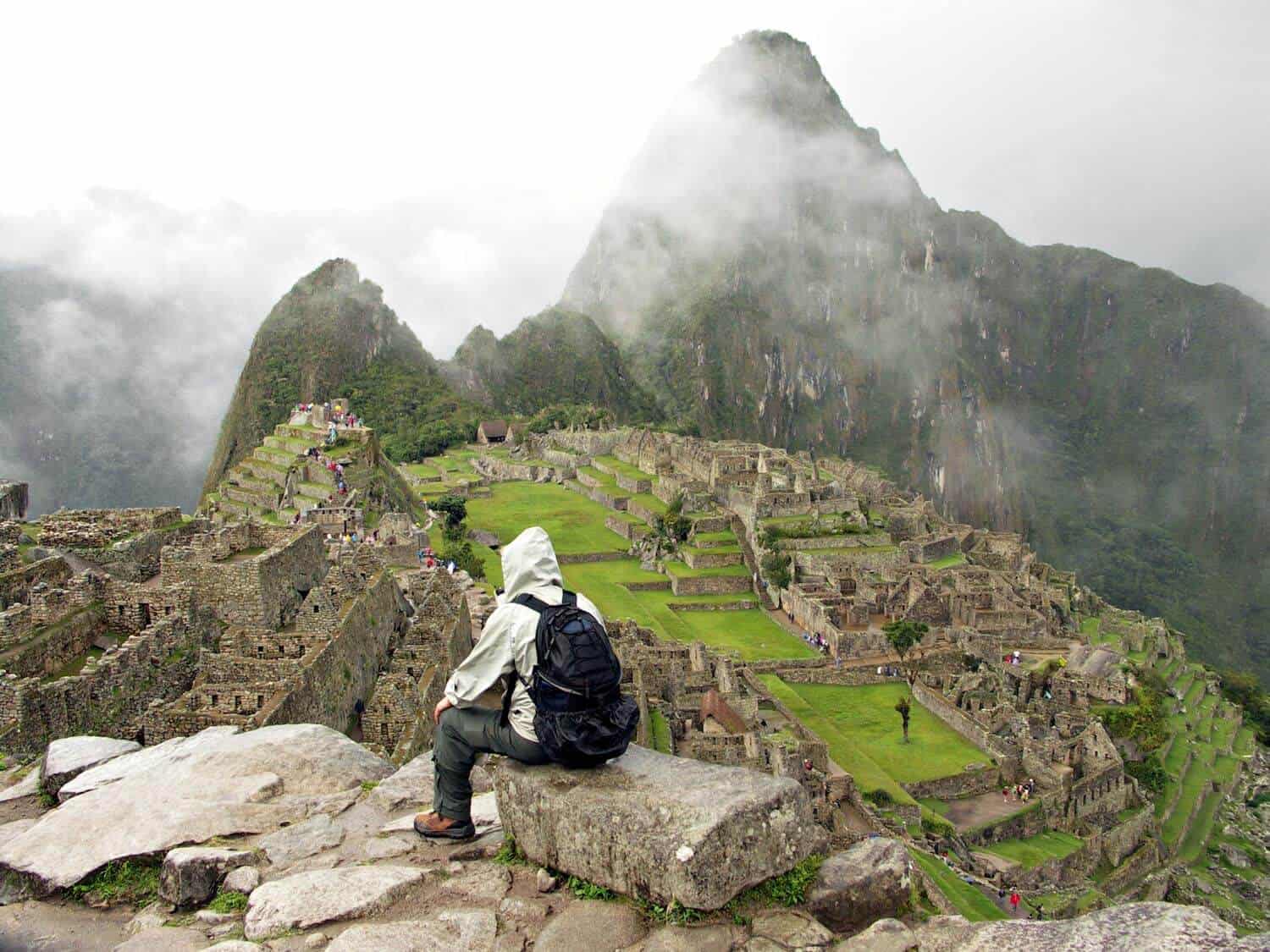 Day Pack or Backpack for the Inca Trail
So what is the best Inca trail backpack size? You'll need a small daypack for the trek. The first thing to know is that the best backpack for the Inca Trail will measure 40cm by 40cm or less. If it exceeds this size, you'll have to leave it at the check in gate at Machu Picchu. This means having no access to the contents! So don't forget this when considering what size daypack for the Inca trail to take.
While you will have packed 7 kilos' worth of things in the duffel bag that will be carried by the porters.  Everything you'll need during the day has to be in your daypack. This will include items like sunscreen, a hat, lip balm, and a scarf if it will be cold (or maybe to protect from the sun).
If it's cold when you leave in the morning, you might be wearing thermals or leggings plus a base layer. As the weather gets hotter during the day you will end up taking these layers off.  Thus need to have space in your day pack for carrying them.
Also make sure you are carrying a poncho or lightweight rain jacket.  Even if it's perfectly sunny with a cloudless sky in the morning. The seasons can change very quickly in the Andes.
Also carry in your daypack plenty of water.  For this reason the kind of bag that has water bottle pouches on the side is super useful. You may also want to take some Inca trail snacks for an energy boost along the way.  A travel first aid kit containing items like plasters and mild painkillers such as paracetamol can also come in very useful.
Last but not least, don't forget to pack your camera and a spare power bank or batteries so that you aren't caught short during the day. Try not to worry though. After the first day on the trail you will really figure out what you need to put into your day pack.
If you're looking for a recommendation as to the best daypack for the Inca Trail, we'd say take a look at the Osprey range. These come in various sizes and are high quality, ergonomically designed packs with lots of pockets for all you'll need. This should help to ensure you have a comfortable trek.
Do I Need My Own Inca Trail Sleeping Bag?
If you have your own sleeping bag for the Inca Trail – and it's adequately rated for the overnight temperatures and packs down tightly (such as a compression sleeping bag) then yes, by all means bring your sleeping bag. It is nice to know that this is your own sleeping bag.  Not one that has been slept in by someone else. (Unfortunately some of the less reputable companies have been known not to wash sleeping bags between users! Ugh!)
If you don't have your own bag, most tour companies do offer ones for hire.  However, check before you go if you're not bringing one. For those that camp or backpack, investing in a great sleeping bag is a realistic option.
Rab down sleeping bags are excellent and highly recommended. A down one is the best sleeping bag for the Inca Trail. It is lighter to carry while offering superior warmth. While you can increase your Inca trail sleeping bag temperature by wearing thermals, you'll still need a warm one!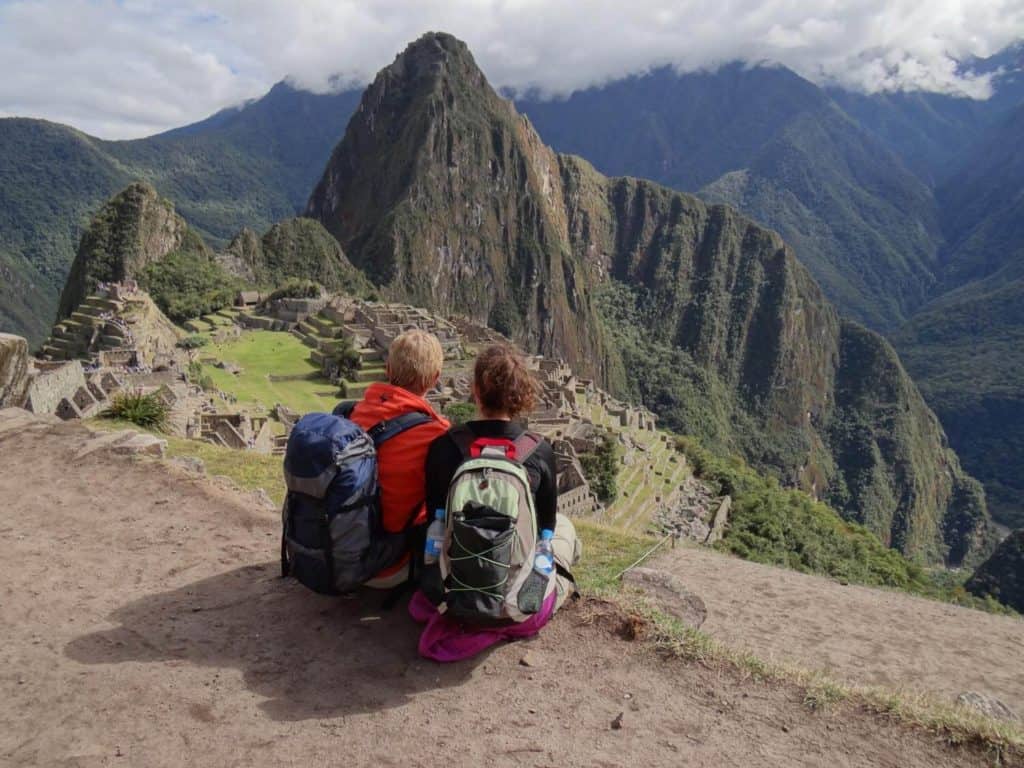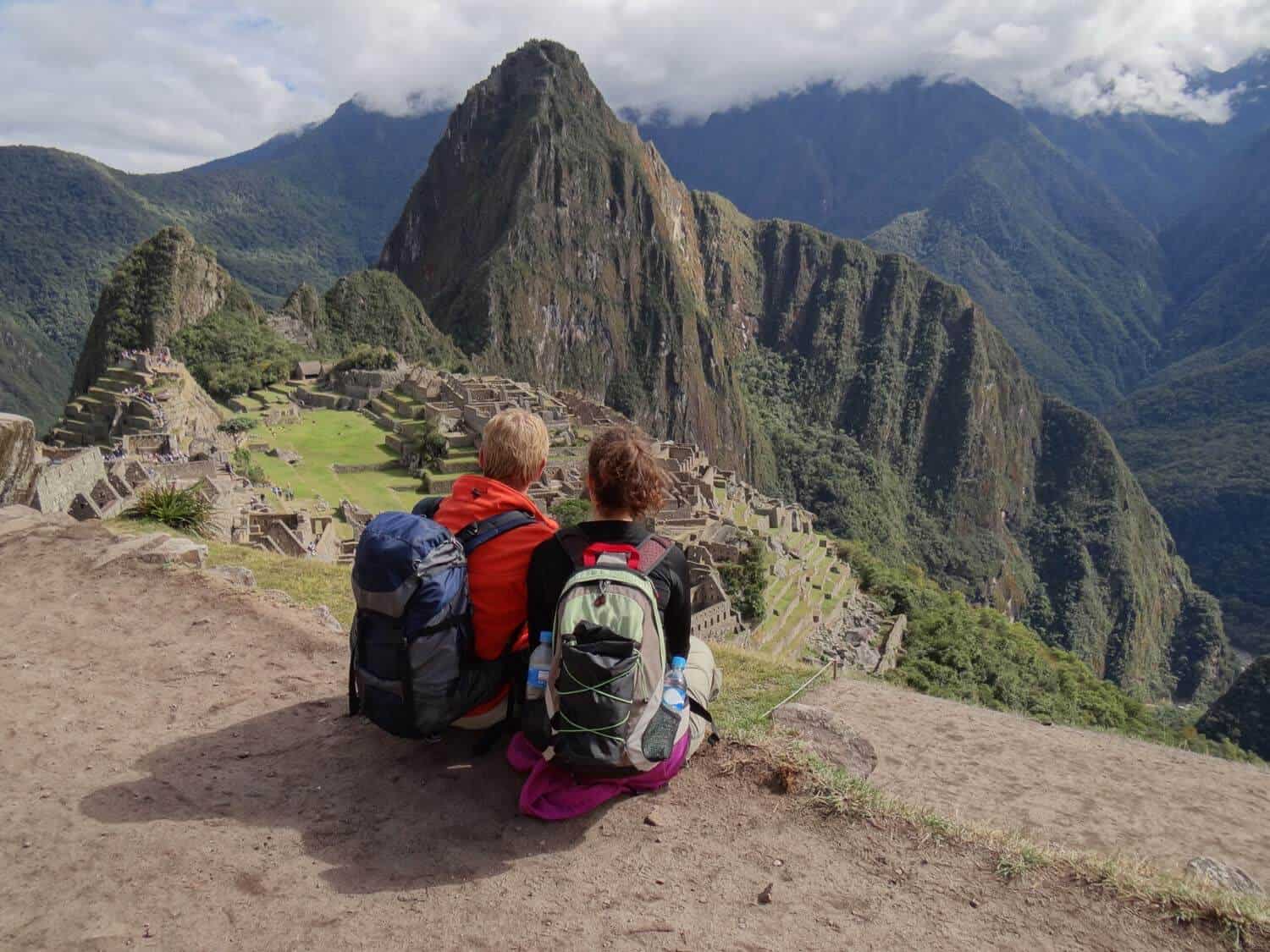 Pharmacy & First Aid Items for the Inca Trail
Don't finalise that Inca Trail equipment list without considering these items. Some are just as important as packing the right Inca Trail footwear.
Sunblock – eco-friendly sunscreens are our favourites.
After-sun lotion or hydrating cream for your face and body.
Insect repellent – 20% DEET formulas are the best option.
Water purification tablets in case you collect water from streams, or a Steripen.
Toilet paper and plastic Ziploc bags for packing used tissue in.
Your own medical kit with any special meds that you need to take.
Travel-size hand sanitizer or wipes.
Lip balm – one containing protection from UV rays is best.
Travel-size hand cream.
Band aids, moleskin or second skin – essential if you do get blisters.
Pain killers – paracetamol is a good, gentle all-rounder.
Altitude sickness pills – many people really need these.
Anti-diarrhea pills – ditto!
A course of antibiotics – just in case, though you'll need a prescription.
Feminine hygiene products – it's wise to take a small pack even if you don't think you'll need them.
Useful Extras for the Inca Trail
Snacks – biscuits, energy bars, chocolate, dried fruits and muesli are all good for an energy boost.
Reusable water bottle – metal or BPA-free plastic is best.
Flashlight or torch and spare batteries – note that batteries are consumed more quickly during cold conditions. Or you could take a headlamp.
Camera, camera cards with lots of space on them, plus batteries or extra power packs.
Power bank – solar powered if possible to keep your cell phone and camera charged while on the trail.
Small towel or sarong – a sarong can dry more quickly and is often lighter in weight.
Bathing suit – if you intend to swim in the hot springs.
Cash in local currency and small denominations – sufficient for your final meal in Aguas Calientes plus any tips and souvenirs.
Trekking poles – available for rent if you don't have your own. Note – hiking poles with metal tips cannot be carried onto Machu Picchu. They should thus be left at your hotel before departure.
Binoculars – pick a lightweight pair.

Random Things to Know about Trekking the Inca Trail
To round things off, here are a few more random facts about life on the Machu Picchu circuit!
Cash
You won't need a lot of money while trekking to Machu Picchu. Save your big spending for investing in the best hiking shoes for the Inca Trail. That said, you do need to take some cash with you. Local currency in small denominations is ideal.
There are a few little shops along the way.  You may want or really need to buy certain times from them. Tipping your porters and guides is also a good idea after they've led the way and/or carried your bag for days on end.
You might also want to enjoy a meal at the Aguas Calientes hot springs before you being your descent.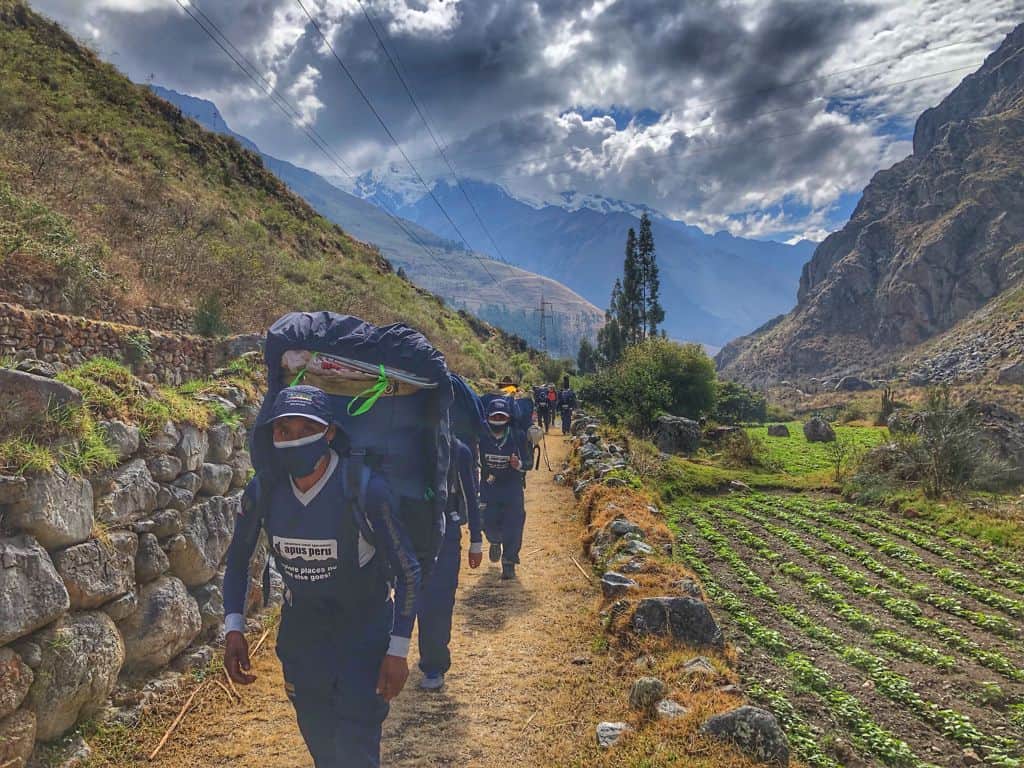 Interested in Knowing Everything There is to Know about the Inca Trail?
If you'd like to know more about the trek to Machu Picchu, there is a comprehensive post here covering key questions like which Inca trail is best for me, how to book the Inca trail, and what is it really like.
The article also covers very important issues such as those Inca trail showers! All this will of course impact on what you are going to pack. We really do recommend taking a look.
If you are currently working out what to pack on the trail, you should also check out the piece for advice on how to prepare. It includes notes on issues like the terrain.  You can then decide on the best shoes for the Inca Trail for you.
Read this complete guide to the Inca Trail here!
And finally…
Do bear in mind that this packing list is ONLY intended for those taking the Inca Trail!  For a full list of what to pack for Peru by area, season and so on, please check out this post.

What Will Make it Onto Your Inca Trail Packing List?
We hope this comprehensive packing list for the Inca Trail has helped you work out what to pack. And also what to leave behind, either at your hotel in Cusco or at home.  Whatever you take to Machu Picchu, checking the weight limit and how much of this remains after taking into account your sleeping bag is the number one priority.  If you are hiring a sleeping bag, you'll also need to know what that weighs so you can factor it in. So do check with your chosen tour operator before you even start to pack for the Inca Trail!
Like it? Pin it!