Rooftop Kitchen – A Recipe for a Great Experience
My experience of a rooftop outdoor cooking class in Cusco!
In Peru, food has always been a big deal! But these days, as Peruvian cuisine has gained worldwide recognition, visitors to Peru are actively requesting experiences that allow them to engage with one of the most original cuisines in the world!
Peruvian cuisine's newfound status in the world of gastronomy is due in part to the efforts of Chef Superstar Gaston Acurio, as well as those of other famous chefs like Micha Tsumura and Virgilio Martinez. These talented chefs have contributed to the elevation of native Peruvian dishes to haute cuisine.
The number of cooking schools in Lima and Cusco has proliferated along with this newfound fame. Even though I'm a person who's not into cooking, I recently decided to challenge myself and find out what the fuss was all about. When I signed up for the class with Rooftop Kitchen, I brought with me the assumption that a cooking class was for people that were already interested in cooking. How wrong I was! In fact, just by participating, I became more interested in cooking than I had been for a very long time!
Firstly, the tour of San Pedro Market, where we "perused" the aisles of colorful market stalls for fresh and unusual ingredients, was frankly awesome. San Pedro Market was designed by Gustavo Eiffel (of Eiffel Tower fame) Though earthquakes and the ravages of time have detracted from much of its original character, it's still possibly one of the most varied markets on earth.
I had lived just one block from San Pedro Market for two of my first years in Cusco, so I'd spent a lot of time there. However, familiarity sometimes causes you to miss the magic, and on this tour I had the joy of visiting the market with two Brazilian foodies who went crazy for the variety, color, and strange-ness of many of the different types of food. And even though in my explorations of San Pedro I'd seen many of these foods before, I hadn't known their full names or especially what they were used for. Every misconception I'd held was blown out of the water as I learned fascinating facts about the colourful herbs, veggies, cheeses, meats, and fruits that I'd hitherto passed right by without taking notice! This of course, is one of the advantages of taking a guided tour – you get information packaged in a way that you otherwise wouldn't, and are therefore able to absorb pertinent information about a subject more deeply than you would without guidance.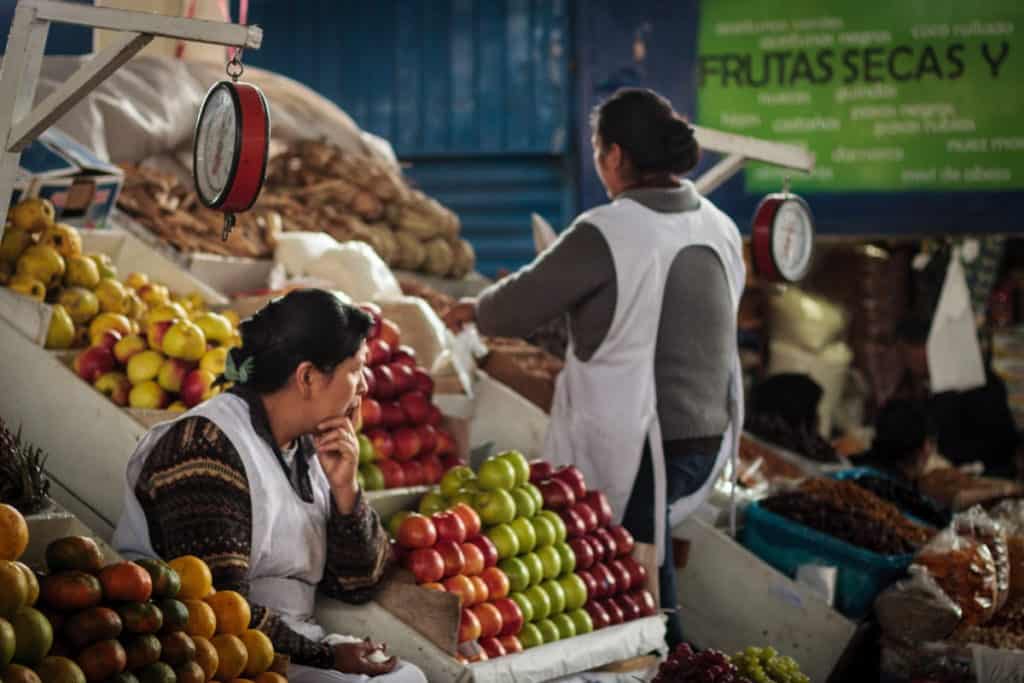 From San Pedro Market, we went a little out of the center of downtown Cusco and headed up to the 11th floor of a residential building for an Awesome and very different view of the ancient Inca capital. The entire kitchen and rooftop area was set up beautifully with excellent attention to detail. The incredible view, especially as the sun went down, was a massive winner for me!
Rooftop Kitchen describes their tour as providing "unique insight" into Peru's food and culture through the use of regional products like quinoa, yellow peppers, and fresh trout; and the menu itself as consisting of "fusion gourmet" dishes.
First up on the menu were pisco sours: with lots of shaking and fun, it was the perfect way to loosen up and laugh with my group.   Then, we headed out on the deck for breathtaking views, enjoyed our drinks, and got a chance to know one another. A recipe for a great social and educational experience!
Relaxed from the fun of the Pisco Sours, we prepared an appetizer of Fennel and Olive Oil Trout Tiradito with Red Quinoa and Red Wine-Glazed Turnips. While our chef did a great job explaining the elements of the dish, I also learned a lot from the questions of others on the tour that were truly passionate about food.
The main course was a Red Quinoa "Quinotto" with Wild Mushrooms and Blue Cheese. (Just in case you don't know, a Quinoa Risotto is known as a 'Quinotto' in culinary circles!)
Hats off to the crew at Rooftop Kitchen for choosing a couple of dishes that were fancy – yet extremely simple- to prepare. We had a great time and headed home feeling inspired.
And in case you are wondering – no, I haven't made the dishes at home yet. But they gave us the recipes, and I am inspired to do so soon!
– Ariana Svenson
Take-away tips
Cusco Cooking Class in General
Even if you are not a keen home –cook, the classes are done in such a way to make you feel entirely competent PLUS you get some tips which actually caused me to feel more enthusiastic about cooking at home than before!
The class was lots of fun, and it was interesting to follow the connection from the market to the kitchen.
Why not cook your meal and engage with Peru, rather than just go to a restaurant. What an awesome immersion experience!
The Rooftop Kitchen stands out for a number of reasons –
Other schools have a storeroom of products to choose your items from. I really enjoyed the market visit, where we got to see lots of local color and purchase fresh ingredients.
Rooftop Kitchen is on the 11th floor in a residential area with a truly sensational view of Cusco!
The class was professionally presented and loads of fun!