What is Comfort Camping
Long before we heard the term "glamping" even existed, we at Apus Peru innovated a Comfort Camping option so that folks could relax in comfort after a long, hard day of trekking. We include such amenities as a real camp bed, large tents for extra comfort, and even portable hot showers to freshen up after the trek.
GET THE DETAILS: All you need to know about Comfort Camping in Peru!
We at Apus Peru don't like to overstate things, but some might call this "Luxury 4-Star Camping" or "Deluxe Camping".
Our Comfort Camping upgrade enables you to concentrate on what is important: spending quality time with your family, friends, and loved ones. It allows your entire family to trek in comfort, and is a good choice for a multi-generational camping trip. That is not to say that you and your loved ones won't be expending a strenuous effort during the daylight hours! But at the end of the day, when everyone is likely to be hot, tired, and exhausted, the whole group will be able to relax in comfort.
Who is Comfort Camping For
With a dash of luxury, this new style of glam camping is for people who want an ideal camping experience at the end of the day. It is for folks who love the idea of sleeping under the stars but who still want to indulge in those creature comforts at the end of a long, hard day of trekking in Peru. In other words, they want the best of both worlds! This luxury camping alternative for your Peru trip opens up camping to a wider range of people. Now even those who don't enjoy traditional camping can experience the wonder of the Andes while trekking to Machu Picchu.
What is Included in the Glamping Upgrade
The Comfort Camping option offers, among other things, raised camp beds, a thicker Thermarest mattress, an inflatable pillow, deluxe sleeping bags, and a larger tent you can stand up and move about in. Perhaps best of all, you will be able to take a (short) hot shower after a day of intense physical exertion. Imagine – showering on the trail!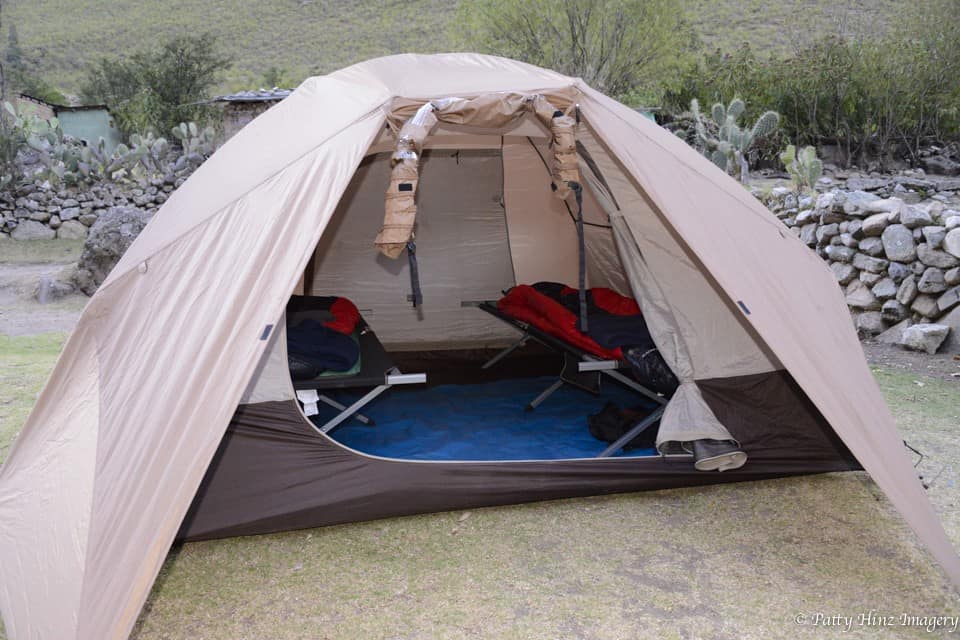 We think you'll love our Comfort Camping upgrade (and PS, any trek can be upgraded!) If you're thinking about trekking to Machu Picchu and want to camp in style while you're at it, this is a great option for you. Get in touch with one of our Trek Experts today to find out more, or to book your trek!
Originally published 4 July 2016; updated on 28 Nov 2019. Thank you to Patty Hinz for sharing her comfort camping photos!