Most visitors to the mountains near Cusco come for one reason — Machu Picchu. But there is a lot more to the Sacred Valley than these ancient and wondrous ruins. Consider that the Boleto Turistico (an all-access pass to sites around Cusco) includes more than ten different ruins and museums, and many more sites are not listed on the ticket.
The options for exploring near Machu Picchu are vast and well worth adding a couple days onto your trip. Below is one of the many day tours offered by Apus Peru. This, combined with one of Apus Peru other tours would be easily accomplished in a weekend and can be a great way to get acclimatized to the "high life" in the Sacred Valley.
Book your Apus Peru tour today!
This is a great trip for anyone who is ready to get out into the Sacred Valley but wants to hold off a bit on serious trekking. On the way there, visitors traverse the rim of the valley where they are treated to spectacular views of snowcapped peaks and terraced hillsides.
At Moray, you'll get a chance to see one of the most interesting and unique Incan ruins near Cusco; a series of concentric terraces once used for high altitude agriculture. At first glance, the scale of the place can be hard to grasp. But as you climb down to the lowest level, the profound size of these ruins becomes clear.
Now, only grass grows on the old stones of the Moray but visitors can still marvel at the disorienting construction and sample the superb acoustics of this sunken garden.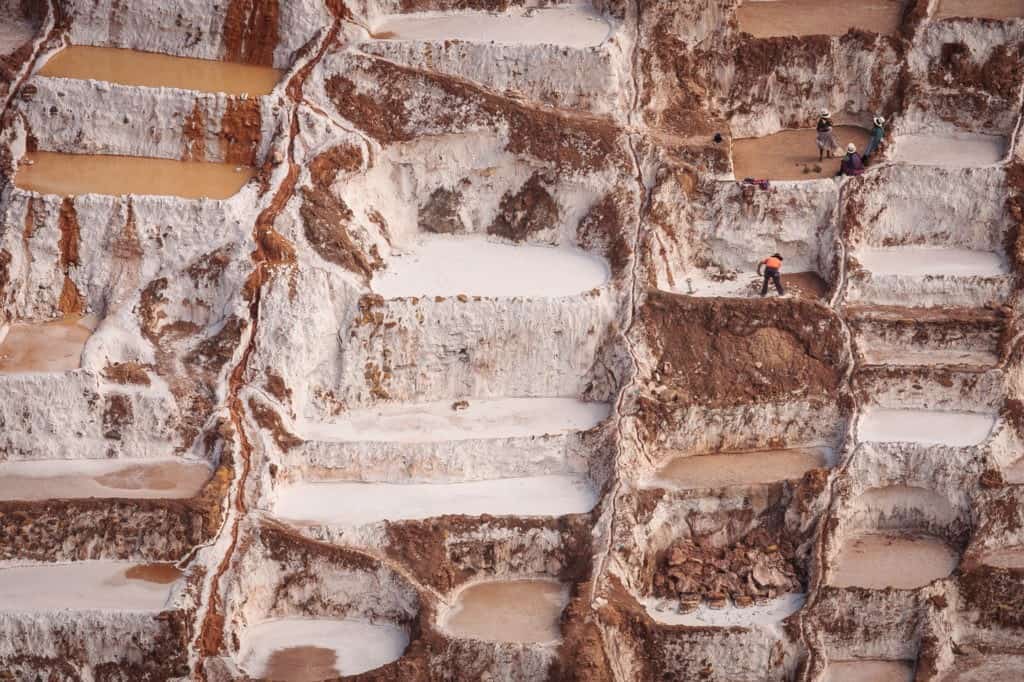 A downhill walk from the Moray through cultivated lands leads to the Salineras, a collection of evaporating pools carved into the hillside. These pools collect water from a saltwater spring through a series of ingenious channels. As the water disappears, it leaves behind a rich harvest of salt that locals collect and sell.
During the dry season, you're likely to see people at work in the Salineras; cleaning, repairing, filling, or collecting salt from the pools. Nearby shops offer many different foods and seasonings that include local salt.
Want to go to Moray and Salineras ? Check the tour here
This post was most recently updated on July 2023
Like it? Pin it!