What an incredible Peru adventure! After a long flight home and catching up on emails, sleep and laundry, I was finally ready to put pen to paper. Our Ancascocha trek was amazing! It was an incredible, breathtaking, fun, challenging, heartwarming, and most likely one of the best adventures I (we) have ever experienced.
Our Perfect Peru Adventure
From the hotels (I would strongly recommend Second Home) to the people (Urbano, Mauro and the whole team) to the scenery and locals, this trip was just about perfect. Even the weather seemed to be smiling on us most of the time! Despite the day of nasty altitude sickness (thank goodness for that horse), it was worth the price for this Peru experience. The very first day of the Ancascocha hike, we saw a couple of condors high in the clouds and a couple of falcons fly right over our heads!
Highlights of our Peru Adventure: Solitude and Natural Beauty
After the Salkantay Pass on the morning of the second day we met NO other hikers on the trail. The world was ours! Just us, Urbano and the crew, and farmers here and there that we met. Meeting the sheep farmers was a great way to experience Peru! The mountains were majestic and breathtaking. Other highlights included the hike down the last day in the valley, seeing all the waqanki orchids was truly amazing.
READ MORE about hiking the Ancascocha trail! Day by Day on the Ancascocha Trail
A Wonderful Team
Our guide, Urbano, was wonderful – funny, experienced, and knowledgeable! Urbano knew everything about mountains and rock formations, flowers and plants, and some of the birds and other animals we observed. If he didn't know something, he said so, which was great instead of trying to make something up. He has a great sense of humor! We do need to apologize, though. I think we thoroughly corrupted him with plenty of American slang like 'road apples' (horse manure), and a few really good Canadian jokes (eh).
On the drive up to the start of the hike, Urbano jumped out a few times and would go collect what turned out to be Andean mint leaves (muña) along the road. Almost every evening, he would have Mauro brew some muña tea, a perfect way to finish the day and meal!
Fantastic Meals on the Ancascocha Trail
Mauro's cooking was just incredible! What he was able to create with a pressure cooker out in the middle of nowhere was mind-blowing. The fact that he cared so much about the presentation of the food as well was amazing. We ate like royalty!! His quinoa risotto was my absolute favorite.
The dinner at the Treehouse in Aguas Calientes was just amazing. Every dish was shared and tasted, and even Urbano was highly impressed! A definite gem. The hotel La Cabana was a nice stay as well. Comfortable rooms, clean and lots of hot water for a luxurious, long shower after hiking. Definitely a recommended hotel in Aguas Calientes.
Visiting Machu Picchu
It was a very, very rainy morning the day we visited Machu Picchu. But with a smile, and even with a cold, Urbano took us on the tour. We ended up not climbing Huayna Picchu as it was completely covered in mist and the steady rain made the climb a bit treacherous. We explored some more and then went out and hid under some umbrellas, waiting for lunch. There, the guys, including Urbano, proceeded to tell each other jokes and stories. It was awesome! After lunch at the Machu Picchu Sanctuary Lodge, Urbano said goodbye and we headed back into Machu Picchu to explore some more as the rain had stopped.
The End to An Incredible Peru Adventure
We met Carlos, the owner of Second Home hotel in Cusco, the next morning and he was so friendly and courteous! Urbano and his wife and son caught up to us while we were shopping and we walked around Cusco together, had lunch, and said a final good bye. Our taxi to the airport was covered by Carlos and off we went. I was sad to leave!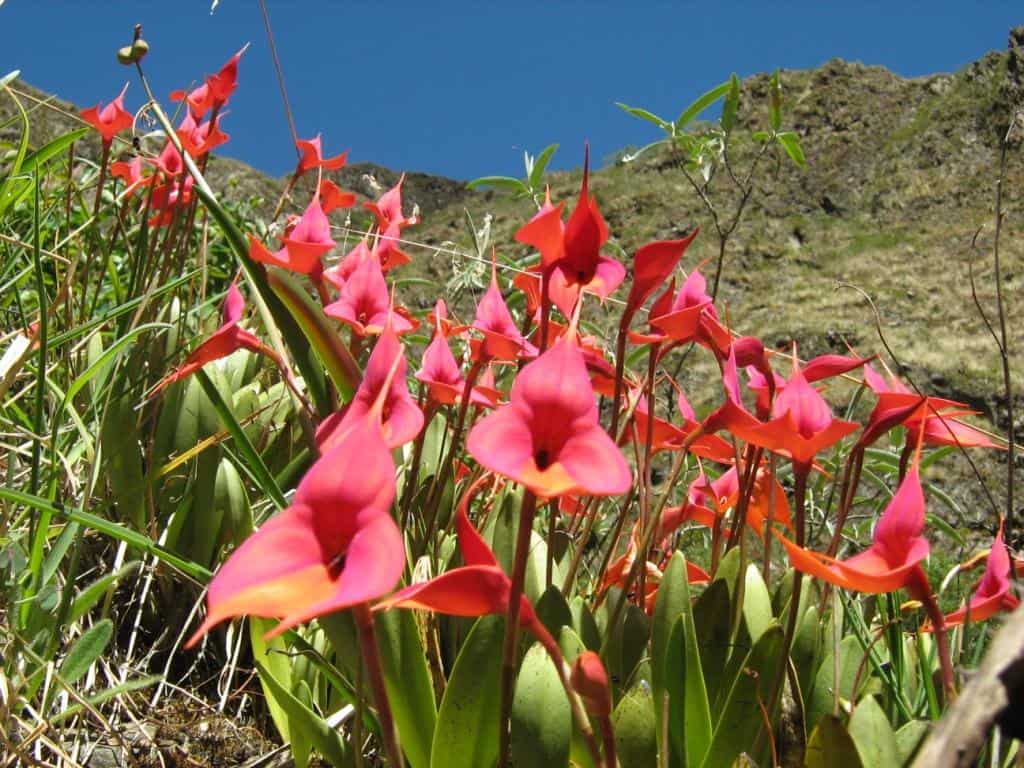 While Aguas Calientes was probably our least favorite part (except for the Treehouse, the hotel and the ruins), we absolutely loved Ollantaytambo. If ever you're planning your own Peru adventure, I highly recommend spending a day or two in Ollantaytambo! The Hotel Sol is a great place to stay. By contrast, Aguas Calientes felt like a complete tourist trap, but that is to be expected at the base of Machu Picchu.
Overall, the trip exceeded our expectations in so many ways. We would be happy to recommend Apus Peru to anyone considering a trip to Peru.
WANT TO GO? Check out all the details about the 5 Day Ancascocha Trek. We also offer a 3 Day Ancascocha trek for those short on time!
This is an excerpt from an email from Apus Peru trekker Angela Bowers, who with 3 friends, trekked the Ancascocha route in late October. Thank you to Angela for writing a comprehensive and interesting trip report! Originally published 9 November 2011; updated 24 December 2019.