Mandy, a former Apus Peru team member, completed our 8-day Choquequirao to Machu Picchu Adventure Trek. We asked her to write a trek review about her experience…Read on for her first-hand account of this incredible Peru trek! Thanks Mandy!!!
Trekker Review: First, a bit about me
My name is Mandy and I was a member of the sales staff for Apus Peru. I have lived in Peru on and off for nearly two decades. I love trekking but I was slow to start trekking off the beaten path in Peru. My first off-the-beaten-path trek was a modified (read: cheating) version of Salkantay. I went with a friend of mine as my guide, and we hiked during the month of May – one of the best times to hike in Peru. It was sensational!
I have hiked the Inca Trail many times as a former tour leader. It is stunning, too, but very controlled: it is highly regulated by the Peruvian authorities, and there is only one path. There are lots of steps and everyone has to take the same route. By contrast, getting onto Salkantay – which literally means wild or savage mountain – was a welcome change.
That first experience hiking an alternative trek in Peru totally whet my appetite, and I was eager for more. Luckily, I found just what I was looking for at Apus Peru.
Trekker Review: Choosing a new adventure
Apus Peru offered me the opportunity to choose a trek in October so that I would be better able to inform our clients when they write in. I chose the 8-day Choquequirao to Machu Picchu Trek. Little did I know how lucky I was to get to do this trek! It was such a great experience that I can't wait to share this "trekker review" with you all.
The Choquequirao to Machu Picchu trek can actually be done in 7, 8 or 9 days and whichever length you choose, you will love it!
SEE ALL OUR TREKS: We redesigned all of our Choquequirao to Machu Picchu treks, to make sure we always offer you the best possible Peru hiking experience. In addition to the 8-day trek, we also offer
A Trekker Review of 8-day Choquequirao
This is a spectacular route: from the drive to Cachora through the picturesque Limatambo Valley, to the lack of tourists on the trail, to the challenge and beauty of the hike itself. I was lucky enough to be able to hike with a lovely couple, Alyson and Vincent, accompanied by our guide Arturo and our three devoted trail staff: Gregorio, our cook and Victor and Gilberto our muleteers.
My hiking partners and I were a good complement for each other. They were faster on the ups than I was, and I was quicker on the downs. Given the amount of ups and downs on this trek, we balanced each other out well! Our speed was a little slower than the norm but for me it was perfect. One of the great things about Apus Peru guides is that they can read and respond to the needs of every group, adjusting the daily hike as necessary.
ARE YOU LOVING this trekker review? Read another one! Diane Paterson gives her account of the 4-day Choquequirao trek in her trek review report. You can also check out this review of our 7-day Choquequirao trek.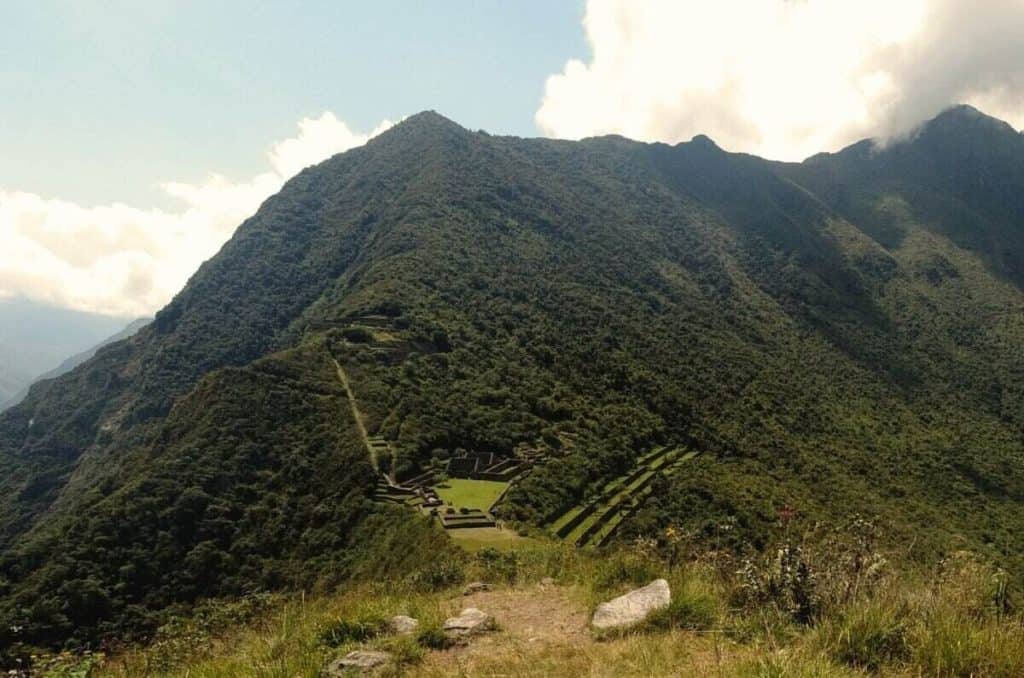 Incredible Sights on the Choquequirao to Machu Picchu Trail
There is so much to see on the Choquequirao to Machu Picchu trail, from the incredible and still very mysterious ruins of Choquequirao to the incredible flora and fauna. During our morning tour of the ruins, we had it all to ourselves! (One of the big perks – for now – of the Choquequirao trek is the relative remoteness and few trekkers.)
Among the natural delights that we were treated to were: a lone, male deer, who seemed as interested in us as we were in him; a couple of condors; a snake (I was a little too slow but Alyson and Arturo saw it); a tarantula (yes, there are tarantulas in the Andes!); a lizard and thousands of butterflies! (For a chance to see more condors and relax post-trek in a beautiful, remote mountain setting, check out our Condor Lodge extension!)
We also passed incredible mountain landscapes which varied from lush, green, forested hillsides to raw, barren, glacier covered peaks and moraines. For me, it would have been a shame to rush and miss out on these gorgeous sights.
Trekker Review: The Apus Peru Experience
Our staff was amazing. As I said, I have done many organized hikes as a tour leader but the friendliness of our crew, the quality – not to mention the quantity! – of the food that we received, the gear that we had, and the knowledge of our guide, Arturo, made our hike what it was.
Arturo knew not only about archaeological sites but also an incredible amount about the use of the local plants, knowledge that has been passed on to him from his grandparents. He chose not to inform in a way that left no doubt, but instead to challenge us to think about our own hypothesis when visiting a site. Such an approach is a great way to stimulate interest and spark ideas among the group.
Gregorio produced incredible food for us and often made two different meals. I do not eat red meat, so he would prepare a soy or eggplant version of the main meal to make sure that I was well-fed. He even managed to bake a cake as it was both Victor and Arturo's birthday during hike! Can you imagine having a freshly baked cake when you're nearly 4000 m above sea level?? That is an incredible feat.
Victor and Gilberto worked tirelessly to ensure our comfort. Camp was always set up on time, and there was a hot cup of tea waiting for us every morning. Our tents were also as dry as possible – despite the rain that we got every day! – and the animals were well-fed and well-treated.
Responsible Trekking
One of the reasons that I chose to work for Apus Peru was because of their reputation as a responsible operator.
It was such a treat to get out into the field and to see that they put their money where their mouth is.
During my trek I was not only able to learn about the route but also about the quality of service and the treatment of our staff in the field. Now I know I, and the rest of the reservations team, will be able to truthfully inform you about it all when you write.
KEEP READING:
Contact Us! We look forward to hearing from you soon.
This post was first published on 4 Nov, 2011; it was updated 2 July 2019.