A little over a month ago, on 6th September 2013, I was fortunate enough to be able to tag along on a trek with Apus Peru. The trip was a 5-day, 4-night adventure from Vilcabamba valley to Aguas Calientes, with the final day spent at Machu Picchu. 
Over the course of this unforgettable trek, I had some new and pretty incredible experiences. I now know what it's like to walk through a cloud. To camp in a glacier valley so far from civilization that I felt like nobody else could possibly exist on the planet. To let out involuntary gasps over and over again because every time I crested a mountain pass or crossed a jungle bridge over a waterfall, it seemed like I had discovered nature's best kept secret. Everything we encountered was a photograph waiting to be taken, but I could never hope to fully capture the beauty of actually being there.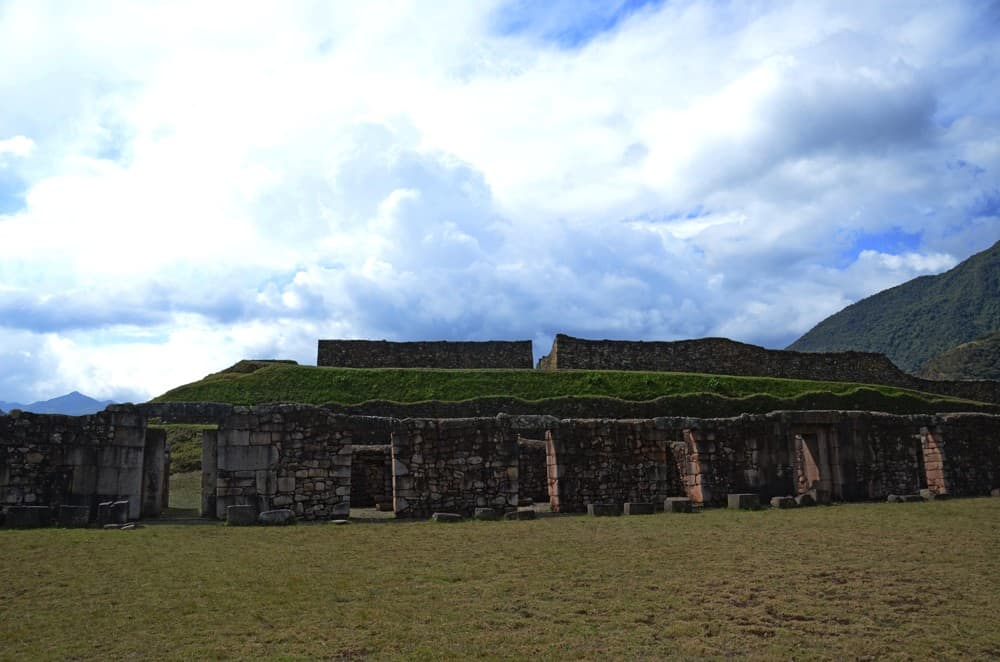 The first day, we got an early start and drove 8 hours to the starting point in the Vilcabamba Valley. Right away, about an hour into the trek, we got to see Incan ruins. Our guide, Urbano, explained that we were standing in Vitcos-Rosaspata, the ruins of what used to be the fortress of Manco Inca. We hiked until just before dusk, and camped on a ridge overlooking a valley. We woke early to piping hot cups of coca tea delivered right to the doors of our tents, and spent the morning steadily climbing through the cloud forest until we reached Asuntina Pass. It felt surreal to be standing on top of a rocky cliff and see nothing but clouds in front of us, but within a few moments the wind had cleared the fog and a green valley emerged before our eyes.
The second day we reached a camping spot in a picturesque valley nestled just below a glacier at Hatun Pampa. I can safely say that sleeping that night was the coldest I'd ever been in my life. Wearing 3 shirts, a thermal, a fleece, a jacket, a scarf, a hat, and gloves was not enough to keep me warm, even in the -10 degree sleeping bag. I emerged from my tent in the morning to find it covered in a thick layer of frost. But, as is typical in the high Andean climate, the temperature changed in the blink of an eye and I was quickly sweating and shedding layers as soon as the sun came up. 
As we climbed over another high mountain pass and began our descent, I began to feel like I was hiking on another planet. Small, glass-like alpine ponds reflected the snowy peaks above us, and sharp cliffs on one side of the trail appeared to mark the end of the world. The vegetation – plants that Urbano identified as "dragonflower" – was like nothing I'd seen anywhere else.
The diversity of the natural surroundings we encountered was spectacular. On this day, we trekked from a high glacier mountain pass – where I could feel the lack of oxygen in my lungs and the harsh rays of the sun cut through the thin air – to a lush, steamy jungle swarming with mosquitoes and covered in brightly-colored flowers. The last hiking day was entirely jungle trekking; we were surrounded by thriving green vegetation, giant butterflies, and colorful fruit. With Urbano's guidance, we picked ripe passionfruit right from the trees and ate them as we hiked. It was astoundingly different from where we had been the day before, and made me appreciate the beautiful juxtaposition of the Andean environment.
One of the most memorable moments of my trek was waking up in the middle of the night at the coldest campsite location and stepping outside of my tent wrapped in every layer I had packed. Emerging from the tent, I stood up and stopped dead in my tracks at the sight of the stars. I didn't recognize any southern hemisphere constellations, but the Milky Way could be seen as clear as day snaking its way across the black velvet of the sky. I've been camping in many locations across many countries, even in different continents, but I've never seen a night sky as brilliant as this.
After living in Cusco for over a month and talking to hundreds of travellers who had come from all over the world to visit Machu Picchu, I was worried that when I saw the ruins for myself they would fail to live up to their larger-than-life reputation. But standing at the edge of a mountaintop cliff at sunrise on the fifth day with Apus, watching the clouds slowly disperse to reveal the ancient city, I realized what all the fuss was about. Not only did Machu Picchu meet all of my expectations, it exceeded them by miles. The experience of being there was a dizzying combination of ancient history, stunning geographic location, and a quiet magic presence of the people who built it. It's understandable that countless poets, photographers and writers have made this spiritual location the subject for their art. I've never visited a place that held more humbling beauty than the ruins of Machu Picchu.
MEGAN MALLEY. www.mmalley.com
–>