Giving you the best trekking Peru has to offer
Everyone agrees, the Choquequirao to Machu Picchu trek is some of the best trekking Peru has to offer. Enjoy a wonderful hike through the high, isolated Andes, visiting amazing Incan ruins along the way.
Don't believe us? Read these client reviews!
In order to stay ahead of the curve and keep giving you the best Peru trekking experience possible, we updated our Choquequirao trek itineraries.
How We Create the Best Itineraries for Trekking Peru
"I clearly remember talking to an old campesino as he pointed over the mountains and said – 'well of course you can hike to Choquequirao from here, and Machu Picchu too.' It seemed so obvious to him, that all sites were linked by trails, as they were in Incan times,"
says Ariana Svenson, Co Founder of Apus Peru. "Six months later, in 2003, we armed ourselves with topographic maps, and old trekking guide books and set out to hike those old Inca trails. But the key was that we hired local muleteers and they guided us from place to place. To them it was just following a trail, from A to B, that they had known their whole lives. To us, it was a great adventure."
Several years later, Apus Peru was established as an adventure travel Peru trekking agency, with a focus on responsible tourism.  Given the incredible nature of that Choquequirao Machu Picchu route we were shown by the locals, Apus Peru founders Ariana and Fely felt that it was a must-see experience for visitors to the region. It became our signature trek. Memorable ruins, stunning mountain scenery and plunging river canyons – not to mention two incredible ruins on a single trek! – this was possibly the best trekking in Peru.
Still Giving You the Best of Trekking Peru
Now, many years later, we have had many trekkers pass through our doors and enjoy this wonderful route with us on 7, 8 and 9-day itineraries. However, at Apus Peru we strive to offer not just great experiences but the best trekking in Peru. We constantly listen and respond to our clients' needs, suggestions and feedback.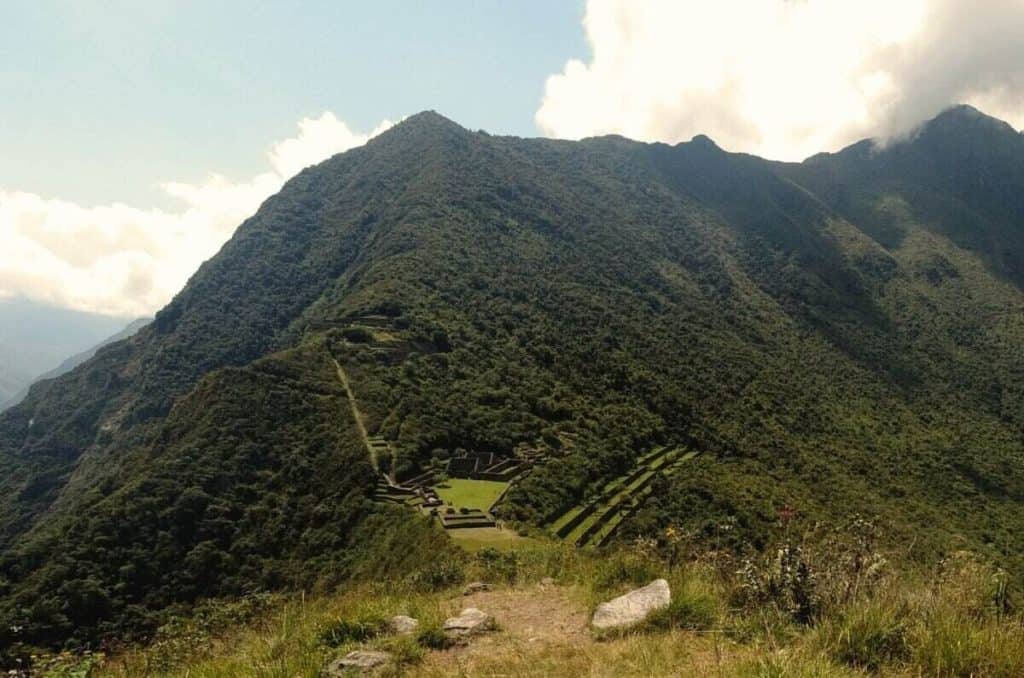 To keep our commitment to providing you the best trekking in Peru, we made some necessary changes to these classic routes. Here we would like to take the opportunity to explain why – and how excited we are to be offering new itineraries!
Still the Leader in Off-the-Beaten-Path Trekking Peru
Yanama is a town situated about half way between Choquequirao and Lucmabamba, and is home to some of our muleteers. Back in our pioneering trailblazing days, the tiny village of Yanama was exceptionally isolated and only reached on foot.
By 2012, with the onward march of progress, a road had been bulldozed to allow vehicle access. This was great for locals, but no so much for hiking. Having a road eases the task of transporting goods and provides greater connectedness for the community. But while we celebrated the arrival of better services for the locals, we knew we had to do something to maintain the solitude and taste of Andean wilderness that our clients were asking for.
Walking the last day of any trek along a road is not ideal. On top of that, the Salkantay trek – which the Choquequirao to Machu Picchu route joins in the second half – had become very popular. We knew our guests were looking for a remote Peru trekking experience – and it was time for a change.
A Whole New Era in Remote Trekking Peru
Our new revised 9 day Choquequirao to Machu Picchu trek route as goes via Vilcabamba. That gives you not one, not two, but three great ruins in a single trek! On Day 7 of this trek, we take you to visit Vitcos-Rosaspata and the fascinating  Ñustahispana. The extreme remoteness of Vilcabamba and its historical significance as the "last bastion" of the Incan Empire provides an unmatched trekking Peru experience.
Our 8 day Choquequirao to Machu Picchu Adventure was created with the purist in mind, and is a really adventurous option. We get off the beaten path – literally – at Yanama, and head first to the Qhiswa Pass and then on to Totora.
Difficult? Most definitely. Worth it? Absolutely!
This is a one-of-a-kind adventure trek in Peru, not for the faint-hearted. You must be a fit, experienced trekker to do this adventure trek. Day 6 is a long, demanding 22 km loop. Coming in the middle of an already tough trek, you must be sure you have the stamina to power through!
More Innovation to Give You the Best of Trekking in Peru
Our 7 day itinerary removed the Yanama to Totora section and created an extra day to play with. The 7 day Choquequequirao to Machu Picchu trek now includes a very special introduction to Machu Picchu: the hike from Lucmabamba to the Llactapata ruins. After enjoying the glorious isolation of the Andes, you will hike back into civilization, catching your first glimpse of Machu Picchu and Huayna Picchu to the east.
What a wonderful way to end an already memorable trek.
Does 7 days still seem like too much? We also offer a 4 day Classic Choquequirao trek !
Join Us!
We look forward to exploring with you! Contact us and connect with one of our Peru Trek Experts to start planning your Peru adventure today!
READ MORE:
This post was originally published 6 May, 2015 and updated on 2 July, 2019.