The terms 'sustainable tourism' and 'responsible tourism' are heard all the time – but what do they actually mean, both theoretically and in practice? We've collected the best sustainable tourism examples from Peru to illustrate what sustainable travel means and also to help you make more sustainable choices when you travel.
All too often people want to do the right thing and practice green travel but don't know how. For good measure we've also described examples of responsible tourism in Peru so these are options you can choose when you next travel.
In a hurry? Looking for those nitty gritty real-life examples of sustainable tourism in Peru? Then jump here!
Why Practice Sustainable Tourism?
When we think of traveling, we may imagine dense crowds piling into bucket list sites like the Eiffel Tower or the Great Wall of China. Often, these tourist visits are heavily packaged – think large tour busses and chain hotels, restaurants serving so-called "international" meals, and a regimented 9 to 5 schedule. But the sheen is fast fading on mass tourism as the negative impacts are becoming powerfully understood. In its place, calls for sustainable tourism are growing louder.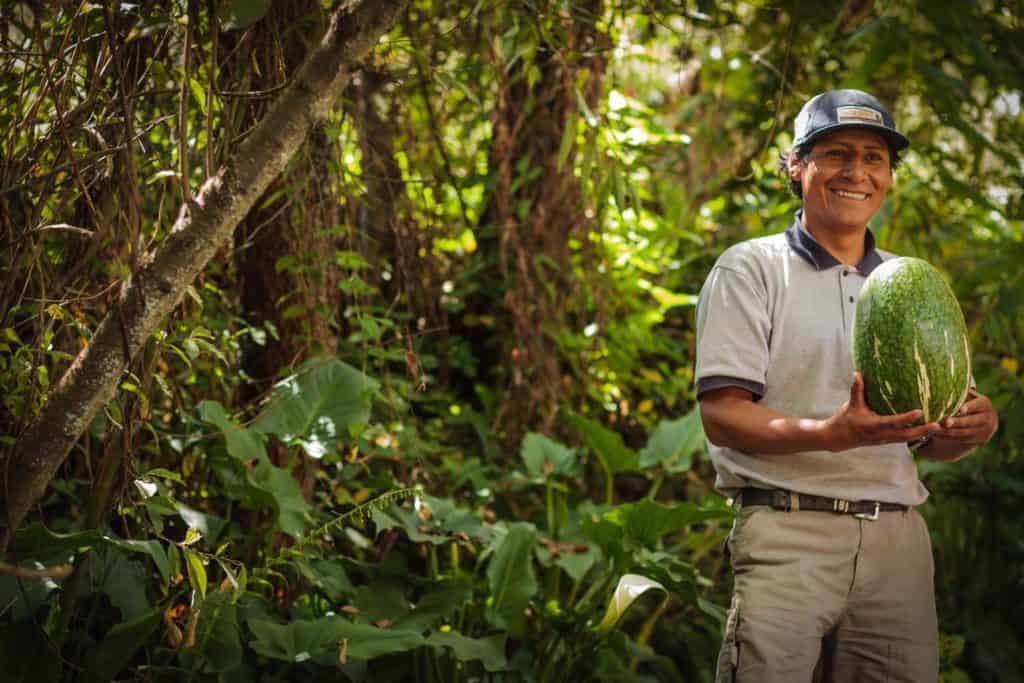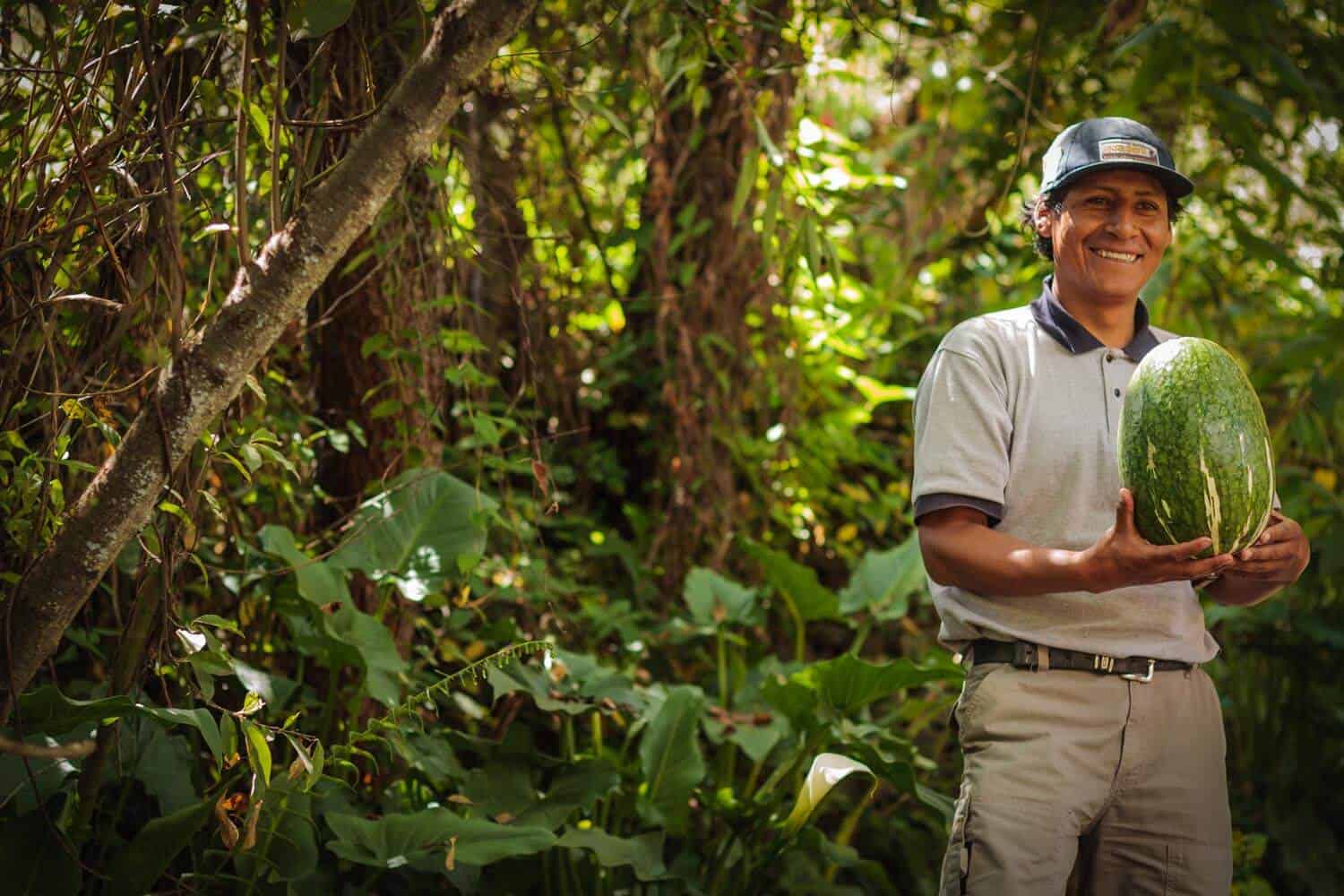 What are the Costs of Mass Tourism?
The travel bug that has inflicted so many of us for centuries starting out with Marco Polo traveled along the Silk Road in the 13th century. But while travel was prohibitive for all but the most adventurous in Polo or Battuta's day, today, long haul carriers and (comparatively) open borders made it possible for a record 1.5 billion people to travel outside of their own borders in 2019
While the Covid-19 pandemic has taken a big bite out of that number, mass tourism will surely rebound as borders re-open, and illness recedes. And in many ways, this is welcome. Mass tourism, a multi trillion-dollar industry, can provide substantial economic benefits to its beneficiaries, along with, in the best of cases, advancing cross-cultural exchanges.[1]
Yet, from threats to local cultures overrun by foreign tourists, to environmental damage, and economic benefits that go to large and distant travel operators rather than residents, the costs of mass tourism are multiplying. These harms are especially visited upon those least able to manage them – the poorest countries of the world that nonetheless have sites or histories that bring the tourists en masse. In these developing countries, hotels are more often foreign owned, environmental protections weaker, and exchanges with local communities more limited.[2] Indeed, scholars suggest that mass tourism is becoming ever less sustainable over time, as harmful practices take root in the absence of widespread governmental protections and responsible practices by tourism providers.
Thankfully, the tourist visitors themselves are taking notice, and demanding more of themselves and better for the communities they visit and love.  They are demanding, in short, a form of tourism that is sustainable.
Take only memories, leave only footprints."

-Chief Seattle (1786-1866)[3] 

What is Sustainable Tourism?
To understand sustainable tourism, we need first understand the term "sustainable".  The United Nations' World Commission on Environment and Development (WCED) defined sustainability as that which "meets the needs of the present without compromising the ability of future generations to meet their own needs."[4]  Sustainable tourism, consequently, emphasizes tourism which values and respects the economic, social, and environmental needs of local communities.  According to some of the earliest progenitors of sustainable tourism, the scholars Bill Bramwell and Bernard Lane, the concept arose in response to a booming tourism industry that too often damaged environment and society.[5]
It is – and rightly so – the environmental prong of sustainable development that has received much attention in recent years.  Sometimes referred to as "green tourism", or "eco-tourism", this seeks to hold actors accountable for their ecological footprints.
The economic and social prongs of sustainable tourism are sometimes known as "community tourism" or "responsible tourism". These prongs are sometimes ignored in favor of higher profile ecotourism projects, and, yet they too are essential to a well-rounded, sustainable tourist experience. The economic prong of sustainable tourism seeks to support the best interests of local communities, rather than bypassing their economic interests in favor of large, distant companies. This means, for instance, paying fair wages or offering a fair share of profits, along with long-term and stable employment for local community workers.
In contrast to package holidays on a remote beach or a few hours stay at a cruise destination, the social prong is all about cultural exchanges. This involves authentic interactions between visitors and residents, with mutual exchanges premised on respect. In our review today we've included examples of responsible tourism as well as green tourism, both coming under the umbrella of sustainable travel.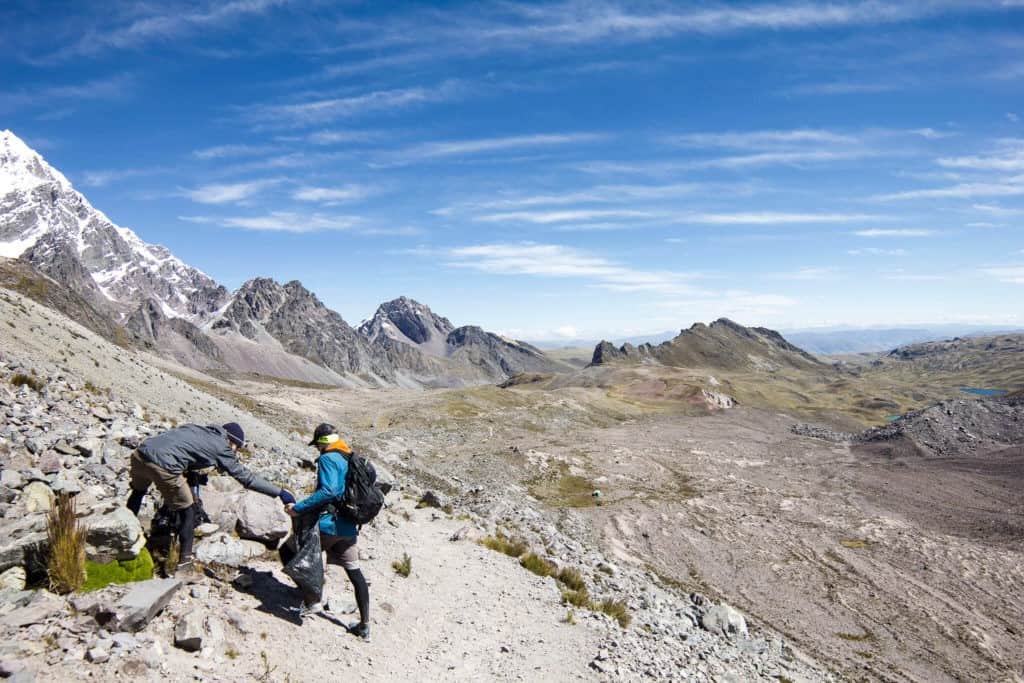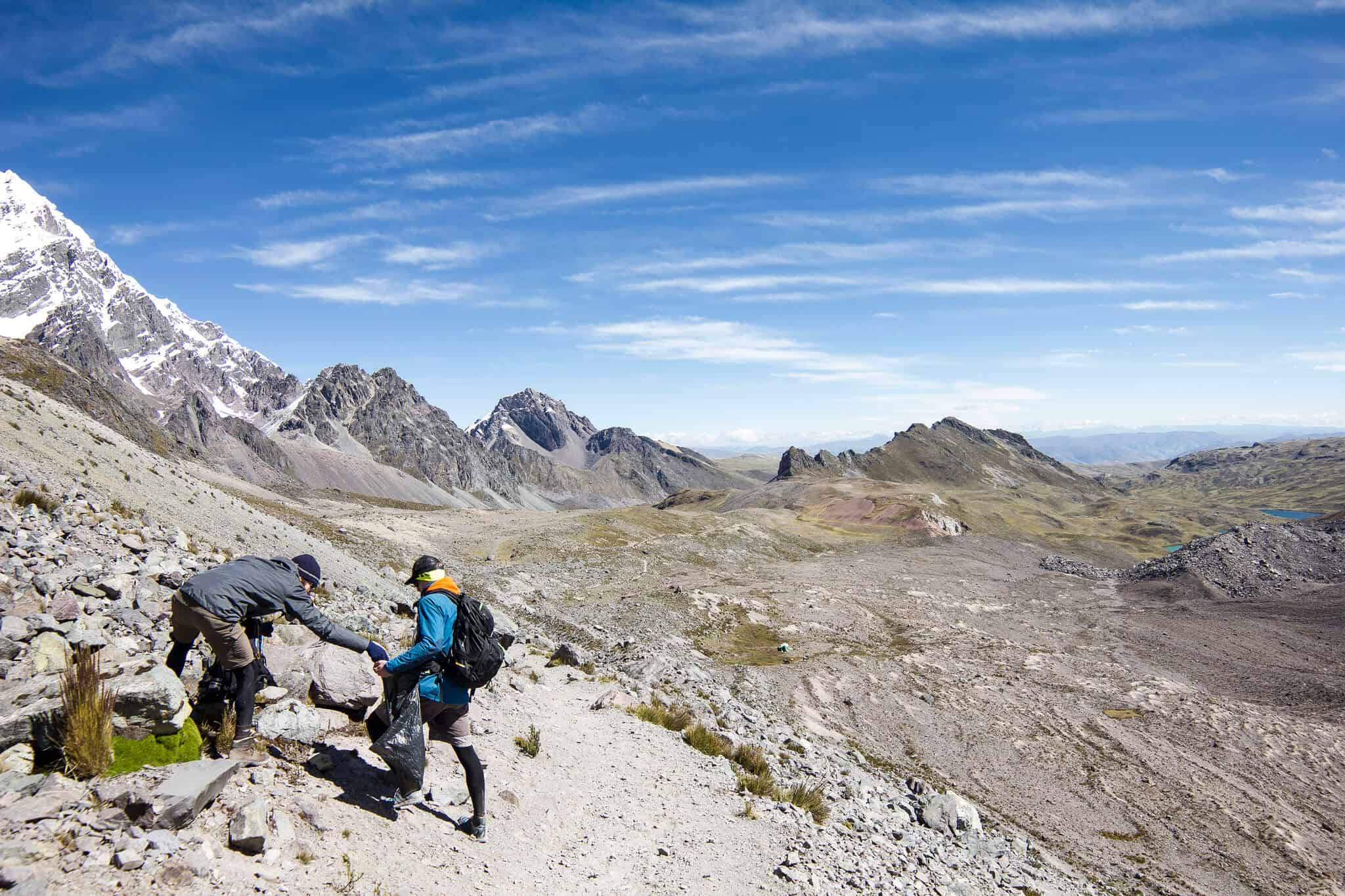 Sustainable Tourism Examples from Peru
When economic, social, and environmental standards are all upheld, sustainability is possible. Peru is a land of epic natural beauty and with a long history of respect for environment, but also a country with millions of annual visitors, substantial environmental risks, and an indigenous population with strikingly high rates of poverty.
The environmental sociologist Ross Mitchell writes that despite the ongoing harms from mass tourism in Peru, some of the globe's leading sustainable tourism providers also operate in the country.[6] The upshot? The visitor to Peru has a choice – to extract value from the country and its people, or to offer value in return for a once-in-a-lifetime experience.
In the next section, we examine the travel agencies and hotel operators in Peru that offer these conscientious visitors the best examples of sustainable tourism.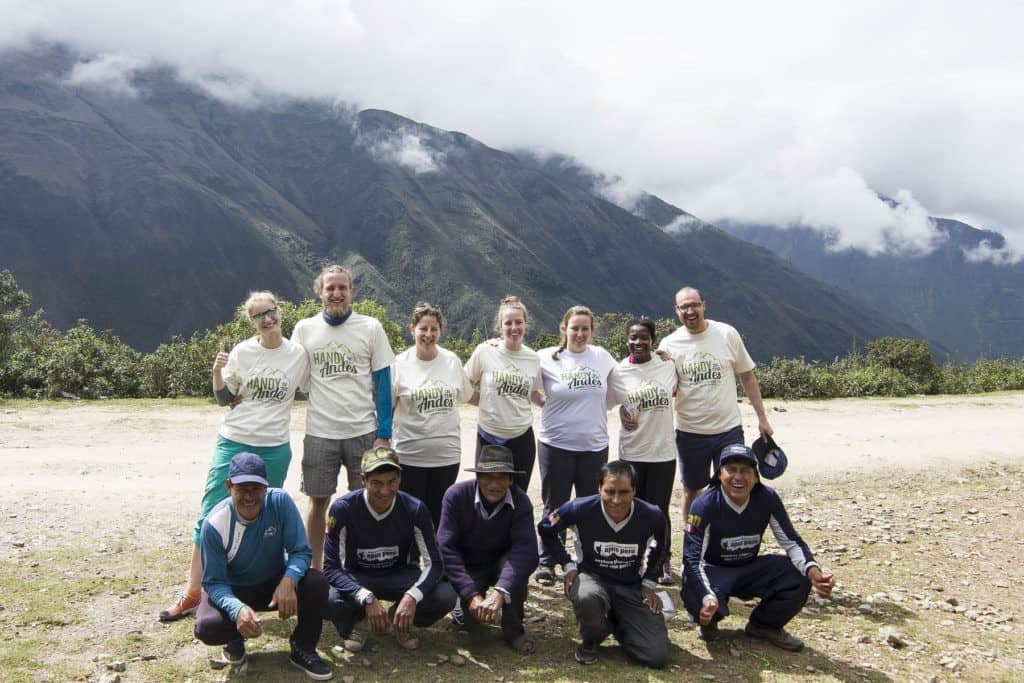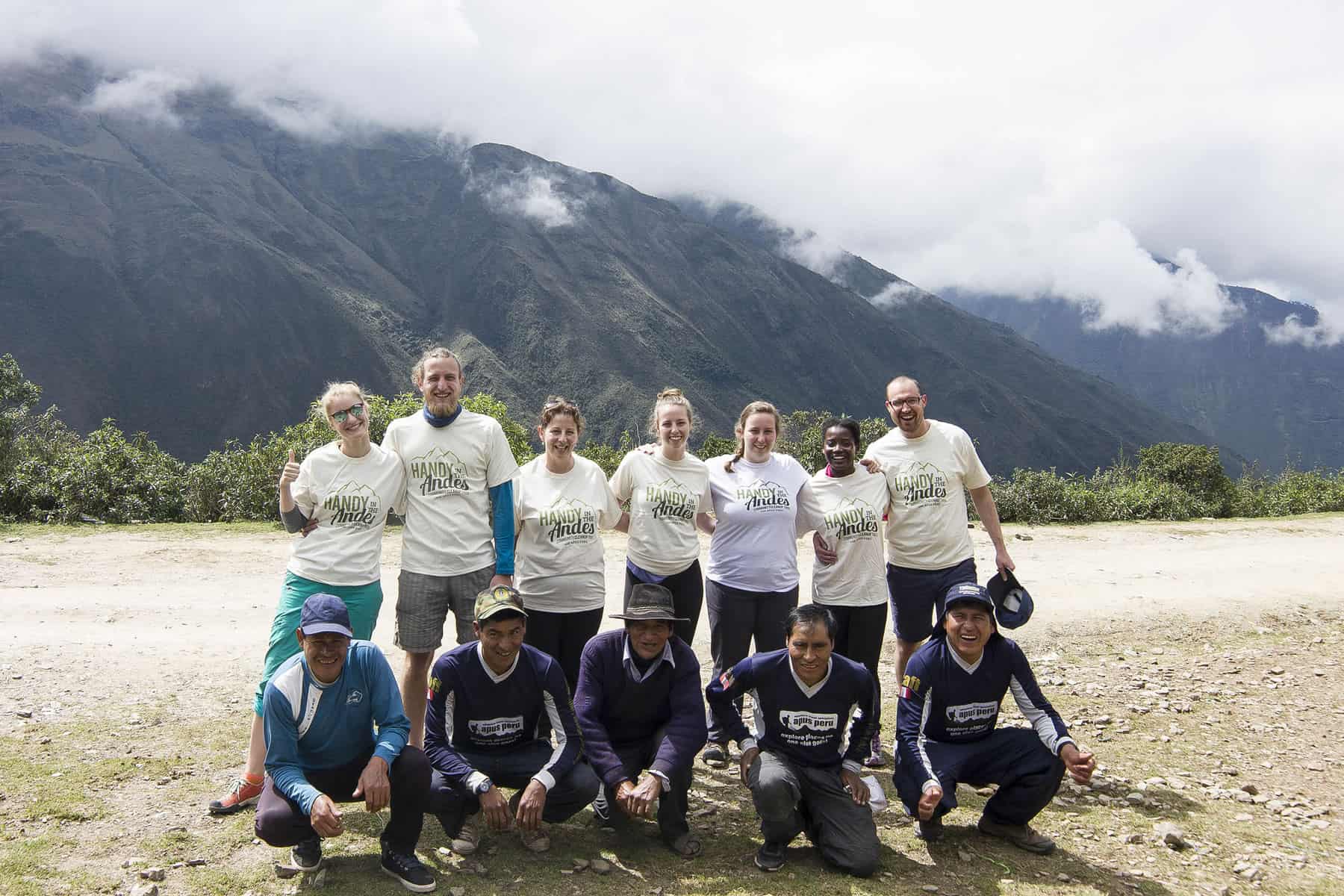 Apus Peru: Adventure Travel Specialists
Apus Peru: Adventure Travel Specialists is an outfit that specializes in adventure travel and outdoor activities. Founded in 2005 by experienced trekkers of the Peruvian highlands, Apus Peru sought to share the less explored beauties of Peru with visitors while also avoiding the environmental and economic exploitation too common in the industry.
To this end they support the indigenous communities in which they operate by donating a portion of all proceeds to local communities. They also partner with those same communities, which includes founding an NGO, Threads of Peru, to support artisanal textile workers. An added bonus? Guests of Apus Peru receive discounted Threads of Peru products. As such, Apus Peru also is one of the leading responsible tourism examples on our list.
In addition, Apus Peru is an environmental leader, and an innovative one at that. It popularized monthly "Clean Up Treks", in which tourist trekkers volunteer part of their time on Andean mountainsides to clean up trash left by previous excursions. Talk about a spiritually cleansing hike!
Apus Peru was also the first trekking operation in Peru to receive independent verification of its sustainability practices by the Rainforest Alliance. Unlike so many tour operators, Apus Peru insists on the payment of fair wages to the locals with whom they work. Unusually, their staff receive health benefits, while guides, porters and other tour operators receive accident insurance. This means that Apus Peru manages all three prongs of sustainability, from the environmental to the social and economic needs of local communities.
Tierra de los Yachaqs
While on tour with Apus Peru, consider a visit to Tierra de los Yachaqs to deepen your understanding of local cultures and customs. This unique organization is actually an association of eight indigenous Quechua communities that are proud descendants of the mighty Incans. Together, they offer a series of off-beat tourist options, the proceeds of which are equitably distributed across the eight participating communities.
This includes high energy ancestral music and dance shows, as well as oral story telling sessions that are sure to ignite the imagination of children and adults alike. Or sign up for a mountainside tour to learn about the multi-functional Achupalla, a plant used to make everything from rope to bags, fuel to cookware.  Guests may even follow in the footsteps of experts who will teach all about the Andean rituals used to promote bountiful harvests during agricultural season. In addition, visitors can choose between guided hikes from a few kilometers to a few days, all across beautiful terrain.
Through these and a multitude of other options, visitors gain a deeper understanding of Tierra de los Yachaqs' ancestral spiritual traditions, and in so doing facilitate those all important cultural and economic exchanges.
Awamaki
Guilt-free shopping, anyone? If this sounds like your idea of a vacation, then your last Sacred Valley activity in Peru may include a visit to Awamaki. This inspiring nonprofit organization helps women start and operate micro-enterprises, including businesses with a focus on artisanal textile production. Awamaki uses its connection to bridge the gap between women producers in often rural, mountainous communities, and tourists looking to support the producers directly.
Based in the Sacred Valley town of Ollantaytambo, Awamaki offers tours with local artisans, as well as cooking and language classes. In recent years, the organization has leveraged its success to venture into the educational and healthcare spheres as well, extending its support of the local people. As founder Kennedy Leavens says of Awamaki's impact, "Tourism as it was could be a really destructive force, so we worked with the artisans to develop a program that would make tourism a more beneficial force that the artisans had more control over and more say in how it went."[7]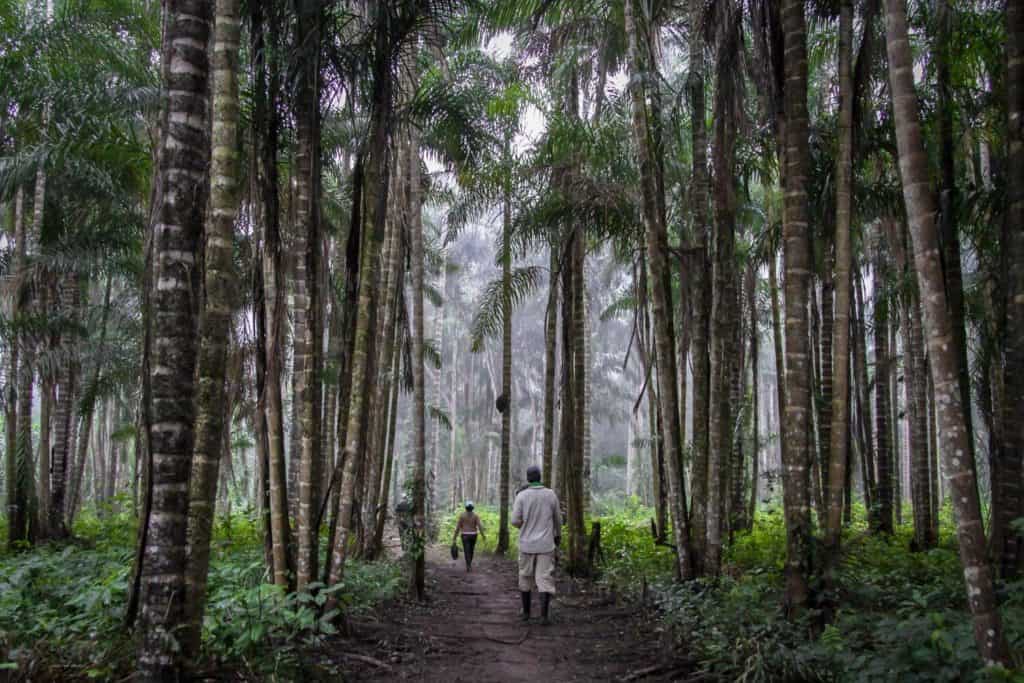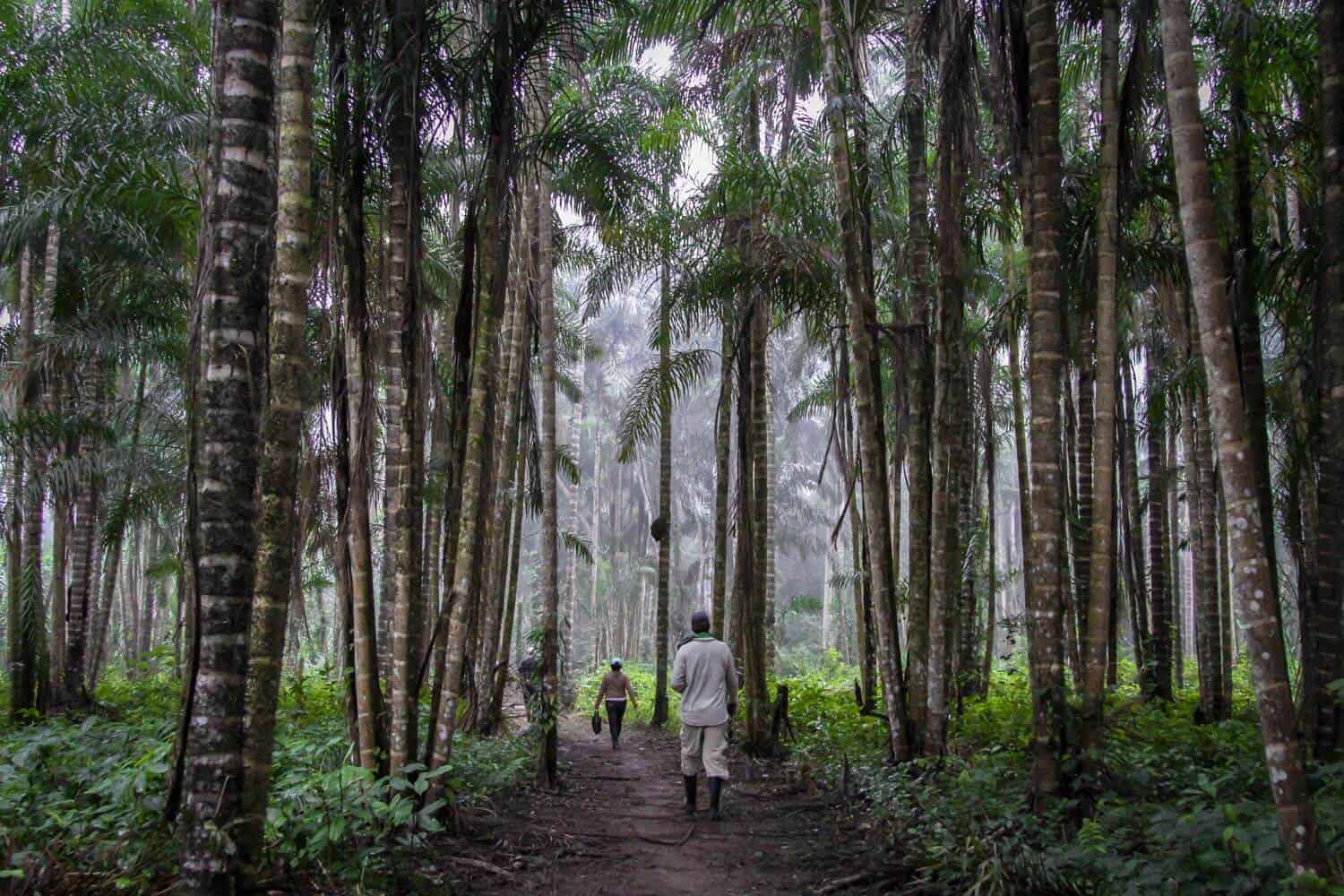 Crees – Manu
Another example of sustainable tourism is an an educational visit to Crees – Manu. Crees-Manu offers so-called experiential ecotourism to the Amazon. This includes a two-week 4X4 Safari that begins in Lima, travels up the Sacred Valley and to Machu Pichu, and concludes deep within the Amazon's Manu National Park.  Other tours focus exclusively on visiting the incredibly diverse Manu National Park, which ranges from lowland rainforests to middling clouds forests and highland Andean grasslands.
What really sets Crees-Manu apart, however, are their efforts to directly support both environmental conversation and community empowerment as an educational and research hub. They thus host not just conscientious tourists but also scholars, interns, and volunteers. Working in partnership with the University of Glasgow and the Darwin Initiative, the center has published around a dozen scientific papers and field guides while carving out 650 hectares of the Manu Biosphere Reserve as a refuge for rare and threatened wildlife.
Along with the traditional visits to wetlands and animal sightings, therefore, guests are encouraged to meet the scientists and researchers leading these efforts. And if you've ever fancied yourself an amateur naturalist along the lines of Charles Darwin, then rest assured that at Crees-Manu's Learning Center you are encouraged to personally join in on the conversation efforts. Talk about an educational experience!
Examples of Sustainable Tourism: Top Sustainable Hotel Options in Peru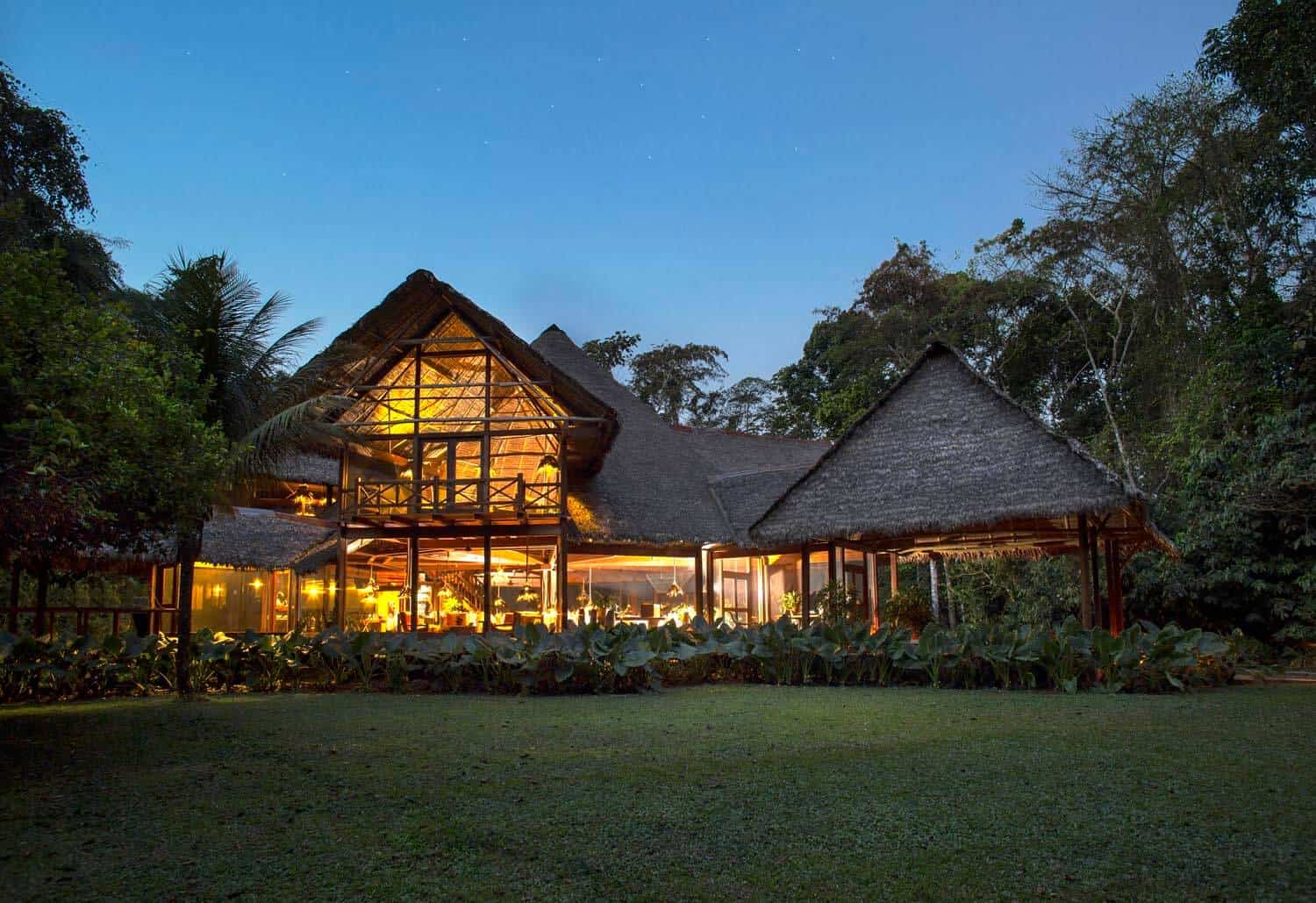 Inkaterra Hotels
If you're looking to maintain a light environmental touch while resting your head at night, then rest easily at Inkaterra Hotels.  This 40-year-old operator is one of the earliest Peruvian examples of sustainable tourism, and thus offers a tried-and-true method of responsible travel. They boast traditional style lodges built of local and environmentally friendly materials, and gained, incredibly, United Nations recognition as the first Climate Positive hotel brand in the world.[8]
Operating luxury resorts in Machu Pichu, Cusco, the Sacred Valley and the Amazon, guests may feel like Incan Royalty. But those that do venture out from these pleasure palaces will be accompanied by an "Explorer Guide," trained to support a wide variety of tours. Bird lovers will be enthralled by the Amazonian base of operations, which features bird watching tours with up to 814 bird species on offer. Visitors to the Ollantaytambo hotel, meanwhile, can return to their home away from home to enjoy an Earth to Table meal at an on-site restaurant, where organic fare comes from the hotel's 10-acre organic farm.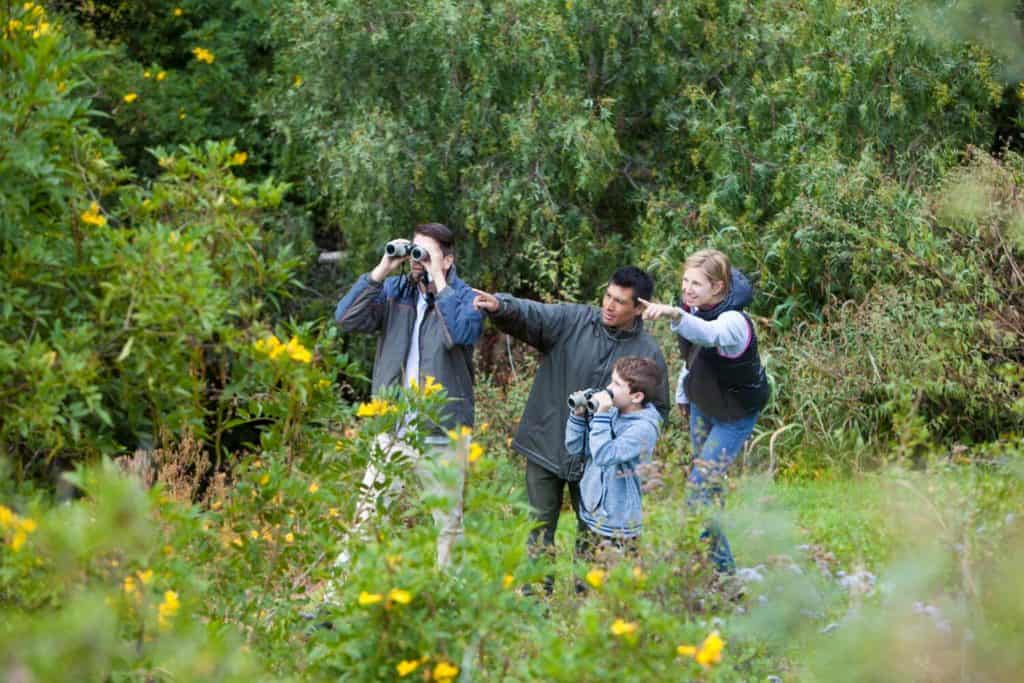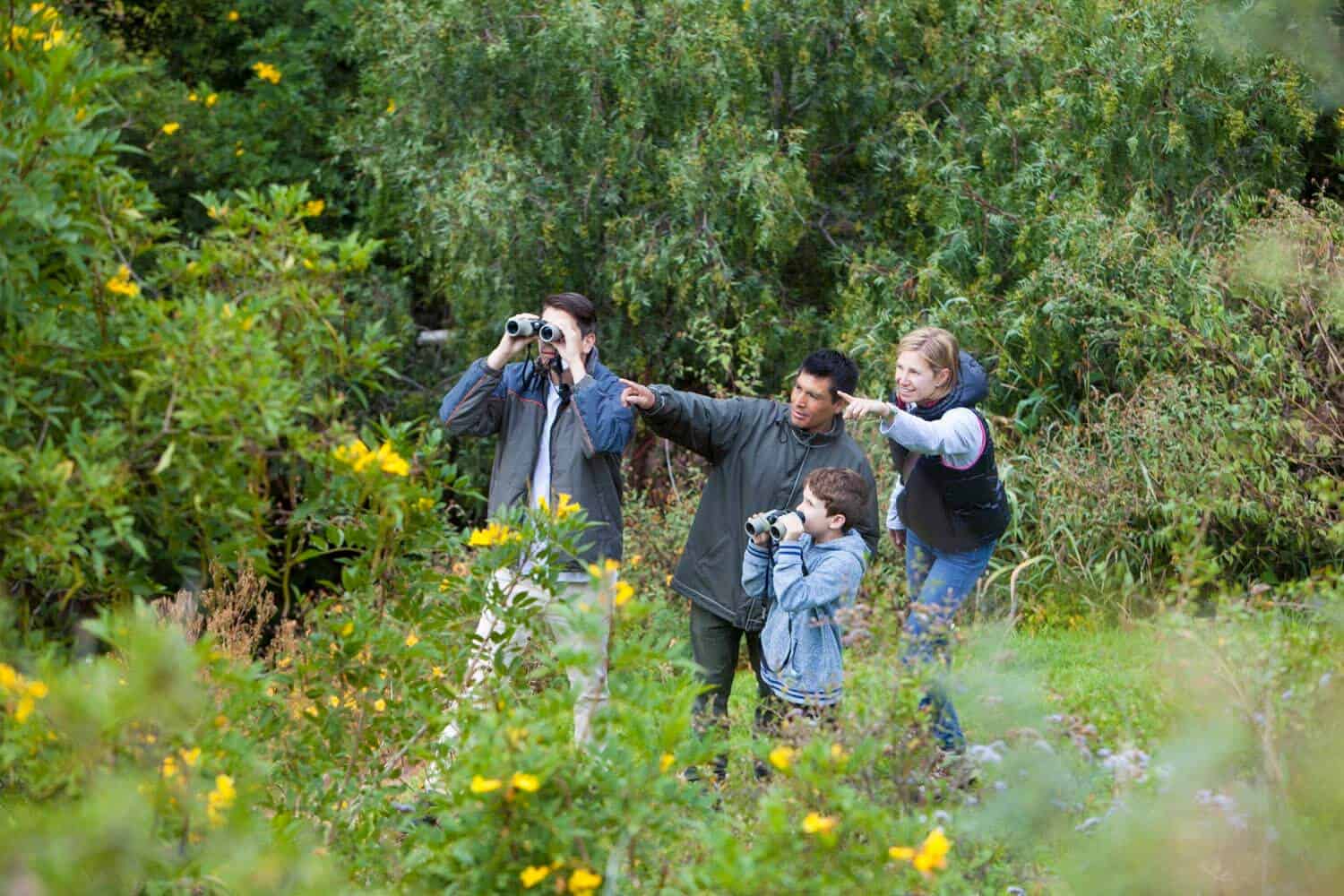 El Albergue Ollantaytambo
Speaking of organic, did we mention El Albergue Ollantaytambo? This gateway to Machu Pichu is the hotel for natural products, boating a coffee facility, distillery, and farm.  Produced and served on site at Café Mayu Coffee Roasters, the Albergue's coffee is not only premium quality but is fair-trade coffee purchased directly from Cusco farmers. Coffee afficionados are treated to a tour of the production facility where they can watch the experts choose the choicest coffee beans for roasting.  A master roaster is on site as well to educate guests about the coffee production process, which includes origin stories and ancient mythologies.
If you want something a bit stronger, El Albergue's on-site distillery ages local liquors such as Caña Alta and Matacuy using organic herbs produced on the hotel farm.  All farm produce is natural and free of chemicals and fertilizers, relying instead on the centuries old mechanisms of oxen plow, crop rotation, and natural regulations of pests and disease.  Guests can take a tour of the farm, and, should the urge strike, may even pick up the hoe and participate!
In addition to this coffee-friendly approach, El Albergue Ollantaytambo has received a number of environmental awards for its eco-friendly products, low-waste, and responsible housekeeping efforts, including Trip Advisor's Green Leaders award and a Green Hotelier Award. The El Albergue Ollantaytambo is located in Ollantaytambo's train station and thus perfect for visitors on their way to Machu Picchu. Guests may choose to split their time at a second hotel available in Cusco, just three blocks from the grandiose Plaza de Armas main square.  Or if you are already fully booked elsewhere, just drop in for a coffee, a nip, or a bite!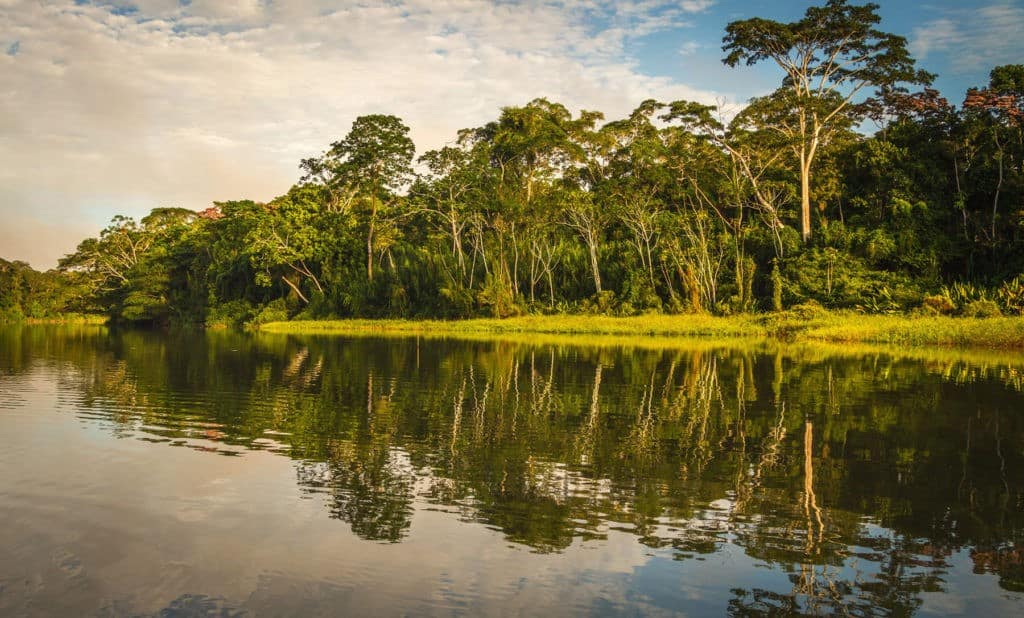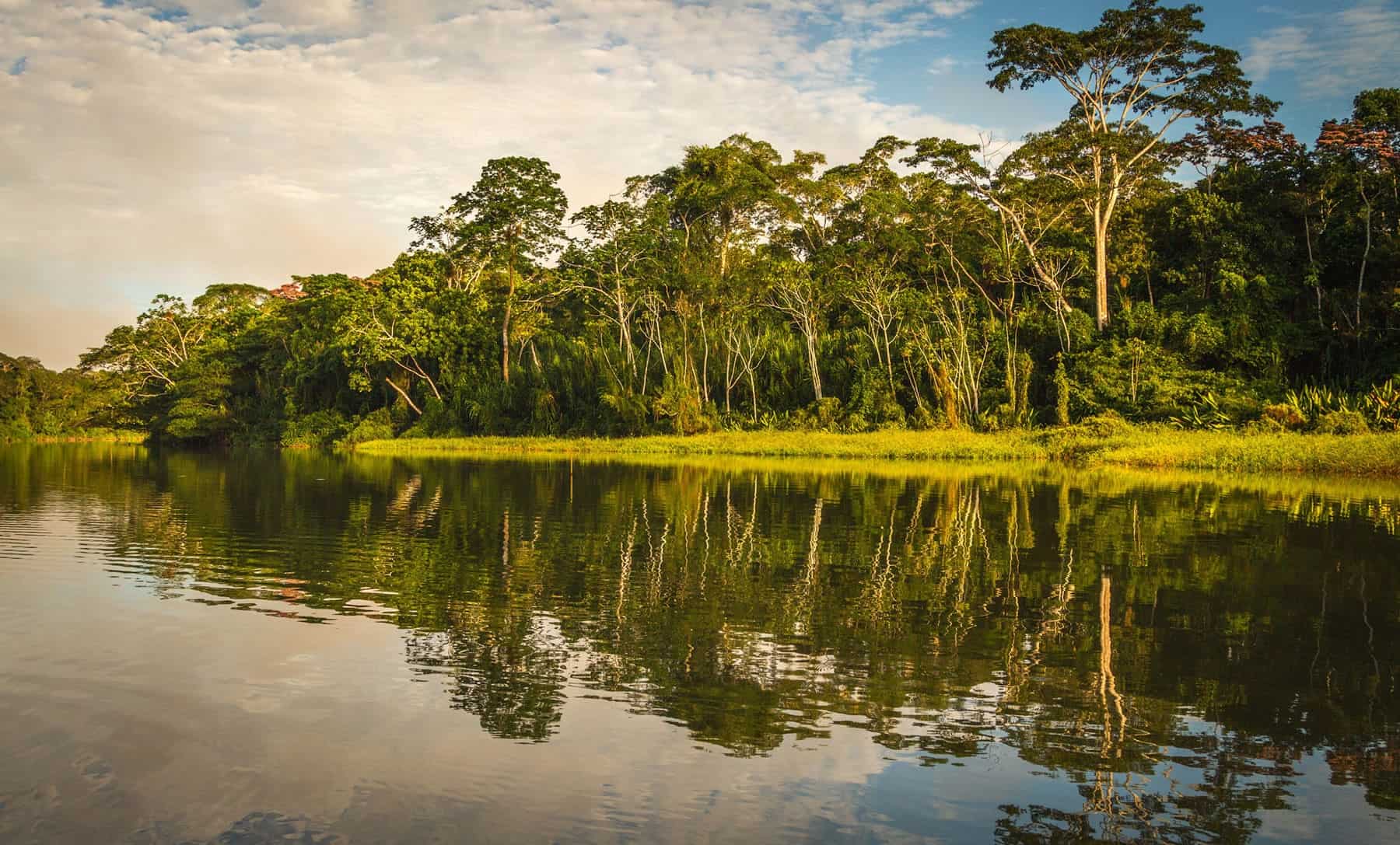 Posada Amazonas Lodge
Discover one of the best green tourism examples in Peru with Posadas Amazonas which presents an enviable choice of where to stay in the Peruvian Amazon.  They offer your choice of three eco lodges deep in the Peruvian rainforest, each reachable after a tranquil boat ride up the Tambopata River. Once ensconced in comfort, visitors may opt to lounge atop the lodge's jungle canopy for far-reaching views.  Or if you need to recharge your batteries, feel no guilt staying snug within the confines of your own room; after all, guest accommodations at all three sites boast a wall opening directly onto nature.
Once rested, set out on tour to spot a rare jaguar or puma, or perhaps a spider monkey, harpy eagle, or a giant river otter.  Satisfy your inner anthropologist by working with a Shaman, or medicine worker, to learn about the medicinal plants used in the Amazon jungle for thousands of years, and which are experiencing a renaissance due to exploding interest among spiritually inclined Westerners.
In addition to these cultural and natural excursions which showcase the beauty of its jungle neighborhood, Posada Amazonas is now a carbon neutral operator.  Posada Amazonas reports gaining inspiration to clean up their act from the indigenous communities all around, which long-ago learned to tread lightly upon their environments. If they can do it, Posada Amazonas reasoned, we ought to do it. They joined forced with Regenera, an organization that guides Peruvian companies through their efforts to reduce their carbon footprints, and Posada Amazonas now lives in harmony with their environment and local communities.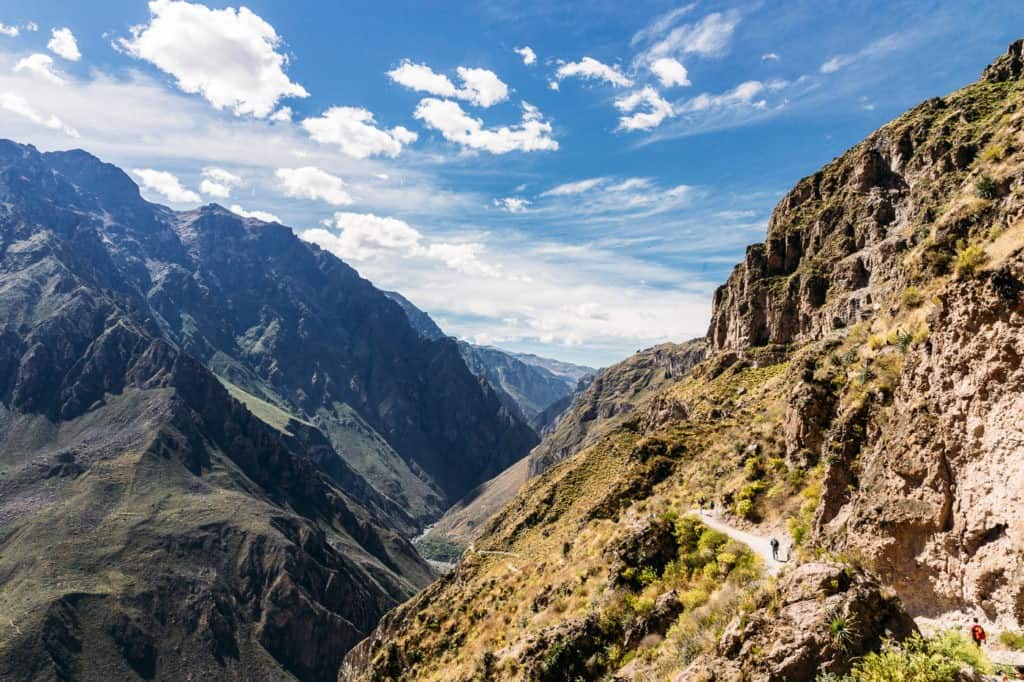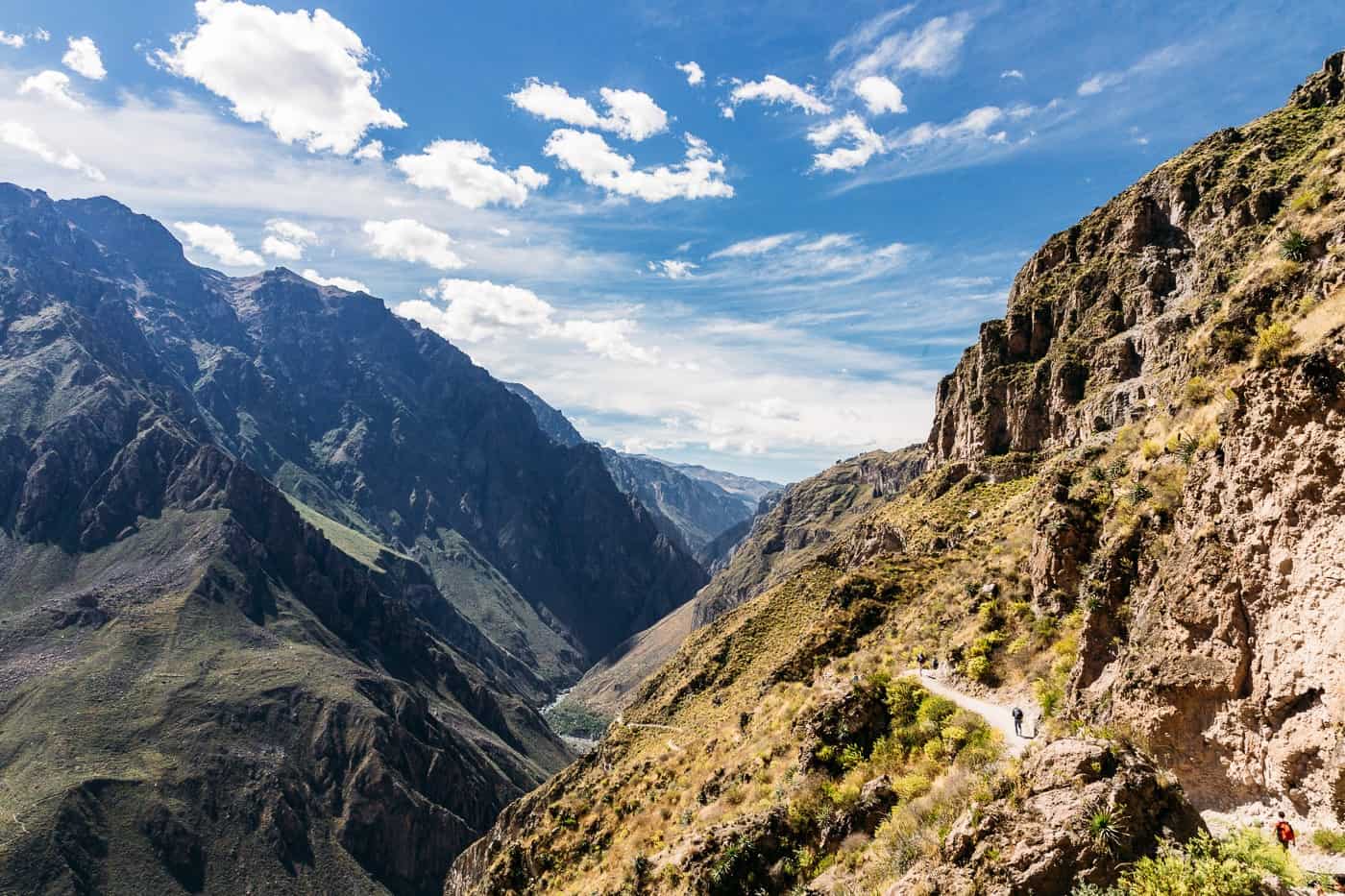 Colca Lodge
Back up in the highlands, we have Colca Lodge, located around 2.5 hours outside of the white volcanic marble city of Arequipa.  This eco-friendly resort is located near Colca Canyon, one of the world's deepest canyons, deeper, in fact, than the United States' Grand Canyon.
Colca Lodge is striking distance from pre-Incan sites, and its facilities take inspiration from this pre-Incan architecture by using an arresting combination of mud, stone, and straw to develop the luxury resort.  Built on the banks of the Colca River, eco-friendly hot springs are on site and built of local materials which minimize interference with nature. Colca Lodge promises a "magical ambience" while taking in the "impressive, star-filled sky" from the warm waters of the springs.
But be warned, Colca Lodge says, this "is also an insuperable option for those who wish to disconnect themselves from the hectic hustle and bustle of modern life." With a sense of humor like this, where else to stay when in Colca Canyon?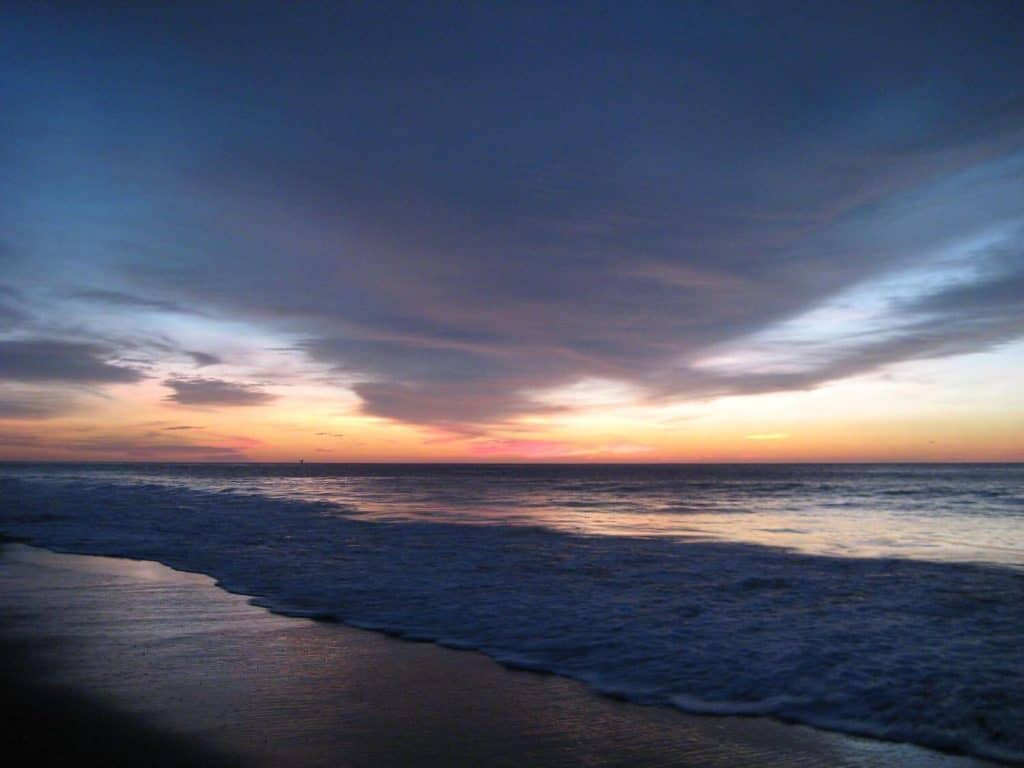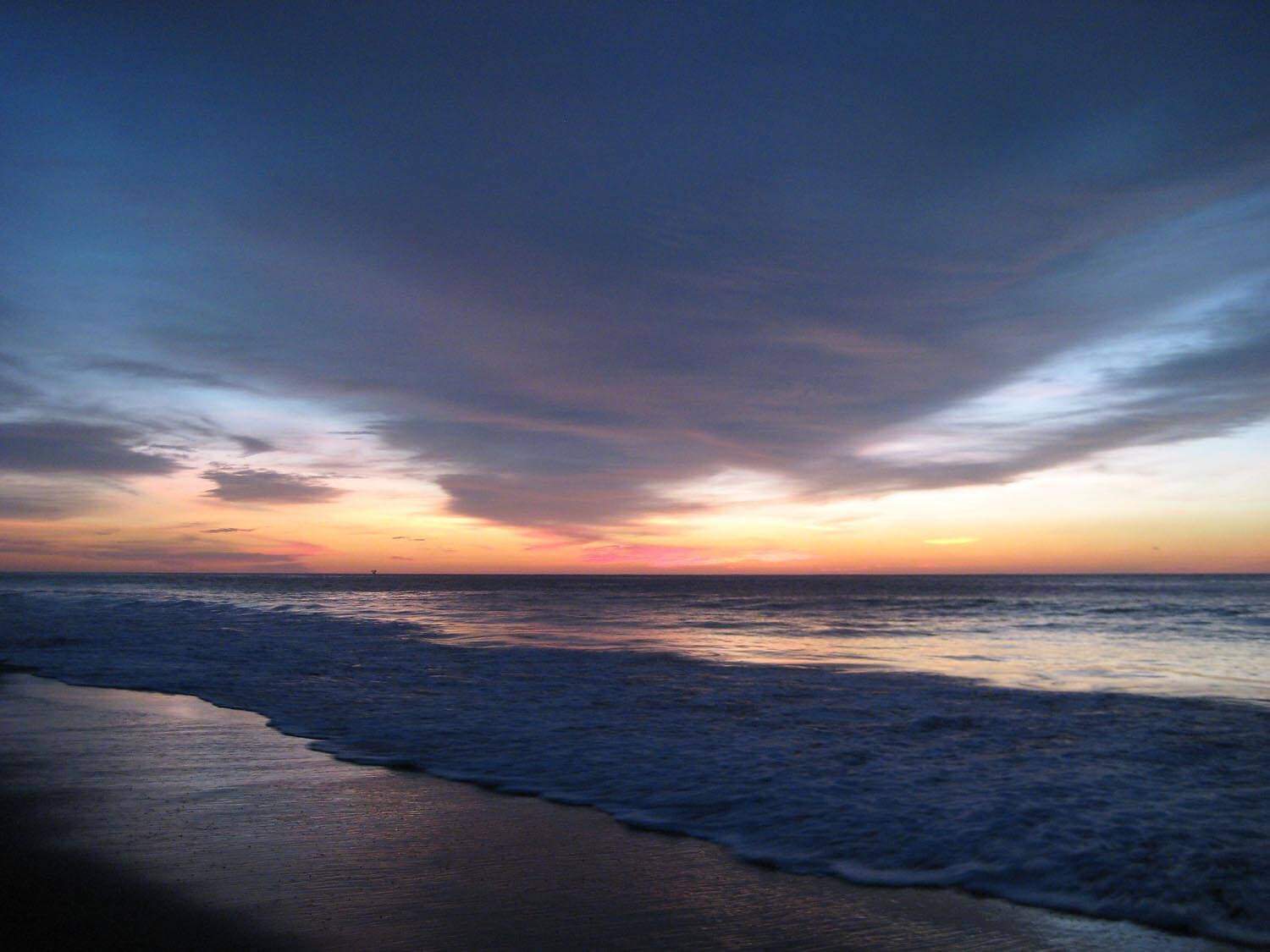 Ecolodge Mancora
Perhaps, you say, no vacation is complete without a few sunny days at the beach? If so, Ecolodge Mancora may be for you. At the far northwestern tip of Peru, Mancora is a medium sized town with some of Peru's best beaches. Ecolodge Mancora caters to tourists in want of rest and relaxation, whether having just landed in Peru from abroad, after a long trip through the Andes and Amazon, or following a day surfing atop Mancora's famous swells.
And while at Ecolodge Mancora, guests can rest easy that they are continuing to tread easily on the environment.  The small lodge is built of recycled materials that make it one of the most eco-friendly resorts in Peru, heavily featuring wood, cane, bamboo, and other Earth elements.
Guests enjoy organic, natural breakfasts, along with the option for a massage. The more adventurous can set out to surf or kitesurf, horseback ride or deep seat fish, while relaxing at the pool as the sun sets gently into the Pacific Ocean.
The Final Verdict: Sustainable Tourism Examples in Peru
In Peru, Mother Earth is known as Pachamama. As any traveler to the country learns, respect for nature is deeply embedded, dating back to the days of the Incans and those that roamed well-before them. As mass tourism threatens flora, fauna, and local communities alike, the time for sustainable tourism is upon us.
By choosing from the examples of responsible tourism – and green tourism – like those featured here, you can do your part to ensure that our descendants will still be exploring.  If you have any recommendations for examples of sustainable tourism in Peru, please do drop them into the comments – we would love to discover more!
Written by: Tom Bussen
Like it? Pin it! 
Sources
[1] Garau-Vadell, J. B., Gutierrez-Taño, D., & Diaz-Armas, R. (2018). Economic crisis and residents' perception of the impacts of tourism in mass tourism destinations. Journal of Destination Marketing & Management, 7, 68-75.
[2] Garau-Vadell, et. al. (2018).
[3] Quotes Abot Ecotourism, ECOTOURISM WORLD, https://ecotourism-world.com/quotes-about-ecotourism/
[4] WCED, S. W. S. (1987). World commission on environment and development. Our common future, 17(1), 1-91.
[5] Zolfani, S. H., Sedaghat, M., Maknoon, R., & Zavadskas, E. K. (2015). Sustainable tourism: a comprehensive literature review on frameworks and applications. Economic research-Ekonomska istraživanja, 28(1), 1-30.
[6] Mitchell, R. E., McCool, S., & Moisey, R. (2001). Community perspectives in sustainable tourism: Lessons from Peru. Tourism, recreation and sustainability: Linking culture and the environment, 137-162.
[7] Mandish Kalsi, Awamaki Founder Talks Sustainable Tourism with Peru for Less, AWAMAKI, March 17, 2021, https://www.awamaki.org/blogs/journal/awamaki-founder-talks-sustainable-tourism-with-peru-for-less
[8] Inkaterra, last visited September 25, 2021, https://www.inkaterra.com/newsletters/2021/junio/june-2021.html