Festivals in Cusco are an integral part of the city's rich cultural tapestry and give you a real insight into the heritage of Peru. One of the many reasons to visit Cusco is that there are traditional events held throughout the year, and as a tourist, you're more than welcome to attend! Yes, Cusco is known as the jumping-off point for the Inca Trail but linger a little longer in the region and you'll be treated to a sensory feast of colour, dance, and theatre.
So, after you've put your Machu Picchu ticket to good use and scaled the lofty heights of Huayna Picchu for those all-important photos, travel back to Cusco and immerse yourself in the Cusco festival scene!
June is Festival Month in Cusco
Cusco is alluring at any time of year, but in June this ancient Andean city really comes into its own. This is a month of almost back-to-back Cusco festivals, where lively parades fill the streets, bringing unbridled joy and a dose of religious fervour to the historic centre.
Beneath the blue skies and beating sun, the Plaza de Armas is illuminated with all colours of the rainbow, and the sound of music is carried through the city on the gentle breeze. If you've ever wanted to dig a little deeper into Andean culture and experience some of the most vibrant festivals in Cusco, Peru pulls out all the stops in June.
There are dozens of festivals held in the Cusco and Sacred Valley region, and it can be tough deciding which to attend. To help you choose, we've pulled together the top five events that are firm favourites with travellers from across the world.
To join one of our specially crafted festival tours, have a look at our Cultural treks in Peru
1. Corpus Christi
When: 60 days after Easter Sunday
Where: Plaza de Armas, Cusco
Of all the fiestas de Cusco, Corpus Christi is one of the most famous Peru festivals. Like many celebrations in the region, these important festivities have both Andean and Catholic roots. Back in the day, the Incan people paraded their mummified emperors through the streets in an act of reverence and prayer. Then the Spaniards arrived, and replaced the traditional Incan idols with Catholic saints, to make this ceremonial institution their own.
Today, 15 saints are processed through the streets of Cusco, descending on the Plaza de Armas in a mass of colour and song. The effigies are placed inside the cathedral, where they remain for eight days for a "conference" of the Saints before being returned to their church of origin. As you sway along to the intoxicating rhythms, see if you can spot the flamboyant Saint Jerónimo and the regal Inmaculada Virgen being carried aloft around the main square.
If trying cuy (guinea pig) is on your list, this is the occasion to do it. The traditional delicacy doesn't often appear on restaurant menus, or even at many festivals in Cusco. Yet during Corpus Christi, delicious roasting aromas will lead you to abundant street stalls that are waiting to serve you this iconic and tasty dish.
Top tip: for the best vantage point, book a table at one of the balcony restaurants around the square and enjoy front-row seats to the celebrations.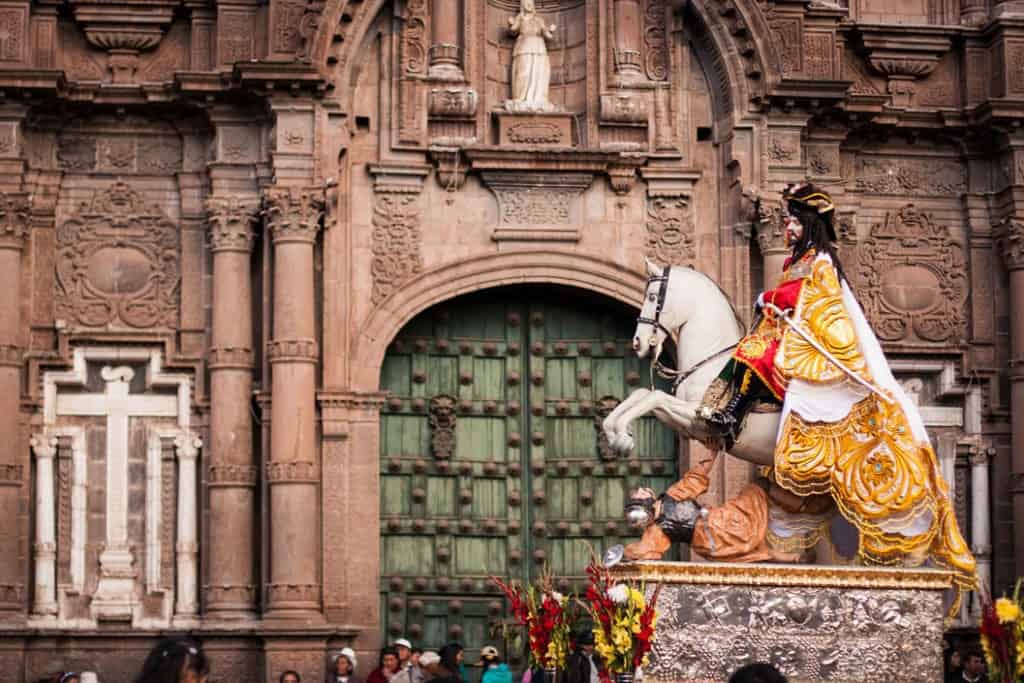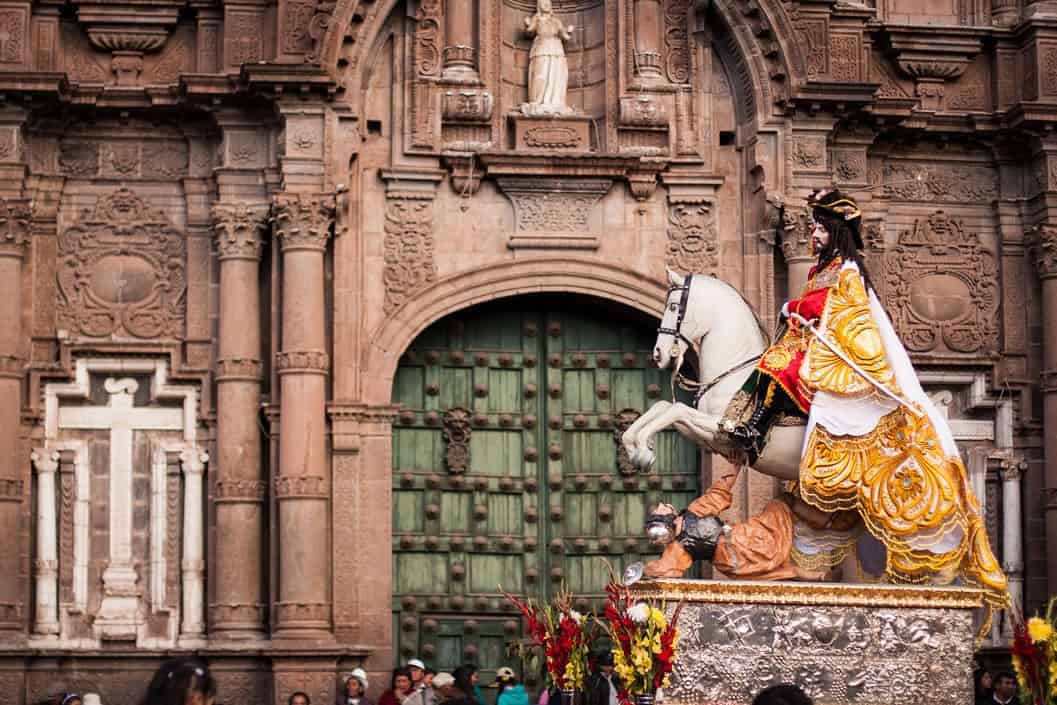 2. Qoyllur Rit'i
When: Begins on the Sunday before Corpus Christi
Where: Sinakara Valley, in the Ausangate region near Cusco
Enchantingly known as the "Snow Star Festival", Qoyllur Rit'i is another contender for the top spot when it comes to spectacular Cusco events. This religious pilgrimage dates back hundreds of years and is still celebrated today by communities in the high Andean region. The festival pays homage to Venus, the first "star" to begin twinkling at night.
Groups of dancers in traditional dress leave their local villages a few days before Corpus Christi and make their way, singing and dancing, to the Sanctuary of the Señor de Qoylloriti, in the shadow of Mount Sinakara. Once again, a blend of Andean and Catholic beliefs takes centre stage, with plenty of dazzling performances and celestial fireworks to keep everyone entertained in this sacred mountain setting.
Keep your eyes peeled for the moonlight parade of crosses, and the alacitas craft market where indigenous devotees come to purchase offerings to el Señor de Qoylloriti.
Inspired to do this yourself? We offer truly unique, amazing 2-day and 4-day Qoyllur Rit'i tours.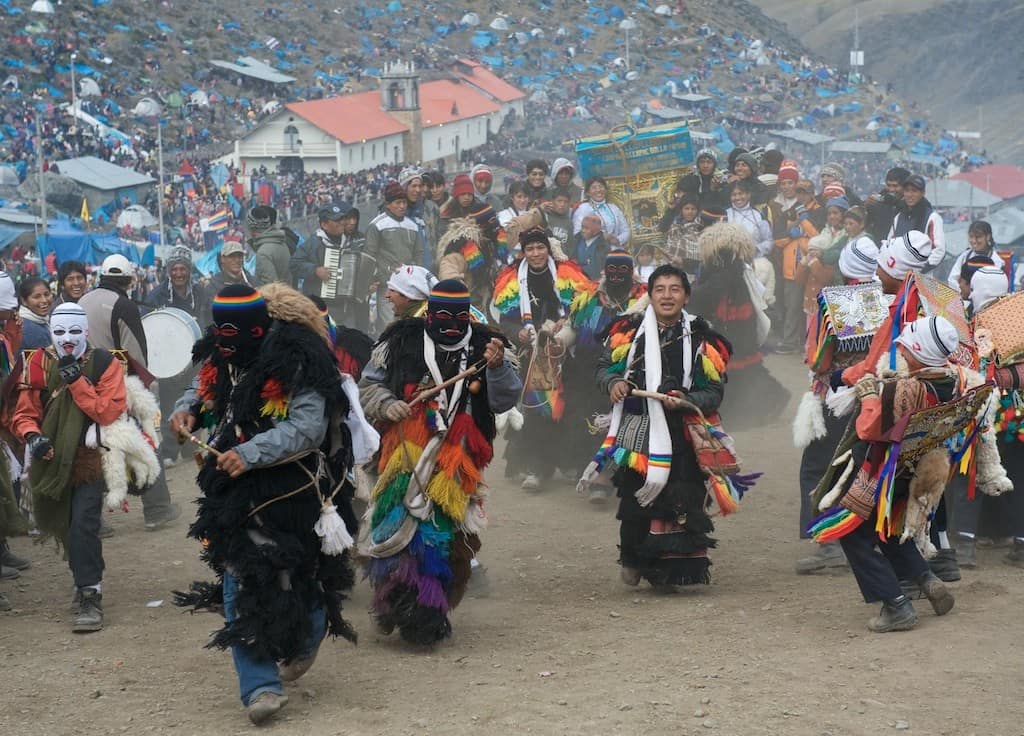 3. Inti Raymi
When: 24th June
Where: Q'oricancha (Sun Temple) in Cusco, and Sacsayhuaman, just outside the city
Inti Raymi is one of the most popular Cusco holidays and is frequently attended by tourists from all over the world as well as locals. If you feel a little hesitant about "fitting in" at festivals in Cusco, then Inti Raymi is the place to start as it's purposefully geared towards welcoming visitors from outside the community.
This Festival of the Sun is an Incan religious celebration. Focusing on the Sun God Inti, this traditional event heralds the start of the winter solstice and the Incan New Year. Hundreds of performers put on a show detailing periods of Inca history as they congregate in front of Q'oricancha, before moving through the Plaza de Armas and finally up to the archaeological site at Sacsayhuaman.
Find out more about the Inti Raymi Festival here. To join one of our specially crafted Inti Raymi tours, have a look at our Inti Raymi Festival tour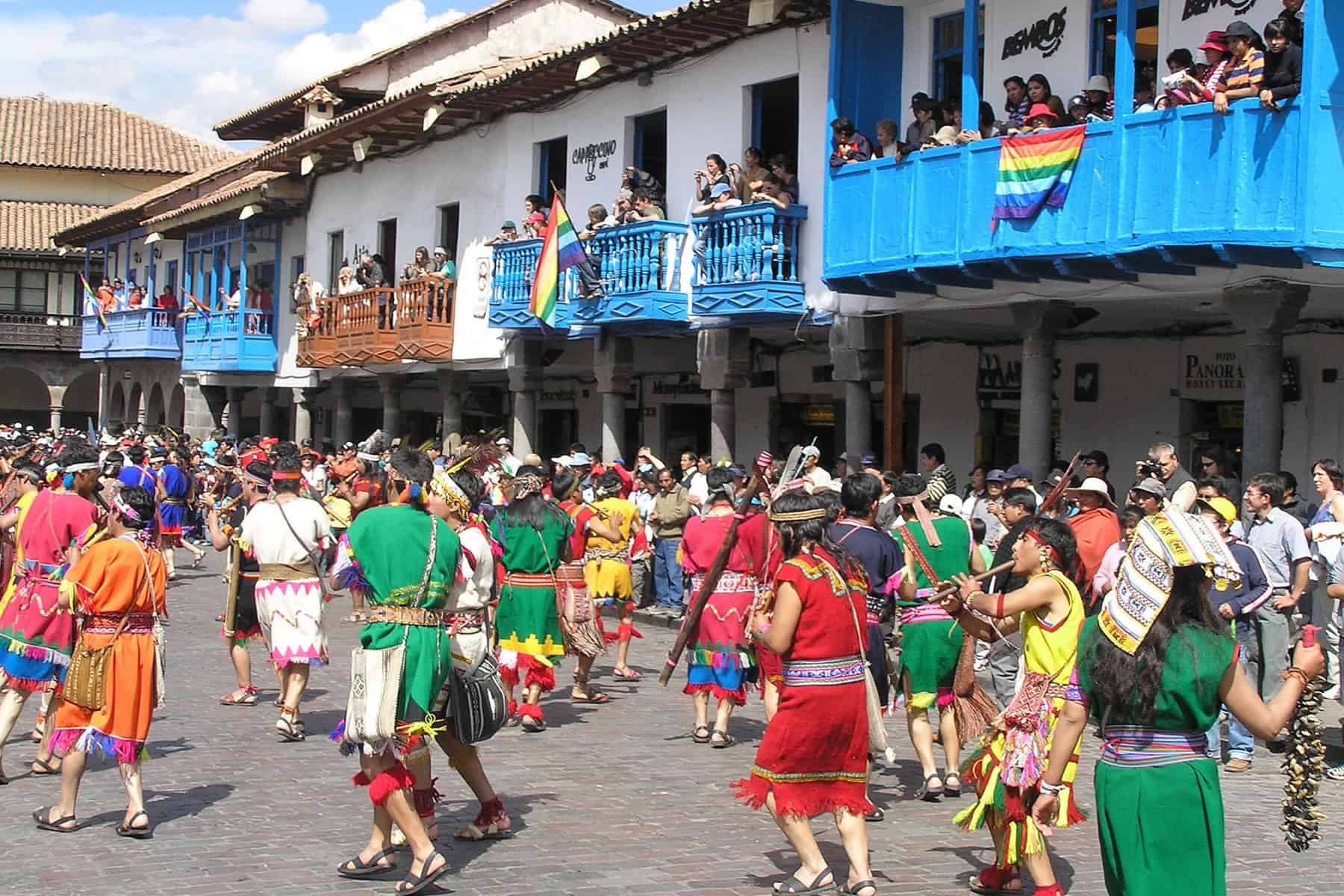 4. Qeswachaka
When: Second Sunday in June
Where: Qeswachaka, in the Cusco region
Fancy experiencing one of the more unusual Cusco festivals? Peru's Incan empire was once famed for its woven rope bridges, which were made from grasses and other natural materials provided by Mother Earth. These unique bridges date to the Incan era, but today just one remains, at a remote place called Qeswachaka, which fittingly is named after the rope bridge itself. Strung up high across the frothing Apurimac River, this last Inca bridge was part of the original road network leading to Machu Picchu.
To keep the legacy of this ancient tradition alive, the bridge is rewoven each June by locals, during a ritual ceremony that lasts for several days. It's all done completely by hand, using the same construction techniques that the Incas devised all those centuries before. There's plenty of dancing and feasting too, without which no festival in Cusco is complete!
Discover more about the Qeswachaka bridge-building festival here. As innovative tour operators, Apus Peru offers a special Q'eswachaka tour; follow the link to find out more about this fascinating day tour!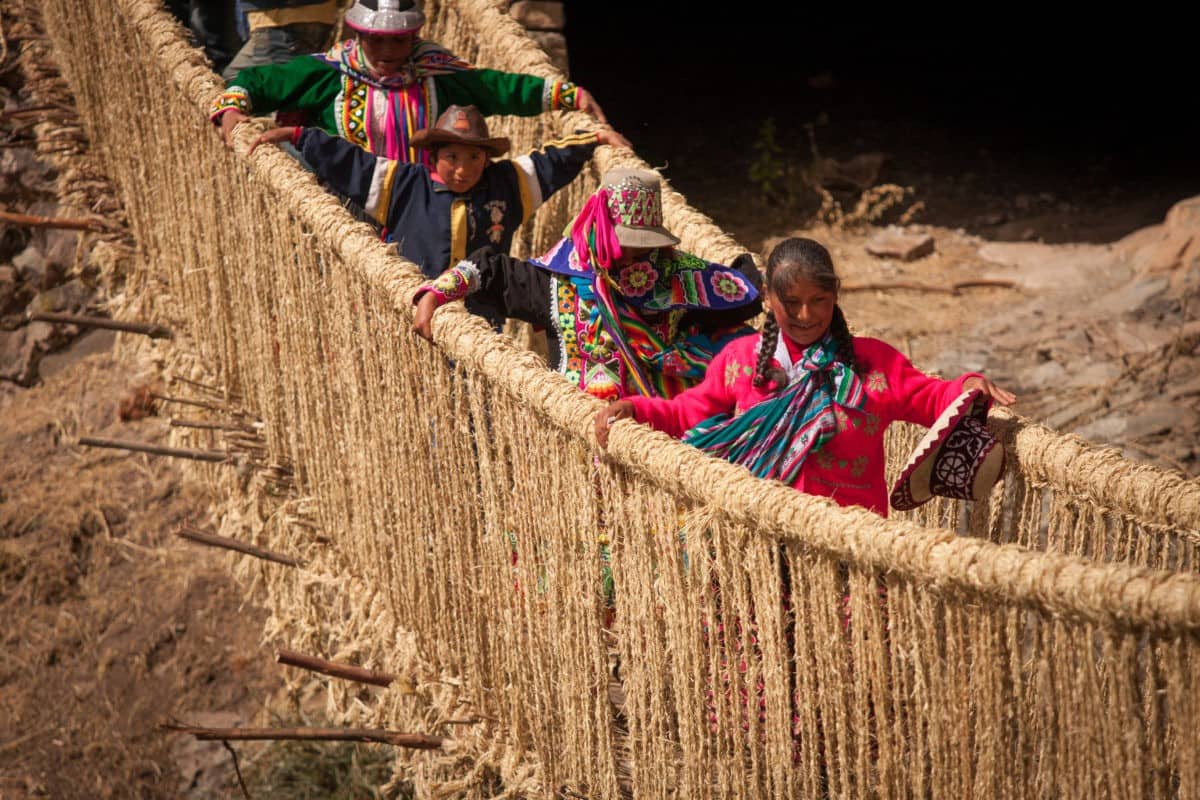 5. Virgen del Carmen
When: Mid-July
Where: Paucartambo, 3 hours east of Cusco
The festival of the Virgen del Carmen is another intriguing event on our list of festivals in Cusco, though technically it takes place in July, not June. This fiesta is one of the most immersive experiences that you can enjoy as a tourist. It's held in the small town of Paucartambo, which is a 3-hour drive from Cusco. Despite the remote location, visitors flock here in droves from across the country – and beyond! – to witness what is known as the Mardi Gras of Cusco.
Dancers in traditional dress tell the story of Peru as they move through the town, following the Virgen del Carmen. Don't forget to look up during your visit to see the brave dancers swaying to the music up on the rooftops! The procession becomes more raucous as it nears its final destination – the cemetery – with death-defying gymnastics and fireworks whipping the parade into a frenzy.
Eventually, the drama ends with a ceremony to celebrate the souls of the dead. It's a colourful and rowdy event, and one you shouldn't miss if you're in the area!
Learn more about the Virgen del Carmen Festivalin our blog or Want to know how to visit this incredible festival in Peru? Have a look at our Virgen del Carmen Festival tour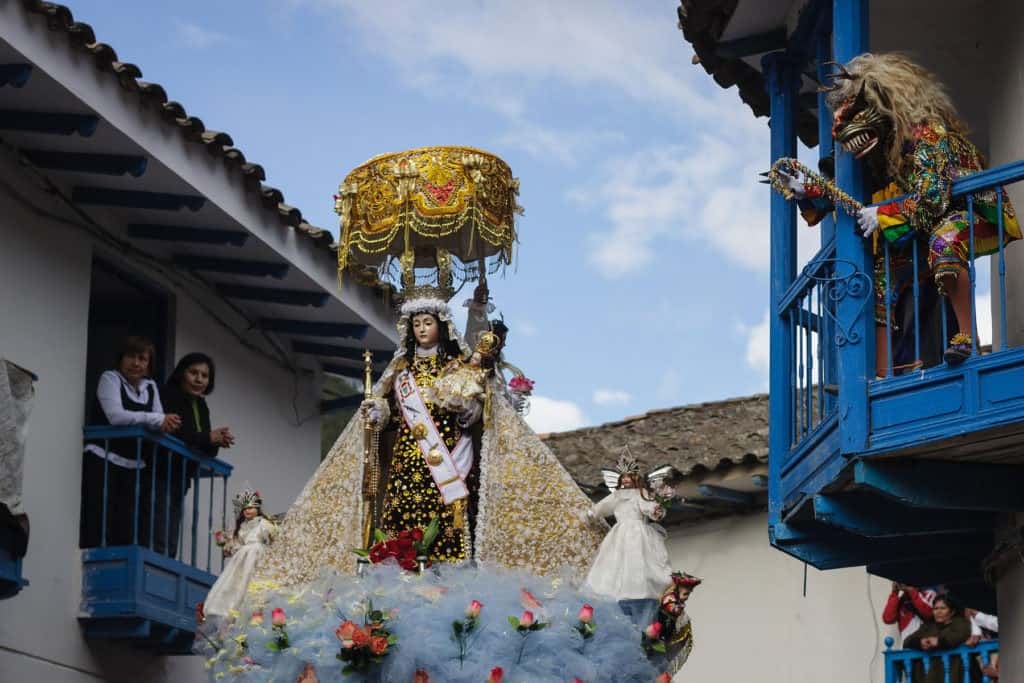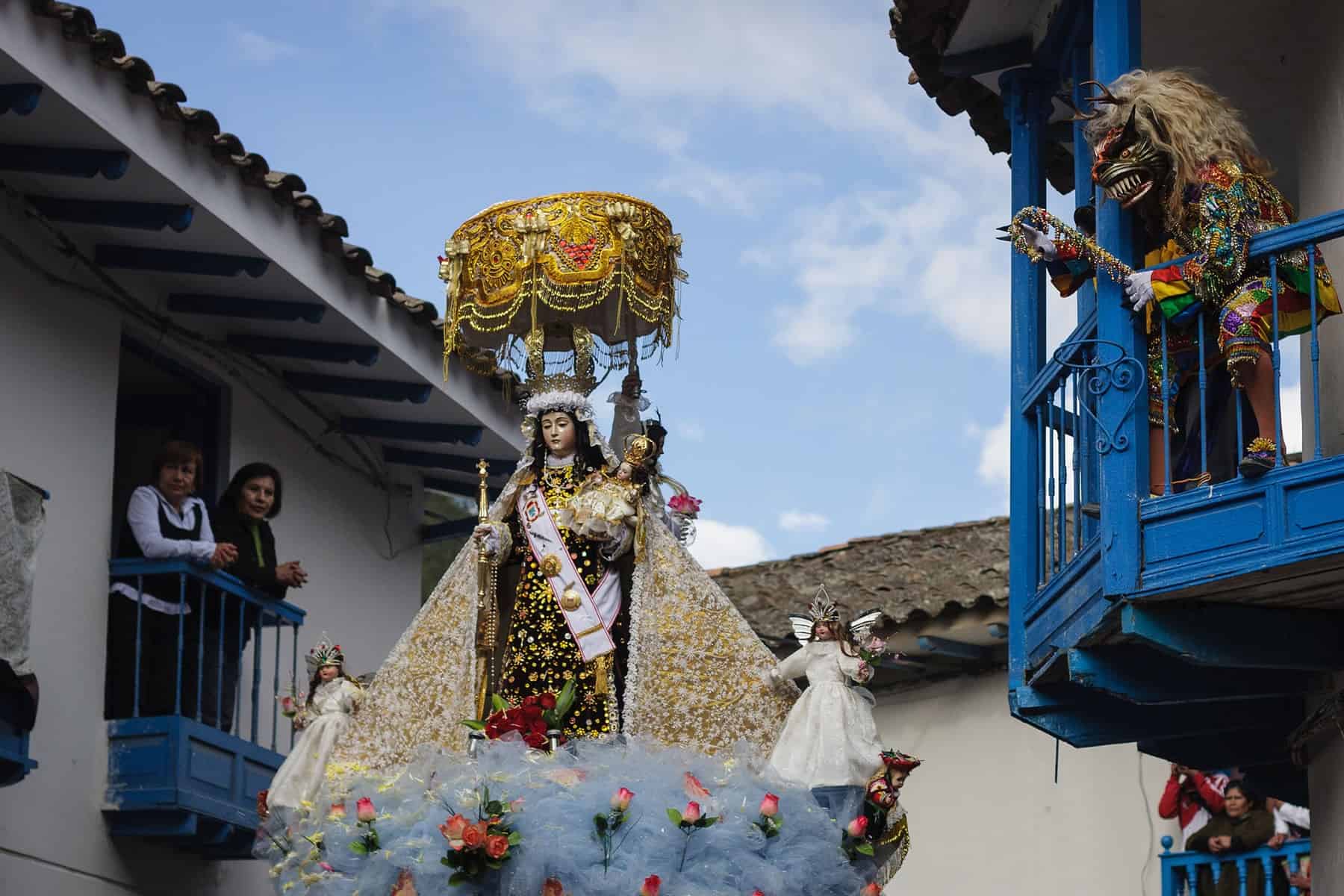 Other Important Cusco Festivals Throughout the Year
June and July aren't the only festival-packed months here in Cusco. No matter what time of year you visit, there's often a celebration that you can take in during your stay.
Andean New Year – El Día de la Pachamama
When: 1st August
Where: Cusco and villages across the Andes region
Andean New Year is one of the most hotly anticipated fiestas de Cusco. It's a spiritual affair, with less panache than some of the other Cusco events but feels all the more important for its quiet reverence.
During the Andean New Year, families gather in celebration of Pachamama – Mother Earth – and honour her with gifts of coca leaves, wine, and incense during a shaman-led ritual ceremony. The mountain gods – apus – are also celebrated during New Year, and locals often leave a burning cigarette at the ceremony as an offering.
Houses and shops in Cusco and the surrounding Andean villages are adorned with sprinklings of yellow confetti, bringing a pop of colour to the streets.
Christmas
When: 23rd-25th December
Where: Cusco
Christmas in Peru is a time for family and friends to come together in celebration. Here in Cusco, Christmas Eve is the main event, as well as the day before, when the historic city centre turns into a huge outdoor market, known as Santurantikuy. Locals come here to buy Catholic icons and figurines to decorate their houses. Even if you're not in the market for a porcelain Jesus, you'll love soaking up the atmosphere! The nativity scene is brought to life in the Plaza de Armas, which you can see from early December.
During the week before Christmas, the chocolatada is an integral part of the Cusco Christmas festivities. This is when locals come together to offer hot chocolate, sweets, and bread to poor children and pensioners in the city and the surrounding villages.
Want to take part yourself? At Apus Peru, we've put together a special Chocolotada Trek which combines a hike to remote Indigenous communities with the festive celebrations of a Cusco Christmas. There's no doubt that Christmas is one of the most moving festivals of Cusco, and a real treat to experience if you're visiting during December.
Read more about celebrating Christmas in Cusco here.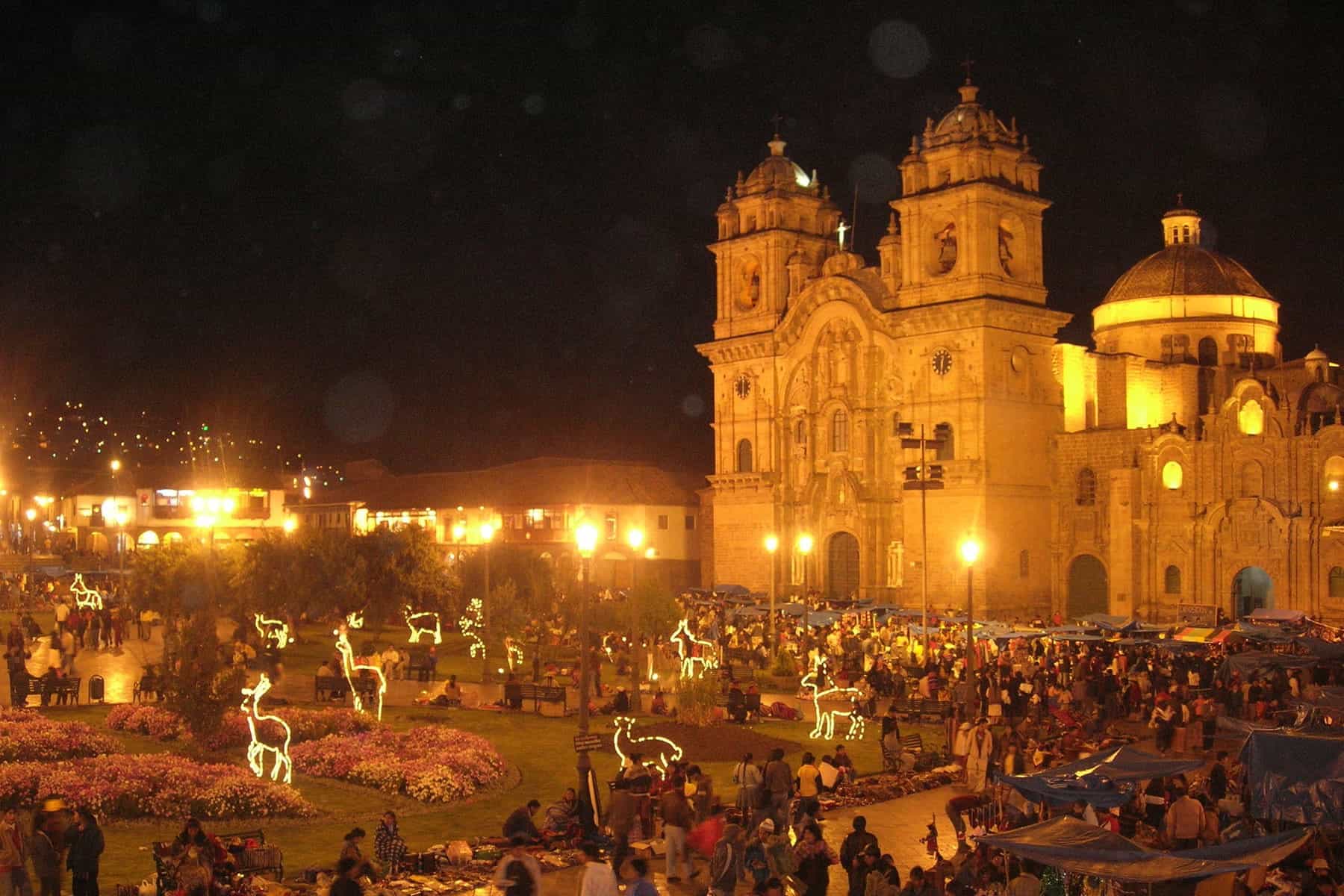 New Year
When: 31st December
Where: Plaza de Armas, Cusco
To many revellers across the world, New Year is about celebrating at midnight with your nearest and dearest, while the fizz flows and the dancing shoes get their annual workout. It's a similar scene here in Cusco, but with an added layer of spirituality and superstition giving a little more depth to the festivities.
There are several customs linked to New Year that are supposed to herald good fortune. Dressing dolls in old clothing is a local way of saying "out with the old, in with the new", while purchasing yellow underwear is said to bring happiness and luck!
Discover the other unique customs associated with New Year in Peru here.
Easter
When: On different dates each year, but always between 22nd March and 25th April
Where: Cusco
Holy Week and Easter Sunday are amongst the most well-attended festivals in Cusco and indeed all of Peru, from Lima to Lake Titicaca. If you want to take a deep dive into Andean traditions, make sure you're in Peru during Semana Santa – Holy Week – and prepare for a culturally eye-opening experience.
In 1650, a painting of Jesus miraculously prevented an earthquake from destroying Cusco, and locals have been worshipping the "Lord of the Earthquakes" ever since. You'll see Christ's image being carried around the Plaza de Armas on Holy Monday, during its annual outing from Cusco Cathedral. This is the biggest procession during Semana Santa in Cusco, with the following days dedicated to smaller parades and fasting before the feasting and partying begins on Easter Sunday.
Find out exactly what takes place during Easter in Cusco here.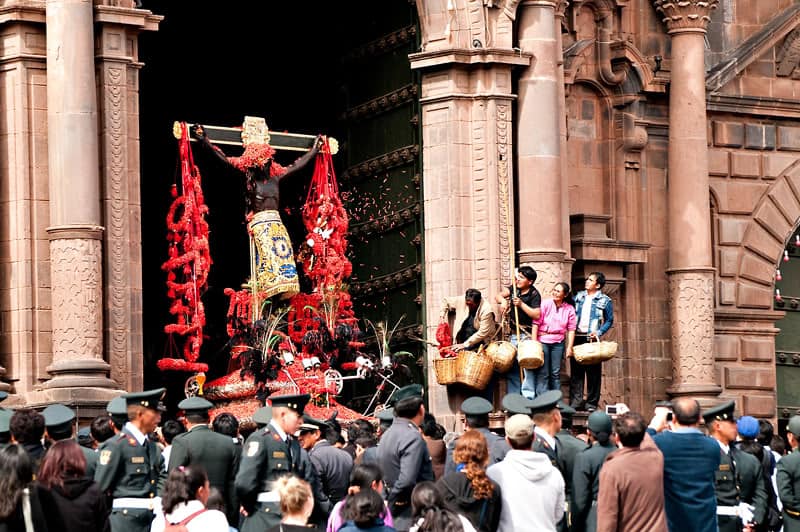 Which Cusco Festivals Do You Want to Experience?
So, there you have it, all the best festivals in Cusco that will give you a real insight into traditions both ancient and modern. Peru travel is so often focused on sightseeing in Cusco, Machu Picchu treks, and Amazon rainforest tours, that it's easy to overlook the very essence of the country and its people. Yet if you venture beyond the tourist honeypots and are prepared to open your soul to a little Cusqueñan spirituality, you'll come away feeling both moved and empowered.
If you'd like to include a visit to one of these epic Cusco festivals during your Peru trip, just say the word and we'll put you right in the heart of the action.
Keep Reading:
Like it? Pin it!