Packing for Peru can be quite unlike preparing to visit any other destination, as the climate and terrain is so varied. Because Peru's position near the equator, it doesn't have the sort of seasons that people from continents like North America and Europe are used to.
So what to bring to Peru is affected by whether you'll be spending time in the jungle, the desert, on the coast, among the mountains or in the cities. Your clothing for Peru will also vary according to whether it's the rainy or dry season – as well as what you plan to do while you're there.
This article is the ultimate Peru packing list, taking you through all you need to know about how to dress in Peru depending on where you are. Also covered are descriptions of each season, and area-by-area guides to what to wear in Peru depending on the regions you'll visit. We also discuss footwear, luggage and what to include on a women's packing list for Peru.
If you're stuck on what to pack for Peru, you can use this post as a basis for creating a packing list for your Peru trip. From what to wear in Cusco to the ultimate Amazon packing list, this guide includes all the best things to pack for Peru – including our recommended items.
This is the ultimate guide for those wondering what to bring to Peru – no matter what you'll be doing or where you're headed. Let's get started by taking a look at what this beautiful country has to offer.
This post may contain affiliate links, from which we would earn a small commission, at no extra cost to you.

Factors Affecting Your Peru Packing List
Where Are You Going in Peru?
The beauty of Peru is widely renowned – and Machu Picchu is one of the most famous wonders of the world. Peruvians are proud that their country consists of three distinct areas, the coast and desert, the Andes mountains, and the Amazon jungle.
It therefore makes sense that if you are packing for a holiday taking in various parts of Peru, you should prepared for a range of eventualities. Where you are going and what you want to do in Peru will thus determine what to pack for Peru.
If you're concerned about fitting all those things to bring to Peru into your luggage, don't stress out. It's so easy to get your laundry done in all the most popular tourist areas like Cusco, where they're well used to transforming travellers' clothing into a neatly folded pile of fresh laundry by the end of the day.
So when wondering 'what should I pack for Peru', do bear this in mind. A week's worth of clothing will be plenty. This should help if you need to pack extra items like a sleeping bag if you are going to be doing any hiking.
What Are You Going to do in Peru?
Of course, what you want to do in Peru will also affect your Peru packing list.
Peru is one of the foodie capitals of the world. If you plan to spend time enjoying fine dining experiences, then packing a good capsule wardrobe is essential. The folks at restaurants in the capital, for example, tend to be extremely well dressed. This is worth bearing mind when thinking about what to wear in Lima, Peru if you plan to go there and don't want to feel out of place.
Most people who visit Peru want to do a good deal of walking, even if they are not doing an actual hike. For example, if you visit the Rainbow Mountain or Machu Picchu, then you will need some good quality adventure wear.
If you want to do a multi day hike… then a different set of kit will be needed. If you are not sure where you could trek to, why not be inspired by this wonderful guide to the best hikes in Peru?
Whatever you're doing, ideally your list of what to pack when going to Peru should include lots of quick-drying layers. This means you can alter your clothing, even during the day as the weather changes. Plus if it gets wet it will be dry much faster.
Your list of what to pack for Cusco and Machu Picchu should include, for example, clothes for the city and get suitable for hiking and high altitudes.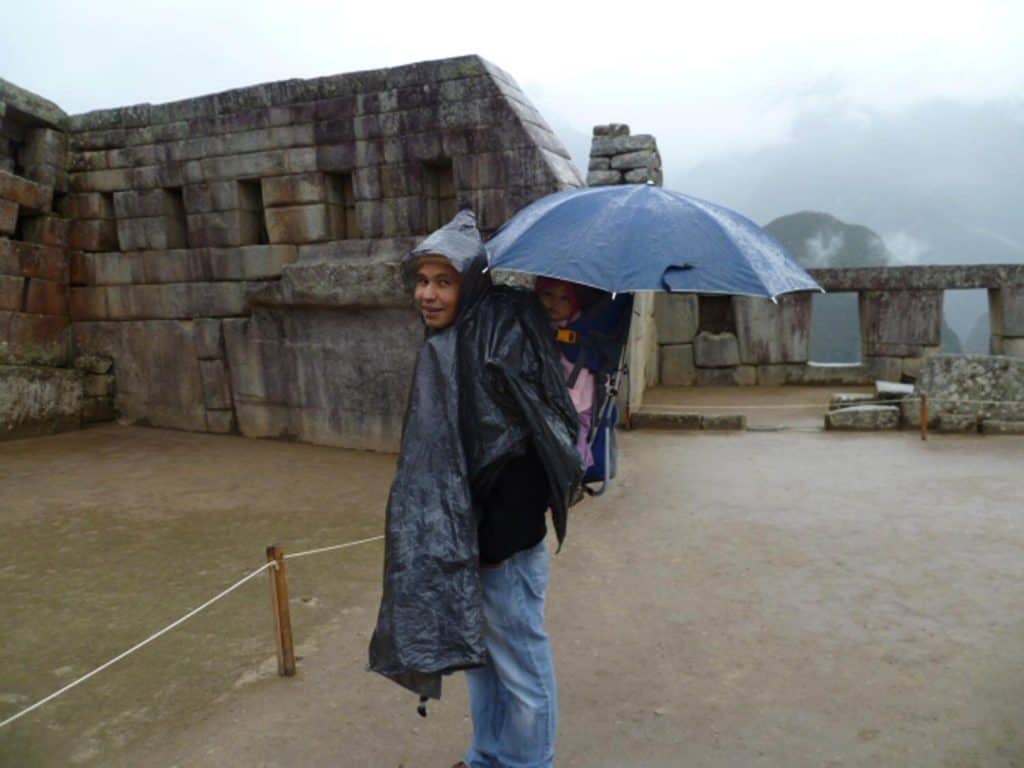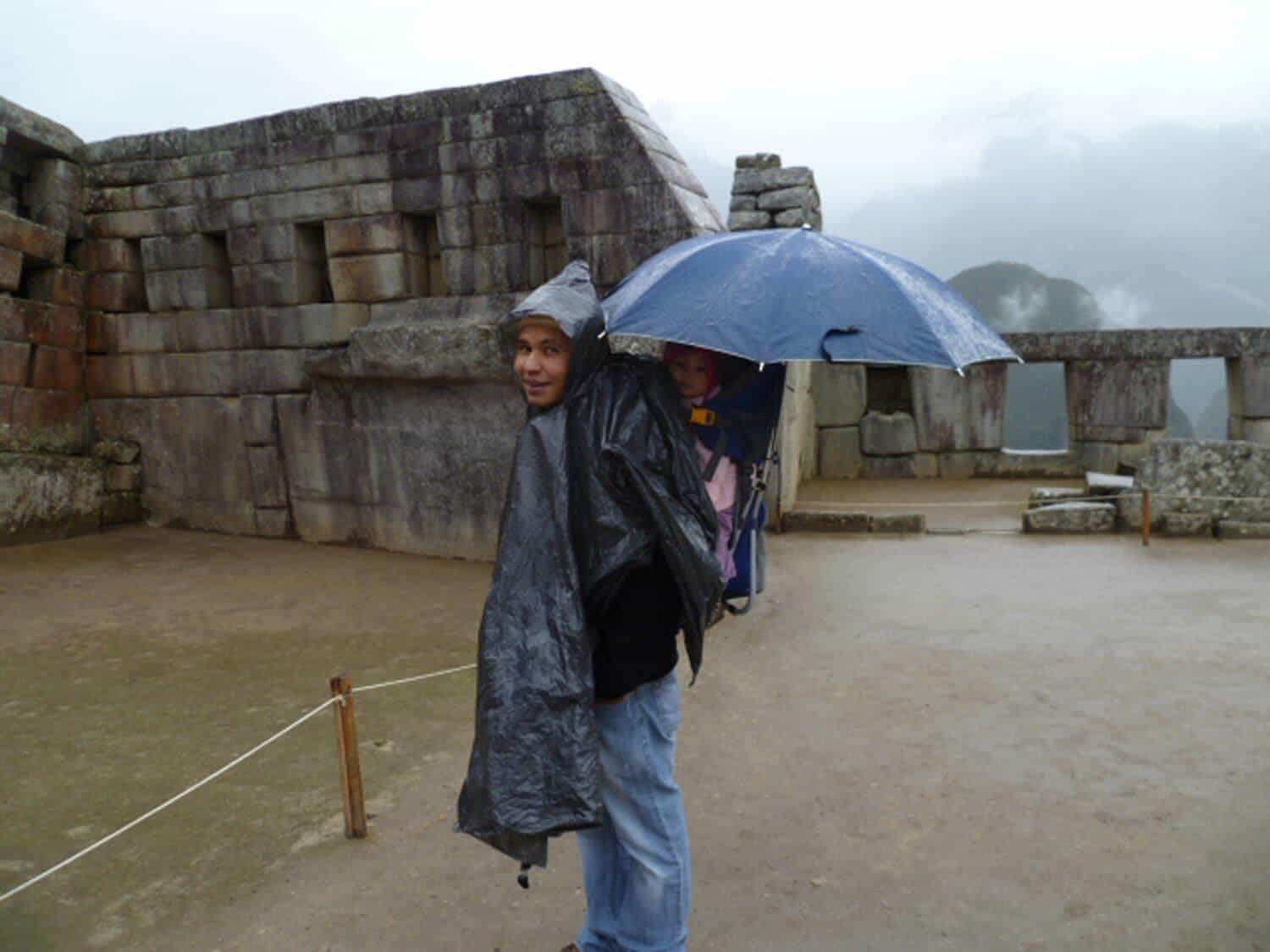 How will the Weather Affect Your Peru Packing List?
 Let's begin by explaining the two distinct seasons in Peru – the wet or rainy season and the dry season – as these will affect what to wear in Peru and thus what to bring to Peru.
Rainy Season in Peru
Peru's rainy season lasts from November to March, with the early months of the year tending to be the wettest and warmest of all. If you're visiting then, your selection of clothes to wear in Peru will need to include some waterproof gear.
What to pack for a trip to Peru is a little more complicated than that, however, as the weather varies depending on whether you're in the mountains or rainforest, near the desert or by the coast. In Lima and at northern beaches, it's warm and dry during these months – a great time for swimming or surfing.
Find out more about Peru's wet season in this guide.
Dry Season in Peru
So during your visit it will be dry season in Peru. What to pack? Again this varies according to where you'll be and what you plan to do. The dry season is between May and October, and then you can expect a lot of sunshine with cooler temperatures by the coast and at night. This means adding at least one sweater to the list of what to pack for your Peru trip.
Read all about the climate in Peru area-by-area in this article.
You can also find some more specific month by month packing advice near the end of this post.

A General Peru Travel Packing List
Let's get started with a general, at-a-glance list of things to pack for Peru. Which you'll take will vary by area and season, so there are more specific guides to various regions beneath this list. The following are just ideas to get you started, before moving on to how to pack for Peru by area and according to your planned activities.
You can then pick out the items you'll need from the following list. We've given our recommendations for those products you may need to buy, based on many years of Peru travel experience!

Footwear for Peru
Sandals – For the beaches or Lima in summer (January to March).
Smart Shoes or Boots – For Lima & Cusco.
Walking boots or sturdy, sporty shoes – For any trekking (eg Inca trail, Machu Picchu etc).
Hiking Socks – Cushioned ones are best as they add extra comfort.
Regular Socks

Pants for Peru
Jeans – To wear anywhere but while hiking.
Athletic Bottoms or Trekking Pants – Wear long pants for the Amazon rainforest.
Leggings – Including thermal ones for cold areas or high altitudes.
Shorts – For the beaches only.
Tops for Peru
T-Shirts – Lightweight, fast drying ones are best.
Long-sleeved, Loose Fitting Shirts – For the Amazon rainforest.
Dresses or Tailored Trousers & a Shirt – 1 or 2 for restaurants in the city.
Long-Sleeved Base Layer
Sweater/s – Especially for high altitude areas.

Outerwear for Peru
Down Jacket – For colder or higher-up areas.
Rain Jacket – Even during the dry season there can be showers.
Gloves
Scarf – You could wear this on the plane.
A security scarf has a hidden pocket for all your valuables and documents.
Beanie Hat – For colder areas.
A Meriwool Beanie is ideal and is a unisex design available in 5 colours.
Sun Hat – for the beach or the Amazon.

Other Things to Take to Peru
Swimsuit – For cities, coast & desert areas.
Camera
Power Adapter – Many hotels don't supply these so bring your own.
We like this one as it covers the globe and has 4 USB ports.
Flashlight – For budget travel or hiking (there can be dimly-lit alleyways in Peru).
Insect Repellent
Sunscreen – You'll also need these at high altitudes, even if it's cold, to prevent burning.
Sunglasses
Water Bottle
First Aid Kit – Include painkillers, altitude sickness or anti-malaria meds & plasters (for blisters).
Daypack – Especially for hikers.
The Osprey Daylite is a reliable, lightweight choice available in 13 colours.
Backpack – With wheels for your luggage.
Packing Cubes – These can help you stay organised while making the most of the space.
For the Flight
Travel Pillow – A neck pillow may also be useful for journeys in Peru.
Eye Mask – This may help you sleep on board as it blocks out light.
Pure silk is the softest, most comfortable option & this one comes in around 30 colours.
Compression Socks – To help ward off DVT.
Specific Packing Lists by Peru Areas
Now that you have an overview of what you may need to take when you travel in Peru, let's move on to more specific locations.

Rainbow Mountain & Cusco Packing List (+ other High Altitude Locations)
Cusco has a totally different climate to Lima, thanks to its higher altitude. So when it comes to what to take to Peru, you will definitely need to pack warmer clothing for Cusco. Rainbow Mountain is generally done as a day trip, and you need to pack warm clothes for this area too.
Your packing list for Cusco, Peru or list of what to what to wear at Rainbow Mountain should therefore include outerwear like a down jacket, more than one sweater or hoodie, a long-sleeved base layer and some sort of thermal pants as well as a scarf, gloves and a hat.
If you plan to visit any restaurants in Cusco, you may also need a more dressy outfit such as a dress or tailored pants and a smart shirt.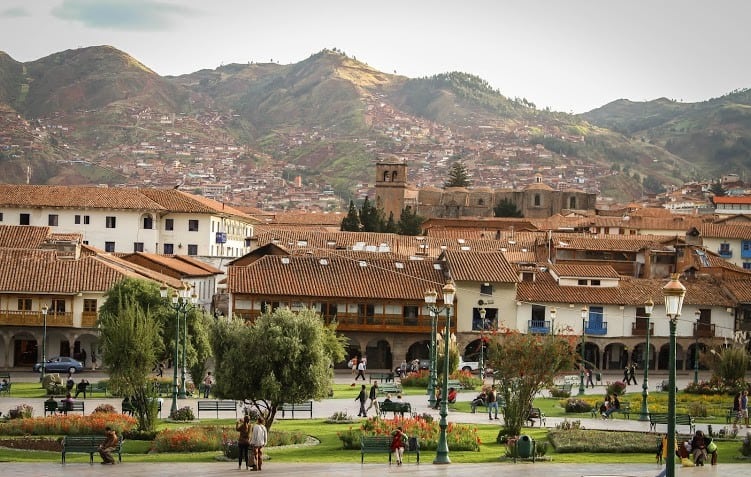 Machu Picchu & Sacred Valley Packing List
When you're heading to the Sacred Valley area – including Machu Picchu – you'll be hiking at high altitudes, where it's colder. However all that activity is also likely to make you get hot and sweaty, which is why fast-drying layers are key.
Things to add to your Machu Picchu packing list include clothing and worn-in footwear suitable for hiking, a sweater or two and a rain jacket.
Find out all about what to pack for the Sacred Valley and Machu Picchu in this complete guide.

Packing for Trekking – Day Hikes & the Inca Trail
If you're taking to the Inca Trail, then your packing list really needs to focus on clothing, footwear and other items that are necessary for hiking. You will definitely need a small daypack.
For day hikes, items you'll require include at least one pair of sturdy, solid shoes – these do not necessarily need to be hiking boots, unless your ankles require that extra support. But the footwear you bring should always be worn in prior to your trip unless you want to be stopped in your tracks by blisters or your pair of ill-fitting hiking boots.
Read our dedicated post on packing for the Inca Trail here.

Amazon Rainforest Packing List
An Amazon jungle packing list is a different matter altogether. What to wear in the Amazon rainforest is determined by the climate, which is hot and humid to wet. Despite the temperatures, long pants are the best choice as the area has a huge population of hungry mosquitoes. If you don't expose too much flesh, it's more difficult for them to prey on you!
Your Amazon rainforest clothing should therefore ideally include long-sleeved, loose shirts and full length pants rather than shorts. Other items to add to any packing list for an Amazon rainforest trip include a good water bottle, sunglasses, a sun hat (with a strap if possible) and hiking socks. You may also need rain boots if these are not supplied.
When making your Amazon rainforest packing list, remember that the clue is in the name. It's going to be wet. What to wear in the Amazon jungle should thus be light and quick-drying to stop you being weighed down by heavy, sodden clothing. The perfect clothes to wear in the Amazon rainforest are light and cool, with long legs or sleeves to repel biting insects.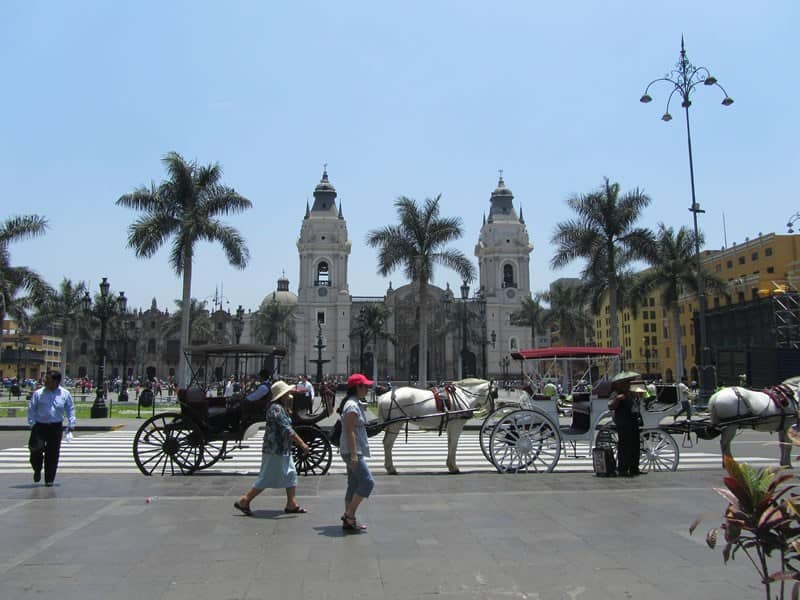 Lima or Peru Coast and Deserts Packing List
If you're wondering what to wear in Lima, Peru – as well as at the beach or in the desert – this section is for you. One thing you will definitely need is a good swimsuit, especially between January and March when the weather is hottest.
Even when it's the wet season elsewhere in Peru, along the coast the weather tends to be dry and warm. In general you'll be wearing summer clothing and swimsuits, though it is worth bringing a sweater and a lightweight, packable rain jacket.
You'll need sunglasses, and a sun hat is also a good thing to bring. If you want to wear shorts in Peru this is the place to do so, and sandals are also ideal for this climate. A decent pair of hiking sandals will take you to most places.
If you are heading out in Lima at night, then do pack some suitable clothing, like a pair of tailored pants and a top, or a stylish dress. The restaurants here are packed with well-dressed people, and you don't want to feel uncomfortable because you're underdressed by comparison!

A Women's Packing List for Peru
A female packing list for Peru isn't really too much different from one for men. There are some things to know, however, which is why we've included this section.
Let's talk about leggings. Do they belong on a list of what not to wear in Peru? Peru is in general quite conservative, so you may wonder whether women's clothing like yoga pants or leggings are the norm. There's no cause for concern, however – yoga pants and leggings are perfectly acceptable clothes in Peru.
Normally leggings or yoga pants are lightweight, comfortable and quick-drying. Thinner ones may also be worn beneath other layers. You could also wear them when flying or at night, and could pack a thermal pair for colder areas. The only drawback, really, is their lack of pockets, but this may not matter if you're happy to carry everything in your daypack.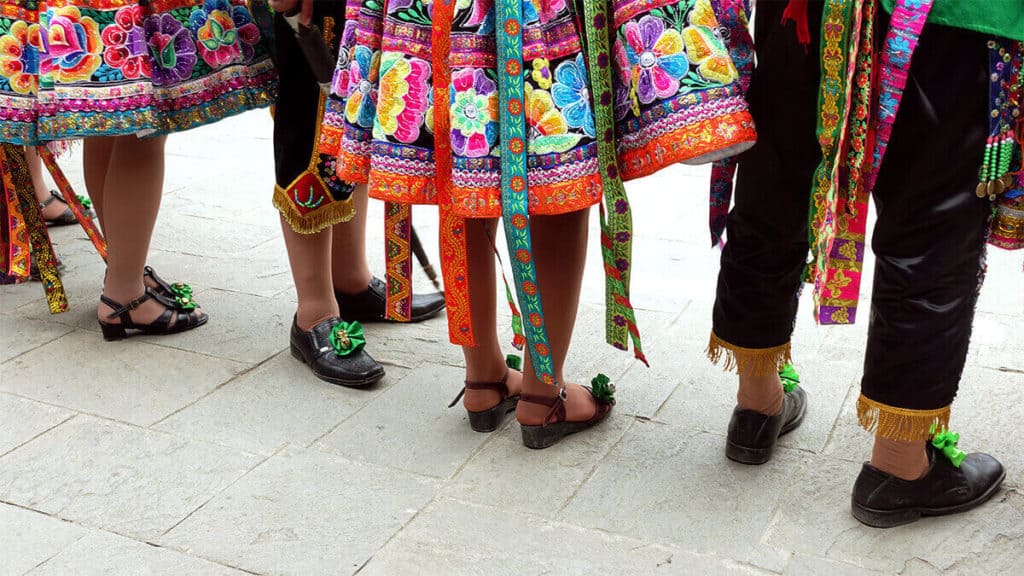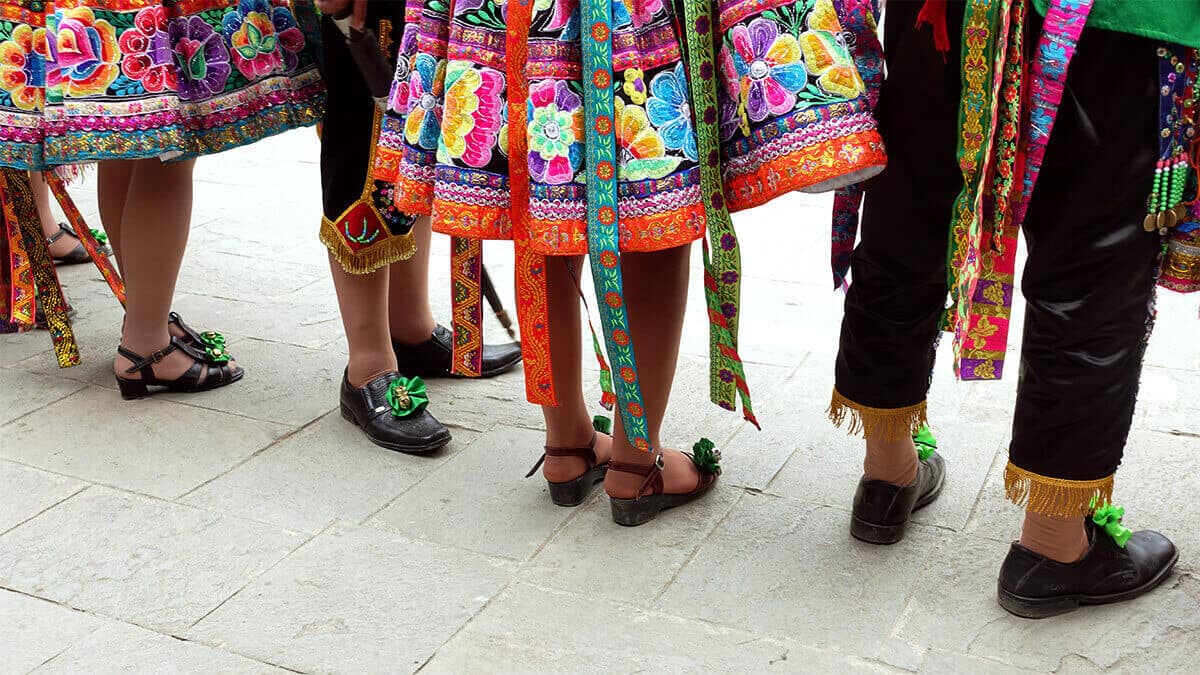 Shoes for Peru
We've already touched on shoes for Peru in out overall packing list plus in various area sections, but let's look at footwear in a little more depth here. If you're trekking, you need a good, solid pair of hiking boots – or at least some sturdy, comfortable footwear.
Not everyone likes high-top boots, but if you've ever had any issues with your ankles then they are the best choice. A sound pair of sporty, sturdy shoes makes a decent alternative – but whatever you pick, make sure they are worn in before you leave home.
Another option is to take two pairs – one being trekking boots and the other a pair of lightweight, sporting sneakers. You'll also need about 3 or 4 pairs of hiking socks, plus some regular ones to wear when you're not trekking. You may also want to add some insoles to your hiking boots or shoes.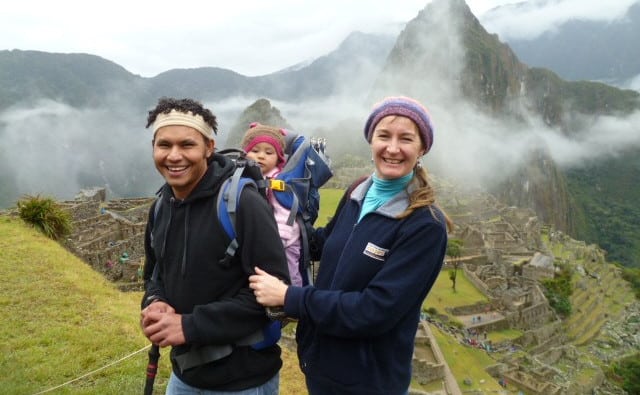 Backpack or Luggage? Which is the Best Choice for Peru?
 There are quite a lot of cobblestone streets in Cusco. Also, footpaths there are not normally very wide, and can also be quite cracked at times. For these reasons, you will need a backpack rather than a suitcase.
We love the new convertible backpacks which also have wheels so you can pull them along at airports and inside hotels. The Osprey Farpoint 65 for men and Fairview 65 for women are a good check-in size, and both have zip-away backpack straps.
Backpack Packing Cubes
A set of packing cubes can really help you stay organized during your Peru trip. You can sort clothes by days, type or separate clean and dirty laundry. There are also cubes designed for specific items like shoes, toiletries and electronics. The Osprey range of packing cubes is again well worth checking out.
Daypack
Again Osprey come up trumps with their Daylite 13 litre daypack, which comes in 13 colours and has a key clip, front pocket, mesh side pockets and an interior section for a hydration reservoir or your tablet. They also have lots of larger packs to choose from if you want something bigger.
Packing for a Flight to Peru
Packing for the aeroplane itself is something else to think about. Again, layers are key. You can also wear items like your scarf on board to save weight – and to wrap around you if it gets chilly!
Comfort is also paramount, so pick loose, lightweight clothing that you can relax and maybe even sleep in.
For the flight, items like a travel pillow can make the journey more pleasant, and may also come in handy in Peru if you take long trips. You may also like to add an eye mask so you can sleep, and some compression socks to reduce your risk of DVT.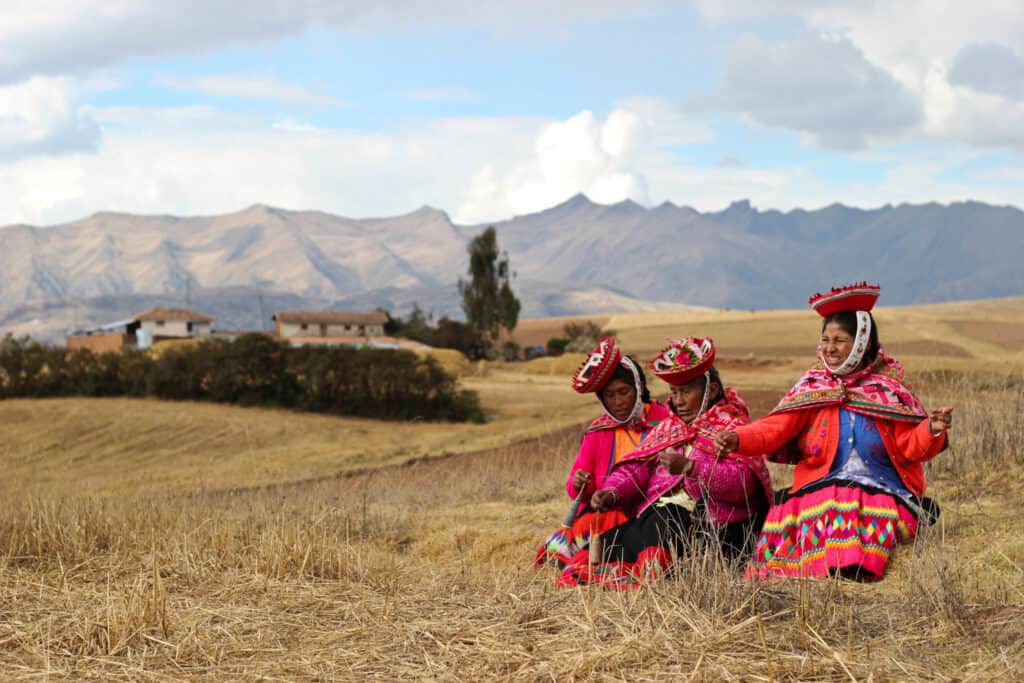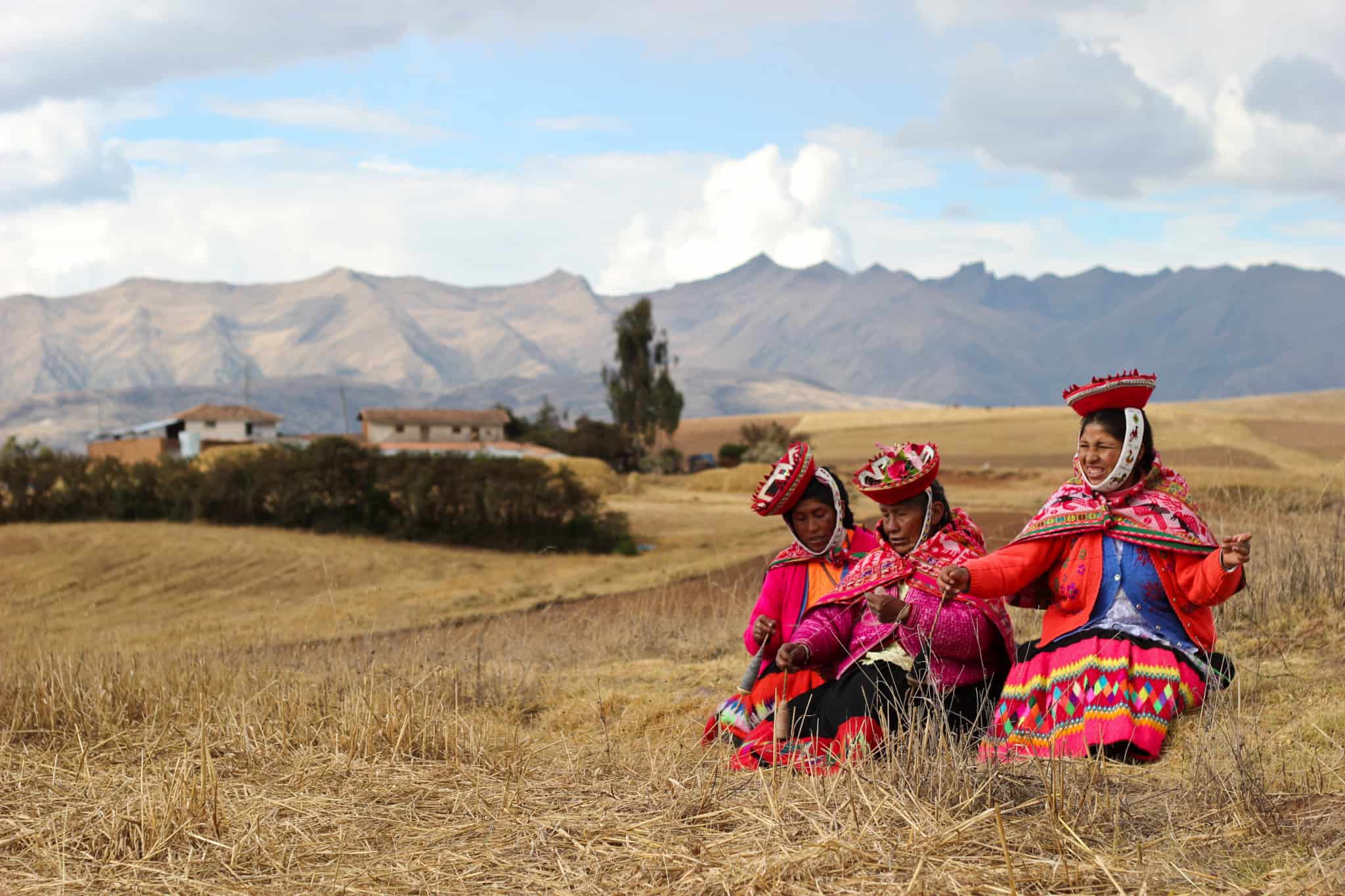 Packing for Peru Month-by-Month
So how does what to wear in Peru in October differ from a packing list for Peru in March, for instance? Well there is no short or easy answer. It depends on where you're going, what you're doing and which season it is – though that will also vary according to where you are.
For advice on this, refer to the sections above on the wet and dry seasons and the areas and you'll see that what to wear in Peru in August will be determined by the fact that it's the dry season – in most places. What to pack for Peru in December may be different because it's the rainy season. And so on.
In a nutshell, what to pack for Peru in September, February or any other month varies widely. Hence the detail in this post!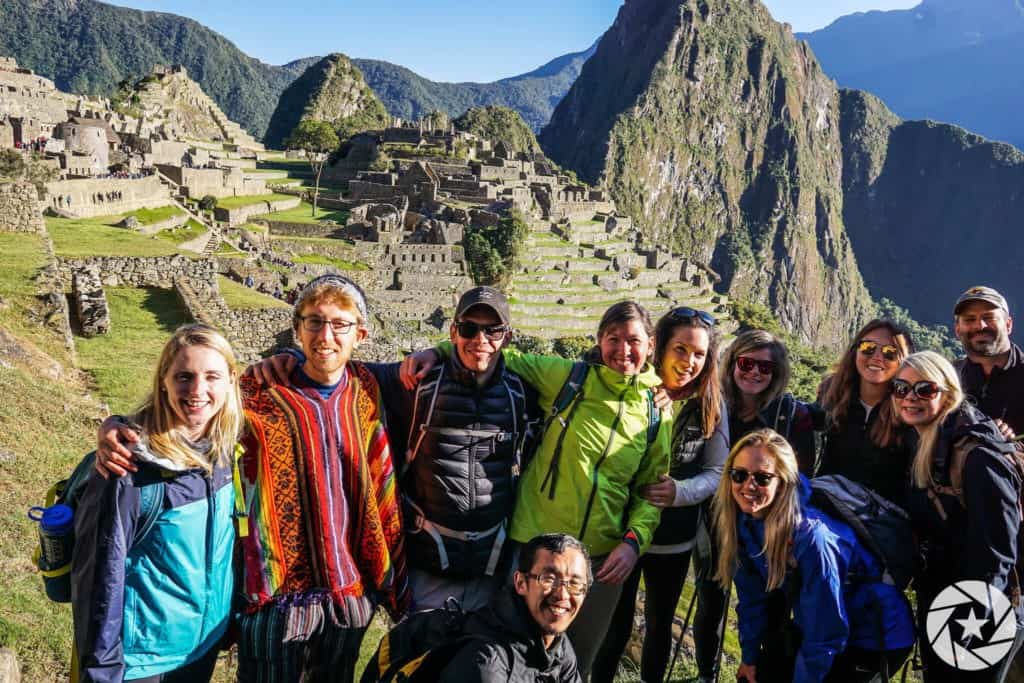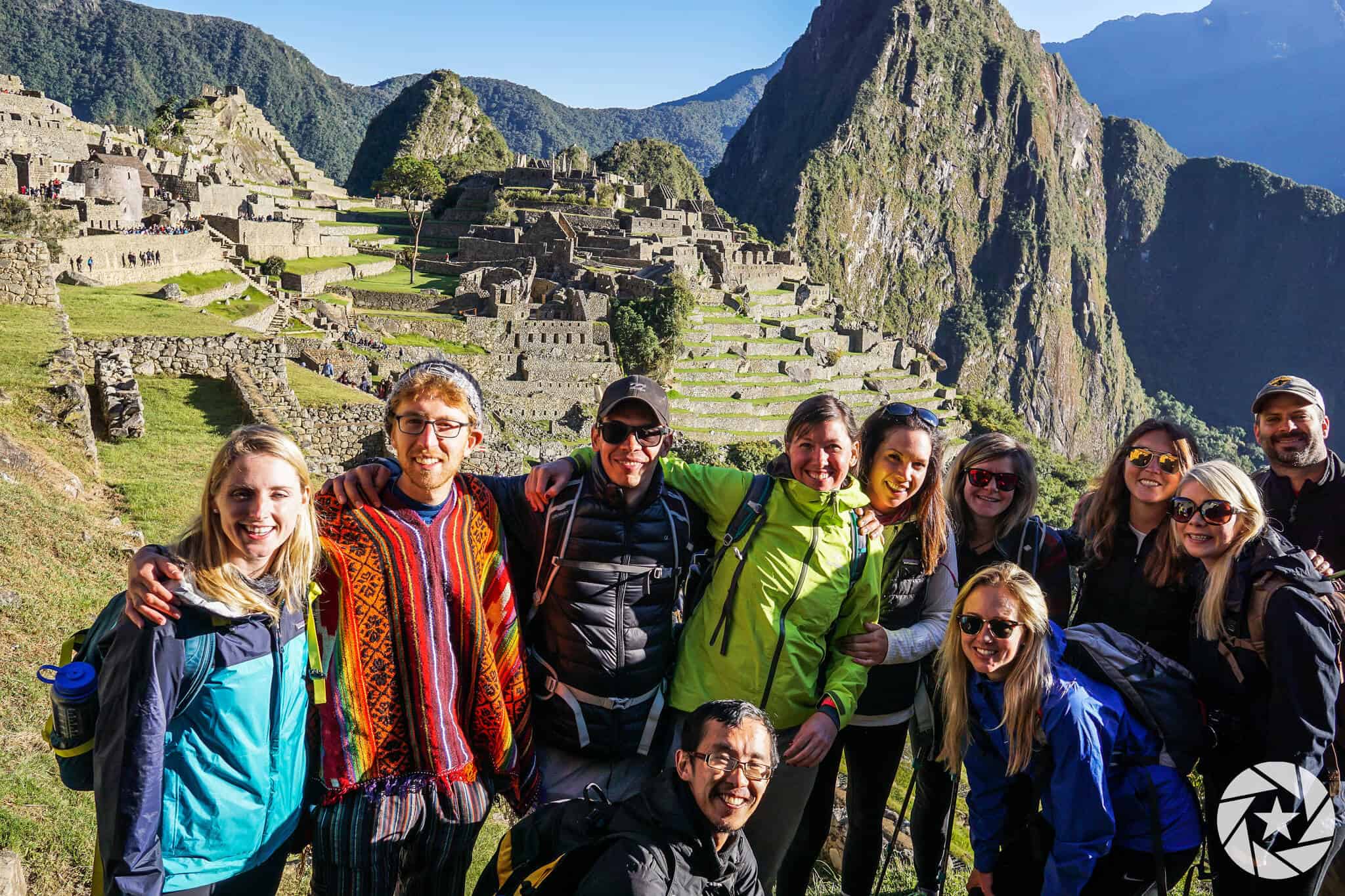 What Will you Add to Your Peru Packing List?
From the ideal rainforest outfit to avoid mosquito bites to how to dress in Cusco, Peru by night, hopefully this complete travel and backpacking Peru packing list has given you enough information so you can create your list without feeling overwhelmed. Simply focus on where you're going, the season and what you'll do there, and you're sure to arrive well prepared – all ready to have the most amazing time!
Like It? Pin It!