There's nothing better than a good book to get in the mood for an upcoming trip. If you're travelling to Peru, get inspired for your trip with our list of the Best Peru Books to read before you go. Our favourite Peru books cover topics about trekking in Peru, visiting Machu Picchu and the history of the Incas. These are a little more specific than general Peru reads, but just perfect if you want in-depth knowledge of the Incas, their empire and the people that recently have explored this fabled land.
And for anyone travelling to Peru anytime soon, these books about Peru and Machu Picchu make a great gift!
#1 Best Peru Books
Turn Right at Machu Picchu (by Mark Adams)
Hands-down our favourite book about trekking to Machu Picchu! If you are looking for a laugh-out-loud, fun-filled book, this is the best Peru book for you. The author, Mark Adams, quits his day job and takes you on an exciting trip through the mountains of Peru, following in the footsteps of Hiram Bingham. The history behind this story is exceptionally well researched, and the writing is gripping. You will feel like you are walking right alongside Adams, with the sun beating down on your back. This book is not one to be missed!
Where to find this book: Find it online! Turn Right at Machu Picchu
#2 Best Peru Books
Last Days of the Incas by Kim MacQuarrie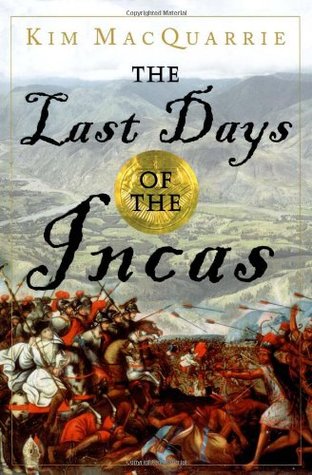 We recently re-read this book and loved it just as much as we did the first time. Though we assume it is historically correct, it is reads just like a novel: full of intrigue, drama and lots of blood and guts! Also, it provides a range of perspectives, from that of the Spanish and the Incas, as well as an understanding of the early political intrigues in Peru. This is a great book for people who will be making the journey to Cusco, and Machu Picchu, and especially those who have a history bent!
Where to find this book: Find it online! The Last Days of the Incas
#3 Best Peru Books
Lost City of the Incas by Hiram Bingham

A real life Indiana Jones! This is explorer Hiram Bingham's highly readable account of his rediscovery of Machu Picchu. It is a great rollicking tale, sometimes factually incorrect, but certainly sets the scene for your Machu Picchu visit. Bingham's account is a great companion to Mark Adams' modern adventure in Turn Right at Machu Picchu. We highly recommend taking the time to check this book out!
Where to find this book: Find it online! Lost City of the Incas
#4 Best Peru Books
The White Rock by Hugh Thomson
Hugh Thomson sets out as a young man, at the age of 22 to rediscover ruins that had previously been discovered but were lost again. This is a highly readable and thought-provoking novel, not to mention an excellent piece of Peru travel history. It's a recommended companion as you travel to Peru. You will have the opportunity to learn about the history, geography, and culture of the Incas and Peru. Of all of Hugh Thomson's books, this is our number one choice for pre-Andean adventure reading.
Where to find this book: Find it online! The White Rock
#5 Best Peru Books
Conversation in the Cathedral by Mario Vargas Llosa
Anything written by once-presidential hopeful Mario Vargas Llosa gives you a fascinating fictionalized insight into Peru. This book paints a portrait of power and politics in Peru under the dictatorship of General Manuel Odría in the 1950s. If you want to understand the backdrop of modern-day Peru before you travel here, this is book is a must.
A brief summary:
Santiago Zavala, a young journalist, bumps into Ambrosio Pardo, his wealthy father's former chauffeur, and they go to a rundown bar in Lima (the Cathedral of the title) to talk about old times. Santiago is estranged from his family, rejecting their upper-middle-class values and his father Don Fermin's shady business dealings and rightwing politics. Ambrosio admires Don Fermin and served him well.
This book is written in the point of view of Santiago and Ambrosio. Please be warned that this book is long (about 600 pages)! The first few chapters are rather difficult to get through due to disturbing events, but if you stick it out you will be well rewarded.
Where to find this book: Find it online! Conversation in the Cathedral
Like it? Pin It! 
Save