The world heritage site of Machu Picchu was a hidden gem for the Incas. Its location between the Andean mountains and the Amazon Rainforest made access a real challenge for any adventurer. Fortunately, if you want to live this once in a lifetime experience, you can trek, or you can enjoy the ride from Cusco to Machu Picchu by train.
In this post, we'll tell you everything you need to know about taking the train from Cusco to Machu Picchu, so get ready to dive right in!
Taking the Train from Cusco to Machu Picchu: A Stunningly Scenic Journey
Travelling by train to Machu Picchu is an extraordinary experience. There are two train operators (Peru Rail and Inca Rail). Both offer different train options departing daily from Cusco and the Sacred Valley to the Lost City of the Incas.
During the Machu Picchu train ride, you will observe how the scenery changes through the journey alongside the Urubamba River. Your last stop will be at Aguas Calientes, the closest town to Machu Picchu. After this amazing trip, you will head to the bus station, where you can take a twenty-five-minute bus ride up to the Inca ruins.
Machu Picchu Train Schedule & Map
Trains to and from Machu Picchu run daily. Just get in contact with one of our amazing sales people who will turn your dream of visiting the Inca Citadel into a reality. Our diligent staff will help you to organize a unique Machu Picchu train experience.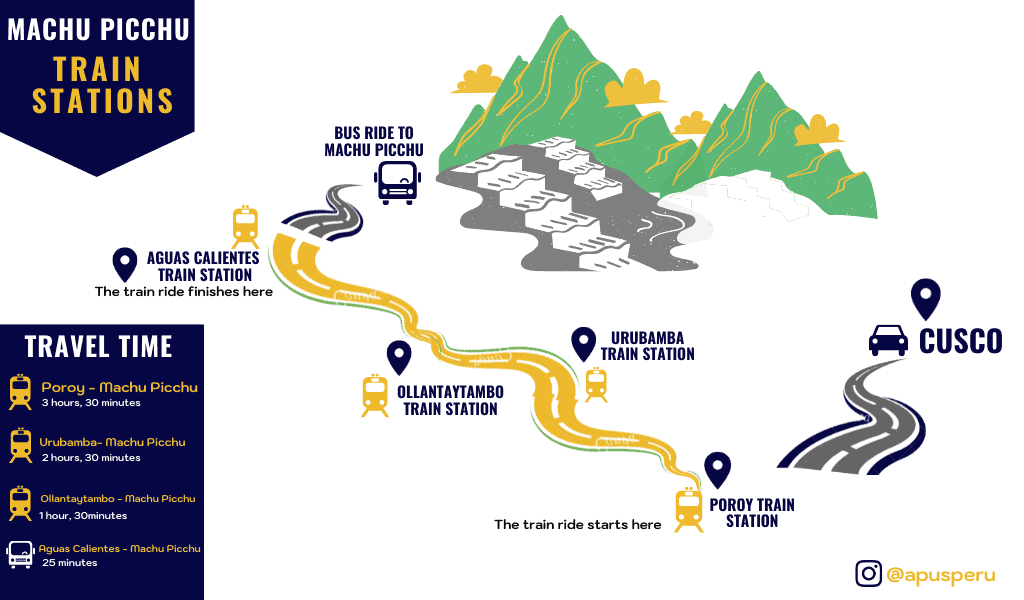 How long does it take to travel by train to Machu Picchu?
It depends on the train station where you board the train. Let's take a look at this quick Machu Picchu train time schedule:
Departs from:
Train Station
Approximate Time to Aguas Calientes Station

(Machu Picchu town)

Cusco
San Pedro Station
4 hrs, 30 min.
Cusco
Poroy Station
3 hrs, 30 min.
Sacred valley of the Incas
Urubamba train station
2 hrs, 30 min.
Sacred valley of the Incas
Ollantaytambo Station
1 hr, 30 min.

What is the Bimodal Service?
During the rainy season, it is impossible to take the train to Machu Picchu from Cusco, at least, not all the way. That's where the so-called Bimodal Service comes in.
The Bimodal Service is a combination of bus and train transportation that both companies (Peru Rail and Inca Rail) offer between January and April. This is the time when the railway that connects Cusco and the Sacred Valley is closed due to the rainy season, making it impossible to take the train from Cusco to Ollantaytambo. This service is available only for travellers departing from or arriving in the beautiful and multicultural city of Cusco.
Peru Rail, one of the two Machu Picchu train companies, offers two trains that included the Bimodal Service option: Vistadome and Expedition. Choosing either of these two options, your journey will start at Wanchaq Station, just 5 minutes away from the Main Square of Cusco where a bus will take you to Ollantaytambo station. Then you will board the Ollantaytambo to Aguas Calientes train service until you reach the last stop before ascending to the Citadel of Machu Picchu.
The other service operator is Inca Rail, which also offers a Bimodal Service to get to the Ruins of Machu Picchu. Near to the main square of Cusco, you can take the bus and start an hour and 30 minutes trip to Ollantaytambo station. From there, board the train to Aguas Calientes station. The whole journey from Cusco to Aguas Calientes will be 3 hours.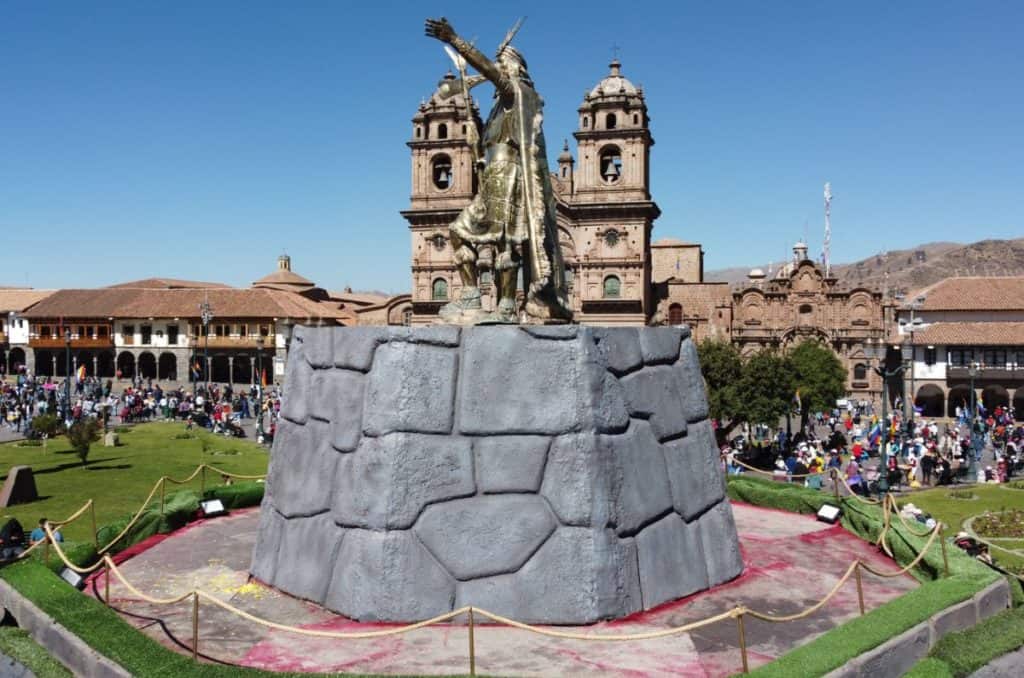 Can you take a bus to Machu Picchu?
You can't take the bus all the way from Cusco to Machu Picchu, but most people do take the bus from Aguas Calientes to Machu Picchu.
After taking the train from Cusco to Aguas Calientes, you still need to get from there to the Machu Picchu ruins, which are perched on a mountaintop, up above the town. It is possible to hike from Aguas Calientes to Machu Picchu, but most people take the bus. The bus is just a short walk from the Aguas Calientes train station, takes about 20-30 minutes, and costs $12 each way.
Can you take the train to Machu Picchu from Lima?
Unfortunately, there is no option to go from Lima to Machu Picchu by train.  If you are in Peru's capital, you first need to fly, drive or take the bus to Cusco. Then, you can go from Cusco to Machu Picchu by train, or on foot if you decide to hike. We have more details on transportation options in our post, How to Get to Machu Picchu.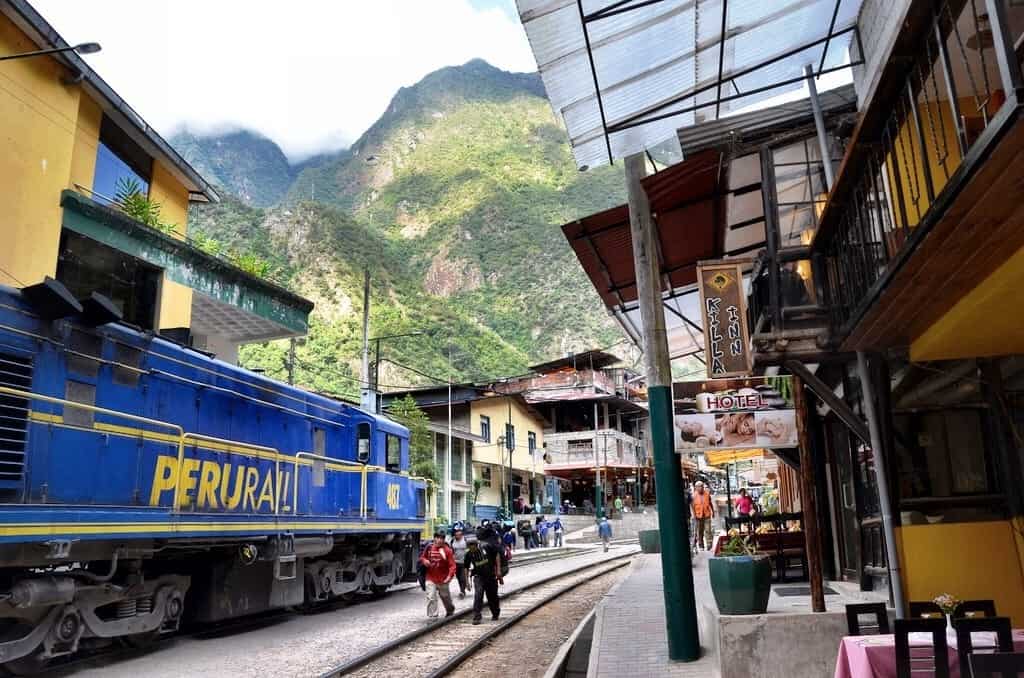 Train Stations
All travellers who are looking for an unforgettable way to travel to Machu Picchu by train can start the journey at Cusco station or in the Sacred Valley. Something really important here is timing. Set enough time to arrive at the station before departure so you can do the check-in and board the train without any setbacks.
Cusco Train Stations
There are effectively three train stations in Cusco, Peru. Let's look at each of them and what they offer in turn.
Poroy Train Station
Poroy is a small municipality located on the outskirts of Cusco. It's about a 30-minute drive from downtown to the Poroy Cusco train station. Despite the extra driving time to the Poroy train station in Cusco, in the end it saves you about an hour of total travel time to Machu Picchu, compared to trains departing from the San Pedro station.
Wanchaq Train Station
If you are using a Peru Rail bimodal transport service, the departure point will be Wanchaq Station at the end of Avenida El Sol, just 5 minutes away from Cusco's Plaza de Armas. Travellers on their way to Lake Titicaca also visit this station; Peru Rail's Lake Titicaca train departs from the Wanchaq station a few times a week.
San Pedro Train Station
Due to the quick expansion of the train service in 2019, the city of Cusco reopened this third Machu Picchu train station in Cusco. The San Pedro Train Station is easy to find, just across from Mercado San Pedro (San Pedro Market).
Sacred Valley Train Stations
There are two train stations in the Sacred Valley: one in Urubamba, from where the luxurious Sacred Valley Train departs (more about this option below!) and one in Ollantaytambo, which is by far the busiest station for trains to Machu Picchu.
Urubamba Train Station
Compared to other train stations, there are fewer departures from the Urubamba station. Also, trains departing from Urubamba often stop in Ollantaytambo station to pick up more passengers before heading to the last stop at Aguas Calientes station.
 Ollantaytambo Train Station
This station is very important for the region because it links the other two train stations, Poroy Station and Aguas Calientes. To get to this train station, you can either go by bus, taxi or private transportation service from downtown Cusco. If you take the train from Ollantaytambo to Aguas Calientes, your journey will last 1 hour and 30 minutes, approximately.
Inca Trail Access at Km104
Is there a train station at Km 104? Not exactly, Km 104 is an entry point located in the Urubamba River Valley where travellers can access the trailhead for the Short Inca Trail by train. As the train for Machu Picchu hike approaches KM 104, passengers will disembark, pass the control point, and then start their ascent on the first part of this 2-day Inca Trail hike. When using this route, hikers will pass through the Wiñay Wayna ruins and reach the ancient Sun Gate (Inti Punku), before walking down to Aguas Calientes where they spend the night before heading up to Machu Picchu the next day for a tour of the ancient Inca city.
Aguas Calientes Train Station
Also known as the Machu Picchu train station, the train station at Aguas Calientes is located in the Province of Urubamba. This is the last stop where all passengers from different train routes will disembark before reaching the Inca Citadel. From this point, a 15 minutes walk through craft stalls will take you to the bus stop which offers services to the entrance of the Inca Ruins of Machu Picchu.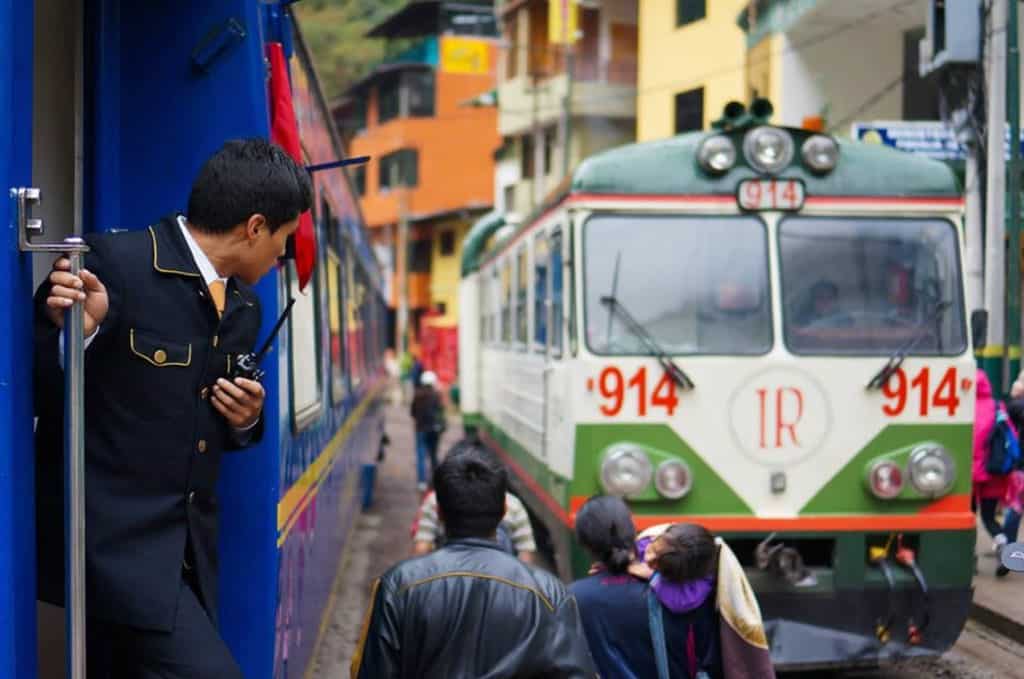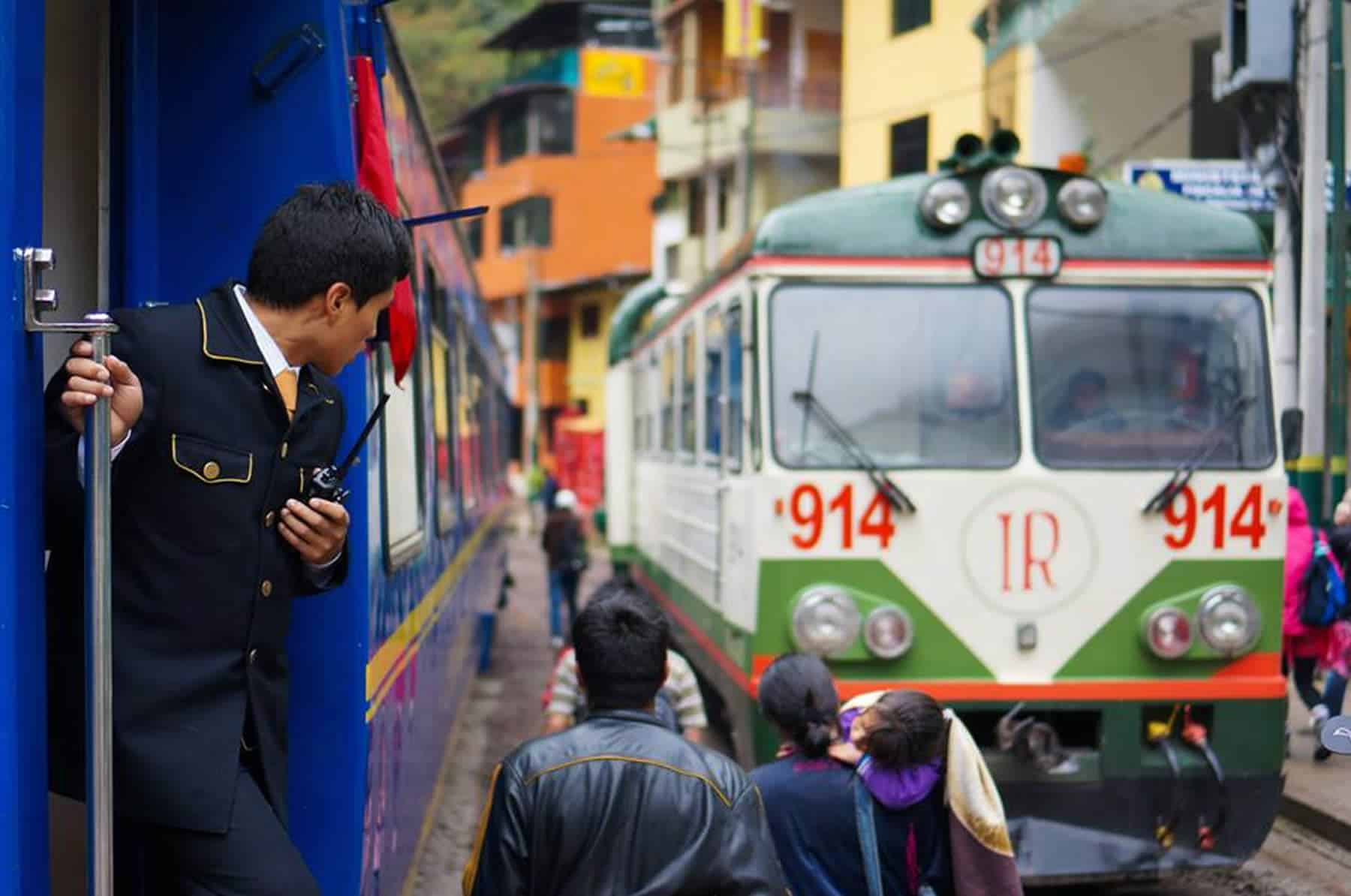 Machu Picchu Train Options
Most of our treks that include a train to Machu Picchu feature a combination of Expedition and Vistadome service on Peru Rail, or the equivalent service on Inca Rail. Below is a brief overview of the various service options offered by both Machu Picchu train companies.
Did you know you can upgrade your train? Upgrade any included Expedition train to the Vistadome service (or equivalent Inca Rail train), or for extra luxury, splurge on an unforgettable ride on the Hiram Bingham train to Machu Picchu! Contact us for upgrade prices on any Machu Picchu by train tour.
Peru Rail
For more than 20 years this company has been operating most of the train services to iconic destinations such as Machu Picchu in Cusco and Lake Titicaca in Puno. Travellers from all over the world can enjoy unique and enriching travel experiences onboard touristic and luxury train services.
Expedition
The Machu Picchu expedition train is one of the most economic options to travel to this South American Wonder of the World. Take in the beautiful vistas while being catered to by their well-trained staff. Enjoy a hot or cold beverage and a snack for purchase and take advantage of some onboard shopping. The helpful staff at Peru Rail ensure you have everything you need for your ride on this train to Machu Picchu.
Vistadome
The Machu Picchu Vistadome train offers a unique way of travelling to Peru's most famous World Heritage site. With its panoramic windows, traditional music and dances, you'll feel like you're somehow part of nature itself as you take in the stunning Andean scenery stretching above and all around you. Enjoy delicious refreshments as you watch skilled traditional dancers perform in the aisles. Return trips on this train to Machu Picchu also include a fashion show featuring the latest styles (items available for purchase!).
The Vistadome service has daily departures (morning and afternoon) from stations in Cusco, Urubamba and Ollantaytambo to the Inca Citadel. The Vistadome train to Machu Picchu is the only Peru Rail service that departs from San Pedro Station in Cusco.
The Machu Picchu Hiram Bingham Train
For those who are lovers of great train rides, this luxury train to Machu Picchu is the perfect option! The sumptuous Hiram Bingham train features Pullman-style carriages inspired by the glamour of the 1920s. The fine fabrics, wood details and antique fittings will whisk you away to another time and surround you with old-fashioned charm, all as you ride the train to Machu Picchu!
Named for the American explorer credited with the rediscovery, in 1911, of Machu Picchu itself, the Hiram Bingham train to Machu Picchu is the perfect complement to your once-in-a-lifetime visit to the ancient Inca citadel. Gorgeous scenery, gourmet dining, and traditional Peruvian and international music performed live complete the experience.
Without a doubt the most special way to ride a Machu Picchu luxury train. Please enquire for more details or to book.
Backpacker Train from the Hydroelectric Station
A few travellers know about the backpacker train to Machu Picchu. You will need to travel by bus from Cusco to Santa Teresa to board this Peru Rail train service that, in just 20 minutes, will take you to Aguas Calientes.
For those of you who are doing the Salkantay trek to Machu Picchu and choose not to hike the last bit from Hidroelectrica to Aguas Calientes, the backpacker train will be the alternative option.
Local Train
The Peru Rail local train is a transportation service available just for local inhabitants with a valid national ID. Most of the passengers who live in the communities located along the railway use this train service for business and social activities.
Inca Rail
Inca Rail is the other Machu Picchu train alternative. This small local company provides its daily customers with world-class service. There are four different Inca Rail trains that you can take, each one catered by its youthful and skilled team to offer the best-possible travel experience onboard.
Voyager Train
The Voyager Train is akin to Peru Rail's Expedition train service. Travelling onboard the Voyager Machu Picchu train you will enjoy a relaxed ride with comfortable seats, folding tables and panoramic windows at an affordable cost. Departures from Ollantaytambo and Cusco stations are available during the morning, afternoon and evening.
360° Train
The 360 Machu Picchu train offers a unique way to explore the Andean landscape. Similar to the Vistadome service offered by Peru Rail, the main features of this train option are the wide and tall panoramic windows and the outdoor observation carriage. Additionally, passengers aboard the Machu Picchu 360 train can learn about the train route and Inca civilization using an exclusive entertainment app.
First Class Train
This Machu Picchu luxury train is Inca Rail's answer to the Hiram Bingham train, and by luxury we mean personalized service, maximum comfort and more space on board. Besides its Observatory lounge with live music, there is an outdoor balcony where you can enjoy all the splendour of nature and Andean culture.
When travelling on this first class train from Cusco or Ollantaytambo station you don't have to worry about the ascent to the entrance of the Citadel. This service includes private transportation from Machu Picchu pueblo to the ruins. Talk about a luxury Machu Picchu train experience!
Private Train
It doesn't get better than this! This stunningly designed wagon offers the perfect atmosphere to enjoy and relax while taking in the most beautiful landscapes on an open balcony. The Inca Rail's private train includes a specialized onboard service team that will take care of everything while you stretch out and get the most of this unforgettable experience.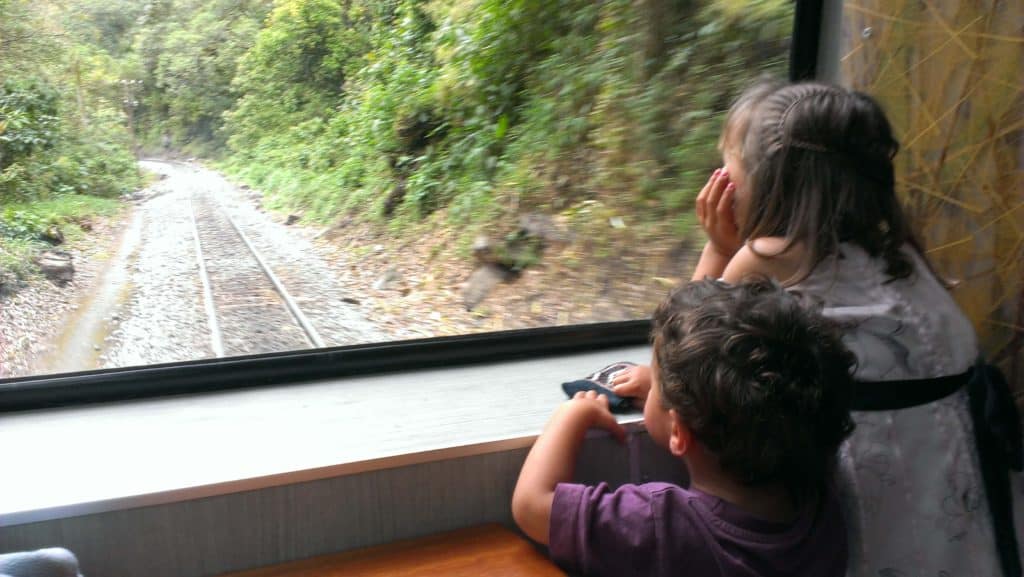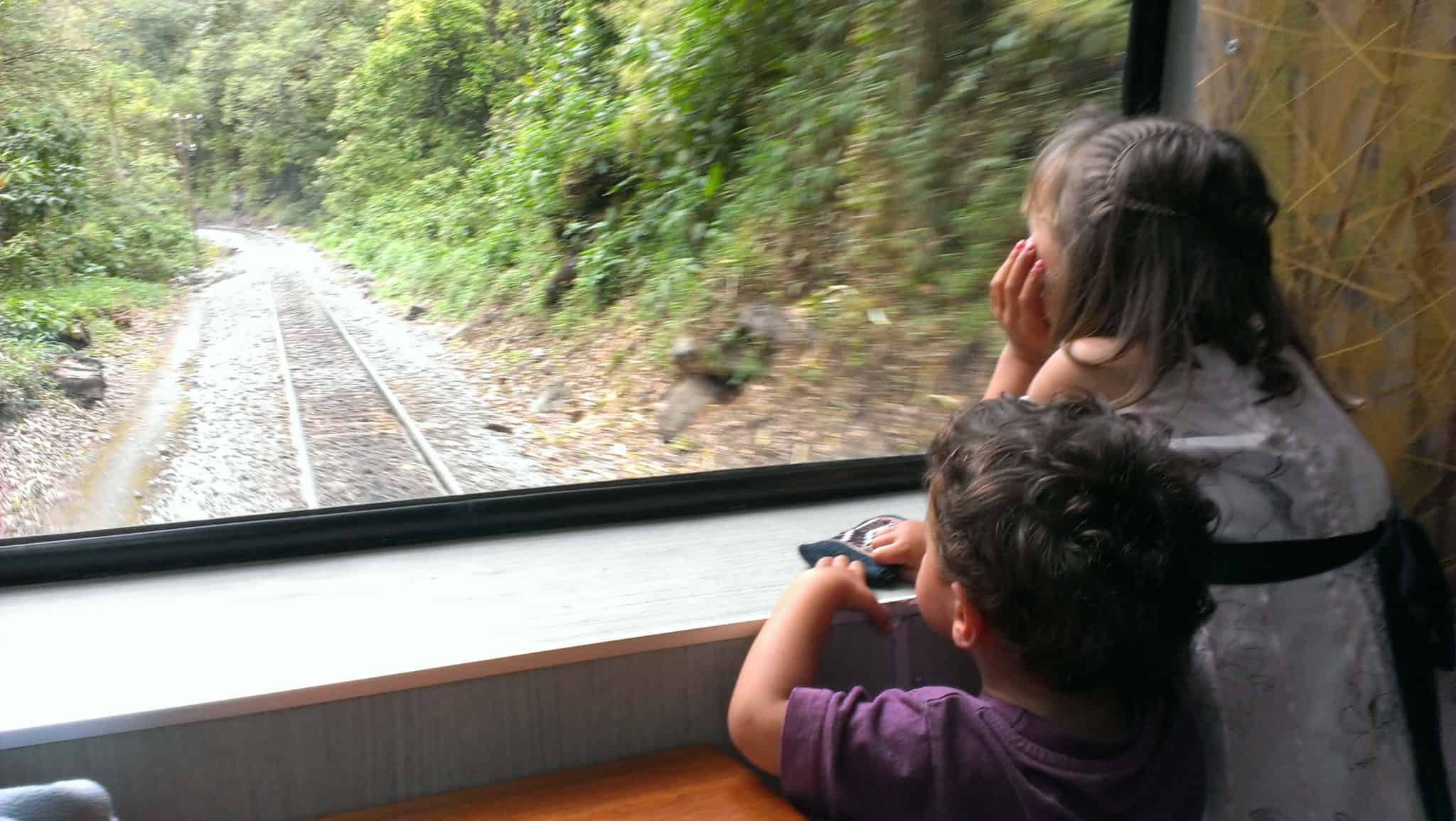 Peru Rail vs Inca Rail: Which One is Better?
So which company offers the best train to Machu Picchu? The truth is, in terms of quality service and comfortable amenities, both companies are alike.
But let's compare what both service operators have to offer:
Inca Rail
Peru Rail
Inca Rail allows travellers to carry more luggage. The max weight allowed is 8kg (17 lbs).

Travel safe:  All wagons are equipped with an air purification system that clears viruses and bacteria in the air.

Inca Rail also offers a charter service to the Inca Citadel.

In Ollantaytambo train station, Inca Rail offers its passengers a waiting room with coffee service and free Wi-Fi

  This company offers more daily departures and more flexibility with itinerary planning.

Peru Rail is the only company that offers one of the cheapest trains to Machu Picchu: the train service from the Hidroelectrica station near Santa Teresa.

For passengers travelling to Puno, Arequipa or the wonderful Lake Titicaca, Peru Rail operates other train services such as the luxurious Andean Explorer.
Which one do you think has the best train from Cusco to Machu Picchu?
Machu Picchu Trains Luggage Policy
Peru Rail: You are allowed a carry-on baggage (only 1 bag or backpack) with a weight not greater than 5kg/11lb and a maximum size of 62 linear inches/157 cm (height + length + width).
Inca rail: As a passenger you can take with you one piece of hand-luggage with a maximum weight limit of 8kg (17 lbs). The bag cannot be more than 46 inches (118 cm) in height, length, and width.
Do you need to slim down your belongings to comply with the luggage weight restrictions of the train operators?
Some of the hotels offer complimentary luggage storage for guests, but if you don't want to store them at your hotel, you can safely keep your belongings at our office in Cusco before your Machu Picchu train tour. Contact our diligent staff and they will be more than happy to assist you.
Machu Picchu Train or Hike?
Is it better to hike or take the train to Machu Picchu? That depends totally on you, how much time you have, your fitness levels and your goals during your once-in-a-lifetime trip to Peru.
Hiking the Inca Trail or one of the alternative Machu Picchu hikes requires extra time, fitness and stamina. There are no easy hikes in the Andes! But if you want to push yourself or you like to get active while on holidays, spending two, three, four or even five days or longer hiking through the mountains along ancient trails can be a life-changing experience. Check out all our Machu Picchu treks here.
On the other hand, travelling by train is one of the best and easiest ways to get to Machu Picchu. While you enjoy a scenic ride through the Sacred Valley, observe how the landscape changes from alpine valley to lush cloud forest as you descend to lower altitudes. Don't miss the entry into Aguas Calientes, it is truly astonishing!
Of course, all treks include at least one train ride: even if you hike the Inca Trail, you will take the train from Machu Picchu to Cusco on the way back – or at least the train from Machu Picchu to Ollantaytambo, followed by a car ride for the rest of the journey back to Cusco. The best of both worlds!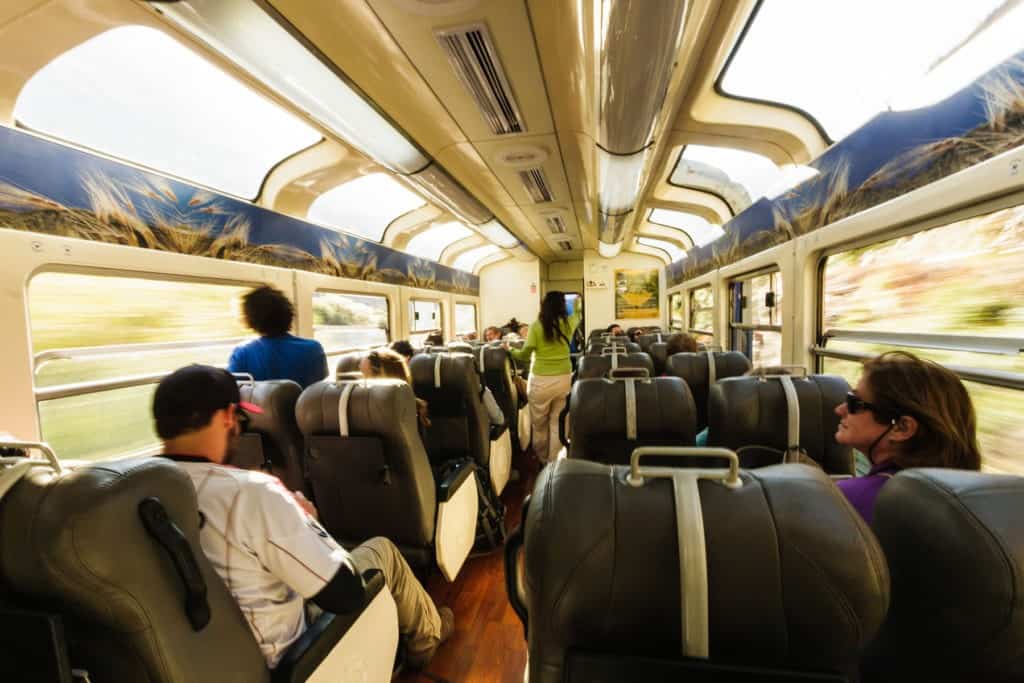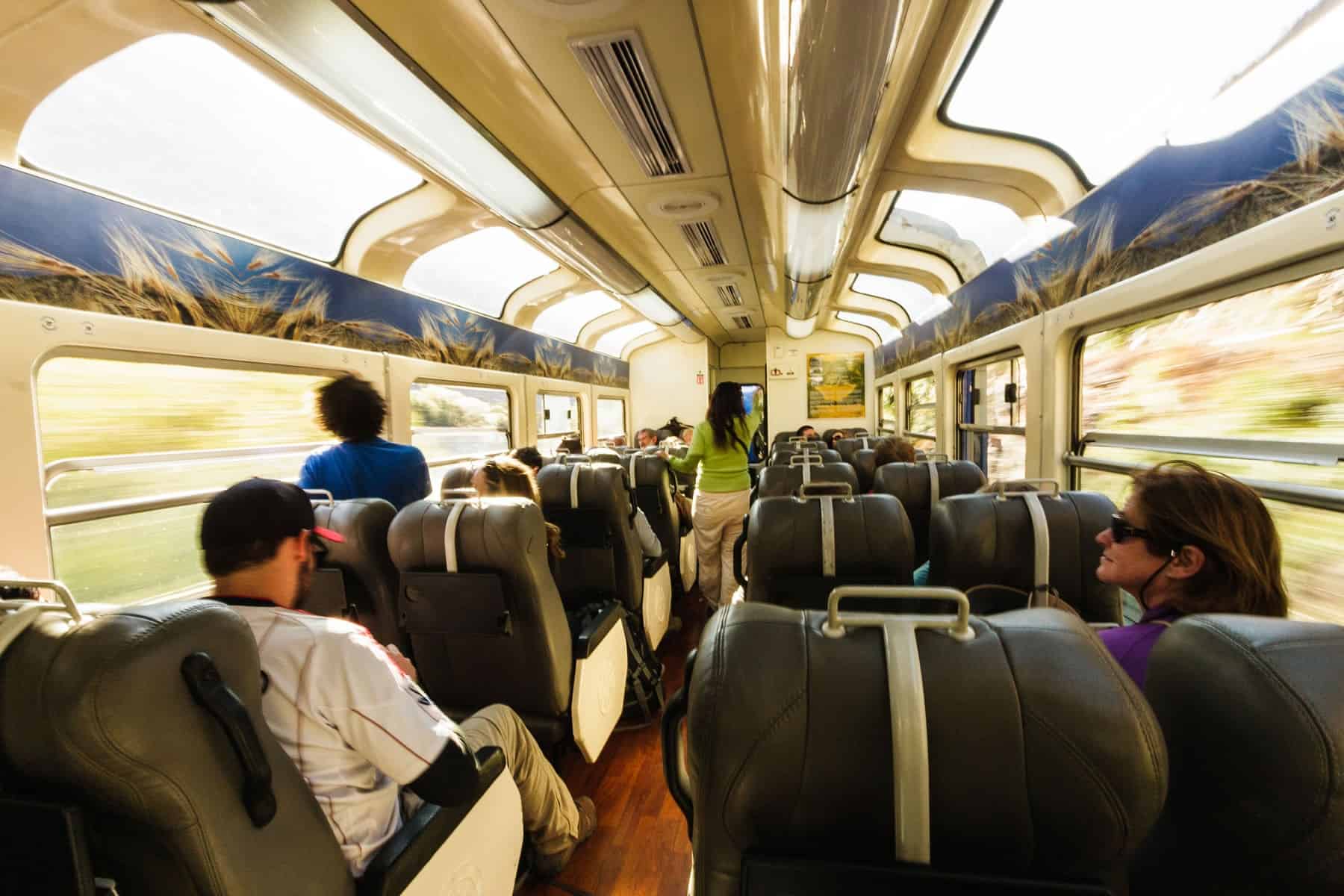 From Cusco to Machu Picchu by Train & Beyond: More Peru Trains
Peru Rail also offers some incredible and luxurious train rides between Cusco, Puno and Arequipa. Read on for all the details about these incredible Peru train journeys!
<h3>Belmond Andean Explorer
This luxury sleeper train is the first of its kind in South America, debuting in 2018! Travel from Cusco to Puno and Lake Titicaca and then on to Arequipa on a journey that's sure to create memories that will last you a lifetime. The Belmond Machu Picchu train lets you enjoy a unique daytime trip and get the most of a great sleeping accommodation at night.
One- and two-night journeys available.
Peru Rail Titicaca
This unforgettable Peru train journey takes you 338km from Cusco to Puno over beautiful terrain and in complete luxury. Traveling at an altitude of 3354m (11,004 ft), the Titicaca train features an open-air Observatory Car, allowing you to get close to nature as you travel by train through the Andean hillside. You will have plenty of opportunities to take photos of the stunning landscape, all while taking in the rhythmic sounds of traditional Peruvian highland music and dances.
Considered by many to be one of the most beautiful train rides in the world, this 10.5h journey features a world-class train with two dining cars decorated in the 1920s style of Pullman cars and the best in gourmet dining. Select departures available.
The Sacred Valley Train
train's design takes its inspiration from the luxury of the roaring 1920s, and the trip combines spectacular views with a level of fine dining normally reserved for top notch restaurants. Your journey begins with an Andean infusion, enjoyed in the Observatory Bar Car, followed by a gourmet lunch, while the return journey includes a sumptuous dinner. Both meals include an appetizer, entrée and dessert. Total travel time is 6 hours (3h each way). A lovely way to travel from the Sacred Valley to Machu Picchu by train.
Please enquire for more details or to book one of these incredible Peru train journey!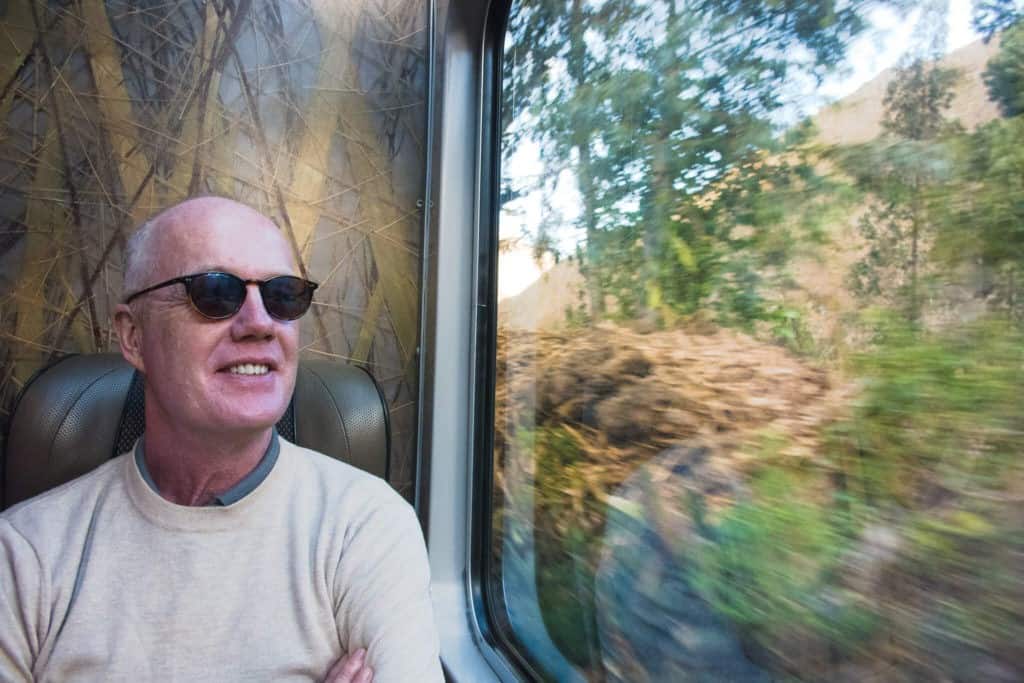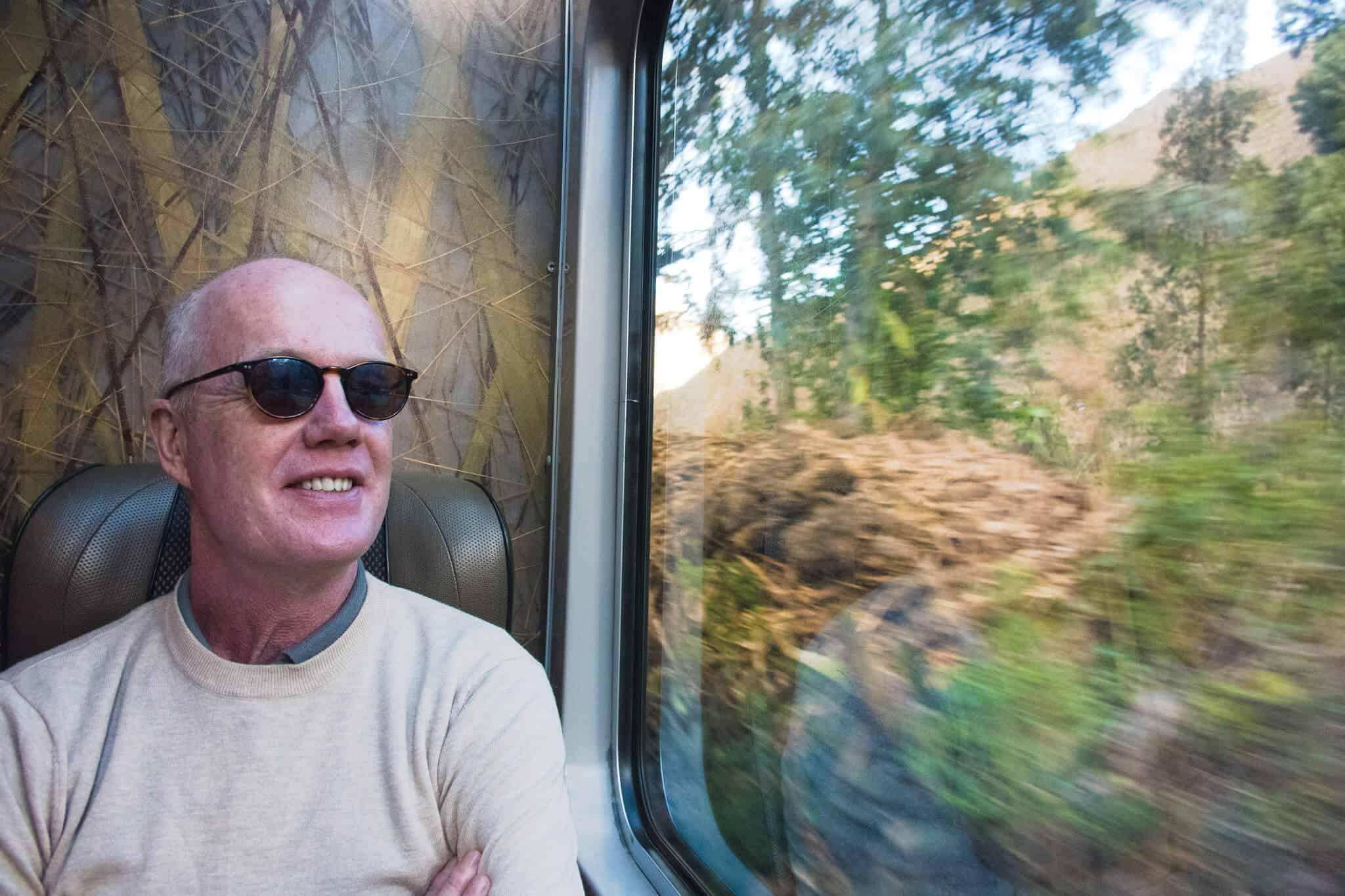 Planning Tips for Travelling by Train from Cusco to Machu Picchu
When to Go
Most tourists wonder when is the best time to travel to Machu Picchu by train. Some prefer to visit the ruins during the dry season but this is also the time when the site is most crowded. Other travellers who want to avoid multitudes and don't mind the heavy rains, prefer the off-season from December to March. Read more about the best time to visit Machu Picchu in our blog.
Train to Machu Picchu Cost, Discounts & How to Buy Tickets
The cost of the Machu Picchu train tickets may vary according to the demand. While during the high season the price will rise, during the low season the train operators usually offer substantial discounts. We always recommend to our travellers to book far in advance to get the best prices on a train to Machu Picchu ticket.
One way that you can get the best prices when travelling from Cusco to Machu Picchu by train is by doing it very early in the morning or very late in the afternoon.
Are you travelling by train with kids? This is how it works:
Kids under 2 years old don't pay the train to Machu Picchu price but they have to sit with their parents. There are no seats assigned for babies.
Any child from 3 years old to 11 years old will have a 50% discount on the Machu Picchu train cost.
Discounts for children are only available on the standard train options. For the luxury trains, the discounts don't apply.
The Final Word on Getting from Cusco to Machu Picchu by Train
On your magical journey from Cusco to Machu Picchu by train, the Urubamba river will follow you on the way to the Citadel, so focus your attention on the amazing views on the left hand side. When you return from this remarkable experience in the Old City, look at some of the Inca Ruins along the way on the right-hand side. Don't miss the views of the sun in all its splendor! When possible, travel during the daytime for at least one of your train rides to catch that perfect moment.
And our last reminder: All Machu Picchu trains end in Aguas Calientes train station. This is the last stop before ascending to the Inca Ruins.
Like it? Pin It! 
Machu Picchu Tours by Train