The Qoyllur Rit'i (pronounced coil-yore-ree-tee) pilgrimage is a cultural festival full of dance and religious devotion. It is where the mountains meet the people of Peru!
Getting to Know Andean Culture with Apus Peru
At Apus Peru, all of our off-the-beaten-path Peru treks aim to immerse the active hiker into the Andean culture and way of life. Each one offers something a little bit more special than just a stroll up the mountain. One of the most traditional and authentic cultural events in the Peruvian Andes is Qoyllur Rit'i, and it most definitely meets the mark. You can experience Qoyllur Rit'i two different ways:
I knew as much about this trip as is described on our Peru Festivals web page, which enticed me to want to know more. I decided to go and see what all the fuss was about. As I would soon discover, the Qoyllur Rit'i trek combines hiking with something in the realm of a spiritual experience.
What is the Qoyllur Rit'i Festival?
Qoyllur Rit'i (spelled about eleven different ways, including Ccolloritty, Qoylloriti and Quylluriti) is a religious pilgrimage that happens every year in May or June in the area of the mighty Apu Ausangate. The Qoyllur Rit'i Festival (also known by its English translation, Star Snow Festival) is a Peruvian indigenous spiritual / religious gathering. It is held annually just before the Catholic festival of Corpus Christi, and takes place at an altitude of about 4700m in the Sinakara Valley.
Qoyllur Rit'i may have originated in pre-Incan times. At the very least, it no doubt pre-dates the arrival of the Spanish conquistadores. The Qoyllur Rit'i pilgrimage is said to celebrate the stars and specifically the mid-winter disappearance of the Pleiades constellation, followed by its reappearance in the southern skies. This marks the transition from old to new and is largely associated with the forthcoming harvest.
The arrival of Christianity brought with it its own adaptation for the worship of the Lord of Qoyllur Rit'i. The story involves a mysterious young boy who helped a shepherd and then disappeared, and the miraculous image of Christ etched in the rock.
Read the full story about Qoylloriti's origins.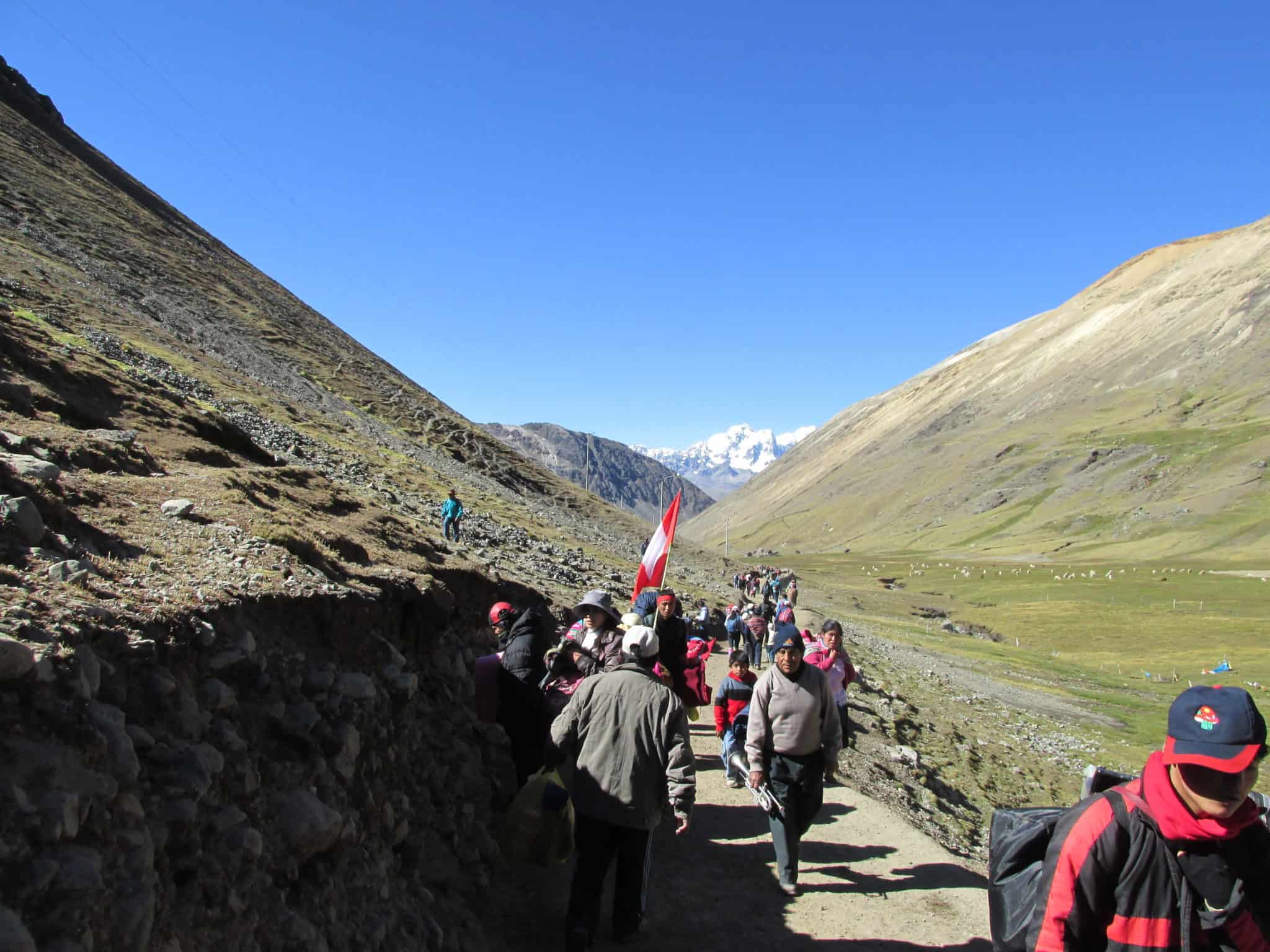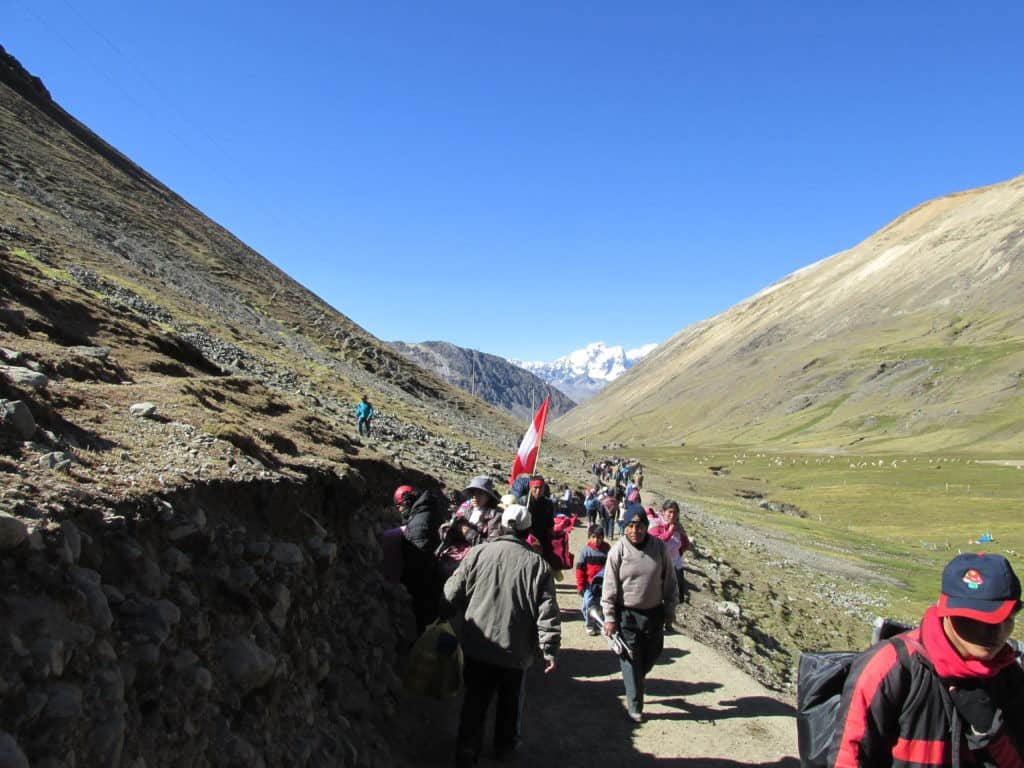 Getting to Qoyllur Rit'i
It's hard to believe so many Peruvians from all across Peru come to this event and yet so few tourists find their way. This is a huge and extremely important event for those that attend. Apus Peru is one of the only trekking companies in Peru that can take you there.
I joined a group doing the 2 day trekking option. First, we drove about 3 hours, heading south from Cusco towards Ocongate. Starting from the town of Mahuayani we make our way over 8km of trail to the Qoyllor Rit'i Sanctuary and a large campsite that grows to house between 70 80,000 other pilgrims.
What is the Festival Like?
Qoylloriti is definitely not a hollow display for the benefit of tourists. As part of a group of 'gringos' we somehow spectated and settled into being part of the whole event without anyone taking a real interest in us. For anyone considering attending, you must be prepared for a degree of physical hardship. It is bitterly cold during the night, and you may experience a profound experience of cultural disorientation.
Read another trekker's review of the Qoyllor Rit'i pilgrimage.
There are nine crosses on the pilgrimage route between Mahuayani and the sanctuary, each marking a kilometer of the route. Many pilgrims stop to light candles and pray. The band ensembles arrive to perform dances and musical tributes too!
For the last of the crosses, each group of pilgrims must await their inauguration ceremony. They pass through a circuit of various sacred sites, including the sanctuary itself, and perform their dances lasting many hours.
Many people making the Qoyllur Rit'i pilgrimage bring or buy offerings in the form of toy houses, cars, or money. Everything is on offer at the alacitas market of miniatures from cars and houses to degrees and wedding scenes. The belief is that on their fourth visit, El Señor de Qoyllor Rit'i will make the wishes of the devout come true.
The choice of food on offer ranged from normal staples like chicharrónes (fried pork) and lomo saltado (sautéed beef) to a more "exotic" donkey head stew. (Just in case you weren't convinced, they even had the said donkey head on display in order to entice. Talk about direct marketing!) And, I was told, although I never saw it, that at various locations you could find the famous frog smoothie! It's just like it sounds.
The Ukukus
The Ukukus bears (dressed so) are the guardians or law keepers of Qoyllur Rit'i. If anyone is caught not respecting the rules by drinking alcohol or by not removing hats in the presence of prayers they shall have stern words. In the worst cases, the Ukukus are even allowed to whip the offender and will!
The show goes on and on be it 3am or 8pm. Simply put this was one of the most surreal, profound and emotional experiences I have encountered in my lifetime!
KEEP READING ABOUT QOYLLUR RIT'I:
WANT TO GO? Don't miss out contact one of our Trek Experts to book your Qoylloriti trek this year. You can also read more about our two trekking options to Qoyllur Rit'i. See our 2 Day Qoyllor Rit'i Festival Trek or our 4 Day Qoyllur Rit'i Pilgrimage trek.
By Matt Waugh, June 2014; updated in December 2019.